June 3, 2017 at 11:09 am PDT | by Vic Gerami
PJ Andrews is glittering LA to the core, despite his Boston accent
PJ (Patrick Joseph) Andrews' artwork is so popular that he cannot keep up with the demand. Andrews, a native of Massachusetts, does not have the profile of a stereotypical artist or a gay man in Los Angeles. At 52, he is a self-taught artist, father of a 28-year-old son and speaks with a thick Boston accent. In fact, you might be pleasantly surprised by his cheerful and flamboyant paintings.

Although his immediate influences are Jackson Pollock and Andy Warhol, Andrews' animated work is inspired by cartoons and cartoon characters. He is self-taught in the folk-art tradition, where his sensibilities blend the world of contemporary pop and folk art with exuberance and flair. Andrews' "diamond dust" technique offers a new dimension never realized within animation art. He uses glitter to create three-dimensional characters that seem to rise from the canvas.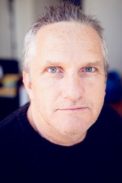 Art Walk and Book Soup in West Hollywood. He zigzags the globe opening shows in Switzerland, France, Belgium, Chicago, New York and San Francisco, all without representation. He won't get a publicist simply because he doesn't need one. Last year, a Mighty Mouse painting was snatched at an auction by celebrity restaurateur Craig Susser, who paid an undisclosed amount for it.

If the saying, "People buy you, not your product" is true, then Andrews is a perfect example. Despite his enormous success, he is extremely humble, modest and generously gives to many causes in the community.