Why we ride: The stories behind AIDS/LifeCycle
World's largest AIDS fundraiser a reminder epidemic isn't over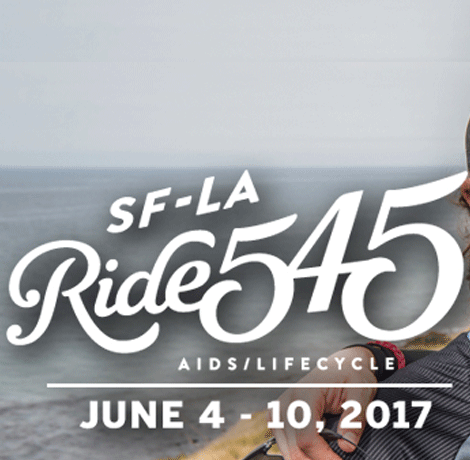 Until he started training, Eddie Martinez hadn't ridden a bike since he was a kid. He admits sheepishly to being afraid to ride on the street alongside cars. He says he's facing his fears and doing the 545-mile epic ride in honor of two friends who both died of HIV/AIDS.
Martinez, 48, will join the close to 2,800 people (including cyclists and volunteer roadies) participating in the 2017 AIDS/LifeCycle. The ride is a seven-day, 545-mile bicycle ride June 4-10 from San Francisco to Los Angeles to raise money for the San Francisco AIDS Foundation and the HIV/AIDS-related services of the Los Angeles LGBT Center. AIDS/LifeCycle has raised more than $236 million since its first ride in 2002, making it the largest fundraiser for HIV and AIDS in the world.
An East L.A. native whose parents emigrated from Mexico, Martinez is the executive director of Latino Equality Alliance, a non-profit organization that does outreach in the Latino community for LGBTQ youth and their parents. He's been involved in this kind of work for more than two decades.
"I was a club promoter in the '90s, I met a guy who wanted to build an AIDS monument in Lincoln Park [The Wall: Las Memorias], I started helping him, and that was my introduction into fundraising and activism for Latino and LGBTQ issues, particularly HIV/AIDS," he says. "While working on the monument I learned about the generation before me who lost huge circles of friends, like 50 to 70 people. It's unimaginable."
"Around that same time, I met this guy and we became close friends. We came out at the same time. But, he got caught up in addiction and was [HIV] positive, and his body just couldn't hold on anymore and he passed away. His name is on that AIDS monument. I'm riding because of him."
Cedric Terrell, 31, is a Marine veteran and professional photographer. He's riding for his ex-boyfriend who is HIV positive, and to shut down HIV's racial disparities – Terrell is African American.
African Americans make up about 12 percent of the total U.S. population, yet account for an estimated 45 percent of new HIV infections nationally. African Americans also account for 40 percent of everyone living with HIV in the U.S., and 53 percent of AIDS-related deaths According to the Centers for Disease Control, 1 in 2 gay and bi black men will become HIV positive sometime in their lives. In L.A. County, African Americans continue to account for the majority of new infections.
"I've lost more friends to HIV than I'd like to count. I've been involved in activism since high school. I wanted to do something," Terrell says.
When he and his ex were dating, Terrell entered a drug trial at Whitman-Walker Health Center in Washington, D.C. He volunteered to be a test subject for a trial drug similar to PrEP (Pre-exposure prophylaxis), a drug that people at higher risk of exposure take daily to lower their chances of getting infected with HIV.
Terrell is also riding in honor of continued HIV/AIDS research.
Although first discovered in 1981, the AIDS epidemic is far from over.
In the seven days it takes the riders to reach Los Angeles, more than 500 people in the U.S. will become infected with HIV. One out of every eight people living with HIV nationwide is not aware of their status. Currently there are 1.2 million people living with HIV nationwide and an estimated 39,000 will become infected this year.
The Los Angeles LGBT Center's HIV research is aligned with the National HIV/AIDS strategy — focusing on intervening at every stage of HIV infection, from testing high risk populations, to linking newly diagnosed people to HIV care, starting them on HIV medications as soon as possible, supporting and increasing adherence to their antiretroviral medications, and ultimately reducing their HIV viral load to undetectable levels. The comprehensive approach is a complex but promising strategy for reducing "community viral load" and ultimately ending HIV/AIDS as an epidemic in the U.S.
In early 2000, Martinez was at a softball tournament in Palm Springs. He was pitching. The score was tied, and bases loaded. The batter stepped up, Martinez pitched, the batter hit, and before he could get his glove up, he blacked out. Martinez was hit in the face by the ball. His jaw was crushed and he lost teeth. His coach was there to hold his hand through it all.
"I loved him. He was there to care for me in that moment and I'll never forget it," Martinez says.
Martinez's coach was HIV positive, and died of complications from AIDS. Martinez says he'll be thinking about him on the long ride.
Martinez's father lives in Sacramento, and although he knows his son is gay, they've never talked about it. "There's a cultural barrier in the Latino community. There's machismo. You just don't talk about that," he says.
One of six children, Martinez says his mother accepts and loves him unconditionally, but he has not yet told her that he was diagnosed HIV positive in 2003.
"I'm not public about my status. It's not easy to let the world know. But, also I don't want my mother to worry about me. I'm good. I take my meds. I'm healthy," he says.
"I want to come out, but I don't want to be the poster child. I don't want it [AIDS/Lifecycle] to be about me. I want it to be about the people we lost. I want it to be about a tool to educate the next generation."
Martinez's team, the "Cyclepaths," has already raised over $70,000. The money will fund programs such as the Los Angeles LGBT Center's Jeffrey Goodman Special Care Clinic, which offers people living with HIV comprehensive free or low-cost primary and specialty medical care. About 2,900 people receive care at the clinic each year — 42% of them identify as Hispanic or Latino.
"Despite the environment we're in, you have to learn to be inspired. As we raise money for HIV/AIDS and other social issues, if we stay active, change can happen. You only have one life. If there's an opportunity, take it," he says.
This year will be Esther Kim's fifth AIDS/Lifecycle ride. Kim doesn't fit the stereotype of someone who is HIV positive.
Kim, 31, was diagnosed in 2001, just after graduating from her graduate program. She was a single mother, Korean American, whose father is a Christian pastor.
"I couldn't tell anyone because I wasn't in a community where it was talked about," Kim says.
"The shame and fear of being rejected. For me it was so shameful. I felt like I failed my son. I allowed this to happen to me. On top of that, I was afraid I would jeopardize my dad's position as a pastor. In the Korean community we never talked about this, and it's not talked about in the Christian community either. It left me isolated. I chose to be isolated, suffering silently.
"My first ride was an eye opener for me. I met so many people who were HIV positive; people who were doing something for the cause. They were being proactive. They had a voice and they were sharing their stories. They looked happy," she says.
Kim says she rides for several reasons. In part to give back.
"When I was first diagnosed I was so lost and scared, these organizations were there to help me. If they weren't there, I don't know where I'd be. Now I'm in a place where I'm more financial stable, I can train, and raise awareness, and ask friends and families for donations. I want to help overcome the stigma," she says.
This year's ride is especially momentous for Kim. It's her first publically coming out HIV positive.
"If I can help just one person who looks like me and is HIV positive, I'm willing to speak up and share my story. Maybe, they won't feel so alone and they will find the courage to get the help they need."
Peacock will premiere HIV documentary on World AIDS Day
Drew, who was diagnosed with HIV in the late 1980's when he was only 23 years old, was not paid for his participation in the trial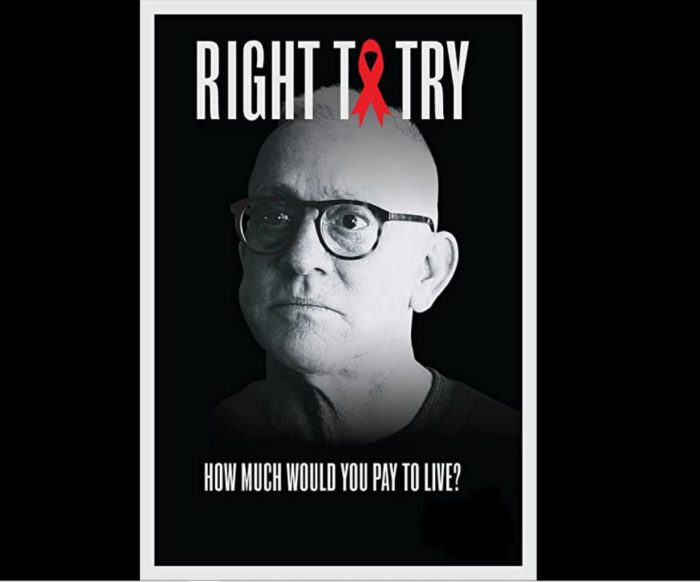 NEW YORK — NBCUniversal's streaming service Peacock will premiere the documentary short "Right to Try," which explores one man's search to cure his HIV, Wednesday on World AIDS Day.
The film, produced by Oscar-winning actress Octavia Spencer and directed by "The Late Late Show With James Corden" producer Zeberiah Newman, follows HIV survivor and activist Jeffrey Drew's participation in an experimental vaccine trial.
"We are thrilled our film 'Right to Try' will be seen on Peacock. Though Jeffrey Drew's heroic journey is singular, his story is universal," Spencer said in a statement, according to Variety. "This is an important film and with Peacock we have a wonderful partner to bring it to our audience."
Val Boreland, EVP of content acquisitions at NBCUniversal Television and Streaming, added: "It is an honor to share Drew's story with Peacock users and raise awareness around the important issue of HIV research. We know the impact of this documentary will be far-reaching."
The documentary shows the side effects that Drew experienced during the early days of the trial. The coronavirus pandemic interrupted the study, as the doctor spearheading the experimental vaccine started working on the COVID-19 vaccine.
Drew, who was diagnosed with HIV in the late 1980's when he was only 23 years old, was not paid for his participation in the trial that a major pharmaceutical company did not fund.
"There are people who are still getting infected and sick and dying," he told Variety in a June interview. "I would love to see a generation that doesn't have to think or worry about this anymore."
"Right to Try" won the Audience Award for Documentary Short last summer at Outfest, an LGBTQ+ film festival in Los Angeles.
Los Angeles observes World AIDS Day with star-studded concert
Gay Men's Chorus of Los Angeles and Juan Pablo di Pace will also be performing at the ceremony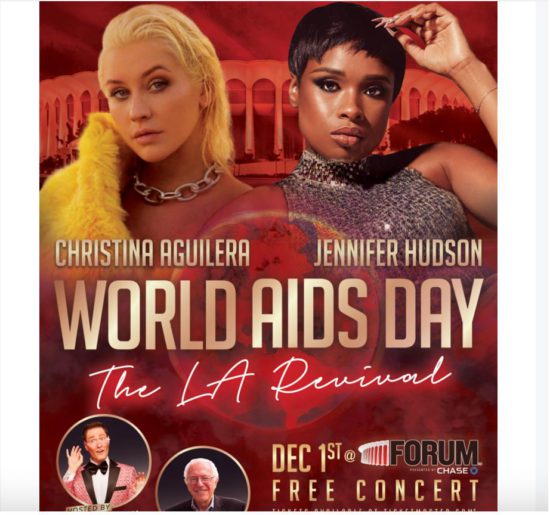 LOS ANGELES — As World AIDS Day is recognized around the globe, Los Angeles will mark the day with a free concert with a star-studded line-up at The Forum hosted by the AIDS Healthcare Foundation (AFA) and a ceremony at The Wall Las Memorias (TWLA) AIDS Monument in Lincoln Park Wednesday.
In a press release, the AFA said Grammy award winners Jennifer Hudson and Christina Aguilera are set to perform in front of a sold-out crowd. Emmy-nominated comedian Randy Rainbow will host the event, which will take place from 8:00 p.m. to 10:00 p.m.
In addition to the entertainment, the AFA will honor Vermont's U.S. Sen. Bernie Sanders with a Lifetime Achievement Award and a special video presentation. The award will be accepted by his wife Jane Sanders.
"This year marks two significant milestones in the decades-long fight against HIV and AIDS: first, for the first recognition by the CDC of the virus that led to what is now known as AIDS (40 years ago, in June 1981), and second, the launch of AHF (35 years ago)," the release reads.
TWLA's ceremony will reveal an expanded footprint of the surrounding landscape of the country's only publicly funded AIDS monument. The monument, created in 2004, will also add over 1,000 names of loved ones lost to AIDS to the 360-plus names already etched into it and unveil new artwork.
TWLM Founder Richard Zaldivar, Los Angeles City Councilman Gil Cedillo and County Board of Supervisors Chair Hilda Solis are all expected to attend the event, which will start at 6:15 p.m. at 3600 N. Mission Road. According to NBC 4 Los Angeles, organizers also hope Los Angeles Mayor Eric Garcetti will be in attendance.
Gay Men's Chorus of Los Angeles and Juan Pablo di Pace will also be performing at the ceremony.
World AIDS Day is observed every December 1 to raise awareness about AIDS and honor the people who have died of the disease. This year's theme is "End inequities. End AIDS and End Pandemics."
National Black Justice Coalition Partners with Twitter for World AIDS Day
Conversations about HIV prevention, treatment, and support on World AIDS Day must center on the Black community.
WASHINGTON n- On December 1, 2021, World AIDS Day, the National Black Justice Coalition is partnering with Twitter's #CampaignsForChange and #TwitterIgnite on a campaign to educate people about HIV/AIDS and the importance of their involvement in the fight to end the epidemic. The campaign will center around a safe space on Twitter that encourages the use of the #MyFirstHIVTweet hashtag and urges people to talk about HIV and sexual wellness. '
World AIDS Day (WAD) is an opportunity to remember those who have passed due to an AIDS-related illness, support those currently living with HIV, and unite in the fight to end HIV/AIDS worldwide.
An estimated 37.7 million people globally were living with HIV at the end of 2020, and since the epidemic began in the 1980s, 36.3 million people have died from an AIDS-related illness.
In the U.S., the Black community is disproportionately impacted by the HIV epidemic, with gay, bisexual, and same-gender loving men and Black women being the most affected. In 2018, Black people comprised 42% (16,002) of the 37,968 new HIV diagnoses, and Black same-gender loving, gay, and bisexual men made up 26% (9,712) of the new diagnoses. In 2016, Black women accounted for 6 in 10 new HIV diagnoses among women.
"Conversations about HIV prevention, treatment, and support on World AIDS Day must center on the Black community. We must reduce stigma in our community, including by having critically important but sometimes challenging conversations about HIV/AIDS," explained David Johns, executive director of the National Black Justice Coalition.
"There are many people who are engaged in activism around the LGBTQ+ community and racial issues but are notably absent from the conversation around HIV. This is because the epidemic is not visible for them and because they lack accurate information on HIV. My hope is this safe space encourages people to send what will not be their last HIV/Tweet and to consider using NBJC to help find a testing location or to request an at-home testing kit. Too many people are still dying as a result of HIV/AIDS and this does not have to be our reality."
NBJC has created this Words Matter HIV Toolkit to support asset-based conversations about holistic health and wellness.
For more information on how HIV/AIDS impacts the Black community and how to engage during World AIDS Day and beyond, view NBJC's World AIDS Day Toolkit. Get tested and know your status. Doctors recommend testing every three to six months.
You can find a testing site near you at https://gettested.cdc.gov/ or if you are 17 years or older and live in the U.S., order a FREE at-home HIV test kit via the Have Good Sex program.