Sacramento Bee to Kimberly Ellis: Concede
Sacramento CDP drama continues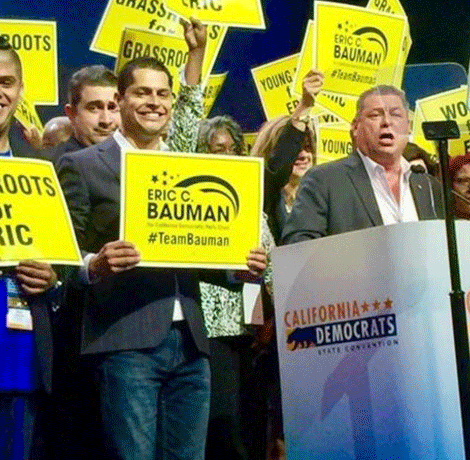 Originally published June 7, 2017   | . Perhaps the California media can be excused for not bothering to dig too deeply into the divisive battle waging within the California Democratic Party. After all, terrorism aboard and a constitutional crisis at home dominate cable TV, while Gov. Jerry Brown flies to China to sign a climate change agreement that President Donald Trump has disavowed. All of which dramatically underscores why it is imperative to have steady, trusted political leadership to protect and advance the progress made before the current chaos of confused cowardice erodes the cherished values of democracy. And unfortunately, that's not hyperbole!
The chaos in California erupted on May 20 during the California Democratic Party convention when longtime politico Eric Bauman was elected the first openly gay person to chair the party by only 62 votes.  His opponent Kimberly Ellis, the former head of the Oakland-based Emerge California, refused to concede as her "Berniecrat" supporters disrupted the convention and alleged malfeasance. They demanded a review of the ballots, which they were afforded, but were denied an independent review in favor of going through the process set up by the party's by-laws and monitored by party officials installed by out-going chair John Burton, whom Ellis had praised.
Late Monday afternoon, June 5, Ellis—who ran on the slogan "Redefining what it means to be a Democrat!—released six-pages of blunt and brutal preliminary findings.   "If Democrats really want to get back to beating Republicans and winning elections, we need leaders with spines of steel, not egos and auras that need to be constantly fluffed. So yes, we believe our initial findings suggest there was possible tampering in the California Democratic Party elections. And for the record, we're pretty darn sure it wasn't the Russians. Enter truth, stage left," Ellis wrote in her introduction.
"The information that this initial review uncovered is alarming and concerning," the Ellis team writes.  "Unfortunately, Eric Bauman through his legal counsel, a firm facing two conflicts of interest in this case, including involvement in an improperly cast ballot, has made it clear that there is to be no outside review. His response from counsel is that it's time for the Party to move on and begin its work for 2018.
"However," the review continues, "if the discrepancies noted by Ellis' team are not verified by a neutral third party, the implications for the integrity and reputation of the California Democratic Party are severe. Based on the information contained here, the actual vote count is in question. It is believed that the wrong individual is serving as Chair." 
"Was Berniecrats' choice to lead California Democrats cheated out of the chairmanship?" read the Sacramento Bee headline reporting on Ellis' complaint. "Ellis' team alleges hundreds of ballots have corresponding signatures that don't match the credential sign-in signatures, or are missing, and said it found "multiple documented instances" of duplicate voting – described as a person voting as a proxy, or someone who casts a vote on behalf of another, on more than one ballot. They further charge that several individuals who served as proxies were not listed in a commonly used political database as registered Democrats."
The Bee quoted a statement from incoming party spokesperson Mike Roth: "From what we can tell at this point, it appears to be more unsubstantiated allegations and still no facts."
The Bee also cited Bauman's lengthy statement on Monday.  "I am well aware that 49 percent of the delegates to the convention voted for Kimberly Ellis and that if we are to keep California the big blue beacon of hope and the beating heart of the resistance, those who have felt shut out of the process must have a true seat at the table," Bauman said. "But I also know that doing so does not require burning down every institution and trashing those activists and volunteers who have given their blood, sweat and tears over the years to make the California Democratic Party the most successful Democratic Party anywhere in America."
Democratic Party activists took to Facebook to respond to Ellis' claims and support Bauman, who has been helping elect Democrats for decades.
"The Kimberly Ellis campaign listed as "evidence for illegitimate ballots" the fact that Bauman had a "proxy room" to find local Sacramento people to serve as proxies for appointed delegates," longtime politico Dante Atkins wrote on his Facebook page.   "Guess what? Appointed delegates can have any Dem in the state serve as a proxy, so the way you run these campaigns is to have exactly this sort of operation to make sure you get as many eligible proxies as you can from the local area. The fact that the Kimberly Ellis campaign didn't do this means she was incompetent. That's not Eric Bauman's fault. That's her fault. Pathetic, when all is said and done."
Atkins came back later with another specific charge: "Let's move on to a second attack by the Kimberly Ellis campaign: that an employee of Kaufman Legal Group signed for two ballots. That employee is my friend Sean Kiernan, who was helping an Orthodox Jewish voter cast his ballot. The CDP staff was notified of this in advance, and the Kimberly Ellis campaign was informed of this explanation," he wrote.  "I have experience with this firsthand: at the DNC election, I assisted my Orthodox colleague Paul Kujawsky in filling out his ballot, as religious observance proscribed his signing his own ballot. So the question you have to ask yourself is: why would the Kimberly Ellis campaign list this in their allegations of illegal ballots, even though they know that the ballot was legally cast and the CDP has already reviewed and confirmed this vote?
"Quite simply, the Kimberly Ellis campaign does not seem interested in ensuring the election was properly conducted. They are much more interested in dragging the California Democratic Party's reputation through the mud before an audience that is inclined to believe the worst of a party institution–perhaps to use their audience as leverage for a power-sharing agreement? I don't know their endgame, but the strategy is apparent," Atkins continued. "That's their choice, of course, but I don't have to respect it, nor Kimberly, nor Hilary Crosby, nor anyone else continuing down this destructive path."
And then Sean Kiernan appeared:   "I'm the Kaufman Legal Group employee cited in Kimberly's statement that "voted twice." After casting my vote for CDP Officers, I helped my friend Fritz Friedman, who is an Orthodox Jew, to cast his vote," he wrote. "As the balloting for the Chair's race took place on a Saturday afternoon, Orthodox Jews' religious observance prevent them from signing their names on a ballot. As such, I signed the ballot for my friend Fritz Friedman, AFTER notifying the CDP staff in the balloting room, and here's how it went down: Fritz told me which candidates he wished to vote for as I stood by his side, and I signed the ballot for him. Period.
"I was thrilled to have played a role in enabling all persons of all faiths to participate in our Democratic process, but it's infuriating to see Ellis distort my assistance of a religious observer into fraud," he continued. "This is not the Democratic Party I have come to know. Accepting persons of all ethnicities, religions, sexualities, etc has been and will always be a pillar of our Democratic Party. I am personally deeply offended by this severe misrepresentation of my participation in our Democratic process, and even more appalled she would suggest the assistance of a voter needing assistance on a religious basis constitutes fraud."
That was confirmed by the Orthodox voter, M 'Fritz' Friedman: "Most of you know me as Fritz, but I am legally Morris Friedman, a proud Orthodox Jew who was once again honored to be a delegate to the Democratic State Convention this year," he wrote on Facebook. "As has happened in the past, crucial votes occurred on the Sabbath day, when my religious beliefs prohibit the act of writing. And so, as they always have in the past, the Party's supervising election officials respected my religion by allowing a non-Jew, in this instance Sean Kiernan, to accompany me and sign his name as my credentials were checked, and I collected my ballot. Sean and I then went to the voting tables where he entered my votes for the candidates I dictated as my choices. I checked that ballot for accuracy, and because it was not religiously prohibited, I placed it into the ballot box," he said. "Shame on anyone who would call into question my vote and yet call themselves a Democrat."
Much of the media is still plugging the old headline: "Fight in California Democratic Party goes on: 'It is believed that the wrong individual is serving as chair', writes the Los Angeles Times. http://www.latimes.com/politics/essential/la-pol-ca-essential-politics-updates-kimberly-ellis-alleges-that-evidence-1496711284-htmlstory.html
But late Tuesday night, with news that a conservative GOP super PAC is now helping the vulnerable House Republicans Democrats hope to unseat, the Sacramento Bee Editorial board said enough.
"Dear Kimberly Ellis, We know this isn't what you want to hear right now. Defeat, we understand, is a terribly tough pill to swallow. But it's long past time for a reality check, so listen up. You lost the election to become chair of the California Democratic Party. It's over," they wrote. "You can try drag this fight out for months. Or you can act like a true leader. The nation needs California to lead. Having Democrats and Berniecrats at each others' throats is no way to mount a serious electoral challenge to President Donald Trump or congressional Republicans. It's time to consider the bigger picture. Concede."
Ellis is supposed to provide evidence to back up her allegations by Thursday. Her report will then be reviewed and adjudicated by six members of the CDP's Rules Committee, per the party by-laws. It remains to be seen how Ellis and her "Berniecrat" supporters will react to the results—only a lawsuit can change Bauman's victory. But if none of the allegations are born out, Ellis owes Bauman a serious apology and a pledge to fight Trump, not the California Democratic Party.
Iowa's Supreme Court upholds anti-LGBTQ hate crime conviction
Robert Clark Geddes, 27, of Boone, Iowa, was arrested after leaving handwritten notes reading, "Burn that gay flag"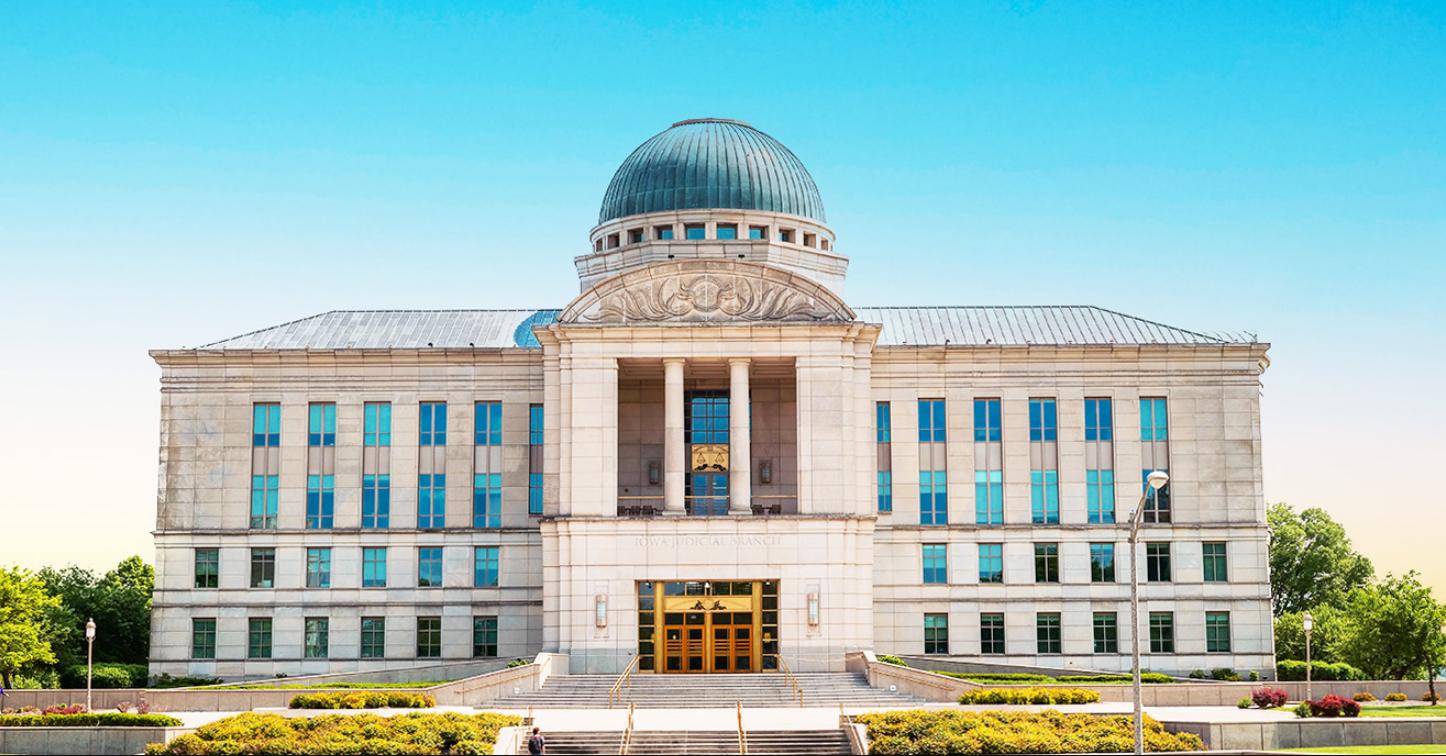 DES MOINES, Iowa – The Iowa State Supreme Court on December 1, upheld the conviction of a man who left threatening notes on the homes of people displaying LGBTQ Pride flags during the June 2021 Pride month.
Robert Clark Geddes, 27, of 1814 Eighth Street in Boone, Iowa, was arrested after leaving handwritten notes reading, "Burn that gay flag," at four different houses in this small hamlet of 12,000 located 49 miles northwest of Iowa's capital city.
According to a local media outlet, the Perry News in its June 23, 2021 reporting, Boone City Council member Elijah Stines was one of the victims of the hate crimes.
"Let me be very clear," Stines said on Facebook. "I will never back down from standing up for the lives of my LGBTQ friends, family, constituents and all members of our community. My house was one of five locations in my ward alone that I know of that received a similar cowardly note this weekend. To everyone in the Boone LGBTQ community: There are so many more people here who will stand with you and ensure your safety than would threaten it. Call on us any time!"
Investigators determined that the four notes were "linked together by consistent handwriting, matching paper tear marks and marker bleed through on each page," according to court records.
The victims were "annoyed and alarmed" by the notes, and Geddes "had no legitimate purpose to be on the property other than commit a public offense," according to court records.
Associate Judge Stephan A. Owen, for the Iowa District Court for Boone County, found Geddes guilty and sentenced him to up to two years of probation.
On September 14, 2023, he appealed his convictions for trespass as a hate crime, arguing that the evidence of guilt was insufficient and that the convictions violated his constitutional rights of free speech and due process.
In its Friday ruling the high court disagreed noting: "The individuals' display of the LGBTQ+ flag or flag decal on their own properties was an exercise of First Amendment rights; the defendant's surreptitious entry onto those properties to post his harassing notes was not."
The Associated Press reported that as the court noted, the rainbow flag has come to symbolize support for LGBTQ+ rights. The majority said the state statute in question does not criminalize speech, but rather conduct with a specific intent — trespassing because the property owners or residents had associated themselves with a protected class.
The AP also reported that in his dissent, Justice Matthew McDermott said there was no evidence in the record that the recipients of Geddes' notes were members of the LGBTQ+ community or whether he believed they were, nor whether any of the residents had an "association with" an actual person in those protected classes. He noted that the Legislature chose the words "association with" rather than "solidarity with" when it wrote the hate crime law.
"As a symbol, a flag doesn't independently create or express actual association with particular persons," McDermott wrote, adding that, "Not everyone who displays a pirate flag is associated with actual pirates."
Related: