Pride Overflowing at LA and WeHo Mayors' Parties
So much to be proud of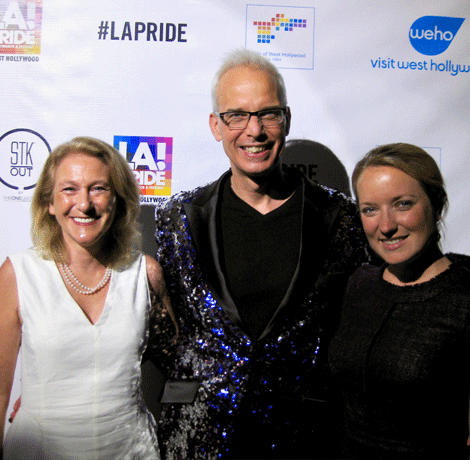 What a significant difference a mere seven months can make! Prior to the 2016 elections last November, progress on the LGBT equality front was so presumed, inculcated in every day life, few Angelenos got excited about celebrating LGBT Pride. It was a done deal. That changed with the campaign of Donald Trump and his shocking ascension to presidential power. This year the June 11#ResistMarch is supplanting the traditional Christopher Street West Pride Parade, ironically a return to the roots of post-Stonewall protest.
But, as CSW co-founder Rev. Troy Perry reminded us, Los Angeles decided to have a parade to celebrate the joy of gay liberation, in conjunction with the ongoing anger over still being denied first class citizenship. So of course there needed to be some parties celebrating Pride – and who better to kick that off than Los Angeles Mayor Eric Garcetti and West Hollywood Mayor John Heilman, both held on Wednesday night.
Garcetti's LGBT Pride Garden Party was held at the historic Wattles Mansion in Hollywood. Guests ranged from LAPD brass to LGBT city staff to grassroots artists and activists from both political parties and voters who "declined-to-state" their political preferences. Cocktails and civility flowed throughout the estate, a reminder that "respect" still matters in some quarters.
Heilman's party with CSW was held at the Penthouse at historic Factory on Robertson Boulevard. The mayor greeted guests decked out in a shimmering jacket that would have reflected the disco ball chandeliers had they been on and spinning above, framed against enough greenery and wide windows one might think the chic club space was a creative environmentalist's greenhouse/funhouse. Ah, WeHo. Guests mingled, gossiped and foot-tapped to Anthony Fedorove singing "Calling on You." A joyful attitude of Pride was plentiful and on parade. To see more of what WeHo is producing for Pride go to www.weho.org/pride.
The universe comes out to jazz and violins and you're invited
LA prides itself as home of the stars. Don't limit yourself to the mere mortal stars of Hollywood, when the universe is opening its doors
LOS ANGELES COUNTY – Starlight, starbright: Bathing yourself in the magnificent skies has returned to Los Angeles as the historic Mount Wilson Observatory announces… shall we say it… a heavenly lineup for its 2022 program.
The program offers something for everybody: From the universe-fascinated who want to observe and soak up astronomical knowledge to the bright light and musically discerning who are there just for the mind-blowing beauty alone.
Since its founding in 1904 by astronomer and visionary George Ellery Hale, Mount Wilson Observatory has played host to some of the most important discoveries in modern astronomy. Located on Mount Wilson, a 5710-foot (1740-meter) peak in the San Gabriel Mountains of the Angeles National Forest, Mount Wilson Observatory (MWO) features the Snow Solar Telescope (largest in the world from 1905-1908 and the mountain's first installation), a 60-inch telescope (the world's largest operational telescope from 1908-1917), and the 100-inch Hooker telescope (which featured the world's largest aperture from 1917-1949). Mount Wilson Institute has independently operated and maintained the Mount Wilson Observatory since 1989 under a long-term agreement with the Carnegie Institution of Washington.
The observatory offers a series of tours throughout the season for the scientific tourist in you. For the mechanically inclined, you can take an engineering tour of the huge telescopes and understand how they have enabled historic discoveries. For the stargazers, there are public and private tours to actually use the telescopes and peep in on our nearest planetary and constellation neighbors. For the gazers who want to keep things even closer to home, take a look right into our own Sun with the Lunt Telescope.
There is no better way to observe the universe than to do it wrapped in gorgeous music. The observatory steps up and takes advantage of the dome's sensational acoustics by presenting Sunday Afternoon Concerts in the Dome. Top jazz, violinist, brass talents and more will perform in events at 3:00pm and 5:00pm May 22- October 21. The season aesthetics are capped off with [email protected] Observatory in the later summer months which explores sound art in the dome, plein-air painting and sculpting.
It would be a shame to visit the observatory for its visual and auditory sensual offerings alone, however. For those who want to deepen their mind, the season also offers an incredible roster for the astronomy intellect. Lectures from the top experts include discoveries of the deep space mission, women scientists at the observatory, the work of George Ellery Hale, and more.
The gates to Mount Wilson's acreage opens at 10:00am every day and close at 5:30. Visitors can hike the grounds, gaze at the telescope domes that dot the landscape, and browse through the Historic Museum in the Lecture Hall.  Members from the Los Angeles Astronomical Society will gather around the grounds during each of the events during the season and set up specialty telescopes for a view of various night sky objects while attendees await their turn to look through the grand telescopes in the domes.
Los Angeles prides itself as home of the stars. Don't limit yourself to the mere mortal stars of Hollywood, when the universe is opening its doors to experience stellar wonders that will really blow your heart and your mind. We hope to see you at the observatory to experience magnificence together.
For more information:
Concerts: https://www.mtwilson.edu/concerts
Engineering Tours: www.mtwilson.edu/engineering-tour
Public Ticket Nights: mtwilson.edu/public-ticket-nights
Private Telescope Reservations: mtwilson.edu/observe
Solar Viewing: mtwilson.edu/solar-observing
Tours: mtwilson.edu/weekend-docent-tours
Mt. Wilson Observatory: https://www.mtwilson.edu
MWO Facebook: https://www.facebook.com/WilsonObs
MWO Twitter: https://twitter.com/mtwilsonobs MWO Instagram: https://www.instagram.com/mtwilsonobservatory
Padilla joins women's march rally in LA to advocate for abortion rights
"We're coming together this weekend with a powerful message to those who wish to control our bodies & our futures"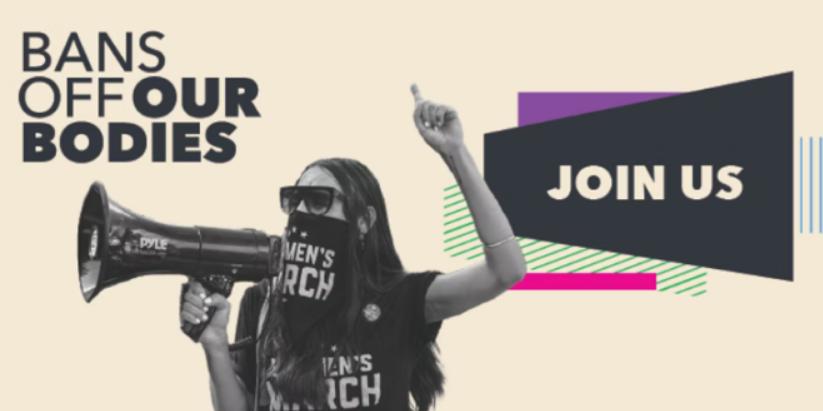 LOS ANGELES – U.S. Senator Alex Padilla (D-Calif.), a member of the Senate Judiciary Committee, will join the Women's March Foundation along with local and national leaders for a National Day of Action, the 'Bans Off Our Bodies' Reproductive Rights Rally. Padilla will deliver remarks on the importance of defending access to safe, legal abortion at the federal level.
Senator Padilla joins leaders in Los Angeles for this day of action following a leaked draft Supreme Court decision that would overturn Roe v. Wade and roll back abortion access protections for millions of women across the country.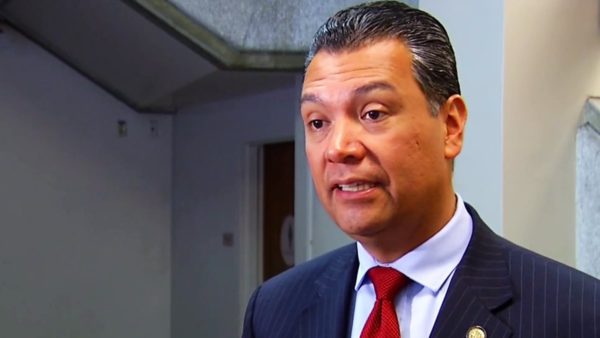 Earlier this week, Padilla voted in support of the Women's Health Protection Act (WHPA), legislation that would codify the right to an abortion into federal law, and spoke on the Senate floor urging his colleagues to pass the bill.
The "Bans Off Our Bodies" daylong event is organized by groups including Women's March, Planned Parenthood Action Fund, UltraViolet, MoveOn, the American Civil Liberties Union and the National Abortion Rights Action League.
"We're coming together this weekend with a powerful message to those who wish to control our bodies and our futures: Keep your bans off our bodies," said Planned Parenthood national organizing director Brianna Twofoot.
| | |
| --- | --- |
| WHEN: | TOMORROW, Saturday, May 14 at 10:00am PT |
| WHO: | Women's March Foundation |
| WHERE: | Los Angeles City Hall, 200 N Spring St., Los Angeles, CA 90012 |
Vaxxed & unmasked, DragCon returns as a three-day LA lady
"It's a drag world and we are so excited to be welcoming a record number of queens from all over the world to RuPaul's DragCon this year"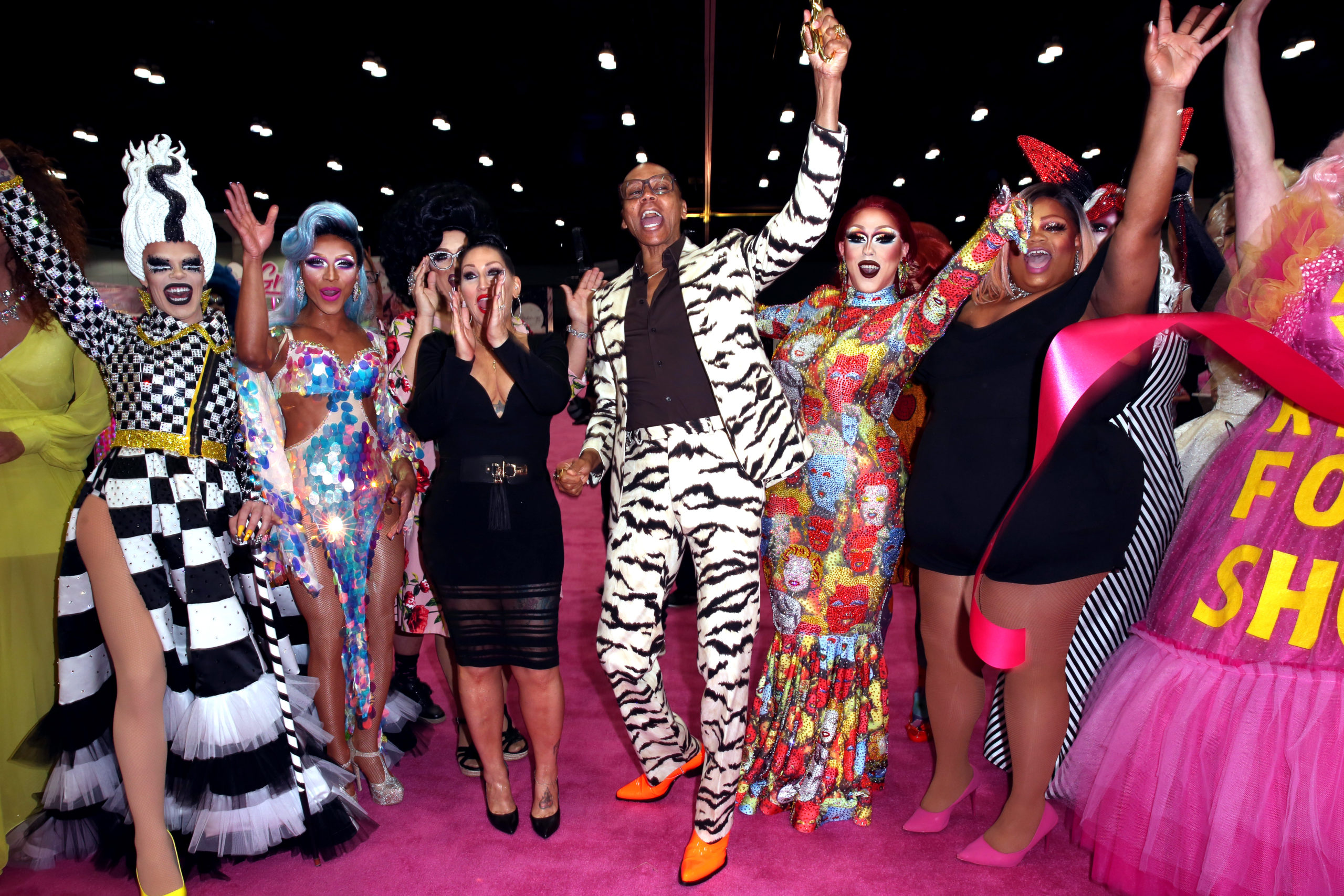 LOS ANGELES – After what seems like a lifetime of shuttered gay bars, cancelled Pride marches, and digital drag shows so long they're still going on, RuPaul's DragCon LA is set to roll out its photo op-fabulous pink carpet for the first time since 2019, and invite you to sissy that walk back into a World of Wonder filled with wigs, dresses, heels, and makeup with such lasting power it's said to take a queen all the way from her first werk room entrance to her "Miss Congeniality" win at the inevitable reunion show.
Taking place Friday through Sunday, May 13 to 15, RuPaul's DragCon LA 2022 will be the 10th such in-person convention presented by RuPaul and World of Wonder—their "fiercest year yet," say the organizers, who've brought some things old, some things new to what they note is "the world's largest all-ages and family-friendly celebration of drag, featuring vendors, exhibitors, meet & greets, panels, and Q&A sessions."
Long-may-she-reign supermodel of the world RuPaul (Fun Fact: She put the "RuPaul" in "RuPaul's Drag Race"), will open the proceedings at a Friday morning ribbon-cutting, and then make several DJ appearances. But as star-powered as a "Mama Ru" sighting can be, it's the storied queenmaker's "Drag Race" alum ("My girls," she calls them) that have become the most powerful draw. Booked for the LA Con are long-established queens including Alaska, Monet X Change, The Vivienne, Raja, Shea Couleé, Trinity the Tuck, Jinkx Monsoon, and Adore Delano.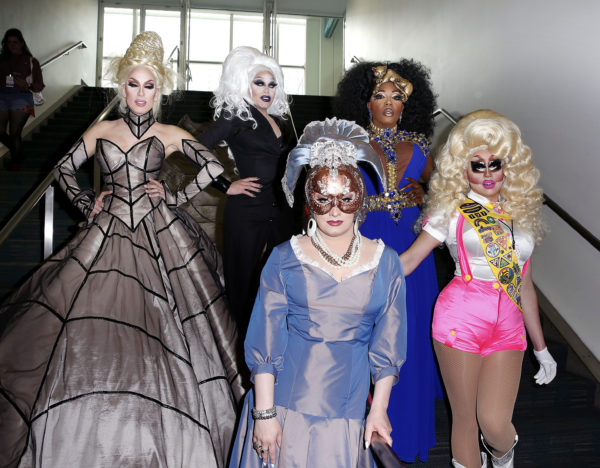 But wait—the roster is also well-represented by queens from the ever-growing lists of Drag Race competitions taking place outside of the United States. This lucky talent pool isn't just showing up at the LA Con to put in some face time—they're also putting on a show. "Bring Back My Girls" is the name of the seven-part show taping live at DragCon for fall 2022 viewing as a WOW Presents Plus original series. The cast of "Bring Back" is drawn from queens of the UK, Australia & New Zealand, Canada, Holland and our good old USA. Appearing in a series of panel discussions hosted by TV personality and LGBTQ+ activist Ts Madison, the tapings are accessible to the public, whose interactions with the panelists during the Q&A section just might find them making the final cut
"It's a drag, drag, drag, drag world and we are so excited to be welcoming a record number of queens from all over the world to RuPaul's DragCon this year," said World of Wonder co-founders Fenton Bailey and Randy Barbato of the international influx, adding, "We cannot wait to showcase them… These conversations will make you laugh and cry while serving you T from a global perspective."
The panelists will include, from "RuPaul's Drag Race S12": GiGi Goode, Heidi N Closet, Jackie Cox, and Nicky Doll. From "RuPaul's Drag Race vs. The World": Baga Chipz, Blu Hydrangea, and Cheryl Hole. From "RuPaul's Drag Race UK S2: A'Whora, Lawrence Chaney, Tayce, and Tia Kofi. From "Canada's Drag Race S1": Anastarzia Anaquway, Jimbo, Juice Boxx, and Scarlete BoBo. And that's just a fraction of the featured shows and castmembers.
Other panels not themed to the WOW Presents Plus series taping have compelling themes and panelists. On Saturday, May 14 at 3PM, the Anastasia Beverly Hills: Exploring Beauty panel features Detox, Norvina aka Claudia Soare, Trinity the Tuck, Jorgeous, and Kerri Colby. At 3:30pm, Carson Kressley, Raja, Nicky Doll, Alexis Mateo, and Gottmik sit down for a Fashion Photo Ruview. Also at 3:30PM, Jackie Cox brigs her WOW Podcasts show live with a "It Do Take Nerd" panel featuring Steven Sims, Tina Burner, and Daniel Franzese.
On the convention floor, you'll find something totally new, even by drag standards. It's been 30 years since four sex-positive seniors known as The Golden Girls wrapped up their seven-season run. Now, for the duration of its three-day run, DragCon LA transports you into the most beloved room in that iconic, wicker-filed Miami house. This lovingly detailed recreation of "crisis central" (aka the kitchen) invites fans to "get lost in the Golden Girls universe and live their 80s-sitcom fantasy" say the minds behind this "unique activation"—which is Hulu, since the press release touts the streaming service as a means to catch up on the show before you see the set on-site and succumb, understandably, to a royal tizzy.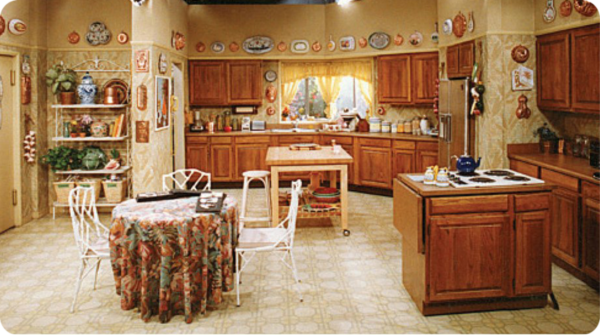 Con-goers who take part on Sunday from 11AM to 2PM will have the opportunity to interact with the Girls, as lovingly played by four equally beloved drag queens. Picture it: Pandora Boxx (RuPaul's Drag Race Season 2, All Stars S6) is Rose; Tempest DuJour (RuPaul's Drag Race S7) is Dorothy; Kennedy Davenport (RuPaul's Drag Race S7, All Stars S3) is Blanche; and Mrs. Kasha Davis (RuPaul's Drag Race S7) is Sophia. All who attend during that three-hour window will have the opportunity to schmooze while being served the kitchen's most popular repeat dish… which is, what? Yes, cheesecake!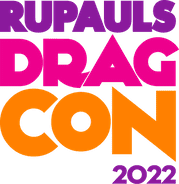 RuPaul's DragCon LA 2022 takes place Friday, May 13th: 9:00PM to 6:00PM; Saturday, May 14th: 9:00AM to 6:00PM; and Sunday, May 15th: 9:00AM to 5:00PM. COVID Protocols: All must provide proof of full vaccination or a negative COVID-19 PCR test upon entry into the venue (taken within 48 hours of walking through the doors). Masks are optional but recommended – however, vendor and talent booths may have their own rules in place that require masks. **Guidelines are subject to change.
More information can be found at https://la.rupaulsdragcon.com/faq/. *At home tests will not be accepted; onsite testing will be available at a fee. DragCon uses the CDC's definition of fully vaccinated. Full details can be found on the CDC website.
The Los Angeles Convention Center is located at 1201 South Figueroa Street
Los Angeles. The Los Angeles Convention Center (LACC) offers two parking garages on a first come first serve basis. Maps and more info can be found at LACC Parking.