Parkland students: vote to stop gun violence
Garcetti announces voter registration drive on school campuses in September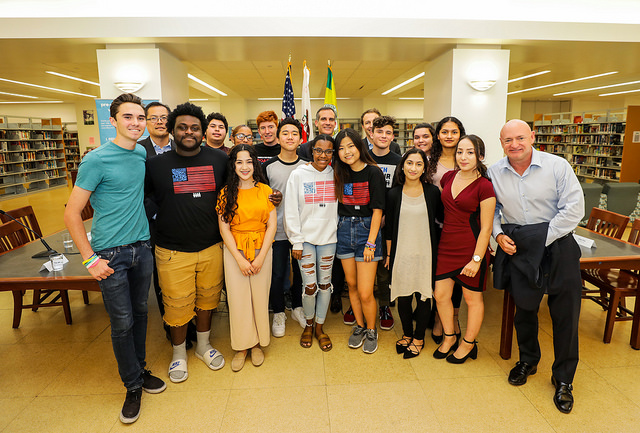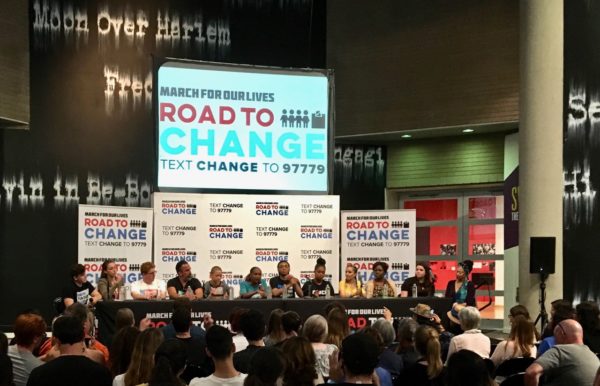 The student survivors of the mass shooting at Marjory Stoneman Douglas High School in Parkland, Florida did not need any more evidence that gun violence hits close to home. But gun violence persists: on Tuesday, July 17, Ayub Ali, the 61-year old owner of Aunt Molly's Food Store in North Lauderdale, was shot and killed during a robbery. Ali, a native of Bangladesh, leaves his wife Farhana and their four children, two of whom, a son and daughter, survived the Parkland shootings last February.
The tragic news broke as a group of student survivors were in Los Angeles as part of their national summer bus tour, March For Our Lives: Road to Change, organized to educate young people about gun violence, the obstructionist lobbying campaigns of the National Rifle Association (NRA) and the power of a voter-savvy youth movement to change what has heretofore been an intractable deadly scourge.
The 20-state tour is complimented by a separate tour— with a number of LGBT activists—visiting every congressional district in Florida. The students are intentionally hitting areas with strong NRA supporters to engage in civil dialogue and debate over gun safety and register young people to vote.
While the nation mourned with the families after each mass shooting, especially the massacre of 20 six and seven year olds and six adults at Sandy Hook Elementary School in Dec. 2012, the Valentine's Day shooting galvanized the grieving students upon learning that the 19-year old accused killer with homophobic and white supremacist views legally purchased the AR-15 style semi-automatic rifle he used to indiscriminately massacre 17 students and staff and injure 17 others.
Three days after the shooting, the angry, devastated Marjory Stoneman Douglas students held a nationally televised rally outside of Broward County Federal Courthouse where they called out the NRA and the politicians who take NRA money.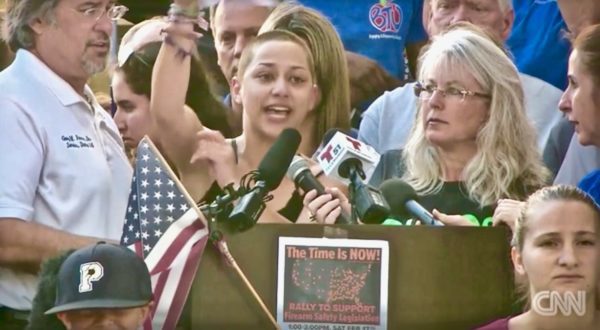 "They say that tougher gun laws do not decrease gun violence: We call BS!" fumed Emma Gonzalez. "They say a good guy with a gun stops a bad guy with a gun: We call BS!"
The video of Gonzalez's impassioned remarks went viral and now "We Call BS!" is on a tee shirt, part of the "merch" funding the tour, along with public donations at their website. "We Call BS!" is also part of the campaign to register youth to vote: https://marchforourlives.com/vote-for-our-lives/
The tour hit Los Angeles County with a stop in Palmdale on July 17, then two days in LA, before heading to Irvine and Huntington Beach in Orange County on Saturday. Sunday, they head up to Oakland. Their trip through the middle of the country in June included a June 24 stop at the Twin Cities Pride Festival in Loring Park, Minnesota and a visit to the Standing Rock Sioux Reservation three days later.
Interesting in its coincidental timing apart from the tour—three murdered Marjory Stoneman Douglas High School coaches were honored Wednesday night at the ESPY Awards in LA broadcast live on ABC. Aaron Feis, 37, Assistant Football Coach and security guard, used his body as a shield. Scott Beigel, 35, a geography teacher and cross-country coach, ushered students to safety in his classroom. Chris Hixon, 49, the school's athletic director, wrestling coach and Navy veteran, died trying to disarm the shooter.
At some stops, the activists meet with local officials and leaders and hold community events and town halls, partnering with local organizations to share the platform with local activists or survivors.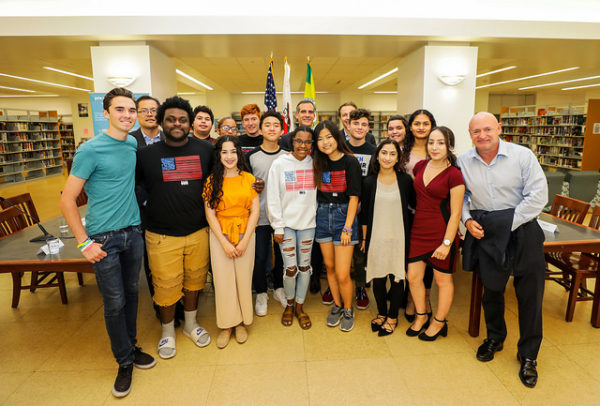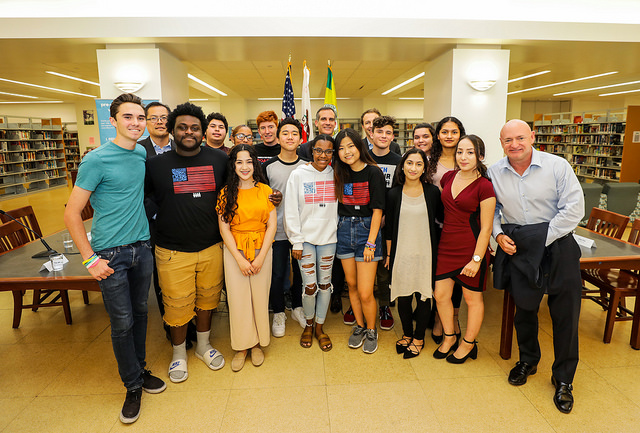 In LA, the students first met Thursday, July 19, with Mayor Eric Garcetti, who joined his new Student Advisory Council on Gun Violence in Schools & Communities in announcing that LA will join the March For Our Lives youth in becoming the first US city hold a voter registration drive on public high school and community college campuses on Sept. 25.
"Young people in Los Angeles and across America are showing incredible leadership in confronting gun violence," Garcetti said. "I am inspired by their commitment to improving our country and the democratic process, and proud that L.A. will lead in making it easier for our youth to register, vote, and have their say in the future direction of our country."
The plan is a result of a partnership between March For Our Lives, Garcetti, California Secretary of State Alex Padilla, the LA Community College District and the LA Unified School District (LAUSD). They called for similar actions across California.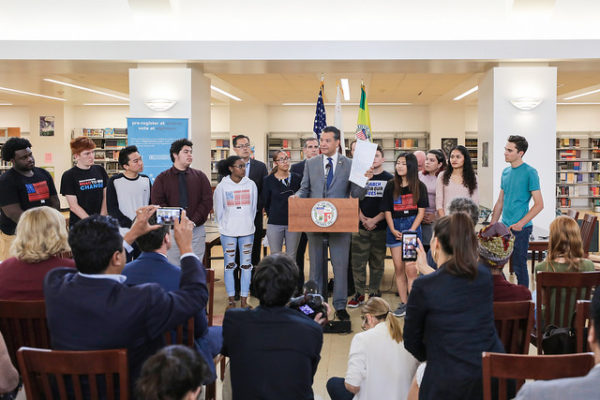 "Youth are leading the charge of civic engagement in California and we now have more than 166,000 total 16 and 17 year-olds who have pre-registered to vote," said Padilla. "But we are looking forward to getting to 200,000 by the Midterms and with the leadership of Mayor Garcetti and his new citywide initiative, I have no doubt we will."
"Mayor Garcetti and the City of Los Angeles are raising the bar for elected officials around the country," said a March For Our Lives spokesperson. "Everybody deserves to be heard in our political system, especially students. By committing resources to a community-wide voter registration day on September 25, the Los Angeles Public School system and the Los Angeles Community College District are making it easier for millions of students to make their choice clear at the ballot box. It's on all of us to ensure those eligible to vote have an opportunity to do so."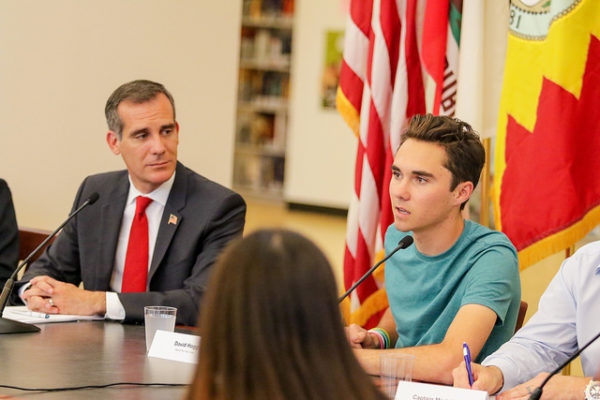 After the announcement, Garcetti moderated a roundtable with members of March For Our Lives, members of the Student Advisory Group on Gun Violence in Schools & Communities, and Captain Mark Kelly, co-founder of Americans for Responsible Solutions, a gun violence prevention organization created with his wife, former Arizona Rep. Gabby Giffords, a victim of wanton gun violence while meeting at a shopping mall with constituents.
A new analysis by TargetSmart, a data firm that works on behalf of Democrats, indicates an eight percentage point jump in voter registration among voters between the ages of 18-29 in Florida after the shooting. "In the two and a half months after the shooting, young voters made up 34.22 percent of all new voter registrations in Florida," the McClatchy News Service reported July 19.
March for Our Lives movement leader David Hogg, applauded the news, tweeting: "The young people will win," also congratulating the March For Our Lives AZ (Arizona) for their "AMAZING work!"
"A new generation of political leaders emerged in the aftermath of the Parkland tragedy," TargetSmart CEO Tom Bonier said in a statement. "We witnessed their ability to organize in Florida and across the country as massive crowds took to the streets for the March for Our Lives, and now we're seeing a quantifiable impact from that organizing. It remains to be seen how many of these younger registrants will cast a ballot in November, but they are poised to have a louder voice than ever in these critical midterm elections."
But the NRA also had a record month of fundraising after the Parkland shooting, McClatchy reports.
The NRA was a hot topic at the March For Our Lives town hall meeting at the California African American Museum Thursday night. When asked much of the audience raised their hands as having led or participated in the March 24 walkouts in Los Angeles as part of a March For Our Lives massive national protest.
Their message: Text 'CHANGE' to 977-79 to join March For Our Lives.
March For Our Lives strategist and former MSD student Matt Deitsch adroitly dismantled the NRA argument that "a good guy with a gun stops a bad guy with a gun." They're just trying to sell you two guns—that's what they do. They sell guns, he said. "Don't buy the sales pitch."
The NRA, Deitsch said, "cares more about gun rights than human rights." He also lampooned loud-mouthed NRA member Ted Nugent who recently called the student survivors "liars," "poor, mushy-brained children," and "soulless," according to Vox, and says gun-free zones "are where the most innocent lives are lost." Nugent apparently banned guns at his Virginia concert Tuesday citing concerns about the Orlando Pulse nightclub shooting.
"According to Roanoke station WSLS, Nugent's management specifically told Berglund Performing Arts Theater operators just minutes before showtime that guns would be banned from the concert," the Orlando Sentinel reported. "Given the things that have happened in nightclubs like Pulse and what happened in Manchester, [Nugent's] security people are taking extra precautions," center general manager Robyn Schon told WSLS, referring to the 2016 shooting in Orlando that killed 49 and the 2017 bombing at an Ariana Grande concert in England. "They are not novices. They are very serious people."
Nugent's spokeswoman Linda Peterson denied the ban telling the Orlando Sentinel Thursday, "Ted always allows legally carried guns into his shows."
Another panelist also mentioned Pulse, noting that there was a good guy had a gun at the gay nightclub but he didn't want to go up against the shooter with an AR 15 and possibly kill lots of innocent people.
But while education about the NRA and registering people to vote were primary goals of the town hall, the Parkland students also sought to share their platform with Black Lives Matter and local individuals impacted by gun violence—and that sparked intense serious discussions about police violence, domestic violence, the school-to-prison pipeline and "the constant cycle of gang violence that's just the system failing us over and over again."
When you talk about gun intervention, one African American woman said, "you have to include everybody." For instance, there are laws preventing a convicted domestic abuser from getting a gun—but a number of domestic abusers are police officers and they get away with it. Additionally, there is the militarization of the police force and unaccountable police brutality against minorities with laws allowing the use of deadly force.
"Is it my fault you're afraid of the color of my skin?" an African American woman said, noting how police justify shooting unarmed black men out of fear for their own safety. Why should such a fearful man be a police officer? "I'm afraid of the police."
"Where is justice?" asked another, noting that so many shooting deaths have not been solved.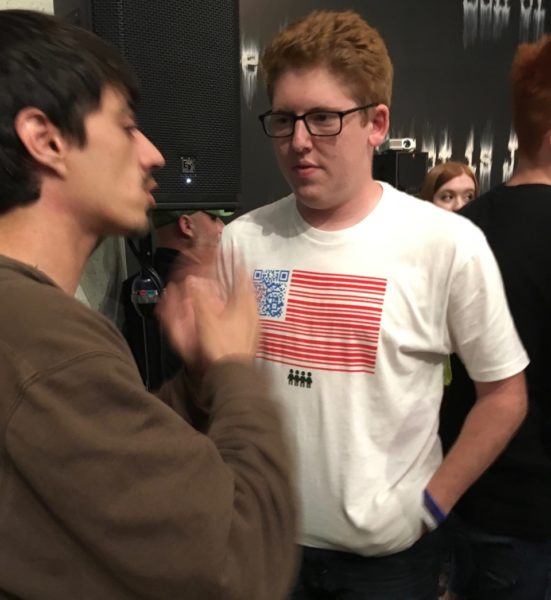 At the end of the town hall, the Parkland students asked that the audience buy the "merch," which is how the tour is being funded. The merch includes technology tee shirts where the stars in the stars and stripes flag is really a code that when scanned goes to a link with voter registration information. Perhaps because of the nature of discussion, the Parkland students announced that the proceeds from the sale of that night's merch would go to Black Lives Matter in Los Angeles.
At the end, panelists urged the survivors to call out the names of the victims.
Flipping the script a bit to lift up the good work being done on behalf of human persons – here are the names of the people who participated in both the mayor's panel and the town hall:
Mayor's panel:
John Choe
Katherine Henriquez
Natalie Garner
Sarah Robinson
Kevin Ramos
Alfonso Calderon
Kelly Choi
David Hogg
Alex King
Ryan Deitsch
Ariel Hobbs
Town hall panel:
Emma Gonzalez
Matt Deitsch
Manuel Oliver
Ramon Contreras
Edna Chavez
Jenna Cook
Mariam Siddiqi
Deborah Nelson
Donna Brown
Thandiwe Abdullah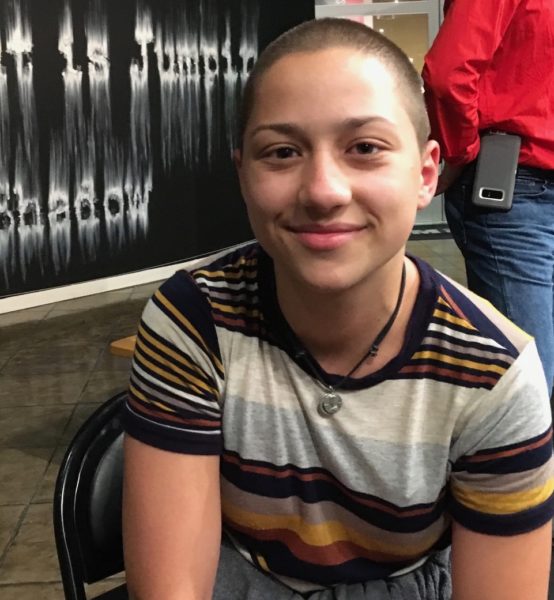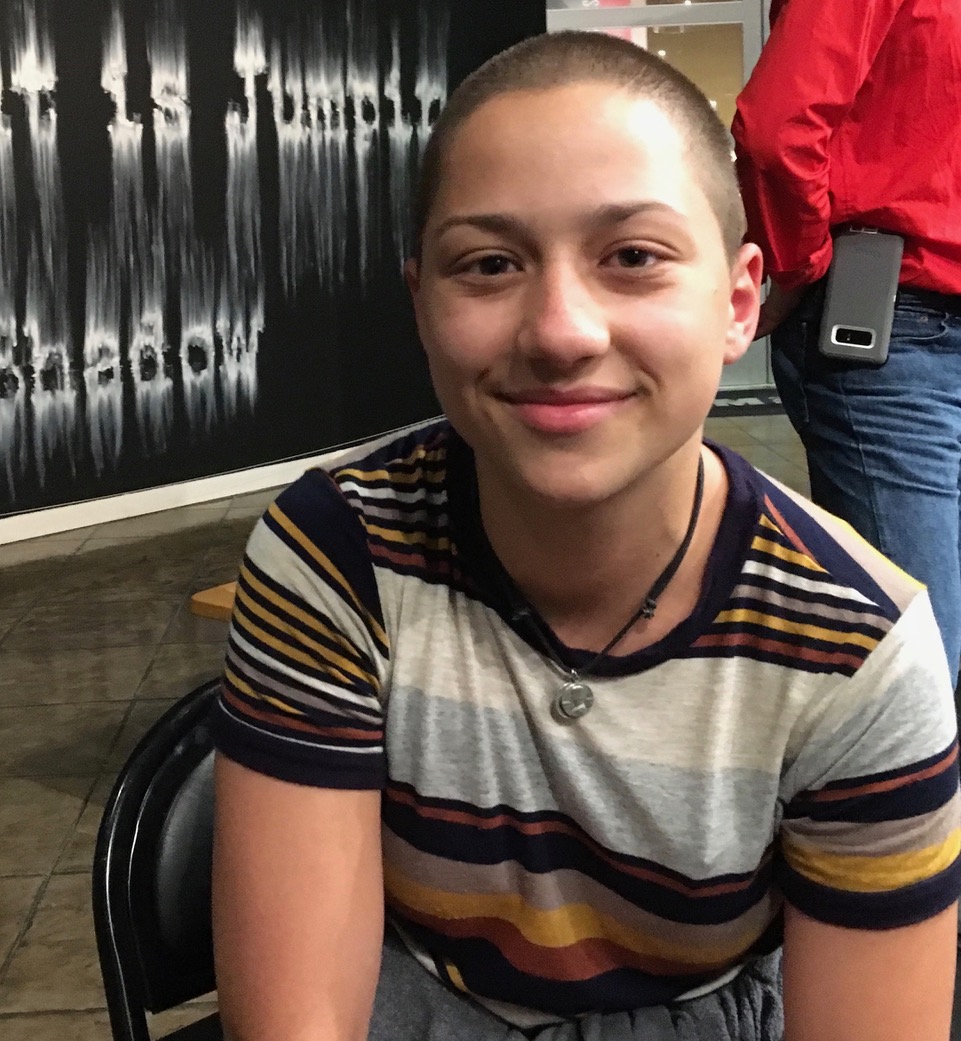 Please note: the Los Angeles Blade is featuring an interview with March For Our Lives bisexual leader Emma Gonzales for the next issue's cover story. Also look for the story online at losangelesblade.com
Los Angeles Mayor: Supreme Court decision "fundamentally un-American"
Mayor Eric Garcetti spoke to the Los Angeles Blade reflecting on Friday's U.S. Supreme Court reversal of Roe v. Wade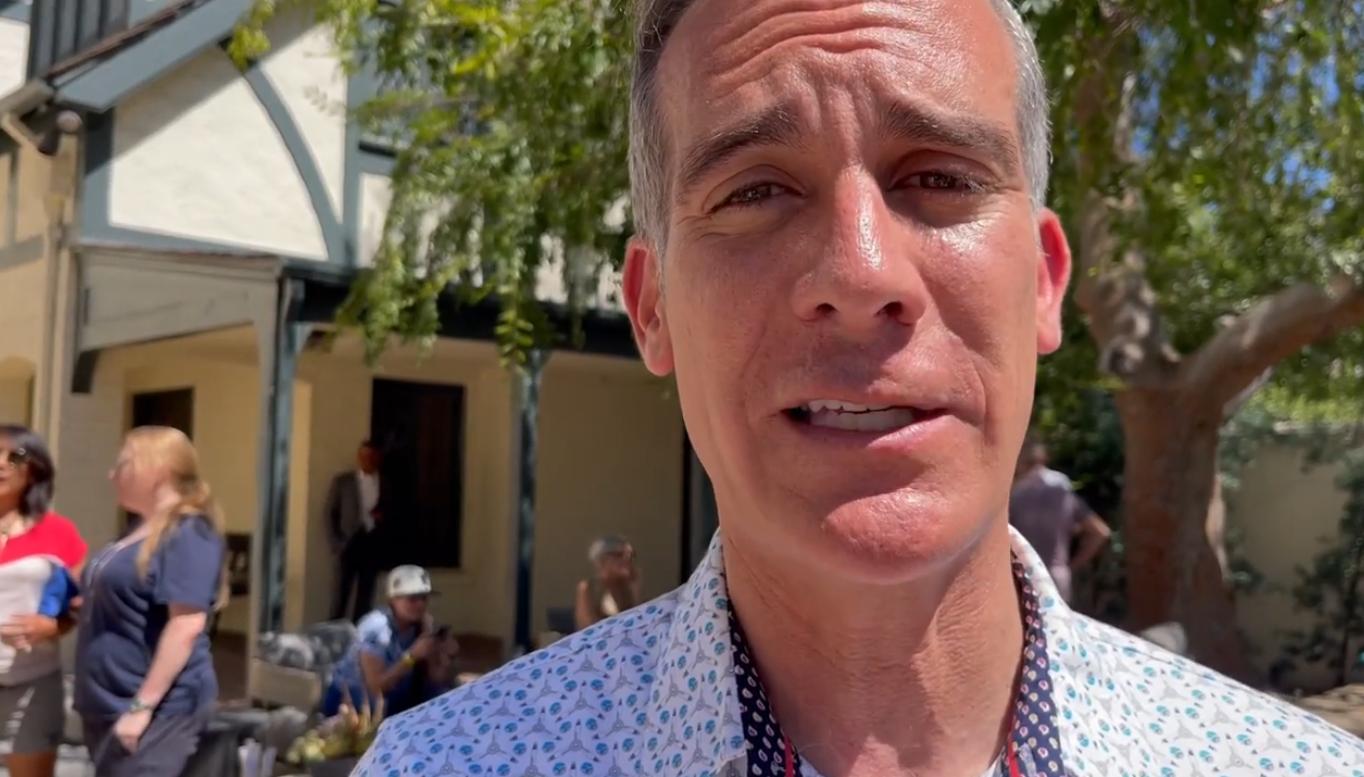 LOS ANGELES – During the Los Angeles Mayor's Pride Garden Party held at The Getty House, the official residence of the mayor Saturday afternoon, Mayor Eric Garcetti spoke to the Los Angeles Blade reflecting on Friday's U.S. Supreme Court reversal of Roe v. Wade.
Garcetti noted that "here in LA we defend those rights" after taking aim at the actions of the high court Friday in the ruling on the Mississippi case of Dobbs v. Jackson Women's Health clinic. "Make no mistake, we have to be active," Garcetti added.
WATCH:
Reminder: 101 closed through DTLA until 10pm Sunday
The closure began at 10 p.m. Saturday and will be completed by 10 p.m. Sunday, the Los Angeles Bureau of Engineering announced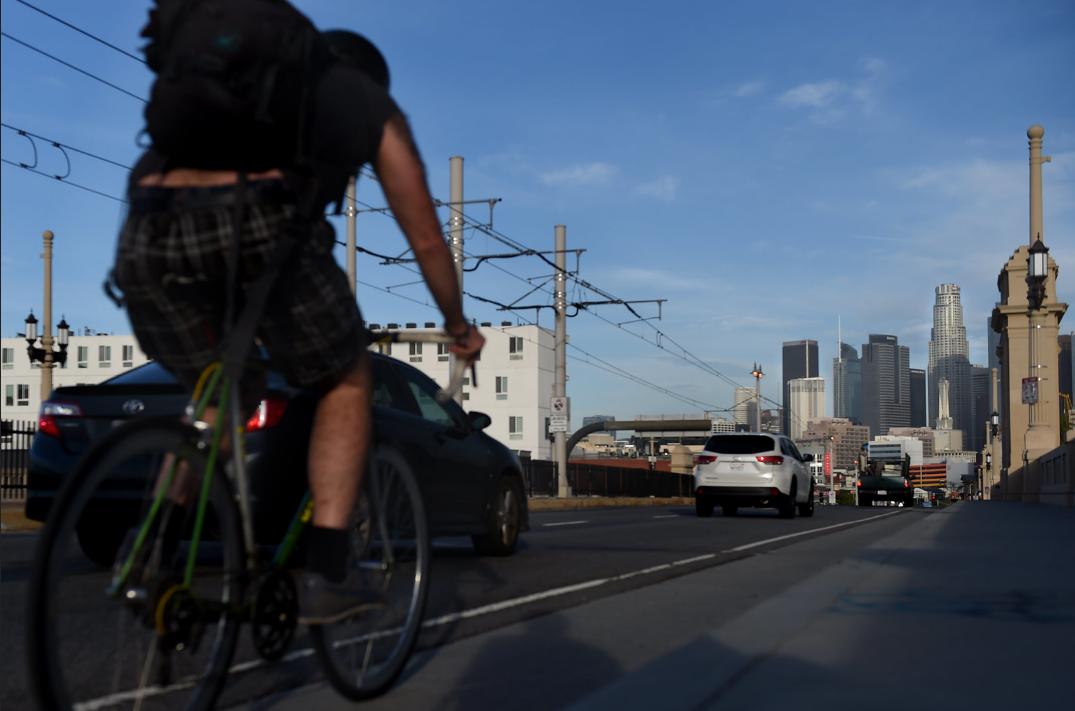 LOS ANGELES – (KTLA) Motorists are being reminded that the stretch of 101 through the downtown area of Los Angeles is shut down for road restoration and reconstruction work.
KTLA reported the closure began at 10 p.m. Saturday and will be completed by 10 p.m. Sunday, the Los Angeles Bureau of Engineering announced.
The 24-hour closure between State Route 60 and the 10 Freeway interchange is needed for the Sixth Street Viaduct Replacement Project, which aims to replace the original, seismically-deficient structure built in 1932, authorities said.
During the closure, the California Department of Transportation will also be doing slab replacement work along the same stretch of the 101 Freeway.
The closure will center around the east side of the viaduct construction site in Boyle Heights. While the stretch is closed, drivers headed west on State Route 60 from the Pomona area will not be able to access the 101, officials said.
Off-ramps and on-ramps in the area will also be closed during as road work gets underway.
Drivers who reach the closure will see signs directing them to a detour.
The new $588 million viaduct is expected to be completed in Summer of 2022, stretching between Boyle Heights and the Arts District.
Officials say it is the largest bridge project in the history of Los Angeles.
LA-DWP & Mayor Garcetti announce new outdoor watering restrictions
Sprinkler watering will be allowed Monday & Friday at odd-numbered addresses in the city, and even-numbered addresses on Thursday & Sunday

LOS ANGELES – In a press conference Tuesday Los Angeles Mayor Eric Garcetti and officials from the Los Angeles Department of Water and Power (LADWP) announced that outdoor watering in the city will be restricted to two days a week starting June 1.
The announcement comes as the Metropolitan Water District of Southern California declared an unprecedented water shortage emergency two weeks ago, imposing restrictions after MWD's board voted to adopt the emergency measures to "reduce non-essential water use" in certain areas. Cities and smaller water suppliers that get water from MWD are required to start restricting outdoor watering to one day a week, or to find other ways to cut usage to a new monthly allocation limit.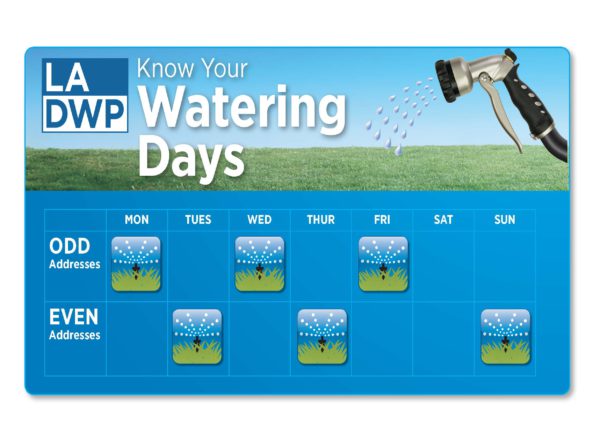 In Tuesday's press conference Mayor Garcetti said L.A.'s two-day limit was still more lenient than the one imposed by the Metropolitan Water District of Southern California, which has ordered many of its member agencies to restrict outdoor watering to once a week.
Sprinkler watering will be allowed on Monday and Friday at odd-numbered addresses in the city, and even-numbered addresses on Thursday and Sunday.