Rep. Frost talks gun control on anniversary of March for Our Lives
"10 years ago I became an Organizer because of Sandyhook. 3 years later, I'd become a survivor myself. That same year, Pulse"
Editor's note: The full interview with Congressman Frost will be published next week.
WASHINGTON – U.S. Rep. Maxwell Frost (D-Fla.), after a week of making headlines for his gun violence prevention advocacy, sat down with the Washington Blade for an exclusive interview on Friday, which marks the five-year anniversary of the founding of March for Our Lives.
The 26-year-old freshman Congressman, who before his election was national organizing director for the student-led gun control group, had just introduced his first piece of legislation Tuesday with U.S. Sen. Chris Murphy (D-Conn. that would establish an Office of Gun Violence Prevention within the U.S. Department of Justice.
The proposal's aim, in part, is to better facilitate the implementation of last year's Bipartisan Safer Communities Act by establishing a singular office to coordinate that work.
And on Thursday, Frost captured and tweeted a video of a confrontation between U.S. Capitol Police and Patricia and Manuel Oliver, gun control advocates who lost their son Joaquin in the 2018 Parkland, Florida high school shooting.
Manuel and Patricia Oliver were just kicked out of this committee hearing on gun violence. Patricia said one thing and the chair escalated the entire situation. Then, Police arrested Manuel Oliver who lost his son in the Parkland shooting.

His son was shot to death.

— Maxwell Alejandro Frost (@MaxwellFrostFL) March 23, 2023
Here is @manueloliver00 being arrested for speaking out at a committee hearing. His son, Jaoquin, was shot to death in Parkland, Fl.

MANNY IS A HERO. He didn't deserve this. The Republican Chair of this committee just called him a narcissist. Disgraceful. pic.twitter.com/6jccYvesHb

— Maxwell Alejandro Frost (@MaxwellFrostFL) March 23, 2023
The couple had been removed by police from the House Oversight and House Judiciary Committees' gun rights hearing at the request of GOP Reps. Andy Biggs (Ariz.) and Pat Fallon (Texas).
Frost, who was in attendance, told the Blade the conflict started when Patricia Oliver "just stood up and she said, 'you took my son' and she sat down," but "instead of moving on, the Chair [Fallon] escalated things."
The Congressman said hearing itself was "a sham" convened for the purpose of attacking the Biden administration's Bureau of Alcohol, Tobacco, Firearms and Explosives (ATF), the entity within the U.S. Justice Department that investigates violations of laws governing the manufacture, possession, and use of guns.
"The real story here," said the Congressman, "is the fact that there were two parents who lost their son who was in high school, because he was shot to death and died in a pool of his own blood, and now they're going to spend the rest of their lives fighting for a world where it doesn't happen to anybody else."
Frost noted the Olivers were joined at the hearing by other families, activists, and organizers – all of whom were gathered in Washington, D.C. to advance the mission established by the group of teenaged Parkland survivors who founded March for Our Lives five years ago.
Among these student activists were Cameron Kasky, who identifies as queer, and X González, who is bisexual and uses they/them pronouns.
Frost has repeatedly said he ran for Congress because of his involvement in the gun violence prevention advocacy movement, which began with his volunteering on behalf of the Newtown Action Alliance, a group formed in the wake of the 2012 Sandy Hook Elementary School shooting.
The Congressman told NPR the 2016 shooting at Pulse, the gay nightclub in Orlando "where 49 angels were murdered right here because they're queer" marked one of the most significant moments of his life.
That same year and in that same city, Frost himself survived a gun violence incident.
During his congressional campaign, on the heels of last year's elementary school shooting in Uvalde, Texas, Frost tweeted: "10 years ago I became an Organizer because of Sandyhook. 3 years later, I'd become a survivor myself. That same year, Pulse. Now I'm running for Congress and 15 lives were taken at another Elementary school. I will not stop until the endless shootings do."
Charlie Kirk's Turning Point partners with registered sex offender
Bergstrand served time for attempted "coercion and enticement" after trying to persuade "a minor female" to "engage in sexual activity"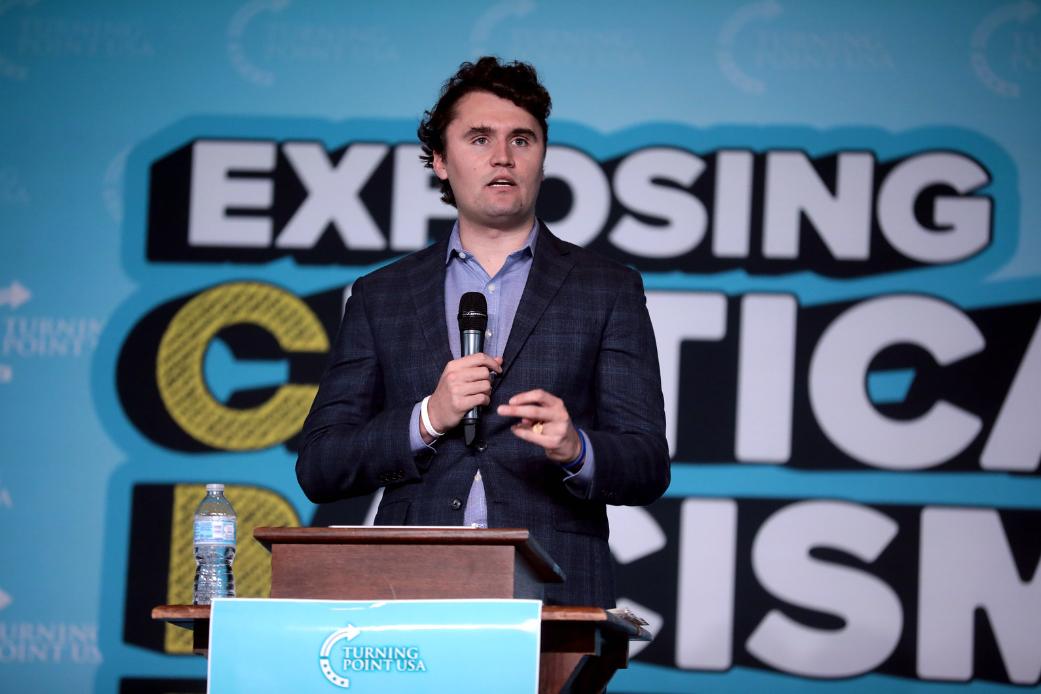 NASHVILLE – Far-right extremist radio chat show host and Turning Point USA CEO Charles J. Kirk, in statements he made this past week at the TPUSA's second-annual Pastors Summit, told attendees that conservatives and others needed to boycott Target for "their support for grooming kids."
Kirk also attacked Target, telling a packed audience of religious leaders: "If you love God, you must hate evil."
One of the TPUSA summit's corporate sponsors was Shawn Bergstrand, currently CEO of Bismarck-based Rightside Up Apparel, who is also a registered sex offender in North Dakota Rolling Stone magazine reported.
Bergstrand, served time in federal prison for attempted "coercion and enticement" after trying to persuade "a minor female" to "engage in sexual activity."
In a statement to Rolling Stone, TPUSA spokesman Andrew Kolvet said that TPUSA Faith "was not aware of this incident" but emphasized that, as an "exhibit sponsor," Bergstrand was not a speaker, organizer, or "professing doctrine from the stage."
Charlie Kirk decried the sexualization of children at his Pastors Summit this week.

One of the event's corporate sponsors is run by a man convicted of "coercion and enticement" of a minor.https://t.co/abUPkTCiWl

— Rolling Stone (@RollingStone) May 27, 2023
Kirk, who decried the sexualization of children at his pastors summit, responded on Twitter saying: "What a joke. Let's set the record straight. First, I've never met this person. He was one of many exhibitors at our event. He's not a "corporate sponsor" but rather a small business trying to market his company.
I'm told from the team that coordinates exhibitors that he's a nice person who did something wrong over a decade ago, and unlike Target, he repented and the experience led him to his faith. Good for him. That's the Gospel.
Lastly, he doesn't hide what happened. He tells his story on his own website, and the jerks at Rollingstone [sic] took that public testimony and called it "exclusive," just to unfairly smear him and play gotcha with me and TPUSA Faith. Rollingstone [sic] should be ashamed. Trash outlet that publishes trash hit pieces about an event they didn't witness and know nothing about.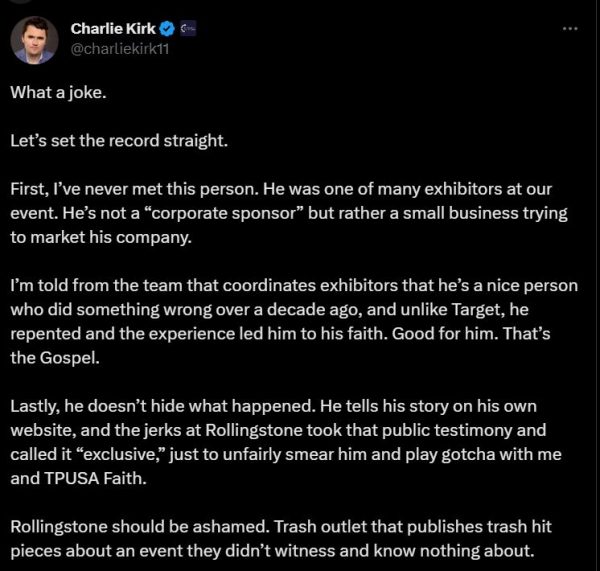 Rolling Stone also noted: Kirk responded to Rolling Stone's coverage of his group's new crusade. "First of all, it's not my Turning Point," Kirk insisted of his organization. "It's the Lord's Turning Point." He added: "I am both a Christian and a nationalist, but most importantly, I'm a Christian."
Bergstrand did not respond to requests for comment from the magazine, but his address on North Dakota's sex offender registry matches the registration address for Bergstrand and Rightside Up in a corporate registry maintained by North Dakota's secretary of state. Bergtrand's photo on the offender registry also matches video of the apparel CEO from RightsideUp's website.
Kirk has launched attacks on progressive politicians in a similar vein as his attacks on Target. Last November, in a lengthy tirade on Twitter, Kirk, while loosely channeling an InfoWars host Alex Jones style-attack, went after California State Senator Scott Wiener, (D-SF District 11) implying that the veteran lawmaker endorses and supports child molestation.
Kirk's attack on the senator commenced with: "Thousands of pedophiles in California are going free after just a few months in jail, thanks to the state's radically reduced penalties for child molestation. One reason so many of these predators are going free so early is California lawmaker Scott Wiener."
Editor's Note: It needs to be made clear, California has NOT reduced penalties for child molestation.
Senator Wiener responded to Kirk's attacks saying on Twitter:
Charlie Kirk — one of the biggest attention-seeking liars around — is spreading bald-faced lies about me. These statements are absolutely false & defamatory. These are the lies bigots have always spread about LGBTQ people — lies that lead to violence against our community.
Related: