SPLC condemns passage of Georgia anti-trans healthcare bill
Southern Poverty Law Center urged Georgia Gov. Brian Kemp (R) to veto S.B. 140, calling on him to not "give into pressure from his party"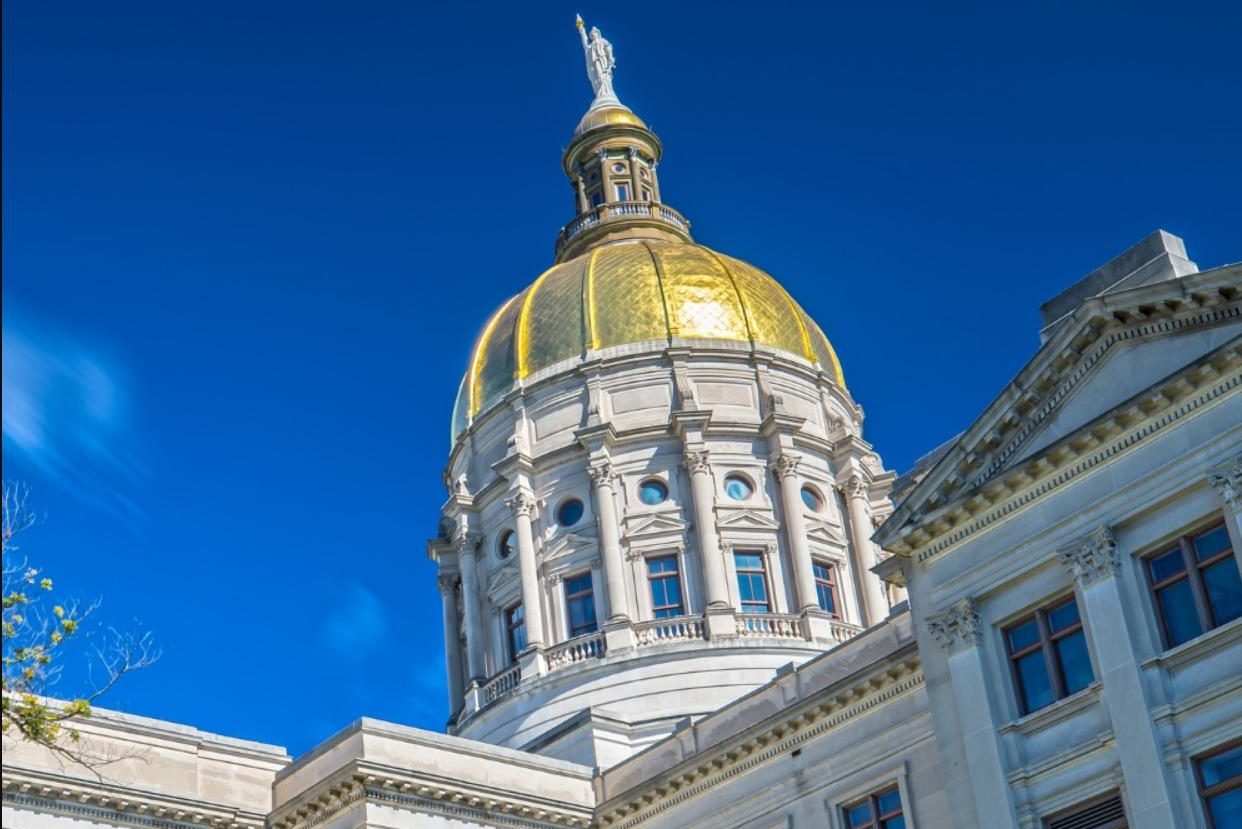 ATLANTA – The Southern Poverty Law Center Action Fund published a statement Tuesday condemning the Republican controlled Georgia legislature's passage of S.B. 140, a bill that will criminalize gender-affirming health care for minors.
The statement, issued by Beth Littrell, senior supervising attorney of the Southern Poverty Law Center's LGBTQ and Special Litigation Practice Group, urges Georgia Gov. Brian Kemp (R) to veto S.B. 140, calling on him to not "give into pressure from his party" when "the health and wellbeing of young people are at risk" through the denial of "safe, effective medical treatment to transgender youth — based only on prejudice and political pandering."
Kemp should "leave personal healthcare decisions in the capable hands of parents, children, and their doctors," Littrell's statement continues. "We hope the Governor will elevate himself and the State of Georgia above this cynical partisan attack on transgender youth, medical autonomy, and parental rights."
S.B. 140 specifically prohibits "sex reassignment surgeries, or any other surgical procedures, that are performed for the purpose of altering primary or secondary sexual characteristics" when they are "performed on a minor for the treatment of gender dysphoria."
"Limited exceptions" are made for the treatment of conditions other than gender dysphoria, if deemed medically necessary by the physician or healthcare practitioner, and for the treatment of patients with "a medically verifiable disorder of sex development."
The mainstream medical societies with relevant clinical expertise have repeatedly spoken out against legislation that limits access to or criminalizes, as in the case of Georgia's bill, guideline directed interventions for the treatment of trans and gender nonconforming youth.
On March 16, far-right GOP Rep. Marjorie Taylor Greene, who represents Georgia's 14th Congressional District, called for the state legislature to make the bill more restrictive.
Specifically, in a tweet she urged the lawmakers to amended S.B. 140 such that treatment of gender dysphoria minor patients with puberty blockers would be criminalized alongside the other interventions covered in the bill and also to remove the covered exceptions.
Charlie Kirk's Turning Point partners with registered sex offender
Bergstrand served time for attempted "coercion and enticement" after trying to persuade "a minor female" to "engage in sexual activity"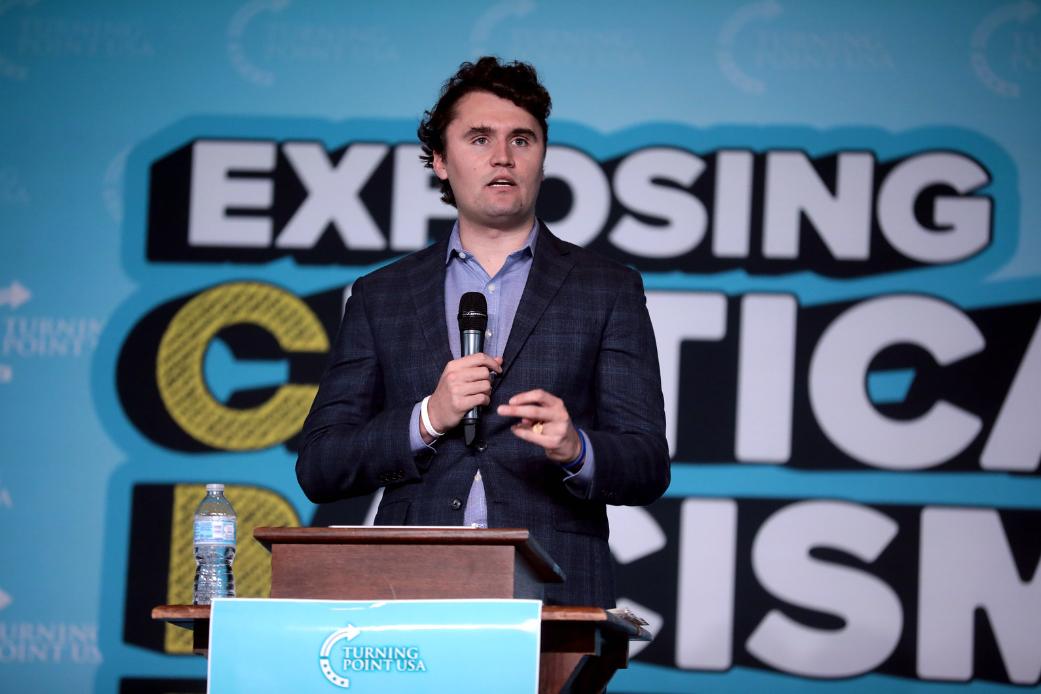 NASHVILLE – Far-right extremist radio chat show host and Turning Point USA CEO Charles J. Kirk, in statements he made this past week at the TPUSA's second-annual Pastors Summit, told attendees that conservatives and others needed to boycott Target for "their support for grooming kids."
Kirk also attacked Target, telling a packed audience of religious leaders: "If you love God, you must hate evil."
One of the TPUSA summit's corporate sponsors was Shawn Bergstrand, currently CEO of Bismarck-based Rightside Up Apparel, who is also a registered sex offender in North Dakota Rolling Stone magazine reported.
Bergstrand, served time in federal prison for attempted "coercion and enticement" after trying to persuade "a minor female" to "engage in sexual activity."
In a statement to Rolling Stone, TPUSA spokesman Andrew Kolvet said that TPUSA Faith "was not aware of this incident" but emphasized that, as an "exhibit sponsor," Bergstrand was not a speaker, organizer, or "professing doctrine from the stage."
Charlie Kirk decried the sexualization of children at his Pastors Summit this week.

One of the event's corporate sponsors is run by a man convicted of "coercion and enticement" of a minor.https://t.co/abUPkTCiWl

— Rolling Stone (@RollingStone) May 27, 2023
Kirk, who decried the sexualization of children at his pastors summit, responded on Twitter saying: "What a joke. Let's set the record straight. First, I've never met this person. He was one of many exhibitors at our event. He's not a "corporate sponsor" but rather a small business trying to market his company.
I'm told from the team that coordinates exhibitors that he's a nice person who did something wrong over a decade ago, and unlike Target, he repented and the experience led him to his faith. Good for him. That's the Gospel.
Lastly, he doesn't hide what happened. He tells his story on his own website, and the jerks at Rollingstone [sic] took that public testimony and called it "exclusive," just to unfairly smear him and play gotcha with me and TPUSA Faith. Rollingstone [sic] should be ashamed. Trash outlet that publishes trash hit pieces about an event they didn't witness and know nothing about.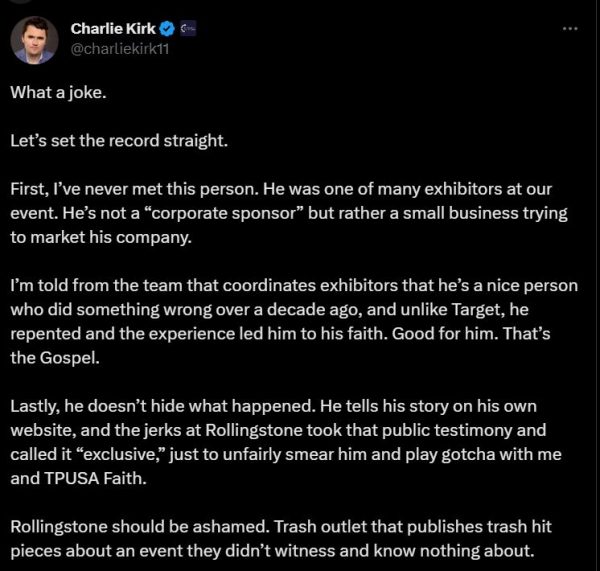 Rolling Stone also noted: Kirk responded to Rolling Stone's coverage of his group's new crusade. "First of all, it's not my Turning Point," Kirk insisted of his organization. "It's the Lord's Turning Point." He added: "I am both a Christian and a nationalist, but most importantly, I'm a Christian."
Bergstrand did not respond to requests for comment from the magazine, but his address on North Dakota's sex offender registry matches the registration address for Bergstrand and Rightside Up in a corporate registry maintained by North Dakota's secretary of state. Bergtrand's photo on the offender registry also matches video of the apparel CEO from RightsideUp's website.
Kirk has launched attacks on progressive politicians in a similar vein as his attacks on Target. Last November, in a lengthy tirade on Twitter, Kirk, while loosely channeling an InfoWars host Alex Jones style-attack, went after California State Senator Scott Wiener, (D-SF District 11) implying that the veteran lawmaker endorses and supports child molestation.
Kirk's attack on the senator commenced with: "Thousands of pedophiles in California are going free after just a few months in jail, thanks to the state's radically reduced penalties for child molestation. One reason so many of these predators are going free so early is California lawmaker Scott Wiener."
Editor's Note: It needs to be made clear, California has NOT reduced penalties for child molestation.
Senator Wiener responded to Kirk's attacks saying on Twitter:
Charlie Kirk — one of the biggest attention-seeking liars around — is spreading bald-faced lies about me. These statements are absolutely false & defamatory. These are the lies bigots have always spread about LGBTQ people — lies that lead to violence against our community.
Related: