Who gets saved? Ignoring the systemic abuse of LGBTQ children
The Centers for Disease Control and Prevention indicated that one in four teenagers who identified as LGBTQ+ said they attempted suicide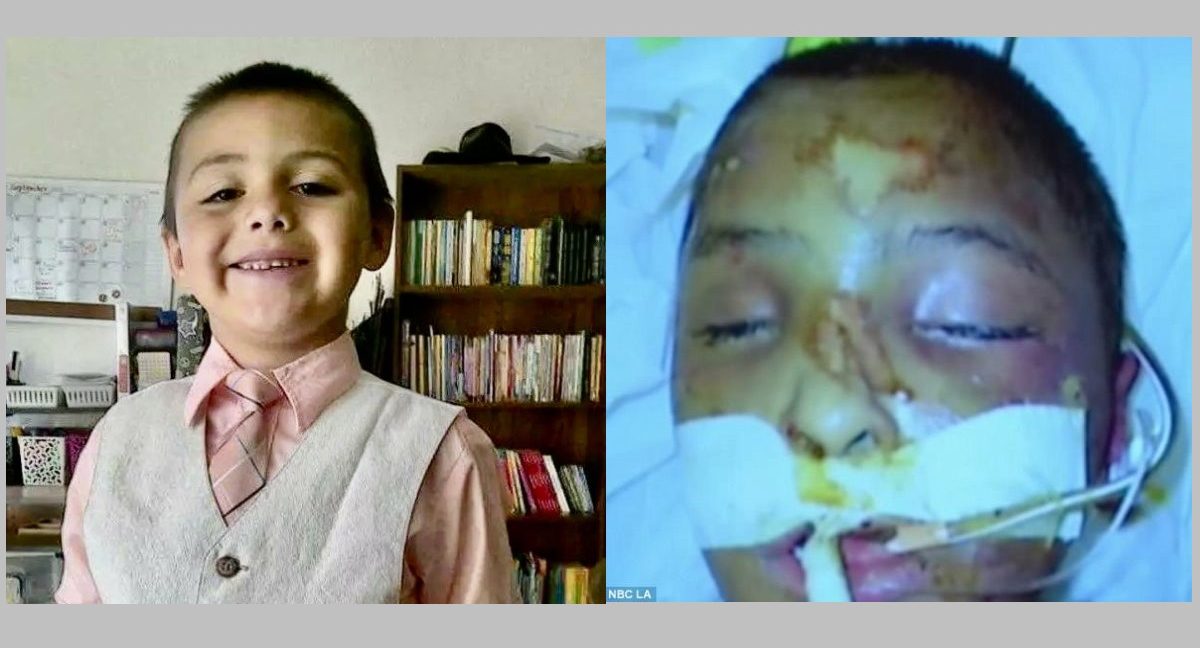 By Karen Ocamb | WEST HOLLYWOOD – Easter was ashen this year after a legislative chamber full of knuckle-dragging Christian white supremacists in Tennessee expelled two young Black colleagues who created rule-breaking "good trouble" by calling for sensible gun control to protect children.
Republicans removed Reps. Justin Jones, 27, and Justin Pearson, 28, and unsuccessfully tried to remove white Rep. Gloria Johnson, 60, for "their adolescence and immature behavior" protesting in favor of gun reform after a school shooting in Nashville that left six dead, including three children.
"We called for you all to ban assault weapons and you respond with an assault on democracy," said Jones during the floor debate to expel him.
Gun reform "is personal when you lose your friends, when you lose loved ones," Pearson told the New York Times.
Johnson, a former teacher at Knoxville's Central High School during a fatal shooting in 2008, told the New York Times about "the terror on the kids' faces as they were running down that hill into my classroom."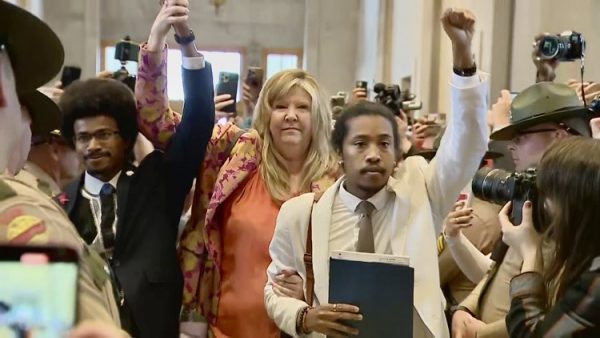 Before the mass shooting at a downtown Louisville, Kentucky bank that left four dead and nine wounded on Monday, April 10, the Gun Violence Archive counted 144 mass shootings in America from January 1 to April 8 this year, with at least 13 K-12 school shootings so far. The shooting at the pre-K- 6th grade Covenant School in Nashville was the deadliest mass shooting since the massacre at Robb Elementary School in Uvalde, Texas on May 24, 2022 when 21 people, including 19 children, were killed by a gunman with a military-style AR 15.
Ten years earlier, on Dec. 14, 2012, the nation was stunned by the mass shooting at K- 4th grade Sandy Hook Elementary School in Newtown, Connecticut when a 20-year-old murdered 26 people, 20 of whom were children between six and seven years old. Last February marked the fifth anniversary of the mass shooting at Marjory Stoneman Douglas High School in Parkland, Florida, where, on Feb. 14, 2018 – Valentine's Day – a 19 year old used a Smith & Wesson M&P15 Sport II semi-automatic rifle to murder 14 teenage students and three adult staff members and injure 17 more, two of whom died by suicide later.
The massacres resulted in several promised actions and lots of gun reform activism, including the youth-led March for Our Lives movement. But when Florida lawmakers Rep. Jared Moskowitz and Rep. Maxwell Frost spoke with "GMA3" to mark Parkland's fifth anniversary, they noted that the epidemic of gun violence remains. "Five years later, we feel like we've made some progress and then we were reminded that nothing has changed," Moskowitz said.
"Children and teens are more likely to die by guns than anything else," reads a March 29, 2023 CNN headline.
So, who's protecting them?
We still have much to learn about the 28-year-old shooter who fired 152 rounds from legally purchased guns into the private Christian school in Nashville, killing 9 year olds Evelyn Dieckhaus, William Kinney and Hallie Scruggs, and school custodian Mike Hill, 61, substitute teacher Cynthia Peak, 61, and school administrator Katherine Koonce, 60.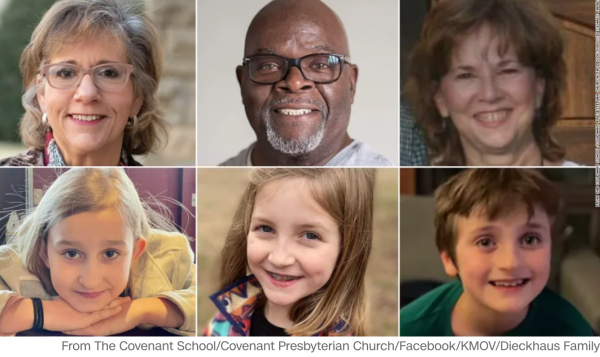 No more Easters, chocolate bunnies or colorful egg hunts for them.
And as their ongoing political struggles underscore the vulnerability of democracy, we cheer on the "Tennessee Three," their allies and supporters who have a right to their rage, born of love for humanity and frustration at the cruel ineptitude that perpetuates violence.
But there are other dead and injured children who also missed the spiritual and earthly joy of Easter this year — the thousands of abused kids who are out of sight and thus, out of mind, often tortured and murdered not by AR-15s but at the hard hands of their own families.
Too often the catalyst for that violence is the belief that the child is or might be LGBTQ.
Last month, on March 7, Heather Barron and Kareem Leiva, the mother of 10-year-old Anthony Avalos and her former boyfriend, were convicted of murder and of torturing Anthony and abusing two of his siblings in 2018. Los Angeles County Superior Court Judge Sam Ohta included the special circumstances torture allegation in the commission of a murder because the torture was so horrific – and recorded by the child welfare system set up to protect the children.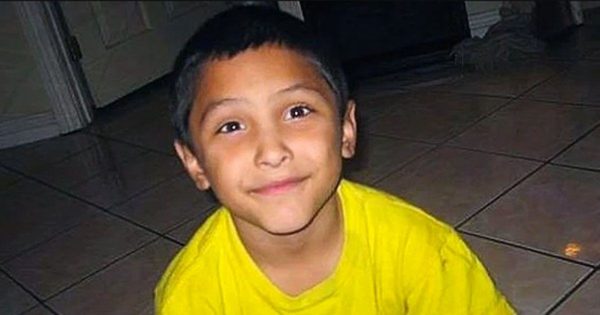 I reported on Anthony's horrific fate after he told his mother he was gay. I also reported on the torture and murder of 8-year-old Gabriel Fernandez, who was "suspected" of being gay, in 2013. In both cases, the boys lived in extremely abusive households but were singled out for greater abuse, though the reason "why" they were targeted has never been explained or explored — unlike the lengths to which law enforcement and pundits go to explain the motives of mass shooters.
The LA Times secured the grand jury testimony in Anthony's case and did an extensive summary of the inexplicable failures by the County's Department of Children and Family Services (DCFS). But the word "gay" is only mentioned once – despite a previous report that Anthony officially came out before his death. Promises to investigate homophobia appear to have faded into oblivion.
"Anthony Avalos came out as gay in recent weeks, and authorities are now investigating whether homophobia played a role in the death of the 10-year-old Lancaster boy, a county official said," the Times reported June 26, 2018. "Anthony was found mortally wounded at his home last week with severe head injuries and cigarette burns covering his body. Brandon Nichols, deputy director of the Los Angeles County Department of Children and Family Services, revealed in an interview Monday that Anthony 'said he liked boys' but declined to provide more details, including whom the boy told and when."
A subsequent long investigative piece by The Times noted the parallels between Anthony and Gabriel's treatment throughout – focusing on the DCFS workers.
"Anthony's case struck many people as having similarities to the 2013 death of another Palmdale boy, 8-year-old Gabriel Fernandez, whose mother and her boyfriend were convicted of his torture murder," The Times reported Sept. 4, 2019. "In the wake of Anthony's death, the county issued a report saying the circumstances, while 'horrible, heartbreaking and apparently brutal,' were 'very dissimilar' to Gabriel's death. But DCFS and grand jury records and interviews show striking similarities in the two deaths that occurred within a 15-minute drive in the Antelope Valley. In both cases, workers carried out superficial investigations and didn't always follow proper protocols."
To put it mildly. Los Angeles Magazine added a bench trial detail that underscores the dire need for deep and thorough reform: "During the trial, prosecutors also played a shocking recording of DCFS social worker Anna Sciortino, who was laughing and making jokes on an emergency hotline while receiving a description of Anthony Avalos' abuse. In response to that, (Los Angeles Deputy District Attorney Jon Hatami, who was the lead prosecutor) stated, 'DCFS needs to stop just going through the motions and actually start caring about our children.'"
So must the media. In reporting the murder trial conviction last month, Los Angeles Magazine reporter Jason McGahan wrote a gripping, intricate, painful and powerful story of not only the horrendous family backgrounds of the key actors in Anthony's life – but also made the obvious-to-LGBTQs connection between Anthony and Gabriel.
"The similarities between the two murders were striking, although the details of this latest child slaying were in some ways even more gruesome and unsettling," McGahan wrote. "This atrocity involved a ten-year-old boy named Anthony Avalos, who, like Gabriel Fernandez, had made the mistake of telling his family he might be gay. Like the Fernandez case, Anthony's story was tangled in an infuriating jumble of fumbled interventions and botched opportunities that might have saved the boy's life. Virtually every system set up to protect children like Anthony—from the L.A. County Department of Child and Family Services to the L.A. County Sheriff's Department—failed miserably. And, ultimately, fatally."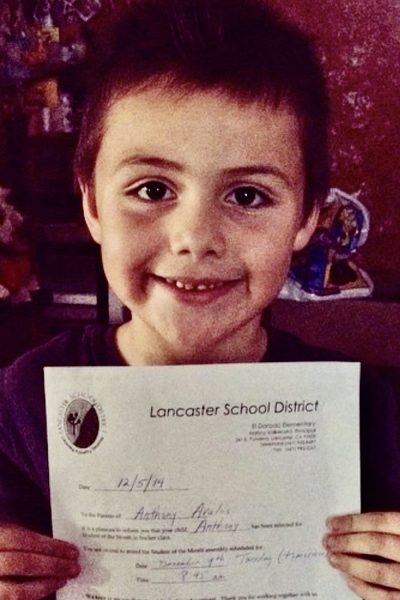 McGahan also describes how the MS-13 gangster boyfriend came clean during interrogation about how he murdered Anthony.
"Over the course of several hours, Leiva came clean: how he tortured Anthony, slamming him into walls, beating the bottoms of his feet with belts, forcing him to kneel on rice and assume Abu Ghraib-style stress positions. He admitted that he had flown into a rage when Anthony tried to stand up for himself, refusing to kneel as ordered. He described how he'd grabbed him by his ankles and dropped him on his head over and over again until Anthony stopped getting up. And how he then fled the apartment in a panic," McGahan wrote.
"Why Leiva was especially rageful during this particular beating isn't clear," he continued, "although Hatami believed it had a lot to do with Anthony telling his family earlier that day that he was gay. Leiva's history of homophobia was almost as long as his history of misogyny. As for Heather, although she didn't directly participate in the killing, Hatami believes she was every bit as responsible. She left Anthony unconscious on the floor for two days before finally calling for medical help."
As I reported for the Los Angeles Blade on June 7, 2018: "In more than 800 pages of sworn grand jury testimony made public in August 2014, the extent of Gabriel's tortured life was revealed, including the suspicion that he was abused because Aguirre thought the child was gay.
'It was just like every inch of this child had been abused,' LA County Fire Department paramedic James Cermak testified."
Hatami told the grand jury that Gabriel "was abused, beaten and tortured more severely than many prisoners of war."
In sentencing Gabriel's mother to life in prison without parole and her boyfriend to death Superior Court Judge George G. Lomeli said the torture and murder was the worst case of abuse he'd seen in nearly 20 years on the bench, abuse that was "horrendous, inhumane and nothing short of evil." Lomeli cited evidence, such as bashing Gabriel's teeth out with a bat and shooting BB pellets at him, saying that some might call the abuse "animalistic." Except that animals don't do that to their own family.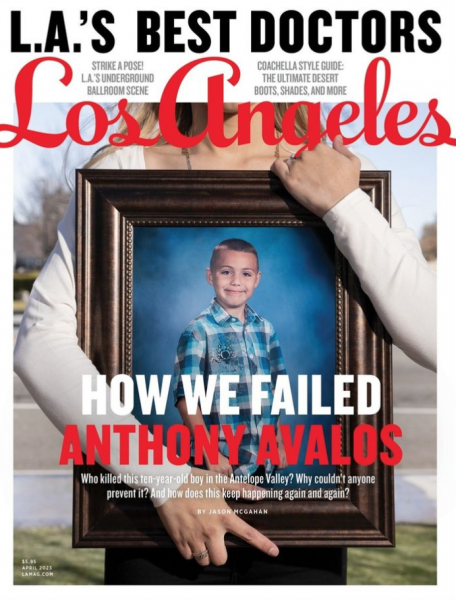 And THAT is why recognizing how being gay became a catalyst to the murder of these children is so important. McGahan asks: "Who killed this 10-year-old boy in the Antelope Valley? Why couldn't anyone prevent it? And how does this keep happening, again and again?"
Because, unlike animals, our families, our society – even our own minds inculcated with self-loathing – torture us to death. Last year – April 4, 2022, the Centers for Disease Control and Prevention indicated that one in four teenagers who identified as LGBTQ+ said they attempted suicide during the first half of 2021, according to the CDC's first national survey of high school students.
And what we learned from the Gun Violence Archives is that of the 9,870 people who have died from gun violence so far this year, "[d]eaths by suicide made up the vast majority of gun violence deaths this year – 57.9%, the nonprofit gun violence tracker reports. There's been an average of about 67 deaths by suicide per day in 2023. Of those who died from gun violence this year, 338 were teens and 60 were children," according to ABC News.
We are among them. (Reach a trained crisis counselor through the National Suicide Prevention Lifeline by calling 800-273-8255 or texting 741741 or call the Trevor Project's 24/7 toll-free support line at 866-488-7386.)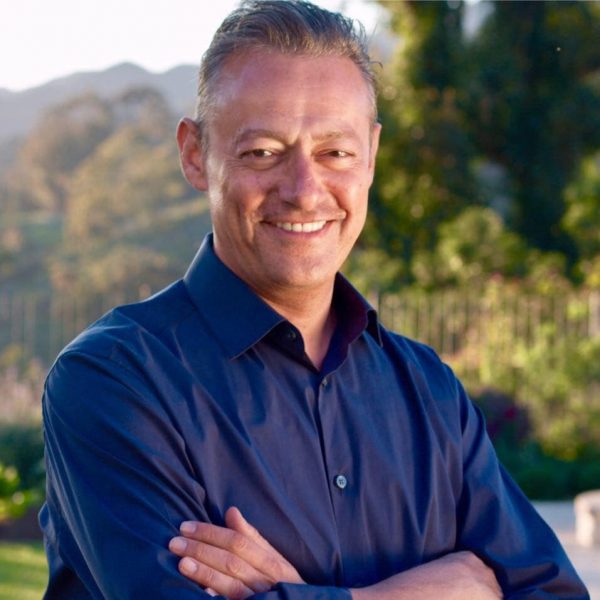 Countering that self-loathing is seeing positive images and media coverage of our real lives. I was greatly distressed, therefore, to learn that Maer Roshan, the editor-in-chief of Los Angeles Magazine, has been fired by the new owners. Maer was the first and may be the last out gay editor-in-chief at LA Mag. He created their first LA Pride issue – the magazine that touts itself as being all knowing about the cultural core of Los Angeles had never seriously acknowledged LGBTQ pride in this way.
Maer also assigned LGBTQ-related stories and worked with writers like me – and I'm sure Jason on Anthony's story — to tell a fuller story of not only our community but how we fit or don't fit into the grander scheme of things. The fact that he was fired so the new guys could go in another direction – towards celebrity covers – and they fired the gay guy who revels in all things fashion and celebrity – sounds like something else is going on.
No new guy would have put Anthony Avalos' story on the cover, let alone given Jason room to write such a mesmerizing story that suggests homophobia is as abusive and fatal as we know it to be – including towards kids. At a time when MAGA Republicans have vociferously and unabashedly declared a culture war to erase us – Maer stood in the breach. Where he takes his light next, I will follow.
*****************************************************************************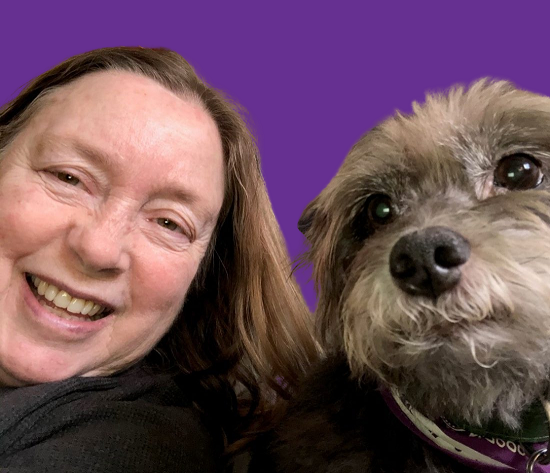 Karen Ocamb is the former news editor of the Los Angeles Blade. She is an award-winning journalist who, upon graduating from Skidmore College, started her professional career at CBS News in New York.
Ocamb started in LGBTQ media in the late 1980s after more than 100 friends died from AIDS. She covered the spectrum of the LGBTQ movement for equality until June 2020, including pressing for LGBTQ data collection during the COVID pandemic.
Since leaving the LA Blade Ocamb joined Public Justice in March of 2021 to advocate for civil rights and social, economic, and racial justice issues.
Social media spreads homophobic bullying both online & in-person
A 17-year-old girl became a victim of constant- often violent harassment, resulting in 18 restraining orders & thoughts of suicide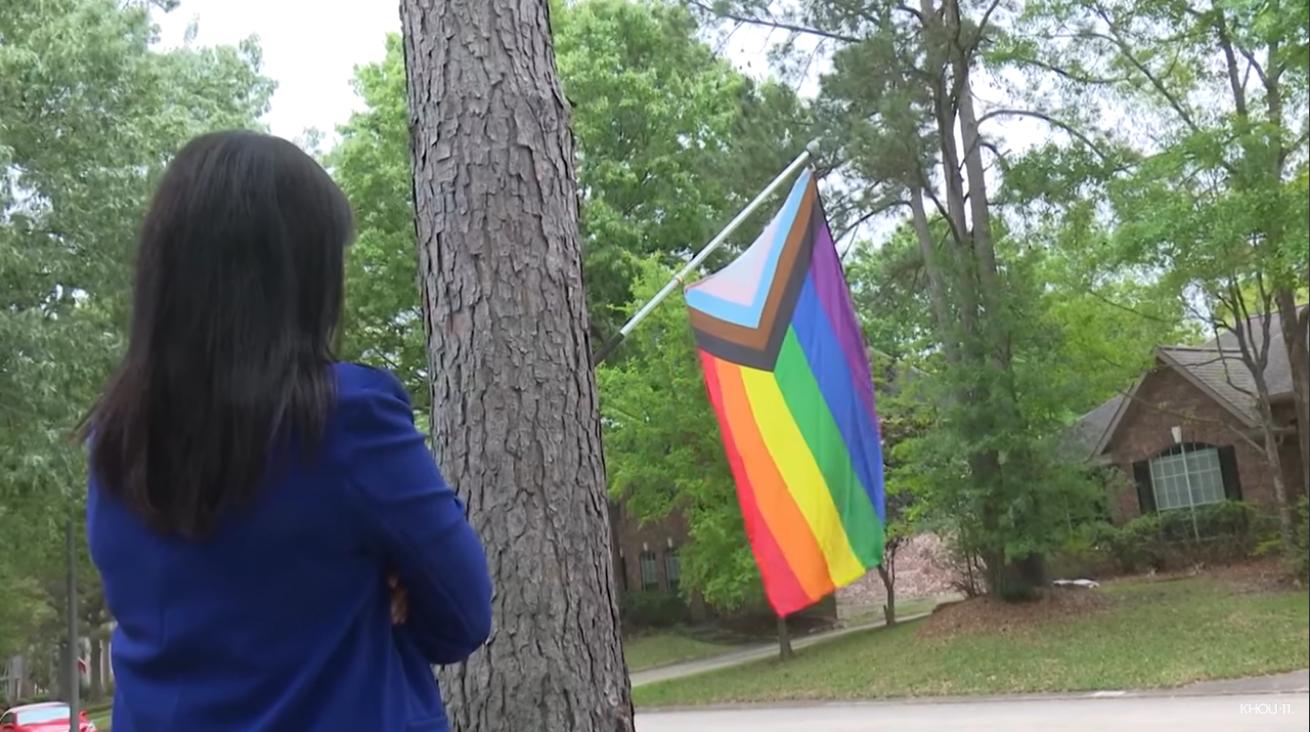 Editor's note: LA Blade journalist Simha Haddad details the ongoing oft times traumatic effects of social media's impact on LGBTQ+ kids, profiling a client of The Rainbow Youth Project a nonprofit based out of Indiana. At her and her family's request, the Blade is not identifying their exact city of residence nor their last name to protect their privacy and mitigate further homophobic hate-filled attacks.
LOS ANGELES – How did one seventeen-year-old child suddenly become the victim of constant and often violent harassment resulting in over 18 restraining orders, virtual home imprisonment, serious thoughts of suicide, and a forced move to a new town? Simple, she came out as a lesbian to her friends.
In another case, a suburban Houston family had put up the LGBTQ+ Progress Flag in October last year in a show of support for their trans and non-binary teens and immediately the harassment started and escalated to physical acts of violence.
CARRIE
Carrie is a self-proclaimed art nerd who loves making ceramics and painting in vivid and bright pastels. She lived at home with her loving mother, father, older brother, and baby sister. Prioritizing love and loyalty, Carrie kept her friend group small and intimate.
"My grandma used to tell me that if you can count your true friends on more than one hand, you need to recount," Carrie told the Blade.
One day, ready to open up to those closest to her, Carrie came out to her best friend. Supportive, the best friend accompanied Carrie to come out to her parents, who accepted their daughter's sexuality with openness and love.
Finally, armed with this love and support, Carrie was ready to broaden her circle of trust. She invited about six friends over for a sleepover, where she confided in them, asking for their support and discretion.
Moments later, as the teenagers lounged on the floor watching a movie, one of Carrie's so-called "friends" created a Facebook post that would alter the course of Carrie's life forever.
"I went from not being popular to being the most popular person but for the wrong reasons," said Carrie.
TOWN vs. GIRL
The Facebook post, outed Carrie as lesbian and mocked her sexuality, but worse, instantly went viral within Carrie's small town outside of Houston.
"It was hell," said Carrie. "I wasn't ready for how quickly it spread. Within 24 hours, it was literally all over town. People had posted it on everything from Instagram to Facebook to TikTok. They were making videos about my weight, saying how that was why I was a lesbian, because I could never get a guy because I was fat and ugly. It was things like that all the way to saying I was a dike who is going to die."
Carrie said that for months, there was no respite from the taunting and harassment.
"Every time I turned around, someone was tagging me and sending me videos or sending me posts that people had made about me."
"I became the target of the town," Carrie continued. "They put stuff in our mailboxes. They would put pictures of transgender surgeries in the mailbox. We even had somebody put female condoms in the mailbox. There was always something."
"Kids at school even sent my phone number through the school email system, saying, 'This is where you can harass her.'
While Carrie's school did step in to stop this unlawful use of the school email system, the damage had already been done. The harassment escalated to physical altercations, making Carrie feel unsafe whenever she stepped outside.
"One day, I was walking my dogs to the park," Carrie recounted emotionally, "and some kids were calling me a carpet-muncher and queer, and all these things. I was just trying to walk home. Then they actually went to the store to buy eggs. They came back and started throwing eggs at me and my dog."
While her peers made many attacks on Carrie, school parents, and other adults also began to join in making her life a living hell.
"Sometimes they would get physical. If I tried to build a shield around myself and ignore it, they would grab my arm and turn me around to make me talk to them," said Carrie.
"One time, a woman grabbed my arm and turned me around, and said that I needed to get right with God. I remember being so scared that I started laughing. It feels stupid to say now, but I was only laughing because I didn't know what else to do. I was so scared. That made her more angry. I don't know who she is to this day."
"I've even had people at Walmart go and buy me a Bible and come up to me and tell me I needed to read it because I'm going to hell," she said.
"One of the hardest things is to realize that these were all adults," Carrie lamented. "How could they walk up to a kid and say the things that they have said?"
Adding to her nightmarish experience, Carrie's harassers made a public game of harassing her, bragging about their encounters with Carrie on Facebook.
"After these things would happen, people would actually go on Facebook and write about the fact that they ran into 'that little lesbian' at Walmart and had to 'tell her all about herself.' I thought, why are you bragging about this? You are a grown person."
"Facebook became like a scoreboard. Every time somebody would do something to me, they would post about it like they were trying to win an award or something. Then somebody else would see it, and they would confront them, saying, 'Well, I can outdo that,' and then they would try. They were building up ideas of what to do to me together on Facebook."
Unsafe both in her home and outside of it, Carrie became more and more isolated, depressed, and afraid. Her parents insisted on going everywhere with their daughter, never wanting to leave her alone for fear of another attack.
"I was like a pet on a leash," recalled Carrie. "I had to rely on my parents for everything. If I wanted to go to the store or the library, they had to stop what they were doing and come with me."
Unable to find respite from the torrent of hate at school, Carrie left to instead use online learning courses to complete her high school education.
A FAMILY UNDER ATTACK
Carrie is grateful for her parents, brother, aunts, and other family members who continue to emotionally support her to this day.
"I'm so proud to have the people in my life support me," Carrie told the Blade. "Without them, I don't think I could've made it."
But, this support came at a price, especially at the height of the harassment over her coming out.
"When people found out that my family was supportive, they would drive by our house yelling things like queer and dyke and lesbo," said Carrie.
Carrie's brother, a popular jock, was harangued constantly by his peers.
"They started attacking him because he was standing up for me," Carrie explained. "He was playing on our football team and our baseball team. His teammates would test him and call me a dyke, and he would almost get into physical altercations. For example, he would be playing a scrimmage game, and if he struck out, they would yell things like, 'Your dyke sister could hit better than you.' They were always name-calling me to him to try to test him."
Carrie shared how the constant taunting almost made her brother give up sports altogether.
"It got to the point where he did not even want to go to practice anymore. But I told him he had to because that was his life. Now he is getting ready to go to college on a baseball scholarship, so that was important for him, but it was hard on him. I've never seen him cry, but he cried to me one night because he was so hurt that they were just constantly shaming it one way or the other."
As they did to Carrie, adults and children alike joined in to make her brother's school life almost unbearable. Carrie recalled one time when a teacher cornered her brother to make comments about the "shame" his sister must feel because of "who she is."
"I think the kids saying those things was one thing. But having a teacher saying that to him, I mean, that was really hard for him."
Carrie's parents also faced attacks by the community. Her father faced discrimination and aggression at work, and her mother was regularly on guard whenever she stepped out of their home.
"My mama almost got in a fight at Walmart," recalled Carrie. "We were in Walmart, and we walked by one of the girls from school was there with her mom, and I heard her tell her mom, 'She's a lesbian,' and the mother said to my mother, 'How can you let your kid be like that?' Well, my mother just blew up. My mother called her every name in the book and was ready to fight. That is not an exaggeration. She was literally ready to fight. At that point, she had seen what my brother and I were going through, and that was just a breaking point.
Carrie felt overwhelming guilt over what her family was going through.
"I felt like that was my fault, and even though my mama would tell me every day, and my daddy would tell me every day, that these people were just ignorant, it still didn't make it better because I saw how it affected them. They felt like they couldn't even leave the house because of me.
"My brother had to close his Facebook account. My mother had to close her Facebook account. She is one of those that used to stay on Facebook all the time. You know how they have all those little bingo games? She used to play those, and she loved it, but she had to close her Facebook account because anytime she posted something, somebody would leave a comment, and she would block them and then somebody else would leave a comment and she would block them. It literally got to the point where instead of playing games and having fun, she was just blocking people all the time."
When advised to file restraining orders against the adults who were targeting her, Carrie hesitated at first.
"I was scared to do that because I thought if I did something like that, what would they do to me then? Then I realized I was just one of the kids being harassed, and if it wasn't me, it was going to be somebody else one day. So, I decided I would try," she said.
"One of the lawyers came down and spent the whole day with me talking about how the trial would go. They said I couldn't use just the screenshots of the harassment because those could be fabricated. I would have to actually go in and tell the stories behind them."
Carrie said that the retelling of those stories is what terrified her the most.
"It wasn't reliving what they did that was the hardest. It was having to sit there and tell the stories to someone in front of everyone. The looks that the courtroom gave me were awful."
The judge sympathized with Carrie's traumatic experience and issued 18 restraining orders against the adults who terrorized her.
"I remember the judge looked at me, and he said, 'Young Lady, don't let these people destroy your heart or who you are. Always be who you are, and know that these people have no power over that unless you give it to them. Do not give it to them.'"
Carrie teared up as she related the judge's support. "That really meant a lot because I was not expecting that."
CARRIE NOW
Carrie now lives with her aunt in a different town closer-in to Houston. She explained that she felt that her new town is much more open, liberal- more accepting of LGBTQ+ people, than the small town she grew up in. When she saw two girls walking down a street holding hands, her jaw dropped and she had to sit down from the powerful feeling of being overwhelmed.
While she is happier and feels more relaxed in her new environment, Carrie is still traumatized by her recent past.
"I wish it was a situation where I don't have to worry about if someone is walking up to me as a friend or if they want to attack me because that's really how it was last year. Every person that approached me is an enemy."
Carrie, who last year often contemplated suicide, is working with a therapist from Rainbow Youth Project to open herself up again and she is no longer suicidal.
The Rainbow Youth Project a nonprofit based out of Indiana, serves as a godsend for many of these LGBTQ+ youth. The organization provides mental health, financial, housing, services, and counseling assistance to homeless LGBTQ+ youth under the age of eighteen across the nation. Without RYP, Carrie's medical needs would be unattainable.
Carrie also hopes to get back to a happier and brighter mental space so that she can start creating the vibrant pastel art that she so loves.
"My art took a turn last year. It started being more reflective. I used to love bright, abstract paintings and pastels, but after last year it took a dark turn. It was more reflective of my mood. It became much darker. I had never used grays or charcoals before that. But everything was all dark colors. Until I get that motivation back for the brightness, I don't want to do art right now."
Carrie is currently working while taking classes at community college. She hopes to eventually enroll in a 4-year college and to one day help other kids like herself.
"I don't know exactly how, but I would love to help other kids in my situation. I don't think I have it in me to be a counselor, but I know Rainbow Youth has an art therapy program. I'd maybe like to work in something like that. I would love to do something to let them know that they are not alone because that loneliness feeling is overpowering."
Finally, Carrie shared a message to those who might be going through something similar to what she had experienced in high school.
"If there is anybody out there who is going through what I did, I want you to reach out to somebody. There are people who will help. There are people who will not only help but will stay with you every step of the way. I thought I was all alone even though I was surrounded by love and support. But there are people out there who are good. It's going to get better. Just please, reach out to somebody."
KINGWOOD, TEXAS
On March 21, 2023, Houston CBS affiliate KHOU 11 reported on a suburban Houston family in Kingwood, Texas, that were being terrorized at their own home due to a flag they have flying outside their house. It's not the flag, in particular, that's causing them to be targeted, rather, it's what the flag represents.
They said they fly the LGBTQ flag to show support for their children, but it has instead led to attacks, vandalism and name-calling by a gaggle of teens.
Dr. Luisa Montoya, the mother of a 12-year-old trans boy and a 17-year-old who's non-binary, had put up the LGBTQ+ Progress Flag in October last year in a show of support for her kids. She told KHOU's Lauren Talarico and Cory McCord that instead it led to attacks, vandalism and name-calling by a group of teens. Dr. Montoya said that the harassment is consistent and has turned violent lately. Some of the acts have been caught on video.
WATCH: