Feinstein rebuked as de León wins California Democratic Party endorsement
Both are strong LGBT allies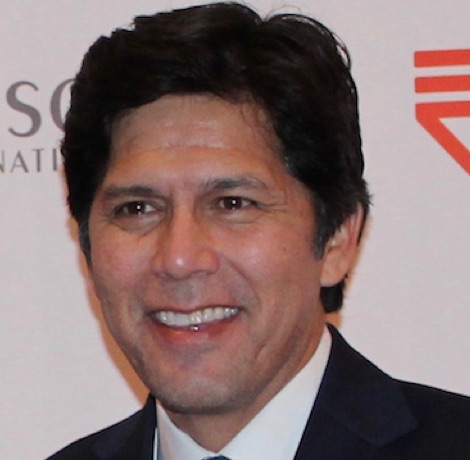 California Democratic Party activists are spoiling for a fight. It's a fight on two fronts: against President Trump and Republican incumbents in the midterm elections and for the party's own identity and political values. On Saturday, the majority of the CDP's executive board voted to endorse progressive former state Sen. Kevin de León for the US Senate, rebuking the moderate establishment pragmatism of Sen. Dianne Feinstein. While stylistically and strategically different in their approaches, both Feinstein and de León have long proven to be strong allies to the LGBT community.
Feinstein, who is seeking her fifth term, had pleaded for a non-endorsement from the 360-member executive board for the sake of party unity and the senator's camp is now downplaying the final results. De León secured 217 delegates (65%) Saturday night, Feinstein garnered 22 with 94 votes cast for no endorsement. However, at the CDP's February state convention in San Diego with 2,700 delegates, de León won 54% of the vote, short of the 60% required for an outright endorsement, while Feinstein received 37%. Then, in the June 5 primary, Feinstein won 44% of the vote in a field of more than 30 candidates, compared to de Leon's 12%.
"We are confident that a large majority of California Democrats will vote to reelect Sen. Feinstein in November," Jeff Millman, her campaign manager, said in an email to the New York Times. He also noted that Feinstein carried every county of the state and received more than two million votes in the June primary.
Already well known statewide as California's first female senator elected in 1992, Feinstein, 85, is about to get a lot of national attention as the ranking Democrat on the Senate Judiciary Committee during the confirmation hearing of Supreme Court nominee, appeals Judge Brett Kavanaugh, this summer. Trump's conservative pick is widely believed to be a nice-looking Trojan Horse out to overturn Roe vs. Wade, the landmark 1973 ruling that guarantees women the right to reproductive rights, including abortion.
"Given the White House situation, at this time and place a senator with her experience is the right choice for California," Carolyn Fowler of Inglewood, a vice chair of the state party's Women's Caucus and a Feinstein backer, told the Los Angeles Times.
Kavanaugh's confirmation is important to LGBT people, too. "If confirmed by the Senate, Kavanaugh would tilt an already conservative court to the far right. LGBTQ people need to urge the Senate to do everything within its power to prevent his nomination," Shannon Minter, Legal Director for the National Center for Lesbian Rights, recently wrote in the Los Angeles Blade. "Kavanaugh is willing to diminish our most fundamental Constitutional rights."
Without being rude, de León, 51, who followed Feinstein's pitch to the Women's Caucus, urged a harder progressive line in dealing with Kavanaugh. "We need to shut the Senate down and never let allow this individual to come to the Senate floor," de León said. "This is where you need the courage of your convictions to not be on the sidelines, but to be on the front lines."
The Kavanaugh confirmation is but one example of their differences. Feinstein is renowned for her nod to bipartisanship, which landed her in an SNL skit when she seemed too eager to believe Trump would agree to some gun regulations—an issue she has been passionate about since she discovered the body of her assassinated gay colleague, San Francisco Supervisor Harvey Milk, in 1978.
De León, the son of a single immigrant mother, authored California's sanctuary state law, SB54, the California Values Act, that limits local law enforcement's cooperation with federal immigration officials. The law recently survived a Trump attack when a federal judge dismissed the administration's lawsuit. On Friday night, de León held an "ABOLISH ICE CREAM SOCIAL," a millennial-style affirmation of the new efforts to abolish ICE (Immigration and Customs Enforcement) in response to the ongoing tragedy of children being separated from their parents at the border.
"I think it's always good to have younger generations rise up and assume positions of leadership,'' de León told Politico Saturday. His fight is not about "a gender issue…it's not an age issue.'' Pointing to progressive icons Sens. Elizabeth Warren and Bernie Sanders, de León said, "it's about the right values."
De León slammed home the point after his victory. "Today's vote is a clear-eyed rejection of politics as usual in Washington, D.C.," de León said in a statement. "We have presented Californians with the first real alternative to the worn-out Washington playbook in a quarter-century."
Lynne Standard-Nightengale, a member of the Amador County Democratic Central Committee, agrees, supporting de León whether he wins in November or not. "I just think we need a younger, progressive person there," she told the LA Times. "The Democratic Party in California has moved to the left, and he personifies those values."
But while most Democrats might agree on those "right values," a number are concerned about whether this is the right time to have an intra-party fight over the direction of the party, re-fueling the ugly 2016 debates between Bernie Sanders and Hillary Clinton supporters.
With the CDP endorsement, de León can now expect money, volunteers, party organizing help and promotion—all of which at least six Democratic candidates for vulnerable Republican-held congressional seats felt might have come to them. "A divisive party endorsement for U.S. Senate would hurt all down-ballot candidates and our ability to turn out Democrats we desperately need to vote in November," the candidates said in a letter to the executive board before the vote on Saturday.
"We have the opportunity to change the nature and the control of the House,'' out former CDP chair Art Torres, a Feinstein backer, told Politico, noting that the de León endorsement threatens federal money for Democrats in the congressional campaigns.
Feinstein had $7 million in campaign cash while de León had $693,689 cash on hand as of May 16, the date of the most recent campaign finance report. "Obviously it helps with the ability to raise more resources, especially when you are going up against a very well-entrenched, wealthy individual," de León told the San Francisco Chronicle. De León also can count on backing from his friend, billionaire Tom Steyer, who is actively pushing for Trump's impeachment.
But de León may well have received the energetic grassroots backing of Democratic activists without the endorsement. "Kevin, by nature of his job, is visible and active here at home," out CDP Chair Eric Bauman told the LA Times.
Feinstein's campaign came out swinging Sunday morning, firing off an email saying: "yesterday doesn't change this…," reiterating laudatory endorsements from Barack Obama, Joe Biden, Jerry Brown, Kamala Harris, and Nancy Pelosi.
The four months to the November mid-term elections will be an expensive Democratic firefight in California.
Obama rallies for Warnock as Walker goes transphobic in latest ad
"Tomorrow is the last day for early voting and then we need to get people out to the polls on Tuesday, which means we still got work to do"
ATLANTA – Former President Barack Obama held a rally with Sen. Raphael Warnock (D-GA) tonight in Atlanta as the Georgia election runoff for the U.S. Senate seat currently held by Warnock enters its final week.
Speaking to the enthusiastic crowd in the historic Pullman Yard, Obama urged supporters to continue pressing to secure Warnock's chances as early voting ends Friday ahead of next Tuesday's election.
"Now I know a lot of folks have been voting early over the last few days, that is a good thing. That is an encouraging thing. But — you knew there was a but —plenty of folks haven't voted yet. Tomorrow is the last day for early voting and then we need to get people out to the polls on Tuesday, which means we still got work to do," Obama said.
A spokesperson for the the Georgia secretary of state's office told the Blade that more than 1.1 million votes have been cast so far.
Warnock's Republican challenger meanwhile focused on his opposition to transgender rights. In a recent campaign ad, Herschel Walker is featured alongside cisgender former University of Kentucky swimmer Riley Gaines, who tied with University of Pennsylvania trans female swimmer Lia Thomas.
In the ad Gaines says she "worked so hard" at competitive swimming but she was "forced to compete against a biological male."  The ad also goes on to attack Warnock in the Chyron onscreen stating: "Raphael Warnock voted to allow biological men to compete in women's sports." That particular charge by Walker's campaign is factually incorrect as the U.S. Senate has not held any votes on the subject of transgender women in sports.
Politico's National political reporter Natalie Allison tweeted:
Herschel Walker is up with a new runoff ad about transgender athletes, featuring a swimmer who tied with Lia Thomas.

"My senior year, I was forced to compete against a biological male," Riley Gaines says in the ad for Walker's Senate campaign. pic.twitter.com/MlVxnJwkgB

— Natalie Allison (@natalie_allison) November 21, 2022
During the rally in Atlanta this evening Politico reported Warnock received roaring applause when he poked fun at Walker, something Obama also did, referencing a series of outlandish comments the retired football star has made over the course of his candidacy.
"We all know some folks in our lives who, we don't wish them ill will, they say crazy stuff … but you don't give them serious responsibility," Obama said.
"He was an amazing running back," Warnock said of Walker. "And come next Tuesday, we're going to send him running back to Texas."
Walker, who was raised in the Peach State and was a star player at the University of Georgia, lived the majority of his adult life in Texas before returning to run for Senate in 2021.
Politico also noted that Warnock, the pastor of the Atlanta church that Martin Luther King Jr. attended, tied the election to the long struggle of African Americans for equal rights, noting the crowd had gathered on the 67th anniversary of Rosa Parks refusing to get up from a bus seat in Montgomery, Alabama. Walker is also African American.