Rev. Troy Perry on pain and joy of resistance and Pride
LA celebration returns to its roots on Hollywood Boulevard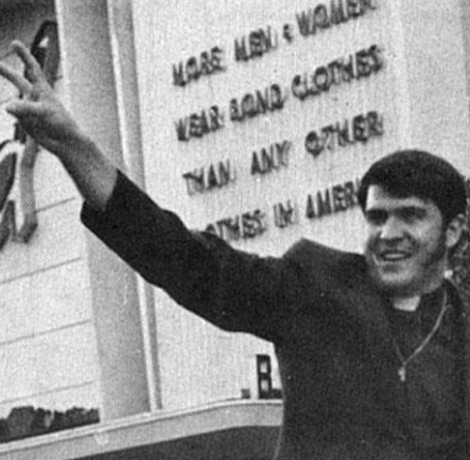 Rev. Troy Perry was anxious. What if LAPD Police Chief Ed Davis was right and a mob of hardhats was waiting to descend on parade-goers just as they turned the corner from McCadden Place onto Hollywood Boulevard? Experience told him police would not protect the gays and may even arrest them for malicious interference with the downward-progress of a hardhat's valuable baseball bat.
That's just the way it was in Los Angeles on June 28, 1970. But unlike New York, which was commemorating the one-year anniversary of the Stonewall Riots and the new movement for gay liberation with a protest march, Perry and his Christopher Street West co-founders Morris Kight and Rev. Bob Humphries, decided to throw a celebratory parade. There should be joy in liberation, relief from the constant fuel of rage.
But it hadn't been easy. Perry had appeared before the Los Angeles Police Commission to secure a parade permit and Davis, who publicly called gays "faeries," told him: "As far as I'm concerned, granting a permit to a group of homosexuals to parade down Hollywood Boulevard would be the same as giving a permit to a group of thieves and robbers."
The Police Commission granted the permit—if CSW paid a $1.5 million bond. American Civil Liberties Union attorney Herbert E. Selwyn stepped up, forcing the commission to drop the excessive fee. Selwyn also won a court order to have the $1,500 police protection fee dropped, with the California Superior Court judge declaring that homosexuals were citizens, too.
At 6 p.m. on Saturday, June 28, 1970, an estimated 1,165 people showed up on McCadden Place, ready to come out and party down Hollywood Boulevard. One Gay Liberation Front float featured a gay man "nailed" to a black and white cross with a sign reading: "In Memory of Those Killed by the Pigs." Street performers dressed as fairies with wings pretended they were being chased by police brandishing nightsticks.
The political theater masked the deep anxiety and courage it took to participate in the parade; for some, it was also brave just to stand on the curb and applaud. No one knew if violence would erupt—whether from hardhats or the police or an ordinary citizen outraged at homosexuals proudly on parade.
Anti-gay violence had already seared Troy Perry's soul. On Oct. 28, 1968, the Tallahassee, Fla., native started his own church with 12 gay worshippers in his Huntington Park living room. It was an act of spiritual resistance against the Pentecostal church that defrocked him because of his homosexuality, a pain deepened by the end of a romance. Then, an epiphany: Rev. Troy Perry attempted suicide but was shaken out of his dark stupor by an unidentified black woman who stood in his hospital room and said, "Some of us care about you." She threw the switch that reconnected him to God. He came to realize that a ministry awaited him.    
In 1969, with signs declaring "we're not afraid anymore," Perry led a nighttime march down Hollywood Boulevard calling for the end to sodomy laws and a small picket protesting anti-gay job discrimination, where he met Mattachine Society founder Harry Hay and his lover John Burnside and had no idea who they were. In January 1970, he sat in at the counter of Barney's Beanery in West Hollywood, demanding that the owner take down his "Fagots Stay Out" sign above the bar. He also led hundreds of marchers demanding police reform.
On March 9, 1970, Perry led 120 marchers to rally behind the pre-bathhouse Dover Hotel in downtown LA to commemorate the one-year anniversary of Howard Efland, who had been beaten to death by two LAPD officers. He attended the inquest and heard the police explain that one of the officers had "fallen" on Efland, rupturing his spleen and that the broken bones and cuts were a result of him having fallen out of the police car, not being dragged feet first down three flights of stairs after having been beaten up and then kicked. "There were two eyewitnesses," Perry says. "The City Attorney asked the first one, a drag queen wearing female clothes, 'are you a homosexual?' She answered, 'Yes," and the eyes of the jurors closed. They didn't want to hear any more."
By May 1970, Perry's Metropolitan Community Church held packed services at the 350-plus seat Encore Theatre on Virgil Avenue in Hollywood.
The first-ever Pride parade on June 28 went off without a hitch. Until the end. Perry, Carol Shepard, head of L.A. chapter of the Daughters of Bilitis, and lesbian activist Kelly Longman sat down on the corner of Las Palmas Avenue and Hollywood Boulevard saying they would not move until someone from city government came to discuss gay rights. They were soon arrested for "vicious and malicious blocking of a sidewalk with intent to do harm," says Perry, whose mentor was civil rights leader Rev. Martin Luther King Jr. The two women were released but Perry spent the night in jail. When finally released by a judge, Perry trekked to the federal building and staged a sit-in and hunger strike for 10 days. Finally, City Council member Robert Stevenson and his wife Peggy came and spoke to him, enabling Perry to break his fast.
But societal hatred of gays, which the LAPD reinforced, constantly threatened to ruin lives. In 1973, for instance, police arrested 39 gay men in Griffith Park as "fire hazards." That was in addition to the usual bar and bathhouse raids. However, 1973 saw a spike in violence, with MCC as a prime target. On Jan. 27, the "mother church" in Los Angeles was nearly destroyed. A second arson fire on April 6 left only the walls standing.  But it was the June 24, 1973 fire in New Orleans that still brings Perry to tears.
There were 36 MCC churches around the country by 1973, including one in the French Quarter. After the service, many members, including straight women with their children, would go to the UpStairs Lounge for continued worship and to socialize. "We didn't care," Perry said at the time. "If Jesus could turn water into wine, hell, we could worship in a bar."
The free beer party had ended and a doorbell rang, as if someone asked for a cab. The bartender opened the door and a fireball burst in. The stairs leading out were already ablaze. Some patrons were able to get out the back exit, but many were trapped as flames engulfed the walls and windows encased with metal bars. Firefighters found some charred bodies embracing, others pressed against the windows. MCC leader Rev. Bill Larson's body was stuck in between the bars—his body left exposed to passersby. Like others who died there that night, Larson had not come out to his family and his mother refused to collect his remains. In all, 32 people died as a result of the fire, covered by the media, but without mentioning the site was a gay bar. Survivors had to go to work the next day and not share their grief for fear of losing their job or housing.
Perry found out in the early morning of June 25. He had spent the day at the 4th annual Gay Pride parade and later gathered with around 800 people on the beach in Santa Monica, with a police helicopter overhead. Heartbroken and in shock, he immediately flew to New Orleans, only to find that even in death, the gays were defiled.
"Someone said it was just a bunch of faggots," Perry told a local newspaper. "But we knew them as people, and as brothers and sisters, and we will never forget them."
No one offered a place to hold memorial services until the black minister of a predominately white Methodist congregation came forward and offered a July 1 service. No one was arrested, though the man suspected of the arson committed suicide the following year.
The arson and violence did not end. On July 27, 1973, the MCC Church in San Francisco burned to the ground. But instead of surrendering to fear, Perry expanded and by 1985, there were 200 MCC churches in nine countries.
The New Orleans fire was the worst mass gay murder in U.S. history until the terrorist attack that killed 49 and wounded 53 mostly gay Latinos at the Pulse nightclub in Orlando, Fla., in the early morning hours of June 12 last year. The organizers of the Christopher Street West LGBT Pride parade had to think twice about whether to go forward or cancel the parade out of respect for the dead. And then came word that Santa Monica police had just arrested a man from Indiana with scores of guns and bomb-making material in his car—on his way to West Hollywood for the Pride parade.
Just like rounding the corner of McCadden Place onto Hollywood Boulevard in 1970, it took a tremendous act of courage to resist the fear and go forward with the Pride parade in 2016. This year's #ResistMarch is a shout out to all the outrage the LGBT community has endured over the years.
Troy Perry has already had his parade—interestingly, in Cuba, once a country that put gays in camps—for which Fidel Castro later apologized. In fact, Perry says, it was his idea that they hold a parade instead of a march. Two years ago, Perry and his husband Phillip Ray De Blieck were in Cuba for the Eighth Annual March against Homophobia and Transphobia, a festive "conga" march celebrated by about 1,000 LGBT Cubans and allies. Perry suggested that they have floats, like a carnival and this year, they did—with Perry and De Blieck riding with Mariela Castro Espín, daughter of Cuban President Raul Castro, in a 1955 De Soto. "Again, we've affected the world," Perry says with glee and astonishment.
Perry was in Havana on May 12 as the first American to receive Cuba's CENESEX award. The gala in the Karl Marx Theater was attended by 5,000, among whom were the U.S., French, and Swiss ambassadors and Cuba's Minister of Culture. Mariela Castro Espín made the presentation and, since she is a member of the National Assembly and head of the pro-LGBT National Center for Sex Education (CENESEX stands for Centro Nacional de Educación Sexual)—the entire event was televised live on Cuban television.
"I was nervous for the first time in my life," Perry says, especially since he needed to stop for the translator and applause.
Perry thanked CENESEX for the honor and praised Mariela Castro Espín. "You don't have to be Lesbian, Gay, Bi or Trans to see discrimination for what it is!"
And then the 77-year old got personal, talking about his difficult childhood and Pentecostal upbringing. "Yes, there is a price be paid sometimes for being a part of the LGBTQ community. But I know a truth, 'God did not create me so God could have someone to sit around and hate!' Things do get better!," Perry said.
"In the early days of our movement in America, after I founded the Metropolitan Community Churches and became a LGBTQ activist, I had people try to murder me. I was slapped in the face, and spit on. The FBI kept files on me. Twenty one Metropolitan Community Churches were burned down and desecrated. Eight Metropolitan Community Church pastors were murdered and all of that happened in my country!"
But, Perry said, "my life has only gotten better! There is no greater revenge, than coming out of the closet!' Perry told his Cuban hosts, sharing Pride over the span of time.
Anti-LGBTQ activist Judith Reisman dies at age 86
There was the time she appeared on the Liberty Counsel's radio show to declare that all gays are inherent pedophiles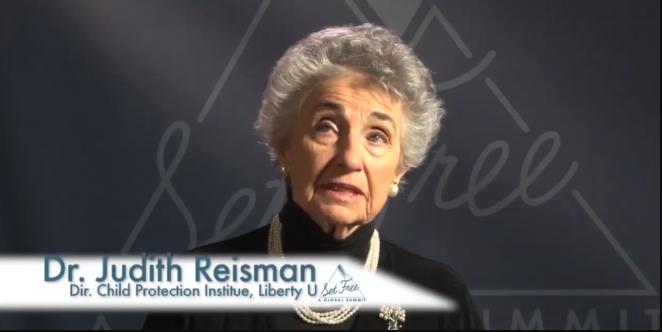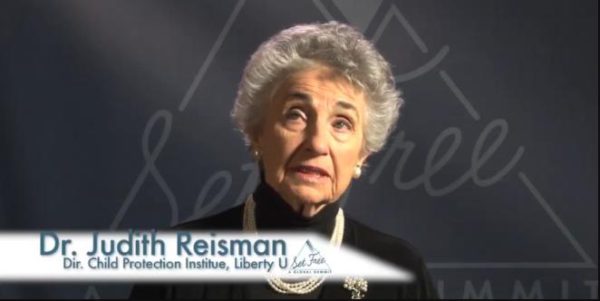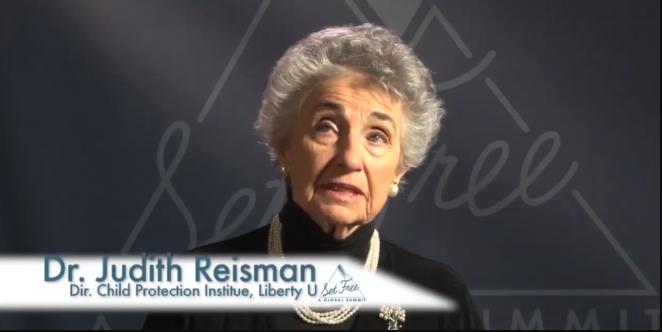 Editor's note: Judith Ann Reisman was a vocal opponent of women's reproductive rights, LGBTQ rights and known for her criticism and condemnation of the work in sexual studies of Dr. Alfred Kinsey. Reisman, a prominent conservative, has been referred to as the "founder of the modern anti-Kinsey movement."  New York-based LGBTQ journalist, activist and blogger Joe Jervis covered her for over a decade on his widely popular blogsite Joe.My.God.
By Joe Jervis | Longtime JMG readers will recall Reisman's anti-LGBT claims as a regular feature here going back a decade or so. There was the time she appeared on the Liberty Counsel's radio show to declare that all gays are inherent pedophiles:
We know that pedophilia, which was the original Greek they say it's 'love of' but of course it isn't, it's 'lust for' boys. And there's a strong, clear, cross-cultural, historical reality, people don't want to do deal with, but the propaganda has been loud and strong to deny the fact, the aim of homosexual males and now increasingly females is not to have sex with other old guys and get married but to obtain sex with as many boys as possible. That's the reality.
There was the time she called for a class action suit against groups that advocate for safer sex:
The reality is that condoms are manufactured and approved every day for natural, vaginal sex, not anal "sex." They are not effectively designed to protect from disease those people who engage in sodomy. Such a lawsuit should target the AIDS Healthcare Foundation, Planned Parenthood and a myriad of teachers and school systems, too many to count, that have taught that anal "sex" (traditionally termed "sodomy" or "buggery" under British-based legal codes) as not so different than natural coitus. Due to the lies that have told, people who practiced sodomy are under the tragically mistaken notion that a condom is effective protection from disease.
There was the time she went to Jamaica to advocate for keeping homosexuality criminalized:
American Religious Right leaders Mat Staver and Judith Reisman are scheduled to be featured speakers at a conference in Jamaica this weekend hosted by a group that has been working to preserve the country's criminal ban on consensual gay sex. The annual conference, hosted by the Jamaica Coalition for a Healthy Society, will focus on how "[c]ontemporary society has become increasingly hostile to the traditional definitions of marriage and family" and Staver.
There was the time she blamed the demise of "Don't Ask, Don't Tell" on a rise in reported sexual assaults in the military:
Why is the best-kept military secret that most soldierly sexual assaults are now definitively homo, not heterosexual, male-on-male sexual exploitation? While men are statistically more loathe to report their sexual victimization than are women, 10,700 male soldiers, sailors and airmen in 2010 actually reported their sexual assaults. What this means is not totally clear, since men are cannot technically be raped, despite the term being regularly used in the recent hearings on the matter.
There was the time she compared activists against school bullying to Hitler Youth:
Both the GLSEN youth and the Hitler Youth were trained to be revolutionary leaders of the brave new world order. GLSEN school clubs and their teacher sponsor/trainers are now funded by major corporations and by some state funds. GLESN's Day of Silence and "GAY ALLY!" pledge cards for kindergartners and other children (left) are direct assaults on traditional parental, American values. German children's literature historians document Hitler's pioneering ban of both the Ten Commandments and biblical stories from Nazi school texts in favor of coarse and violent tales that ridiculed religious believers and their values.
There was the time she was condemned by the Anti-Defamation League:
Holocaust analogies generate headlines and get attention, they do little in the service of truth, history or memory. When [Peter] LaBarbera and Reisman suggest that gay, lesbian, bisexual and transgender people are "demonizing [Christians] like the Nazis used to do to the Jews," they undermine the historical truth of the Holocaust as a singular event in human history that led to the murder of six million Jews and millions of others. Holocaust comparisons are deeply offensive and trivialize and distort the history and meaning of the Holocaust.
And let's close with this notation from Rational Wiki:
Reisman is a supporter of Scott Lively and his completely insane screed, The Pink Swastika. She has claimed that she believes that a homosexual movement in Germany gave rise to the Nazi Party and the Holocaust. She enthusiastically and unconditionally endorses criminalization of homosexuality, despite the fact that homosexuals were were one of the Nazis' target groups for annihilation. Reisman has claimed that the homosexuals employ recruitment techniques that rival those of the United States Marine Corps to transform innocent children into raving homosexuals.
Reisman, passed away on Friday, April 9, 2021, two days before her 86th birthday. From the magazine of the far-right John Birch Society:
Like Judith the Biblical heroine, Dr. Reisman was fearless and stood against the great powers of the world in our time. When her countrymen were ready to surrender to the mighty Assyrian army, the Biblical Judith, trusting in God, walked into the enemy camp — and walked out with the head of Holofernes, the Assyrian general, thus saving her people. Likewise, Judith Reisman repeatedly, over the past several decades, strode into many hostile enemy camps around the world — colleges, universities, legislative bodies, media outlets — to speak truth to power and to expose vile works of darkness.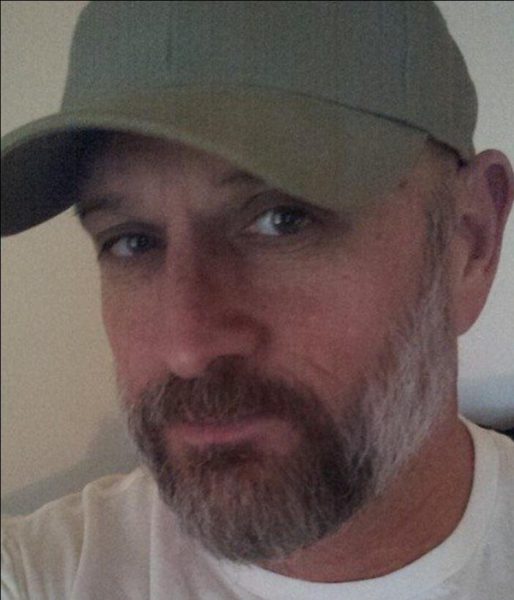 Joseph "Joe" Jervis is an American blogger and writer based out of New York City. He is the author of Joe.My.God., a personal blog which, since he first posted on April 27, 2004, has primarily covered LGBT news and opinion.
The preceding article was originally published at Joe.My.God and republished by permission.
The Bay Area Reporter turns 50- Congrats from the Los Angeles Blade
The Los Angeles Blade congratulates the publisher, editor, and staff of the The Bay Area Reporter on its Golden Anniversary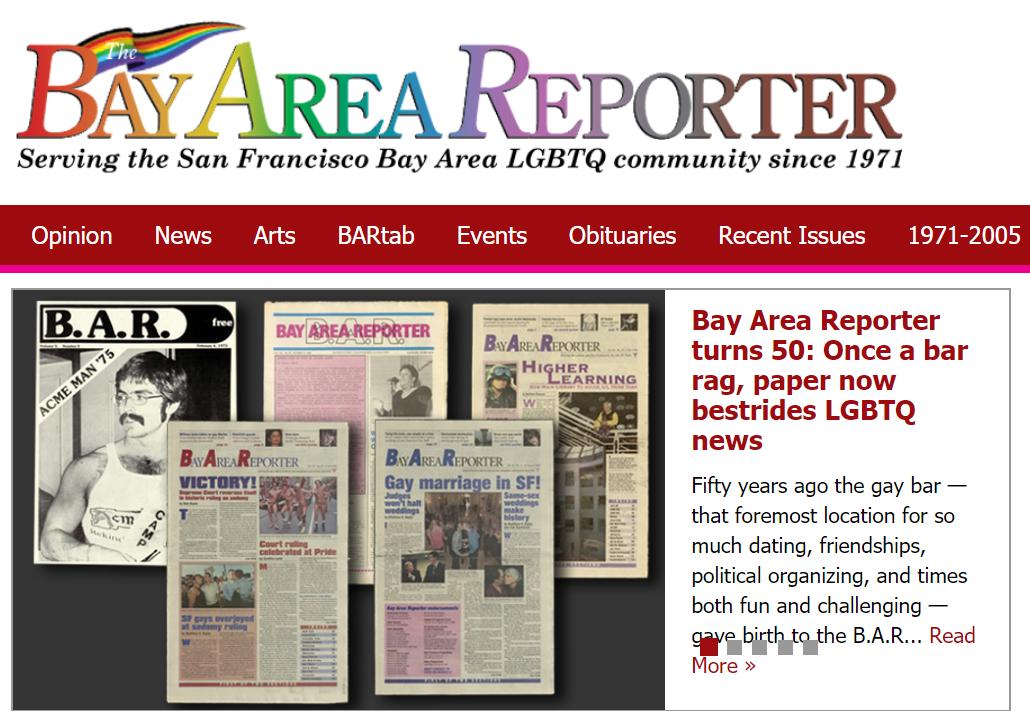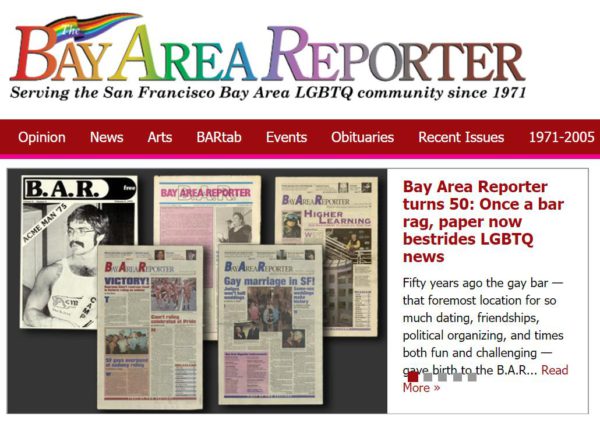 SAN FRANCISCO – An important and critical voice for the LGBTQ+ community in Northern California turns 50 this Spring as the venerable LGBTQ+ newspaper, The Bay Area Reporter, commences its fifth decade of service to San Francisco and the greater Bay Area.
Not unlike the beginnings of the Los Angeles Blade's sister publication, The Washington Blade, which celebrated its 50th anniversary in 2019, the Bay Area Reporter traces its roots to an ad hoc distribution- in B.A.R.'s case atop cigarette machines in the city's gay and lesbian watering holes.
Since then according to Michael Yamashita, a gay man who has been the paper's publisher since 2013, the paper has never missed an issue deadline — not even when threatened by the Loma Prieta earthquake in 1989.
The Los Angeles Blade congratulates the publisher, editor, and staff of the The Bay Area Reporter on its Golden Anniversary of service to the LGBTQ+ community.
Read B.A.R.'s own coverage of its 50th here: https://www.ebar.com/index.php?id=303476
S.F. Jewish and LGBTQ icon Al Baum dies at 90 after 'full, rich life'
You have to be willing to do it yourself or you're just being hypocritical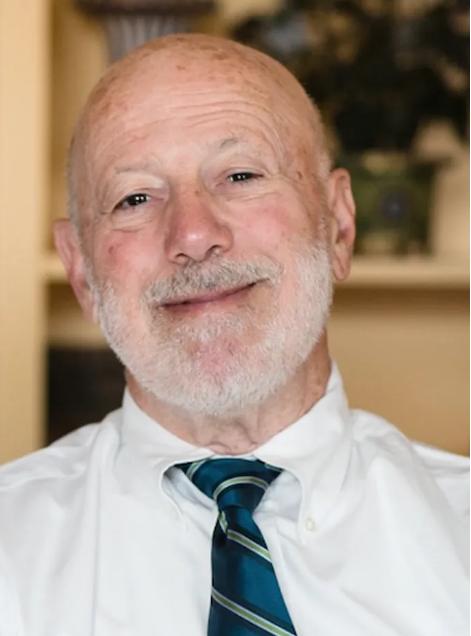 By Maya Mirsky | SAN FRANCISCO – Alvin H. Baum Jr., a philanthropist and activist known as Al to his friends and admirers, died March 28 at home in San Francisco. He was 90.
"Al lived a full, rich life," his husband, Robert Holgate, told J. "Through his example of giving, he taught many how to live, love and give back,"
As a philanthropist, Baum was a generous donor to Jewish and LGBTQ causes, the arts, civil liberties, and a host of other causes and interests. In 2019, the S.F.-based Jewish Community Federation awarded Baum its Robert Sinton Award for Distinguished Leadership, and a J. profile at the time painted a full picture of his background and his longtime activism on multiple fronts.
Born into an affluent Jewish family at the height of the Great Depression, Baum grew up mostly in Highland Park, which in the 1930s was emerging as one of Chicago's most prosperous Jewish-identified suburbs. He went to Harvard University as an undergrad and again for law school, then spent two years in the Army, in Berlin, during the Korean War.
Upon his return, he visited San Francisco to see how he liked it; at the time, he was living his life as a closeted gay man. He came out publicly in 1975, when he was in his 40s and living in San Francisco. It was a momentous step and not really planned.
"You know they say, 'When you're drowning, your whole life passes before your eyes?'" he said in an interview with OUTWORDS, an LGBTQ history archive, in 2017. "Well, it was like that. But I had been telling people, friends, that they should come out. And I wasn't. I said to myself, 'You have to be willing to do it yourself or you're just being hypocritical.'"
From there he became an activist, working with the ACLU and Lambda Legal and many other organizations. Also, he worked as a city planner and attorney for many years and then, late in life, began a third career as a therapist, getting a degree from UC Berkeley in social work. In later years, with his husband, whom he married in 2014, he devoted himself to philanthropy.
Baum served on the boards of many organizations, including S.F.-based Jewish Family and Children's Services, the Fine Arts Museums of San Francisco, the ACLU of Northern California, and the Lambda Legal Defense and Education Fund. He also founded the Federation's gay and lesbian task affinity group. He was a founding member of the New Israel Fund, and has been an active supporter of LGBTQ senior organization Openhouse. In 2014, he served as grand marshal of the San Francisco Pride Parade, accompanied by Holgate.
Baum was a longtime member of Congregation Sha'ar Zahav in San Francisco. Holgate said details of a celebration of Baum's life and a shiva would be forthcoming.
Maya Mirsky is a staff writer for J. The Jewish News of Northern California and is based in Oakland.
The preceding article was published by J. The Jewish News of Northern California and was republished by permission.