LA Pride arrives but #ResistMarch is all the buzz
Massive Intersectional march reclaims Pride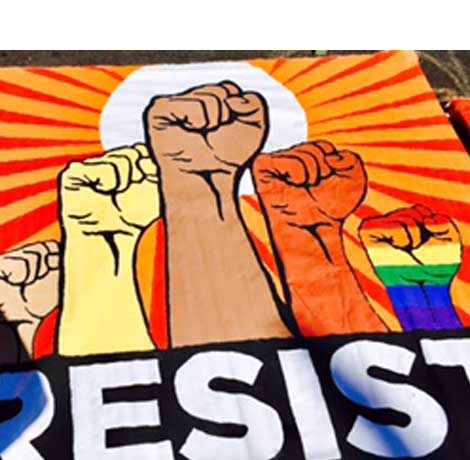 The Resistance is ready for its close-up and Hollywood Boulevard may never be the same.
"I came to see the awakening of the political culture of LGBT life in LA," says Dan Davidson, 58, who flew in just for #ResistMarch from a small town near the Smoky Mountains of East Tennessee.
Davidson is not unlike the many thousands of other people — from literally everywhere — who will descend on Hollywood Boulevard, Sunday June 11 for the #ResistMarch.
"I'm not here just to stand up to Donald Trump but also because this really is historic; for me it's not entirely about him.  It's about coming to a city I once called home and being surrounded by like minded people, a break from all the conservative madness that has taken over my home state," he says.  "I came in need of the righteous anger of the many folks who have had their world thrown upside down.  I'm standing up for basic dignity and our civil rights because if we don't they are ready to take apart every bit of progress we have made."
Julia Winston is a teacher from Waco, Texas.  She's flying in on Saturday, she hopes, to "be part of history. Our lives really do depend on standing up to this political nightmare."  The 32 year old lesbian single mom is flying stand-by and can only get on a flight if there are available seats.  "I'm actually going to start trying to leave Dallas on Thursday night, just in case the flights are full.  I don't care if it takes days," she said.
Winton says "When I was 21, my Dad died of AIDS. Before he died he told me to stand up for myself.  If he was alive today, I am sure he'd be there. I'm marching for him. For a time he received his medication through a drug assistance programs and the government literally helped him live.  He never had insurance because no one would give it to him. These people would see my father dead in the streets. They'd be willing to see the kids I teach starve. Sink or swim."
Allen Roskoff lives in Manhattan. He "thinks it is important that, as a New Yorker, I show solidarity with my LA sisters and brothers."
Roskoff plugged away for 15 years on passage of a gay rights bill that he authored in 1971, the nation's first such bill to be introduced; the bill finally passed New York City Council in 1986.
He says that "after suffering discrimination and violence, after losing hundreds of friends to AIDS and fighting for basic dignity and healthcare, we accomplished so much and have seen so much progress.  We fought and achieved marriage equality and a significant expansion of our rights.   To now see it all at great risk — we must all unite to resist!  We have to wake up."
Billy Pace, who lived blocks from Pulse Nightclub in Orlando at the time of the shooting and who has recently relocated to Los Angeles, says "the resist march is an emancipation of sorts from the complacency that lulled us into believing we had come farther than we thought."
The award winning song-writer (Celine Dione, "Titanic") says #ResistMarch is a chance to "take back our destiny as opposed to giving our lives over to the hands of those who are casually robbing us."
"We are taking hold of our future proudly and unapologetically," he said. "It is our time."
Angeleno Hazel Jade Prejean, a 19 year old transgender woman, told The Los Angeles Blade she is marching because, "this year so far we've already had 11 trans women who have been murdered and one black trans man. It's important that we stand up and stand in unity but also let our black queer youth and queer youth of color, as well as our white brothers and sisters across the nation know that they are not alone and that this country allows them to be visible."
Lauren Meister, 57, is a former Mayor of West Hollywood who continues to serve as a City Council member says she will attend #ResistMarch because "we cannot allow the politics du jour to eradicate the many years of countless people's efforts to achieve equality. We cannot stand idly by as our own government attacks our rights or those of our family members, neighbors, friends, or co-workers."
Lauren, who is an ally, was deeply inspired by the events of June 11, 2016.
"When the Pulse nightclub shootings happened last June in Orlando, we (West Hollywood) chose to still move forward with the Pride parade — even though we were shocked and scared and mourning. This year, because waving flags on floats is not enough, we will march together, a united LGBTQ community and its allies, and we will once again show the world what pride looks like," she said.
Bao Nguyen, 37, is the former Mayor of Garden Grove and says he will attend the #ResistMarch because "for me, it's an expression of my deep gratitude to those who've paved the way by continuing the fight for justice for all."
Nguyen makes the point that "our resistance is itself a celebration that recognizes how far we've come while seeing the long road ahead."
Kit Winter, 52, a Los Angeles lawyer who lives in Silver Lake, says "I came out in 1983. In 1986, as gay men were dying in staggering numbers, the Supreme Court decided in Bowers v Hardwick that the Constitution permitted imposing criminal penalties for consensual gay sex. I remember traveling from New Haven to New York to protest the decision; by the time the march petered out down by Battery Park, people were throwing beer bottles at us and calling us faggots," he recalls.
"We've come a long way since then," says Winter, "but progress is easily lost —and civilization is a thin veneer over the darkness that lies inside many people. We're seeing that darkness emerge more and more under Trump. If we are to have any hope of keeping the progress we've made, we have to #resist."
Alexandra Grey, 26, an actress and musician who lives in Los Angeles, says she will be at #ResistMarch "because nothing changes unless we all stand together. I'm going because my life is at risk."
Gray, who is transgender, says "these causes mean so much because, like any major plight in history, the people have to stand together and fight to be seen and to be heard."
Jeremy Kinser says attending the march is his duty. "I'm joining many friends who haven't attended a Pride celebration in several years but this year we'll all walk together in unity because it's the most important, urgent event since the "No on Prop 8" demonstrations in 2008."
Kinser finds it disheartening that we are at this juncture and says, "I honestly can't believe we're still having to fight for our basic civil rights. We advanced so far during the eight years of Obama's administration and now, almost inconceivably, we stand to lose so much under the current president, who didn't even have the decency to issue a Pride proclamation and who made us invisible in the latest Census Bureau survey."
He adds, "This weekend we will prove to them that we are a powerful and vital part of this country and we won't be vanquished back into the closet."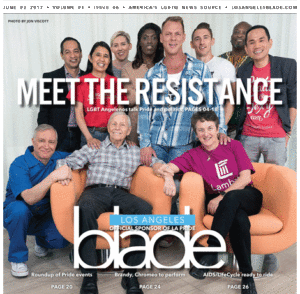 On Sunday, June 11, the #ResistMarch will bring these people and tens of thousand more, from all walks of life, together for a peaceful protest march that will begin at the intersection of Hollywood Blvd. & Highland Ave. in Los Angeles. The march will conclude at the intersection of Santa Monica Blvd. and La Peer Dr. in West Hollywood.
"This year the LGBTQ+ community is lending its iconic rainbow flag to anyone who feels their rights are at risk and to everyone who believes that America's strength is its diversity." said Brian Pendleton, Founder of #ResistMarch.
"When they come for one of us," he said, "they come for all of us.  Which is why we our diverse intersectional community must unite as one."
Intersectionality may just be the most important — perhaps even historic — aspect of this march.
More than 100 partner organizations have committed their support to the #ResistMarch, representing a full rainbow spectrum of civil rights in America, including GLAAD, Planned Parenthood, Black Lives Matters, the ACLU, Los Angeles County Federation of Labor, the Human Rights Campaign, AIDS Project Los Angeles, Bienestar, the City of West Hollywood, among others.
"GLAAD is proud to support the #ResistMarch on June 11th. In a time when LGBTQ people are being erased, it is now more important than ever that we stand in solidarity," said Sarah Kate Ellis, President & CEO of GLAAD.
Sue Dunlop, President & CEO of Planned Parenthood Los Angeles, noted, "On June 11th, we will join the #ResistMarch in support of fundamental civil and human rights for all people, everywhere."
John D'Amico, Councilmember proclaimed "The shoulders we stand on are broad and strong. And have carried us here. The #ResistMarch is showing up for yourself and your rights. The #ResistMarch is peace and protest and pleasure and passion and people. The #ResistMarch is authentic. The #ResistMarch is who we are."
#ResistMarch will begin after a brief opening ceremony with speakers in Hollywood and at the end of the march route.  A rally will be held that will include a wide array of speakers, politicians and entertainers.
Speakers will include U.S. House Democratic Leader Nancy Pelosi, U.S. Congressman Adam Schiff, U.S. Congresswoman Maxine Waters, U.S. Congressman Ted Lieu, California, Los Angeles Councilman Mitch O'Farrell, Los Angeles Councilman David Ryu, West Hollywood Mayor John Heilman,  Trans Activist Bamby Salcedo, AIDS Activist Phil Wilson, #ResistMarch Founder Brian Pendleton, HRC President Chad Griffin, Haim, Margaret Cho, RuPaul, Adam Lambert, Jussie Smollett, Cheyenne Jackson, The Gay Men's Chorus Of Los Angeles, The Trans Chorus of Los Angeles, America Ferrera, Black Lives Matter's Dr. Melina Abdullah, NALEO National Chairman John Duran,  Planned Parenthood's Sue Dunlap, Los Angeles LGBT Center's Lorri Jean, Women's March L.A. Founder Emi Guereca and others.
In a recent article in The Los Angeles Blade, Troy Perry's pathbreaking work on behalf of the LGBT community, including the historic journey he led across Hollywood Boulevard in 1969, was explored.  The #ResistMarch returns the LGBT community to that place and in the same spirit of the founding gathering.
"In 1969, with signs declaring 'we're not afraid anymore,' Perry led a nighttime march down Hollywood Boulevard calling for the end to sodomy laws and a small picket protesting anti-gay job discrimination, where he met Mattachine Society founder Harry Hay and his lover John Burnside and had no idea who they were. In January 1970, he sat in at the counter of Barney's Beanery in West Hollywood, demanding that the owner take down his 'Fagots Stay Out' sign above the bar. He also led hundreds of marchers demanding police reform.
On March 9, 1970, Perry led 120 marchers to rally behind the pre-bathhouse Dover Hotel in downtown LA to commemorate the one-year anniversary of Howard Efland, who had been beaten to death by two LAPD officers. He attended the inquest and heard the police explain that one of the officers had "fallen" on Efland, rupturing his spleen and that the broken bones and cuts were a result of him having fallen out of the police car, not being dragged feet first down three flights of stairs after having been beaten up and then kicked. "There were two eyewitnesses," Perry says. 'The City Attorney asked the first one, a drag queen wearing female clothes, "are you a homosexual?" She answered, "Yes," and the eyes of the jurors closed. They didn't want to hear any more."
And so we return to our roots.
Just as in the first LGBT march and parade in the 1970's, organizers say "we are going to march in unity with those who believe that America's strength is its diversity. Not just LGBTQ+ people but all Americans and dreamers will be wrapped in the Rainbow Flag and our unique, diverse, intersectional voices will come together in one harmonized proclamation. We #Resist the efforts to divide us!"
More information about the #ResistMarch can be found at www.resistmarch.org.
Padilla, local leaders celebrate passage of Respect for Marriage Act
"There's no better place than San Francisco to celebrate passage of the Respect for Marriage Act & affirm lives of millions of LGBTQ people"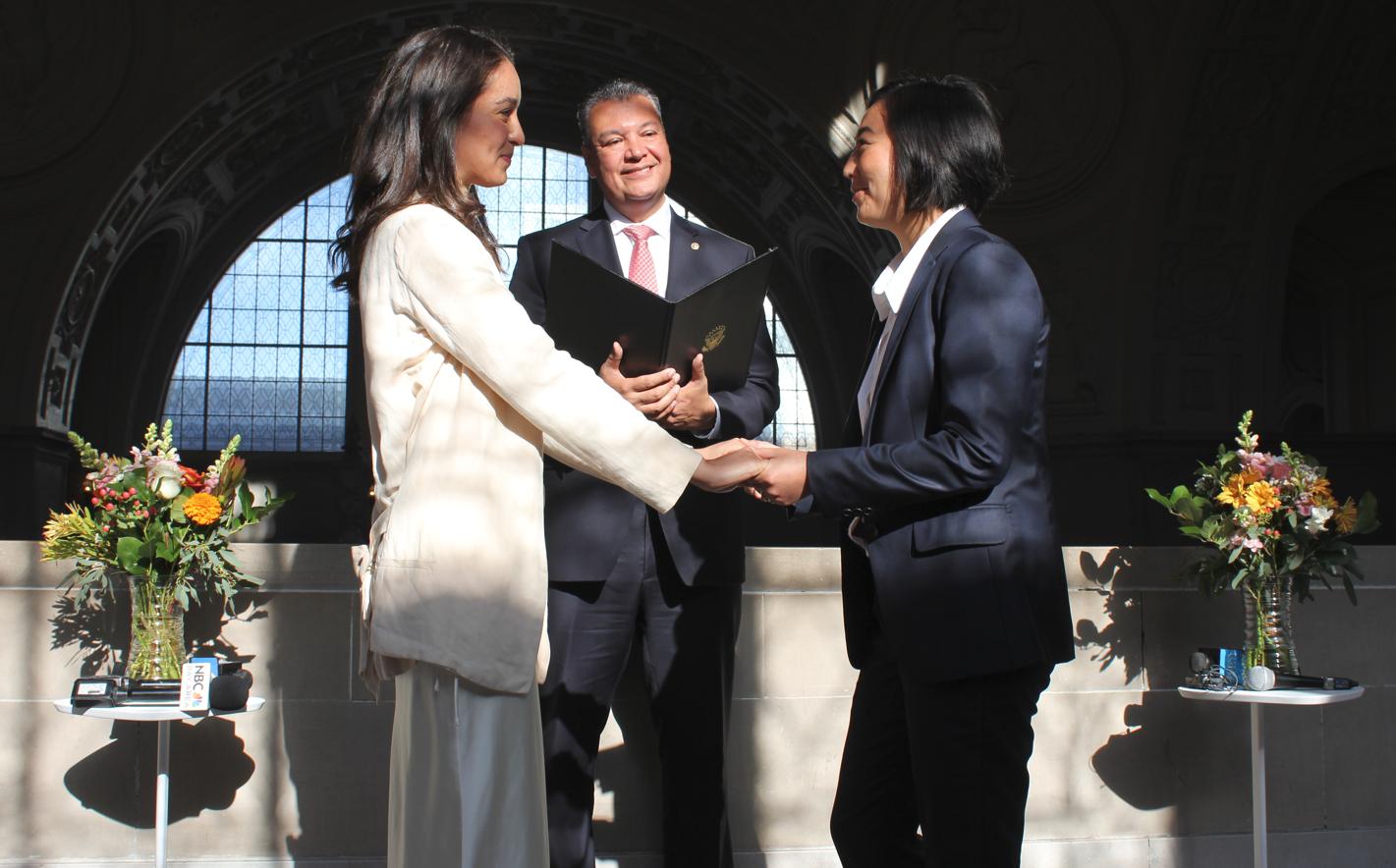 SAN FRANCISCO —  U.S. Senator Alex Padilla (D-Calif.) on Friday hosted a press conference with San Francisco Mayor London Breed, State Senator Scott Wiener, Equality California Executive Director Tony Hoang, and local leaders following the Senate passage of the Respect for Marriage Act.
Senator Padilla also officiated a vows renewal ceremony of Cyn Wang and Tessa Chavez, a local lesbian couple, at San Francisco City Hall to mark the historic occasion.
The Respect for Marriage Act requires the federal government to recognize a marriage between two individuals if the marriage was valid in the state where it was performed and guarantee that valid marriages between two individuals are given full faith and credit, regardless of the couple's sex, race, ethnicity, or national origin. The legislation passed the Senate by a vote of 61-36.
"There is no better place than San Francisco to celebrate the passage of the Respect for Marriage Act and unequivocally affirm the lives of millions of LGBTQ people and interracial couples across our country," said Senator Padilla. "We celebrate the progress that we have made today, but recognize the work still left undone to fully protect the rights of LGBTQ Americans. I'll continue working to build on our efforts until we ensure that every American is treated equally under the law, free from discrimination."
"I was proud to introduce the Respect for Marriage Act over the summer, and I'm even more pleased that the bill passed the Senate this week with strong bipartisan support," said Senator Dianne Feinstein. "The Respect for Marriage Act will guarantee legal protections for millions of marriages in the United States. Simply put, Americans should be free to marry the person they love, regardless of sexual orientation or race, without fear of discrimination or fear that their marriages will be invalidated. This was a historic vote and one that every proponent of equality can be proud of."
"The Respect for Marriage Act is an important step forward in the continued fight for LGBTQ and racial equality in America," said State Senator Scott Wiener. "Today, we celebrate this victory for our civil rights, and tomorrow we recommit to fight even harder against the right-wing Supreme Court's efforts to legalize discrimination in this country."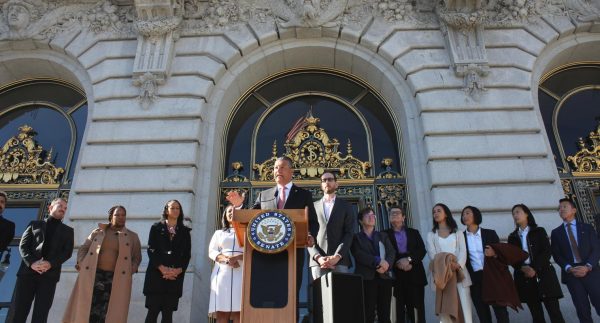 "San Francisco's history is inseparable from the history of the LGBTQ community and the movement for marriage equality locally, at the state level, and nationally," said Mayor Breed. "As we celebrate the passage of the Respect for Marriage Act, we honor those who have endured discrimination and hate, and the many who lost their lives in the quest for equality. We recommit ourselves to protect the fundamental rights of all people regardless of who they are or whom they love. Thank you to Congressional leaders, especially Senators Dianne Feinstein and Alex Padilla, and Speaker Pelosi for their leadership to pass this historical legislation."
"Equality California applauds this historic vote and the critical leadership of Senators Baldwin, Feinstein and Padilla, in getting this bill across the finish line," said Equality California Executive Director Tony Hoang. "While this is an important step in affirming the dignity of the LGBTQ+ community, it will not end all discrimination against LGBTQ+ people or erase the hateful rhetoric of anti-LGBTQ+ politicians and extremists. Equality California will continue to fight for full, lived equality for all LGBTQ+ people until the work is done."
"The Respect for Marriage Act removes an ugly, discriminatory stain on our federal law books – the 1996 so-called "Defense of Marriage Act" – and replaces DOMA with a rule requiring government at all levels to treat all married couples equally nationwide," said Jenny Pizer, Chief Legal Officer, Lambda Legal. "We hope we never need it.  But if the U.S. Supreme Court were, outrageously, to erase the constitutional protection for the freedom to marry, this law will substantially reduce the harms. Yet, even if the Respect for Marriage Act were to become necessary, it would not be sufficient. We still urgently need the Equality Act to become law, to protect LGBTQ people from the widespread discrimination that persists in the commercial marketplace and in public services with harsh, unacceptable consequences."
"It is a historic moment for the advancement and preservation of basic civil rights for all Americans, but by no means is our work done," said Kris Perry, Prop 8 Plaintiff & Nonprofit Director. "Our family and thousands of families like ours can breathe easier tonight knowing our fundamental rights are protected."
"After the Supreme Court overturned a woman's right to choice, we feared same-sex marriages were next," said Cyn Wang and Tessa Chavez. "The Respect for Marriage Act gives our family clarity and a sense of relief that our marriage, and those of all married couples regardless of sexual orientation or race, will be protected in this country."
The Respect for Marriage Act now goes to the House of Representatives for passage and then to the President's desk to be signed into law.
Senator Padilla is committed to pursuing equality for the LGBTQ community, including in employment, housing, and credit lending.
Earlier this year, Padilla introduced the LGBTQ Business Equal Credit Enforcement and Investment Act, legislation that would protect the 1.4 million LGBTQ-owned businesses in the nation from lending discrimination to ensure equal access to economic opportunities. Padilla also joined Senate Democrats in introducing a resolution recognizing June as LGBTQ Pride Month to highlight the work of the LGBTQ community in fighting to achieve full equality, including for marriage.