LA Pride arrives but #ResistMarch is all the buzz
Massive Intersectional march reclaims Pride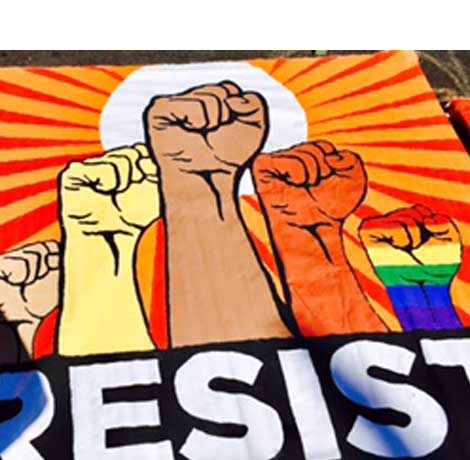 The Resistance is ready for its close-up and Hollywood Boulevard may never be the same.
"I came to see the awakening of the political culture of LGBT life in LA," says Dan Davidson, 58, who flew in just for #ResistMarch from a small town near the Smoky Mountains of East Tennessee.
Davidson is not unlike the many thousands of other people — from literally everywhere — who will descend on Hollywood Boulevard, Sunday June 11 for the #ResistMarch.
"I'm not here just to stand up to Donald Trump but also because this really is historic; for me it's not entirely about him.  It's about coming to a city I once called home and being surrounded by like minded people, a break from all the conservative madness that has taken over my home state," he says.  "I came in need of the righteous anger of the many folks who have had their world thrown upside down.  I'm standing up for basic dignity and our civil rights because if we don't they are ready to take apart every bit of progress we have made."
Julia Winston is a teacher from Waco, Texas.  She's flying in on Saturday, she hopes, to "be part of history. Our lives really do depend on standing up to this political nightmare."  The 32 year old lesbian single mom is flying stand-by and can only get on a flight if there are available seats.  "I'm actually going to start trying to leave Dallas on Thursday night, just in case the flights are full.  I don't care if it takes days," she said.
Winton says "When I was 21, my Dad died of AIDS. Before he died he told me to stand up for myself.  If he was alive today, I am sure he'd be there. I'm marching for him. For a time he received his medication through a drug assistance programs and the government literally helped him live.  He never had insurance because no one would give it to him. These people would see my father dead in the streets. They'd be willing to see the kids I teach starve. Sink or swim."
Allen Roskoff lives in Manhattan. He "thinks it is important that, as a New Yorker, I show solidarity with my LA sisters and brothers."
Roskoff plugged away for 15 years on passage of a gay rights bill that he authored in 1971, the nation's first such bill to be introduced; the bill finally passed New York City Council in 1986.
He says that "after suffering discrimination and violence, after losing hundreds of friends to AIDS and fighting for basic dignity and healthcare, we accomplished so much and have seen so much progress.  We fought and achieved marriage equality and a significant expansion of our rights.   To now see it all at great risk — we must all unite to resist!  We have to wake up."
Billy Pace, who lived blocks from Pulse Nightclub in Orlando at the time of the shooting and who has recently relocated to Los Angeles, says "the resist march is an emancipation of sorts from the complacency that lulled us into believing we had come farther than we thought."
The award winning song-writer (Celine Dione, "Titanic") says #ResistMarch is a chance to "take back our destiny as opposed to giving our lives over to the hands of those who are casually robbing us."
"We are taking hold of our future proudly and unapologetically," he said. "It is our time."
Angeleno Hazel Jade Prejean, a 19 year old transgender woman, told The Los Angeles Blade she is marching because, "this year so far we've already had 11 trans women who have been murdered and one black trans man. It's important that we stand up and stand in unity but also let our black queer youth and queer youth of color, as well as our white brothers and sisters across the nation know that they are not alone and that this country allows them to be visible."
Lauren Meister, 57, is a former Mayor of West Hollywood who continues to serve as a City Council member says she will attend #ResistMarch because "we cannot allow the politics du jour to eradicate the many years of countless people's efforts to achieve equality. We cannot stand idly by as our own government attacks our rights or those of our family members, neighbors, friends, or co-workers."
Lauren, who is an ally, was deeply inspired by the events of June 11, 2016.
"When the Pulse nightclub shootings happened last June in Orlando, we (West Hollywood) chose to still move forward with the Pride parade — even though we were shocked and scared and mourning. This year, because waving flags on floats is not enough, we will march together, a united LGBTQ community and its allies, and we will once again show the world what pride looks like," she said.
Bao Nguyen, 37, is the former Mayor of Garden Grove and says he will attend the #ResistMarch because "for me, it's an expression of my deep gratitude to those who've paved the way by continuing the fight for justice for all."
Nguyen makes the point that "our resistance is itself a celebration that recognizes how far we've come while seeing the long road ahead."
Kit Winter, 52, a Los Angeles lawyer who lives in Silver Lake, says "I came out in 1983. In 1986, as gay men were dying in staggering numbers, the Supreme Court decided in Bowers v Hardwick that the Constitution permitted imposing criminal penalties for consensual gay sex. I remember traveling from New Haven to New York to protest the decision; by the time the march petered out down by Battery Park, people were throwing beer bottles at us and calling us faggots," he recalls.
"We've come a long way since then," says Winter, "but progress is easily lost —and civilization is a thin veneer over the darkness that lies inside many people. We're seeing that darkness emerge more and more under Trump. If we are to have any hope of keeping the progress we've made, we have to #resist."
Alexandra Grey, 26, an actress and musician who lives in Los Angeles, says she will be at #ResistMarch "because nothing changes unless we all stand together. I'm going because my life is at risk."
Gray, who is transgender, says "these causes mean so much because, like any major plight in history, the people have to stand together and fight to be seen and to be heard."
Jeremy Kinser says attending the march is his duty. "I'm joining many friends who haven't attended a Pride celebration in several years but this year we'll all walk together in unity because it's the most important, urgent event since the "No on Prop 8" demonstrations in 2008."
Kinser finds it disheartening that we are at this juncture and says, "I honestly can't believe we're still having to fight for our basic civil rights. We advanced so far during the eight years of Obama's administration and now, almost inconceivably, we stand to lose so much under the current president, who didn't even have the decency to issue a Pride proclamation and who made us invisible in the latest Census Bureau survey."
He adds, "This weekend we will prove to them that we are a powerful and vital part of this country and we won't be vanquished back into the closet."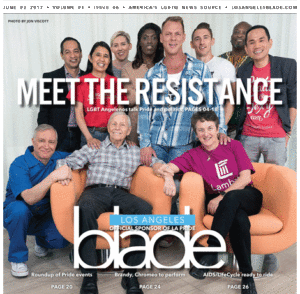 On Sunday, June 11, the #ResistMarch will bring these people and tens of thousand more, from all walks of life, together for a peaceful protest march that will begin at the intersection of Hollywood Blvd. & Highland Ave. in Los Angeles. The march will conclude at the intersection of Santa Monica Blvd. and La Peer Dr. in West Hollywood.
"This year the LGBTQ+ community is lending its iconic rainbow flag to anyone who feels their rights are at risk and to everyone who believes that America's strength is its diversity." said Brian Pendleton, Founder of #ResistMarch.
"When they come for one of us," he said, "they come for all of us.  Which is why we our diverse intersectional community must unite as one."
Intersectionality may just be the most important — perhaps even historic — aspect of this march.
More than 100 partner organizations have committed their support to the #ResistMarch, representing a full rainbow spectrum of civil rights in America, including GLAAD, Planned Parenthood, Black Lives Matters, the ACLU, Los Angeles County Federation of Labor, the Human Rights Campaign, AIDS Project Los Angeles, Bienestar, the City of West Hollywood, among others.
"GLAAD is proud to support the #ResistMarch on June 11th. In a time when LGBTQ people are being erased, it is now more important than ever that we stand in solidarity," said Sarah Kate Ellis, President & CEO of GLAAD.
Sue Dunlop, President & CEO of Planned Parenthood Los Angeles, noted, "On June 11th, we will join the #ResistMarch in support of fundamental civil and human rights for all people, everywhere."
John D'Amico, Councilmember proclaimed "The shoulders we stand on are broad and strong. And have carried us here. The #ResistMarch is showing up for yourself and your rights. The #ResistMarch is peace and protest and pleasure and passion and people. The #ResistMarch is authentic. The #ResistMarch is who we are."
#ResistMarch will begin after a brief opening ceremony with speakers in Hollywood and at the end of the march route.  A rally will be held that will include a wide array of speakers, politicians and entertainers.
Speakers will include U.S. House Democratic Leader Nancy Pelosi, U.S. Congressman Adam Schiff, U.S. Congresswoman Maxine Waters, U.S. Congressman Ted Lieu, California, Los Angeles Councilman Mitch O'Farrell, Los Angeles Councilman David Ryu, West Hollywood Mayor John Heilman,  Trans Activist Bamby Salcedo, AIDS Activist Phil Wilson, #ResistMarch Founder Brian Pendleton, HRC President Chad Griffin, Haim, Margaret Cho, RuPaul, Adam Lambert, Jussie Smollett, Cheyenne Jackson, The Gay Men's Chorus Of Los Angeles, The Trans Chorus of Los Angeles, America Ferrera, Black Lives Matter's Dr. Melina Abdullah, NALEO National Chairman John Duran,  Planned Parenthood's Sue Dunlap, Los Angeles LGBT Center's Lorri Jean, Women's March L.A. Founder Emi Guereca and others.
In a recent article in The Los Angeles Blade, Troy Perry's pathbreaking work on behalf of the LGBT community, including the historic journey he led across Hollywood Boulevard in 1969, was explored.  The #ResistMarch returns the LGBT community to that place and in the same spirit of the founding gathering.
"In 1969, with signs declaring 'we're not afraid anymore,' Perry led a nighttime march down Hollywood Boulevard calling for the end to sodomy laws and a small picket protesting anti-gay job discrimination, where he met Mattachine Society founder Harry Hay and his lover John Burnside and had no idea who they were. In January 1970, he sat in at the counter of Barney's Beanery in West Hollywood, demanding that the owner take down his 'Fagots Stay Out' sign above the bar. He also led hundreds of marchers demanding police reform.
On March 9, 1970, Perry led 120 marchers to rally behind the pre-bathhouse Dover Hotel in downtown LA to commemorate the one-year anniversary of Howard Efland, who had been beaten to death by two LAPD officers. He attended the inquest and heard the police explain that one of the officers had "fallen" on Efland, rupturing his spleen and that the broken bones and cuts were a result of him having fallen out of the police car, not being dragged feet first down three flights of stairs after having been beaten up and then kicked. "There were two eyewitnesses," Perry says. 'The City Attorney asked the first one, a drag queen wearing female clothes, "are you a homosexual?" She answered, "Yes," and the eyes of the jurors closed. They didn't want to hear any more."
And so we return to our roots.
Just as in the first LGBT march and parade in the 1970's, organizers say "we are going to march in unity with those who believe that America's strength is its diversity. Not just LGBTQ+ people but all Americans and dreamers will be wrapped in the Rainbow Flag and our unique, diverse, intersectional voices will come together in one harmonized proclamation. We #Resist the efforts to divide us!"
More information about the #ResistMarch can be found at www.resistmarch.org.
Laws against gay sex ruled unconstitutional- but Kansas won't drop ban
A bill pending in the Kansas Legislature would remove language in the state's criminal sodomy law that targets LGBTQ people. Advocates say action is decades past due.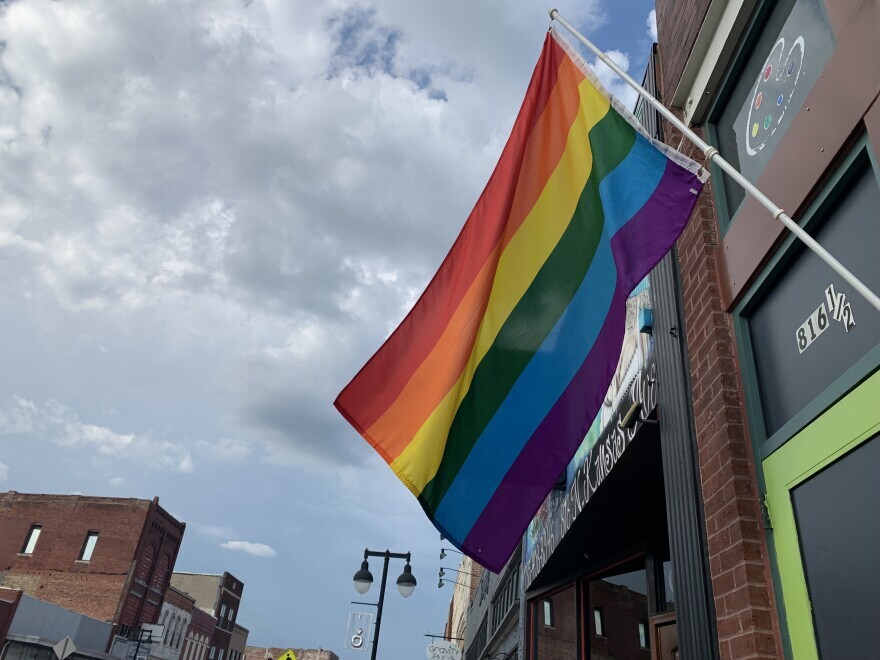 By Blaise Mesa | TOPEKA — Intercourse between same-sex couples technically remains a crime in Kansas even though the provision in state statute was ruled unconstitutional 19 years ago.
Since then, multiple attempts to remove the outdated language have failed.
The latest legislation to change the law has languished in a Statehouse committee without a hearing for over a year.
That bill would remove a line from the Kansas criminal sodomy law that makes sex a crime for "persons who are 16 or more years of age and members of the same sex." The U.S. Supreme Court ruled in Lawrence v. Texas in 2003 that such laws were unconstitutional.
"When it comes to something that's just blatantly unconstitutional, there should be agreement that we follow the law," said the bill's sponsor Rep. John Carmichael, a Wichita Democrat. "We need to repeal it."
The bill doesn't change other portions of the sodomy law, and Carmichael says law enforcement has been supportive of the changes for years, yet nothing has happened.
Rep. Stephen Owens, a Hesston Republican who chairs the committee scrutinizing the latest legislation, said he hadn't reviewed its details or decided whether to hold hearings on the bill. Owens said the committee will deal with other, higher-priority bills first.
The Kansas Bureau of Investigation says nobody has been convicted of same-sex criminal sodomy for at least five years. Still, Thomas Witt, executive director of Equality Kansas, said the provision has been used to discriminate against LGBTQ people even if they weren't convicted.
Witt said Kansans were arrested for same-sex relations even after the Supreme Court's ruling, but the last time he heard that happened was in 2013. The criminal sodomy law also prevented LGBTQ law enforcement officers from being sworn in because violating the statute was a violation of their professional standards. Those standards were later amended to allow LGBTQ officers.
"It is an insult that my life is criminalized," Witt said. "It is a further insult that people in (the Legislature) think it should stay that way."
Justice Horn, vice chair of the LGBTQ Commission of Kansas City, said the laws could also make people leave for cities with better civil rights protections. Horn, who is gay, said that hurts the community by hindering economic development while depriving it of diversity.
"I've thought plenty of times I could uproot and go to a place where I don't have to deal with these issues," Horn said. "I want our kids to grow up, and our youth and the generation coming up to not have to deal with this."
Witt said the issues have subsided, but as long as it remains codified in state statute the issues could quickly become relevant again if the Legislature's opinion of LGBTQ people grows worse, which he said is happening. He pointed to the bill last session that limited how transgender people could play sports as evidence of this.
Sharon Brett, legal director for the American Civil Liberties Union of Kansas, said outdated state laws are common, but anti-LGBTQ laws send a message to people that they aren't welcomed in the state.
"It's a deliberate decision not to amend the code," Brett said, "to get rid of these provisions that have been ruled unconstitutional."
Republican Sam Brownback created the Office of the Repealer when he was governor to remove outdated and unconstitutional statutes, but changes to the criminal sodomy law weren't recommended.
The committee on Corrections and Juvenile Justice, where the bill is bottled up, has a full set of hearings next week. Bills preventing shackling of youth in court, allowing people convicted of felonies to receive food stamps and adding new requirements for officers serving search warrants are currently scheduled for discussion.
"Given the opportunity, we might look at" the legislation to rewrite the state sodomy law, said Owens, the committee chair. "I wouldn't say that is a priority for us to look at this time just because of all the other corrections and juvenile justice matters."
*******************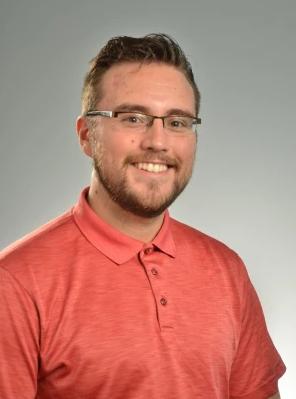 Blaise Mesa is the Social Services and Criminal Justice reporter for The Kansas News Service.
*******************
The preceding article was previously published by The Kansas News Service and is republished by permission.
Supreme Court will hear challenges to affirmative action at Harvard & UNC
Six years ago, a divided court upheld the University of Texas' consideration of race in its undergraduate admissions process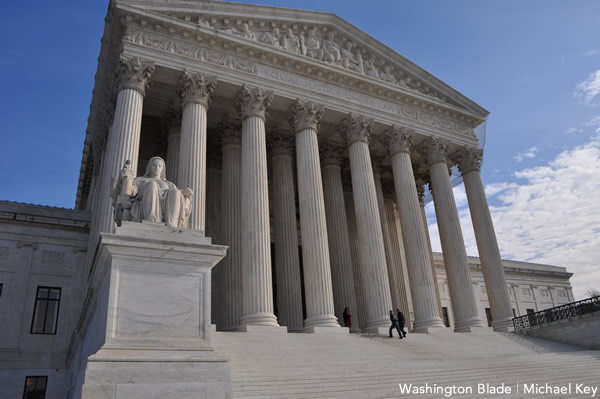 By Amy Howe | WASHINGTON – The Supreme Court on Monday agreed to reconsider the role of race in college admissions. In a brief order, the justices agreed to take up two cases asking them to overrule their landmark 2003 decision in Grutter v. Bollinger, holding that the University of Michigan could consider race as part of its efforts to assemble a diverse student body. The decision to grant review in the two new cases suggests that the court's conservative majority is poised to do just that.
The cases are Students for Fair Admissions v. President & Fellows of Harvard College and Students for Fair Admissions v. University of North Carolina. The court consolidated them for oral argument, and they likely will be argued early in the 2022-23 term, which begins in October.
Six years ago, a divided court upheld the University of Texas' consideration of race in its undergraduate admissions process. Justice Anthony Kennedy wrote for the 4-3 majority in Fisher v. University of Texas, joined by Justices Ruth Bader Ginsburg, Stephen Breyer, and Sonia Sotomayor. The composition of the court has changed significantly since then: Although Justice Elena was recused from the Texas case because she had been involved in it as the solicitor general of the United States, Kennedy retired in 2018 and was replaced by Justice Brett Kavanaugh, while Justice Amy Coney Barrett succeeded Ginsburg, who died in 2020.
It was therefore a much more conservative court that considered the latest petitions asking the justices to revisit the issue. Both petitions arose from long-running lawsuits filed by a group called Students for Fair Admissions. Founded by Edward Blum, a former stockbroker who also backed the challenger in Fisher (as well as the challengers in Shelby County v. Holder, the 2013 case that narrowed the Voting Rights Act), the group describes its mission as helping to "restore colorblind principles to our nation's schools, colleges and universities."
The first case, filed against Harvard University, contends that the university's race-conscious admissions policy discriminates against Asian American applicants. According to the group, Asian Americans are significantly less likely to be admitted than similarly qualified white, Black, or Hispanic applicants. Both the district court and the U.S. Court of Appeals for the 1st Circuit upheld Harvard's policy, prompting SFFA to come to the Supreme Court in February 2021. The group urged the justices to take up the case and overrule Grutter, describing the 2003 ruling as a decision that was "grievously wrong" and now "sustains admissions programs that intentionally discriminate against historically oppressed minorities" – in the past, Jewish students, and now Asian Americans. The group also asked the justices to weigh in on whether Harvard's policy violates Title VI of the federal Civil Rights Act, which bans racial discrimination by entities receiving federal funding.
Harvard told the justices that there is no reason for them to intervene in the dispute. Its policy is consistent with the Supreme Court's precedents, the university stressed, and SFFA's allegations to the contrary rely on a "thoroughly distorted presentation of" the facts in the case. Harvard takes race into account "in a flexible and nonmechanical way" for the benefit of "highly qualified candidates." And there is certainly no reason for the court to "overrule more than 40 years of decisions regarding the limited consideration of race in university admissions," Harvard concluded.
The justices did not act on SFFA's petition immediately. Instead, in June they sought the federal government's views – a maneuver that had the effect of delaying the case's progression. In a brief filed in December, the Biden administration acknowledged that the Trump administration had supported SFFA in the lower courts, but it explained that it had "reexamined the case" and now recommended that the justices deny review.
The second case, filed against the University of North Carolina at Chapel Hill, the state's flagship public university, argues that the university's consideration of race in its undergraduate admissions process violates both Title VI and the Constitution. (Unlike Harvard, UNC is a public university and is therefore covered by the 14th Amendment's guarantee of equal protection.) After a federal district court in North Carolina rejected SFFA's arguments, the group came straight to the Supreme Court, asking the justices to take up the case, alongside the Harvard case, before the U.S. Court of Appeals for the 4th Circuit could rule.
UNC defended its admissions policy in the Supreme Court, telling the justices that it has also implemented programs to increase diversity without considering race – for example, by actively recruiting low-income and first-generation college students. But it concluded, it wrote, that there is no alternative that would create a student body "about as diverse and academically qualified as its holistic, race-conscious admissions process." And although it acknowledged that the question at the center of the case is "indisputably important," it stressed that there was no reason for the Supreme Court to take the "extremely rare" step of bypassing the court of appeals.
The justices considered both cases together at three consecutive conferences – on Jan. 7, Jan. 14, and Jan. 22 – before granting review on Monday and consolidating them.
********************
Amy Howe is the former editor and a reporter for SCOTUSblog and still is a contributor. She primarily writes for her eponymous blog, Howe on the Court.
Before turning to full-time blogging, she served as counsel in over two dozen merits cases at the Supreme Court and argued two cases there.
Amy is a graduate of the University of North Carolina at Chapel Hill and holds a master's degree in Arab Studies and a law degree from Georgetown University.
********************
The preceding article was previously published by SCOTUSBlog and is republished by permission.
Heavy accumulation of snowfall makes clearing it a 'fabulous' effort
Winters in Cleveland can be a dreary time, but now we can hopefully at least look forward to another visit….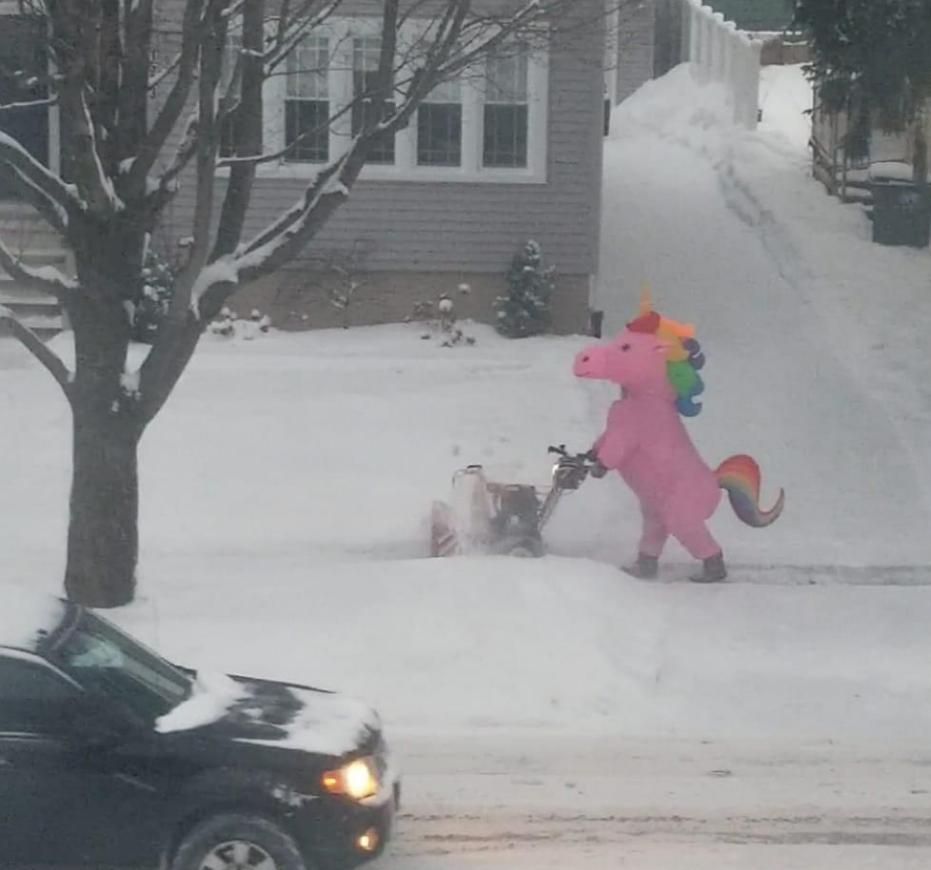 LAKEWOOD, Oh. – As an Arctic air mass moved across the Midwest and into the Northeastern U.S. this past weekend, drawing in precipitation that led to several inches of snow falling with upwards of a foot or more in some areas and temperatures hovering in the teens to mid twenties, residents in this suburban Cleveland city were greeted with the sight of one person apparently untroubled by the weather.
The Plain Dealer/cleveland.com reported that a magical being appeared on Lakewood's Wagar Avenue this weekend, snow blowing the sidewalk after Northeast Ohio got hit with inches of snow on Sunday.
A person dressed in an inflatable unicorn costume grabbed neighbors' attention, working their way down Wagar Avenue, snow blowing the sidewalk for the entire street.
Local Lakewood resident, Bethany Staley took a couple of photos and a video and posted them to the Lakewood Community Facebook group, with the caption "Such an awesome community!!! The Wagar Ave. Unicorn was back this year and just made my night!!! My family and I loved watching him plow on by!!! Thank you, neighbor."
The pictures were then shared on Twitter Sunday by SuzyLeeInCLE aka @WeThePeopleCLE which was then taken viral by appreciative users since its initial posting.
Someone in Lakewood dons a unicorn costume while snow blowing and this is the kind of community I want. pic.twitter.com/yYlfH42jAG

— SuzyLeeInCLE (@WeThePeopleCLE) January 23, 2022
John Corlett replied to the tweet with a photo taken of the unicorn on Christmas Day in 2020.
On Wagar Avenue in Lakewood, here he is on Christmas 2020 pic.twitter.com/lb3cOykMEv

— John Corlett (@CommunitySolsED) January 24, 2022
"I was actually kind of sad when it didn't snow this year on Christmas. I thought we might see him again," Corlett said. "I remember that he even snow-blowed the driveway of someone who lived across the street."
The Plain Dealer/cleveland.com noted; "Winters in Cleveland can be a dreary time, but now we can hopefully at least look forward to another visit from the mystical Lakewood snow-blowing unicorn, the next time it snows."