Congregation Kol Ami Prays for Pittsburgh
Rabbi Eger says silence equals death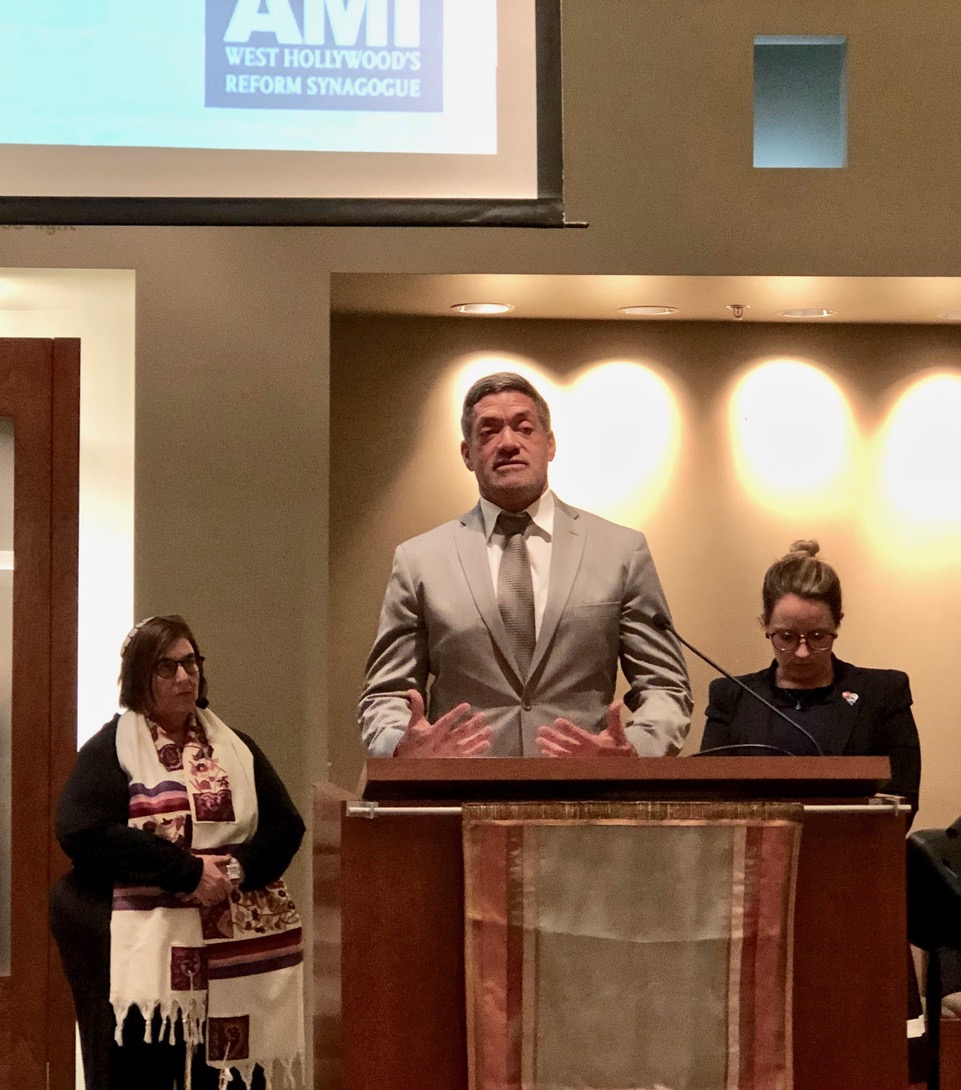 The murder of 11 Jews during Shabbat service at the Tree of Life Synagogue in Pittsburgh this week stirred Jewish congregations around the country. On Oct. 30, Temple Kol Ami, West Hollywood's LGBTQ Reform Synagogue, offered a night of comfort and healing for its congregants facing this troubling moment in American Jewish life. The service was enriched by moving music played by Assistant Rabbi Max Chaiken.
Rabbi Denise Eger opened the service saying that, sadly enough, this is not the first time people are gathered in shock after a person walks in somewhere and uses a gun to kill innocent people. "And I think, it won't be the last time," Rabbi Eger added. Moments like that require proper rituals of community grieving.
West Hollywood Mayor John J. Duran and Councilmember Lindsey P. Horvath addressed the congregation in deep mourning. "It has been a rough week for us," said Duran. "The women and men in Pittsburgh were targeted because of their standing up for refugees. They were targeted by the politics we are facing right now."
Horvath emphasized that the evening was not only for healing and comfort but also for supporting each other in these unsettling times.
Rabbi Eger reminded the congregation of the ethical obligation Torah teaches us: "Love your neighbor as yourself." We should do nothing else.
"It's hard to be angry. It's hard to grieve and to mourn. It's hard when the country is so divided. It is hard when there is not a single conversation possible with this neighbor. But we have to go back to the basis: 'Love your neighbor as yourself,'" Eger said. Only this could heal the country's division and each other from the anger and pain.
Rabbi Eger spoke about anti-Semitism. "Many say anti-Semitism doesn't exist. But the contrary is true. We are all obliged to name anti-Semitism as that what it is—to call it out, and never to be silent. Silence equals death," she said. "Whether it is the 'innocent joke' or the racist tweet – speak up!
We should begin peace within our hearts, our inner self," Rabbi Eger said. "Let us take it from there."
The congregation was accompanied by interfaith partners. Reverend Dr. Keith Cox from the Center for Spiritual Living said: "When one of us is hurt, everyone is hurt."
And Ani Zonneveld, President and Founder of Muslims for Progressive Values, reminded the congregants that the Quran teaches taking someone's life means taking the life of humanity. These words were very important for the audience because the events in Pittsburgh are not just a Jewish issue—they are striking all Americans.
The service concluded with a prayer from Rabbi Danny Schiff, written in honor of the victims in Pittsburgh. It summarizes the emotions of this deeply moving evening: "And, in their honor, that is exactly how we will now continue on. Devastated, bereft, but utterly resolute… May their memory bless us all."
Jan Wilkens is a visiting Jewish and LGBTQ scholar from Berlin, Germany.
Whittier Pride cancelled- Henderson, Nevada based non-profit steps in
Non-profit International Cultural Movement for Equality is sponsoring 'Whittier Proud' on September 25 at the Doubletree Inn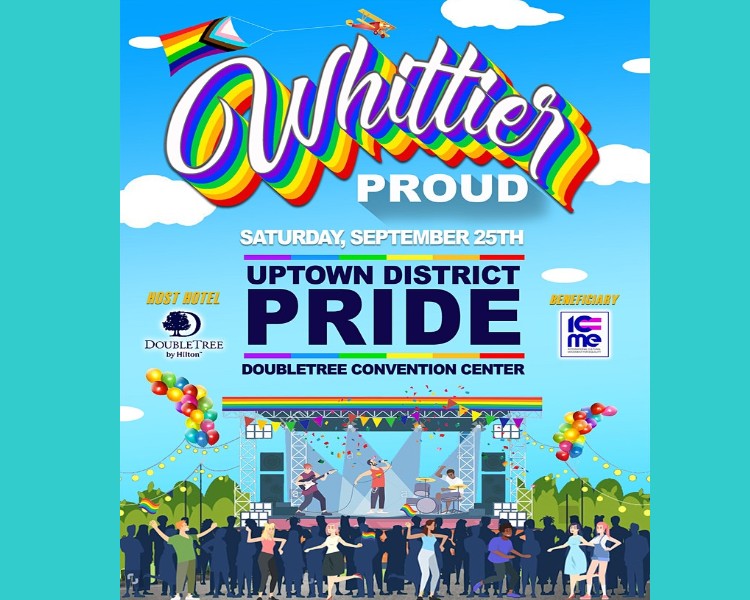 WHITTIER – A disagreement that led to a split in the organizing committee to host what would have been the second Whittier Pride Festival ended up canceling the event. Pride was set to be held Saturday, Sept. 25 at Central Park.
According to the Whitter Daily News, two years ago, the event drew between 5,000 and 8,000 people but was reduced to a car parade in 2020 as a result of the pandemic. Another caravan was held in June, but a full festival was expected this year.
Reporter Mike Sprague from the Daily News noted that two groups — both calling themselves Whittier Pride — applied for a permit.  According to Sprague, one group, which reportedly split off from the original organization, filed first and received permission on Aug. 23 from the Whittier Parks, Recreation and Community Services Commission.
That final approval would have required the City Council to sign off on but in an email to the Daily News, Whittier Assistant City Manager Shannon DeLong said the group had withdrawn its application.
The second group's application wasn't considered due to a 'first come first serve' process the City Manager Brian Saeki told the Daily News in a telephone interview last Friday.
"We received two applications for the same event on the same day and time," Saeki said. "For us, it was all procedural. We moved forward with the first application."
There will be a Pride event this month as Henderson, Nevada based non-profit International Cultural Movement for Equality is sponsoring 'Whittier Proud' on September 25 at the Hilton DoubleTree Convention Center in downtown Whittier.
Event organizer Richard Anthony Cortez, the creative director of ICME, told the Blade that his organization's efforts are not tied to either of the two other groups at all and that 'Whittier Proud' is a separate partnership with the Whittier DoubleTree Hotel for a weekend of Pride events to celebrate diversity.
The 'Whittier Proud' has an Eventbrite page for tickets and a Facebook page for further information Cortez said.
Whittier City Councilmember Henry Bouchot, who told the Daily News by phone Friday that he has supported the festival without taking sides and he's sorry the event will not be held this year.
"Hopefully, this is just a one-year hiatus that can come back," Bouchot said. "I'm a supporter of the Pride Festival and would like to see it return to our city."
Calls to the Pride groups by the Blade for comment were not returned.
Lt. Governor Kounalakis establishes Transgender Advisory Council
"Establishing this council gives transgender leaders the space to have an open dialogue with key stakeholders […]"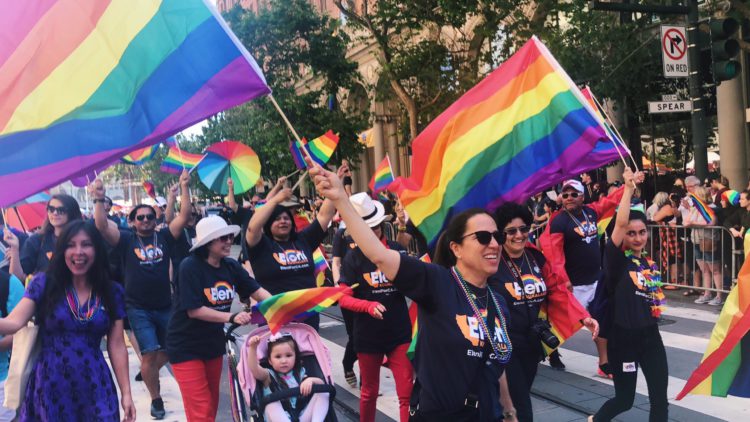 SACRAMENTO – Lieutenant Governor Eleni Kounalakis announced Monday that she has established a council of transgender leaders to create a dialogue between state leaders and the transgender community in California.
Believed to be the first of its kind in the nation, the council includes transgender activists, advocates, and elected officials from across the state. Its goal is to bring attention to the issues faced by the transgender community by inviting stakeholders in advocacy, government, and different industry sectors to hear directly from the council.
"Here in California, I'm proud we have enacted many protections for LGBTQ+ people, but we still have work to do, and that is especially true for issues facing our transgender and nonbinary family, friends, and neighbors," said Lt. Governor Kounalakis. "Establishing this council gives transgender leaders the space to have an open dialogue with key stakeholders who may not have otherwise had the opportunity to hear directly from them. I hope bridging this gap will help to amplify important issues and bring more understanding of the community. I look forward to the opportunity to listen, to learn, and to help elevate the voices of the members."
"This California Transgender Advisory Council is historic," said council member and California TRANScends Executive Director Ebony Harper. "I'm extremely honored to serve in this capacity and grateful for our Lieutenant Governor for seeing the need."
"I congratulate Lt. Governor Eleni Kounalakis for her leadership in organizing the Lt. Governor's Transgender Advisory Council," said council member and Palm Springs Mayor Pro Tem Lisa Middleton. "At a time when so many political leaders see transgender Americans as a political opportunity to exploit and target, Lt. Governor Kounalakis is reaching out to help, integrate and provide opportunity. I look forward to working with my colleagues within California's transgender community and the Lt. Governor to advance employment, housing and healthcare opportunity and equity for all Californians."
"This is historic for the state of California," said the [email protected] Coalition President and CEO Bamby Salcedo. "Having an official body composed of trans people under the Lieutenant Governor's office sets a precedent for other states to follow. I am so grateful to live in such an inclusive state!"
"I am beyond thrilled to work in partnership with the Lieutenant Governor's Office to create what will hopefully be the first of many Transgender Advisory Councils," said council member and Equality California Program Manager Zizi Bandera. "To have a high-ranking state official show their solidarity with our community in this way means a lot. I am honored to continue the work of so many transgender advocates whose relentless passion for justice and liberation have made this possible."
The advisory council will meet regularly and is comprised of transgender leaders from across the state, including the following people:
Ian Anderson, Legal Services Project Manager, Transgender Law Center
Zizi Bandera, Program Manager, Equality California
Blossom Brown, Activist
Ebony Harper, Executive Director, California TRANScends
Drian Juarez, Vice President of Training and Culture, Folx Health
Lisa Middleton, Palm Springs Mayor Pro Tem and City Councilmember
Evan Minton, Activist
Bamby Salcedo, President and CEO, [email protected] Coalition
Rosio Leon Velasco-Stoll, Fresno Spectrum Center
In addition to establishing the Transgender Advisory Council, Lt. Governor Kounalakis co-sponsored several important measures in the California Legislature this year, including AB 378 (Bauer-Kahan), which was signed by Governor Newsom and eliminates gendered language referencing constitutional officers in California law, and AB 245 (Chiu), which is currently on the Governor's desk and would ensure that California public colleges and universities allow transgender and nonbinary students to have their name and gender accurately reflected on academic records.
Connie Norman Transgender Empowerment Center for Los Angeles opens
First facility of its kind nationwide serving Trans and Non-Binary individuals and communities of, by and for Trans and nonbinary individuals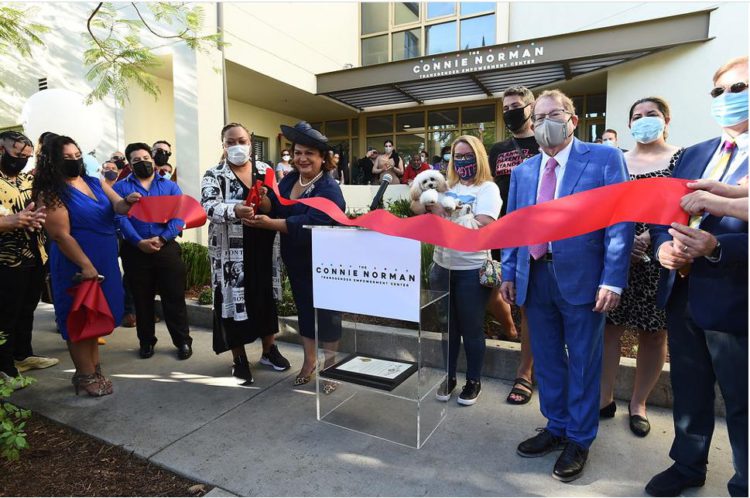 WEST HOLLYWOOD – In a location that once housed the Aids Healthcare Foundation's Linn House, a hospice for people dying from AIDS, the first facility of its kind nationwide serving Trans and Non-Binary individuals and communities of, by and for Trans and nonbinary individuals opened Friday, September 10.
Named for and dedicated in honor of Connie Norman, known as the 'AIDS Diva,' a fearless Transgender and AIDS activist who died of the disease in 1996.
The Connie Norman Transgender Empowerment Center, will serve as a home for several Trans-led organizations including FLUX, a national division of the Aids Healthcare Foundation and the Unique Woman's Coalition (UWC). The center will focus on building capacity, advocacy and overall health and wellness of the Transgender and Non-Binary communities.
The 20,000 square-foot building has been repurposed to function as a sort of 'WeWork' space for Trans-led organizations to have a place to do their work, grow and be affirmed.
"Named after a Diva like Connie Norman, supported by an institution like AHF and led by two respected Trans orgs like the UWC and FLUX—this is historic! An entire building where trans people are at the helm, making decisions and innovating," said Queen Victoria Ortega, Founder and International President of FLUX. "We are committed to making sure our community has a voice. Now, we have this incredible building as a home for those voices. I believe that great things are going to happen here, really great things!"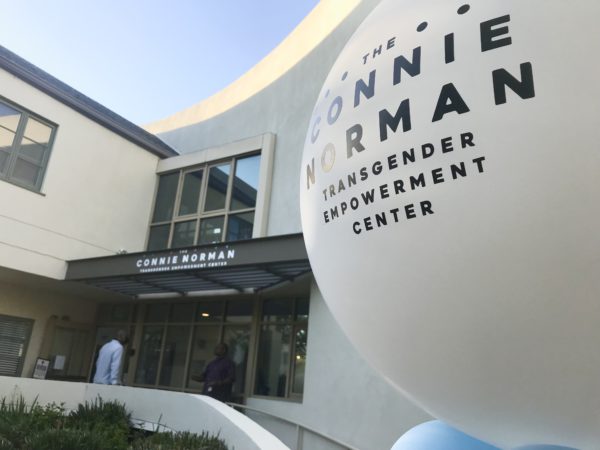 Norman was a force to be reckoned with according to Los Angeles based filmmaker Dante Alencastre's 2020 documentary film AIDS Diva: The Legend Of Connie Norman, which was released 25 years after Norman's death.
In a short bio published by FLUX the group noted, "Connie Norman (1949 – July 15, 1996) was an AIDS and gay and transgender rights activist with ACT UP/LA. Beginning in 1991, she was the host of the first daily commercial talk radio show about gay issues in Los Angeles, and also co-hosted a television show. After her death from AIDS, ACT UP scattered her ashes on the White House lawn.'
Veteran LGBTQ journalist and the former Editor of the Los Angeles Blade, Karen Ocamb membered the formidable Norman in a March 31, 2021 commentary piece published to mark Trans Visibility Day.
"It was the late '80s and I was still new to "gay" journalism so I followed standard reporter practice of mingling with the crowd, getting a sense of what was going on, then asking to speak with the organization's spokesperson. […]
For a bit I was stuck in my transition from old mainstream to LGBTQ/AIDS thinking. Luckily, Connie decided to educate me anyway. She invited me to her home — which she shared with her gay husband (who I recognized from 12 Step rooms) and LOTS of cats – and sat me in front of a video of her teaching a class of students about what it meant to be transsexual or transgender. […]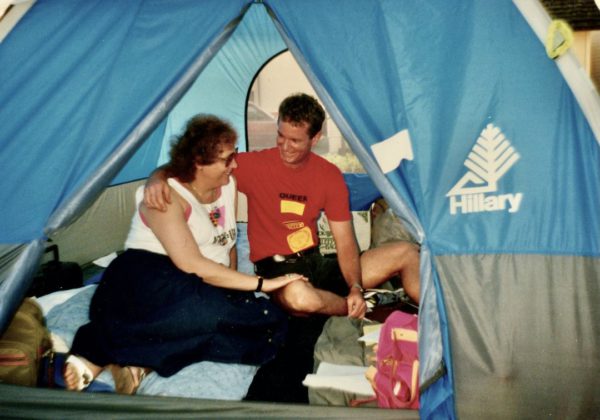 Connie was so generous with so many people- she made so many of us feel warm and loved and supported.
Curiously, after the video ended, Connie's friend Harry Hay and his partner John Burnside (who turned out to be relative neighbors in WeHo) showed up and educated me about gays being Nature's third sex. It was an amazing night. Connie was so generous with so many people. Most importantly for me – aside from being a reliable source of information so I could do my job properly — she smiled when she saw me. She made so many of us feel warm and loved and supported."
"When Connie Norman was living her final days at AHF's Chris Brownlie Hospice, she bequeathed her childhood teddy bear to me, asking that I please help look after her Trans sisters and brothers she was leaving behind. I can think of no better way to honor that request than with this Connie Norman Transgender Empowerment Center that we dedicate today," said Michael Weinstein, president of AHF and a good friend of Norman's.
Norman's teddy bear will also now take up residence at the new facility in a commemorative plexiglass display case. In addition, September 10th 2021 will also be known as Connie Norman Transgender Empowerment Day via proclamation by the City of West Hollywood.
The facility will also be home to a food bank opening onsite Monday, September 13th (12 noon- 2:00 pm). A 'Clothing Closet' to assist Trans and other individuals will also open onsite in the future and an AHF Healthcare Center serving the needs of Trans and nonbinary patients is set to open in 2022.
Photo Gallery of opening ceremonies provided by film producer John Johnston