Masen Davis explains Freedom For All Americans
Davis in Los Angeles Thursday night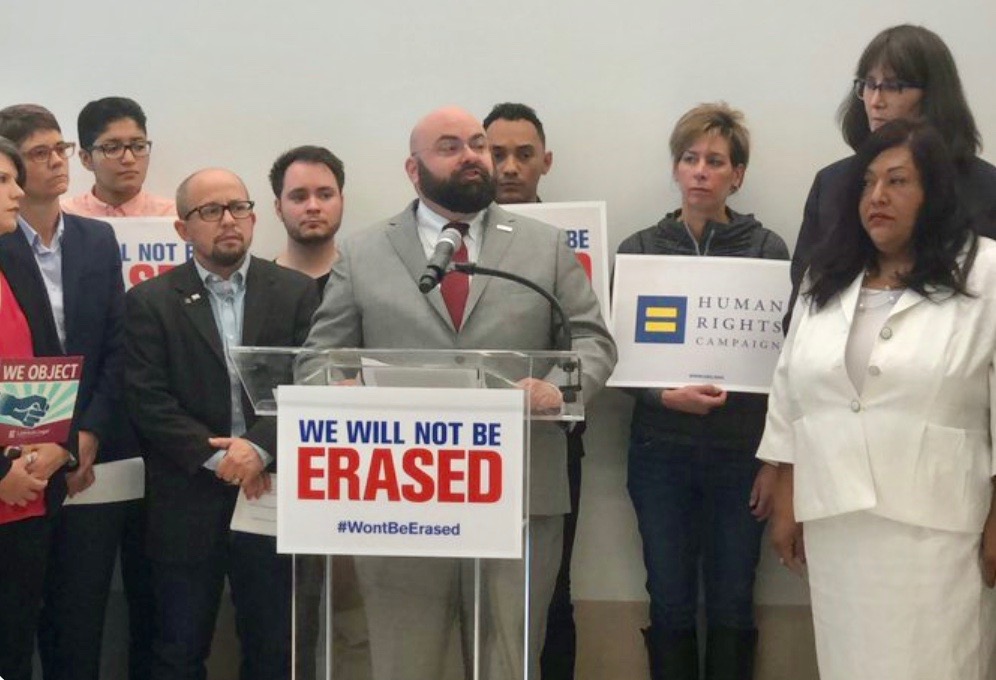 Exactly one year ago, on Oct. 25, 2017, Freedom for All Americans hired longtime LGBT advocate Masen Davis as the new CEO. Masen proved his mettle as a national leader as Executive Director of the Transgender Law Center, as Co-Director of Global Action for Trans* Equality as a strategic team player in the Los Angeles-based Transgender Working Group that devised a plan and recommendations for the LA Police Department's treatment on trans individuals—including inmates—that was signed in April 2012 by LAPD Chief Charlie Beck. He was also instrumental in helping pass AB 1266, California's School Success and Opportunity Act authored by out Assemblymember Tom Ammiano, that prohibits schools from discriminating against transgender students and denying them access to facilities and activities that match their gender identity.
Founded in 2015, Freedom for All Americans is a bipartisan campaign "to secure full nondiscrimination protections for LGBTQ people nationwide. Our work brings together Republicans and Democrats, businesses large and small, people of faith, and allies from all walks of life to make the case for comprehensive non-discrimination protections that ensure everyone is treated fairly and equally."
FFAA's "ultimate goal" is "securing federal statutory protections for LGBTQ Americans, Freedom for All Americans works at the federal, state, and local level to advance measures and laws protecting from discrimination on the basis of sexual orientation and gender identity and expression – without allowing overly broad and harmful religious exemptions that will encourage employers, business owners or others to choose to disregard those protections," according to their website.
But what does that mean, really, and how will they get there? Masen and many of the FFAA crew are in Los Angeles tonight to explain what the organization is doing and how it's working with others to achieve equality. Check for more information.
The Los Angeles Blade reached out to Davis to get a greater awareness of what FFAA is doing. Here's that exchange.
LAB: Much has changed since you were named CEO of FAA last October. What have been your priorities and what have you done to achieve them?
DAVIS: I joined FFAA last year to win strong, comprehensive protections for the most vulnerable members of our LGBTQ community, and to ensure FFAA has the strategy, staff and resources we need to be a clutch player in the movement for nationwide nondiscrimination protections.
There's no doubt that our work has grown more challenging over the last year – but we've also learned some really important lessons about how we can win. Freedom for All Americans is focused on making the case for comprehensive nondiscrimination protections that ensure everyone is treated fairly and equally no matter which state they call home. We bring together people from across the political spectrum, businesses large and small, people of faith, and allies from all walks of life to demonstrate that equality is not a partisan issue and that fairness is something all Americans can support.
Bringing people together across the aisle isn't easy in this particular moment – but it feels more important than ever.
We have been actively working in states across the country to pass comprehensive nondiscrimination protections for LGBTQ people in states like New Hampshire and Florida, and to defend our victories at the ballot in Anchorage and Massachusetts. We're committed to campaign strategies that center transgender people and the voices of those that will be most impacted by these laws; amplify the support of women's groups, conservatives, and businesses; and tackle our opponents messaging head-on. All of these tactics have added up to our recent victories in Anchorage and New Hampshire, and illustrate a path forward for how we win even in challenging times.
Of course, we're facing incredible challenges at the federal level, where the Trump administration has steadily undermined equality for LGBTQ folks – particularly transgender people. This is deeply disturbing, and it's a personal fight for many of us. But again, we know from the work we've done at the state level that what this administration is proposing isn't reflective of mainstream American values.
Most Americans, including many Republicans, support nondiscrimination protections for LGBTQ people. In fact, we've seen an increase in bipartisan support for LGBTQ issues in response to some of Trump's anti-LGBTQ announcements and actions; for example, his tweet about transgender military service resulted in unprecedented demonstrations of support from unexpected Republican leaders like Orrin Hatch. It's becoming increasingly clear that Congress must take urgent action to pass legislation that ensures all LGBTQ people are treated fairly and equally under our laws.
None of us are naive about the challenges still facing our movement. But because of these recent victories, we have something now that we didn't several years ago: a clearer playbook for success that not only creates concrete changes but also changes the climate for the long term. As we head into a 2019 legislative session likely to be defined by divisive midterm elections, this playbook can help steer us toward building stronger partnerships, strengthening communities, and grounding our work with the power of our stories.
LAB: FAA has some extraordinary folks on board, including "our own" LA-based Jon Davidson. But how are we supposed to SEE what you DO if you primarily provide background support and education to existing organizations and campaigns? As you may know, one of the complaints about GLAAD is that we can't SEE the behind-the-scenes work they do so how can they be applauded or held accountable?
DAVIS: We certainly strive to amplify the good work of our state and national partners, and do what we can to make the work of all movement organizations as efficient and effective as possible. But during my tenure at Freedom for All, we have already seen an intentional increase in visibility of our work as an organization to ensure that LGBTQ people know who we are and what we do on their behalf. A top priority of mine has been to build the national narrative of growing support for nondiscrimination by amplifying our community's diverse coalition of allies.
We regularly share the stories of unexpected allies, such as conservatives, people of faith, safety advocates, small business owners, and others who support nondiscrimination protections for LGBTQ people, to help us demonstrate the real and urgent need for comprehensive federal law. In addition to background support, we are also becoming a more visible partner to state-level work. We were a prominent partner to the Freedom New Hampshire campaign over the last two years and galvanized the national movement to push New Hampshire's nondiscrimination bill over the finish line.
Our President of Strategy, Kasey Suffredini, serves as campaign co-chair for the Yes on 3 campaign (formerly Freedom Massachusetts) and regularly provides media commentary and campaign strategy support, and participates in public debates on behalf of the campaign.
The team at Freedom for All Americans has developed some of the most cutting-edge tools in our movement, like our litigation tracker, legislative tracker, and a brand new storytelling hub called Faces of Freedom that houses the movement's top spokespeople. We also bring together top businesses through America Competes, providing the connective tissue between Fortune 500 companies who want to engage in LGBTQ advocacy and the state business coalitions on the front lines. We believe there is an important balance to strike.
Supporting and amplifying the work of our partners will strengthen the entire LGBTQ movement, setting us up for success at the state and federal level. And, occupying the important lane of bipartisanship that allows folks from all walks of life to find their place in our movement as we work together towards protecting LGBTQ people from discrimination.
LAB: I think everyone understands the importance of bipartisanship in getting anything done – especially advancing non-discriminations laws. But Trump has turned the Republican Party into a white national cult and therefore anyone who identifies as "right of center" Republican is "suspect" in today's environment. How do you work with the Republicans on your team/board to advance LGBT equality?
DAVIS: There are so many polarizing debates in our nation today and certainly LGBTQ issues often fall along party lines. But LGBTQ equality is not a red or blue issue; it is a human issue. Working in a truly bipartisan manner isn't easy or popular, but I think it's incredibly important right now. Twenty-seven of the states without explicit LGBTQ protections are controlled by Republicans, and we can't give up on those states. Gay elders, trans youth, and everyone in between need and deserve protections in their home states, and I don't want to leave those in red or purple states behind.
Thankfully, what we see time and again is that as people are given the opportunity to get to know LGBTQ people and our families, they come to understand that we all want the same thing – to be able to go about our daily lives without the fear of discrimination or violence.
This shared understanding through human connection is true of people from all across the political spectrum, and we believe everyone deserves the opportunity to get to know us and hear our stories. That's where most of our work with Republicans begins – by sharing our stories and extending an opportunity for shared understanding.
I'd also make the distinction that we don't work with either political party writ large – we work with individuals and institutions who support common-sense, fair-minded, and comprehensive nondiscrimination protections for LGBTQ people, and there are many many folks who fit that description who occupy space on both sides of the aisle and in between.
LAB: Honestly, you seem to be taking over for the anemic NGLTF (Task Force) – with your state and local training and LGBT Academy (re Creating Change), etc. Are you just a more savvy, more geographically spread out, more digitally-focused Task Force?
DAVIS: I have tremendous respect for the work of our national partners and have been honored by the welcome I have received in this new role. We certainly work with state partners and state-based campaigns from coast to coast and provide an extensive amount of in-kind communications and digital support. FFAA has learned we can be most effective by listening to the expertise of local leaders, sharing best practices we've learned across many campaigns, and supporting them with the resources needed to succeed, including financial investments to support critical but often under-resourced areas of work like field organizing, messaging research, and compelling digital programs.
We want to do what we can to strengthen the LGBTQ movement and set the stage for federal nondiscrimination protections by investing resources in existing work and bringing together the broad, persuasive movement of allies we'll need to win.
To donate, go freedomforallamericans.org/LosAngeles.
Inaugural LA County Youth Climate Commission seeks youth leaders
"It's a fantastic opportunity for young people who are both passionate about climate change and interested in public service"
LOS ANGELES (Press Release) – Aiming to empower the region's next generation of environmental leaders, the County of Los Angeles today issued a call for young adults to serve on its inaugural Youth Climate Commission.
On the heels of major climate legislation at the federal level, the County is seeking 25 youth leaders who have a commitment to civic action that will create greater resilience in their communities.
The Board of Supervisors, responding to grass-roots activism from Los Angeles youth climate leaders, adopted an ordinance to create the Commission to inform, recommend, and advise on County goals, plans, actions, and policies related to climate change mitigation and resilience.
The panel – the first County Commission to focus exclusively on climate change – aims to amplify the perspectives and priorities of local youth, since they will be the most dramatically impacted by the ongoing climate impact during their lifetime.
"I am heartened that after years of insufficient action on climate, Congress is advancing a major climate bill that will change the game for lowering our emissions nationally," said Supervisor Hilda Solis who represents the First District and authored the ordinance. "With new federal resources, the stakes are even greater for us to ensure that the very people whose future is most impacted are at the table to effect real change."
"Despite another season of record-breaking heat and extreme weather, I remain hopeful in the next generation's unwillingness to stand idle in the face of the climate crisis. The Youth Climate Commission provides an important structural pathway for new and diverse leadership to advance equitable and bold climate solutions for the Los Angeles region" said Supervisor Holly Mitchell who represents the Second District.
"Young people all across Los Angeles County are an untapped source of energy and ideas that can, and should, influence the County's actions on climate change," said Supervisor Sheila Kuehl who represents the Third District and was the co-author of the ordinance. "I encourage young people who have a commitment to reversing climate change, protecting biodiversity, and reimagining our relationship to our planet's natural resources to consider participating on this exciting body that will help to shape LA County climate policy for years to come."
"We are already seeing the effects of climate change, but many of my colleagues and I will be long gone when the worst impacts of the climate crisis take hold. Young people are leading a movement on this issue and they are proving better at it than the generations before who have failed them. They deserve a seat at the table in shaping our County's climate policy and I encourage the young climate leaders across my district to apply to be a part of this commission", said Supervisor Janice Hahn who represents the Fourth District.
"Our County is very big, so it's important that we attract a diverse group of individuals so that we hear perspectives inclusive of different parts of our County, such as our high desert, foothill, and mountain communities," said Supervisor Kathryn Barger, who represents the Fifth District. "Many of these communities face a higher likelihood of being impacted by natural disasters due to climate change, such as wildfires and flooding. I highly recommend anyone who is interested to come forward and apply to join this new County Commission. It's a fantastic opportunity for young people who are both passionate about climate change and interested in public service."
The findings of the County's recent Climate Vulnerability Assessment, demonstrated that an estimated 56% of residents – nearly 5.7 million people — face high risk to such climate hazards as extreme heat, wildfire, inland flooding, extreme precipitation, coastal flooding, and drought.
Low-income and communities of color face a disproportionate amount of climate vulnerability as well as limited capacity to withstand and weather future threats, the study found.
The commission's recommendations will further the ongoing implementation of Our County Sustainability Plan, the most ambitious regional sustainability blueprint in the nation. Among its 159 action items is creating a fossil fuel-free L.A. County by 2050.
"We are committed to reflecting the diversity of our County in our new Youth Climate Commission. We invite young adults from marginalized communities, communities burdened by pollution, and beyond to co-create with us a future with healthy, sustainable communities by applying to serve as commissioners," said Executive Officer Celia Zavala.
Application materials are available on the website and must be submitted by Sept. 15, 2022. Interested applicants must be age 18 by Oct. 1, 2022.
2nd Recall effort against LA County District Attorney George Gascón fails 
The 520,050 valid petition signatures fell short of the 566,857 required to place the recall question on the ballot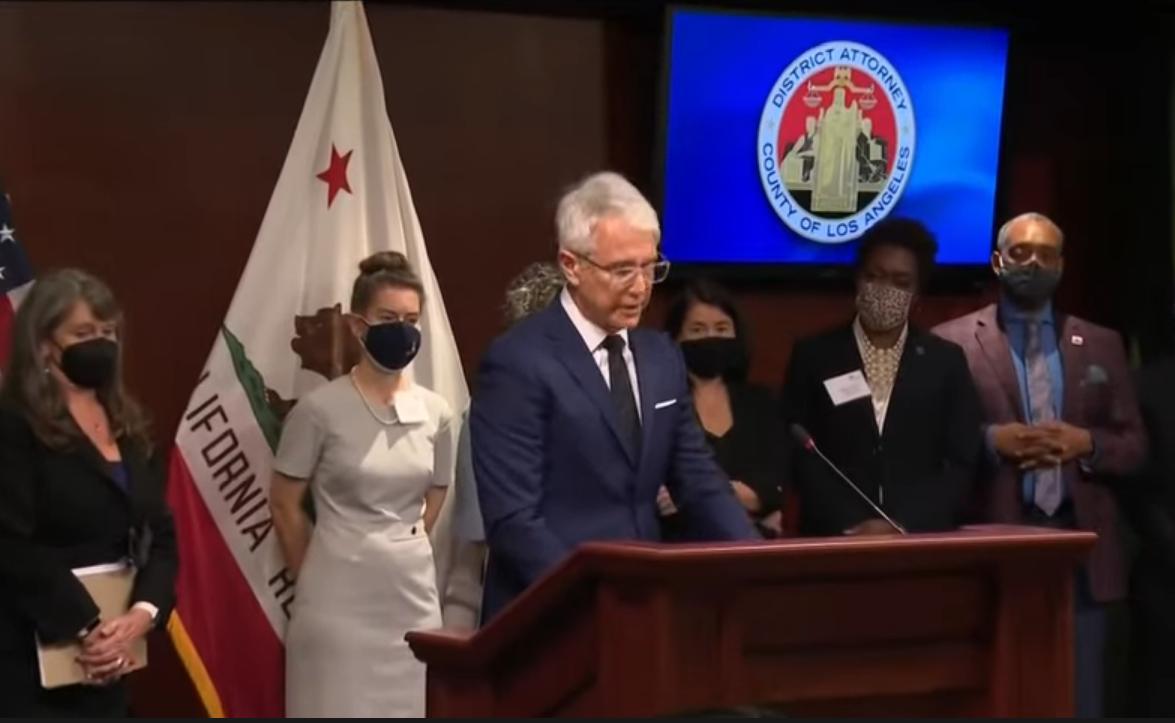 LOS ANGELES – The second effort to recall Los Angeles County District Attorney George Gascón was rejected Monday after the LA County Registrar-Recorder/County Clerk's office announced recall organizers had fallen short of the requisite validated signatures needed to qualify for the November elections ballot.
A spokesperson for Dean C. Logan, the Registrar-Recorder/County Clerk, said that recall organizers had submitted a total of 715,833 petition signatures, of which 195,783 of the signatures were invalid and another 45,000 were duplicate signatures. The remaining 520,050 valid petition signatures fell short of the 566,857 required to place the recall question on the ballot.
KTLA reported that organizers halted their first recall attempt last fall after they were unable to gather the necessary signatures by the end of October.
Gascón, 67, was elected in 2020 on a pledge to reform the county's criminal justice system. Since he took office, juveniles are no longer being charged as adults, sentencing enhancements that he says lead to mass incarceration have been eliminated and cash bail for nonviolent felony offenses has ended. Misdemeanors associated with substance abuse and mental illness are also being diverted out of the criminal justice system, both KTLA and the Los Angeles Times have reported.
Gascón's policies have provoked criticism from Los Angeles County Sheriff Alex Villanueva, as well as officers from the Los Angeles Police Department and others from the 88 jurisdictions within the County.
Recall organizers contend that his policies favor criminal defendants and have contributed to a significant rise in crime rates reported across the County.
Triple A:  National gas prices drop below $4, SoCal prices still declining
The average price for self-serve regular gasoline in California is $5.38, which is 16 cents lower than last week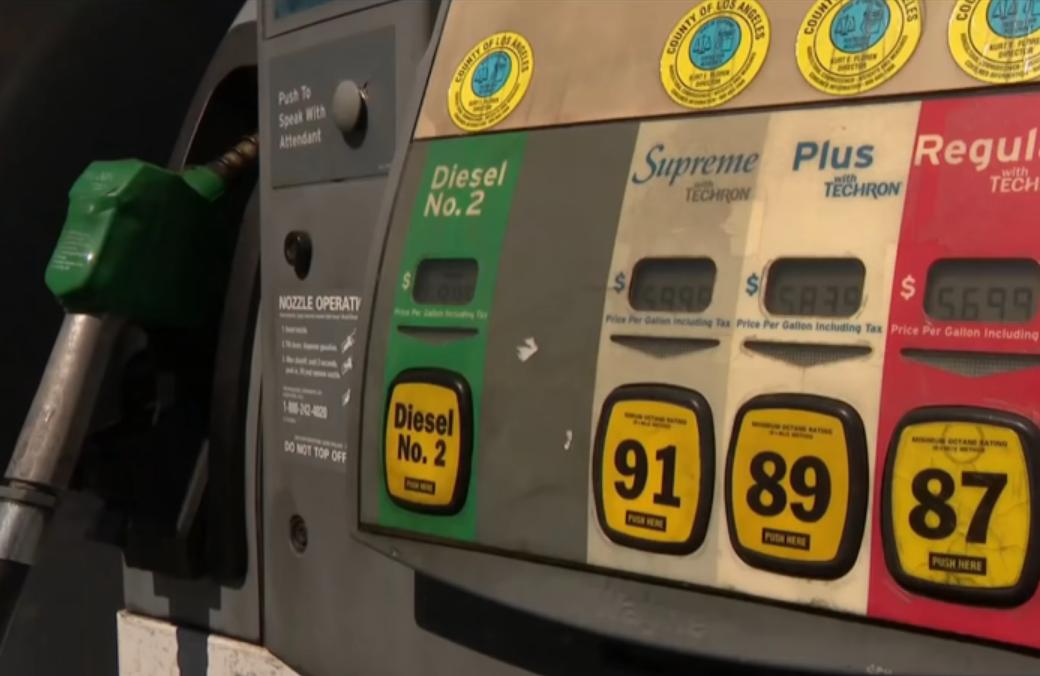 LOS ANGELES – Southern California gas prices continue to be down by 70 to 75 cents from a month ago in many areas, according to the Auto Club's Weekend Gas Watch. The average price for self-serve regular gasoline in California is $5.38, which is 16 cents lower than last week. The average national price is $3.99, the lowest level since March, which is 15 cents lower than a week ago.
The average price of self-serve regular gasoline in the Los Angeles-Long Beach area is $5.41 per gallon, which is 17 cents lower than last week, 74 cents lower than last month, and $1.03 higher than last year. In San Diego, the average price is $5.37, which is 14 cents lower than last week, 70 cents lower than last month, and $1.02 higher than last year.
On the Central Coast, the average price is $5.57, which is 10 cents lower than last week, 54 cents lower than last month and $1.25 higher than last year. In Riverside, the average per-gallon price is $5.28, which is 17 cents lower than last week, 74 cents lower than last month and 98 cents higher than a year ago. In Bakersfield, the $5.55 average price is 20 cents lower than last Thursday, 65 cents lower than last month and $1.22 higher than a year ago today.
"We may see more relief at the pump as we move closer to the end of summer road trips, but a more significant decrease in demand for fuel will likely come after Labor Day weekend," said Auto Club spokesperson Doug Shupe. "Some drivers have made changes to their daily habits, like carpooling, using public transit and shopping and dining out less, however, most people are still prioritizing their budgets to take family road trips. We encourage consumers to shop around for the cheapest gas using a tool like the free AAA Mobile app."
The Weekend Gas Watch monitors the average price of gasoline. As of 9 a.m. on Aug. 11, averages are: