Katie Porter campaigning as a progressive Democrat in Orange County
And she could beat the Republican in the 45th District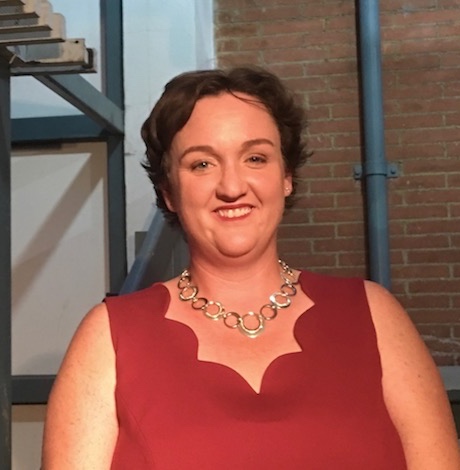 Katie Porter is a mama bear. Her countenance is welcoming, as if ready to give a hug when needed. But threaten her kids or the stability of her family and the single mother of three will roar back with a ferocity unexpected from a tenured bankruptcy law professor at the University of California in Irvine. She's now running for Congress to hold President Donald Trump accountable for the pain he is causing, especially to those in the LGBT community.
Protecting families as a consumer advocate has been Porter's passion since her parents struggled to save their family farm outside Des Moines, Iowa during the severe economic downturn of the 1980s.
"There were farmers who were committing suicide because they were going to lose their farms, and nobody came to help," Porter told Mother Jones for a profile last May. "Washington looked the other way as the economy really fell apart in the agricultural Midwest. So growing up, I had really seen firsthand what happens when people need help and they don't get it."
Then she met and was mentored by now-Sen. Elizabeth Warren at Harvard Law School in the fall of 2000. Porter subsequently made it her mission to find out why the government was bailing out predatory banks but wasn't helping families drowning in debt. Her in-depth, on-the-ground research of foreclosure-related bankruptcy cases in 2006 lead her to be among the first to recognize the systemic mortgage fraud that caused the 2008 economic crisis.
In 2012, California Attorney General Kamala Harris appointed Porter to oversee the state's participation in the $25 billion mortgage fraud settlement agreement between the federal government and 49 state attorney generals to address loan and foreclosure abuses in the five largest providers of mortgage services.
"[I]t is hard to dispute the fact that the media, Congress, and pundits have spent more time on the financial collapse of big banks than of everyday families," she wrote in "Broke: How Debt Bankrupts the Middle Class," to which Warren contributed. "At a conference I attended, someone quipped that while banks were 'too big to fail,' families were 'too small to save.'"
A progressive Democrat running to unseat Republican Rep. Mimi Walters in California's 45th District, Porter is the true representative of Orange County family values. 
And like her mentor, Porter is a persistent fighter. When the California Democratic Party endorsed a rival, Porter piped up, declaring: "It's not just about electing any Democrat; it's about electing a Democrat who will act like a Democrat."
Porter didn't win the endorsement but she nonetheless persisted and beat her Democratic opponent in the June primary—with a perceived uphill battle against Walters, who won 53% of the vote in the very Red district.
As a candidate in one of the key Republican districts Democrats hope to flip to win back the House, Porter has received a lot of help, money and attention going into the Nov. 6 election. She is now slightly ahead of Walters, thanks in large part to the focus on healthcare and the threatened loss of coverage for people with pre-existing conditions—Walters has repeatedly voted to repeal the Affordable Care Act. Porter, meanwhile, has kept it real, identifying with the voters she hopes to serve. 
"Health care is intensely personal for people and that's also true for me," Porter told the Los Angeles Blade in a recent phone interview. "I was cognizant of choosing a hospital that was farther away even as I thought my appendix was about to burst so that I could be assured of having insurance coverage—only to discover that my surgeon, who performed the life-saving surgery on me, is not in my insurance plan. And so my insurance company has denied that claim and I'm having to totally appeal that. The letter that they sent me said that I should have asked whether my surgeon was in-network while I was under sedation and getting ready to have an operation."
"This goes to show some of the absurdities that people experience in our current healthcare system," Porter said. "Protections for pre-existing conditions are incredibly important. And every time we deny healthcare to somebody and make healthcare out of reach and unaffordable, we are just setting ourselves up for longer-term problems and costs. We all are benefited by having a healthy and strong and safe work force that has access to preventative care, that has access to affordable health insurance coverage. I'm very focused on the cost of healthcare and on issues of access."
Another issue that struck Porter was the confirmation of Brett Kavanaugh to the Supreme Court. She was among the more than two thousand law professors who signed a letter opposing his nomination "on the specific grounds that he had displayed a shocking lack of judicial temperament," she said. Walters' silence "was just another example of her unwillingness to stand up for what is right."
It was also personal for Porter, a survivor of domestic abuse and workplace harassment. "I think that Trump's attacks on women and what we saw in the Kavanaugh hearings was traumatic for millions of Americans. The statistics and the realities of sexual assault, sexual violence, family violence, they are tremendous," she said. "For me personally, it was very hard to speak out about what had happened to my kids and to me but when I did, I knew that I was helping lots of other people have the courage to know not only that they are not alone but that I will fight to tackle these very, very serious problems in Congress."
Porter will also fight for LGBT people, especially transgender people who are under threat of erasure by the Trump administration. "I strongly oppose what Trump is attempting to do, which is really to eliminate people's freedom to define themselves and really attack the transgender community," Porter said. "But I think when you dig a little deeper, it's clear that they're planning on attacking the lesbian and gay community and the bisexual community, as well. This is a country of freedoms and people should have the right to identify themselves in whatever way fits with their lives. We're a place that should respect those differences….It obviously has a political intent, which is to try to intimidate and to signal to people that their voices don't matter."
But voices do matter to both candidate and mama bear Katie Porter, particularly the voices of her children Luke, Paul and Betsy as they discuss worldly matters around the kitchen table.
"One night at the dinner table, my middle son Paul—who was really young, about five years old—said, 'I'm gonna marry my friend!' And his friend was a little boy. And Luke said, 'You're going to marry a boy?' And Paul said, 'I will marry whomever I want! This is California and you can love anybody.' And it was such a proud moment for me that, at that age, he was standing up to his older brother and he was letting him know that he would find his own path and his own sense of family and define family for himself."
"And so one of the things that I talk a lot on the campaign trail about is families," Porter continued. "And it's very intentional because it's reflecting the fact that whether we are single, whether we're married, whether we have children or not—we all have loved ones that we hold close and dear to us and those are our families in the most practical and meaningful sense.
"So my kids are real warriors on LGBTQ rights and I'm really proud of them for it," Porter said. "We have had a number of LGBTQ caregivers and nannies. We have a lot of volunteers in the campaign and a lot of the campaign staff who identify as LGBTQ and reflecting the diversity of Orange County, in terms of my campaign staff, has been a really important part of this—especially running against someone like Mimi Walters who just has a terrible record on the LGBTQ community. She has a zero percent rating from the Human Rights Campaign and has called gay marriage 'a travesty of family values.' I can't think of anything that is more consistent with family than allowing people to form their own families."
On the other hand, the fact that Porter and her children talk positively about LGBT equality when no one's looking offers hope for the future. "What made me most happy about [the exchange between her sons] was that my children felt like this was dinner table conversation to talk about civil rights, to talk about equality and to talk about people's freedoms. And the fact that they were having that conversation with each other and with me and with their sister—that's my idea of what it means to be raising a family right in today's America."
Porter pledges to stand with the LGBTQ community. "I will always fight for equality, for the Equality Act and to make sure that we add gender identity and sexual orientation to our nation's laws," Porter said. "I understand the fear and the intimidation that they're facing and I am so grateful to them for having the courage to continue to speak up and participate in the democratic process and I'd be honored to have their vote."
For more, visit here.
California expands broadband infrastructure & internet access across state
The initial project locations based on unserved/underserved areas that don't reliably have download speeds of at least 25 Megabits per second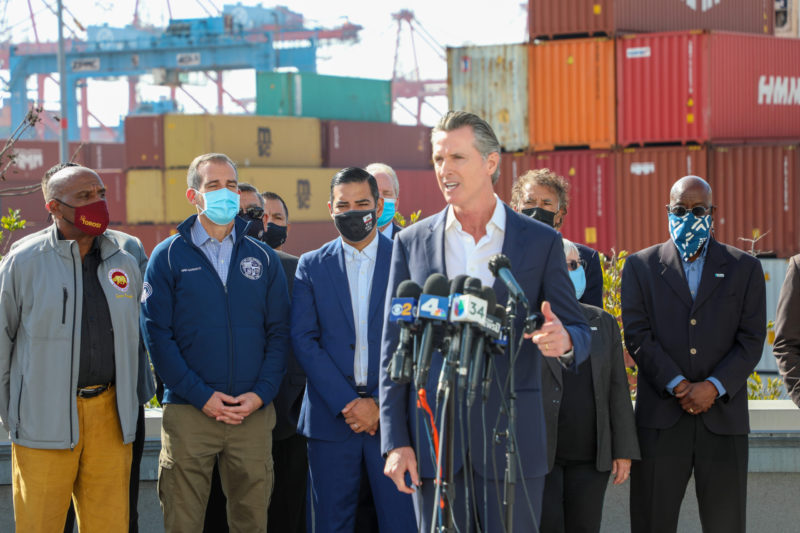 SACRAMENTO – Advancing California's commitment to bridge the digital divide, Governor Gavin Newsom announced that the state has identified 18 projects to begin work on an open-access middle-mile network that will provide missing infrastructure paths to bring broadband to all communities.
As part of the historic $6 billion broadband investment advanced in partnership with legislative leaders earlier this year, the initial project locations are based on known unserved and underserved areas across the state. The projects will connect to the core of the global internet and interconnect to last-mile infrastructure, which is the final leg that provides internet service to a customer.
"California is committed to taking on the challenges laid bare by the pandemic, including the digital divide holding back too many communities across the state," said Newsom. "These projects are the first step to delivering on our historic investment that will ensure all Californians have access to high-quality broadband internet, while also creating new jobs to support our nation-leading economic recovery."
The initial 18 projects represent a range of geographic locations and technical approaches. Projects are being initiated in the following tribal communities, counties and cities: Alpine County; Amador County; Calaveras County; Central Coast; Coachella Valley; Colusa Area; Inyo County; Kern County; Kern/San Luis Obispo Area; Lake County Area; Los Angeles and South Los Angeles; Oakland; Orange County; Plumas Area; Riverside/San Diego Area; San Bernardino County; Siskiyou Area; and West Fresno.
Evaluation of project areas included consideration of public comments, prioritization of unserved or underserved areas of the state, and inclusion of tribal communities, cities and counties. An unserved or underserved area has households that do not reliably have download speeds of at least 25 Megabits per second (Mbps) and upload of at least 3 Mbps.
"Core to our success will be the deep partnerships we've built with a diverse set of community organizations and last mile providers. Through many years of engagement with metropolitan planning organizations, CPUC-supported broadband consortia, Tribal organizations, community-based broadband advocacy groups, and organizations like the Rural County Representatives of California, the NAACP, and the California Emerging Technology Fund, we are now ready to take this historic step towards broadband equity for California," said Louis Fox, Founder and Chair of GoldenStateNet, the state's third-party administrator.
State partners implementing the middle-mile initiative include the California Department of Technology, California Public Utilities Commission (CPUC) and Caltrans. GoldenStateNet was selected as the Third-Party Administrator (TPA) to manage the development, acquisition, construction, maintenance and operation of the statewide open-access middle-mile broadband network. As the TPA, GoldenStateNet will partner with key stakeholder groups across the state to investigate the best technical, financial and operational models to meet the needs of the project sites.
A map and additional information on the initial projects can be found here.
"A reliable broadband connection makes the difference between having access to full-service health care, education and employment or sometimes going without," said State Chief Information Officer Amy Tong. "Through a historic partnership between our Governor, the Legislature, state agencies and a third-party administrator, we are taking immediate action to improve connectivity for Californians in the northern, central and southern parts of the state."
"These initial routes have been identified to accelerate projects in areas of the state that are unserved because of the lack of open middle mile infrastructure to serve them. We are accelerating the selection of a diverse set of routes — those that are ready to build and those that are not ready to build. This allows the state to partner with locals on these diverse projects and learn by doing, as we concurrently work to finalize all the needed routes in the State. There are many more communities like those in Phase I that will be included in the final map," said Martha Guzman Aceves, Commissioner at the CPUC.
Sen. Alex Padilla & Santa Monica College- Thanksgiving grocery giveaway
"As we approach Thanksgiving, it is important to support each other and our communities, and give back when we can"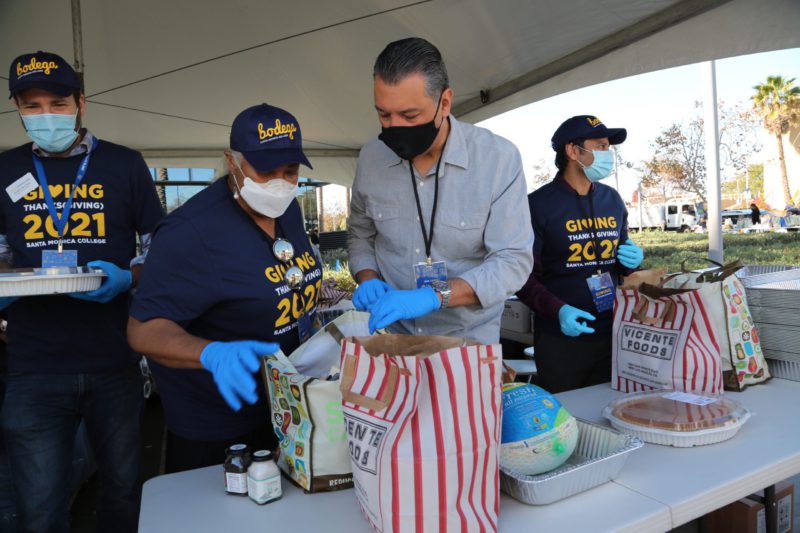 SANTA MONICA — Ahead of Thanksgiving, U.S. Senator Alex Padilla (D-Calif.) on Tuesday volunteered with Santa Monica College (SMC) for their 2nd Annual GIVING THANKS(giving) Holiday Grocery Drive-Thru Giveaway.
Padilla joined dedicated SMC volunteers, along with state and local officials to provide fresh holiday groceries to 1,500 food insecure students.
"As we approach Thanksgiving, it is important to support each other and our communities, and give back when we can," said Senator Padilla. "I was proud to join Santa Monica College and regional partners for their annual holiday food drive to make sure students have access to fresh food and groceries this holiday season. But this is also a stark reminder that there is more work to be done to address student food insecurity, an issue that existed since before the pandemic. I've introduced the BASIC Act to give students the resources they need to stay focused on their education. No student should have to worry about meeting their basic needs while pursuing their education."
"Having Senator Padilla attend today's event is so powerful because it raises the importance of giving back to our community," said Lizzy Moore, president of the Santa Monica College Foundation and Santa Monica College's dean of institutional advancement. "The Santa Monica College community is grateful for his leadership in the Senate to push for the BASIC Act and other legislative proposals to address the dramatic rates of food insecurity that exists on all college campuses including Santa Monica College."
Even before the pandemic, 50 percent of California Community College students were food insecure.
Senator Padilla has been a strong advocate for addressing food insecurity and ensuring students can meet their basic needs while pursuing a higher education. This year, Padilla introduced the Basic Assistance for Students in College (BASIC) Act, bicameral legislation to ensure college students are able to meet their basic needs while pursuing their education. Specifically, the legislation provides $1 billion for grants to ensure institutions of higher learning have the resources they need to support their students' most fundamental needs, and directs the federal government to streamline data sharing across agencies to help students qualify for aid – particularly Pell Grant recipients and attendees of community colleges and minority-serving institutions.
Senator Padilla also joined his colleagues in introducing the Student Food Security Act of 2021. This bicameral legislation helps address food insecurity on college campuses by enabling more low-income college students to access the Supplemental Nutrition Assistance Program (SNAP), improve data collection and sharing, and create a new grant program to help colleges and universities support their students.
2022 Best of LGBTQ LA Readers' Choice Award Nominations
Nominate your favorites in our 2022 Best of LGBTQ LA categories through December 5th.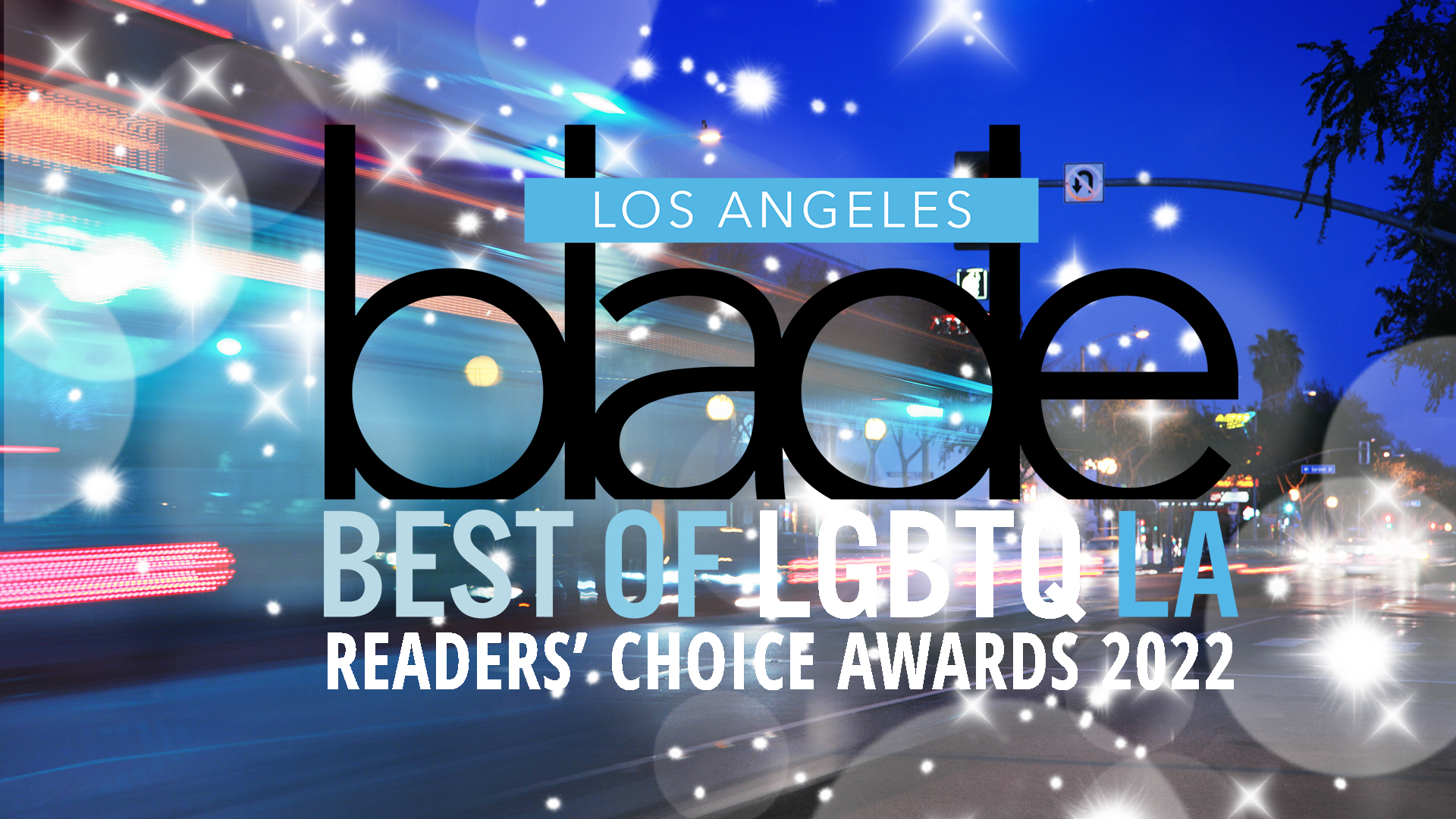 It is Decision 2022! Nominate your favorites in our 2022 Best of LGBTQ LA categories through December 5th. The top 5 nominees from each category will become a finalist with voting starting December 15th. Our 2022 Best of LGBTQ LA will be announced at the Best of LGBTQ LA Awards Party and special issue on January 28th, 2022.
Nominate below or click HERE.