Why 'Boy Erased' is so important
It's a quietly hopeful film about humanity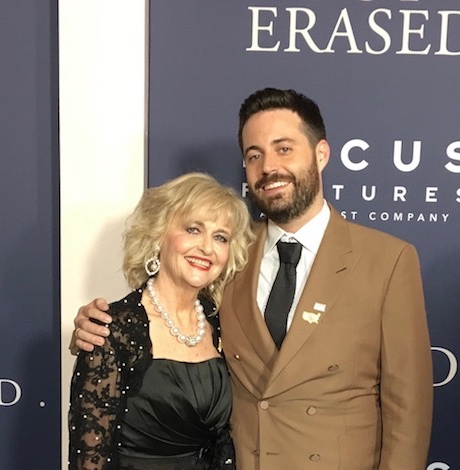 "Boy Erased" is no salacious "Real Housewives" drama about "conversion therapy." Rather, the new film by Joel Edgerton is a quiet, mesmerizing revelation about how a dedication to love can overcome anti-LGBT religiosity and lead to profound transformation. It should be required viewing for evangelical Christians and others wrestling with the belief that homosexuality is a sin but also desperately love and don't want to harm their children. These are the people with whom out Assemblymember Evan Low hopes to connect to introduce a collaborative bill banning "conversion therapy." 
The story—based on gay author Garrard Conley's willing descent into hell to please his Baptist pastor father—subtly exposes the heart-wrenching moments when the inner call for personal authenticity clashes with the demanding expectations of others. Ironically, after the 19-year-old boy confronts his own truth, stops the increasingly painful erasure of his own humanity and stands up for himself, it is his parents who are forced to look in the mirror, decide love or homophobia, and change.
So-called "conversion therapy" has been around for ages. When homosexuality was officially considered a perverted mental illness, the "cure" was lobotomy, shock therapy, imprisonment in some sanatorium to change the despised behavior through "Clockwork Orange" style programs. "Queer"-bashing and murder were acceptable since, as the LAPD reveal later, "no human" was involved.
Even after the American Psychiatric Association declassified homosexuality as a mental illness in 1973, conservative religious institutions insisted that the Bible called for death for homosexuals and publicly declared that "AIDS is God's punishment for homosexuality." Increasingly, charlatans created "ex-gay" organizations such as NARTH and Love in Action (founded in San Rafael, California in 1973) to "convert" the gay-to-straight for money.
In the early 2000s, LGBT non-profits such as Truth Wins Out exposed the "pray-away-the-gay" con artists. Even John Smid—upon whom the "Boy Erased" Love In Action leader is based—came out, admitted no gay had changed and is now living with his husband in Paris, Texas. Smid recently gave his papers to the Mattachine Society of Washington, D.C., which gave them to the Smithsonian Institution. Conley is on Mattachine's Board of Advisers.
On Sept. 29, 2012, California Gov. Jerry Brown signed then-State Sen. Ted Lieu's historic bill banning "reparative therapy" for minors, calling it psychological child abuse. "This bill bans non-scientific 'therapies' that have driven young people to depression and suicide. These practices have no basis in science or medicine and they will now be relegated to the dustbin of quackery," Brown said.
Today, however, "conversion therapy" appears permitted through anti-LGBT believer Vice President Mike Pence and the unregulated billion-dollar Christian camp "troubled teen" industry is thriving. The Williams Institute reports that an estimated 700,000 people have gone through "conversion therapy," while Survivors of Institutional Abuse has documented hundreds of "conversion therapy"-related deaths through suicide, neglect, abuse, and murder.   
"Boy Erased" notes the profit-motive when Jared Eamons (Lucas Hedges) tells his mother Nancy (Nicole Kidman) that the head counselor Victor Sykes (Edgerton) is keeping information from her to keep the money flowing. In an angry confrontation, Nancy confronts Sykes, asks for his credentials, and getting no response, rescues Jared.
"Conversion therapy is evil," Martha Conley tells the Los Angeles Blade at the film's LA premiere on Oct. 29. "They kept so many secrets from us. And he wasn't even allowed to tell me what was going on daily. When you start seeing that kind of thing, I don't care what you're taking your child to – you better get them out of there—because it later became a cult. So I just say, do your homework."
Edgerton says the film is one family's story about "how people's beliefs can affect the rights and freedoms of individuals."
"The threat of the walking back of trans people's rights is so deeply connected to the story we're telling here, sadly. We hope that as soon as possible, this film is irrelevant. But we hope it speaks to people and raises awareness," he tells the Los Angeles Blade. "It's about humanity. It's not about the LGBTQ community on their own."
Garrard Conley hopes the film makes a difference. "A lot of people who've just seen the trailer have had a sense of solidarity with the story," he tells the Los Angeles Blade. "I've had people as far away as Honduras saying that it helped them to not feel suicidal for a moment. So that was a huge thing for me. You never know but I think when you tell the truth and tell it as accurately and with as much justice to the story as possible, you can reach a lot of people."
"Boy Erased" is relevant today. "Trump is trying to erase trans people," he says. "Trans people are two-to-three times more likely to end up in 'conversion therapy.' Leelah Alcorn, who took her life, left a suicide note behind that said, 'I just want to be treated like a human. I just want to be respected for who I am.' And that's our goal—to raise awareness of other people's stories, as well."
But importantly, "Boy Erased" treats religious believers fairly.
"They aren't these villains twirling their moustaches like you would expect them to be. And so the movie doesn't attack them," says Conley. "It actually shows them as full human beings, with complicated histories. A lot of the 'ex-gay' folks were gay themselves. So we try to approach it with a bit of compassion while still holding them accountable for their actions. In my case, my parents did ask for forgiveness and I gave it to them. I know not everyone's experience is that way. But we wanted to make a roadmap for people to do the right thing next. You can mess up. We all mess up. But you can still do the right thing."
Padilla, local leaders celebrate passage of Respect for Marriage Act
"There's no better place than San Francisco to celebrate passage of the Respect for Marriage Act & affirm lives of millions of LGBTQ people"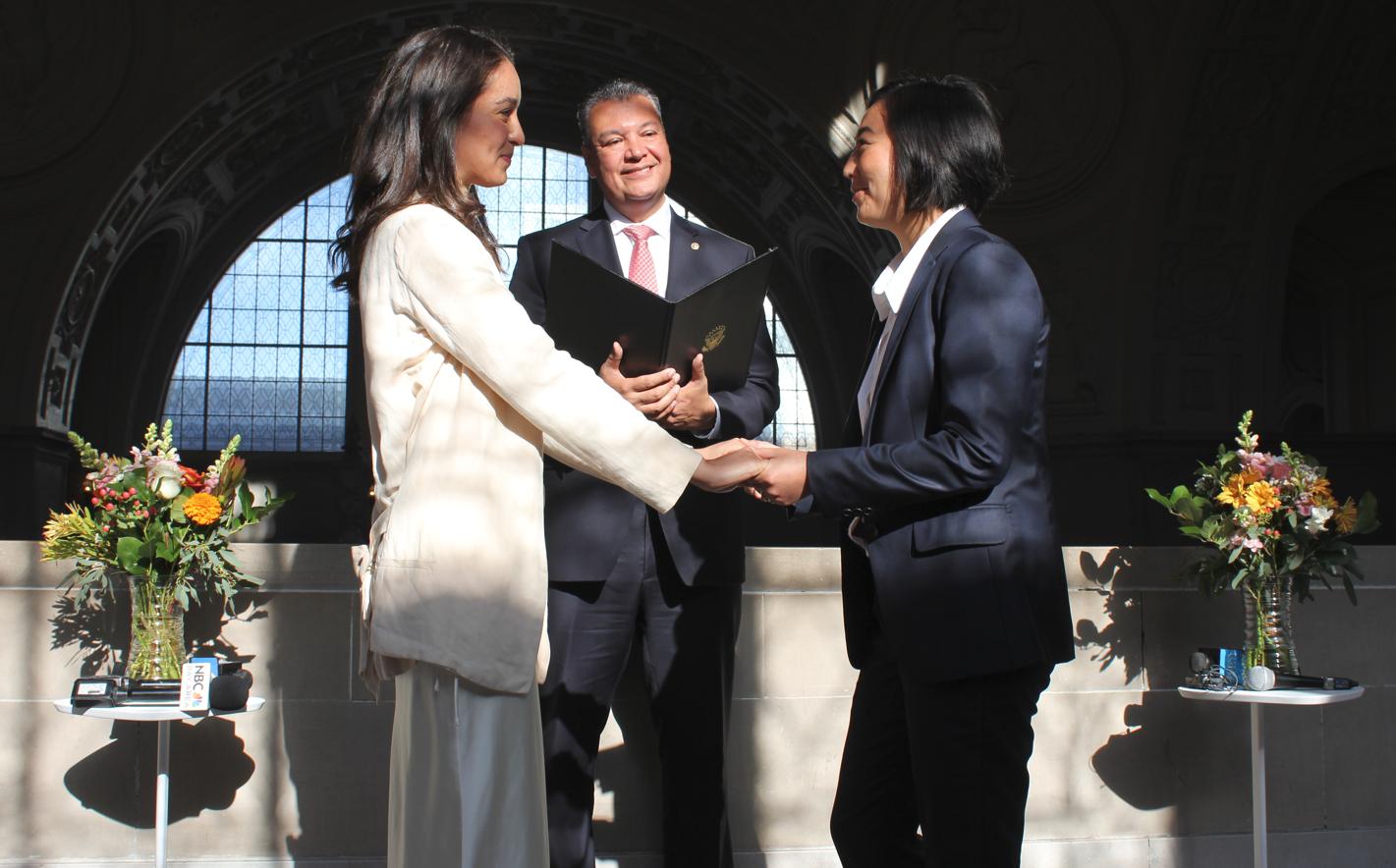 SAN FRANCISCO —  U.S. Senator Alex Padilla (D-Calif.) on Friday hosted a press conference with San Francisco Mayor London Breed, State Senator Scott Wiener, Equality California Executive Director Tony Hoang, and local leaders following the Senate passage of the Respect for Marriage Act.
Senator Padilla also officiated a vows renewal ceremony of Cyn Wang and Tessa Chavez, a local lesbian couple, at San Francisco City Hall to mark the historic occasion.
The Respect for Marriage Act requires the federal government to recognize a marriage between two individuals if the marriage was valid in the state where it was performed and guarantee that valid marriages between two individuals are given full faith and credit, regardless of the couple's sex, race, ethnicity, or national origin. The legislation passed the Senate by a vote of 61-36.
"There is no better place than San Francisco to celebrate the passage of the Respect for Marriage Act and unequivocally affirm the lives of millions of LGBTQ people and interracial couples across our country," said Senator Padilla. "We celebrate the progress that we have made today, but recognize the work still left undone to fully protect the rights of LGBTQ Americans. I'll continue working to build on our efforts until we ensure that every American is treated equally under the law, free from discrimination."
"I was proud to introduce the Respect for Marriage Act over the summer, and I'm even more pleased that the bill passed the Senate this week with strong bipartisan support," said Senator Dianne Feinstein. "The Respect for Marriage Act will guarantee legal protections for millions of marriages in the United States. Simply put, Americans should be free to marry the person they love, regardless of sexual orientation or race, without fear of discrimination or fear that their marriages will be invalidated. This was a historic vote and one that every proponent of equality can be proud of."
"The Respect for Marriage Act is an important step forward in the continued fight for LGBTQ and racial equality in America," said State Senator Scott Wiener. "Today, we celebrate this victory for our civil rights, and tomorrow we recommit to fight even harder against the right-wing Supreme Court's efforts to legalize discrimination in this country."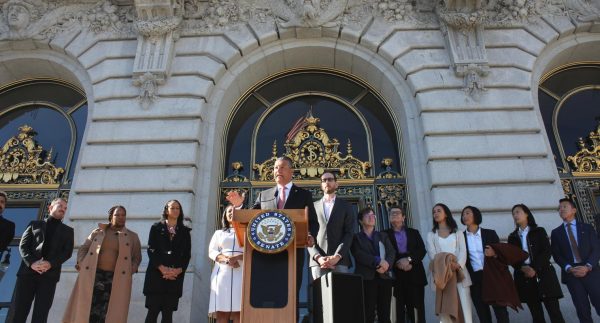 "San Francisco's history is inseparable from the history of the LGBTQ community and the movement for marriage equality locally, at the state level, and nationally," said Mayor Breed. "As we celebrate the passage of the Respect for Marriage Act, we honor those who have endured discrimination and hate, and the many who lost their lives in the quest for equality. We recommit ourselves to protect the fundamental rights of all people regardless of who they are or whom they love. Thank you to Congressional leaders, especially Senators Dianne Feinstein and Alex Padilla, and Speaker Pelosi for their leadership to pass this historical legislation."
"Equality California applauds this historic vote and the critical leadership of Senators Baldwin, Feinstein and Padilla, in getting this bill across the finish line," said Equality California Executive Director Tony Hoang. "While this is an important step in affirming the dignity of the LGBTQ+ community, it will not end all discrimination against LGBTQ+ people or erase the hateful rhetoric of anti-LGBTQ+ politicians and extremists. Equality California will continue to fight for full, lived equality for all LGBTQ+ people until the work is done."
"The Respect for Marriage Act removes an ugly, discriminatory stain on our federal law books – the 1996 so-called "Defense of Marriage Act" – and replaces DOMA with a rule requiring government at all levels to treat all married couples equally nationwide," said Jenny Pizer, Chief Legal Officer, Lambda Legal. "We hope we never need it.  But if the U.S. Supreme Court were, outrageously, to erase the constitutional protection for the freedom to marry, this law will substantially reduce the harms. Yet, even if the Respect for Marriage Act were to become necessary, it would not be sufficient. We still urgently need the Equality Act to become law, to protect LGBTQ people from the widespread discrimination that persists in the commercial marketplace and in public services with harsh, unacceptable consequences."
"It is a historic moment for the advancement and preservation of basic civil rights for all Americans, but by no means is our work done," said Kris Perry, Prop 8 Plaintiff & Nonprofit Director. "Our family and thousands of families like ours can breathe easier tonight knowing our fundamental rights are protected."
"After the Supreme Court overturned a woman's right to choice, we feared same-sex marriages were next," said Cyn Wang and Tessa Chavez. "The Respect for Marriage Act gives our family clarity and a sense of relief that our marriage, and those of all married couples regardless of sexual orientation or race, will be protected in this country."
The Respect for Marriage Act now goes to the House of Representatives for passage and then to the President's desk to be signed into law.
Senator Padilla is committed to pursuing equality for the LGBTQ community, including in employment, housing, and credit lending.
Earlier this year, Padilla introduced the LGBTQ Business Equal Credit Enforcement and Investment Act, legislation that would protect the 1.4 million LGBTQ-owned businesses in the nation from lending discrimination to ensure equal access to economic opportunities. Padilla also joined Senate Democrats in introducing a resolution recognizing June as LGBTQ Pride Month to highlight the work of the LGBTQ community in fighting to achieve full equality, including for marriage.