Vote as if your life depends on it
'Pull the emergency brake,' says HRC's Chad Griffin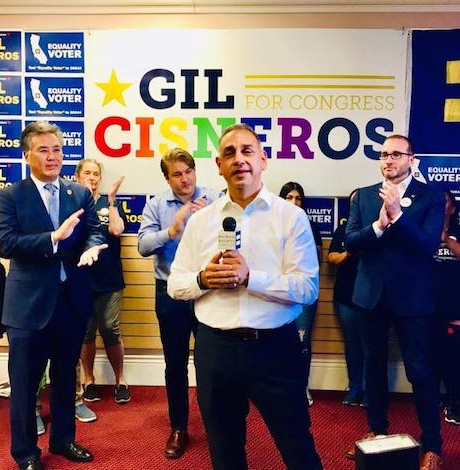 Donald Trump put himself on the ballot this Nov. 6 hoping to crush the Resistance that has rejected his authoritarian presidency since Inauguration Day. Having remade the Republican Party in his own image, Trump, a self-declared "nationalist," has also put white supremacy, racism, bigotry and the literal fate of the LGBT community on the midterm ballot, as well. 

Californians are particularly alert. Trump's closing argument for voting Republican is a hateful anti-immigrant speech and a shocking video reminiscent of the racist 1988 Willie Horton ad for George HW Bush's and Pete Wilson's ugly Prop 187 ad that pictured undocumented immigrants running across the Mexican border as if they were cockroaches scampering after the lights were turned on.

But Trump has gone darker.
He intentionally misrepresents refugees, many women and children fleeing violence in Honduras as a Democratic-sponsored massive caravan of illegal aliens, hordes of criminal gangs and Middle Eastern terrorists diseased with leprosy, small pox, and HIV, threatening to invade America's Southern border. He has floated ordering up to 15,000 military troops to stop the invasion, though the poor people's caravan is many many, miles from the US border and poses no threat whatsoever.
The latest polls indicate that the "Kavanaugh-effect" – the swing to Republicans after the controversial confirmation of Justice Brett Kavanaugh to the Supreme Court—has worn off.
Undecided voters are apparently swinging more towards the Democrats after Trump's inappropriate narcissistic response to the murder of 11 Jews at the Tree of Life Synagogue in Pittsburgh by a proud white supremacist who pointed to Trump's caravan threat as inspiration for his actions.
But polls may be unreliable, given the incredibly powerful roller coaster of events and climate of hate fraying nerves and wearing out emotions.
Only recently were there two random murders of African Americans after a white supremacist failed to gain entry to a black church. Shortly thereafter, 14 pipe bombs sent by an extremist Trump fan to CNN and top Democrats, including former Presidents Obama and Clinton, Sec. of State Hillary Clinton, Attorney General Holder, as well as Sens. Kamala Harris and Dianne Feinstein.
Trump never called any of the potential bomb victims to ask how they were doing, but he did fly to Pittsburgh, even though 50,000 people, including the mayor, asked him not to come until he renounced white nationalism, which to many sounds eerily like noises made by Nazis in the 1930s before the Holocaust.
Tone deaf, Trump went and then made a 2020 campaign commercial featuring he and wife Melania touring the crime site, soft music and all, with no mention of the murdered victims or why they were murdered.
To many in the LGBT community, this is no hyperbole.
Despite Trump's promises to protect the LGBTQ community, LGBT rights and protections have been rolled back since Day One, not surprising considering Vice President Mike Pence's long record of anti-LGBT hatred—he was the point-person on the executive order to ban trans servicemembers from serving openly in the armed forces, for example. Then on Oct. 21, The New York Times made the Trump-Pence agenda very clear: "'Transgender' Could be Defined Out of Existence Under Trump Administration" the headline blared.
The California LGBT community has responded by pouring out to help Democrats take back the House, providing an imperative check of accountability to this imperious president. But it's still all about turnout.
"Vote for Our Lives, Trans-voting=Trans-cending Bigotry, Hate," says longtime trans activist and housing/HIV specialist Maria Louise Roman. "This administration does not care about our people. The true power is with the vote. We have marched for Two years—we must take real action by casting our vote."  
"It's important that our community understands the importance of this election. Please vote! Understand that we must put people into office who understand what needs to be done for us to get to a better place in our society. We need people in office who will do the things that need to be done, who work for our people, who are unapologetic, and will not conform to corporations who marginalize all of us. Vote! Claim your power!" says Bamby Salcedo, founder of [email protected] Coalition. The trans activist organization is holding its annual fundraising fashion show—GARRAS FASHION SHOW 2018—on Nov. 10 to support The Center for Violence Prevention and Transgender Wellness (see translatinacoalition.org for more information.) 
Equality California has been on the ground, getting the word out, canvassing and fundraising money for the important congressional races expected to help Democrats win back the House. 
"There's too much at stake in this election for LGBTQ voters and our pro-equality allies to sit on the sidelines. From transgender equality to affordable health care, commonsense gun safety to racial justice, every issue we care about is on the ballot. It's imperative that we take back Congress and elect pro-equality champions across the state. That's why Equality California is working night and day, talking to hundreds of thousands of pro-equality voters to make sure our community's voices are heard on November 6," Equality California President Rick Zbur told the Los Angeles Blade.
"We've sent more than 650,000 pieces of mail, reaching nearly 850,000 voters. In our four top priority Congressional races (CA-25, CA-39, CA-45 and CA-48), we're knocking on 6,685 doors, making 57,200 phone calls and sending 60,000 text messages. We're also launching more than 33 different robocalls, but they're reaching over 300,000 California voters for out State Sen. Ricardo Lara (running for State Insurance Commissioner) and candidates in a number of targeted districts and have been sending regular emails to our members in California and Nevada. We also have two full-time organizers on the ground in Nevada, one in Reno and one in Las Vegas, working with the Nevada Democratic Party's coordinated campaign. We're really focused on helping to elect Jacky Rosen to the U.S. Senate and Nelson Araujo as Secretary of State."

Days away from Election Day, Nov. 6, the races look like this:
Sen. Dianne Feinstein has a lead over State Sen. Kevin de Leon who is seeking to replace the senior senator who was elected in the Year of the Woman, 1992.
Democrats in the House races the nation is watching are "Leaning Democrat" or "Toss-Up" within the margin of errors. Every vote counts here, since some reaces are expected to be as close as within a hundred votes and in fact may not even be finally decided on Election Night, considering early voting and mail-in ballots. In other words—don't plan on surfing the Big Blue Wave until you see it coming.
One key race for the LGBT community is bisexual candidate Katie Hill's race against anti-LGBT incumbent Steve Knight in California's 25th Congressional District. The 31 year old just got a boost as media reports revealed that one of Knight's most prominent TV endorsers is a proud racist.
"We've known for a long time that we have to put some kind of check on him and we've got to work towards getting him out as quickly as possible," Hill told the Los Angeles Blade. "The first step in putting a check on him is flipping Congress. We're not gonna be able to do anything about the problems with Trump and with the things that he's been doing until we have a Congress in place that's actually going to hold him accountable and right now we don't have that."
And, she notes, "Steve Knight is one of the many Republicans in Congress who, despite the fact that every single day a new revelation comes out about how problematic Trump and his administration are and how unethical and how much they go against the very values and core beliefs of our country, they refuse to do anything about it. So this is a perfect reason why we have to stay so focused on flipping the House and on winning these key swing districts."
Another race the LGBT community is eyeing is the possible unseating of anti-LGBT Rep. Dana Rohrabacher in California's 48th District. Equality California, the Human Rights Campaign, individual LGBTs have been working hard on behalf of Democratic businessman Harley Rouda, who is in a toss-up going into the election. Rohrabacher's notoriety as Russian President Vladimir Putin's favorite congressman ties him directly with Trump, who is facing the investigation by Special Counsel Robert Mueller into whether he and/or his campaign colluded with Russian operatives to interfere with the 2016 election.
"Unfortunately, Donald Trump is a bad example, in so many ways, for our kids and also for elected politicians. I think what we've seen in the Senate with this breakdown in decorum—Donald Trump has to take some responsibility for that happening by creating an environment where that type of behavior is not only acceptable but it's almost encouraged. Rouda told the Los Angeles Blade at an LGBT fundraiser in Los Angeles Oct. 3. "The role of the President of the United States is to bring Americans together. This is the first time in our lifetime that we have ever seen a president who purposely and systematically is pitting Americans against Americans."

Once thought a long-shot, young Democrat Ammar Campa-Najjar, a former official with the Obama administration, is seriously challenging longtime anti-LGBT incumbent Rep. Duncan Hunter, who's been indicted on campaign fraud charges, in the 50th Congressional District.

Democrat Mike Levin looks like he will beat anti-LGBT Republican Diane Harkey to replace retiring Republican Rep. Darrell Issa in CD 49. Trump didn't even want to stump for Harkey, already considering her a loser.

Democrat UC Irvine law professor and consumer advocate Katie Porter has been increasingly gaining ground on Republican incumbent Rep. Mimi Walters in CD 45 with Porter relentlessly tying Walters to Trump.

Democrat Gil Cisneros and Republican Young Kim are locked in a dead heat for CD 39, an open seat vacated by Ed Royce. Kim and the Republicans have been running a horrific ad against Cisneros, touting a sexual harassment charge by a woman who later retracted the allegation. HRC and EQCA have been strongly working on Cisneros' behalf but Kim could be the first Korean elected to Congress, which remains a strong local draw in the district.

On the local front, Lt. Gov. Gavin Newsom looks like he will run away with the race to replace Gov. Jerry Brown and keep the progressive momentum going in the state Trump most loves to hate. His opponent, Republican businessman John Cox was trying to ride the coattails of out gay Republican politico Carl DeMaio's Gas Tax Repeal, but that is floundering and Cox is too proud of his Trump endorsement for many voters.  The question is – will there be a Super Majority in the State Legislature with which he can work to implement progressive legislation.

Many establishment Democrats are backing Ed Hernandez for Lt. Governor—but many women are backing Eleni Kounalakis.

Alex Padilla is sure to win re-election as Sec. of State and Democratic state Atty. Gen. Xavier Becerra is widely expected to win over his Republican challenger Steven Bailey. Becerra has been incredibly prolific in filing lawsuits to protect California from Trump—including joining the lawsuit to stop Trump's trans military ban. Another longtime LGBT ally, Betty Yee, is also expected to win re-election as Controller, as is Treasurer Fiona Ma.

Out State Sen. Ricardo Lara's race for State Insurance Commissioner has been complicated by a flurry of ads touting his opponent, Steve Poizner, who re-registered as an independent but still presents Republican-style policies. Not enough media attention has been paid to that point so Lara must depend on the Latino and LGBT votes, in particular.

The race for Superintendent of public instruction has gotten expensive and nasty. But much of the LGBT community supports LGBT ally Tony Thurmond, since Marshall Tuck is believed to be Republican-lite. 

There has been a massive amount of money poured by real estate developers and landlords into misleading ads to defeat Prop 10, a measure that would return restrictions on rent control to municipalities, not the market place. The measure, lead by AIDS Healthcare Foundation, is endorsed by the LA Times, the ACLU, the California Democratic Party and the City of West Hollywood.

Finally, out LA County Assessor Jeff Prang is up for re-election and though he is expected to win, his opponent distributed some dirty trick material in the last days of the campaign that Prang had to try to fix. Votes will be needed for him.

HRC President Chad Griffin says that based on research, there are 1.4 million eligible LGBT voters in the state of California. If LGBT voters turn out en mass, we could insist that we not be erased.

"I think we will look back at this moment two years from now as one of the great awakenings of our democracy. In some ways, what Prop 8 did to a generation – the hatred that Mike Pence and Donald Trump spew on a daily basis – I believe is being responded to by folks standing up, stepping up," Griffin told the Los Angeles Blade. The enthusiasm "is unlike anything I've ever seen. The only thing I can compare it to is my time in this state 10 years ago, after the aftermath of Prop 8. While times are dark, I'm also incredibly optimistic. This is our opportunity to pull the emergency brake. These elections – that is where we have power over them.

"All of us have been told our entire lives that it's the most important election of our lives," Griffin said. "But with the future of our democracy on the ballot, and it is – and the equality of our future generations on the ballot – this election IS the most important election of our lives.

"This has to be the election of no regrets. There is not a single person, especially LGBTQ people – who wants to wake up the day after the election asking could I have done more? No one wants to have that regret that's why I urge all LGBTQ people and their allies—we have to turn out in force this election."
Cases jeopardized by racist & homophobic comments by Torrance police
They joked about "gassing" Jewish people, assaulting members of the LGBTQ community, using violence against suspects and lying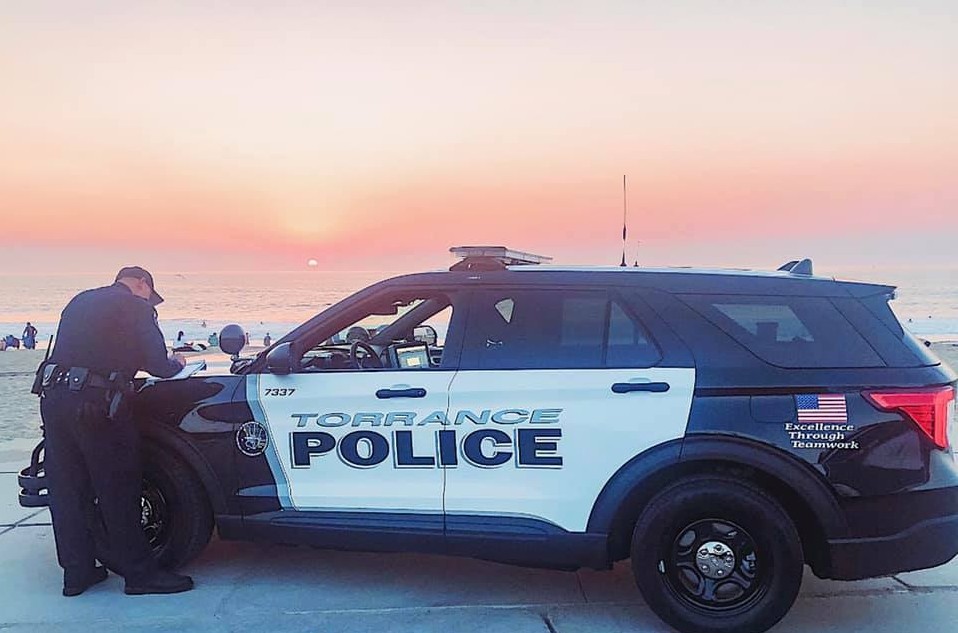 TORRANCE, Ca. – Years of text messages that contained extremely offensive descriptions of Black and Jewish people or members of the LGBTQ+ community by more than a dozen Torrance police officers resulted in the dismissal of criminal cases The Los Angeles Times reported Wednesday.
According to the Times, while no officers face criminal charges in direct relation to the text messages, the racist exchanges have led to the dismissal of at least 85 criminal cases involving the officers implicated in the scandal.
While no officers face criminal charges in direct relation to the text messages, the racist exchanges have led to the dismissal of at least 85 criminal cases involving the officers implicated in the scandal.https://t.co/1qHfKFlHIp

— Los Angeles Times (@latimes) December 8, 2021
Los Angeles Times Crimes & Court reporter James Queally wrote in a tweet; "For years, more than a dozen Torrance cops exchanged racist, homophobic and anti-Semitic texts and images. Today, I can identify most of the officers and reveal some of their hateful conversations."
According to Queally's reporting, in the span of one week in November, the Los Angeles County public defender's office received approximately 300 letters from prosecutors disclosing potential misconduct by officers implicated in the scandal, according to a spokeswoman for the public defender's office.
In the span of one week in November, the Los Angeles County public defender's office received approximately 300 letters from prosecutors disclosing potential misconduct by officers implicated in the scandal, according to an office spokeswoman.https://t.co/1qHfKFlHIp

— Los Angeles Times (@latimes) December 8, 2021
The broad scope of the racist text conversations, which prosecutors said went on for years, has created a crisis for the Torrance Police Department and could jeopardize hundreds of criminal cases in which the officers either testified or made arrests, the Times reported.
The officers' comments spared no color or creed: They joked about "gassing" Jewish people, assaulting members of the LGBTQ community, using violence against suspects and lying during an investigation into a police shooting, according to district attorney's office records reviewed by The Times.
Hong Kong activist dismisses calls for Gay Games boycott
WTA suspended China tournaments after tennis player disappeared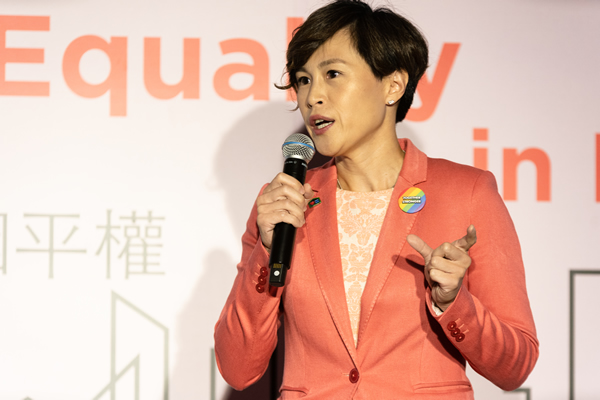 HONG KONG — An LGBTQ activist in Hong Kong on Tuesday dismissed calls to boycott the 2023 Gay Games over China's human rights record.
"In Hong Kong, the team behind Gay Games has really worked tirelessly to bring it to Hong Kong and it will be a very good opportunity to showcase diversity and people working together and the human spirit at its best," Gigi Chao told the Los Angeles Blade during a telephone interview from Hong Kong. "So, if it all gets rather political and if you twist the sentiments of what they want China to be, it will just really not work."
Chao is the co-founder of Hong Kong Marriage Equality, a group that seeks to extend marriage rights to same-sex couples in the former British colony. Chao also founded the Faith in Love Foundation, a group that seeks to increase awareness of LGBTQ issues in Hong Kong.
Chao is a member of the OutRight Action International board of directors. Chao is slated to speak in the group's annual summit that will take place virtually this week.
"All eyes are peeled on the events of next year: The Beijing Olympics, the relationship between Beijing and the U.S. as relationships either improve or sour over the course of the next 12 months and also trade and the global economic situation … it's not a rosy picture by all means," Chao told the Blade. "Everybody is bracing for the worst in terms of how the world recovers from COVID, but LGBTIQ rights continue."
Chao said Dennis Philipse, a Hong Kong resident who co-chairs Gay Games Hong Kong, and his colleagues "want the Gay Games to be a celebration of the human spirit in terms of sport."
"In Hong Kong, there's certainly no shortage of people engaged in sport and enjoying sports," said Chao.
Gay Games Hong Kong in September announced the postponement of the quadrennial event until 2023 because of the pandemic. The Federation of Gay Games, which oversees the Gay Games, awarded the games to Hong Kong over D.C. and Guadalajara, Mexico.
Hong Kong was a British colony until China regained control of it in 1997.
Upwards of 2 million people took part in pro-democracy protests that took place in Hong Kong in 2019.
Hong Kong's National Security Law, which, according to human rights activists, makes it easier for authorities to punish anyone who challenges the Chinese government, took effect in 2020. Hong Kong Chief Executive Carrie Lam, who is closely aligned with the Chinese government, supports the statute.
The Women's Tennis Association last week announced the suspension of tournaments in Hong Kong and throughout China in response to the disappearance of Peng Shuai, a Chinese tennis star, after she publicly accused former Vice Premier Zhang Gaoli of sexual assault. The Biden administration on Monday announced a diplomatic boycott of the 2022 Winter Olympics that are slated to take place in Beijing in February.
"The Federation of Gay Games continues to monitor the situation in Hong Kong regarding COVID-19, the National Security Law and all other aspects that affect the safety and security of our event," Sean Fitzgerald, co-president of the Federation of Gay Games, told the Blade in a statement after the Women's Tennis Association announced it had suspended all of its tournaments in China. "We are committed to hosting Gay Games 11 in Hong Kong in November 2023."
Chao acknowledged Gay Games organizers are "facing a lot of opposition from all directions." Chao also noted Hong Kong's government is "not actually positively promoting it."
"If we can get really high-profile athletes to participate, I think that's going to be a huge call for everybody to participate," said Chao.
Iowa State Appeal Board settles lawsuits by anti-LGBTQ religious groups
The Christian groups claimed the university had violated their constitutional rights to free speech and the free exercise of religion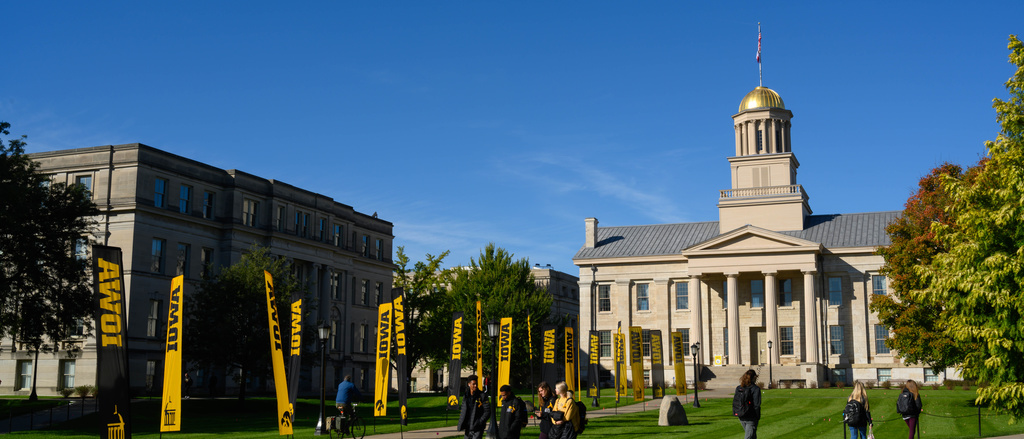 DES MOINES – The Iowa State Appeal Board, made up of Iowa state Treasurer Michael Fitzgerald, Auditor Rob Sand and Department of Management Director Kraig Paulsen, approved disbursing nearly $2 million in state funds to settle two Federal lawsuits brought against the University of Iowa in 2017 after a religious group denied an openly gay student a leadership role. 
According to the Associated Press in a U.S. News article Monday, lawyers for the student group Business Leaders in Christ were awarded $1.37 million in fees and costs for litigating their case. A second student group, Intervarsity Christian Fellowship, won their federal court case and will be paid $20,000 in damages and about $513,000 in attorney fees.
The groups claimed the university had violated their constitutional rights to free speech and the free exercise of religion.
The monetary amounts were negotiated between the university and the plaintiffs in both cases and approved by a federal judge. Monday's approval by the State Appeal Board authorizes the state to make the payments the AP reported.
In March of this past Spring, the 8th U.S. Circuit Court of Appeals ruled in favor of Business Leaders in Christ after the University of Iowa had ordered group was dismantled in 2017 after claiming the student group violated its Human Rights Policy.
As reported by The Daily Iowan, Marcus Miller, a UI sophomore at the time, filed a discrimination complaint against the Business Leaders in Christ after the group  revoked a leadership position from Miller upon finding out his sexual orientation.
A new law that requires state universities and community colleges to adopt policies that prohibit them from denying benefits to a student organization based on the viewpoint of the group was implemented in 2019.
"In addition, a public institution of higher education shall not deny any benefit or privilege to a student organization based on the student organization's requirement that the leaders of the student organization agree to and support the student organization's beliefs, as those beliefs are interpreted and applied by the organization, and to further the student organization's mission," the law reads.