The Advocate Turns 50! Remembering Editor-in-Chief Richard Rouilard
A groundbreaking magazine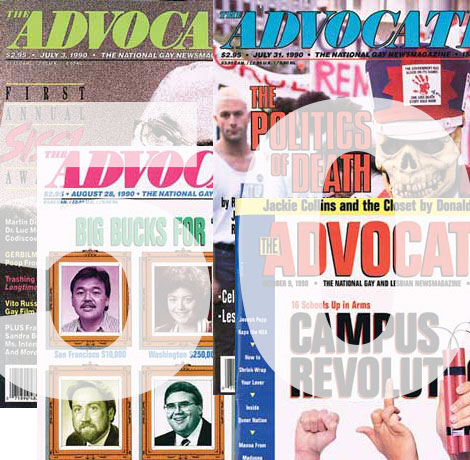 The Los Angeles Advocate started in the late 1960s, as the anti-Vietnam War movement swelled and the liberation movements overwhelmed the long civil rights movement. The newsletter, produced and distributed by the Gay Liberation-inspired political activist group Personal Right in Defense and Education (PRIDE) informed the local gay community about news and events happening during that heady time. It was, after all,  created in response to the LAPD raid of the Black Cat Tavern in Silver Lake on January 1, 1967 and the community needed to know when and where the next anti-LAPD demonstrations would occur. In September 1967, the newsletter became a newspaper. By 1974, The Advocate printed 40,000 copies an issue.
The Advocate has undergone tremendous changes since then, which Here Media owner Paul Colichman, editor-in-chief Lucas Grindley, Neal Broverman, Diane Anderson-Minshall  and the whole team have recognized in an <ahref="https://www.advocate.com/advocate50″>amazing tribute to the 50 year old LGBT institution they now run and protect.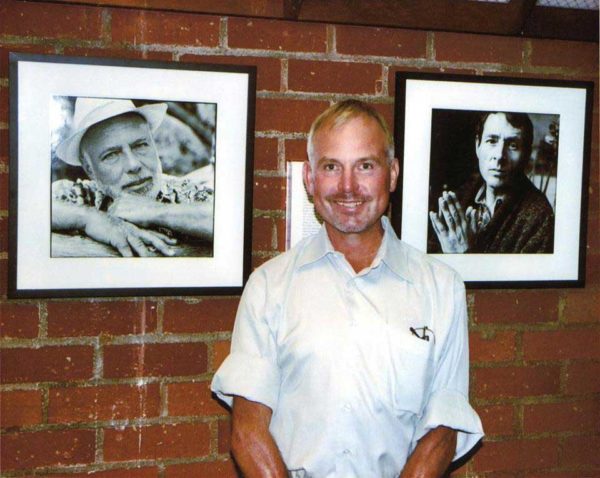 I have written intermittently for The Advocate over the years, starting in 1990. My editor was Mark Thompson, for whom The Advocate stood as a "hopeful beacon, holistic in its concern for a people previously broken, adamant in its conviction that the pieces stay mended together. 'The Advocate was for many of us the first exposure we'd had to the idea that what we are is not bad,' says one longtime reader, speaking for many. 'It was alight in the dark by which we could navigate,'" as I wrote in my tribute to him last year.
I was introduced to Mark in 1990 at The Advocate offices in Hollywood by editor-in-chief Richard Rouilard. We felt a responsibility to discern what stories were real, what was spin, and how to report on a controversy with both color and an ethical obligation to the larger context. It wasn't always easy, but he took the struggle to heart, apologizing profusely when another, more senior editor changed the headline of my story on a confrontation faced by a woman author to make it more snarky: "She took a licking and kept on ticking."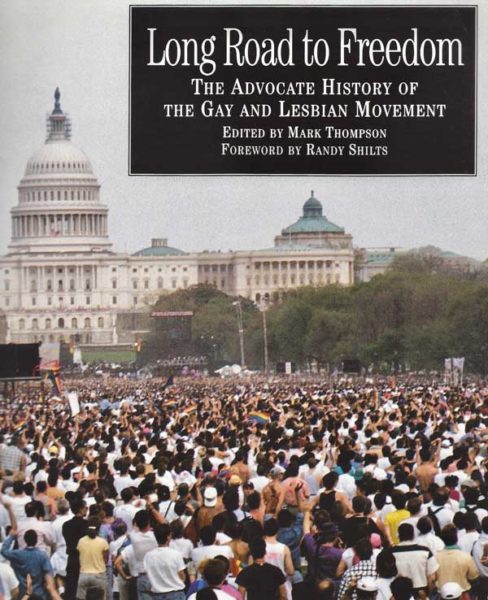 Before he left, Mark edited the exquisite Long Road to Freedom: The Advocate History Of The Gay And Lesbian Movement in 1994. In it is a short essay by Rouilard on the importance of 1990, the year he took over as editor-in-chief of The Advocate.
The Advocate changed dramatically in 1990. Aggressive investigative reporting was initiated by the editorial staff," Rouilard wrote. "Cover stories attacked corporate giants like AT&T and Bank of America for employment discrimination, unveiled AIDS-phobia and homophobia in Hollywood, on Madison Avenue, and on Seventh Avenue, and explored the gay revolution on American college campuses. The staff also instituted the annual Sissy Awards for America's worst homophobes. The winner that year was cover boy Jesse helms, whose lips were smeared with a very unflattering shade of red lipstick. Advocate news reports and feature stories were picked up by mainstream media around the world. The Advocate, like the gay nation it reflected, entered the gay nineties with a roar."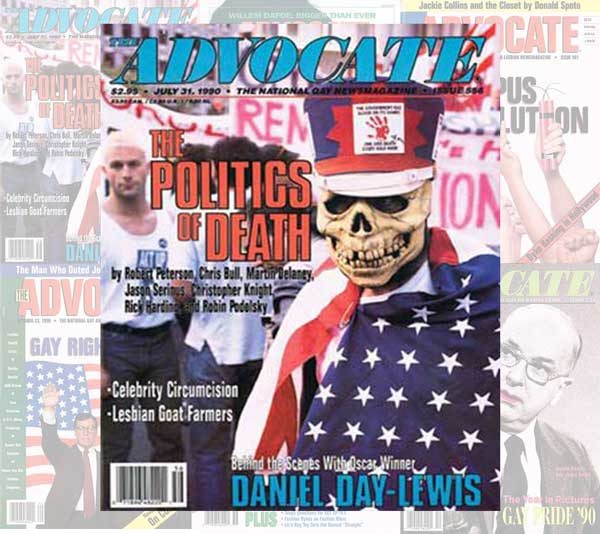 In his Introduction, Thompson noted how Rouilard amplified that roar. "Above all else, the colorful editor-in-chief plunged The Advocate back into the community, a place from which it had been estranged for some time. Under his leadership, the magazine achieved a new standard of excellence for gay journalism, a quality not seen since (Robert I.) McQueen's early days as editor."
Rouilard," Thompson wrote, "had a genius for making the world take notice." That's something of an understatement.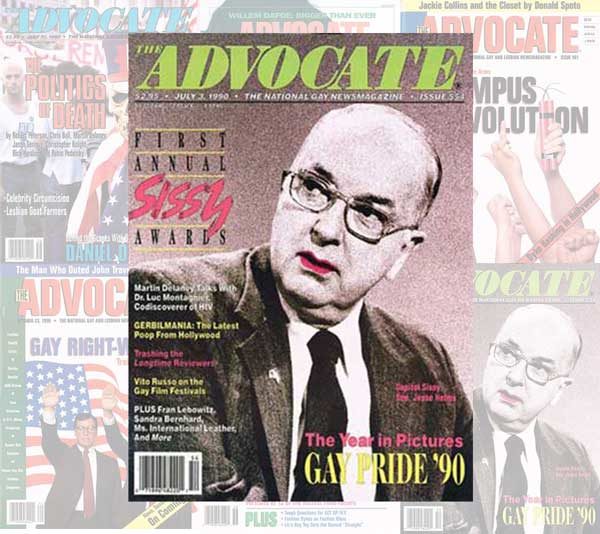 Bob Sipchen wrote this in the Los Angeles times on June 28, 1990: "REQUIRED READING: * Webster's Dictionary has two definitions for the word "sissy." One is "effeminate." The other is "cowardly." In its July 3 issue, The Advocate, subtitled "The National Gay Newsmagazine," adopts the second meaning and attaches it to its "First Annual Sissy Awards," dedicated to "some of America's biggest homophobes." The issue, he wrote, "is worth picking up if only to see the cover shot of Sissy Award winner Jesse Helms, wearing editorially applied magenta lipstick."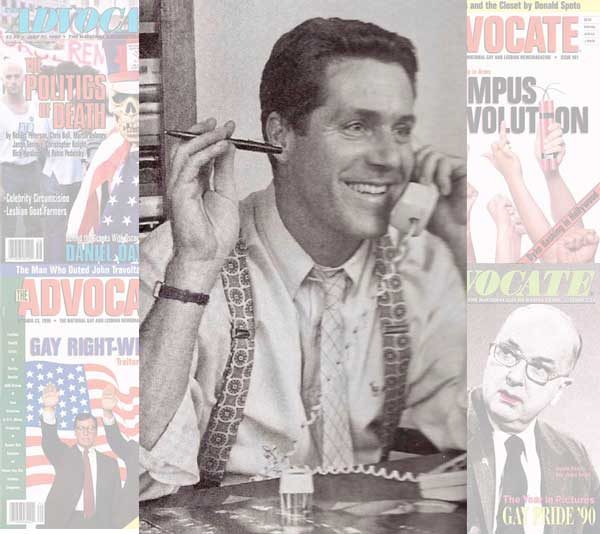 Richard Rouilard loved being editor-in-chief of The Advocate. Ideas shot out of him like fireworks on Independence Day—ideas to make the magazine better, of higher-quality, and more important with a cutting edge to get more leverage in the mainstream media, and by extension, influence the nation's premier influencers.
Like Thompson—and most of the other reporters, editors and staff I met when I freelanced there, Richard was furious about anti-LGBT discrimination. He insightfully saw the gay activism stirring around the country and not only seized on being the first to tell the story—but virtually advocated for ACT UP and Queer Nation and the zines popping up with a stunning array of self-expression. And he didn't stay cordoned off in his Hollywood office or in his well-appointed West Hollywood condo with his beloved partner Bob Cohen. When California Gov. Pete Wilson vetoed the gay rights bill AB 101, Richard was on the streets protesting, putting his body on the line, stopping traffic. I know. I was there. I have pictures.
Richard took the gay rights movement very seriously—and personally. Having been abandoned as a baby, he was later rejected by his adoptive parents when he became too effeminate. He turned that into being too fabulous, adopting his French mother's maiden name and transforming himself into a  gossipy American Anna Wintour with a law degree and biting sense of humor.
He co-founded the National Gay Rights Advocates, the first gay public interest law firm, in 1979, hiring Democratic honcho Jean O'Leary as executive director.  Two years later, he created a society column called "Bunny Mars" for several local newspapers and magazines, though best known in the Los Angeles Herald Examiner. Over his career, he worked as an editor or reporter or consultant for scores of magazines and newspapers and helped co-found the Lesbian and Gay Journalists Association.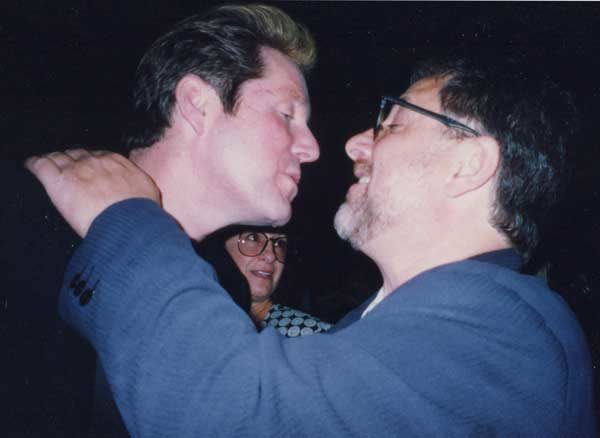 Richard's Rolodex could fill a closet. But he relied on friends like LA Gay & Lesbian Community Services Center executive director Torie Osborn and entertainment manager/producer Barry Krost for help, tips and balance. He was a mentor and a mensch, a diva, a dragon and a diplomat. And he really, really cared about gay people.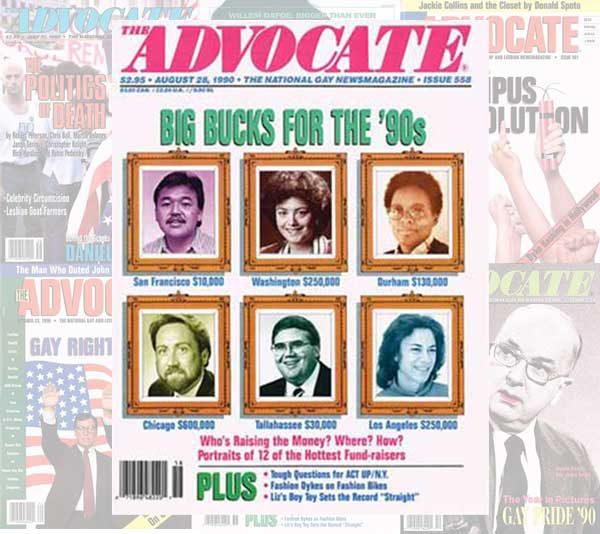 My first cover story for Richard was Aug. 26, 1990. He wanted a story on fundraiser—but not just the "usual suspects," the big dollar donors who were in many ways carrying the movement as more and more people died of AIDS. He wanted stories about fundraisers in their own communities, no matter what the "big bucks" dollar size. He wanted to give them props, in his own fashion.
I was in the office one day when he came bounding over, incredibly excited to share some news with me: the next issue would say "The Advocate: The National Gay and Lesbian Newsmagazine." It was the Oct. 29, 1990 cover featuring two white presumably gay men giving a half hello/half-Nazi salute under the headline: "Gay Right-Wingers: Traitors to the Cause?" The top banner headline read: "The Man Who Outed John Travolta Apologizes." I don't know if anyone noticed the change.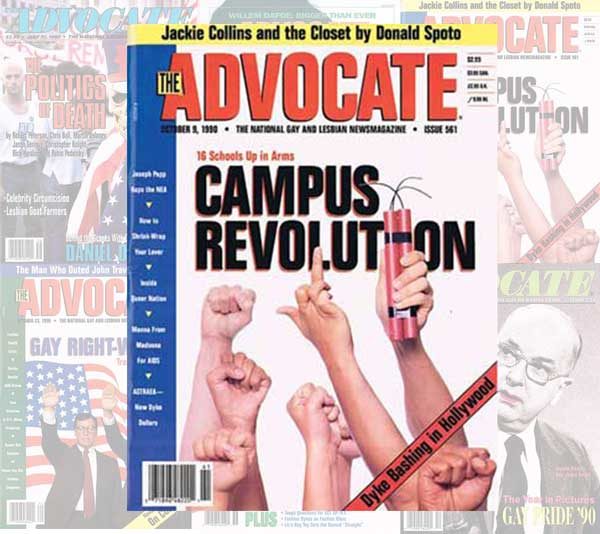 My next cover story proved problematic. I had been assigned over the summer to find and interview students on college campuses who were acting up, fighting back, resisting, disrupting and being downright rude about it. They were loosely known as Queer Nation. The problem was—no one was on campus during the summer. And then, when I came in for a story conference and Richard excitedly showed me the cover art—I blanched. I had the fists, I had the middle finger. But I didn't have the equivalent of a student's hand holding dynamite. "Find it," he told me. The cover was done. I had to fit the story to the cover. That was not the way I had done journalism before. Luckily, I fund students in an uproar over a cancelation of a Robert Mapplethorpe exhibit at a museum in Cincinnati, Ohio that resulted in the Contemporary Arts Center and its director being put on trial for obscenity.  The jury acquitted in early October, but I had my stick of dynamite in the fight for the First Amendment and to protect the arts.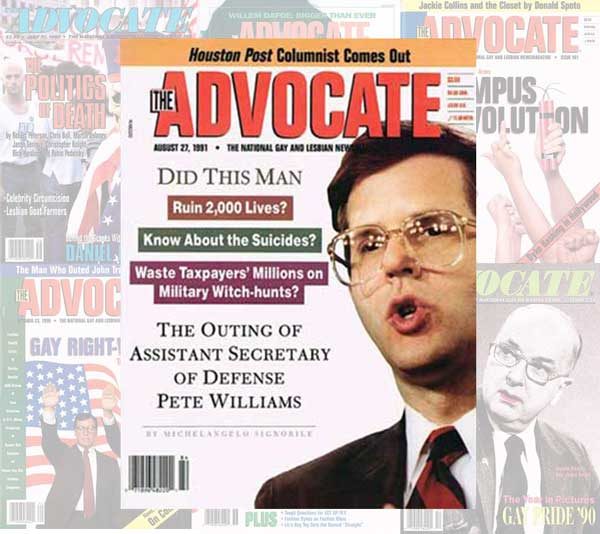 He made news by publishing Michelangelo Signorile's outing of Pete Williams who served as Pentagon spokesperson while there was a ban on gays serving openly in the military. Williams is now the Supreme Court correspondent for NBC News.
"Outing is a very nasty business," Richard told the LA Times in 1992. "But homophobic homosexuals are a nastier business. I don't think homosexuality is a privacy issue."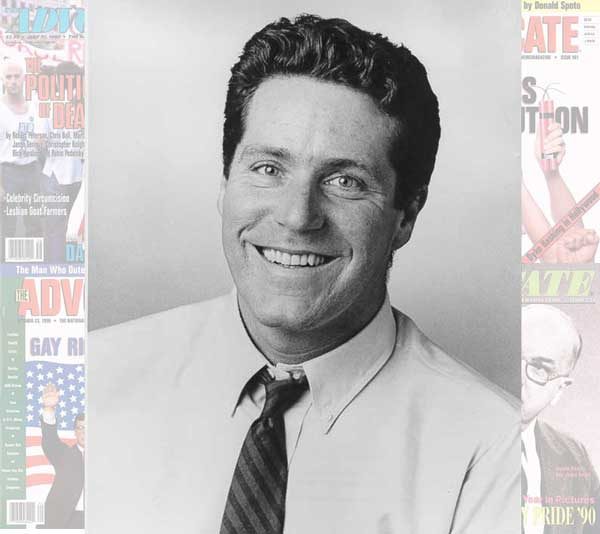 Richard Rouilard died of AIDS on Wednesday, May 8, 1996. He had resigned from The Advocate in 1992 after getting into fights with the publishers over his enthusiastic spending of their money.
"I think he was most proud of turning The Advocate around and being on the vanguard of bringing gay rights into the mainstream," LA Times reporter and close friend Mary McNamara told the San Francisco Chronicle. "He was able to approach very serious subjects with intense attention but also with a great sense of humor and empathy."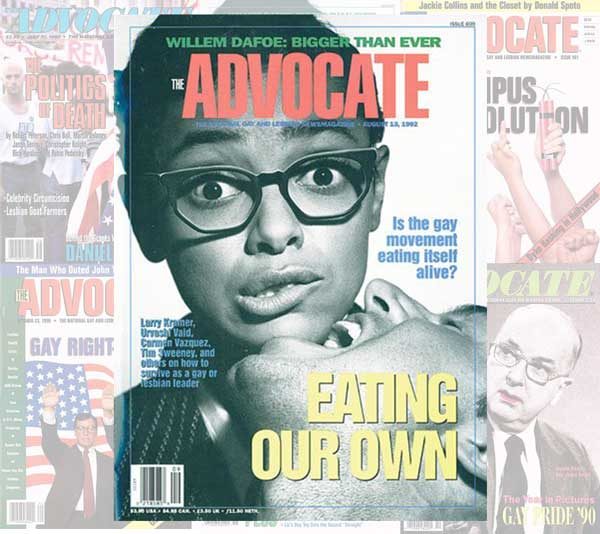 Richard's last Editor's Note for The Advocate was in the August 13, 1992 issue with the cover story: "Eating Our Own." It is as important today as then. Here's what he said, as re-printed in the San Francisco Examiner.
"In a speech at a recent journalists' conference, author Randy "And the Band Played On" Shilts referred to just about anyone who disagrees with him as a "lavender fascist."  Later he told The New York Times that the lavender fascists were nothing more than third graders whining, "Do what I want you to do, or I'll tell on you."
Knowing beforehand that Shilts was going to make this unusual speech, I had to respond.  Someone had to defend lavender fascists, whatever they are.
As a joke, I had a dozen T- shirts made up that read LAVENDER FASCIST on the front, The Advocate on the back.  The New York Times then reported that those at the conference who were in favor of all-out outing — that is, the now- defunct OutWeek's position, certainly not The Advocate's — were wearing "earrings and sassy T-shirts."  The anti-outers were allegedly suited.
I am no more a "lavender fascist," and all-out outer, than Shilts is a "homocon," a conservative homo opposed to outing under any circumstances whatsoever.  This kind of reductionist thinking about the gay, lesbian and bi community is best left to the straight press, which needs to pigeonhole us because they don't take the time to find out about the depths of diversity in this hodgepodge we call the gay community.  We shouldn't take them seriously.
But when we start seeing each other as enemies — reducing our complicated lives to black and white, left and right — we are in serious trouble.  Our greatest task now is to try to understand, to tolerate, to trust each other a little.
We must.  We have precious little in common.  We are Republicans, Democrats, rich, poor, black, white, brown, yellow, men and women — just for starters.  Our community, our few institutions are under attack from a well-financed, highly organized Right.  And if a Washington Times report is accurate, the anti-gay right has the blessings of President Bush.
The backlash against us is raging unchecked across America in small towns and cities.  The recent destruction of the offices of Campaign for a Hate-Free Oregon has Urvashi Vaid, the head of the National Gay and Lesbian Task Force, worried, deeply worried.  Vaid knows that the anti-gay juggernaut is being fueled by this election year's great American grandstanding issue — family values.
We have become the Willie Hortons of '92.  Obviously, we can't afford to be "eating our own" this year. But what is eating our own?  Is any criticism, any disagreement, an example of eating our own?  Shilts, referring to those with whom he disagrees as lavender fascists, and I with my sarcastic T-shirts are nothing more than two old, bitchy queens going at each other.
Marvin Liebman, a co-founder of the American conservative movement, an out gay man and an old friend of mine, called me an "idiot" in the New York Post for outing an acting chair of the National Endowment for the Arts, Anne-Imelda Radice, a friend of his.  Well, ditto for Marvin, and he's older than Randy and I put together.
Eating our own and political disagreements are two very different animals.  But past disagreements that are left unattended can, on occasion and frighteningly quickly, turn into the frenzied phenomenon we recognize as eating our own.  Two of our most prominent organizations, National Gay Rights Advocates (NGRA) and the Fund for Human Dignity, were eaten alive recently by vast differences of opinion.  The parties at odds refused to deal with each other.  The disputes became public.  Fund-raising abilities collapsed.  The organizations folded.
I was the board chair of NGRA during this period.  I could not get the two sides to deal with each other as anything but enemies.  The animosities were overwhelming.  There were voracious beasts on the sidelines — oppression, sickness, internalized homophobia, anti and pro-establishment agenda-ism anti-authority forces and God knows what else; I don't.  Two years later, I still can't say which one of the beasts was more prominent.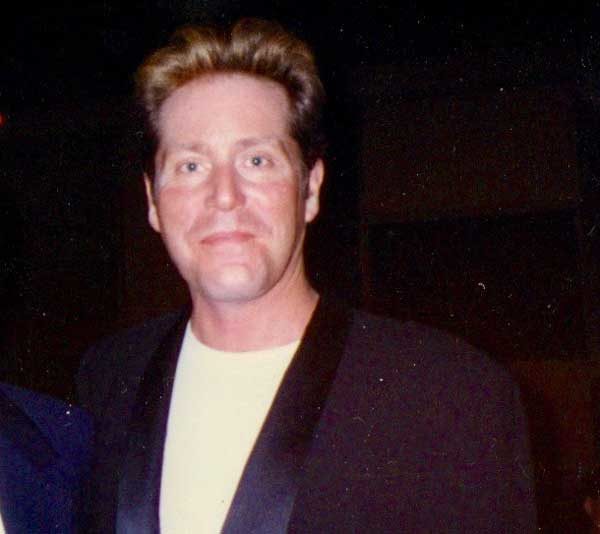 The beast is at the doorstep again.  This year's gay pride parade and festival in Los Angeles was marred by a public dispute between Queer Nation and event organizers Christopher Street West.  QN claimed that the entrance fees at the festival and CSW's attitude towards minorities and drag queens were not conducive to creating a fully diversified ambience.  CSW protested.
In an essay in the event program, activist Torie Osborn suggested that QN was involved in eating our own.  No.  Not quite.  Not yet.  Nonetheless, Osborn's call for unity must be heeded because this fracas could easily become a cannibalistic frenzy if it continues.
The differences of opinion here — angry ads were placed in the local gay press by QN — are too dramatic.  The drama, a natural result of our diversity, is the signal that discussion is imperative.  But how to get these two sides to sit down with each other is the problem.
Where is the meeting ground when some multiculti-queers suggest that one of our finest leaders, Vaid, should be tried for treason?  What happens when Tom Stoddard has committed Lambda Legal Defense and Education Fund to a fund-raiser in New York at a performance of "Miss Saigon," a show being boycotted by Asian-American groups?  Should Stoddard have canceled the benefit, thereby threatening Lambda's fund-raising base for the year?  Is Stoddard the enemy?
On the other hand, just how long must women and minorities wait for recognition of their needs, acknowledgement of their absolute right to participate in decisions that intimately affect their lives, decisions that are sometimes made by white-male-run organizations?
There are no easy answers.  Seemingly, there are no answers.  I think I'll give that bitch Randy Shilts a call."
Portrait of a Festival on Fire, AFI Fest returns with live screenings
AFI Fest returns this year with live screenings—and a roster that's typically chock full of queer breakout films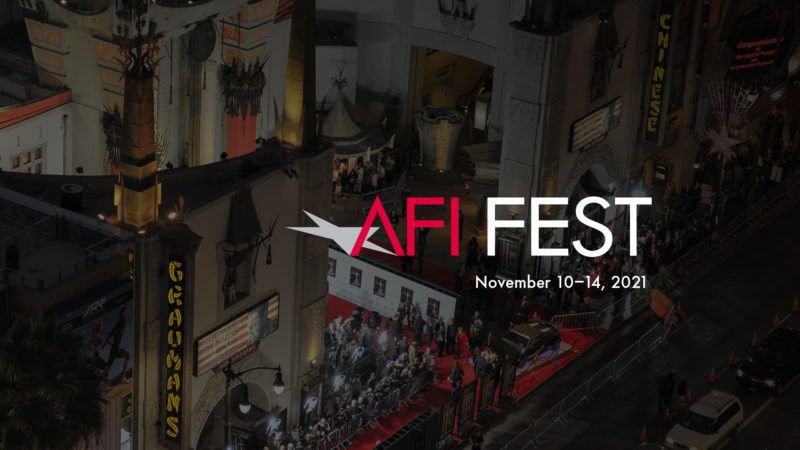 By Dan Allen | LOS ANGELES – Like most things last year, L.A.'s most prestigious mainstream film festival AFI Fest was forced to go virtual—but it still managed to include what proved to be some of the year's most critically lauded gay films, including I Carry You With Me and Uncle Frank. The fest's prior incarnation in 2019 served up one of the most acclaimed and popular lesbian movies in recent memory, Portrait of a Lady on Fire. 
So it's no surprise that as AFI Fest pivots back this year to a pando-transitional screening hybrid of virtual and in-person at the Chinese Theatres in Hollywood, the five-day lineup is once again crowded with LGBTQ+-themed excellence from the U.S. and across the globe. Safety protocols will of course be in effect—but for the squeamish, the anti-social, or the just plain lazy, a virtual (albeit more limited) AFI Fest schedule will again be available for 2021.
Whether you choose live or virtual, here are our picks for this year's queer (and -ish) flicks not to miss at AFI Fest, which runs November 10 to 14.
Opening AFI Fest this year is the world premiere of the hotly-awaited adaptation of John Larson's autobiographical musical, starring Andrew Garfield and directed by Lin-Manuel Miranda in his feature debut. Larson was of course the creator of the theatrical phenomenon Rent, and tick, tick… BOOM! is its origin story, as struggling New York City composer Larson responds to the pressures of life and the ravages of the AIDS epidemic. (Screening live with Red Carpet Premiere at TCL Chinese, November 10, 7:30pm)
One of the buzziest films to come out of this year's Venice and Toronto International Film Festivals is the latest from Jane Campion, featuring Benedict Cumberbatch as a deeply closeted gay cowboy in 1925 Montana whose repression manifests itself in the sadistic intimidation of his brother's new wife and her teenage son. (Screening live with Red Carpet Premiere at TCL Chinese, November 10, 7:30pm)
Great Freedom (Grosse Freiheit)
https://www.youtube.com/watch?v=CLQZoNZEOVU
Austria's official submission for next year's Best International Feature Film Oscar and a jury prize winner at this year's Cannes Film Festival, Great Freedom tells the story of irrepressible German homosexual Hans Hoffmann (Franz Rogowski) through several decades, from his wartime imprisonment for repeatedly breaking Nazi Germany's antigay Paragraph 175 law, and post-war following his life, loves and an unexpected friendship. (Screening live at Chinese 3, November 14, 4pm)
https://www.youtube.com/watch?v=mdORAHCydyY
While not technically LGBTQ+-themed, Petite Maman is director Céline Sciamma's eagerly anticipated follow-up to her wildly popular period lesbian romance Portrait of a Lady on Fire. In this film, Sciamma (who also directed 2011's Tomboy) returns to the themes of childhood and family: Eight-year-old Nelly has just lost her grandmother, and while exploring the woods near the matriarch's home, she meets another little girl with striking parallels to her mother. (Screening virtually beginning November 11; screening live at Chinese 1, November 13, 1:15 pm)
Paris, 13th District (Les Olympiades, Paris 13e)
Another film with a strong Portrait of a Lady on Fire connection is this French graphic novel adaptation starring Noémie Merlant (Portrait painter Marianne) as Nora, whose new life in Paris is complicated when she's mistaken for a cam girl. Céline Sciamma also collaborated on the script here, which features a tapestry of love stories including that of free-spirited Émilie and her new roommate Camille. (Screening virtually beginning November 11; screening live at Chinese 1, November 11, 8:15pm)
https://www.youtube.com/watch?v=NSodXElSVTQ
Composer and social justice warrior Leonard Bernstein tells his life story in his own words, artfully pieced together here from many interviews conducted throughout his career, and augmented by segments from his letters, as published in the award-winning 2013 book The Leonard Bernstein Letters. (Screening live with director Douglas Tirola in attendance at Chinese 4, November 12, 3:15pm)
An award winner at this year's Berlin International Film Festival, Ramon and Silvan Zürcher's film focuses on the interpersonal relationships and behavioral cues surrounding a young Swiss woman, Lisa, as she moves out of the apartment she's shared with Mara, who's clearly been more than just her friend. (Screening live along with a conversation with directors Ramon and Silvan Zürcher at Chinese 3, November 14, 1pm)
https://www.youtube.com/watch?v=NSodXElSVTQ
Seen here in its American debut, Wildhood follows Two-Spirit Mi'kmaw teenager Link as he sets off with his younger half-brother Travis in a search for Link's long-lost mother. Along the way they meet Pasmay, another young Mi'kmaw Two-Spirit, and what had at first seemed bleak for Link evolves into a beautiful journey of discovery about family, origins, identity and young love. (Screening live with producers Gharrett Paon and Damon D'Oliveira in attendance at Chinese 3, November 13, 4pm)
AFI Fest 2021's numerous shorts programs will also be peppered with LGBTQ+-themed goodness. Coded: The Hidden Love of J.C. Leyendecker looks at the coded advertisements created by the legendary but closeted gay illustrator. In Israel's Her Dance, estranged transwoman Aya surprises her Orthodox Jewish family by showing up for Shabbat. From Puerto Rico comes Mano Santa, in which a grandfather briefly harbors his runaway grandson after he's fled home. In Boys of a Certain Age, a teenager faces danger and excitement during a weekend of self-discovery with his best friend. Set in Cyprus, A Summer Place follows Tina on her birthday, as a chance encounter stops her from giving up everything.
And a couple of LGBTQ+ film icons will be representing at AFI Fest this year, albeit in non-queer titles, in the form of Pedro Almodóvar's latest Parallel Mothers (starring Penelope Cruz and longtime Almodóvar muse Rossy de Palma), and the arty and meditative Memoria, in which Tilda Swinton plays a Scottish orchid farmer visiting Colombia who struggles to make sense of the sudden-onset sound that only she can hear.
West Hollywood Halloween Events 2021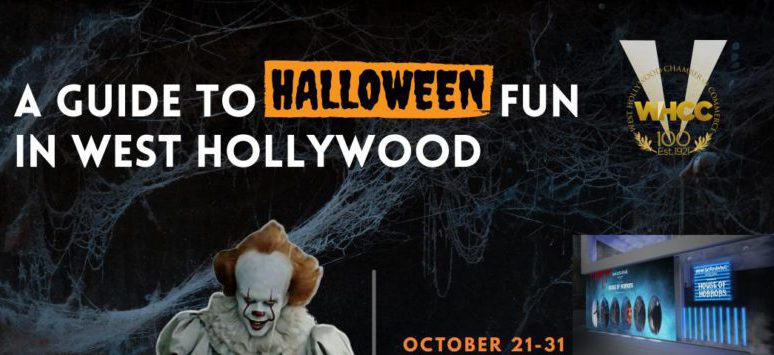 WEST HOLLYWOOD – The West Hollywood Chamber of Commerce has released its annual Halloween events guide available here.
Project Angel Food's 2021 Telethon raises $1.1 million
Project Angel Food is thankful to have received support from friends and the community providing the funding needed to sustain their service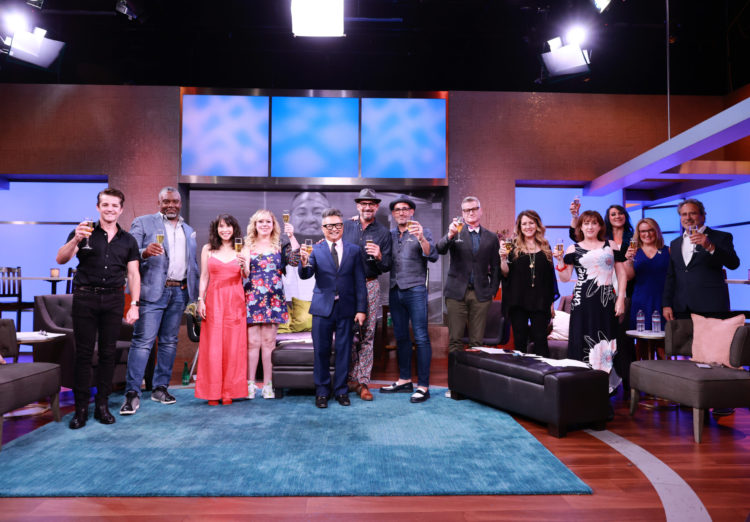 HOLLYWOOD – Los Angeles charity Project Angel Food succeeded in raising $1,126,090 far surpassing their fundraising goal of $800,000 in their 2021 Telethon which aired on KTLA 5 Saturday evening. The Telethon, LEAD WITH LOVE 2021 was presented by City National Bank.
Hosted by by Will & Grace star Eric McCormack and KTLA anchor Jessica Holmes along with Loni Love and Alec Mapa as co-hosts, the evening broadcast opened with a surprise greeting from British Rockstar musician Ringo Starr.
It's been a difficult year for everyone, and Project Angel Food is thankful to have received so much support from friends and the community and providing the funding needed to sustain the expanded service to those in need, preparing and delivering over one million medically tailored meals to our most vulnerable neighbors. Project Angel Food Executive Director Richard Ayoub said, "I am overwhelmed with gratitude and inspiration. The success of this tells me Los Angeles is with us every step of the way."
A good deal of celebrity star power helped to boost the donations which were taken in by phone, online, and text. Loni Love, author, and host of The Real, presented her $25,000 winnings from her recent appearance on ABC's Celebrity Family Feud. Her donation joined that of actor Jamie Lee Curtis who called in live via Skype, made a $10,000 gift from her family foundation.
The Herb Ritts Foundation offered a "match challenge" of $75,000, agreeing to match donations coming in over an hour up to $75,000. The match was reached in just 27 minutes.
Other big donors for the night included: $50,000 each from Susanna Blinkoff & Jordan Corngold, Connie Frank, and Mary Fisher; $30,000 National Rongxiang Xu Foundation & Human Heritage Project; $26,000 from Michael J. Libow; $25,000 from Stanley and Joyce Black Family Foundation, Block Party WeHo, San Manuel Band of Mission Indians, The Chuck Lorre Family Foundation, WEN Hair and Body Care by Chaz Dean, Whole Foods Market, and Main Street Catering…and our thanks to everyone who donated!
A special Tribute was paid to Chef Randy Nakamura, who died from COVID this past year, by celebrity chefs Cat Cora and Stuart O'Keeffe, and actor Brad Garrett, who met Chef Randy at Project Angel Food. Eric McCormack then led a toast, lifting a glass with all the stars in studio to Chef Randy, followed by a special performance by LeAnn Rimes, singing Throw My Arms Around the World, beautifully capturing the spirit of the evening.
Highlights and behind-the-scenes of the night can be seen at Project Angel Food's website…and it's still possible to donate by texting LOVE20 to 50155.