June 13, 2017 at 6:47 pm PDT | by Karen Ocamb
The people's parade: Resist! Persist! Stay Woke!
Santa Monica Boulevard was bare Sunday morning but for a few early birds anticipating something new.
"I want to see how many people show up for the Resist March," said 71-year-old Fernando Padilla, picking up his two-year-old long hair Chihuahua, Oliver. "It's a very different parade from last year."
"I hope people see the solidarity that's happening in Southern California," said John Milovich, 57, wearing a faded American flag T-shirt, claiming a spot outside West Hollywood City Hall. He'd driven up from Long Beach with his long-bearded partner, Robert Martinez, 36, whose T-shirt sported the old "Dairy Queen" logo with "Hairy Queen" instead. "This is America," said Martinez, as if that explained everything.   
The gay Americana tableau was jarred by three trucks with heavily armed sheriff's deputies driving by, receiving a smattering of applause from the occupied tables at Hamburger Mary's. Hanging ten on the cusp of consciousness was the recognition that this was the one-year anniversary of the massacre of mostly gay Latinos at the Pulse nightclub in Orlando. West Hollywood had its own scare that morning, too, after an Indiana man was arrested with a cache of weapons on his way to WeHo. Courageous organizers and participants went on with the LA Pride Parade anyway, joyfully defiant of the pall of terror hanging in the air.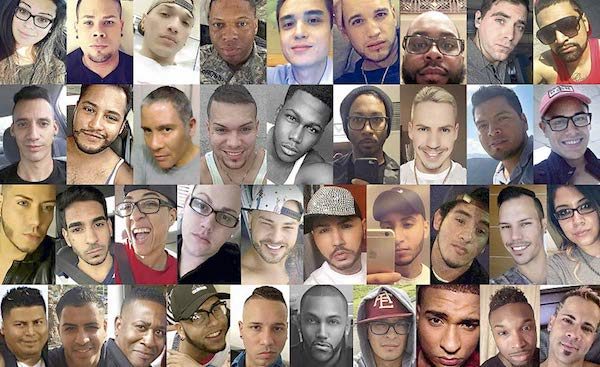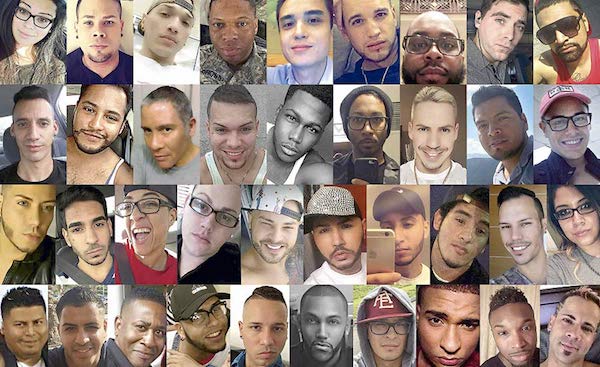 In fact, while Republican presidential candidate Donald Trump framed the deadliest massacre in American history as the work of a radical Islamic terrorist, many in the LGBT community considered it a massive hate crime targeting gays and Latinos—another scorching tragedy that could have been prevented with gun safety laws and an acceptance of common humanity.
But out of the ashes, the spirit of Resistance sprouted, nourished by the loving blood of the Orlando victims and the unrelenting murders of transgender women of color. Tearful, shaken, the LGBT community was nevertheless unbroken. The LGBT community would persist, resist and overcome.    
Brian Pendleton could feel it. Inspired by the massive and peaceful women's marches that mesmerized the world the day after Trump's inauguration last January, Pendleton posted a note on his Facebook page insisting that the response to the terror of Trump's vision for America was to stage a #ResistMarch instead of the usual party parade. This is not normal, Pendleton said, and we must not pretend like it is. He got 30,000 "likes" in 24 hours.
The #ResistMarch was planned to coincide with similar marches in other cities on June 11. Like Christopher Street West co-founder Rev. Troy Perry's vision in 1970 for gay people to get off the sidewalks and into the streets, Pendleton's call to action was to empower ordinary people to take charge of the change they want to see.
"We will resist being driven back into the closet by regressive policies," Pendleton said. The march would also underscore that "we" included LGBT undocumented immigrants at risk of being snatched up and deported by ICE; the LGBT elderly and disabled at risk of drastic cuts to Medicaid; and those with HIV/AIDS, especially young gay/bi men of color, expected to be hard-hit by the proposed $300 million cuts to AIDS funding in the federal budget.
Pendleton made sure the speakers reflected and broadened the true intersectionality of the LGBT movement. "This year the LGBTQ+ community is lending its iconic rainbow flag to anyone who feels their rights are at risk and to everyone who believes that America's strength is its diversity," he said. "When they come for one of us, they come for all of us.  Which is why we our diverse intersectional community must unite as one."
The #ResistMarch represented the twin ideals of love and positive activism. "It's about love and giving love, being able to receive love," said drag superstar RuPaul. "That's our secret weapon. That's the one thing they don't have is our love, our music and our joy."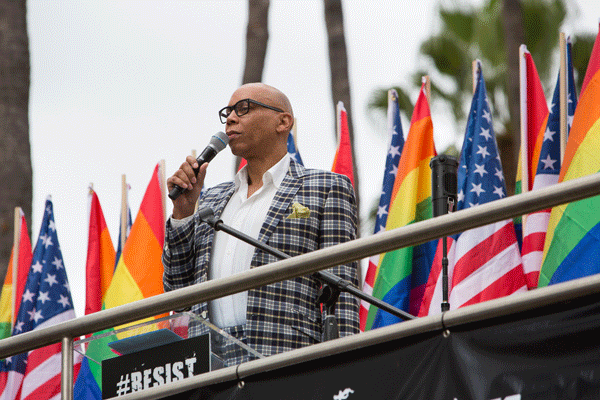 LA LGBT Center CEO Lorri Jean, just back from the week-long AIDS LifeCyle ride, led the crowd in a chant: "LGBTQ people are under attack! What do we do! Act Up! Fight back!"
West Hollywood Mayor John Heilman noted that the city had been a sanctuary, pro-choice city with anti-LGBT and AIDS discrimination laws since its inception. Why, he'd been asked, should the LGBT community "resist" when Trump had not done anything drastic to harm the LGBT community?
"Because we know there are people in Washington, D.C. who want to take away all of those rights from us. And we will not let them!" Heilman said. "And we don't just resist for ourselves, we resist for those LGBTQ young people in other parts of the country that are still being sent to 'conversion therapy.' And we resist on behalf of the LGBT community who can still get fired because there's no national anti-discrimination law. And we resist on behalf of the trans community in Texas and North Carolina who just want to go to the bathroom without being arrested. And we resist in solidarity with the women and girls of this country who want to succeed and go to school and go to work without being groped or raped. And we resist in solidarity with all of those people who are going to lose their healthcare if those crazy people in DC get their way."
LGBT people must resist for immigrants and LGBT people worldwide, Heilman said, "and we resist on behalf of black and brown people who are tired of getting shot and killed!"   
Heilman said: "We resist to tell the world we will not be silent! We will keep fighting until there is full equality and human rights for every person."
Rep. Adam Schiff, who gained national prominence as the ranking Democrat on the House Intelligence Committee, said Trump was deficient in "basic human decency." Schiff was one of the public officials who marched in last year's Pride parade, sharing the grief of the Orlando massacre and the fear of what might come. "For years, we have gathered in these streets to celebrate our pride, and this year we are as proud as ever, but we are also mad as hell," he said.
House Minority Leader Nancy Pelosi said marching is not enough and called on the resisters to get engaged in the 2018 elections and to call Congress to pass the re-introduced Equality Act, which amends and expands the Civil Rights Act of 1964 to include LGBT Americans. "Every step we take forward to end discrimination in our country is a patriotic act," said Pelosi.
Rep. Maxine Waters received thunderous applause as she called for Trump's impeachment. "Impeach 45!" she said. "He's not my president. He's not your president. He lies. He cheats. He's a bully. He disrespects us all. And if he thinks he can mess with the LGBT community — he'd better look at what happened right here in West Hollywood." But it won't be easy. "Stay woke," she warned.
Unlike past parades where stars and important people were pampered and protected, the #ResistMarch was a people's parade.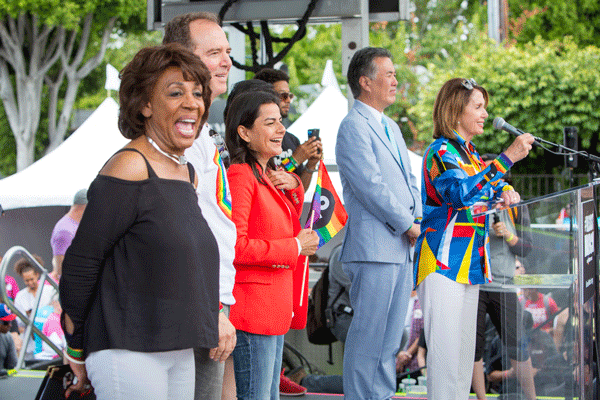 Schiff, Pelosi, and Waters melted into the mass of humanity stepping off sidewalks into the streets, waving signs, crossing generations and cultures where Grand Marshall Alexei Romanoff, who in 1967 organized protests against the LAPD after the raid of the Black Cat bar in Silver Lake was just as important as nervous courageous 22-year old speaker Jose Guevara, who told the crowd in WeHo that he is an undocumented DREAMer fighting leukemia.
They joined Jacob Gibson, 17, and Jennifer Grand-Champs, 42, from the Valley who said she was marching for her son's equal rights.
Watching the joyous determination of Maxine Waters alongside Black AIDS Institute founder Phill Wilson and "Empire" star Jussie Smollett at first reminded me of an updated version of that famous post-Stonewall photo of happy gay liberationists in New York City intent on claiming their rights.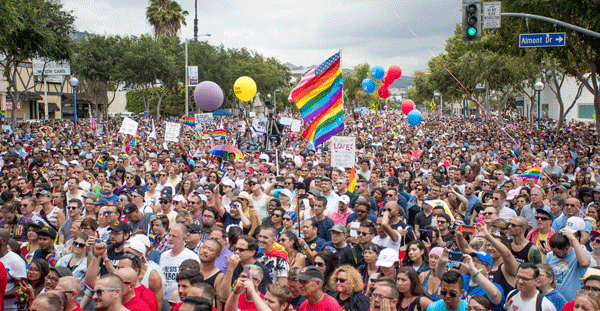 And then the image inspired a deeper feeling—the 1967 "Summer of Love" when so many people of all ages, colors and backgrounds called each other "brother" and "sister" and joined together in protesting the Vietnam War. Death was a constant far away terror with the government lying to keep the illusion of "winning" alive as bodies of our drafted friends, family and loved ones came home silently, as if each was an image of national shame.
Our outrage surfaced gradually, until more and more strangers became friends, countering the war, racism, sexism and "America – Love it or Leave it" hatred with love, protests and dazzling psychedelic unity. We really did believe we could change the world.
Perhaps something old is new again. The #ResistMarch made many feel like resistance, persistence and staying woke could sprout a new counter-Trump-culture movement and change the world for the better. At least there's hope.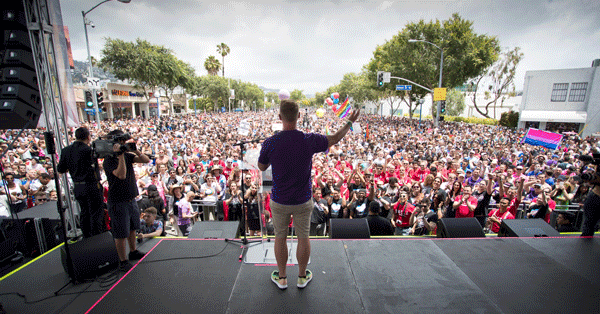 Equality Florida is still raising money to help the survivors and families of the Orlando 49. If you would like to contribute, go their #HonorThemWithAction GoFundMeaccount. https://www.gofundme.com/forthe49