'Big Queer Convo: After Orlando: The Resistance Continues'
Remembering Pulse and moving forward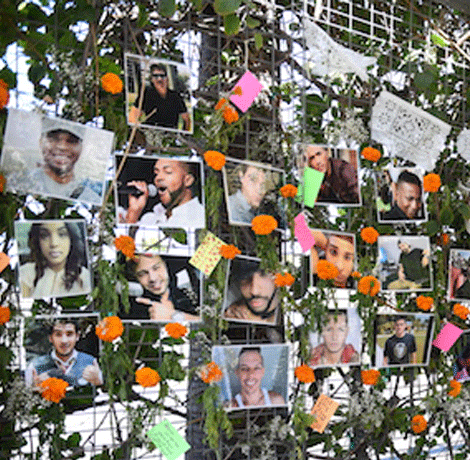 Tuesday a panel of like-minded activists held a forum at the Los Angeles LGBT Center Villages at Ed Gould Plaza,  to discuss how to move forward one year after the Pulse nightclub massacre in Orlando, Florida, and the fallout and significance of a President Trump administration.
Apolonio Morales from the Coalition for Humane Immigrant Rights, Mariana Marroquin from the Los Angeles LGBT Center, Shedrick Davis of Lambda Legal, and Nikki Levy, an activist and actor, focused their talk on the mission of "intersectionality," among various communities and strategies for unifying them.
One of the topics that came up in the discussion again and again was that despite the horror of Pulse or the November election, there have been surprisingly positive signs of groups aligning.
"Pulse shattered the illusion of many of our perceptions and it brought home that the brutality and the violence that exists in other communities can exist in the gay community in such a shocking way," Morales said.  
"With the Evangelical community coming in to engage with victims and their families — which you don't normally see. So, in this moment, in a terrible tragedy, you also see these moments of opportunity and opening up of dialog and conversations," he added.
Davis said the Pulse nightclub shooting was a wakeup call for activists.
"Pulse set in motion the perception that violence against our ability to just be, and the backlash against the rights that seemed to have been granted by decisions and progression regulations that the Obama administration had begun to implement," Davis said.
"Election night reinforced that for me, and a lot of people in the community, and it's played out now for the general LGBT community as well, it's not been just the direct attacks that immigrants and Muslims have faced. It marked a turning point. We're back on defense."
Marroquin made the point that although there's been a new era of resistance, people should consider some in the community who don't necessarily have the strength to fight back.
"To say, 'we have to fight back' is powerful, but for someone who has been all their lives fighting to be who they are, it may be a little bit too much to ask," she says. "Let's keep those people in mind."
Davis says that since Trump's election, Lambda Legal has adopted a strategy of resistance. "We've come too far to give these rights away, and we took notes on the obstruction tactics of our opponents during the Obama administration, of filing suit with something they disagreed with and slowing it down," he said.
Davis adds that Lambda Legal has a four step approach to fighting Trump's positions:  resist, slow or stop legislation and regulations that infringe on LGBT people's rights, shed light on those laws, and educate people on their rights.
Almost all of the panelists agreed that the one element needed to overcome for a safe future for those most at-risk communities, (immigrants, people of color, and LGBTQ) is vanquishing the fear that exists around people with varying opinions, and the importance of understanding and talking to one another.
"I want to make sure that when I wake up every morning, I ask myself, 'Am I excluding someone? Am I being intentional? Am I being considerate? Do I have gaps in my thinking? And how do I close those gaps?' And with all the things happening around the country, the Women's March, the protests at LAX after the Muslim travel ban, the Resist March, I ask have to ask myself, 'do I know enough about the other to recognize their humanity?' I think that's an honest conversation I have to have with myself," Morales said.  
Undeterred by tragedies such as Pulse, or the senseless deaths of 22 transgender women in the U.S., or Southern Poverty Law Center's documented 1,372 hate crimes between the 2016 U.S. presidential election and February 2017, Tuesday's panelists remain hopeful.
"We will survive this and we will make it work and keep providing a safe space for those who aren't empowered enough and are still living in fear," Marroquin said.
Monét X Change joins Kiva to Celebrate Pride
Kiva, the sought-after cannabis brand, is following through once again with their second annual partnership with world famous drag superstar Monét X Change.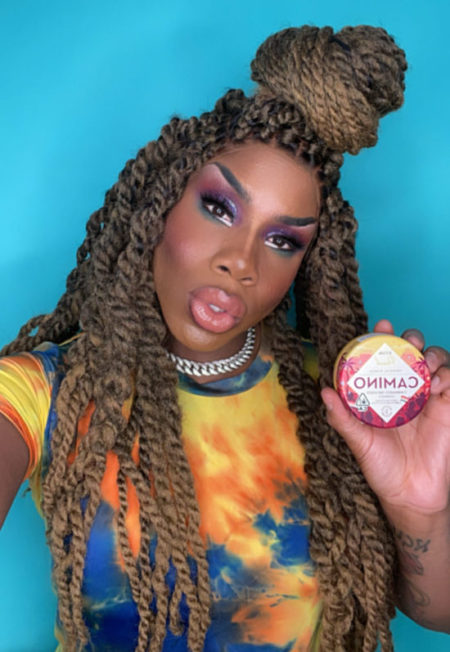 LOS ANGELES – 'Tis the season of rainbow sponsorships. Pride partnerships between companies of all sizes and queer celebrities of all caches abound. In the whirl of Pride collabs, it's important to know which companies are for real.
Kiva, the sought-after cannabis brand, is following through once again with their second annual partnership with world famous drag superstar Monét X Change. Monét went Live on Kiva's Instagram Thursday evening, hosting a candid conversation with viewers on Pride, cannabis and how the two are intertwined.
On her Instagram Live, Monét started off the bat by calling out other companies who "slap on a rainbow" and call it a day. Kiva is not one of those companies. This Pride month, Kiva has made donations to GLAAD and has pledged to continue their involvement and support of the LGBT+ community year-round, something with Monét cited on Live as especially noteworthy.
GLAAD is an internationally recognized LGBT+ organization that works ubiquitously in the worlds of entertainment, news, and digital media to accelerate acceptance and celebrate LGBTQ+ stories.
Monét X Change gained fame on the 10th season of RuPaul's Drag Race, where she won Miss Congeniality. She went on to win (in a tie) the fourth season of RuPaul's Drag Race All Stars. Working her way to the top of the industry, she is now regarded as one of the most popular and successful queens to come out of the show, frequently partnering with her pal from New York, Season 8 winner Bob the Drag Queen.
You can now find Monét everywhere in almost every facet of the entertainment world. Most recently, Monét released "Love Like This" – a beachy bop with a fresh queer Caribbean sound.
Joining Monét's Kiva live stream was a colorful bunch of up and coming New York queens, including the in-demand Jacklynn Hyde, her leggy New York sister Tina Twirler and the crown-snatching Sabbyiana.
Back by popular demand, Kiva is relaunching the much asked for Tropical Punch Camino Gummies. These fruity little edibles are a Pride spin-off of Kiva's popular line of Camino gummies. A light, refreshing edible with 5mg THC per dose perfect for Pride month.
LA Pride breaks silence announces 'Thrive with Pride'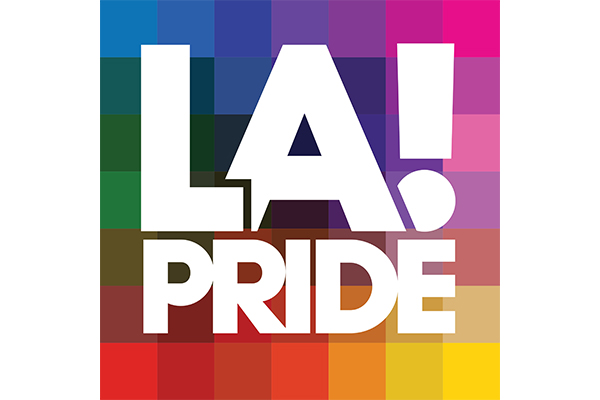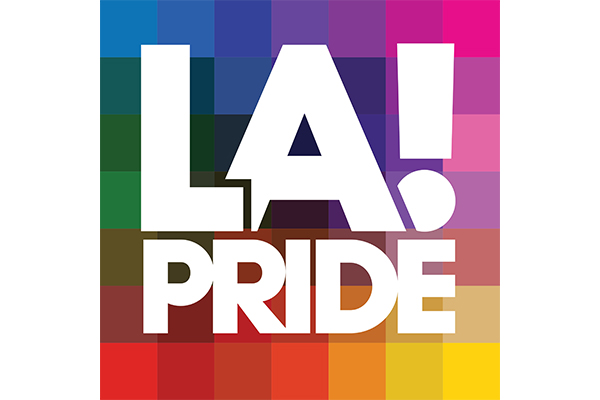 LOS ANGELES – After weeks of 'stay tuned' on its website and no real engagement with the media or the LGBTQ community, Christopher Street West Association Inc. the nonprofit organization that produces the annual LA Pride celebration announced its planned June programming for LA Pride 2021 on Thursday.
Pride 2021 activations are themed around the daily reminder to Thrive with Pride.
LA Pride weekend will kick-off on Thursday night, June 10th with a concert exclusively presented by and live streamed on TikTok featuring hyper-pop diva Charli XCX and a showcase of up and coming LGBTQ+ performers across genres. In-person concert opportunities are not available at this time. Fans and followers can follow @tiktokforgood and @lapride on TikTok for updates and advanced promotions.
Further, a televised special titled "Thrive with Pride Celebration" is set for Saturday, June 12th airing 9:00pm-10:00pm PDT on ABC 7 Los Angeles, the most-watched station in Southern California, will feature special guests, performances and LA Pride honorees.
"To thrive means to flourish and progress despite the circumstances. Pride this year is a moment for you to stop and breathe," said Sharon-Franklin Brown, CSW board president. "It's a moment to remember you're not just surviving one of the hardest years in recent memory, but growing into your truth. This is why we were so intentional in our planning. We want to bring a moment of celebration, a moment to highlight the community, and an opportunity to give back. If we as a community can come together, even for a moment, to realize we've broken down some barriers put on us, it'll strengthen our resolve to continue tearing more down for those to come after us."
"After an unprecedented year of challenge and struggle, I am so pleased that this year's pride festivities embrace the spirit of the first pride parade and our activist roots," said Los Angeles City Councilmember Mitch O'Farrell. "By bringing together LGBTQ+ communities from every corner of our City, we will uplift all voices and elevate the important work of the icons of the LGBTQ movement who sacrificed everything in their young lives at the time so we can all celebrate together in 2021. With a mix of virtual and potential in-person events, this year's festivities will keep our community safe and connected while providing every Angeleno an opportunity to embrace giving and volunteerism."
In recognition of the incredibly difficult work Los Angeles social justice and non-profit organizations have put into achieving equity, actionable change and stability, LA Pride will launch a 30-day give back campaign to support these efforts. Pride Makes a Difference will highlight opportunities for Angelenos to sign up to either volunteer, or donate goods and/or money to local organizations in Los Angeles County. Pride Makes a Difference is a new program in conjunction with Big Sunday. As part of these new efforts, drop off locations will be set up all throughout Los Angeles. A list of selected local organizations and drop off sites will be available soon to choose from, as well as the sign-up details and commitment.
"Our utmost priority in whatever we're doing to celebrate Pride this year ensures safety and follows CDC-approved pandemic guidelines," continued Brown. "That's why we're announcing this programming first. Any potential in-person celebratory activations will be announced at a later date in the coming weeks. The more we put safety first, the more likely we're able to plan big physical events in the future, including Pride 2022, where we can celebrate who we are, where we came from, and where we need to go."
LA Pride 2021 looks to be virtual with limited in-person events- maybe?
There have not been any announcements for plans for Pride month events in June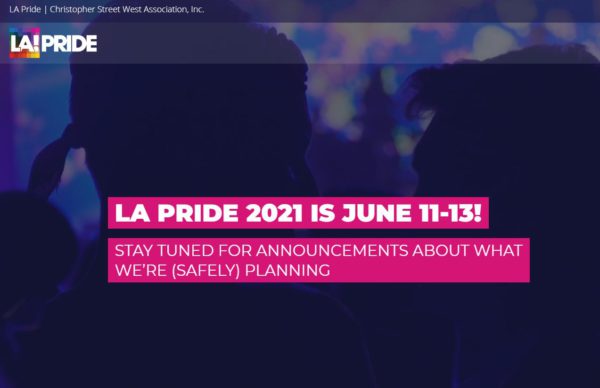 LOS ANGELES – The months April and May are usually crunch time in planning for Pride events in any year, however the impact of the coronavirus pandemic has shut down larger scale in-person gatherings as well as restricted smaller events in both outdoor and indoor venues.
This year, however, remains a question mark and so far there's been no concrete planning announcements.
Last week, California Governor Gavin Newsom announced that as the state has surpassed a major milestone in the fight against COVID- administering more than 20 million vaccine doses, including 4 million in the state's hardest-hit communities, officials intend to fully reopen on June 15.
However, common-sense health measures such as masking will remain across the state. Testing or vaccination verification requirements will remain in relevant settings.
All sectors listed in the current Blueprint for a Safer Economy grid may return to usual operations in compliance with Cal/OSHA requirements and with common-sense public health policies in place, such as required masking, testing and with vaccinations encouraged.
Large-scale indoor events, such as conventions, will be allowed to occur with testing or vaccination verification requirements.
Pride would fall into the latter category.
A spokesperson for The Los Angeles County Department of Public Health echoed the governor's announcement but stressed there were science and data driven caveats to modification of the Public Health Order allowing large-scale events and that systems would be required in place to protect the public's health.
A majority of Pride events in 2020 were either cancelled outright or moved online as California was under strict 'Stay-At-Home' orders.
This year, even with the governor's announcement there have not been any announcements for plans for Pride month events in June. The Blade reached out to the both the City of West Hollywood and Christopher Street West which runs LA Pride seeking information.
In an email, a spokesperson for the City of West Hollywood said that it is anticipated that the West Hollywood City Council will receive an update on programming for the celebration of LGBTQ Pride 2021 at its regular City Council meeting on April 19, 2021.
'At this time, the City of West Hollywood remains in a declared local emergency in order to respond to the COVID-19 pandemic. Despite extraordinary progress in vaccinations and in opening certain sectors of the economy, COVID-19 community transmission remains a top concern to the City and to local health officials; this year there will be no large in-person gatherings, including the events we typically see in West Hollywood during Pride festivities," Sheri A. Lunn, the Public Information Officer for City of West Hollywood told the Blade.
"Gov. Newsom's announcement to fully open its economy is conditioned on the state meeting two criteria: 1) sufficient vaccine supply for Californians 16 years and older who wish to be inoculated, and 2) stable and low hospitalization rates. In planning ahead, the City must anticipate shifts in the timing of these policy changes and plan accordingly to ensure the health and safety of residents, business community members, and visitors," she added.
For Pride 2021, the City of West Hollywood will host its annual One City One Pride LGBTQ Arts Festival, which will take place with a series of virtual events that will run from Harvey Milk Day (May 22) through the end of June Pride month (June 30). The City plans to work with the West Hollywood Chamber of Commerce to encourage and promote the efforts of West Hollywood's business community during Pride season this year to celebrate in accordance to regularly revised guidelines established by the Los Angeles County Department of Public Health.
So far there has been no comment nor statements from LA Pride/Christopher Street West nor has the organization returned phone calls from the Blade regarding plans for Pride.
On its website the organization simply says "Stay Tuned."
The Blade also reached out to several businesses and a couple of LGBTQ organizations, all of which said that there had been no news or announcements for Pride planning as of this week.