LA Pride Parade and Village Details
Pride Village is the place to be after the parade with festivities taking place from 12:00 p.m. to 8:00 p.m., just steps from the parade route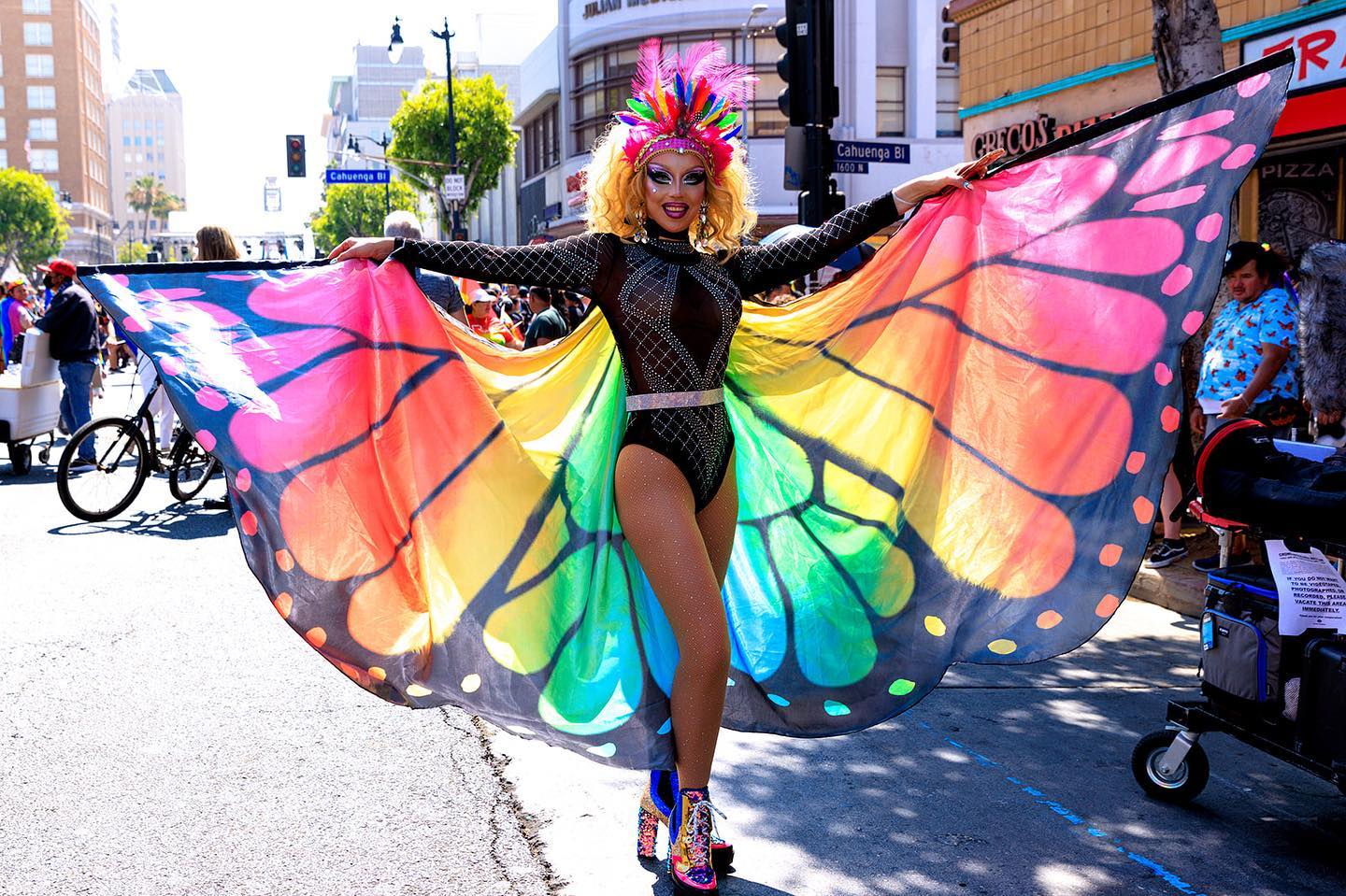 HOLLYWOOD – The second annual LA Pride Village on Hollywood Boulevard will bring the free, all-day street festival to a new location between Vine Street and Gower Street just steps away from the official LA Pride Parade route on June 11.
At 9:00 AM on June 11, The Hollywood Partnership CEO & President Kathleen Rawson will deliver a welcome note in front of Pantages Theatre, and at 2:00 PM elected officials – including Senator Ben Allen, Senator Maria Elena Durazo, Board Supervisor Lindsey Horvath, Council Member Hugo Soto-Martinez and Assemblymember Rick Chavez Zbur – will welcome festival goers at the Celebration Stage on Gower St. and Hollywood Blvd.
Christopher Street West Association (CSW) announced its trio of grand marshals to be celebrated at the LA Pride Parade on Sunday, June 11 taking place at its original historic location in Hollywood.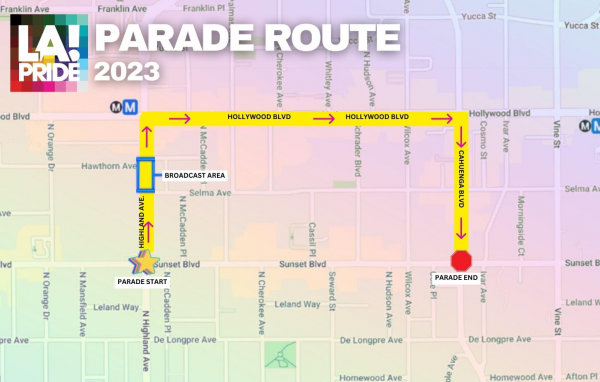 The parade, which will feature a special drag performance presented by the ACLU SoCal and staged by Morgan McMichaels to music by 14-time Oscar nominee Diane Warren, will air LIVE on long-time LA Pride broadcasting partner KABC/ABC7 on Sunday, June 11 beginning at 11:00 a.m. PDT.
This year's LA Pride Parade grand marshals include comedian, actor and activist Margaret Cho as the Icon Grand Marshal, an individual who needs no introduction and achieved major milestones within their career and industry; a posthumous tribute to Emmy-winner Leslie Jordan as the Legacy Grand Marshal, a new title this year in honor of Jordan for his everlasting impact on the community; and the ACLU of Southern California, that helped CSW obtain the permit for the first LA Pride parade, as the Community Grand Marshal, which celebrates a group or individual who has had a powerful influence through their work and dedication to and for the LGBTQ community.
"I'm thrilled and incredibly honored to be the Icon Grand Marshal," said Cho. "We need this Pride more than ever. I have been attending Pride celebrations since 1978 and this time around the need to celebrate as well as unite is more urgent than it has ever been. Our love is greater than their hate.
"On behalf of Leslie Jordan, we are overjoyed by Christopher Street West's heartfelt recognition to name Leslie as LA Pride's Legacy Grand Marshal," said Jana "Cricket" Jordan. "This honor further solidifies the positive impact he made in the world, but more importantly for the LGBTQ+ community. His spirit continues to bring love and light."
"For a century, we've been on the front lines fighting for people to be their true, authentic selves," said Hector Villagra, executive director of the ACLU SoCal. "We're honored to be the Community Grand Marshal and proud to love, live among, and protect LGBTQ Californians."
"Christopher Street West is honored and humbled by this year's three grand marshals," said Gerald Garth, president of CSW. "Each have contributed to the LGBTQ+ community in their own unique ways, furthering our fight for acceptance, equality, and justice."
It will also air nationally on ABC News Live and Hulu, and wherever viewers stream ABC7 including abc7.com and the ABC7LA mobile app.
Anchor Ellen Leyva and reporter Christiane Cordero from ABC7 Eyewitness News will co-host the ABC7 broadcast. The parade route will begin at Sunset Blvd and Highland Ave heading north, then east onto Hollywood Blvd, then south onto Cahuenga Blvd, ending at Sunset Blvd and Cahuenga Blvd.
Additionally, The Hollywood Partnership, the non-profit organization that oversees the public realm in the Hollywood Business Improvement District (BID), has once again partnered with LA Pride to bring the LA Pride Village back to Hollywood Blvd.
LA Pride Village is the official place to be after the LA Pride Parade, with festivities taking place from 12:00 p.m. to 8:00 p.m., just steps from the official parade route.
When the iconic LA Pride Parade returned home to Hollywood Blvd last year after more than four decades, it prompted the start of new traditions and celebrations in Hollywood, including LA Pride Village, a free and open to the public street festival.
The second annual LA Pride Village celebration promises to be even bigger and better, with a new location on Hollywood Blvd, between Vine St. and Gower St., to make room for more booths featuring local vendors and non-profits, an expanded beer garden, delicious food trucks, two performance stages for twice the entertainment, and more comfortable crowd space for dancing.
All details can be found here: https://lapridevillage.com/do/la-pride-2023.
Sponsors of LA Pride Village include Princess Cruises and Royal-bud.com.
Public transit and ride share services to LA Pride Parade and Village are strongly encouraged. For the Parade, connect to the L.A. Metro B (Red) Line and exit Hollywood/Highland or Hollywood/Vine Station. Metro has many Park & Ride lots servicing the county – parking is just $3.00 per day, payable onsite.
If self-driving to LA Pride Parade and Village, vehicles can access parking and the event site via Vine Street or Gower Street.
WHAT:
LA Pride Village is the ultimate free community street festival happening on Sunday, June 11, in honor of the LGBTQIA+ community. Hosted by The Hollywood Partnership and LA Pride, it's the perfect complement to the LA Pride Parade, as it is located just steps away from the iconic procession on Hollywood Boulevard, between Vine Street and Gower Street. Festivities include:
90 local vendor booths
Two entertainment stages featuring 14 performances
An expanded bar garden
11 Food trucks
1 LGBTQ+ Cinema Film Festival by NewFilmmakers LA @ The Montalbán Theatre
More comfortable crowd space for dancing and celebrating Pride on Hollywood Boulevard
WHEN:
Sunday, June 11, 2023
12 PM to 8 PM (all day)

KEY TIMES: 
12 PM: LA Pride Village OPENS

12-8 PM: 14 Performances across two stages by Pride notables like Mariachi Arcoiris, Bob Baker Marionette Theatre, the Gay Freedom Band LA, Secret Circus, Dance Church, and LA's favorite queer AAPI drag party, Send Noodz

2 PM: Elected officials welcome Pride festival goers to LA Pride Village

Senator Ben Allen, Senator Maria Elena Durazo, Assemblymember Rick Zbur, LA County Supervisor Lindsey Horvath, LA City Councilmember Hugo Soto-Martinez

2:15 PM-2:45 PM: Interviews available with elected officials
3:00 PM-10:30 PM: NewFilmmakers LA Presents LGBTQ+ Cinema with The Montalbán @ 2023 LA PRIDE: This special event at Hollywood's famed Montalbán Theatre features LGBTQ+ films spotlighting emerging filmmakers telling stories from across the spectrum of queer identities by artists from diverse backgrounds, including a strong representation of BIPOC storytellers. The event also hosts a full bar with reception space for mingling throughout the day, and Q&A sessions with filmmakers from each program.
8 PM: LA Pride Village CLOSES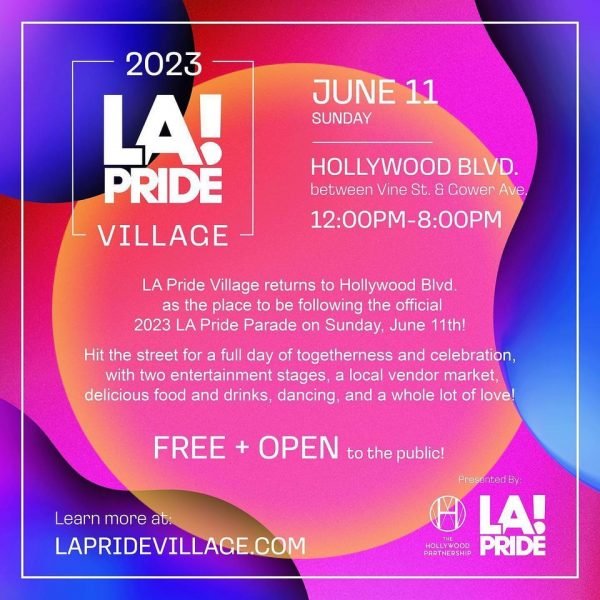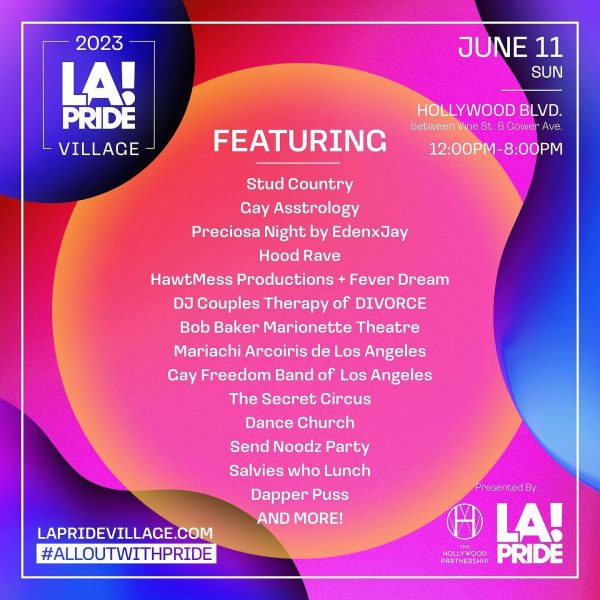 LA Pride in the Park: 6/9-6/10
It's going down with Mariah Carey + Megan Thee Stallion! Don't miss out — tickets at lapride.org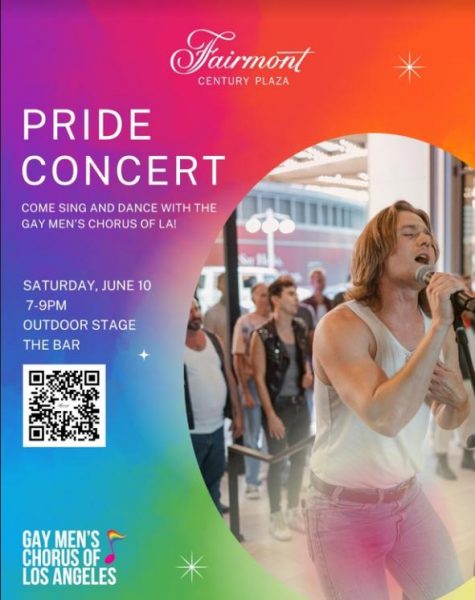 This June in honor of PRIDE, Century City's Fairmont Century Plaza invites guests to an extraordinary two-hour live concert performance from the Gay Men's Chorus of Los Angeles. Returning this year, the non-profit organization will be performing at the hotel with a mission to change hearts and minds through the power of music.
The event will feature a vibrant approach to an array of iconic songs from Queen, Motown, Sondheim, and more, taking place at the hotel on Saturday June 10th from 7:00 pm to 9:00 pm. This will be their main West Los Angeles PRIDE performance. VIP tickets will be $55 and will include two cocktails. Free General Admission is also available and the performance will be open to the public.
Live music has been a prominent component of the Fairmont Century Plaza experience since its beginning and the hotel is looking forward to honoring PRIDE this year with this monumental performance.
Mariah Carey & Megan Thee Stallion grab the spotlights at LA Pride
At the end of the day it's not glitz, glamor or fabulosity. It's about a deeper connection that Mariah & Megan have forged with our community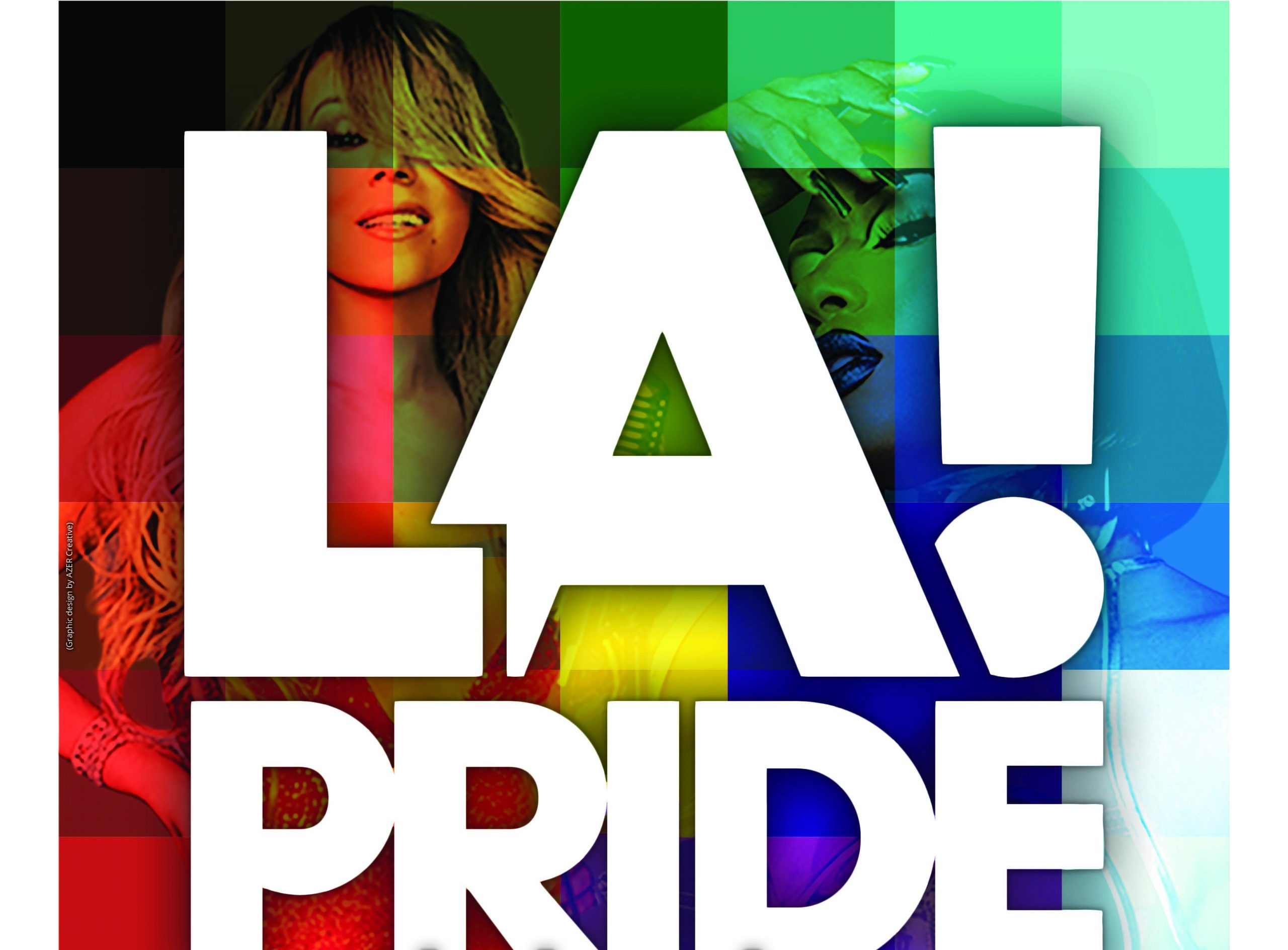 HOLLYWOOD – There is no doubt that the Christopher Street West Association, the group behind LA Pride's celebration for over 50 years, knows how to throw a party. This year, in a time when the community needs it the most, they have out done themselves.
Mariah Carey and Megan Thee Stallion. Mic drops both.
While words like "divas", "queens" and "icons" would not be inappropriate, those words are reductive as to whom these two woman actually are. Each is a master at her musical and performance craft. Each has re-defined and exemplified her lane in pop culture.
More to the point, each has lived and generously given of the true concept of "Pride" itself.
Pride is a consciousness of one's own dignity. It is a confidence and self-respect for a community that has been socially marginalized. It is an empowerment that grows from a unified and shared identity, culture and experience.
Mariah and Megan are not mere pop participants of Pride, they are pillars in its modern architecture. "Mimi (Mariah) emancipated us all," Jonathan Riggs of Shondaland2 has said. She herself has given her own definition of the LGBTQ community as "Legendary, Gorgeous, Beautiful, Tantalizing, and Quality."
Megan Thee Stallion has confronted homophobia in rap music and helped evolve the genre. She has said, "It is about time. Representation is important, and it is really crucial for us all to have compassion and acceptance of every human."
Gerald Garth, the board president of LA Pride, positioned the entertainment choice this year, "Mariah Carey and Megan Thee Stallion are the perfect artists to headline LA Pride in the Park … These empowering and iconic women are sure to take the stage by storm." Clearly, each of the artists are likewise enthused over the gig. Mariah declared, "I'm thrilled and honored to be a part of LA Pride 2023. I am happy to be back in person celebrating with the LGBTQIA+ community here in Southern California and throughout all of the lands!!! Let's come together to celebrate love, inclusion, and Pride."
Megan concurred with, "I can't wait to headline LA Pride in the Park and celebrate the phenomenal LGBTQIA+ community. This incredible event advocates for diversity, inclusivity and equality, so I'm honored to perform and have a blast with all of the Hotties in attendance."
From merely looking at the professional accomplishments of each woman, witnessing them live would be a lifetime landmark event. Mariah Carey is a cultural maven on many fronts, driving from her obvious success as a singer, songwriter, record producer, to actor, and a New York Times bestselling author. Guinness World Records calls her the "Songbird Supreme." She has been credited with helping to revitalize the music industry in the 1990s and is considered one of the most influential female singers of all time. She has sold over 200 million records worldwide and is one of the best-selling music artists of all time. Carey has won five GRAMMY Awards, 19 World Music Awards, and 14 American Music Awards.
Can Megan Thee Stallion compete with that? Well, she doesn't have to, nor does she have an appetite for such a conversation. She has said, "I don't feel like I'm in competitive with anybody. If I'm worried about beating somebody else, I'm not going to be the best version of me. It shouldn't be a competition because somebody else winning is not going to make me lose."
Billboard has said of Megan, "Megan Thee Stallion is a force to be reckoned with. She has a unique style, a powerful flow, and a message of empowerment that resonates with millions of fans." Pitchfork concurs saying, "Megan Thee Stallion is one of the most exciting voices in rap right now. She's fierce, she's funny, she's smart, she's sexy, she's versatile." Time Magazine did not hold back on their view, "Megan Thee Stallion is a superstar who's rewriting the history of rap music."
Like Mariah, Megan's professional pedigree is vast. She is a three-time GRAMMY-winning recording artist, philanthropist and entrepreneur. From earning two Billboard Hot 100 No. 1 hits with the "Savage (Remix)" featuring Beyoncé, and "WAP" with Cardi B to releasing her dynamic album "Traumazine," she has proven unstoppable. Her musical achievement recognitions, include three GRAMMY wins, nine BET Awards and back-to-back Billboard Music Awards for Top Rap Female Artist. Additionally, she has been honored for her advocacy efforts, having received the 2022 Special Achievement Award at The Webby Awards and the Trailblazer Award at the iHeartRadio Music Awards. Most recently, Megan made history in Nov. 2022, becoming the first Black woman to appear on the cover of Forbes' prestigious Under 30 issue. She was previously recognized as one of TIME's 100 Most Influential People of 2020 after publishing her monumental "Why I Speak Up For Black Women" op-ed for The New York Times.
Those accomplishments by both notwithstanding, they each have also earned serious creds with the LGBTQ community. Their ability to do so does not seem to be superficial, but instead emanating from their own individual fabric. Mariah has spoken with great affection about the gay couple who helped raise her. Megan similarly has spoken about her mother's values. "I was raised by a woman who was her true and authentic self. So I feel like it's very important to put on for people who aren't that confident or people who don't realize the value in self-love."
Mariah has also referenced maternal influence. "It's in my genes. My mother was an opera singer. I'm clearly dramatic."
Both have headlined and hosted multiple LGBTQ Pride and charitable events. Marah has orchestrated multiple surprise LGBTQ+ marriage proposals on stage during her shows, she is a proponent of GLAAD's Spirit Day and last year released a Pride collection of merchandise. Megan has collaborates with many LGBTQ+ artists such as Big Freedia, MNEK, and Saucy Santana, she is a major contributor to LGBTQ+ organizations and celebrates LGBTQ+ fans and influencers on her social media platforms.
As matrons of Pride courage, each woman has plenty advice for their LGBTQ+ admirers. "The main goal of my music is to make people feel strong and confident," says Megan. She also points out, "I feel like, when people realize that they are the only person they need to impress, everybody's life will be a lot smoother." She also adds, "It's not just about being sexy, it's about being confident and me being confident in my sexuality."
No one would cite Mariah for having a lack of confidence either. "I'm proud of what I am and who I am, and I'm just going to be myself," she has said. With that, she has laid the groundwork for a foundation of hope and courage for her followers. "If you believe in yourself enough and know what you want, you're gonna make it happen." She has also colored her philosophy with unicorn inspirations, "After every storm, if you look hard enough, a rainbow appears," she says. She is a proponent of grabbing life and truly living it. "You can't live with regrets. It's about the journey…Whatever you're going through in your life, don't ever give up." Her ideology is also experienced in her music, "It's kinda like being on a roller coaster. If you don't get on the ride, you won't experience the adventure."
"So when you feel like hope is gone, look inside you and be strong, and you'll finally see the truth – that a hero lies in you."
Mariah, to be fair, has achieved a fandom that is unmatchable. She is a superstar of superstars and has earned homage from others who have their own outstanding presence in the pop world.
"Mariah Carey is one of the greatest singers of all time. She has a voice that can move mountains." – Whitney Houston said of her. "She's a genius as a musical artist, but also as a businesswoman. She's been in the game for so long and she's still killing it," stated Rihanna. Ariana Grande is quoted as declaring "She's a legend, she's an icon, she's the greatest female artist of our generation."
In short, audiences in Los Angeles on June 9th and 10th will experience moments they will never forget.
Two well spoke, brilliantly intentioned, and talented women will entertain and remind all how they got to be the icons they have become.
At the end of the day, however, it is not the glitz, glamor or fabulosity. It is about a deeper connection that Mariah Carey and Megan Thee Stallion have forged with our community. It is a bond like one that Maya Angelou wrote about when she said "People will forget what you said, people will forget about what you did, but people will never forget how you made them feel."
Our relationship with these two women is personal. "If you've got love for me, then I'm gonna have love for you, period," Megan has said.
When they take their respective stages, the love will be flowing, but that love and their music is more significant for when it reached us originally, when we weren't in an adoring crowd.
It was significant in the moments when we were alone, and feeling particularly ALONE. As Ian Eagleton of the Guardian described, "At my boys' school I was shoved, spat at and brutally bullied. Carey's songs made me dig deep and keep going, even when I had a breakdown years later."
Their music gave us spirit when we had none. It gave us hope, it gave us empowerment to rise above, it helped us believe it all might someday get better.
Now it has. Now we celebrate. Now we embrace Pride. Now we vow to fight on.
Now we dance.
**************************************************************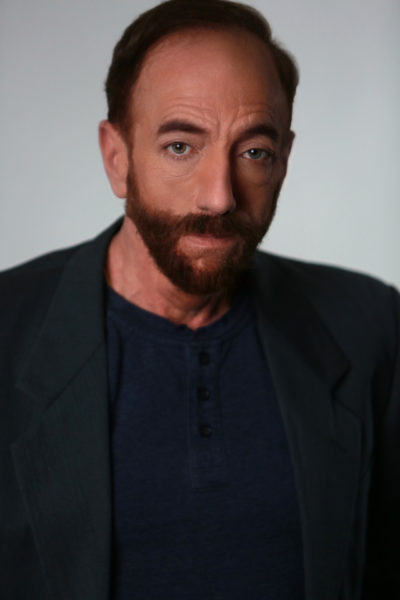 Rob Watson is the host of the popular Hollywood-based radio/podcast show RATED LGBT RADIO.
He is an established LGBTQ columnist and blogger having written for many top online publications including The Los Angeles Blade, The Washington Blade, Parents Magazine, the Huffington Post, LGBTQ Nation, Gay Star News, the New Civil Rights Movement, and more.
He served as Executive Editor for The Good Man Project, has appeared on MSNBC and been quoted in Business Week and Forbes Magazine.
He is CEO of Watson Writes, a marketing communications agency, and can be reached at [email protected] .