June 23, 2017 at 2:49 pm PST | by Karen Ocamb
Log Cabin Republican Brian Perry memorial on Saturday
A big broad smile that seemed to anchor his thin frame, Brian Perry was the kind of politico who looked at leadership as standing for principle in the face of the Great Wall of Hate. Perry died at home on Monday, June 12 of undisclosed causes. He was 55.
As President of the Los Angeles chapter of the Log Cabin Republicans and as President of the statewide Log Cabin Republicans of California in the era of Gov. Pete Wilson's 1991 veto of the gay civil rights bill AB 101, which he had promised LCR founder Frank Ricchiazzi he would sign and populist Patrick Buchanan's ugly dark anti-gay speech at the 1992 Republican Convention, Perry stood tall.  He upheld not only such traditional core Republican values as smaller government and stronger defense but the values of Republican President Abraham Lincoln of equality and justice for all. In 1993, he worked to elect attorney Richard Riordan as mayor of Los Angeles, inspired by Riordan's commitment to diversity.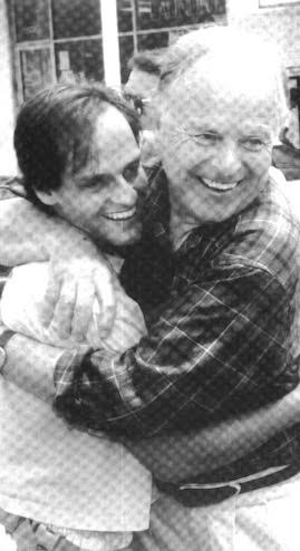 Perry was on hand when mayor-elect Riordan made history by riding in LA Pride parade, alongside newly out L.A. City Councilmember Joel Wachs. The affection between Perry and Riordan was captured in a photo that went public.
Perry was also a fixture at LA Pride, riding the fire truck with elected officials and staff as his boss, LA City Councilmember Dennis Zine weaved in circles ahead on his Harley-Davidson.  Perry worked as Zine's legislative aide for 12 years, often getting quote in the press while standing in for his boss.
"It's time to set Ontario free," Perry was quoted as saying in Sept. 2012, reading his boss' statement at a conference in Ontario convened with federal representation to investigate why the medium-hub L.A./Ontario International Airport had lost so much passenger traffic.
Indeed, Perry was so good at his job, he was expressly honored in May 2010 for joining the two cities of Beirut, Lebanon and Los Angeles in friendship.  A press releases reads, in part:  "Community leaders and Los Angeles/Beirut Sister Cities board members gathered on the evening of May 12th to commemorate the installation of the L.A./Beirut Sister Cities sign in downtown Los Angeles and to recognize the dedication of Brian Perry, Chief Legislative Deputy for Los Angeles City Councilman Dennis Zine.
The reception was held at Elevate Club in Downtown Los Angeles with the 100 guests in attendance enjoying the beautiful panoramic views. Los Angeles/Beirut Sister Cities Board President Wafa Hoballah welcomed guests and recounted the extraordinary assistance Brian Perry has provided to L.A./Beirut Sister Cities. Councilman Zine also congratulated Perry on his well deserved award of recognition. Additional accolades were presented by Ferris Wehbe, Immediate Past President of L.A./Beirut Sister Cities; Mitch O'Farrell, Sr. Advisor to Los Angeles City Council President Eric Garcetti; and Reserve Commander Gary Nalbandian of the Los County Sheriff's Department…..Representing Beirut was Beirut Mayor Abdulmonem Al-Aris; and Vice President of the Beirut City Council, Tawfic Kfoury."
No doubt thanks in large part to Perry's persistent and valuable presence, Zine changed his party registration from Republican to Declined to State before announcing he would run for city controller in 2011.  Zine told the LA Times that "he's tired of the 'gridlock' of partisan politics and because his liberal positions on gay marriage and other social issues are out of line with traditional Republican views."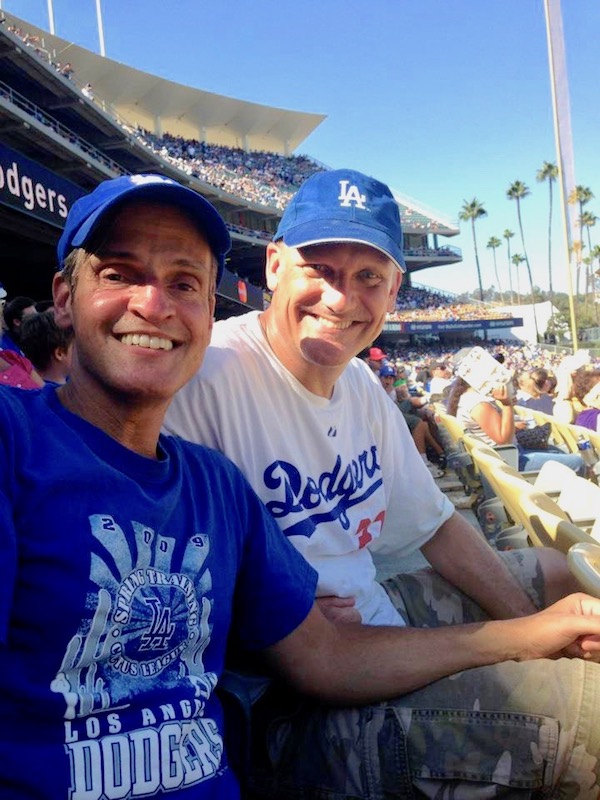 Perry suffered health issues and some undiagnosed difficulties in the last few years of his life, despite attempts to help from friends and family.  However, the overwhelming memory of Brian Perry is his legacy as a smart gay Republican politico and serious Dodgers fan.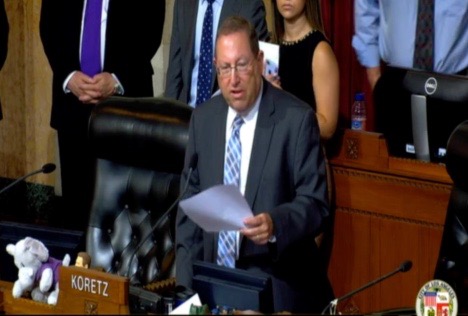 On Friday, June 16, Los Angeles City Councilmember Paul Koretz, for whom Perry worked after Zine, adjourned the council in his memory. 
Here are Koretz's full remarks:
"It's with a heavy heart that today we remember Brian Perry who has been a friend and colleague to many of us on the city council for more than 15 years.
After earning his Bachelor of Arts in Political Science from Cal Poli/San Luis Obispo, Brian joined the City family in 2001 as a legislative e aide for councilman Dennis Zine in CD3, where, among other things, he was instrumental in getting the funding to rebuild the public swimming pool in Lynard Park in Rosita. He also helped to make Beirut a Sister City to Los Angeles and traveled with Councilmember Zine to Lebanon.
After 12 years with Councilmember Zine, Brian joined my staff in CD 5 in 2013, staffing me on several committees, including Budget, Finance and Transportation. He provided me with sound counsel and was instrumental on key issues, including e-cigarettes and medical marijuana regulations.
Brian was also an active member of the Log Cabin Republicans and spent time serving as president at both the local and state levels. As such, he was an active advocate for marriage equality. In his spare time, he was a member of the Magic Castle, and loved movies, plays, reality TV, and vacationing in the sun, particularly at the beach.
And I thought I was the ultimate Dodger fan until I met Brian, who lived and breathed Dodger Blue.
In the week sine we learned of his passing, almost every single friend and family member we've spoken to reminisce about his devotion to baseball. He was a 23-year Dodger-season ticket-holder, and actually organized groups every season to buy-in on season tickets for his love of community and love of the game, especially the Dodgers. He caught three foul balls at Dodger Stadium, which is three more than me in the 60 years I've been trying to catch one and haven't come close. And he was the 2006 national winner of the MLB.com fantasy game, Beat the Streak.
Brian passed on Monday, June 12 and is survived by his family, including his father, Harry Perry, brothers Ronald and Dennis Perry, and his sister, Carol Baughman. His gravesite service will be on Saturday, June 24, at 11:00am at Ivy Lawn Memorial, 5400 Valentine Road in Ventura with a luncheon reception following at the Elks Lodge at 2126 Knoll Drive. In his honor, the family is asking anyone attending to feel free to wear their best Dodger Blue. Brian will be missed by his family, his friends, and the City family.
May he rest in peace."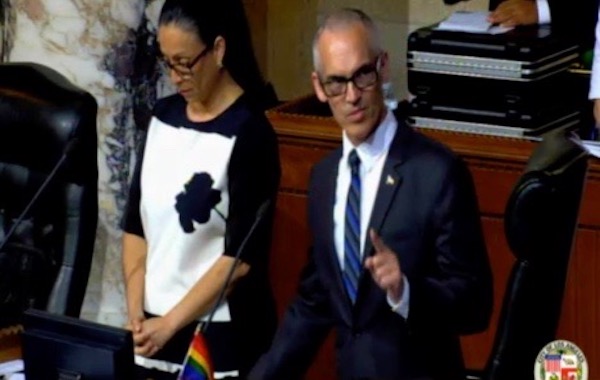 Out Councilmember Mitch O'Farrell also spoke about Perry:
"It was almost exactly 11 years ago that I travelled to Lebanon with Brian Perry as staff to Dennis Zine when I was staff to my predecessor, Eric Garcetti. Brian is beloved in the Lebanese-American community. Brian Perry single-handedly made that trip a smash success. He did all the heavy lifting. And it was quite the experience.
I bonded with Brian on that trip and I've had the benefit of knowing him for all these years and going to a Dodger game with him, and going to the Magic Castle with him. He was a very, very special individual and he will be missed. My condolences to his family and his loved ones."

Here's the In Memoriam from the Log Cabin Republicans/Los Angeles:
"We are saddened by the passing this week of our dear friend and LGBT advocate, Brian Perry. Brian was a former President of Log Cabin Republicans of Los Angeles and Log Cabin Republicans of California. He served on the board of both organizations for many years.
Brian was one of the hardest workers for inclusion in the Republican Party and equality for all. You could count on Brian to show up and work hard, whether it was at Pride booths, California Republican Party Conventions, or even the Log Cabin CA Luau.
Brian loved to have fun and his smile was infectious. He was also a fierce competitor whether it was at his beloved Dodgers games, at a Log Cabin Catalina Adventure miniature golf tournament, or playing "Celebrity" or board games.
He was also an ideas man. When Presidential candidate Bob Dole returned a $1000 donation from Log Cabin in 1996, Brian said, "Let's make $1000 bills that say return me to the Log Cabin hospitality suite." He came up with the campaign, "Open Your Second Closet Door – Join Log Cabin Republicans."
Brian's family asks that friends please post photos of him on his Facebook page. Memorial services will be forthcoming.
Brian will never be forgotten and his legacy within Log Cabin, the Republican Party, and the LGBT community will be felt for generations. Please keep his family in your thoughts and prayers during this difficult time."
Graveside service will be held on Saturday, June 24th at 11:00 am at Ivy Lawn Memorial, 5400 Valentine Rd., Ventura, CA 93003.  A "Dodger Dog" and hamburger luncheon reception will follow at Elks Lodge #1430, 2126 Knoll Dr., Ventura, CA 93003.  In his honor, his family asks anyone attending to feel free to wear Dodger attire for the day.