AIDS Guru Louise Hay Dies at 90 
Hay was a controversial visionary whose 'Hay Rides' offered unconditional love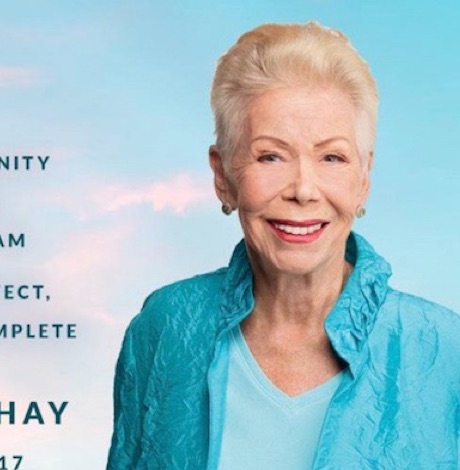 Louise Hay, an advocate for unconditional love and forgiveness during the height of the AIDS crisis, died peacefully Wednesday morning of natural causes.  She was 90.
"Meeting Louise changed the direction of my life," Reid Tracy, President and CEO of Hay House, Inc., said in a statement posted on her website. "Her passion for serving others translated into everything she did. Simply by working alongside her, an analytical accountant like me transformed into someone who became aware of the power of affirmations and self-love. Being able to learn from her has been one of my life's greatest blessings."
Hay was one of several women who emerged as spiritual gurus alongside Marianne Williamson, Rev. Sandy Scott, and Ma Jaya, to name the most prominent.
"Louise Hay and her Hay Ride gave spiritual support and acceptance to so many in the early days of the AIDS epidemic," says gay former Entertainment Tonight executive producer Brad Bessey. "She was so important to our movement—preaching love over fear and healing, hope and heart over hopelessness."
Fiesta Hall in West Hollywood's Plummer Park would fill up on Wednesday night in the late 1980s with up to 700 people seeking hope, comfort, friendship, forgiveness, love and often a cure for the incurable AIDS from the metaphysical counselor who said she had cured herself of cancer. The celebration of life known as the Hay Ride, was often the only time a person with AIDS might be touched, hugged or massaged with care, not rough disdain.
People with AIDS came to the gathering in all conditions—hobbling on canes with one leg stiffened by hard purple KS lesions or somehow walking with portable IV drips, or barely ambulatory with arms wrapped around the shoulders of friends who served as human crutches to allow the weakened one some sense of dignity and self-propulsion. Friends, healthcare workers, family, activists, volunteers—anyone with a heart desperate to do something, if only give love—would park their outrage at the door and pack the auditorium to listen to each other, whether pleas for roommates, money for rent, announcements about memorials, personal AIDS updates, hopes, fears and gratitude for finding a place to really be themselves. Many were still in the closet or AIDS had outted them, accompanied by family rejection. It was in arenas like this, as well as at the bedsides of the dying or on the streets protesting government inaction that the concept of "family of choice" took hold.
Hay would offer spiritual guidance, affirmations and unconditional love. She also lead visualizations with hundreds of mostly strangers making room to lying next to a sick, healthy or healing body to do intimate private internal work. By the end, whether full forgiveness had been achieved or not, there were no strangers, only friends with no known name yet. The atmosphere in the auditorium was infused with honest emotion—sadness at the loss of loved ones, grief at one's own imminent passing, and love and joy enough to move mountains.
"Love is the most powerful stimulant to the immune system. What we're doing here is practicing love, unconditional love," Hay would say.
But Hay's message of self-healing—love, self-love, laughter healing the immune system—had a dark side, too.  Doing the inner work was a prerequisite to healing, and thus a personal responsibility. Hay sometimes told a person with AIDS they were responsible for their own illness, leading some to contemplate suicide because they weren't healing fast enough or at all, with the ravages of AIDS.
"As a physician, I think that love and acceptance and forgiveness may well be an important component of healing, but AIDS is a viral disease caused by a virus and not by a lack of love," Dr. Michael Gottlieb, co-author with Dr. Joel Weisman of the first CDC article on what would become known as HIV/AIDS, told the Los Angeles Times in 1988.  
But for many, including grief expert David Kessler, who co-founded Project Angel Food with Marianne Williamson, Hay was a co-author and friend.
"I first met Louise in the early 80's during the AIDS crisis. In those fearful days when so many were taking a step back, she took a step forward," Kessler said on his Facebook page. "I had the privilege of co-authoring You Can Heal Your Heart with Louise. Many thought the woman who wrote so much of healing would be afraid to look at death and grief. But that was not Louise. Years ago, when we first talked about my work on grief, I asked her about her own death. She replied, 'I've lived my life fully. I just want to make sure that when the time comes, I live my dying fully.'"
"Beyond being courageous, extraordinary and talented, Louise Hay was unwavering in her commitment in loving people and them knowing their own values," says Rodney Scott, who now works with TV counselor Iyanla Vanzant. "Louise was brilliant in creating a safe, nonjudgmental space for people to live extraordinary lives. Today I hold Louise and her family and friends all around the world in my thoughts and prayers."
DeSantis targets Orlando non-profit over holiday drag show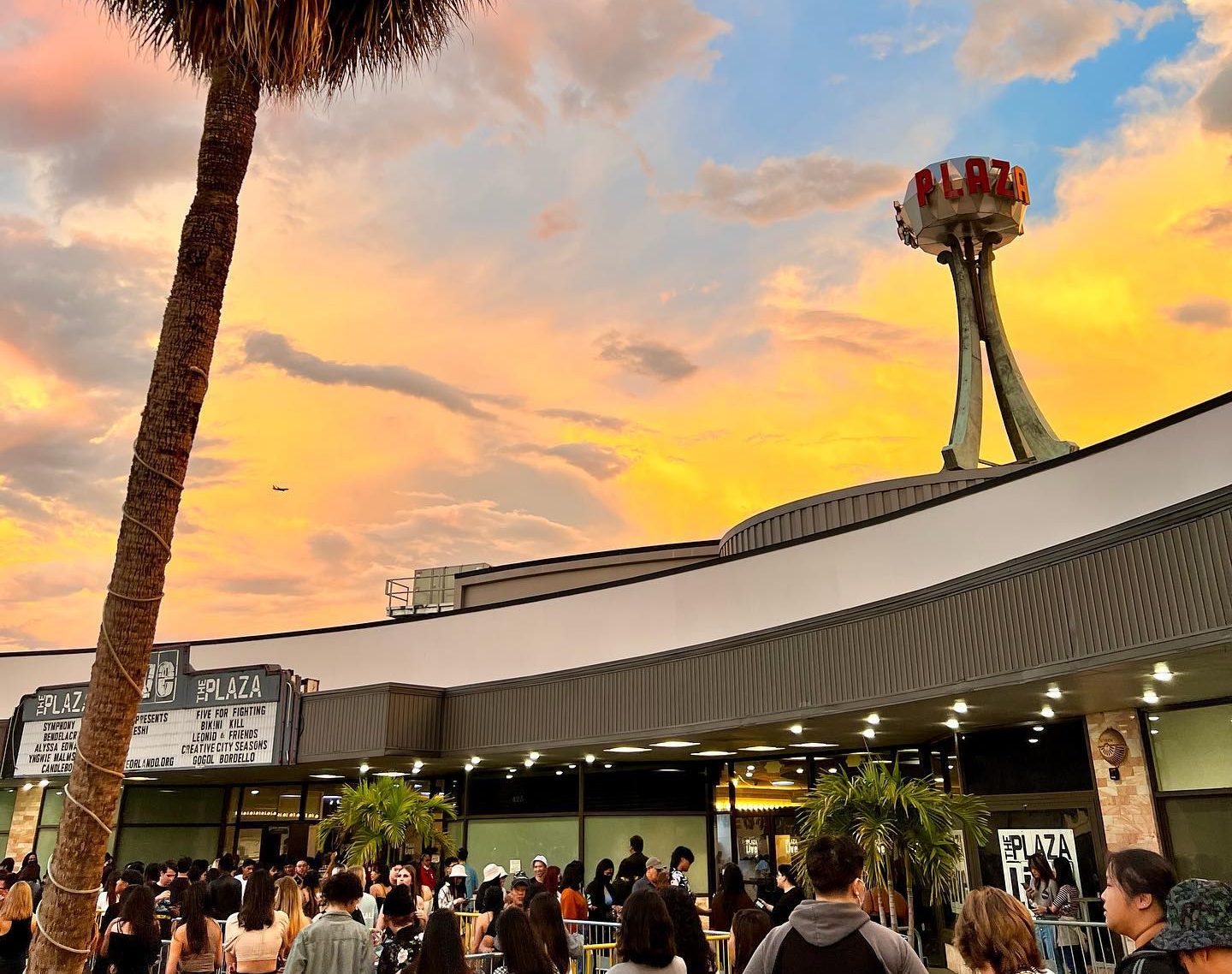 ORLANDO – Florida's Republican Governor Ron DeSantis escalated his war on the state's LGBTQ+ community ordering a state agency to launch a complaint against a Orlando non-profit over a drag holiday event it hosted in which children under age 18 were allowed to attend.
The state's Division of Alcoholic Beverages and Tobacco under the Department of Business and Professional Regulation filed the complaint on Friday against the Orlando Philharmonic Plaza Foundation alleging the foundation violated Florida law in allowing for a person to "commit lewd or lascivious exhibition" in the presence of an individual who is less than 16 years old. 
"A Drag Queen Christmas" was hosted by the foundation on Dec. 28 and during the performance sold alcoholic drinks at its Plaza Live venue. In the complaint, the agency states that the foundation used "Christmas-themed promotional materials" that did not give advance notice of the "sexually explicit nature" of the show's contents.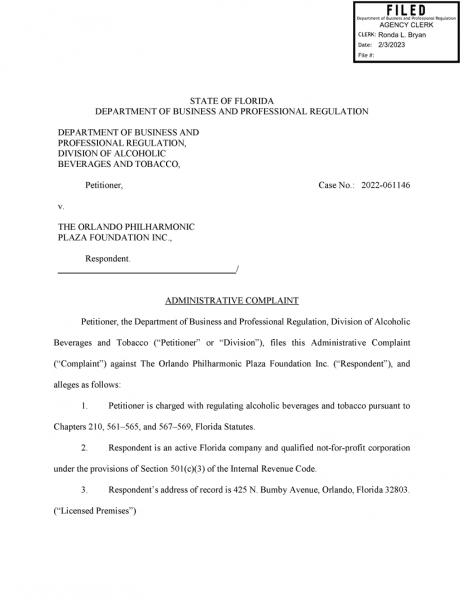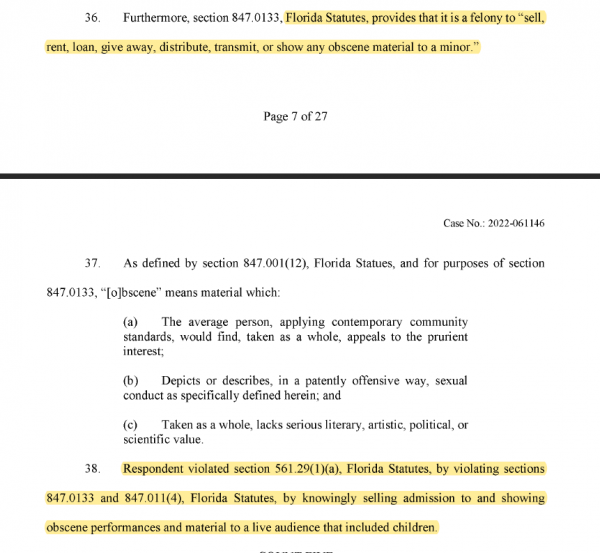 The complaint also states that the division sent the foundation a letter ahead of the show saying "sexually explicit drag show performances constitute public nuisances, lewd activity, and disorderly conduct when minors are in attendance" and the foundation's license could be subject to penalties if it did not ensure minors could not attend the event.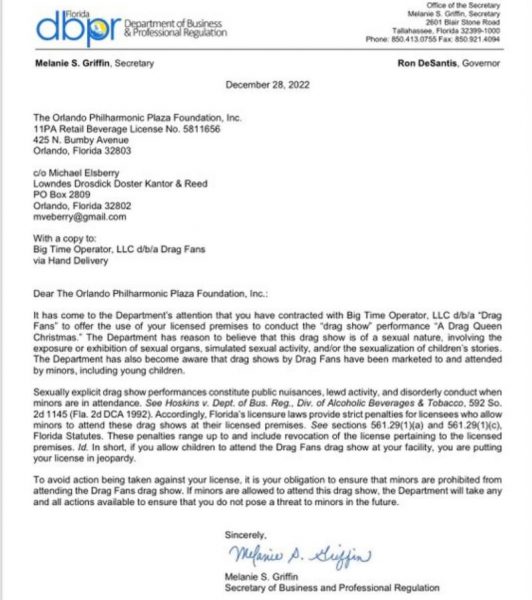 In its capacity as a regulator of alcohol, the division attempting to revoke the foundation's liquor license for six alleged counts of violating Florida statutes. 
When asked about the move by the DeSantis administration targeting the non-profit, Bryan D. Griffin, the spokesman for DeSantis said "Governor DeSantis stands to protect the innocence of children, and the governor always follows through when he says he will do something."
Orlando Weekly writer Matthew Moyer noted that The Plaza Live — besides serving as the performing home base of the Orlando Philharmonic — hosts a robust slate of touring bands, comedians, YouTubers and, yes, drag performers.
State Rep. Anna Eskamani released a statement to Orlando Weekly late Friday afternoon, condemning the state's actions in no uncertain terms. "Governor Ron DeSantis' culture wars are destroying people's jobs and livelihoods. The very notion of shutting down a small business over a drag show is insane and extreme," said Eskamani. "In the United States we do not allow the government to determine what we can read, see or hear or who we can gather with. Targeting drag performances limits everyone's freedom of speech and is all a part of the Governor's sick anti-LGBTQ+ agenda."
This is about dehumanizing LGBTQ people and targeting them for retribution by the state by portraying LGBTQ people as abberant and deviant. It's absolutely disgusting and should not be tolerated.

— Alejandra Caraballo (@Esqueer_) February 3, 2023
DeSantis previously filed a complaint against a popular restaurant and pub in the Miami's Wynwood neighborhood in July, alleging that it violated a public decency law in allowing children to attend a drag show.
The R house, is a unique casual fine dining establishment and lounge with an integrated gallery right in the heart of the vibrant Miami-Wynwood arts district named for Rocco Carulli, the executive chef as well as creator of the restaurant. The R House identifies itself on its Facebook page as "the proud home of South Florida's most popular weekend drag brunches! Make some time to check us out and experience R House."
The complaint was filed by the Department of Business and Professional Regulation on asking that the R House restaurant is a declared a public nuisance and has its liquor license revoked. 
According to the South Florida Sun Sentinel, the complaint was issued after a video of a recent performance at the bar's drag brunch went viral. A topless drag queen wearing lingerie stuffed with money can be seen in the video attempting to dance with a young girl, who the DPBR estimates is "between three and five years old." Twitter account "Libs of Tik Tok" originally found the footage on Tik Tok, posted by a user who wrote, "Children belong at drag shows!!!! Children deserve to see fun & expression & freedom."
The department cited multiple incidents of inappropriate drag performances with kids in the audience, including one in which a child "between the ages of ten and twelve" was "seen recoiling and turning away in her seat as a Brunch performer climbed on the back of the child's bench, squatted, and gyrated a couple of feet above the child's head."