September 11, 2017 at 5:38 pm PDT | by Karen Ocamb
9/11: Remembering Californians Mark Bingham and the Brandhorst-Gamboa family
Commemorating the 2,983 innocent lives lost to the terrorists attacks of September 11, 2001 has become a bit perfunctory. Cable TV dipped in and out of the solemn ceremonies held in New York City, the Pentagon in Washington DC and the field in Shanksville, Pennsylvania as remembrances competed with coverage of two devastating hurricanes, more on the Russia investigation and the deconstruction of Steve Bannon's interview on 60 Minutes.
Perhaps what the bored president thought as he talked through two moments of silence at the Pentagon. After all, for the past 15 years, Trump has littered the treasured landscape with lies about 9/11,  none of which he has apologized for or corrected. Vice President Pence, on the other hand, became emotional during the tribute to the heroes of Flight 93, the passengers who crashed the hijacked plane believed headed for the US Capitol.
"I and many others in our nation's Capitol were able to go home that day to hug our families because of the courage and selflessness of the heroes of Flight 93. So for me it's personal," he said.
Mark Bingham and his mother Alice Hoagland (Photo provided by Hoagland for documentary)
Gay Republican rugby player and businessman Mark Bingham, 31, was on Flight 93 and, after being told by his mother Alice Hoagland by cell phone of the hijackers' suicide mission, he, Tom Burnett, 38, Todd Beamer, 32 and Jeremy Glick, 31, rushed the terrorists and desperately tried to re-take the plane before it crashed.
After finding out that Bingham had been a big supporter during his 2000 run for president, Arizona Sen. John McCain spoke at Bingham's memorial in San Francisco.
According to Bay Windows, McCain was moved to tears, saying: "I love my country and I take pride in my service but I cannot say I love it more or as well as Mark Bingham did or the other heroes on Flight 93….It is now believed that the terrorists on Flight 93 intended to fly the plane into the United States Capitol where I work, the great house of democracy where I was that day. I very well may owe my life to Mark Bingham and the others who summoned the enormous amount of courage and love necessary to deny those depraved hateful men their terrible triumph. Such a debt we will incur for life. I will try very hard to discharge my public duties in a manner that honors their memory."
McCain called Bingham a personal hero: "He supported me and his support is now among the greatest honors of my life. I wish I had known before Sept. 11 just how great an honor his trust in me was. I wish I could have thanked him more profusely as time and circumstances allowed but I do now and I thank him by the only means I possess, by being as good of an American as he was."
It was confusing, then, that despite McCain personally grasping that gay men can be courageous fighters, McCain still helped lead the charge opposing the repeal of the anti-gay military policy Don't Ask, Don't Tell.
The gay media was just as perplexed as to how to cover this tragedy as the mainstream media was. Mark Bingham was not "straight-acting" but he would not be quickly identified as gay. And what about all the closeted LGBT people—from innocent victims aboard the planes to Pentagon workers to congressional staffers all trying to help and all worried about their secret loved one at home. Regional papers started digging through the news to find familiar names. What if the "Falling Man"— the man in the now iconic photo who came to represent so many of the trapped jumpers—was gay?
Who were our people in this tragedy. The Advocate undertook the near-impossible effort to find out.
"It was September 12, 2001, a very dark day after a tragically dark day. The whole world was trying to understand what had happened and what to do next. The media world was no different. And the gay media world was in a frantic tailspin. We could not figure out what our specific angle on this catastrophe could be," Judy Wieder, then the Advocate's editor-in-chief, tells the Los Angeles Blade. "We had a relatively small staff compared to major news magazines, news sites, and newspapers. We had emergency editorial meetings from dawn to dusk until we hit on something no other news service could provide. What would happen to all the partners and families of 9/11's LGBT victims? What government agencies would take care of them?"
Wieder says the story of the unraveling of this very critical cover story is told in full in her memoir, Random Events Tend To Cluster, due out this October 1.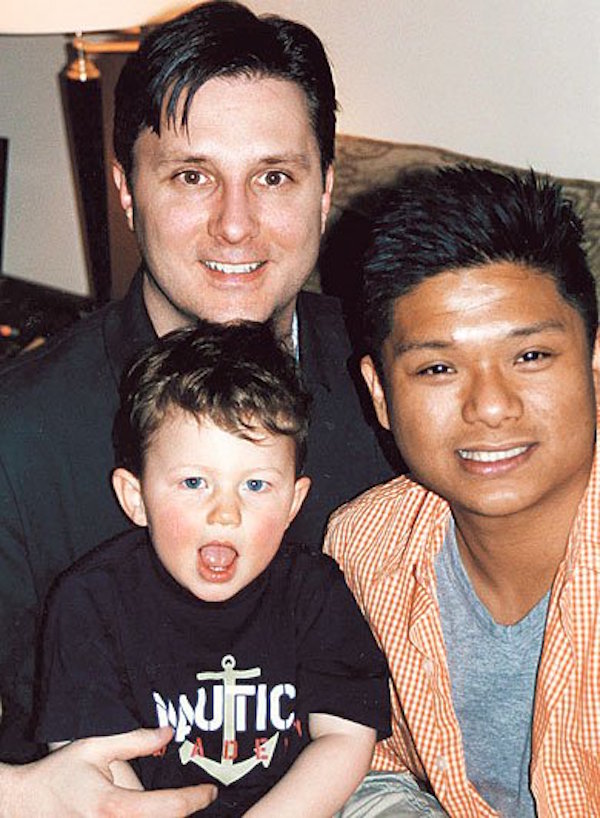 Among the scores of stories The Advocate discovered were of the The Brandhorst-Gamboa family. Ronald Gamboa and Dan Brandhorst were known in West Hollywood as the founders of the too-cutely-named Pop Luck Club. Visually, they were the odd couple: Filipino-born Gamboa, 33, was small of stature; Brandhorst, 42, was 6 foot, 2 inches tall.
But what they had in common was a 14-year love for each other and the strong desire to be fathers and create a family. And they were financially secure: Gamboa managed three Gap stores in Santa Monica while Brandhorst, a lawyer, was a partner at PricewaterhouseCoopers. They were returning home from their annual outing to Prov­incetown, Mass. With their beloved adopted 3-year old David when the terrorists flew United Airlines Flight 175 into the south tower of the World Trade Center.
Their legacy lives on in the re-named Raise A Child, the now national organization helping LGBT people foster and adopt children.
Here's a trailer for a documentary on Mark Bingham.
Here's Melissa Ethridge's tribute to Mark Bingham, and all those lost on 9/11.