Edith Windsor, lesbian activist who took down DOMA, dead at 88
Her place in history is our shining moment
Edith Windsor, a lesbian activist who was a pioneer for LGBT rights and brought down the anti-gay Defense of Marriage Act, died Tuesday at age 88.
Judith Kasen-Windsor issued a statement Tuesday confirming Windsor's death, but didn't disclose a cause. The two were married in 2016.
"I lost my beloved spouse Edie, and the world lost a tiny but tough as nails fighter for freedom, justice and equality," Kasen-Windsor said. "Edie was the light of my life. She will always be the light for the LGBTQ community which she loved so much and which loved her right back."
The New York lesbian, who obtained a master's degree in Mathematics from New York University in 1957, was out as member of the LGBT community at a time when being gay was criminal under state law in many parts of the country. Her longtime partner, Thea Spyer, first proposed marriage in 1967, but the two never wed until 2007. They held a ceremony in Canada, one of the first countries where same-sex marriage was legal.
But Windsor is best known for being the plaintiff in the lawsuit that led to U.S. Supreme Court's landmark decision in 2013 striking down the Defense of Marriage Act, which prohibited federal recognition of same-sex marriage. That ruling was the precursor for the 2015 Obergefell decision extending marriage equality nationwide.
Represented by New York lesbian attorney Roberta Kaplan and the American Civil Liberties Union, Windsor sued the United States for enforcing DOMA after the U.S. government forced her to pay $363,000 in estate taxes upon the death of Spyer, who died in 2009 of a heart condition after the two were together 44 years.
On the day of oral arguments of her case in 2013, Windsor famously appeared before the media on the steps of the Supreme Court with an iconic pink scarf that flew in the wind. At the time, Windsor said she was humbled by the role the LGBT movement bestowed upon her in pursuit of marriage equality.
"I am today an out lesbian who just sued the United States of America, which is kind of overwhelming for me," Windsor said.
Kaplan, who took Windsor's case to the Supreme Court and successfully argued the 1996 law was unconstitutional, said in a statement being Windsor's lawyer "was and will always be the greatest honor of my life."

"She will go down in the history books as a true American hero," Kaplan said. "With Edie's passing, I lost not only a treasured client, but a member of my family. I know that Edie's memory will always be a blessing to Rachel, myself and Jacob. I also know that her memory will be a blessing not only to every LGBT person on this planet, but to all who believe in the concept of b'tzelem elohim, or equal dignity for all."
Windsor's story was inspirational far beyond the LGBT community. Last year in an interview with the Washington Blade, Democratic presidential nominee Hillary Clinton identified Windsor as an LGBT person she sees as a role model. Windsor, an enthusiastic supporter of Clinton in her bid for the White House, said she was "so honored" the candidate chose her as a role model.
Anthony Romero, executive director of the American Civil Liberties Union, said in a statement "we lost one of this country's great civil rights pioneers" as a result of Windsor's passing.
"The wheels of progress turn forward because of people like Edie who are willing to stand up in the face of injustice," Romero said. "One simply cannot write the history of the gay rights movement without reserving immense credit and gratitude for Edie Windsor. We were proud to stand with Edie when she took her fight on behalf of same-sex couples everywhere to the Supreme Court."
A public memorial will be held Friday, Sept. 15 at 12:30 pm at Riverside Memorial Chapel in New York City. In lieu of flowers, Windsor had requested that any donations in her memory be made to the NYC LGBT Center, Callen-Lorde Community Health Center, the Hetrick-Martin Institute, and Services & Advocacy for LGBT Elders, or SAGE.
Aisha Moodie-Mills, CEO of the Gay & Lesbian Victory Institute, said in a statement Windsor was "our fierce heroine" and "will be remembered as a seminal figure in our inevitable march toward equality."
"Edith felt deeply the injustice of being denied the right to marry her partner of more than 40 years, and she committed herself to fighting back with determination and a smile," Moodie-Mills said. "I will never forget Edith standing on the steps of the Supreme Court, describing marriage as more than just rights and benefits but also as 'magic' – a powerful recognition of indescribable love. Edith opened the door for all LGBTQ Americans to experience this magic – and we are forever indebted to her because of it."
Minnesota teachers fear retaliation over support of LGBTQ+ students
According to staff, teachers are afraid the move is intended as "a fishing expedition to prove that teachers encouraged students to protest"
BECKER, Mn. – Following protests over the anti-LGBTQ+ Minnesota Child Protection League's (MNCPL) March 14 presentation to the Becker County School Board, staff in all the district's public schools will be required to turn over a trove of documents related to that event, The Los Angeles Blade has learned.
According to a staff member at Becker High School, teachers are afraid the move is intended as "a fishing expedition to prove that teachers encouraged students to protest" in a bid to "get the Board to fire" them.
The mandatory request was filed by Chris Klippen, a local attorney who addressed the School Board on March 14 ahead of the representative from MNCPL, echoing many of the group's lies about LGBTQ+ people and objections to measures designed to protect the community's youth.
As the Los Angeles Blade reported, controversy over the School Board's decision to hear a presentation from the MNCPL was the latest in a series of events that have escalated tensions between area schools and LGBTQ youth, along with their families and allies.
Last year, a Facebook post that falsely claimed classrooms were replacing the American flag with the Pride flag invited comments that included homophobic and transphobic remarks. When students shared screen shots of the post on their social media pages, the Becker County chief of police demanded they remove them, earning a rebuke from the ACLU of Minnesota.


The Becker High School staff member and a student at the school say LGBTQ+ students regularly face harassment. Trans students are dead-named by teachers and administrators who refuse to use their correct pronouns and often discourage or prohibit students from displaying pro-LGBTQ forms of free expression such as Pride buttons, they said.
While the state's legislature has successfully passed some protections for LGBTQ+ youth in schools, proponents of additional measures face virulent opposition from anti-LGBTQ+ groups whose influence has increasingly been felt in schools across the country amid a corresponding rise in legislation targeting the rights of LGBTQ+ students and their families.
MNCPL is among the organizations currently advocating against Minnesotan Democrats' proposed bill that would outlaw conversion therapy for minors and vulnerable adults.
In the months since the group's presentation to the School Board, according to the Becker High School staff member and student, participants in the protest felt targeted with veiled threats that left them fearing they would face retaliation from administrators and county officials.
An email Tuesday from Becker Superintendent Jeremy Schmidt instructs all recipients to collect and share, by the end of the month, electronic documents as well as "personal notes, post-it notes and handwritten notes" from February 1 to "the events on March 14, 2022."
Statutorily, interested parties are permitted to file mandatory requests for documents from Minnesota's public schools, and in this case it will apply to communications between staff and a breadth of different parties, from the media and advocacy groups to individuals and law enforcement.
LGBT students protest controversial presentation at Becker school board:
"Don't Say Gay" student walk-out leader is barred from student government
Jack Petocz organized a state-wide student protest against Florida's "Don't Say Gay" bill & annoyed administrators suspended him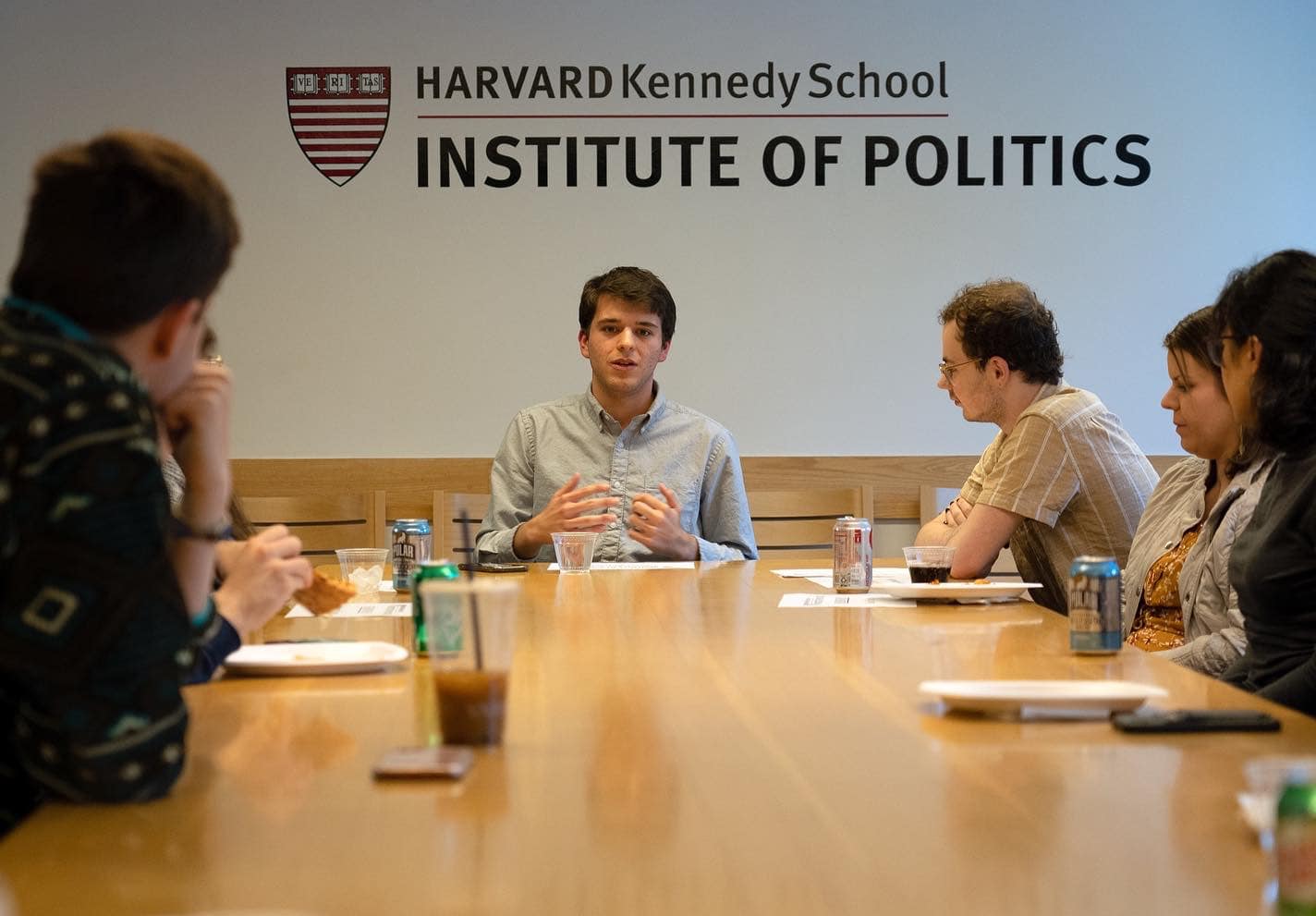 PALM COAST, Fl. – Jack Petocz, a Flagler Palm Coast High School junior, organized a state-wide student protest against Florida's "Don't Say Gay" bill this past March, and at his school, annoyed administrators suspended him.
On Tuesday, Petocz said that the school's disciplinary action is now preventing him from running for senior class president.
"When I returned, the administration assured me that no further disciplinary action would be taken. A month later, they broke this verbal agreement and placed a level 3 referral on my record. Now, due to this high level of discipline, I am being prevented from running for senior class president. I am continuing to be punished for standing up for my identity and against widespread hatred."
The suspension over the student walkout became a viral moment that propelled the 17-year-old into the national spotlight and into the national discourse over a spate of harsh laws targeting the LGBTQ+ community.
17-year-old Cameron Driggers, a student LGBTQ+ activist-organizer of the group Recall Flagler County School Board and co-leader of the walk-out, his friend's suspension inspired him to create a petition on Change.org to pressure Flagler Palm Coast High School Principal Greg Schwartz to rescind his seemingly arbitrary decision to suspend Petocz.
One protest at the school over its suspension of Petocz brought together a grizzled and proud Out gay U.S. Marine Corps veteran accompanied by his fellow vets, who alongside with Driggers and the other young adolescent activists protested in a rally in front of the school at the same time Petocz and his father were inside meeting with Flagler Palm Coast High School Principal Greg Schwartz, hoping to get him to rescind his seemingly arbitrary decision to suspend Petocz.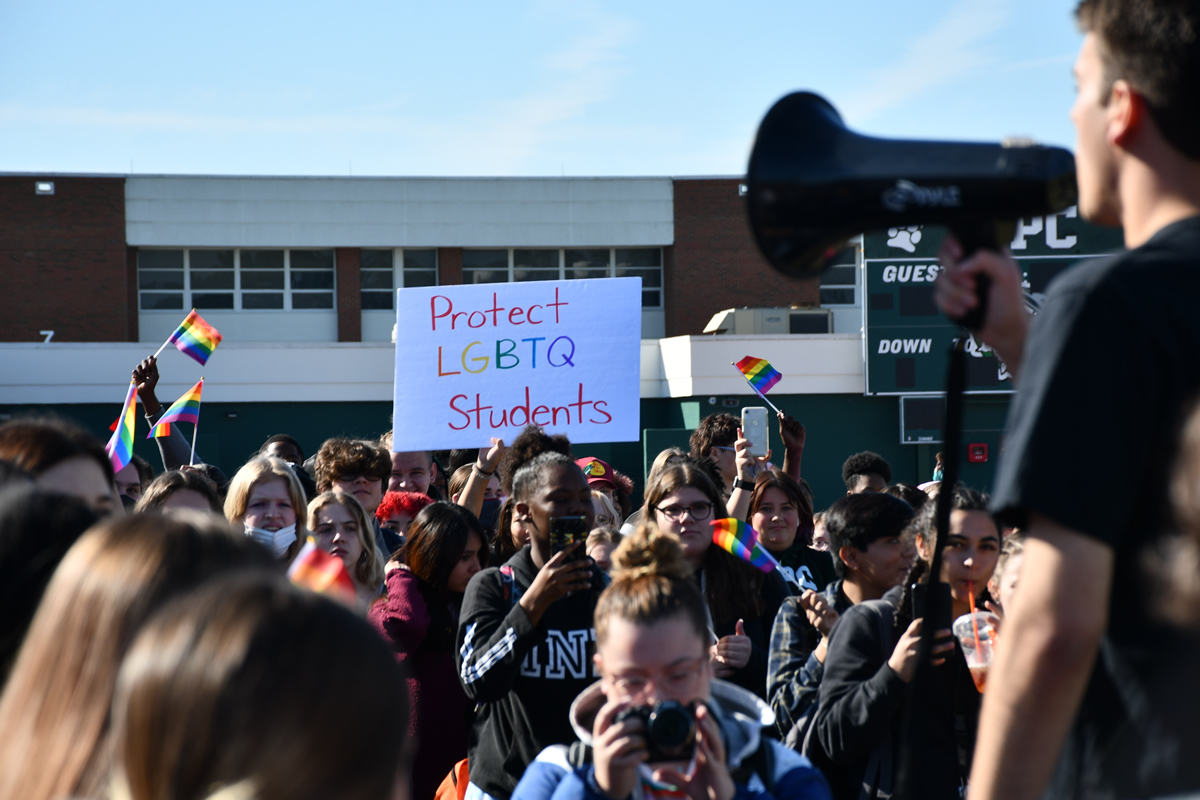 Later on during the day Driggers posted to the Change.org petition the news that Principal Schwartz had backed off.
"Recall FCSB is pleased to announce that Jack's suspension has ended and he is back on-campus. We are grateful for the thousands of people around the globe that shared, tweeted and protested in support of Jack, the organizer behind the state-wide Don't Say Gay Walkout. Over 7500 signatures were collected on a condemnation of Principal Greg Schwartz' conduct last Thursday. With Jack back on campus, Recall FCSB will continue to empower student leaders in and out of school," Driggers wrote.
Principal Schwartz also committed to removing the 'disciplinary action' from Petocz's school record.
On Tuesday, Petocz announced that Principal Schwartz and other school officials are barring him from running for an elected student office.
My name is Jack Petocz. I am the high school junior who led walkouts in opposition to the "Don't Say Gay" bill and was suspended for passing out pride flags. Now, I'm being prevented from running for senior class president. No matter what, I won't stop fighting for my community. pic.twitter.com/5lG6EYIXo2

— Jack Petocz (@Jack_Petocz) May 17, 2022
In response to the news, PEN America issued the following statement from Jonathan Friedman, director of the Free Expression and Education program:
"By going back on their word and imposing a red mark on Jack Petocz's disciplinary record, the Flagler Palm Coast High School administration appears bent on retaliating against him for organizing the walkout against the 'Don't Say Gay' bill. This is unconscionable. Jack exercised his right to protest as a citizen, and he led the walkout with the school's approval. No student ought to be intimidated or punished by school authorities for their political speech, and the school already told him he would not be disciplined. This is especially troubling alongside news of other efforts to censor or intimidate students raising their voices for LGBTQ+ rights across Florida. The leaders of Flagler Palm Coast High School should remove this infraction from his record so that he can run for class president just like any other student."
On Twitter, Petocz urged people to contact his school to get officials to reverse this latest decision.
If you want to help me fight, click the link below to send an email to administrators and the superintendent of my district. It's ridiculous queer kids have to be punished while fighting for our rights. https://t.co/oBOKZDLavb

— Jack Petocz (@Jack_Petocz) May 17, 2022
Federal Court rules against Tennessee's anti-Trans restroom sign law
"Today's decision ensures that the businesses who welcome them are not forced to become instruments for politicians' discrimination"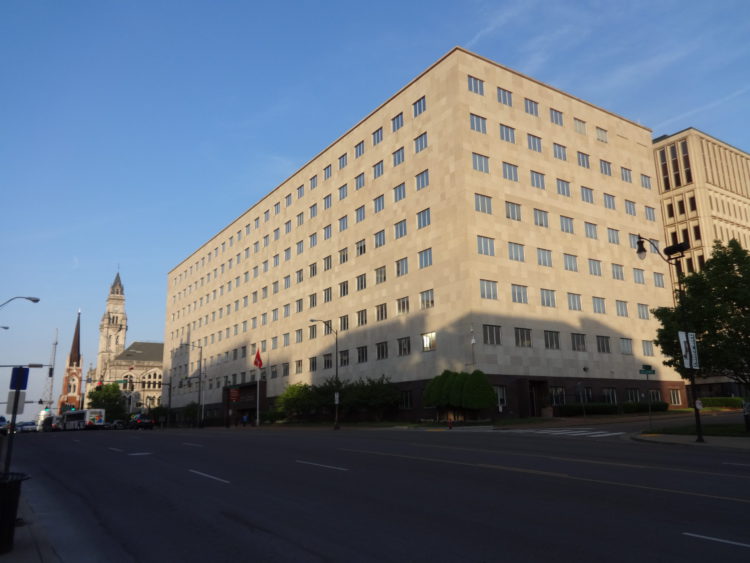 NASHVILLE – A U.S. District Court on Tuesday struck down the Tennessee law that required businesses and other entities that allow transgender people to use the public restroom that matches their gender to post a government-prescribed warning sign.
The measure known as House Bill 1182 (SB 1224), requires businesses or government facilities open to the public to post a sign if they let transgender people use multi-person bathrooms.
On July 9, 2021, the court granted a preliminary injunction blocking the law from going into effect, and today's ruling strikes down the law permanently.
According to the text of the law, language would be required to be included on the signs reading: "This facility maintains a policy of allowing the use of restrooms [or another type of accommodation] by either biological sex, regardless of the designation on the restroom."
"We applaud the court for recognizing that this law violates the First Amendment and harms transgender people," said Hedy Weinberg, ACLU of Tennessee executive director. "Transgender individuals should be able to live their lives free of harassment and discrimination. Today's decision ensures that the businesses who welcome them are not forced to become instruments for politicians' discrimination."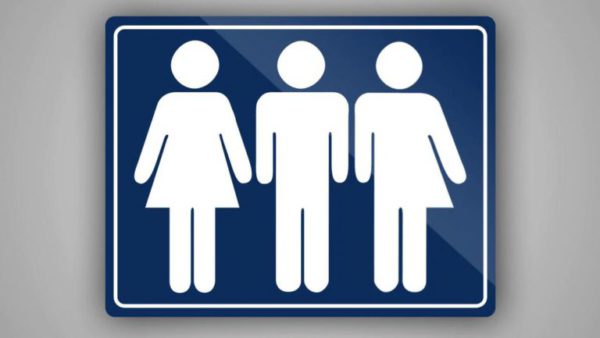 In the U.S. District Court for the Middle District of Tennessee ruling, U.S. District Court Judge Aleta A. Trauger noted; "It would do a disservice to the First Amendment to judge the Act for anything other than what it is: a brazen attempt to single out trans-inclusive establishments and force them to parrot a message that they reasonably believe would sow fear and misunderstanding about the very transgender Tennesseans whom those establishments are trying to provide with some semblance of a safe and welcoming environment."
"Transgender Tennesseans are real. The businesses and establishments that wish to welcome them are real. And the viewpoints that those individuals and businesses hold are real, even if they differ from the views of some legislators or government officials," Judge Trauger added.
The lawsuit was filed on behalf of Bob Bernstein and his restaurant Fido, who objected to the stigmatizing message that would have been required by this law. Fido has informal policies that allow customers to determine which restroom is appropriate for them and has not had any complaints or concerns about their restroom policies.
"As a former journalist, I believe strongly in free speech," said Bob Bernstein, owner of Fido, a restaurant in Nashville. "The government can't just force people to post discriminatory, inaccurate, and divisive signs in their places of business. I am glad that the court recognized that this law violates the First Amendment."
"We're thrilled to see the court rule in support of transgender and non-binary lives today. This signage law was simple cruelty – and cruelty is unjust," said Henry Seaton, ACLU of Tennessee transgender justice advocate. "We'll continue our pursuit of trans justice to its fullest extent, and hope that the trans and non-binary community feels relief and hope from this ruling."