In this time of division, look to our young people
New generation of LGBTQ pioneers will lead the way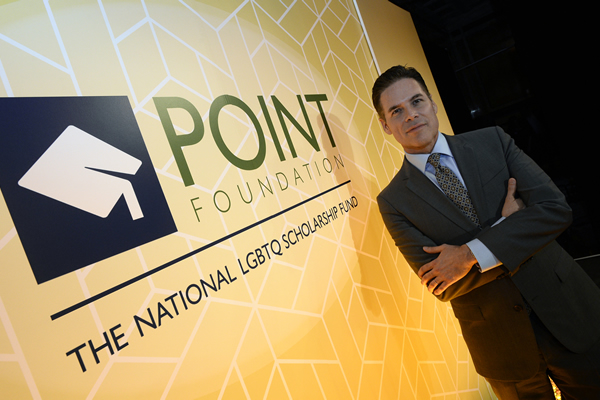 Across the nation, there have been controversies surrounding Pride celebrations and other LGBTQ+ events. A vital, albeit sometimes acrimonious, conversation is taking place about whether the LGBTQ+ movement is fully representative of the community's diversity, whether about gender, race, class or other intersectional identities. To those who wonder whether our community can transcend these divisions and truly embrace our great diversity, I say: look to our young people.
Meet Kevin Contreras. Raised in Los Angeles in a traditional Mexican family, Kevin became well-acquainted with discrimination at a young age. Throughout his adolescence, he was often bullied for being the only openly queer student among his peers. Despite this unsupportive community, Kevin has worked to combat the effects of discrimination, serving as president of both his school and its Gay Student Alliance. Kevin suffers from an eye disorder that will eventually cause blindness. This has motivated him to go to college to become a researcher, and eventually a doctor so he can help thousands of people in need. Kevin is currently pursuing a pre-med degree at Pitzer College, and he is committed to a career working on behalf of LGBTQ+ causes.
Meet Oliver Stabbe, who is deaf and transgender. When he realized he was transgender at age 15, Oliver struggled not only with overcoming stigma about his gender identity but also to receive equitable resources from the hearing-dominant world. Since then, Oliver has committed himself to helping other LGBTQ+ people access the resources they need, regardless of their physical abilities or mental health, including promoting accessible options for an LGBTQ+ suicide hotline where he answers calls. Oliver is currently studying American Sign Language and psychology at the University of Rochester.
Kevin and Oliver are just two of the 2017 class of scholars selected by the Point Foundation, where I have the privilege to serve as executive director and CEO. Since we first started awarding scholarships in 2002, Point has assisted 400 LGBTQ+ students, helping them on their way to becoming the future leaders of the LGBTQ+ community and society.
Like Kevin and Oliver, each of our scholars has encountered unique struggles with adversity and persevered to achieve their own triumphs. They all have personal experience with how an LGBTQ+ identity intersects with and impacts their other identities. Together, Point Scholars embody the incredible diversity of the LGBTQ+ community.
Look to Donna Scaffidi, who overcame homelessness and poverty to pursue a law degree and advocate for the black, Latinx, and LGBTQ+ communities; or Adil Mansoor, who was born in Pakistan and today is a successful theater artist in Pittsburgh, often producing plays that feature LGBTQ+ issues. Soon, Donna and Adil will join more than 300 Point alumni who have gone on to become doctors, scientists, elected officials, award-winning directors, entrepreneurs, and rising stars in their chosen professions.
With so many of our scholars coming from historically underprivileged and under-resourced backgrounds, it is imperative that we provide them with more than financial support. Point pairs each scholar with a mentor who provides them with career and professional development advice. Our scholars attend leadership training programs and are required to develop and complete an annual community service project. Thanks to generous funders, we are able to provide stipends to scholars who pursue internships with organizations serving the LGBTQ+ and marginalized communities.
At Point Foundation, we are dedicated to those in our community that historically have not had access to higher education, whether due to race, immigration status, health issues, or any number of other intersectional reasons. For these students, community colleges are a bridge from their entry into higher education to a four-year degree. This year, Point welcomes 25 LGBTQ+ students to our Community College Scholarship Program, funded by Wells Fargo. Many of these students are the first in their families to go to college. Nearly half identify as transgender, gender-nonconforming or intersex, and most identify themselves as an ethnic or racial group that has traditionally been underrepresented in higher education.
Because the problem of inequality that afflicts American society also exists within our community, Point is helping to level the playing field for LGBTQ+ students. We are proud to play a vital role in making higher education more accessible, and in helping our scholarship recipients develop the skills and the social capital needed to achieve their personal, professional, and community leadership goals.
As is abundantly clear to anyone who has attended a recent Pride event, the LGBTQ+ community is far from a monolith. Our differences and divisions may be great, but everyone at Point embraces that rich diversity as one of our community's greatest strengths. Point Foundation is committed to finding the next generation of society's leaders and making sure that those future leaders truly represent the entire LGBTQ+ community. Look with us at our young people, and share our pride.
— Jorge Valencia is Executive Director & CEO, Point Foundation
LGBTQ+ youth are target of a massive fear-mongering campaign
Transgender kids existing isn't a real problem — and certainly not one at the scale which the panic mongering suggests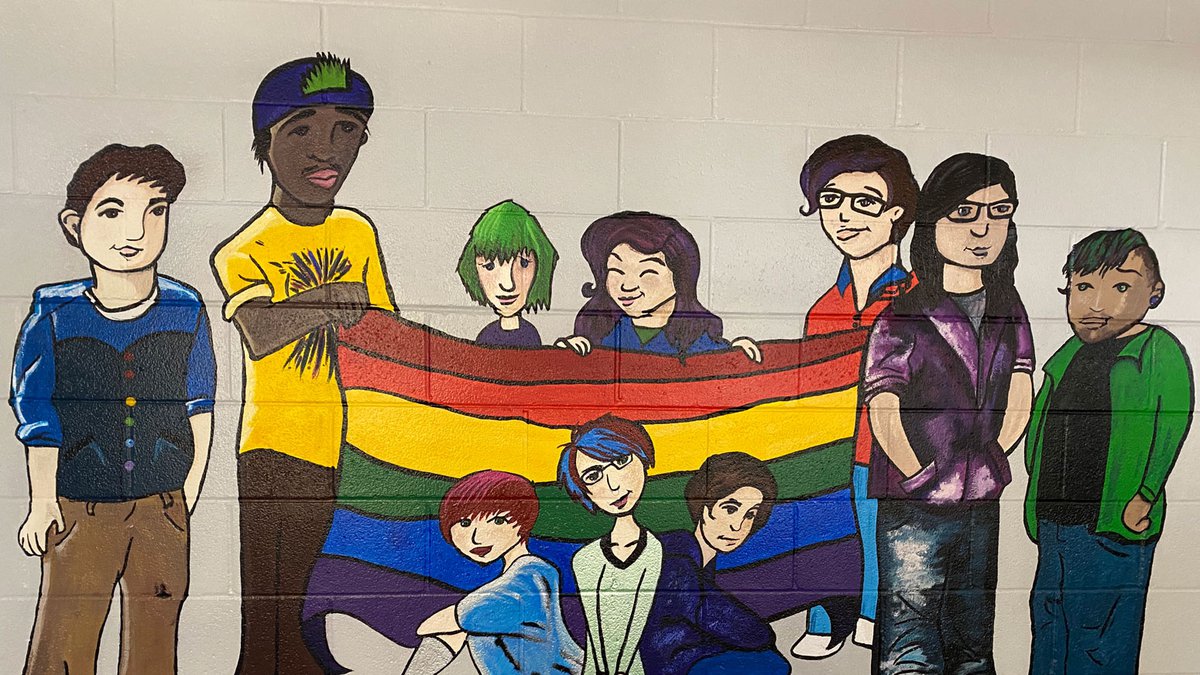 By Editorial Staff | LINCOLN, Ne. – With the impending midterm elections, and a view toward 2024, transgender issues have received a lot of attention in campaigns and the media recently. Particularly at question is the treatment of minors with gender dysphoria and whether or not public schools should support transgender kids.
However, the numbers don't make sense for how much space the issue is taking up in the national conversation. Transgender kids existing isn't a real problem — and certainly not one at the scale which the panic mongering suggests. To be clear, we at Seeing Red Nebraska fully support trans-inclusive education and policies and reject fear-mongering moral panic attacks that harm children and public schools alike.
But considering the wide attention this issue is receiving in campaign events and the media, we wanted to look into how big of a "problem" transgender identity in schools really is (spoiler: it's not). Instead, we need to use our precious time on what actually harms children. Both parties with their rich donors benefit from keeping us distracted from the actual, big issues that might unite us in pushing for real change for all. We spend our time discussing a right-wing manufactured panic campaign that allows the GOP to attack schools and teachers at the same time as spreading trans-hate.
If one listens to right-wing moral panic campaigns, they'd be under the impression that today's schools are overrun by children identifying as a variety of people, including as not people at all. Please note that the "furry" panic by far-right extremists is a deliberate attempt to dehumanize trans people by equating trans identity with animals.
Further, equating a sexual kink community with trans identity serves to sexualize children's identity and portray LGBTQ individuals as sexual deviants. (Adult) kinks are not an identity, and (gender) identity is not inherently sexual.
Yet, the (completely debunked) furry panic about litter boxes in schools functions neatly to malign the LGBTQ community in general, and transgender individuals in particular, as non-human sexual perverts that target children — a narrative with a long homophobic history which, in the US, dates back to the 1800s and is also strongly informed by German Nazi propaganda in the 20th Century. And where do most children congregate outside their parent's direct supervision?
Of course, at (public) schools, which right-wing extremists can malign as corrupting our children — sexually as well as intellectually — with the convenient side effect of also making defunding and school privatization more palatable to the public.
Our writers at Seeing Red Nebraska were curious how prevalent gender transitions among minors in the US really are.
Reuters recently published this analysis of gender dysphoria and its corresponding treatments among minors nationwide. The study found rising numbers of both gender dysphoria diagnoses and treatments for it. However, to put the numbers into perspective, according to childstats.gov, 50.7 million kids aged 6-17 lived in the US in 2021, meaning that a grand total of 0.08% of all children nationwide received a gender dysphoria diagnosis that year.
Our writers immediately wondered if this rise is due to new generations of kids being comfortable playing with gender to see what fits (which is AWESOME) and expressing themselves in all kinds of ways using gender, sex, fashion, pronouns, and other identifying tools. Trans Actual UK similarly explains the seeming rise in gender dysphoria in young people by pointing out that, thankfully, there are increasing support systems available to trans youth.
In other words, the rise in gender dysphoria diagnoses in minors can rationally be explained by increased societal awareness and acceptance of non-binary identities which allows kids to "come out of the closet" and explore their identity more freely. Further, kids with gender dysphoria now have increasing (yet still woefully inadequate due to various red tape obstacles) access to often life-saving medical intervention and social support including inclusiveness in schools.
Yet, how many minors with gender dysphoria diagnoses actually seek and receive medical treatment? According to the Reuters study, a mere 3.5% on average of children diagnosed with gender dysphoria (remember, this is 3.5% of the 0.08% of all children nationwide) in the US initiated the extremely maligned puberty blocker treatment — which is completely reversible. In 2021, the latest year for which data is available, this means that 1,390 minors NATIONWIDE started on puberty blockers.
Similarly, 4,231 minors diagnosed with gender dysphoria initiated hormone treatment in 2021 — again, this is nationwide. This constitutes an average of 11.25% over the five year course the study covers of those youth diagnosed with gender dysphoria. The discrepancy between the use of puberty blockers and hormone treatments is likely due to the limited applicability of puberty blockers (they only work for kids diagnosed and treated BEFORE the onset of puberty) and the fact that hormone therapy is often used IN ADDITION TO puberty blockers — meaning that many youth are counted BOTH in the hormone therapy graph and the puberty blocker graph.
As Reuters further notes, "[t]he ultimate step in gender-affirming medical treatment is surgery, which is uncommon in patients under age 18." The Reuters analysis explains that many hospitals do not provide surgical intervention to minors at all, and consequently found records for only 56 genital surgeries on minors between 2019 and 2021. Unfortunately, their analysis is unclear about whether certain intersex conditions are included in this count. As to the more common "top surgery" (the surgical removal of breast tissue), the study found records for 776 mastectomies within the same time frame.
This constitutes 0.8% on average of minors diagnosed with gender dysphoria within the same timeframe (although medical treatment of gender dysphoria is a years-long process, so these individuals were likely diagnosed much earlier).
One caveat of the Reuters data is that it is based on insurance data, so that surgical procedures paid for out of pocket (or performed abroad) are not counted here. Also, the data provided is not clear on whether the count of "top surgery" includes treatment of gynecomastia (the growth of breast tissue in boys and men which can induce gender dysphoria in otherwise cis-gender males).
In general, the data suggests that surgical intervention in minors is extremely rare, and transgender individuals tend to wait until adulthood until seeking gender-affirming surgery — probably to no small degree also due to the prohibitive cost out-of-pocket, even if insurance covers a portion.
We'd like to note here that ANY medical treatment on minors for gender dysphoria requires parental consent, which sadly may be a significant barrier for at-risk transgender youth. This, of course, goes counter to the far-right extremist non-sensical claim that SCHOOLS push medical treatment on children.
Schools are obviously not medical facilities capable of either diagnosing nor offering treatment to medical conditions. And even if youth with gender dysphoria are lucky to have the support of their parents, the medical process of finding a trans-inclusive medical facility and appropriate psychologist can be daunting.
It's incredible to see how very few children actually have these medical interventions compared to how much we hear about it from both the right and the left. Since trans kids are basically the entire conversation these days, we certainly assumed these numbers were a lot higher.
The larger point is that the numbers don't make sense for how much space the issue is taking up. This isn't a real problem and we need to use our precious time on what actually harms children.
For some more perspective on these numbers, the number one cause of death in children aged 0-18 is now firearms, with 3,219 children shot to death in 2020 alone (and many more injured).
Just over a week before an election that will determine student debt, abortion rights (and whether pregnant women are full people), whether we can slow the burning fire of the planet, and whether the United States of America will continue to stay a democracy, the trans issue takes up astronomically too much space in the national political conversation.
It is not that the issue is unimportant, or that it doesn't involve a lot of distress to people, but right-wing extremists don't want to do a single thing about that. Instead, they are going to zero in on a rare medical intervention that medical experts have decided is in the best interest of a vanishingly small percentage of children, diagnosed with a particular kind of distress, to turn trans-hate into a politically motivated moral panic issue, while major issues such as access to healthcare for EVERYONE, income inequality, and climate change apply to virtually everyone and even have indirect effects on social issues.
To some degree, liberals have contributed to this outsized attention to moral panic issues because the disproportionate nature of the debate favors the right — foregrounding and maligning a social issue affecting a minority community over the very same widespread material fairness issues that affect us all — bodily autonomy, the right to self-determination, and equitable access to medical treatment, after all, are not *just* trans issues.
Yet, here we are playing whack a mole with the litter box canard. To give the benefit of doubt, the majority of the general public wants kids to grow up unharmed and comfortable with their bodies and identity, feeling safe in their own skin.
However, extremists like to exploit that concept and turn it into something menacing instead of a healthy and normal human feeling of wanting kids to grow up confident in their bodies and their communities.
Since both political parties primarily serve the wealthy (and politicians usually are wealthy themselves now), it is necessary to find a "safe" social issue to fight over in order to differentiate themselves and to keep larger economic issues out of the discussion.
Whatever minority group of people they choose to make their battleground, people who were almost certainly always having a rough time of it to start with suffer more when this happens. But while both parties benefit from keeping us distracted from the big issues that might unite us in pushing for real change, the GOP definitely chose this debate — it allows them to attack schools and teachers at the same time as causing panic around children. Win win for them, while trans kids — and all our kids — suffer as the collateral damage.
*********************
The preceding commentary and news analysis was written and published by the Seeing Red Nebraska Editorial Board and is republished with permission.