DOJ: Anti-gay discrimination perfectly OK under federal law
"A roadmap for dismantling years of federal protections"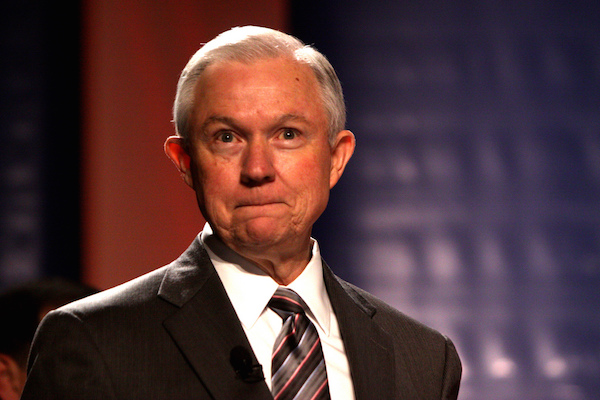 The U.S. Justice Department has declared anti-gay discrimination is lawful under current federal civil rights law, filing an friend-of-the-court brief in a case of alleging employment discrimination.
In a 23-page brief, the Justice Department under U.S. Attorney General Jeff Sessions rejects the notion that sexual-orientation discrimination is a form of sex discrimination under Title VII of the Civil Rights Act of 1964.
"The essential element of sex discrimination under Title VII is that employees of one sex must be treated worse than similarly situated employees of the other sex, and sexual orientation discrimination simply does not have that effect," the brief says. "Moreover, whatever this Court would say about the question were it writing on a blank slate, Congress has made clear through its actions and inactions in this area that Title VII's prohibition of sex discrimination does not encompass sexual orientation discrimination. Other statutes and rules may prohibit such discrimination, but Title VII does not do so as a matter of law, and whether it should do so as a matter of policy remains a question for Congress to decide."
The brief is signed by Chad Readler, acting assistant attorney general for the Civil Division; Tom Wheeler, acting assistant attorney general for civil rights; Deputy Assistant Attorney General Hashim Mooppan; and Justice Department attorneys Charles Scarborough and Stephanie Marcus.
The Justice Department brief was expected. Outside sources familiar with the department's plan informed the Washington Blade earlier this week a brief would be forthcoming in a case alleging anti-gay workplace discrimination before the U.S. Second Circuit Court of Appeals.
However, the Justice Department was expected not only to reject the idea that anti-gay discrimination is covered under Title VII, but also transgender discrimination. The brief ultimately avoids the issue of discrimination based on gender identity, although its reasoning could apply to cases of transgender discrimination.
Although the Justice Department under the Obama administration never took an official view on whether sexual orientation discrimination is prohibited under Title VII, the brief effectively turn a Justice Department that once argued for protections for LGBT people into an institution that seeks to undermine them.
The reasoning in the brief contrasts with the determination of the U.S. Equal Employment Opportunity Commission, the independent agency charged with enforcing federal workplace civil rights laws. In 2015, the EEOC found in the case of Baldwin v. Foxx anti-gay discrimination constitutes sex discrimination under Title VII.
Case law that has determined Title VII bars workplace discrimination against lesbian, gay and bisexual people isn't well developed, but some courts are reconsidering decisions made in past decades against protections based on sexual orientation.
The Seventh Circuit determined earlier this year in the case of Hively v. Ivy Community College that sexual orientation discrimination constitutes sex discrimination under Title VII, but the Eleventh Circuit came to the opposite view. Lambda Legal is preparing to submit a petition before the U.S. Supreme Court seeking a nationwide affirmation that anti-gay workplace discrimination is barred under current law.
At one point, the Justice Department brief mocks the Seventh Circuit for adopting the reasoning espoused by EEOC that anti-gay discrimination is sexual-orientation discrimination under current law.
"The Seventh Circuit majority in Hively largely adopted the EEOC's theories," the brief says. "These theories are inconsistent with Congress's clear ratification of the overwhelming judicial consensus that Title VII does not prohibit sexual orientation discrimination. And even viewed solely on their own terms, none of these theories is persuasive."
The brief is filed on the same day President Trump announced on Twitter he'd reinstitute the ban prohibiting openly transgender people from serving in the armed forces. Coupled together, the brief and the president's tweets span actions enabling discrimination across the entire LGBT community.
The filing is just the view of the Trump administration and has no binding effect. Whether or not anti-gay discrimination will be considered lawful under Title VII is up the Second Circuit.
James Esseks, director of the ACLU's LGBT and HIV Project, quipped upon review of the brief, "Trump and Sessions together have made it Anti-LGBT Day for the administration."
"The Sessions-led Justice Department and the Trump administration are actively working to expose people to discrimination," Esseks added. "Fortunately, courts will decide whether the Civil Rights Act protects LGBT people, not an Attorney General and a White House that are hell-bent on playing politics with people's lives."
Sarah Warbelow, legal director for the Human Rights Campaign, said in a statement after the brief was filed "attacks against the LGBTQ community at all levels of government" continue to happen under the Trump administration.
"In one fell swoop, Trump's DOJ has provided a roadmap for dismantling years of federal protections and declared that lesbian, gay, and bisexual people may no longer be protected by landmark civil rights laws such as the Fair Housing Act, Title IX, or Title VII," Warbelow said. "For over a decade, courts have determined that discrimination on the basis of LGBTQ status is unlawful discrimination under federal law. Today's filing is a shameful retrenchment of an outmoded interpretation that forfeits faithful interpretation of current law to achieve a politically-driven and legally specious result."
DeSantis education purge begins after school board takeovers
Ziegler, a co-founder of right-wing group Moms for Liberty, was one of two dozen school board candidates receiving endorsement from DeSantis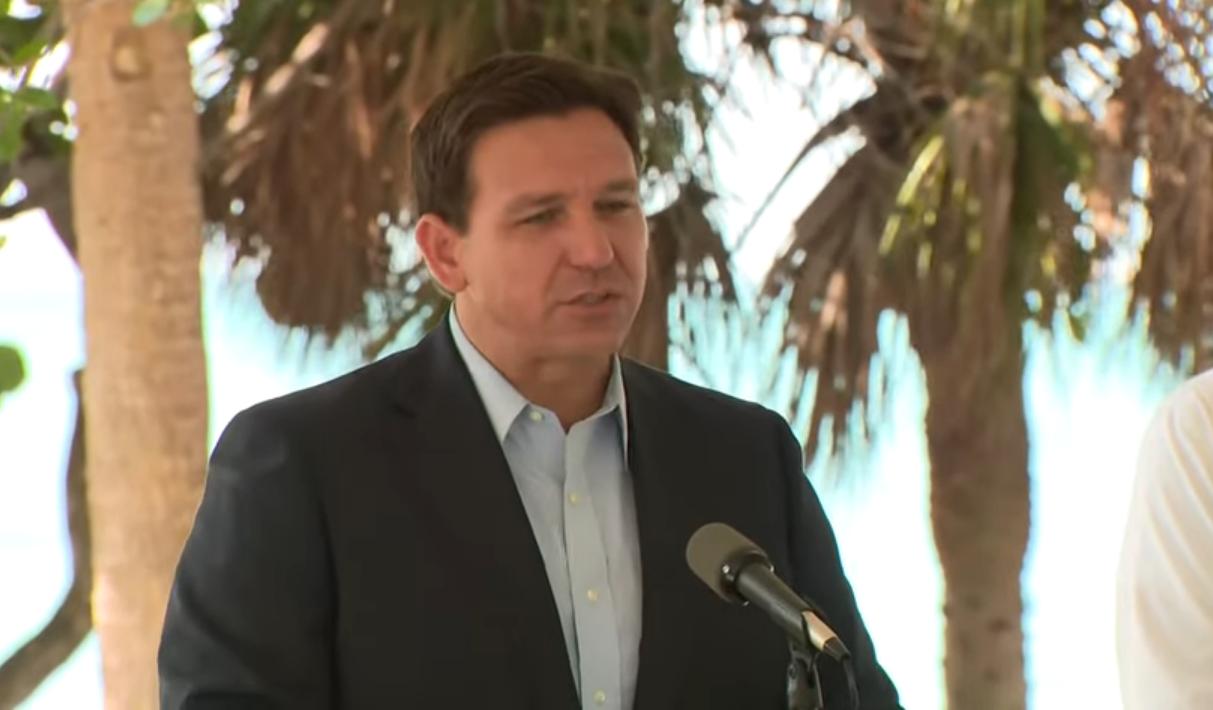 By Julia Conley | SARASOTA – Despite outcry from parents, teachers, and students, newly elected right-wing school board members in Sarasota County, Florida on Tuesday became the latest allies of Republican Gov. Ron DeSantis to oust a school superintendent over the district's adherence to public health guidance during the coronavirus pandemic.
Dozens of community members gathered at a school board meeting in Sarasota County on Tuesday evening to support Brennan Asplen, the superintendent of schools since 2020, whose contract was the subject of the meeting.
The board met the same day new members, including Chair Bridget Ziegler, were sworn in. Ziegler, a co-founder of right-wing group Moms for Liberty, was one of two dozen school board candidates who received an endorsement from DeSantis during the midterm elections. The majority of those candidates, who received $1,000 contributions from the governor, won their elections.
At the meeting, members condemned Asplen "for not pushing back on the mask mandate" that was in place for three weeks in 2021 after the school board voted 3-2 in favor of the mandate, making Sarasota County the first in the state to defy DeSantis' law blocking Covid-19 mitigation measures.
Quite a crowd gathered in front of the @sarasotaschools district building ahead of the special meeting to discuss the termination of Superintendent Brennan Asplen tonight.

Follow along for updates for the @HeraldTribune: pic.twitter.com/xcnoJ4a5ok

— Steven Walker (@swalker_7) November 29, 2022
On Tuesday the board ultimately voted 4-1 in favor of negotiating a separation agreement with Asplen, after another board member, Thomas Edwards, warned the move would be a "carbon copy" of a similar ouster in Berkeley County, South Carolina earlier this month.
In that case, new school board members who had been endorsed by Moms for Liberty voted to fire the district's superintendent and ban classroom discussions of racism in history and the present day.
Asplen is not the only school leader who has been pushed out of a superintendent position in Florida by DeSantis allies citing objections to public health protocols.
Five members of the Broward County school board this month fired Superintendent Vickie Cartwright over a grand jury report on the 2018 Parkland shooting. Like Asplen, Cartwright presided over the district during the pandemic and "faced frustration from some parents" over Covid-19 mitigation measures, which were implemented in violation of DeSantis' order.
All of the members who voted to fire Cartwright were DeSantis appointees following the removal of previous members after a school safety investigation stemming from the 2018 Parkland school shooting.
WUSF Public Media reported earlier this year that the county is undergoing "a transformational shift" with the governor's allies poised to take "a rare opportunity to advance conservative policy priorities in one of the state's most Democratic-leaning counties."
The superintendent of schools in Brevard County was also pushed out last week, hours after DeSantis-aligned school board members were sworn in.
Jonathan Friedman, director of free expression and education programs at PEN America, noted that parents from across the political spectrum have spoken out against the dismissals of school leaders in the Florida counties in recent weeks—"but to little avail."
Remarkably, local conservative parents have come out to these FL board mtgs to say they have been duped, did not vote for the ousting of their superintendents. But to little avail. The new playbook of total ideological control is in full swing. https://t.co/T9pFbL0kWA

— Jonathan Friedman 📚 (@jonfreadom) November 30, 2022
"The new playbook of total ideological control is in full swing," said Friedman.
Bill Kimler, a former candidate for state House in South Carolina, noted that a right-wing takeover of school boards like the one in Berkeley County "is happening elsewhere in the country."
"Every election cycle, we need to view school board positions with the same level of enthusiasm as we do the president of the USA," said Kimler. "Our kids' education cannot be left in the hand of extremists."
***********************************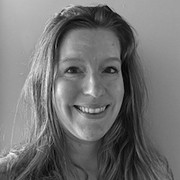 Julia Conley is a staff writer for Common Dreams.
The preceding article was previously published by Common Dreams and is republished with permission.