Express yourself loudly online and securely
A digital Queer Nation says fight back but use protection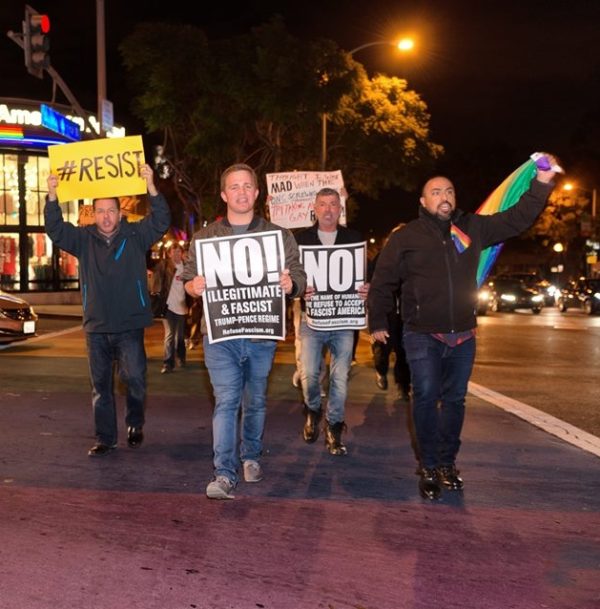 When it comes to digital security, Robert Gamboa tries to watch his back, but it's tough. It's not just that he's a public health officer who deals with highly sensitive data at work. He's also a social activist, perennially under siege.
A few months ago, he was the target of avowed white nationalists bent on disrupting a high-profile anti-Trump rally he staged in West Hollywood.
They waged a Twitter attack, directing sympathizers to his Facebook page and posting cartoon gifs of Pepe the Frog in Nazi drag, which he tried to ignore. Robert felt safe enough. The WeHo Sheriff would be at the rally and his online accounts were, to his way of thinking, inviolable, secured by a maze of letters, numbers, special characters and case combinations.
Yet there he was the day of the rally, logged out of Facebook involuntarily, just as he was poised to live-post and liaise with print, online and TV reporters.
His password was refused, as were his attempts to set a new one. Uninstalling the Facebook app then reinstalling it – three times – did nothing.
How had it happened? A key logger? Unlikely. Robert doesn't send attachments, let alone click them, preferring protected links with end-to-end encryption.
He's a touch paranoid about hackers, having witnessed the destruction identity theft brought down on an ex-boyfriend. He probably gives too much credence to news reports. There was a story about thermal apps that discern your 4-digit credit card pin from the residual warmth of your fingers. Ever since, he fondles the keypad after entering his selection to disguise it. "I actually rub my fingers on all the buttons. I guess it could work."
Tech consultant and media maven Alan Klein winces. "Even the tech-literate tend to panic when their devices and services are compromised. For activists, the stakes rise exponentially, but you have to take a step back and breathe."
Alan – a founding member of both ACT UP and Queer Nation – has designed an educational program geared to the digital security needs of the social justice movement. Digital Safe Space, created in collaboration with the tech company Macktez, is offered free of charge to social justice activists.
He asked whether Robert's Facebook account had been set up for unauthorized login alerts and 2-step verification. It had not.
You must dive into the menu "Setting up extra security" to find those options, which might have alerted him to Trump supporters' random login attempts – so many attempts that they tripped Facebook security, forcing a security lockdown of the account.
Alan, who's normal in every other respect, loves 2-step verification!
"You turn it on and you never have to worry that someone in Russia is secretly reading your email. And 2-step verification is not a modern invention, by the way," he notes.
"In ACT UP, we used the old school version. Marshals or peacekeepers at protests were identified by the armbands they wore, however the only person who knew what color they would be was the person assigned to buy them, a person we already trusted. It prevented infiltrators from masquerading as ACT UP marshals."
There are similar analog analogies for other Digital Best Practices, many of them enabled by the same skills we use in the physical world.
"Our instincts are sharp when it comes to safety and security," says Alan. "We know someone is standing uncomfortably close. Digital threats aren't always as visible, but you don't have to see them to sense them."
"Lock your devices, as you would the door to your house. Disable auto logons and require passwords when they wake up from sleep. If an email doesn't look right, pick up the phone. And be realistic.
"Some password you'll never remember. Instead, 'write out a full sentence,' Alan suggests — for example, 'i-resolve-to-use-STRONGer!-passwords-in-2017.'"
Simple, effective, free. No proprietary software, online subscriptions or technical consultants required.
"So many activists are under-resourced that a plan such as Alan's is essential," says Richard Burns, Interim Executive Director at the Johnson Family Foundation, a major backer of LGBT causes. "We must up our game. Not just to deal with surveillance by the American government, but by foreign entities and hackers.
"I'm not naturally tech-savvy. I like common sense systems. When I read the description of the workshop, I said this was designed with me in mind."
It's an accessible course – lively and devoid of jargon. An apt choice for the clients at the David Bohnett Foundation's CyberCenters if there's a way to deliver it to them free. Paul Moore, Program Officer for the Beverly Hills organization, dispenses millions to set up the labs at gay and
lesbian community centers nationwide, but the funding doesn't cover internet service or operating costs, which are borne by sites that may lack resources for training. "Digital Safe Space presents information that's critical to our well being at this time and it does so smartly," said Paul.
According to Javelin Strategy & Research, 15.4 million consumers were victims of identity theft or fraud last year, up 16% from the year before, at a cost of $16 billion. Los Angeles isn't the worst US city in terms of losses, but it's bad enough to merit the biggest county-level Cyber Crime unit in the country.
Again, a warning from Alan: "Despite the endless attacks and endless security measures you could adapt to deal with them, you don't want to be ruled by your paranoia. If you're not Edward Snowden, you don't need to pull a blanket over your head before entering a password."
Or as Alex Garner, Senior Health Innovation Strategist at Hornet. puts it, "Under Trump we're forced to be vigilant and take whatever precautions we can to protect our privacy.
"But we also have to decide which risks we're willing to live with, which we aren't and which we will resist, to foster a community where people can express themselves, free of stigma and fear."
You can connect with Digital Safe Space on their website, on Facebook and on Twitter.
South Bend Indiana Rainbow Story Hour disrupted by Proud Boys
Seven men — all Proud Boys — entered the library and began arguing with staff and patrons. Several displayed white supremacist symbols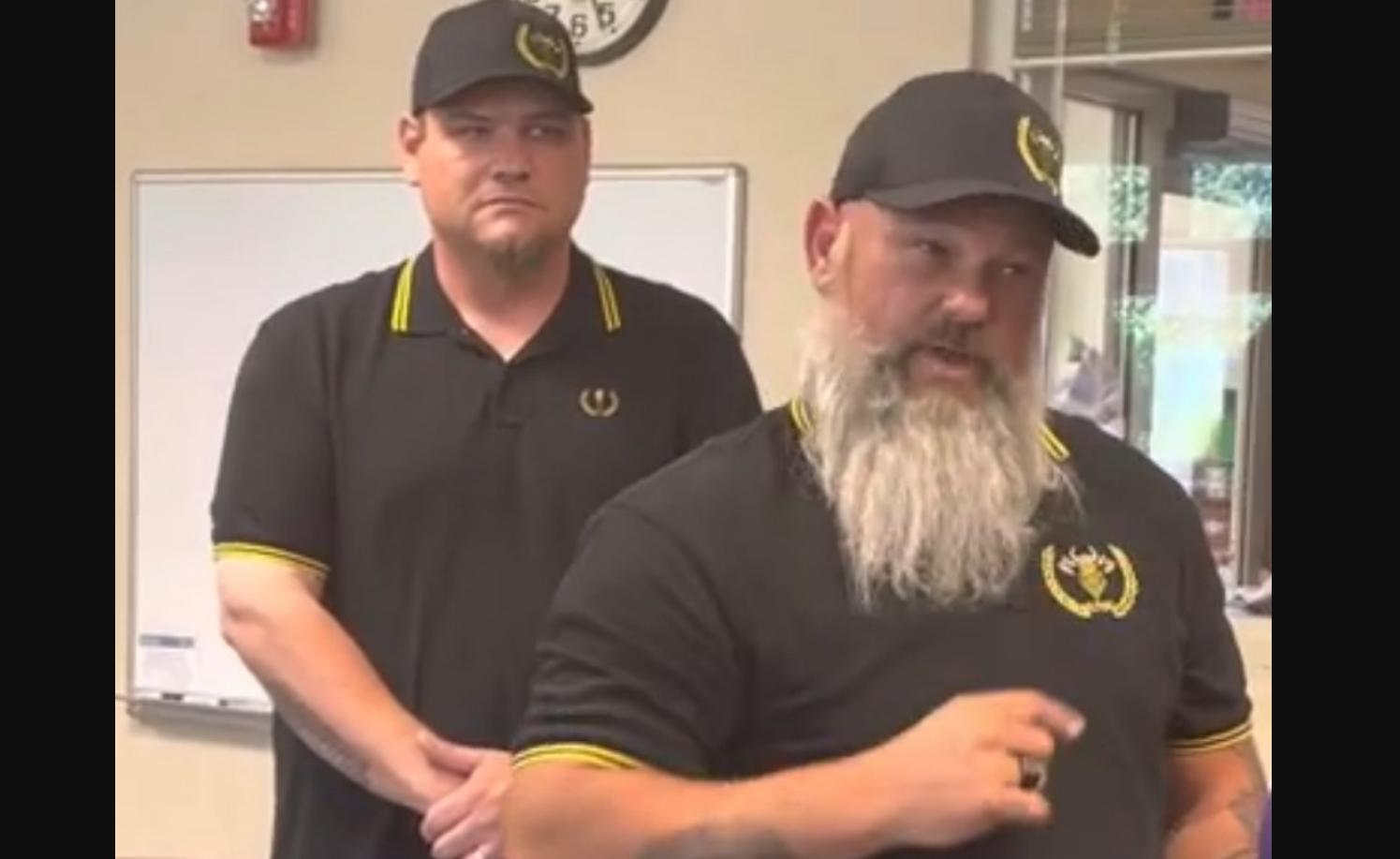 SOUTH BEND, In. – A Pride Month children's Rainbow Story Hour event at the St. Joseph County Public Library's Virginia M. Tutt Branch on Monday was disrupted after the far-right anti-LGBTQ+ group, the Proud Boys, walked in and began loudly arguing with staff and library patrons.
At one point during the confrontation, one of the group unfurled a flag reading "Michiana Proud Boys," appearing to identify the men as a local chapter of the white nationalist hate group.
This latest incident follows Proud Boys targeting LGBTQ+ Pride month events- especially Drag Queen Story Hour events- in Sparks Nevada, Wilmington North Carolina, Alameda California, Boise Idaho, many promulgated by highly influential far-right social media stars like Chaya Raichik, the Brooklyn real estate agent behind @LibsOfTikTok who has highlighted these events she calls out as inappropriate and sexualizing children to her more than 1.3 million followers on Twitter.
South Bend's NPR outlet WVPE reported that the event was a partnership between the library and TREES, a Michiana organization that provides resources for the local transgender community and operates the Tree House Gender Resource center in downtown South Bend.
But before the event was set to start, seven men — all Proud Boys — entered the library and began arguing with staff and patrons. Several displayed white supremacist symbols, according to photos posted on social media.
Police were called — and the group left after about 40 minutes — but they caused so much disruption that the event had to be canceled.
"This definitely came as a shock," library system communications manager Marissa Gebhard told WVPE. "We were not anticipating any problems."
The library plans to reschedule the event in a few months, and Gebhard said the system wants everyone to feel safe and welcome at its branches.
The Proud Boys recognized one person because Purple for Parents (a local hate group focused on schools) had doxxed her before.

This disruption is extremely concerning because it seems to be a part of coordinated disruptions of similar events across the country. 2/4 pic.twitter.com/QumqYn4Bxd

— Indiana Mutual Aid Coalition (@INMutualAid) June 28, 2022
Ketanji Brown Jackson sworn in as 116th justice of the U.S. Supreme Court
"It has taken 232 years and 115 prior appointments for a black woman to be selected to serve on the Supreme Court of the United States"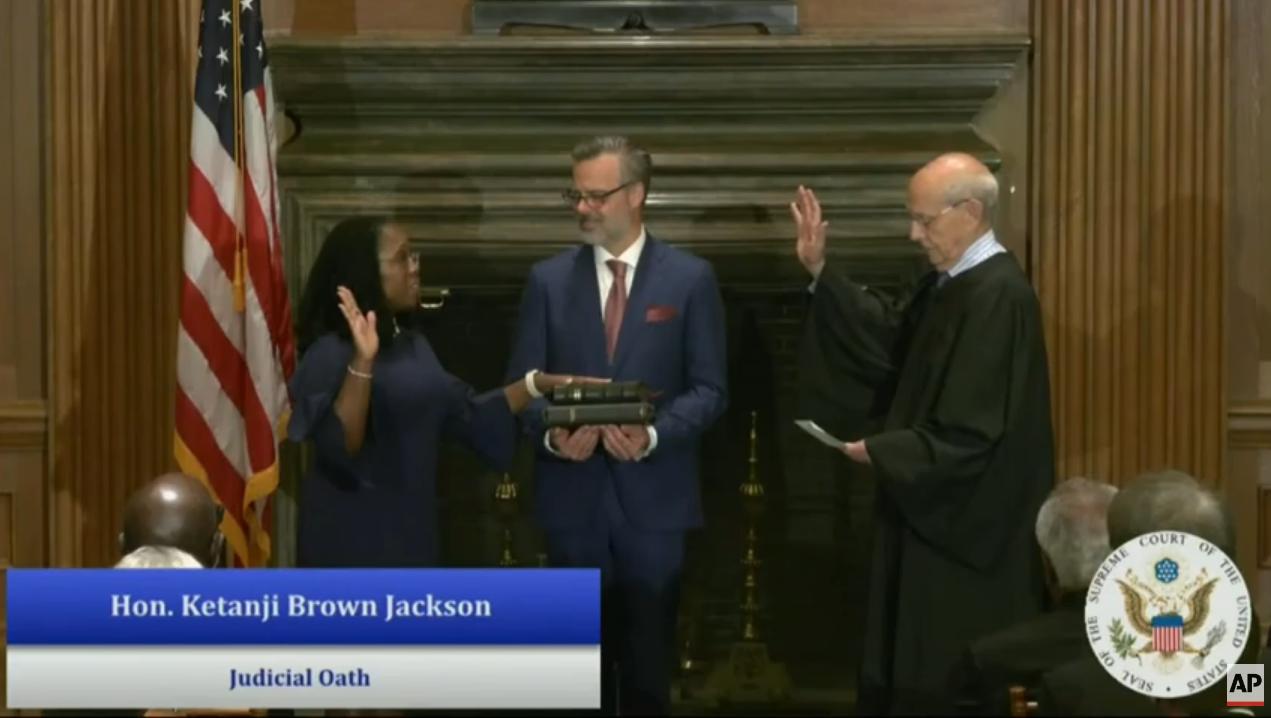 WASHINGTON – In oaths administered by the Chief Justice John Roberts and outgoing Associate U.S. Supreme Court Justice Stephen Breyer, Judge Ketanji Brown Jackson was sworn in as the 116th justice of the U.S. Supreme Court.
The 51 year-old Justice Jackson made history as the first-ever black woman sworn in as a justice on the U.S. Supreme Court. She replaces Justice Breyer, whose resignation from the Supreme Court becomes effective at noon Thursday (Eastern) after his nearly 28 years of service on the nation's high court.
In the simple ceremony held at the Court, Jackson in the constitutional oath, given by Chief Justice Roberts, solemnly swore to defend the Constitution "against all enemies, foreign and domestic," and "bear true faith and allegiance to the same."
Justice Breyer gave her the statutory oath, in which Jackson swore to "administer justice without respect to persons, and do equal right to the poor and to the rich."
The newly sworn-in Associate Justice was joined by her husband, Dr. Patrick Jackson, and their two daughters, Talia and Leila.
The court will hold another formal inaugurating ceremony, called an investiture, in the fall, Roberts said. But Thursday's ceremony allows her to immediately begin work as the newest member of the nine-seat Supreme Court.
Nominated by President Biden and confirmed by the Senate, in April at a ceremony on the South Lawn of the White House, addressing the audience of members of Congress, the Biden Cabinet, and White House staff along with family and invited guests, Justice Jackson noted;
"As I take on this new role, I strongly believe that this is a moment in which all Americans can take great pride. We have come a long way towards perfecting our union. In my family, it took just one generation to go from segregation to the Supreme Court of the United States." 
As the first Black woman to be nominated to serve on the nation's highest court which she noted in her remarks:
"It has taken 232 years and 115 prior appointments for a black woman to be selected to serve on the Supreme Court of the United States. But we've made it," she said, to applause from the crowd. "We've made it, all of us, all of us. And our children are telling me that they see now, more than ever, that here in America anything is possible."
Quoting Maya Angelou, an American author, poet and civil rights activist, "I am the hope and the dream of the slave," Jackson said.
U.S. Supreme Court upholds Biden's ability to enforce immigration laws
In its 5-4 ruling the high court said that the president may repeal the Trump-era 'remain in Mexico' policy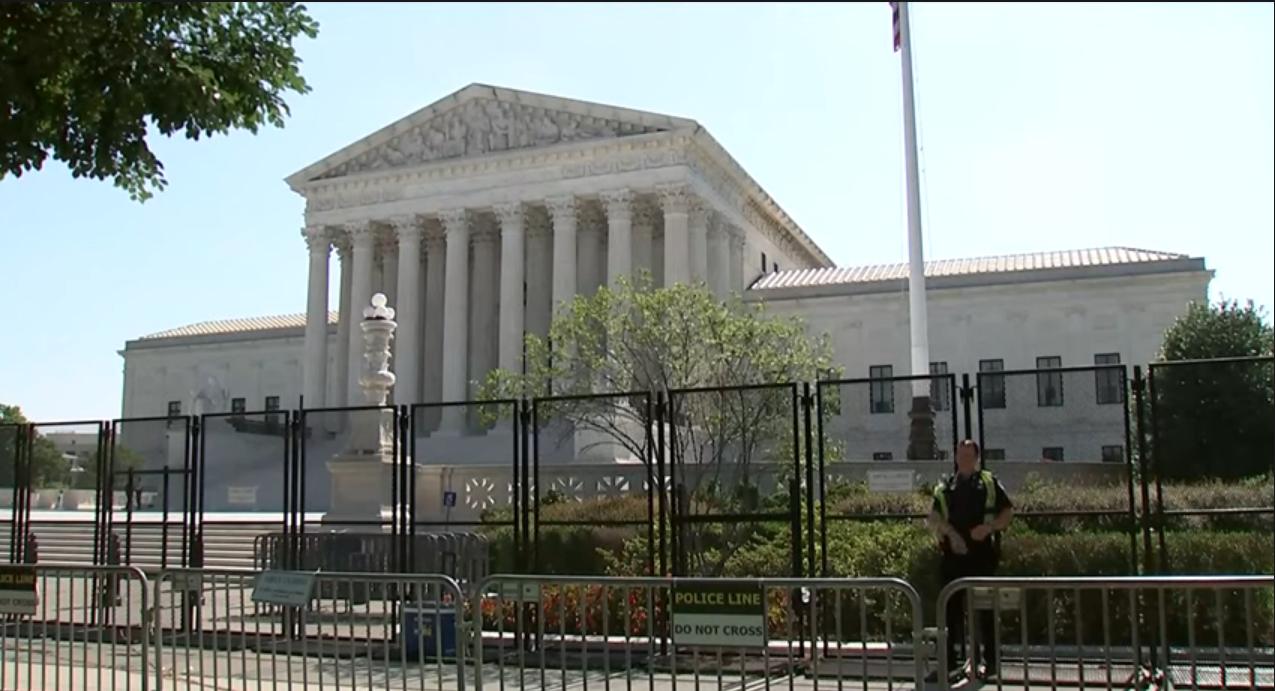 WASHINGTON – The U.S. Supreme Court Thursday upheld President Biden's broad presidential powers to enforce the nation's immigration laws and policies. In a 5-4 ruling the high court said that the president may repeal the Trump-era 'remain in Mexico' policy, which barred most Central American migrants from entering the United States to seek asylum.
Chief Justice John Roberts, joined by Justices Sonia Sotomayor, Elena Kagan, Stephen Breyer and Brett Kavanaugh rejected arguments by Republican-led states in the case known as Biden v. Texas that were seeking to force the administration to keep the policy enacted under former President Trump.
The Chief Justice writing for the majority held that the decision to end it did not violate a 1996 migrant detention law and that a second memo terminating the program should have been considered by lower federal courts.
In his opinion, Roberts overturned the ruling by the 5th U.S. Circuit Court of Appeals that forced border officials to revive the Remain in Mexico rules, formally known as the Migrant Protection Protocols this past December. The Chief Justice noted that the 1996 law which authorizes the program does not mandate U.S. Immigration and Customs Enforcement (ICE) officials to return migrants to Mexico, but allows them the option to do so. Roberts referenced use of the word "may" in the statute.
If Congress meant for the law to require asylum-seekers to be returned to Mexico, Roberts wrote, "it would not have conveyed that intention through an unspoken inference in conflict with the unambiguous, express term 'may.'"
Justices Samuel Alito and Amy Coney Barrett filed separate dissenting opinions, parts of which were joined by Justices Neil Gorsuch and Clarence Thomas.
U.S. Senator Alex Padilla (D-Calif.), Chair of the Senate Judiciary Subcommittee on Immigration, Citizenship, and Border Safety, released the following statement on the Supreme Court's decision today in Biden v. Texas:
"Today's Supreme Court decision correctly acknowledges the Biden administration's authority to end the unlawful and cruel 'Remain in Mexico' program. For more than three years, this horrifying policy has denied asylum seekers their right to due process and subjected them to crimes like rape, kidnapping, and torture in northern Mexican border cities while they await their court hearings.
"I urge the Biden administration to do everything in its power to swiftly end 'Remain in Mexico' once and for all. Misguided and inhumane Trump-era policies like 'Remain in Mexico' and Title 42 have only decimated an already broken immigration system. We must keep working to restore the lawful processing of asylum seekers at the border, in keeping with America's most deeply held values as a nation of immigrants."
This is a developing story.