Porn star followed by Scaramucci on Twitter speaks out
Trump's new spokesman still following gay porn star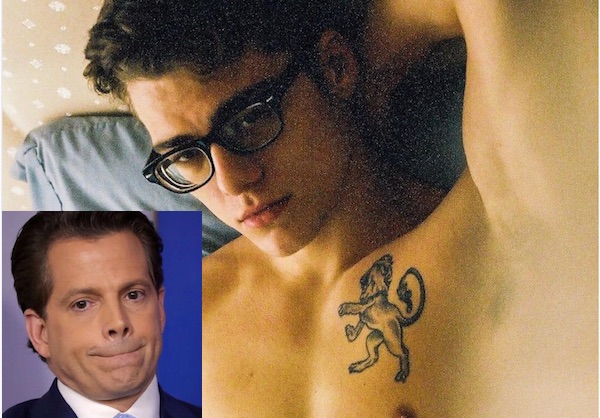 The White House's now fired, brash communications director, Anthony Scaramucci, told The New Yorker magazine he's not 'trying to suck his own cock," but it turns out if he wants to learn how he could turn to his own Twitter news feed.
Blake Mitchell, the gay porn star Scaramucci follows on Twitter frequently posts how to lessons, feeding Scaramucci and 92,000 other people a steady diet of steamy gay porn videos, auto-erotic videos of himself, and sexy photos with his handsome young conquests.
Wait…what? pic.twitter.com/QXLI8zIdwV

— Lane (@LaneVRogers) July 27, 2017
"Wait…what?" @MrBlakeMitchell posted on Twitter when he discovered the new White House communications director was a follower.
"I posted the screenshot that showed that he was following me," Mitchell, who identifies as bi-sexual, told The Los Angeles Blade. "He was in a Twitter 'Moments' slideshow, and I clicked on his profile inside that. When I saw he was following me, my reaction was exactly what I posted online — Wait…what?"
Mitchell, who says he decided not to return Anthony Scaramucci's Twitter follow, rates himself above average in terms of his interest in national politics.
"I vote every chance I get, and I'm not afraid to 'get political,'" Mitchell told The Los Angeles Blade. "But I'm at a point in my career where focusing more energy on the current political situation would detract from my abilities to climb the corporate ladder if you will."
In addition to a porn career, Mitchell is also a full-time university student in San Diego, where he studies business.
He says he's been surprised before to find other VIP fans and followers, but "I'd have to say, Anthony Scaramucci is the most surprising follower I have."
As of 6:30 PM, despite heavy traffic on this article in Washington, DC, Scaramucci still follows Blake.
News outlets from the New York Times to Mother Jones have noted the incongruities between Scaramucci's oft-tweeted support for "gay rights" and the hostility of the Trump administration to LGBTQ equality.
Just last week, the president himself dealt a stomach punch to active-duty transgender service members, as well as a case of whiplash to leaders inside the Pentagon, who have been on course since the Obama Administration to accept open service of trans people in all military branches, by tweeting that he'd reverse the plan. Later the same week, Donald Trump's Justice Department announced it would remove sexual orientation from equal employment opportunity protections.
A Wall Street insider and noted hedge-fund investor, who made much of his estimated $64 million net worth (according to Fortune Magazine) working for Goldman Sachs and later at his own hedge fund, Scaramucci recently lambasted those in the media and on social media, such as London's Daily Mail newspaper, who have made hay of reports about his impending divorce, claiming it derives from "naked political ambition."
While Mother Jones enumerated some of the contradictions between Scaramucci's positions of the recent past, positions that conflict starkly with those of the Trump Administration, such as acceptance of climate change orthodoxy, The Advocate reported that Donald Trump's new communications director has not deleted tweets stating his support for LGBTQ equality.
Previously, Scaramucci announced that by deleting tweets about political positions away from which he has "evolved," an announcement that drew smirks and commentary about high irony. Most of the deletions appear to have been now-embarrassing tweets that essentially called Hillary Clinton a competent candidate and Donald Trump unqualified. Few if any of Scaramucci's deleted tweets relate to LGBTQ rights.
Scaramucci's following of a gay porn star on Twitter and retaining his pro-equality tweets notwithstanding, the Washington Blade's Chris Johnson may have put the discrepancy between Anthony Scaramucci's words and actions vis a vis his stated support for people of gender and sexual diversity and his actions most succinctly:
"For a supporter of LGBT rights, Scaramucci has made unusual choices in his selection of presidential candidates to back," Johnson wrote on July 21. "In 2012, Scaramucci supported Republican presidential nominee Mitt Romney. In the 2016 election, Scaramucci initially backed Wisconsin Gov. Scott Walker, then former Florida Gov. Jeb Bush before moving to Trump."
Johnson also notes that Scaramucci was not among the 300 Republicans who signed a 2015 amicus brief in support of marriage equality. Nevertheless, none other than HRC's Chad Griffin has said that perhaps Trump's new adviser will set a better tone for LGBTQ relations at the White House. Last week does not bode well for Griffin's hopes.
"As far as Scaramucci's appointment goes, I had never heard of him until he was appointed, but I will say I think his tweeting is a little juvenile," Blake Mitchell told the Blade.
"President Trump is only seven months in and [already] I think it's going to be a long three years and five months left for both him and us," Mitchell said. "I think he's performing as well as we should expect from a person with his experience level in the office of the magnitude he's in. I don't think he's doing well for the LGBTQ community and I doubt anyone expected him to be. I certainly won't be looking for a change in that department, though I will applaud him if he chooses to start going in the right direction."
Mitchell had one last comment before our interview ended.
"As of this interview on Saturday, July 29, Scaramucci's still following me," he said. "We'll see how that changes."
It is unknown whether Scaramucci has retweeted any of Mitchells images to Donald Trump.
U.S. Justice Dept. seeks Supreme Court review on Texas abortion ban
"Women have been unlawfully prevented from exercising control over their lives in ways that are protected by the Constitution"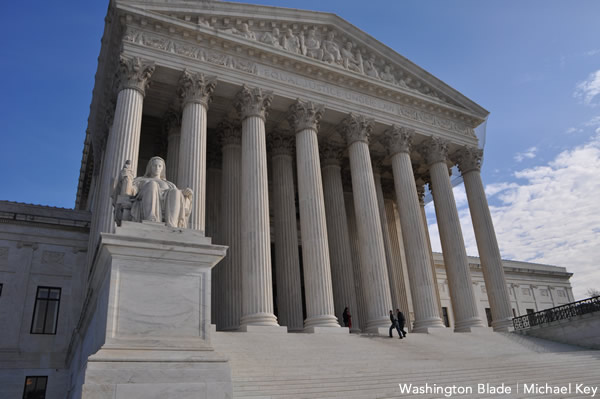 WASHINGTON – U.S. Justice Department lawyers filed an emergency appeal Monday with the U.S. Supreme Court after the U.S. Fifth Circuit Court of Appeals enjoined a lower court ruling that blocked enforcement of the Texas anti-abortion law.
The Justice Department is seeking the high court's review in order to block the law while legal litigation continues over the controversial law that bans abortion after six weeks, a point at which many women are unaware they are pregnant.
The Biden administration wants to block the law's enforcement while a lower Federal court in Austin, Texas, addresses the underlying constitutional questions raised in the challenge to the law.
Last week in a late night filing the Justice Department petitioned the U.S. 5th Circuit Court of Appeals to reverse its ruling that allows the controversial Texas abortion ban law known as SB8 temporarily reinstated.
In its brief Justice Department attorneys argued that if the law is upheld, states could violate any right provided they left enforcement up to private citizens and not the state itself. "If Texas's scheme is permissible, no constitutional right is safe from state-sanctioned sabotage of this kind," the Justice Department stated then added, "A stay would prolong [the law's] substantial harm to the United States' sovereign interests and would disserve the public interest."
In a late Friday evening ruling two weeks ago, a three Judge panel of the U. S. Fifth Circuit Court of Appeals temporarily overturned an injunction issued by U.S. District Court Judge Robert Pitman that had blocked Senate Bill 8, the Texas abortion ban, from being enforced.
A three-judge panel of the 5th Circuit released a one-paragraph order last Thursday allowing the law to remain in effect after the appeal by the Justice Department.
In its appeal the lawyers for the Justice Department argued that the law "is plainly unconstitutional under this court's precedents […] And Texas's insistence that no party can bring a suit challenging S.B. 8 amounts to an assertion that the federal courts are powerless to halt the state's ongoing nullification of federal law. That proposition is as breathtaking as it is dangerous."
Because the case was filed on the high court's emergency docket, the justices are likely to move swiftly legal experts say – possibly within a matter of days – to take it up. 
Writing in his 113 page order, U.S. District Court Judge Robert Pitman, who blocked enforcement of S.B. 8 labeled the law an "offensive deprivation of such an important right" referring to women's reproductive rights then added;
"A person's right under the Constitution to choose to obtain an abortion prior to fetal viability is well established," Pitman wrote. "Fully aware that depriving its citizens of this right by direct state action would be flagrantly unconstitutional, (Texas) contrived an unprecedented and transparent statutory scheme to do just that."
Pitman also took aim at the provisions in the law that allows any private individual to sue abortion providers or those who aid and abet procedures that violate the law. Successful litigants can collect $10,000 under the law's provisions.
"The State created a private cause of action by which individuals with no personal interest in, or connection to, a person seeking an abortion would be incentivized to use the state's judicial system, judges, and court officials to interfere with the right to an abortion," he wrote.
Pitman then called out the Republican lawmakers who drafted the measure: "There can be no doubt that S.B. 8 was a deliberate attempt by lawmakers, notably its author, State Senator Bryan Hughes, to "find another way" around resistance to enforcement of laws criminalizing abortion."
Dr. Rachel Levine first Trans Admiral in U.S. Commissioned Officer Corps
"This is a momentous occasion & I am pleased to take this role for the impact I can make, and for the historic nature of what it symbolizes"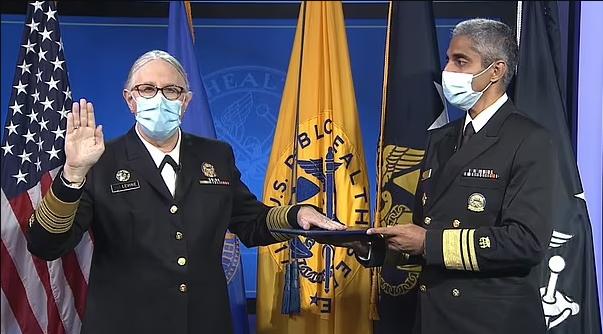 WASHINGTON – The nation's eight uniformed services added the first ever openly Transgender four-star flag officer Tuesday as Dr. Rachel Levine, who serves as the HHS Assistant Secretary for Health and head of the U.S. Public Health Service (USPHS) Commissioned Corps, was ceremonially sworn in as the highest ranking official in the USPHS Commissioned Corps.
For Rachel Levine, the appointment to her new role as a four-star admiral complementing her existing duties as assistant secretary for health is another way for the first openly transgender Senate-confirmed presidential appointee to serve.
"I think that this just really comes from my desire to serve in all capacities," Levine said in an interview Tuesday with the Washington Blade. "To serve the first day in my field of academic medicine and pediatrics, but then in Pennsylvania and now in the federal government, and it furthers my ability to do that."
The Admiral will lead 6,000 Public Health Service officers estimated 6,000 public health service officers serving vulnerable populations, including deployments inside and outside the country for communities beleaguered with the coronavirus, according to the Department of Health & Human Services.
The role involves working closely with U.S. Surgeon General Vivek Murphy, whom Levine called her "friend and colleague." Not only is Levine the first openly transgender person to serve in the uniformed health service as a four-star general, but she's also the first woman to serve in that capacity.
"We have 6,000 dedicated committed public servants really all focused on our nation's health, and they serve in details to the CDC and the FDA and the NIH, but also clinically with the Indian Health Service, and the federal prison system," Levine said. "They're also detailed and deployed throughout the country, and they deployed like never before for COVID-19 as well as the border, as well as dealing with floods and hurricanes and tornadoes."
Levine, 63, also recognized the importance of the appointment as a transgender person within the National Oceanic & Atmospheric Administration Commissioned Officer Corps, for which she was ceremonially sworn in on Tuesday within the U.S. Public Health Service.
"I think for the LGBTQ+ community, it is a further sign of progress and our president's commitment to equity, to inclusion and diversity," Levine said. "So I think that it is a very important milestone, and I'm pleased to serve."
The U.S. Public Health Service, Levine said, has deployed "many, many times," including its greatest number ever of deployments to vulnerable populations during the coronavirus pandemic. Among the places the service has deployed, Levine said, was in her home state of Pennsylvania, where she recently served as secretary of health.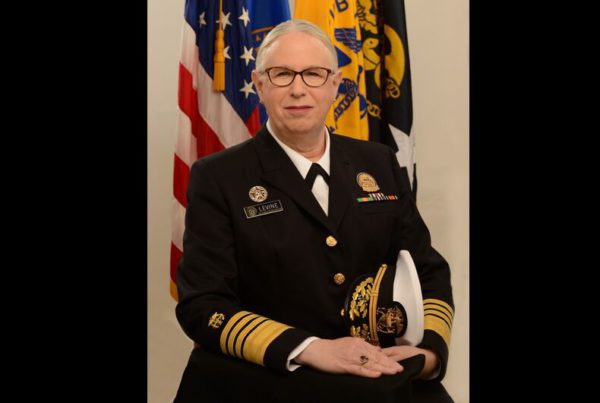 Although the Public Health Service is primarily focused on addressing public health disasters within the United States, Levine said it has a record of deployments overseas, including years ago when it was deployed to Africa under the threat of Ebola.
Secretary of Health & Human Services Xavier Becerra had high praise for Levine in a statement upon news of taking on a leadership position in the service:
"Admiral Levine's historic appointment as the first openly transgender four-star officer is a giant step forward towards equality as a nation.  This is a proud moment for us at HHS. Admiral Levine — a highly accomplished pediatrician who helps drive our agency's agenda to boost health access and equity and to strengthen behavioral health — is a cherished and critical partner in our work to build a healthier America."
Levine, however, was careful to draw a distinction between her appointment within the National Oceanic & Atmospheric Administration Commissioned Officer Corps and being a service member within the U.S. armed forces.
"It is not a military branch, it's not the armed forces: It's a uniformed force, so it's different," Levine said. "For example, the Army, the Navy, our military, there are two other uniformed branches, and that is ours, the United States Public Health Service Commissioned Corps and NOAA."
The new role, Levine said, would complement her duties as assistant secretary for health. Although not only secretaries of health have been commissioned to take the uniform, Levine said she wanted to undertake that as part of her role in the Biden administration.
The two appointments were not simultaneous, Levine said, because of a general process she undertook, which was completed just this week.
It hasn't been an easy road for Levine. During her Senate confirmation process, when she was hounded by anti-transgender attacks in conservative media and rude, invasive questioning by Sen. Rand Paul (R-Ky.) on her gender identity.
Levine, however, said she hasn't encountered any hostility regarding her new role (as of now) and shrugged off any potential attacks in the future and said the move is about her career "to serve and to help people."
"I've continued that for our nation as the assistant secretary for health and this is just a further demonstration of my commitment to service," Levine said. "I don't know what others will say, but that's the genesis of my wanting to serve in the United States Public Health Service Commissioned Corps, and to place on the uniform."
Levine's new appointment comes shortly after a group of Democratic senators led by Sen. Chris Murphy (D-Conn.) sent her a letter dated Sept. 30 calling on her and Miriam Delphin-Rittmon, assistant secretary for mental health and substance use, to issue new guidance for hospital or residential care on mental health needs of transgender people.
Asked about the letter, Levine said mental health issues are under the authority of Delphin-Rittmon and the two "will work together and we will respond."
Specifically, the senators in the letter call on the Behavioral Health Coordinating Council, or BHCC, and experts in the field of adolescent trans care to offer guidance on best practices for inpatient mental health care among these youth.
Asked what the response will look like, Levine said, "We're going to work on that."
"We will be looking at what they're asking for and the requirements, and we'll talk with them and the stakeholders and we'll look to issue appropriate guidance," Levine said.
"I'm so grateful to work alongside a kind, principled leader like Admiral Levine, and it is my honor to celebrate her historic appointment as the first female four-star officer to serve in the U.S. Public Health Service (USPHS) Commissioned Corps and as the first openly transgender four-star officer to serve in any of the uniformed services. Her appointment represents an important step towards a more inclusive future, and her service will undoubtedly advance the USPHS Commissioned Corps' mission to protect, promote, and advance the health and safety of our nation." remarked the U.S. Surgeon General, Vice Admiral Vivek Murthy.
Levine, before being nominated by President Joe Biden and then confirmed by the Senate for her current role earlier this year, had previously served as the Secretary of Health for the Commonwealth of Pennsylvania, had been confirmed previously by the state's Republican-controlled senate to serve as Secretary of Health and the state's physician general.
Texas lawmakers approve anti-Trans youth sports bill & send to Governor
Anti-transgender extremists made it their mission to attack children, spread misinformation and stoke fear to advance their twisted agendas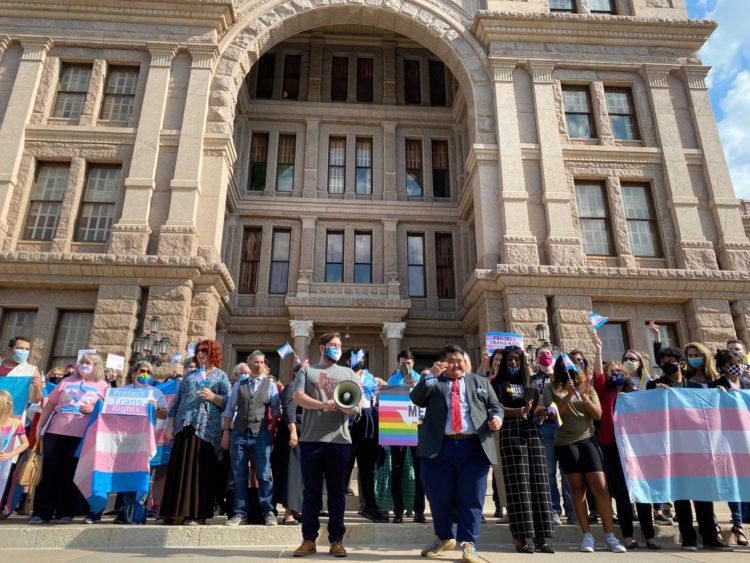 AUSTIN – Texas lawmakers gave final approval Sunday afternoon to Texas House Bill 25, the controversial measure that would require the state's K-12 students to solely compete on sports teams that correspond to the gender listed on their birth certificate that was assigned at birth and negates birth certificates that have modified gender markers.
"This cruel and grotesque ban puts a target on the backs of transgender children and adults, erases intersex people and sends a clear message that transgender and intersex people aren't welcome or safe in Texas. Instead of heeding the community outcry against the bill and listening to the powerful testimony of trans kids and adults, families and advocates, Texas lawmakers willingly ignored the unequivocal evidence of the harm this bill (and bills like it) has already caused," Ricardo Martinez, Chief Executive Officer of Equality Texas, said in an emailed statement.
"Anti-transgender extremists have made it their mission to attack children, spread misinformation and stoke fear in order to advance their own political careers and twisted agendas. This is shameful. This law will deprive transgender and intersex kids of their basic rights and opportunities to play with their friends, get exercise and learn life lessons through sports," Martinez added.
Last week, Texas House Republicans were able to push through the anti-Trans youth sports measure Thursday evening after hours of emotional and at times rancorous debate, passing the bill in a 76-54 vote along party lines.
Then on Friday the state Senate voted 19-12, and later the House voted to concur after accepting Senate amendments to the legislation in a 76-61 vote Sunday afternoon. The Texas Tribune reported that the Senate floor vote followed a swiftly held committee meeting where a 24-hour notice rule was suspended and the Senate's Health and Human Services Committee voted to advance the legislation.
"Make no mistake: this bill will not only have detrimental impacts on trans youth, who already suffer immense levels of harassment and bullying in schools, but also on cisgender youth who don't conform to Texas's idea of "male" or "female." To trans kids everywhere: you belong, you are loved, you are valued, you are deserving of dignity, respect, care, and the ability to live freely as your true and authentic selves, no matter where you are. We will never stop fighting for trans lives and a future where trans kids are unequivocally and unwaveringly celebrated for who they are," Landon Richie, a GenderCool Project leader, University of Houston student and Transactivist told the Blade.
The bill now heads to Republican Governor Greg Abbott's desk where he is expected to sign the measure this week.