Porn star followed by Scaramucci on Twitter speaks out
Trump's new spokesman still following gay porn star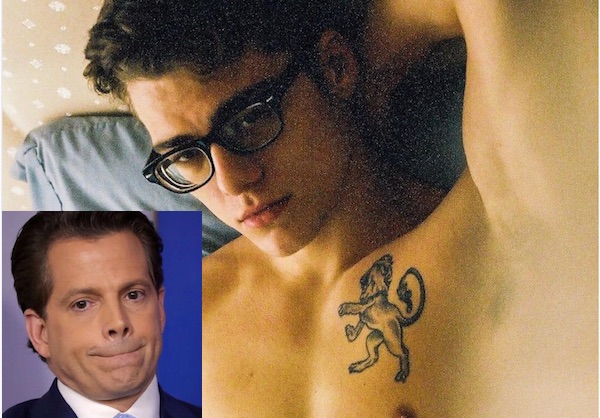 The White House's now fired, brash communications director, Anthony Scaramucci, told The New Yorker magazine he's not 'trying to suck his own cock," but it turns out if he wants to learn how he could turn to his own Twitter news feed.
Blake Mitchell, the gay porn star Scaramucci follows on Twitter frequently posts how to lessons, feeding Scaramucci and 92,000 other people a steady diet of steamy gay porn videos, auto-erotic videos of himself, and sexy photos with his handsome young conquests.
Wait…what? pic.twitter.com/QXLI8zIdwV

— Lane (@LaneVRogers) July 27, 2017
"Wait…what?" @MrBlakeMitchell posted on Twitter when he discovered the new White House communications director was a follower.
"I posted the screenshot that showed that he was following me," Mitchell, who identifies as bi-sexual, told The Los Angeles Blade. "He was in a Twitter 'Moments' slideshow, and I clicked on his profile inside that. When I saw he was following me, my reaction was exactly what I posted online — Wait…what?"
Mitchell, who says he decided not to return Anthony Scaramucci's Twitter follow, rates himself above average in terms of his interest in national politics.
"I vote every chance I get, and I'm not afraid to 'get political,'" Mitchell told The Los Angeles Blade. "But I'm at a point in my career where focusing more energy on the current political situation would detract from my abilities to climb the corporate ladder if you will."
In addition to a porn career, Mitchell is also a full-time university student in San Diego, where he studies business.
He says he's been surprised before to find other VIP fans and followers, but "I'd have to say, Anthony Scaramucci is the most surprising follower I have."
As of 6:30 PM, despite heavy traffic on this article in Washington, DC, Scaramucci still follows Blake.
News outlets from the New York Times to Mother Jones have noted the incongruities between Scaramucci's oft-tweeted support for "gay rights" and the hostility of the Trump administration to LGBTQ equality.
Just last week, the president himself dealt a stomach punch to active-duty transgender service members, as well as a case of whiplash to leaders inside the Pentagon, who have been on course since the Obama Administration to accept open service of trans people in all military branches, by tweeting that he'd reverse the plan. Later the same week, Donald Trump's Justice Department announced it would remove sexual orientation from equal employment opportunity protections.
A Wall Street insider and noted hedge-fund investor, who made much of his estimated $64 million net worth (according to Fortune Magazine) working for Goldman Sachs and later at his own hedge fund, Scaramucci recently lambasted those in the media and on social media, such as London's Daily Mail newspaper, who have made hay of reports about his impending divorce, claiming it derives from "naked political ambition."
While Mother Jones enumerated some of the contradictions between Scaramucci's positions of the recent past, positions that conflict starkly with those of the Trump Administration, such as acceptance of climate change orthodoxy, The Advocate reported that Donald Trump's new communications director has not deleted tweets stating his support for LGBTQ equality.
Previously, Scaramucci announced that by deleting tweets about political positions away from which he has "evolved," an announcement that drew smirks and commentary about high irony. Most of the deletions appear to have been now-embarrassing tweets that essentially called Hillary Clinton a competent candidate and Donald Trump unqualified. Few if any of Scaramucci's deleted tweets relate to LGBTQ rights.
Scaramucci's following of a gay porn star on Twitter and retaining his pro-equality tweets notwithstanding, the Washington Blade's Chris Johnson may have put the discrepancy between Anthony Scaramucci's words and actions vis a vis his stated support for people of gender and sexual diversity and his actions most succinctly:
"For a supporter of LGBT rights, Scaramucci has made unusual choices in his selection of presidential candidates to back," Johnson wrote on July 21. "In 2012, Scaramucci supported Republican presidential nominee Mitt Romney. In the 2016 election, Scaramucci initially backed Wisconsin Gov. Scott Walker, then former Florida Gov. Jeb Bush before moving to Trump."
Johnson also notes that Scaramucci was not among the 300 Republicans who signed a 2015 amicus brief in support of marriage equality. Nevertheless, none other than HRC's Chad Griffin has said that perhaps Trump's new adviser will set a better tone for LGBTQ relations at the White House. Last week does not bode well for Griffin's hopes.
"As far as Scaramucci's appointment goes, I had never heard of him until he was appointed, but I will say I think his tweeting is a little juvenile," Blake Mitchell told the Blade.
"President Trump is only seven months in and [already] I think it's going to be a long three years and five months left for both him and us," Mitchell said. "I think he's performing as well as we should expect from a person with his experience level in the office of the magnitude he's in. I don't think he's doing well for the LGBTQ community and I doubt anyone expected him to be. I certainly won't be looking for a change in that department, though I will applaud him if he chooses to start going in the right direction."
Mitchell had one last comment before our interview ended.
"As of this interview on Saturday, July 29, Scaramucci's still following me," he said. "We'll see how that changes."
It is unknown whether Scaramucci has retweeted any of Mitchells images to Donald Trump.
Blinken: PEPFAR shows 'what American diplomacy can do'
Secretary of state spoke at World AIDS Day event in D.C. on Friday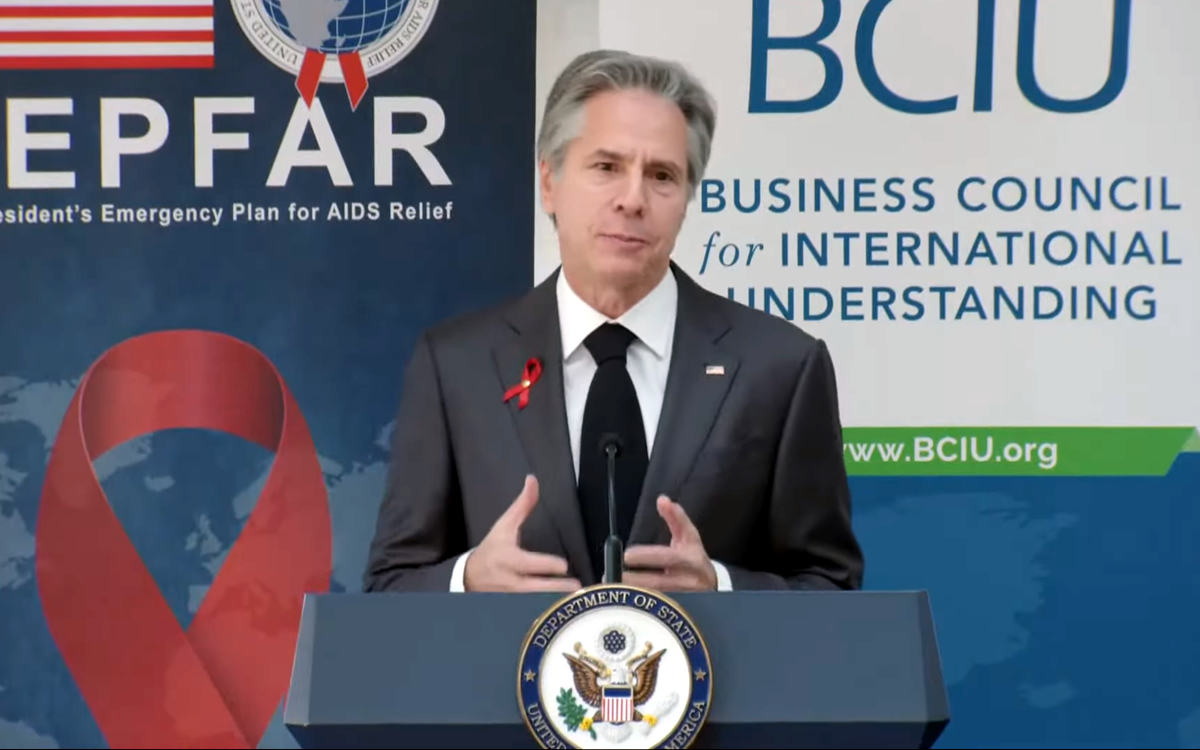 WASHINGTON — Secretary of State Antony Blinken on Friday noted the President's Emergency Plan for AIDS Relief has saved more than 25 million lives since its launch in 2003.
Blinken, who spoke at the Business Council for International Understanding's World AIDS Day event at the Hay-Adams Hotel in D.C., said the more than $100 billion the U.S. has earmarked for PEPFAR over the last two decades has funded 70,000 new community health clinics, 3,000 new laboratories and the hiring of 340,000 health care workers.
"Entire public health systems formed, with over a dozen countries which have either reached their HIV-treatment goals or managed control of the virus altogether," said Blinken.
Then-President George W. Bush in 2003 signed legislation that created PEPFAR. California Democrat Barbara Lee, members of the Congressional Black Caucus and Dr. Anthony Fauci, the director of the National Institute of Allergy and Infectious Diseases and chief White House medical advisor who is retiring at the end of this month, are among those who played a key role in PEPFAR's creation.
"PEPFAR has benefitted from bipartisan support, as we've heard, across four presidencies, across ten Congresses," said Blinken. "It's resulted in an investment of more than $100 billion to the global HIV/AIDS response. This is the largest commitment by one country ever to address a single disease."
Lee and Fauci were among those who attended the event alongside U.S. Global AIDS Coordinator John Nkengasong; Assistant Health Secretary Rachel Levine; Dr. Deborah Birx, the former White House Coronavirus Response Director, and HIV and Hepatitis Policy Institute Executive Director Carl Schmid.
Blinken in his speech noted "the systems put in place by PEPFAR have become an integral part of the health security architecture of countries around the world."
Blinken also said PEPFAR has bolstered responses to COVID-19, Ebola and the avian flu.
"We are continuing to build on PEPFAR's many successes to create a stronger global health security architecture to prevent, to detect, to respond to future health emergencies. Doctor Fauci, you once said that PEPFAR 'shows what the goodwill of a nation can do,' and you were right," said Blinken. "PEPFAR also shows us what American diplomacy can do: Bring together governments, bring together the public and private sectors, communities to tackle challenges that none of us can actually effectively deal with alone and that creates and has created a healthier, safer and ultimately more secure world."
Five-year PEPFAR strategy to target LGBTQ+ people
Blinken acknowledged there is still "very serious work still required for us to end the global HIV health epidemic by 2030," noting HIV/AIDS continues to disproportionately impact LGBTQ+ and intersex people and other marginalized groups.
"Too many countries still have fragile and insufficiently resourced public health systems, which makes it difficult to offer services beyond HIV/AIDS treatments, and that undercuts our capacity to respond to emerging threats," he said.
Blinken noted the U.S. on Thursday announced a new PEPFAR strategy that will help "fill those gaps" over the next five years. It includes the following:
• Targeted programming to help reduce inequalities among LGBTQ+ and intersex people, women and girls and other marginalized groups
• Partnerships with local organizations to help reach "hard-to-reach" communities.
• Economic development and increased access to financial markets to allow countries to manufacture their own antiretroviral drugs, tests and personal protective gear to give them "the capacity to meet their own challenges so that they're not dependent on anyone else."
"This latest PEPFAR strategy will keep making advancements like that possible so that millions more people can live healthy lives and live lives to their full potential," said Blinken.