July 28, 2017 at 4:41 pm PST | by David Ehrenstein
David Hockney: 80 going on 16
David Hockney will force you to notice the world around you in ways that challenge you to see beyond the apparent meaning of what you think you know. He is also an artist who has always put sexuality front and center and whose prolific body of work can be seen around the globe, a kind of international gay activist.
Context, of course, matters and his work is right at home here in Los Angeles and something every LGBT person should behold.
The current showing of his work at The Getty Center is a grand masterstroke that puts him at the apex of artists who lived and worked in Southern California.
"Happy Birthday Mr. Hockney," (through November 26th) is a spectacle in two parts, featuring his self-portraits and his photographs.
Encountering Hockney for the first time is nothing short of a revelation. Bright, playful, incisive, and delightful, Hockney has, for well over half a century, offered images that are both deeply personal and designed to communicate in a singularly engaging and soulful way.
"Light, and where it comes from, is every painter's preoccupation. And for Hockney, light on water is a particular fascination. 'Say a swimming pool: The water is transparent. How do you paint transparency?' he asks. 'It's always a nice problem to me. … Water in a swimming pool is transparent and it has reflections and things. That's what [it's] all about — reflections,' Hockney recently told NPR.
And the word "reflections" must always be used in its broadest sense.
Hockney's love of Southern California came early for him. As a child viewing Laurel and Hardy comedies he noticed the way their shadows cast on the ground. This meant that where they were was very sunny. And for Hockney, living in darkest, dankest England this marked Los Angeles as a primary relocation goal. He was also drawn to the erotic side of life in Southern California. He was a fan of Bob Mizer's "Athletic Models Guild" — soft-core homoerotica that he greatly prized.  AMG "model" Joe Dallesandro, Warhol's well-hung superstar, aka, Little Joe, was his core obsession.
Hockney never got around to working with Joe. Mostly likely because he was too busy with then-boyfriend (and primary model) Peter Schlesinger, a major subject of Hockney's passion and work.
Peter Schlesinger is featured in in so much of David Hockney's work: he is the faintly outlined person rippling in the pool, the dapper and sophisticated young man, the naked, looking intently boy in the lush SoCal garn.  He is Hockney's signature and the two shared so much intimacy, it was not always clear which was the artist. They were selfie obsessed even before selfies, posed photographs, kissing and having fun.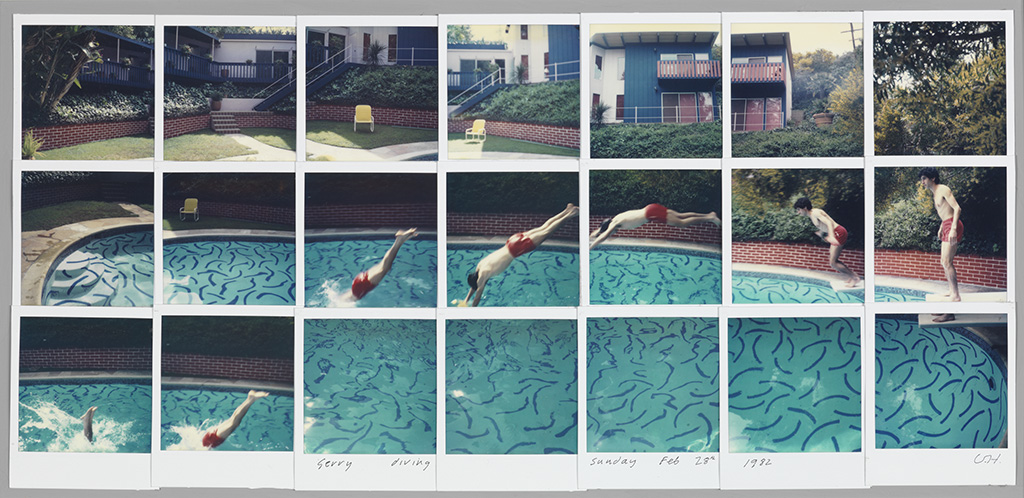 In Jack Hazan's documentary A Bigger Splash, Hockney even made art of their breakup and honed his instinctive gay militancy.
Hockney, never closeted, dealt directly with being out as far back as 1961 with "We Two Boys Together Clinging"
The title comes from a line in a poem by Walt Whitman, but the inspiration for the image came from a newspaper headline about a mountain-climbing accident, "Two Boys Cling To Cliff All Night." For Hockney, the headline instantly evoked visions of a three-way with pop singer Cliff
Richard, the British around whom gay "rumors" had swilled since the 1950's and who last year declared "My sexuality is private and I'll take it to the grave."
"The grave's a fine and private place, but none I think do their embrace," wrote Andrew Marvell back in the 1600s. And Hockney would thoroughly agree. About the painting, Hockney went on to note: "What one must remember about these pictures is that they were partly propaganda of something I felt hadn't been propagandized, especially among students, as a subject: homosexuality. I felt it should be done. Nobody else would use it as a subject but because it was a part of me, it was a subject I could treat humorously. I love the line 'We two boys together clinging' It's a marvelous beautiful poetic line."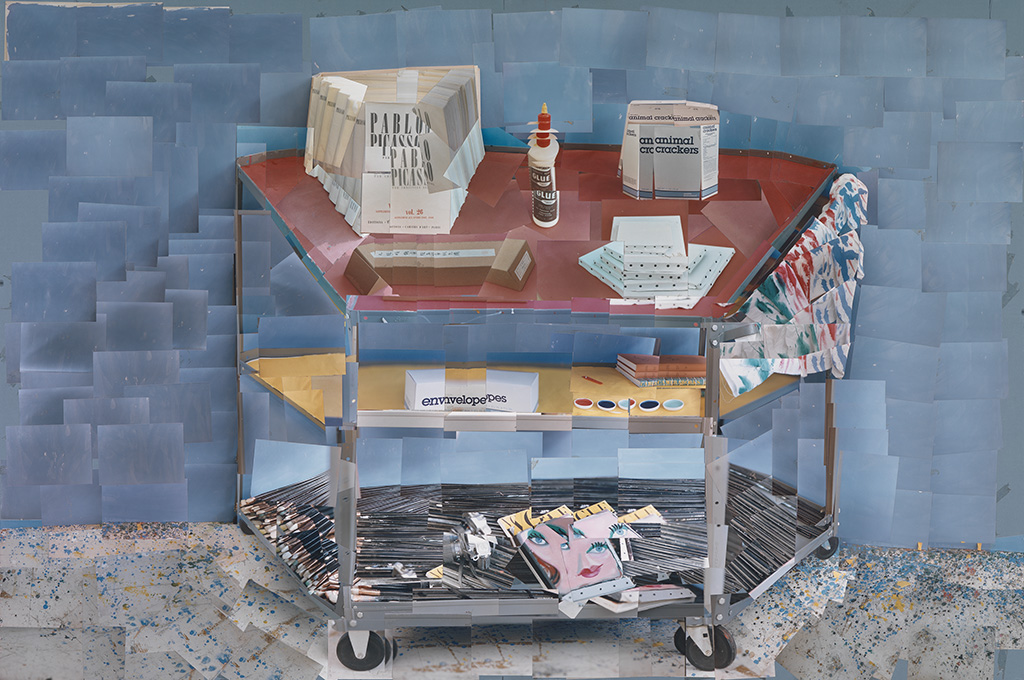 One might well describe Hockney's art as being constructed from a series of marvelously beautifully poetic lines, be it cubist "Pearblossom Highway" or the subtlety of "Rain."
For Hockney it's all part of the profundity of the visual experience. "I do get a deep pleasure from looking," he says. "I mean, I can look at a little puddle on a road in Yorkshire and just have the rain falling on it and think it's marvelous. … I see the world as very beautiful."
And that means not just the boys.
But Hockney being Hockney, there are always a lot of beautiful boys — usually jumping into swimming pools.
And while he may be 80 years old, David Hockney is still a horny gay teenager at heart.