David Hockney: 80 going on 16
Artist is right at home at The Getty Center
David Hockney will force you to notice the world around you in ways that challenge you to see beyond the apparent meaning of what you think you know. He is also an artist who has always put sexuality front and center and whose prolific body of work can be seen around the globe, a kind of international gay activist.
Context, of course, matters and his work is right at home here in Los Angeles and something every LGBT person should behold.
The current showing of his work at The Getty Center is a grand masterstroke that puts him at the apex of artists who lived and worked in Southern California.
"Happy Birthday Mr. Hockney," (through November 26th) is a spectacle in two parts, featuring his self-portraits and his photographs.
Encountering Hockney for the first time is nothing short of a revelation. Bright, playful, incisive, and delightful, Hockney has, for well over half a century, offered images that are both deeply personal and designed to communicate in a singularly engaging and soulful way.
"Light, and where it comes from, is every painter's preoccupation. And for Hockney, light on water is a particular fascination. 'Say a swimming pool: The water is transparent. How do you paint transparency?' he asks. 'It's always a nice problem to me. … Water in a swimming pool is transparent and it has reflections and things. That's what [it's] all about — reflections,' Hockney recently told NPR.
And the word "reflections" must always be used in its broadest sense.
Hockney's love of Southern California came early for him. As a child viewing Laurel and Hardy comedies he noticed the way their shadows cast on the ground. This meant that where they were was very sunny. And for Hockney, living in darkest, dankest England this marked Los Angeles as a primary relocation goal. He was also drawn to the erotic side of life in Southern California. He was a fan of Bob Mizer's "Athletic Models Guild" — soft-core homoerotica that he greatly prized.  AMG "model" Joe Dallesandro, Warhol's well-hung superstar, aka, Little Joe, was his core obsession.
Hockney never got around to working with Joe. Mostly likely because he was too busy with then-boyfriend (and primary model) Peter Schlesinger, a major subject of Hockney's passion and work.
Peter Schlesinger is featured in in so much of David Hockney's work: he is the faintly outlined person rippling in the pool, the dapper and sophisticated young man, the naked, looking intently boy in the lush SoCal garn.  He is Hockney's signature and the two shared so much intimacy, it was not always clear which was the artist. They were selfie obsessed even before selfies, posed photographs, kissing and having fun.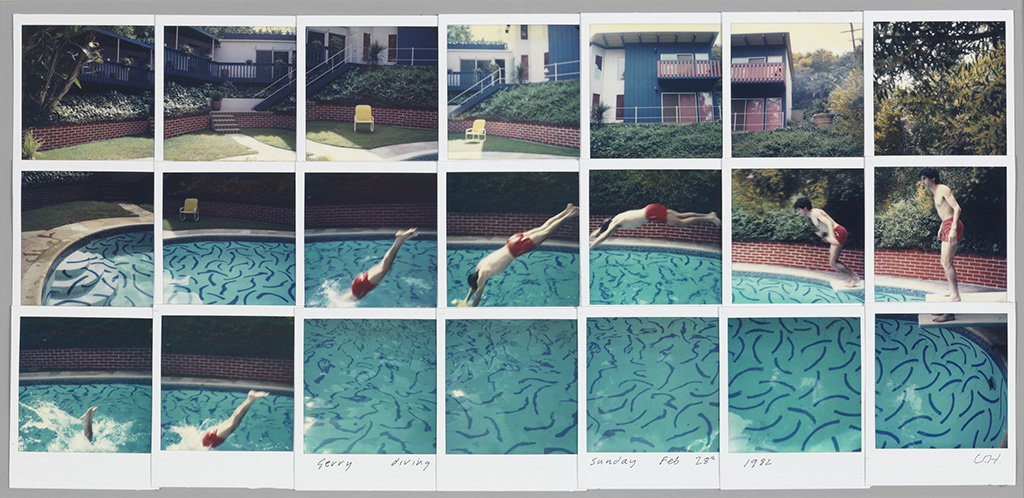 In Jack Hazan's documentary A Bigger Splash, Hockney even made art of their breakup and honed his instinctive gay militancy.
Hockney, never closeted, dealt directly with being out as far back as 1961 with "We Two Boys Together Clinging"
The title comes from a line in a poem by Walt Whitman, but the inspiration for the image came from a newspaper headline about a mountain-climbing accident, "Two Boys Cling To Cliff All Night." For Hockney, the headline instantly evoked visions of a three-way with pop singer Cliff
Richard, the British around whom gay "rumors" had swilled since the 1950's and who last year declared "My sexuality is private and I'll take it to the grave."
"The grave's a fine and private place, but none I think do their embrace," wrote Andrew Marvell back in the 1600s. And Hockney would thoroughly agree. About the painting, Hockney went on to note: "What one must remember about these pictures is that they were partly propaganda of something I felt hadn't been propagandized, especially among students, as a subject: homosexuality. I felt it should be done. Nobody else would use it as a subject but because it was a part of me, it was a subject I could treat humorously. I love the line 'We two boys together clinging' It's a marvelous beautiful poetic line."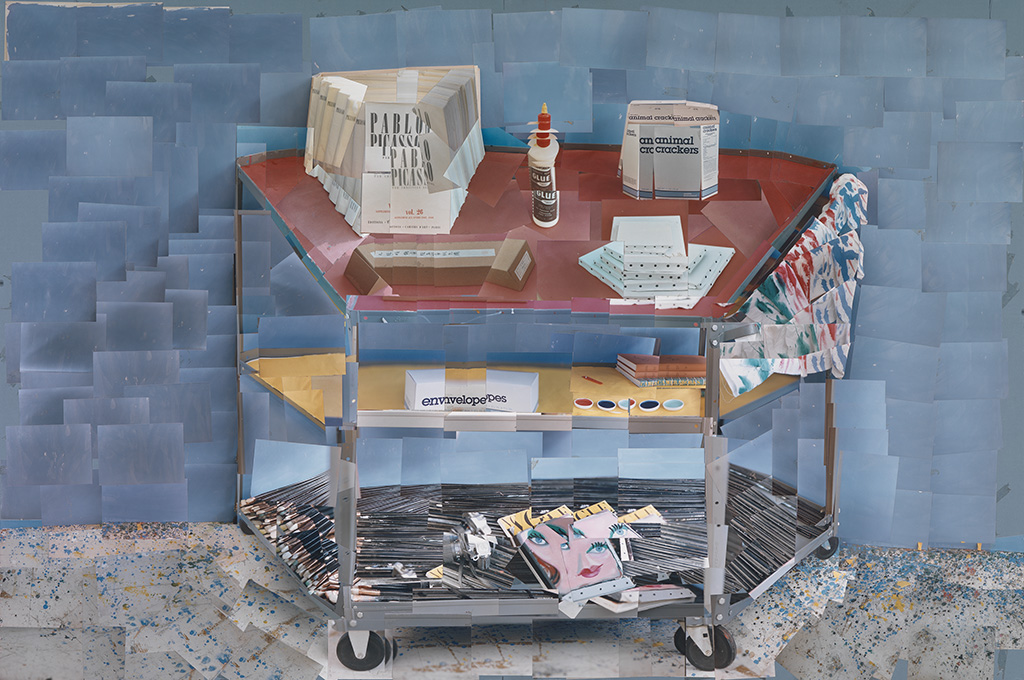 One might well describe Hockney's art as being constructed from a series of marvelously beautifully poetic lines, be it cubist "Pearblossom Highway" or the subtlety of "Rain."
For Hockney it's all part of the profundity of the visual experience. "I do get a deep pleasure from looking," he says. "I mean, I can look at a little puddle on a road in Yorkshire and just have the rain falling on it and think it's marvelous. … I see the world as very beautiful."
And that means not just the boys.
But Hockney being Hockney, there are always a lot of beautiful boys — usually jumping into swimming pools.
And while he may be 80 years old, David Hockney is still a horny gay teenager at heart.
Turning pain into positive & using art as therapy – Carl Hopgood
He knew he wanted to embark on a path toward a "bold, exciting life" among other "creative people" while "doing amazing things and living"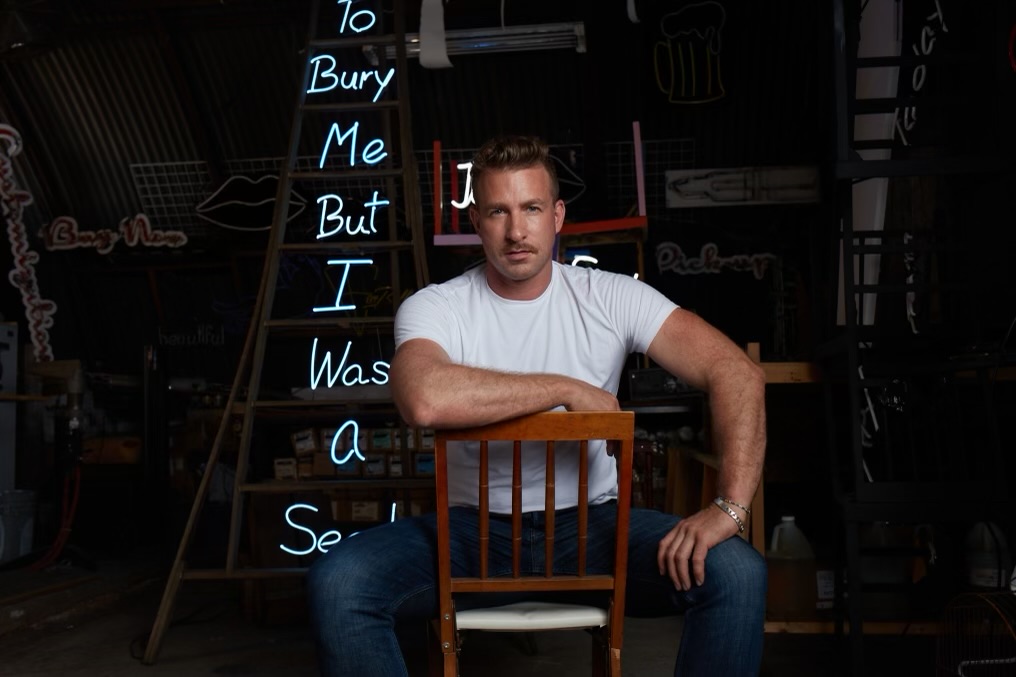 LOS ANGELES – Like many people born with an inclination toward creative expression, Carl Hopgood has known from a very young age that he wanted to be an artist.
Growing up on a small farm in rural Wales, the Cardiff-born Hopgood spent his childhood surrounded by animals and nature, letting his imagination run wild and creating worlds he envisioned with baskets, fruit boxes, flowers, stones, tabloid clippings, and other items that struck his fancy. Then, at 7, he was invited to spend an afternoon with his best friend, whose cousin was visiting; that cousin happened to be Richard Burton, and he happened to be accompanied by his even more famous wife, Elizabeth Taylor.
Hopgood was not just star-struck, he was inspired.
"My world was never the same after that day," he tells the Blade. "They told stories about Hollywood, London, glamorous parties, movies, photography… and Andy Warhol! Andy Warhol was my first artist crush. He was also born on a farm, so I felt an immediate connection."
After that experience, he knew he wanted to embark on a path toward a "bold, exciting life" among other "creative people" while "doing amazing things and living."

Four decades and one continental transplant later, it can safely be said that Hopgood has accomplished his goal.
A successfully established LA-based artist, he's created a unique body of work that includes pieces in Neon, Sculpture, Film / Video Installation, and canvas painting; his collectors include Morgan Freeman, Eugiono Lopez, The Vinik Family Foundation, The Groucho Club and Rupert Everett; and recent exhibitions of his work – like his neon art installations 'Looking For Love In All The Wrong Places', 'My Heart Is Open', and 'You Changed My Life' at the Maddox Gallery in West Hollywood, and 'Chair Therapy' at United Talent Agency's UTA Artspace LA – have garnered a flurry of enthusiasm and increasing national attention.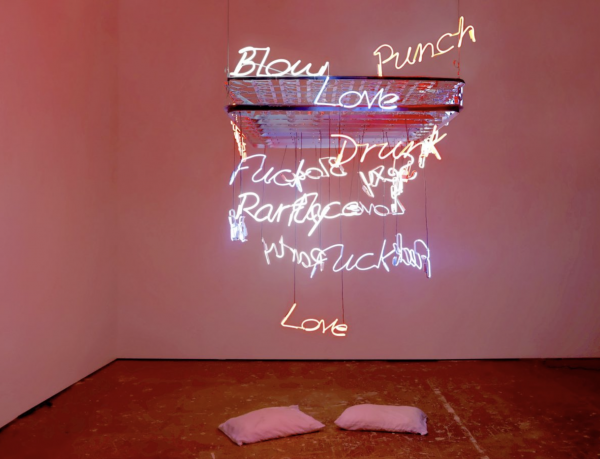 The latter installation created a particular stir with its inclusion of a controversial neon sculpture called "Just Say Gay", Hopgood's response to the draconian anti-LGBTQ legislation championed by Florida Governor Ron DeSantis; that work was acquired by prominent collector Beth Rudin DeWoody and will be on display from December 2023 at her Bunker Art Space in West Palm Beach, Florida.
When talking with the Blade, Hopgood is keen to focus the discussion on a new goal – the completion of a documentary about the creation of "Chair Therapy" – but he's certainly willing to start the conversation by talking about the sense of queer defiance behind "Just Say Gay" and many of his other works, because the two subjects go hand in hand.
"Being a gay man of Welsh and Greek heritage," he proudly proclaims, "the fight against bullying, repression, injustice and discrimination became central themes of my artistic expression."
As he explains, that fight is rooted in a traumatic childhood experience. "I was bullied by classmates," he remembers. "They would chase after me, push me to the ground and kick me in the groin. I managed to escape and found sanctuary under a stack of chairs in the school assembly hall. The school therapist helped me cope by using a technique called Empty Chair Therapy, where you would talk to an empty chair about your feelings.
"I decided turn this pain into something positive and use art as my therapy."

Much later, the young Hopgood would be inspired by the confrontational aesthetic of Damien Hirst – after reading a scathing criticism of one of his works in the paper – and follow in the controversial artist's footsteps to Goldsmiths College in London, eventually becoming part of a movement with fellow graduates like Steve McQueen, Jason Martin, Ceal Floyer, Angela De La Cruz and Alessandro Raho.
"It was an incredible moment to be a young artist in 1990s London."
Nevertheless, after 20 years in the London art scene, he decided it was time for a change.
"I had just watched a documentary featuring David Hockney," he explains. "The freedom and possibility of David's work was clearly inspired by Southern California with its beautiful palette and open, sunny skies. It was a stark contrast to the gloomy weather of the UK, and the anxiety and depression that accumulated over the years. I had heard about the growing LA art scene –LACMA, MOCA and The Broad were beginning to attract an international audience – and I decided that moving to Los Angeles would be good for both my mental health and creativity."
The choice was a fortuitous one for him – "It was the perfect time to go," he says, "and I was ready to work in new mediums and expand my repertoire." Then, like the rest of us, he had to put all his plans indefinitely up in the air.
"In early 2020, when the pandemic hit," he tells us, "I would see all the bars and restaurants shuttered in West Hollywood. It was like a ghost town. Looking through the store front windows, all I could see were chairs stacked on top of each other – and that image took me straight back to my unhappy childhood."
He decided to use it for inspiration and began work on the first sculpture in the "Chair Therapy" series ("My Heart is Open") – which as he describes, addresses "toxic masculinity, oppression and queer identity, themes I've always championed."
Those themes are doubtless also at least partly behind his desire to see the planned documentary – titled "Fragile World" – reach fruition. Filmed during the pandemic, it profiles Hopgood by charting his personal artistic journey, but centers on the development of "Chair Therapy", in which he combined found and vintage wooden chairs with neon lights shaped into positive words to provide hope, love and support for a community who were hardest hit by Covid and the shutdowns it necessitated.
"Seeing those stacked chairs and tables, in those empty establishments, I knew some would be forced to close for good. I felt so helpless, but I knew there was something I could do."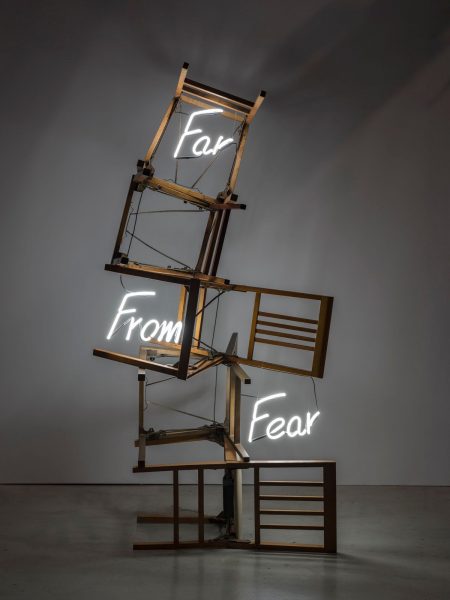 Now, with his own hard-hit community – alongside many others – facing aggressive legislative oppression from the extremist right, he's determined to see the film finished, so that the same empowering message of optimism embodied in his work can be spread to a larger audience as a reminder not to let the bullies break their spirit. To that end, the documentary's director and producer, LA-based British filmmaker Kate Rees Davies, has set up an Indiegogo campaign to raise the funding necessary to finish the project.
Another motivation, perhaps even more personal, might be found in Hopgood's revelation of a hidden influence in another work from the "Empty Chairs" series: "Twelve Steps", which explores the massive financial success of a California citrus industry made possible by the hard work of a segregated Mexican immigrant labor force. "I was also inspired in that piece by a line from Greek poet Dinos Christianopoulos," he says, "who was sidelined by the Greek literary community in the 1970s because he was gay. It's a small but powerful couplet which was included in the collection 'The Body and the Wormwood' that reads, 'What didn't you do to bury me, but you forgot that I was a seed.'"
For Hopgood, perhaps, the documentary also represents a seed, one that he himself has planted in hope of spreading its positive power into the world – and he's counting on the support of his patrons through Indiegogo for the water, light and nourishment it requires to grow.