Sec of Defense Mattis' memo: 'Do the right thing' after White House OKs trans military ban
Breaking News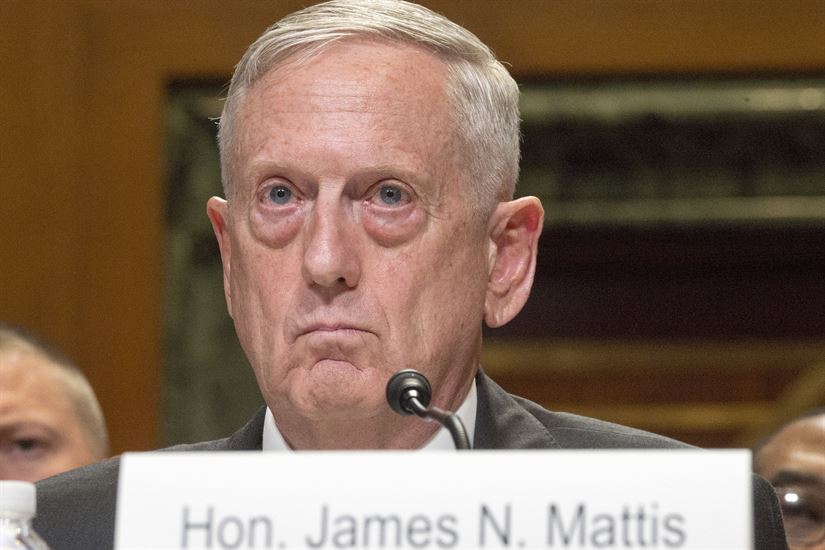 The "Memorandum For All Department of Defense Employees" from Sec. of Defense James Mattis was released around the same time the news broke that the White House Counsel's Office had cleared the new ban on open transgender military service, approved by President Donald Trump. The revised policy is expected to be sent to Mattis for his review and implementation.
Nowhere in the Aug. 4 memo is the word "transgender" mentioned. But since "A Guidance Policy for Open Transgender Service Phase Out" contains no language protecting currently serving transgender servicemembers against harassment, including of those in combat and on foreign bases, it appears Mattis felt it necessary to remind the troops and other Defense Department employees of the high ethical standards expected of U.S. military personnel, setting "an honorable example in all we do."
Using a baseball analogy, Mattis writes: "I expect every member of the Department to play the ethical midfield. I need you to be aggressive and show initiative without running the ethical sidelines, where even one misstep will have you out of bounds. I want our focus to be on the essence of ethical conduct: doing what is right at all times, regardless of the circumstances or whether anyone is watching."
The ethical dilemma is a direct result of the insulting sudden reversal—apparently a political sop by Trump to the Religious Right—of the well-developed 2016 policy announcing the implementation of open service by trans individuals. The plan for trans inclusion included a timeline for rollout and review, as well as guidance on medical issues.
"This policy was crafted through a comprehensive and inclusive process that included the leadership of the Armed Services, medical and personnel experts across the Department, transgender Service members, outside medical experts, advocacy groups, and the RAND Corporation, " says the "Transgender Service Member Policy Implementation Fact Sheet."  "Starting today: Otherwise qualified Service members can no longer be involuntarily separated, discharged, or denied reenlistment or continuation of service solely for being transgender individuals."
And, the 2016 fact sheet said: "Any discrimination against a Service member based on their gender identity is sex discrimination and may be addressed through the Department's equal opportunity channels."
An extrapolation of Mattis' memo suggests that he is not uncomfortable with trans servicemembers getting a lawyer and preparing to fight the ban coming from Trump's White House.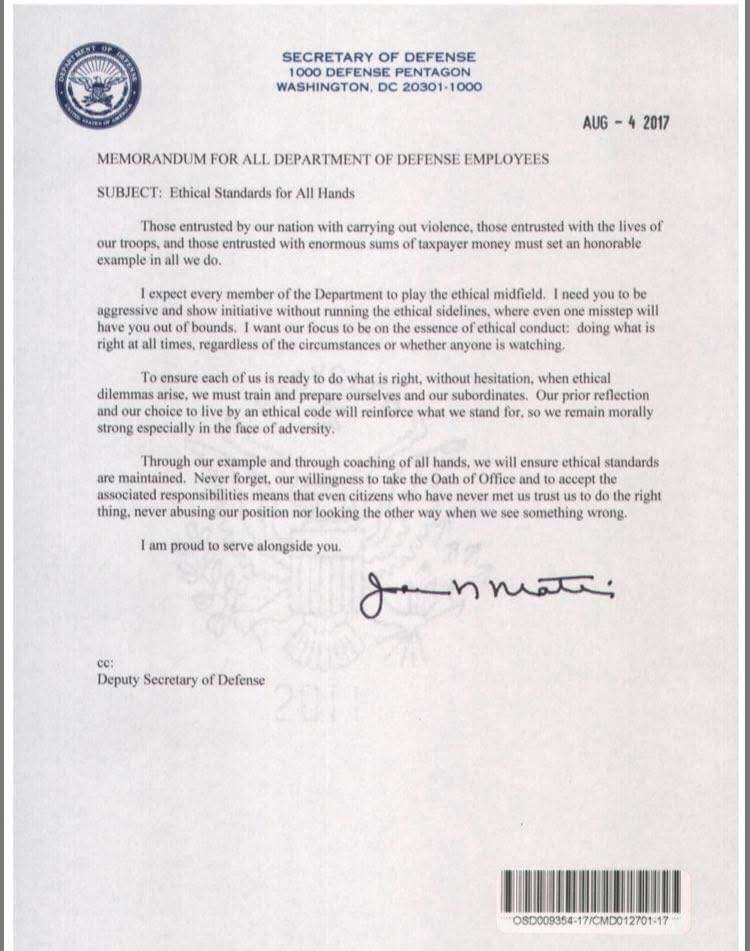 "To ensure each of us is ready to do what is right, without hesitation, when ethical dilemmas arise, we must train and prepare ourselves and our subordinates," says Mattis. "Our prior reflection and our choice to live by an ethical code will reinforce what we stand for, so we remain morally strong especially in the face of adversity."
Mattis' memo in some ways reflects the ethical standards so well articulated by Adm. Mike Mullen, former chair of the Joint Chiefs of Staff, in his appearance before the Senate Armed Services Committee in February 2010, when he argued that gays and lesbians should be allowed to serve openly in America's Armed Forces.
"We have in place a policy that forces young men and women to lie about who they are in order to defend their fellow citizens," Mullen said. "For me, personally, it comes down to integrity: Theirs as an individual, ours as an institution."
In his Aug. 4 memo, Mattis says: "Through our example and through coaching of all hands, we will ensure ethical standards are maintained. Never forget, our willingness to take the Oath of Office and to accept the associated responsibilities means that even citizens who have never met us trust us to do the right thing, never abusing our position nor looking the other way when we see something wrong. I am proud to serve alongside you."
Though Trump said he had discussed the ban with his generals,  Mattis had only been informed of Trump's position just before the infamous tweets on July 26, which blindsided the Joint Chiefs of Staff.
Republican Senators with reputations for caring about the military were shocked by the announcement of the ban.
"There is no reason to force service members who are able to fight, train, and deploy to leave the military — regardless of their gender identity," war hero Sen. John McCain said in a statement.
"We should all be guided by the principle that any American who wants to serve our country and is able to meet the standards should have the opportunity to do so."
"People who are transgender, they don't choose to be transgender — they're born that way — and why should we hold that against them?" Republican Senator Orrin Hatch told MSNBC.
Iowa Senators Ernst and Grassley opposed the proposed ban, too. The Cedar Rapids area TV station KWWL News 7 posted this on their website.
—"Reaction to his tweet was unsurprisingly swift across the country.  In Iowa, Senator Joni Ernst, a 23-year military veteran, says she disagrees with President Trump.  The Des Moines Register reports that Ernst spokesperson, Brook Hougesen, wrote in an email that the senator "believes what is most important is making sure service members can meet the physical training standards, and the willingness to defend our freedoms and way of life." He continued, "[w]hile she believes taxpayers shouldn't cover the costs associated with a gender reassignment surgery, Americans who are qualified and can meet the standards to serve in the military should be afforded that opportunity."
Senator Ernst is the first female combat veteran to serve in the United States Senate. She also served as a lieutenant colonel in the Iowa Army National Guard.
Meanwhile, Senator Chuck Grassley spoke with multiple Iowa reporters during his weekly phone call with them Wednesday afternoon.
"We have certain standards to get in the military: weight standards, education standards, the ability to do a job, those physical capabilities.  And if you're a person – man or woman or any other category you want to name – then you meet those standards, you ought to be able to get in, " Grassley said." —
With Trump on a 17-day vacation and Congress out on their August recess, the fallout for this political maneuver that could dramatically harm the lives and careers of 15,000 transgender servicemembers has fallen to Sec. of Defense Mattis.
Early Saturday morning, Defense Department spokesperson Paul R. Haverstick Jr., LTC USARMY OSD PA (US) told the Washington Blade's Chris Johnson: "There is no new information to report. We will send out an updated statement when we receive guidance."
Lambda Legal and OutServe-SLDN are gearing up for a fight.
"The move to purge transgender military personnel is dishonorable to the thousands of transgender men and women who are serving our country with courage and who are integral parts of our armed services. The safety of all service members – transgender or not – is undermined by a policy like this that distracts from the important missions they have for no valid reason. It is also a slap in the face of the leadership who have worked diligently to develop and implement the current policy which has been in place for more than a year without incident," says transgender military veteran Sasha Buchert, a Staff Attorney at Lambda Legal.
"The tweeted military trans ban has already been condemned by more than 56 retired generals and admirals and a large percentage of Republican and Democratic senators and representatives.  A majority of Americans support allowing transgender troops to serve openly," the statement continues. "This mean-spirited and discriminatory attack on our community is capricious, irrational, and clearly driven by anti-LGBT forces in the administration who care more about harming transgender people than keeping our nation safe. It is clearly unconstitutional. Lambda Legal has a long history of fighting for LGBT service members, and, teaming up with OutServe-SLDN, we're more than ready to fight like hell again. See you in court, President Trump."
Senate passes Respect for Marriage Act with 61 votes
President Joe Biden, Vice President Kamala Harris, the Congressional LGBTQ+ Equality Caucus, and LGBTQ groups celebrated Tuesday's victory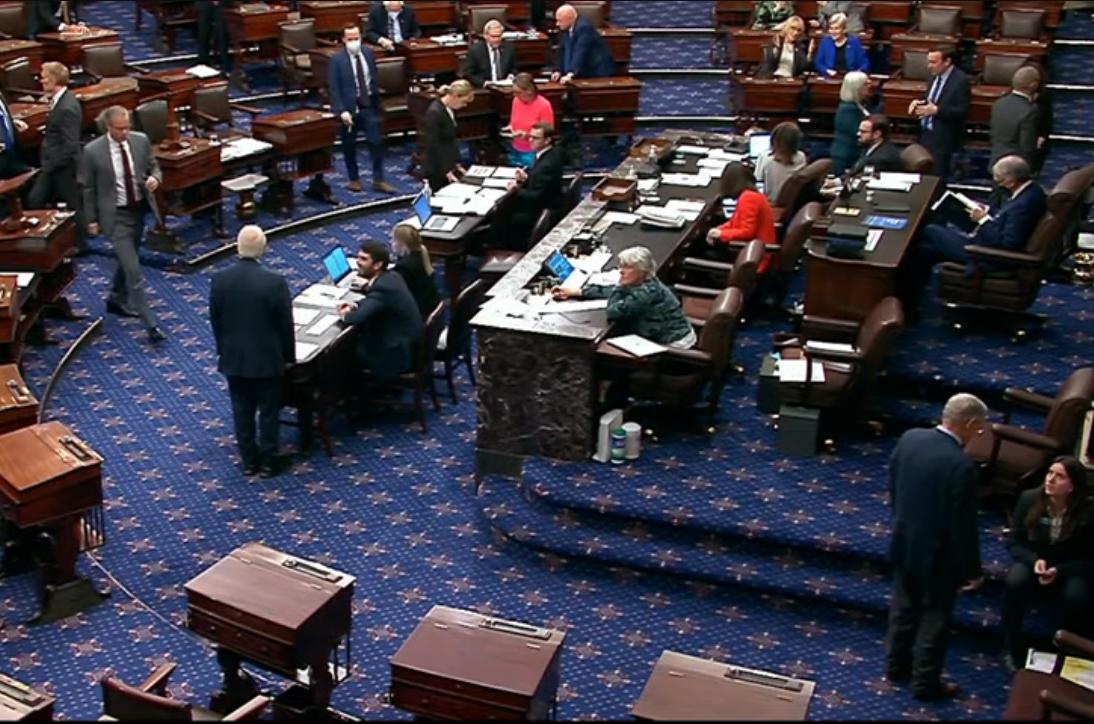 WASHINGTON – The U.S. Senate voted 61-36 on Tuesday to officially pass the Respect for Marriage Act, a historic piece of legislation that is expected to soon become law after members in the U.S. House of Representatives sign off on a bipartisan amendment added by their Senate colleagues.
Designed as a vehicle to mitigate the fallout if the U.S. Supreme Court's conservative supermajority guts the constitutional protections for marriage equality, the bill was narrowly construed – in part to help guarantee that it withstands potential challenges from conservative legal actors.
Nevertheless, the Respect for Marriage Act is a landmark bill that has been backed by virtually every LGBTQ advocacy organization in the country. The legislation repeals the Clinton-era Defense of Marriage Act while enshrining into law substantive protections for same-sex couples.
Regardless of whether or how the high court might decide to revisit the marriage question, the Respect for Marriage Act will protect the federally ordained rights and benefits that have long been enjoyed by married gay and lesbian couples. And should the court pave the way for conservative states like Texas to renew their bans on same-sex marriage, the law will require them to officially recognize and honor those that are performed in jurisdictions where they remain legal.
Despite earning broad bipartisan support from lawmakers in the U.S. House, which passed its version of the bill this summer with an overwhelming majority – including votes from 47 Republican members – the Respect for Marriage Act faced an uncertain future in the Senate.
Conservative members in the chamber's Republican caucus argued the bill would jeopardize religious freedoms, concerns that a group of five bipartisan senators sought to allay with an amendment that, among other provisions, clarifies the right of religious nonprofit organizations to refuse "any services, facilities, or goods for the solemnization or celebration of a marriage."
Writing the amendment were Sens. Susan Collins (R-Maine), Rob Portman (R-Ohio), Kyrsten Sinema (D-Ariz.), Thom Tillis (R-N.C.), and Tammy Baldwin (D-Wis.), who was considered the driving force behind the bill's passage through the Senate.
Thank you to the millions of same-sex and interracial couples who truly made this moment possible. By living as your true selves, you changed the hearts and minds of people around you. #RespectforMarriageAct https://t.co/o0EeY1vOq7

— Sen. Tammy Baldwin (@SenatorBaldwin) November 29, 2022
Several Republican senators proposed additional amendments that – per a narrow procedural vote before and another shortly after the Thanksgiving break – were not put up for debate, thereby allowing the Respect for Marriage Act to clear the Senate with Tuesday's vote.
Barely surpassing the 60-vote filibuster-proof majority with one extra "yea," the Senate's passage of the bill came despite the best efforts of conservative opponents who had run coordinated campaigns to erode support among GOP members.
President Joe Biden and Vice President Kamala Harris each issued statements shortly after Tuesday's vote.
The President celebrated the "bipartisan achievement" by Congress, writing: "For millions of Americans, this legislation will safeguard the rights and protections to which LGBTQI+ and interracial couples and their children are entitled. It will also ensure that, for generations to follow, LGBTQI+ youth will grow up knowing that they, too, can lead full, happy lives and build families of their own."
Harris wrote: "The Respect for Marriage Act ultimately stands for a simple principle: all Americans are equal and their government should treat them that way. Today, we are one step closer to achieving that ideal with pride."
The Congressional LGBTQ+ Equality Caucus also praised the victory. "Today, a bipartisan group of 61 Senators made clear that this country will not roll back the clock on marriage equality," said Congressman David Cicilline (D-R.I.), Chair of the Equality Caucus. "The Respect for Marriage Act is a crucial safeguard for LGBTQ+ people whose lives have been forever changed by Obergefell v. Hodges and Americans who are in interracial marriages thanks to Loving v. Virginia. On June 26, 2015, the Supreme Court declared marriage equality as the law of the land. Today, the Senate ensured those marriages will continue to be protected."
LGBTQ groups celebrate the win
"Diverse faith traditions across the nation came together to demand respect for LGBTQ+ Americans – we staked our ground and refused to let this opportunity slip away, " said Rev. Paul Brandeis Raushenbush, president and CEO of Interfaith Alliance, in a statement Tuesday.
"The LGBTQ+ community has faced ongoing deadly violence, legislative assaults and constant threats – including the deadly shooting in Colorado Springs barely one week ago," said Kelley Robinson, president of the Human Rights Campaign, in a statement from the organization.
"Today, with the passage of the Respect for Marriage Act in the Senate — a historic moment that marks the first federal legislative win for LGBTQ+ equality in over ten years, since the repeal of Don't Ask Don't Tell — the 568,000 same-sex married couples in this country can breathe a sigh of relief that their marriages will be protected from future attacks," said Robinson, who yesterday began her tenure as the first Black queer woman to lead America's largest LGBTQ organization.
GLAAD President Sarah Kate Ellis responded on Twitter and in a statement, writing: "As so many LGBTQ people face uncertainty and harm on the state level and extremists on the Supreme Court vow to reconsider the landmark Obergefell decision, this victory will provide comfort and security to millions of people and their families."
"Today's bipartisan vote in the Senate to pass the Respect for Marriage Act is a proud moment for our country and an affirmation that, notwithstanding our differences, we share a profound commitment to the principle of equality and justice for all," reads a statement from National Center for Lesbian Rights executive director Imani Rupert-Gordon.
LGBTQ Victory Institute President and CEO Annise Parker said, "This landmark piece of legislation protects the marriages of millions of LGBTQ Americans who have not slept well for months, wondering if our marriages would be dissolved by an activist court. While the Respect for Marriage Act is undoubtedly one of the most important pro-LGBTQ laws ever passed, it does not require states to grant marriages to LGBTQ couples. Until then, our fight is not over."
I just called my daughter and her wife—who are expecting a baby next spring—to let them know that this Senate passed the Respect for Marriage Act!

What a great day! pic.twitter.com/K3ZKM7r5Zo

— Chuck Schumer (@SenSchumer) November 29, 2022