Countdown on the Trump Presidency?
Will Donald Trump double down on racism controversy, resign or be fired through the 25th Amendment?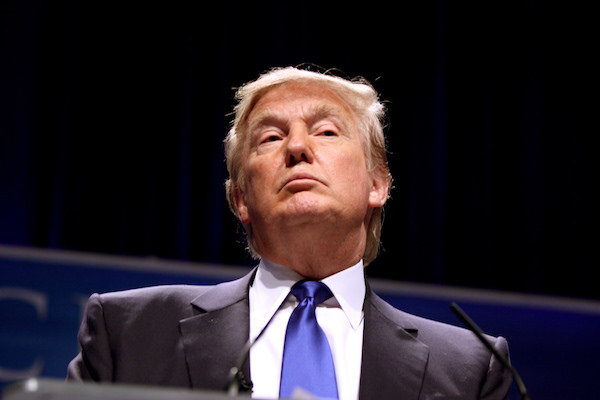 Donald Trump has crossed so many lines of impropriety without suffering any consequences, Americans of good conscience are wondering if the latest outrage of having the President of the United States equate white supremacy, neo-Nazis, and the KKK with anti-racism protesters might finally be an outrage too far. Can US citizens proud of a heritage of freedom and equality digest having a white nationalist and Confederate sympathizer stand as America's moral authority in their name?
Apparently the business leaders who Trump so proudly paraded before cameras and put on commissions to advance American business could either not stomach Trump's unhinged news conference in Trump Towers Tuesday or they heard from their stockholders and consumers—but his two top corporate councils disbanded Wednesday in response to Trump's unvarnished racism.
"Intolerance, racism and violence have absolutely no place in this country and are an affront to core American values," said a statement released by the president's Strategic and Policy Forum.
"We believe the debate over forum participation has become a distraction from our well-intentioned and sincere desire to aid vital policy discussions on how to improve the lives of everyday Americans. As such, the president and we are disbanding the forum."
In response, Trump tweeted: "Rather than putting pressure on the businesspeople of the Manufacturing Council & Strategy & Policy Forum, I am ending both. Thank you all!"
Kenneth C. Frazier, the African American chief executive of pharmaceutical Merck, resigned from the manufacturing council on Monday after Trump's tepid reaction to the violent white supremacy-organized demonstrations over the weekend, an outpouring of hate to protest the planned removal of the statue of Confederate Gen. Robert E. Lee. One protester, James Alex Fields, participated in the "Fuck You Faggots" rally before allegedly using a car to mow down counter-protesters, injuring 19 and killing Heather Heyer. Initially, Frazier stood alone but after Trump's news conference, which was supposed to be about infrastructure, veered into a combative, hate-filled exchange with reporters, other corporate leaders left in a hurry, having accomplished nothing.
Trump's news conference was confirmation that he is still the same man who sought and won political attention by exploiting the racist "birther" movement—claiming President Barack Obama was not really born in the US and promising to prove it. Now decent patriotic Americans are trying to figure out how to remove the narcissistic, racist commander-in-chief before he totally cleaves the country in two in a 2017 civil war and gets into a nuclear war with North Korea.
In an unexpected move Wednesday, Vice President Mike Pence was recalled back to Washington from his trip to South America. But while still on foreign soil, Pence said: "I stand with the president." Pence's office said he was flying back early for a meeting with Trump and senior officials at Camp David to discuss the situation in North Korea.
But Trump hates Camp David—fueling speculation that the one-time billionaire president might just have had enough and might resign in order to resume his life and businesses.
Or Trump could be removed through the 25thAmendment that outlines how a transfer of power from president to vice president would occur should the president be deemed incapacitated.
But, Business Insider reports:
—"Under the amendment's fourth stipulation, it would only take 14 people to depose the president — Vice President Mike Pence and 13 of Trump's 24 Cabinet members.
Section IV reads:
"Whenever the Vice President and a majority of either the principal officers of the executive departments or of such other body as Congress may by law provide, transmit to the President pro tempore of the Senate and the Speaker of the House of Representatives their written declaration that the President is unable to discharge the powers and duties of his office, the Vice President shall immediately assume the powers and duties of the office as Acting President." —
What is required is a debate about "reliable facts regarding the president's physical or mental faculties," not personal prejudice," says 25thAmendment co-author John D. Feerick, former dean of Fordham Law School. "If you read the [senate] debates, it's also clear that policy and political differences are not included, unpopularity is not included, poor judgment, incompetence, laziness, or impeachable conduct — none of that, you'll find in the debates in the congressional record, is intended to be covered by Section IV," Feerick said.
"Section IV goes on to say that if two-thirds of both houses of Congress don't vote to uphold the decision and keep the vice president in charge within 21 days, then the powers and duties automatically transfer back to the president. So if the president doesn't want to give up his office, Feerick explained, he doesn't have to if Congress agrees he shouldn't," Business Insider reported.
Perhaps Republican members of Congress should read President Lincoln's Gettysberg Address for inspiration:
"Fourscore and seven years ago our fathers brought forth, upon this continent, a new nation, conceived in liberty and dedicated to the proposition that 'all men are created equal.'
Now we are engaged in a great civil war, testing whether that nation, or any nation so conceived and so dedicated, can long endure. We are met on a great battlefield of that war. We have come to dedicate a portion of it, as a final resting place for those who died here, that the nation might live. This we may, in all propriety do. But in a larger sense, we cannot dedicate, we cannot consecrate, we cannot hallow, this ground. The brave men, living and dead, who struggled here, have hallowed it, far above our poor power to add or detract. The world will little note, nor long remember what we say here; while it can never forget what they did here.
It is rather for us the living, we here be dedicated to the great task remaining before us—that from these honored dead we take increased devotion to that cause for which they here gave the last full measure of devotion—that we here highly resolve that these dead shall not have died in vain, that this nation, under God, shall have a new birth of freedom, and that government of the people, by the people, for the people shall not perish from the earth."
Pulse nightclub survivor 'at a loss' over Texas elementary school massacre
Brandon Wolf is Equality Florida's press secretary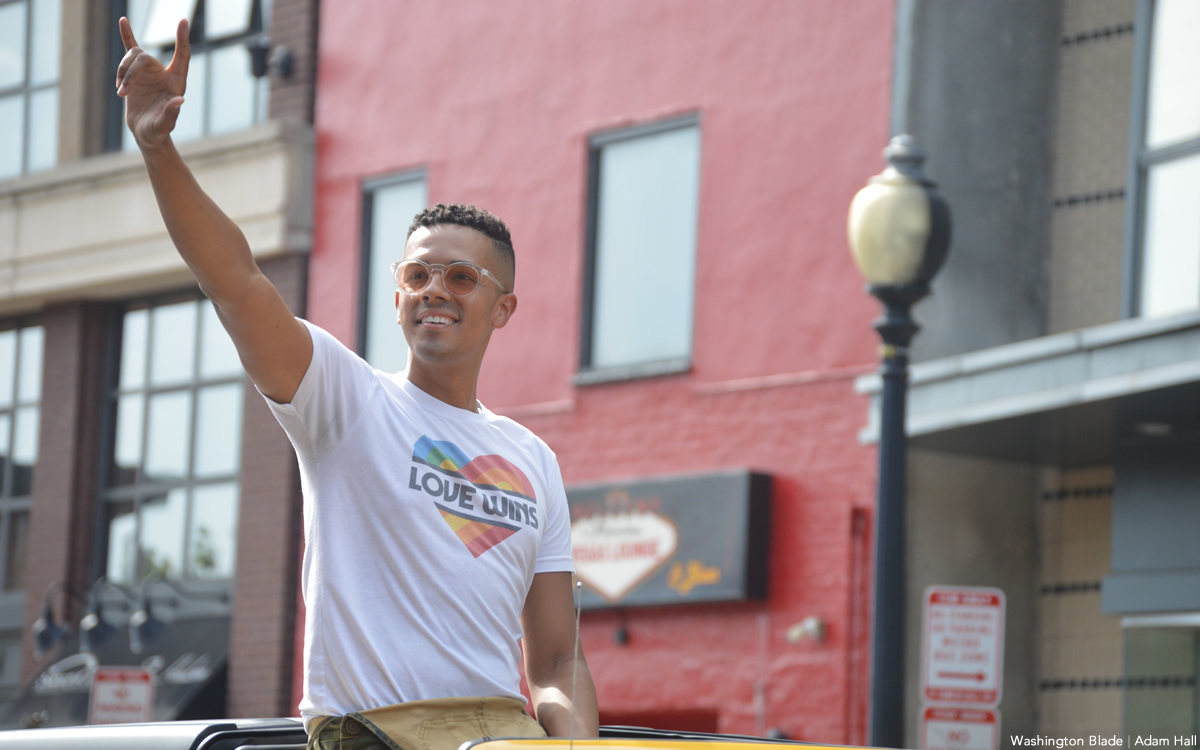 ORLANDO, Fla. — A survivor of the Pulse nightclub massacre on Wednesday said he is "at a loss" over the massacre at a Texas elementary school that left 21 people dead.
"Twenty-one people were murdered," said Equality Florida Press Secretary Brandon Wolf in a statement he sent to the Washington Blade a day after a gunman killed 21 people inside Robb Elementary School in Uvalde, Texas. "Nineteen of them were children — babies. That means 19 families sent their elementary age kids off to school only to get the worst news: That their babies would be leaving class in body bags."
Wolf was inside the Pulse nightclub in Orlando, Fla., on June 12, 2016, when a gunman opened fire and killed 49 people. His two close friends — Christopher "Drew" Leinonen and his fiancé, Juan Guerrero — were among those killed.
Wolf in his statement noted "right wing politicians have spent the past year insisting that the greatest threats our children face are the potential they'll learn that this nation was built on the backs of enslaved Black people or that their teacher uses they/them pronouns."
"They've banned books, censored curriculum and bastardized history lessons," said Wolf. "All the while, they haven't lifted a finger to protect kids from what is killing them."
Equality Florida echoed Wolf's sentiments.
We have an entire faction of extremists laser focused on banning books, propagandizing history, and bastardizing curriculum while the nightmare of gun violence ravages our kids without end.

Heartbroken for those shattered by gun violence today. https://t.co/ED7ItnNR2T

— Equality Florida (@equalityfl) May 24, 2022
"I am heartbroken for the shattered families," added Wolf. "Grief-stricken for these stolen lives. And enraged at the power-hungry leaders who have chosen time and again to serve up this country's most vulnerable as sacrifices in exchange for a boost up the ladder of their own ambitions."
Axel Rodríguez's friend, Xavier Serrano Rosado, died inside the Pulse nightclub.
Rodríguez told the Blade that Tuesday was "such a dad day for us here" in Orlando.
"It is like going through the same emotions we had when the attack at Pulse happened, but it's even worse because we are talking about children," he said. "When will our government stop thinking about money and stop this madness? Everyone now can obtain a gun anywhere. I just cannot comprehend that at all."
The Pulse nightclub massacre was the deadliest mass shooting in modern U.S. history until a gunman on Oct. 1, 2017, killed 60 people at a concert in Las Vegas.
A gunman on Feb. 14, 2018, killed 17 people at Marjory Stoneman Douglas High School in Parkland, Fla. Twenty children and six adults died in the massacre at the Sandy Hook Elementary School massacre in Newtown, Conn., on Dec. 14, 2012.
The Robb Elementary School massacre took place less than three years after a gunman killed 22 people at a Walmart in El Paso, Texas.
"There are no words," tweeted Pride Center San Antonio, which is roughly 90 minutes east of Robb Elementary School, on Wednesday.
There are no words… #uvaldetx #texasstrong #prayforuvalde pic.twitter.com/O9QhjDre3M

— The Center – Pride Center San Antonio (@PrideCenterSA) May 25, 2022
"Our hearts are with the Uvalde community," said Equality Texas on Tuesday. "Every child deserves to free safe at school."
Every child deserves to feel safe at school

— Equality Texas (@EqualityTexas) May 24, 2022
Montana Dept. of Health & Human Services defies court on Trans order
The State is willfully refusing to comply & in doing so is showing their true colors- these regulations are about harming trans Montanans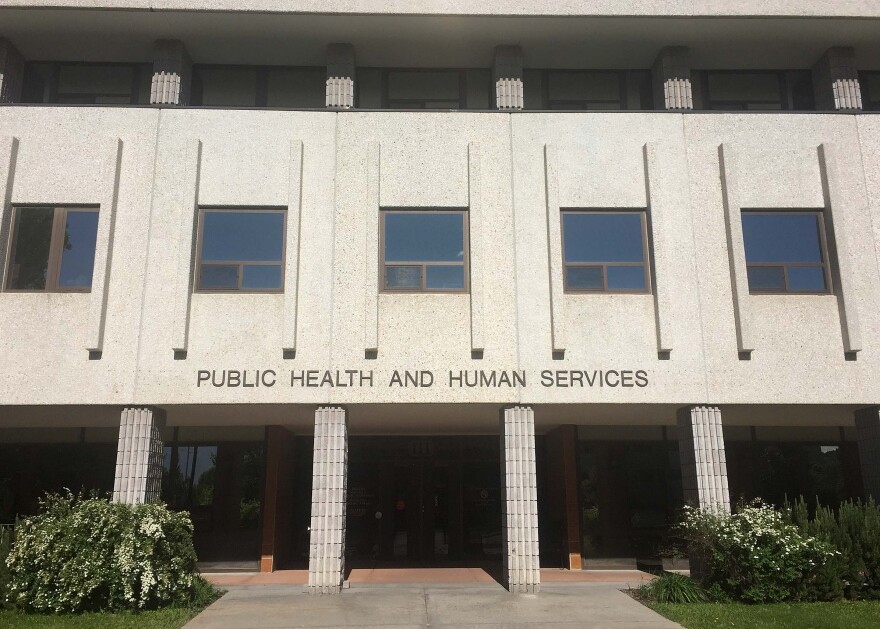 BILLINGS, Mt. – The state of Montana Department of Public Health and Human Services (DPHHS) is openly defying an order by a state district court which had granted a preliminary injunction requiring the agency to comply with the Court's order to return to the 2017 standard for changing the gender marker on birth certificates.
Nearly one month after a state district court granted a preliminary injunction in Marquez v. State of Montana, the State is still refusing to comply.
On April 21, 2022, a Yellowstone County District Court ordered the state to stop enforcing SB 280, a law passed last year that restricts how and when the gender marker on a Montana birth certificate can be changed, and to revert to the previous procedure in place for updating the gender marker on a birth certificate. That procedure allowed for transgender Montanans to update the gender marker on their birth certificate through various means, including completion of a simple attestation form.
The department issued an emergency order Monday claiming that the agency is unable to comply saying said the court's decision leaves them in "an ambiguous and uncertain situation," which officials are blaming saying they cannot return to the "status quo" as requested by the court order, because that system no longer exists, since SB 280 required the department eliminate the 2017 rule.
"The court did not issue a mandatory injunction directing the department to re-implement the 2017 rule," the emergency rule read. "Accordingly, there is currently no non-enjoined regulatory mechanism by which the department can accept and process birth certificate sex identification amendment applications."
"Sex is different from gender and is an immutable genetic fact, which is not changeable, even by surgery," the DPHHS emergency rule continued.
The ACLU of Montana, the ACLU Foundation LGBTQ & HIV Project, and Nixon Peabody LLP who represented the two transgender plaintiffs who sought to change the gender marker on their birth certificates, and challenged Senate bill SB 280 passed by the 2021 Montana Legislature that changed the gender marker rule on birth certificates, issued a statement:
"The Court order could not be more clear. The Court ordered the State to preserve the status quo by providing our clients and all transgender Montanans the ability to amend the gender marker on their birth certificates—as was the law prior to the passage of SB 280. The State is willfully refusing to comply, and in doing so is showing their true colors – these laws and regulations are about harming transgender Montanans. We intend to take this up in Court."
In an email, DPHHS spokesman Jon Ebelt wrote, "The Department of Public Health and Human Services believes that all individuals should be treated with dignity and respect, and that they should be provided all of the rights and protections to which they are entitled under the Constitutions and laws of the State of Montana and of the United States. As noted in the emergency rule, the Department has an obligation to ensure the accuracy of vital records. The rule obeys the court's order, addresses a critical regulatory gap, and remains consistent with current law, as well as the science."
"In the state's non-compliance with the order, they showed their true colors," said Akilah Lane, staff attorney for the Montana ACLU. "These laws and this emergency rule are intended to harm transgender Montanans, and that's what it has done."
Lane said the ACLU intends to take up this matter in court and they've been in communication with opposing counsel on the case.
Florida gulf coast high schooler Outs himself proudly at graduation
'You can't really acknowledge your achievements if you're not acknowledging your true self," Harless said about coming Out.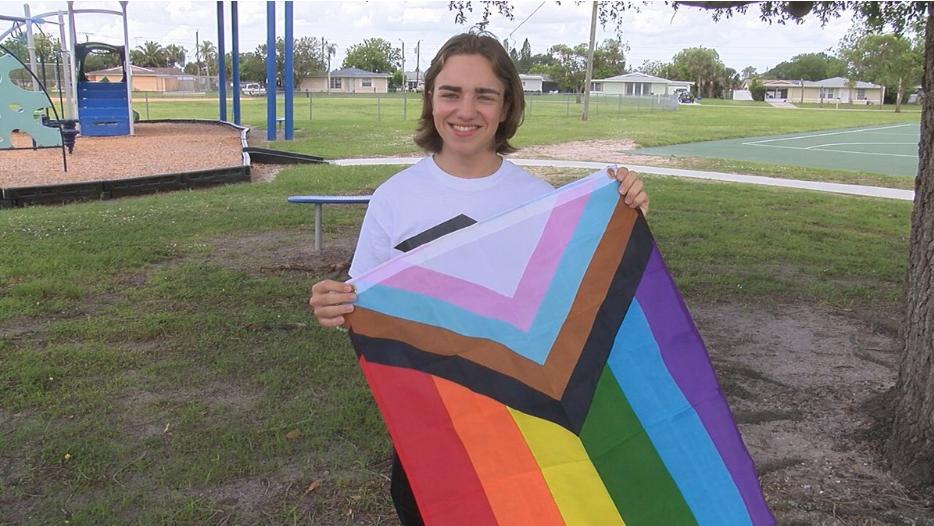 VENICE, Fl. – In an era of YouTube coming out, Instagram posts, or even dramatic Tik-Tok reels, one graduating senior at Venice High School found a dramatic way to Out himself to the world as gay in a novel way.
William Harless walked across the stage this past week to receive his diploma and as he crossed, he carried an unfurled Progress Pride Flag.
In an interview with Sarasota television station WWSB ABC7, Harless says this is something he was looking to do since his seventh grade days in West Virginia. Five years later he says this felt like it was the right moment.
"The reason I chose graduation to come out is because I really wanted to stay true to myself, because graduation is all about your achievements," said Harless. "And you can't really acknowledge your achievements if you're not acknowledging your true self."
"It feels amazing, like a weight has been taken off my shoulders," said Harless. "I have really been able to stay true to myself because I no longer feel like I don't need to hide a part of myself. I feel genuinely free."
Referencing another graduating Florida high school senior who had his graduation address censored by school authorities; "With all the issues and topics of coming out, I don't want people who are in the LGBTQ+ community to feel they are censored," said Harless.
He told WWSB that his family and friends have been very supportive.