Immigration looms as critical issue
Building the 'wall,' funding 'sanctuary cities,' saving DACA about to explode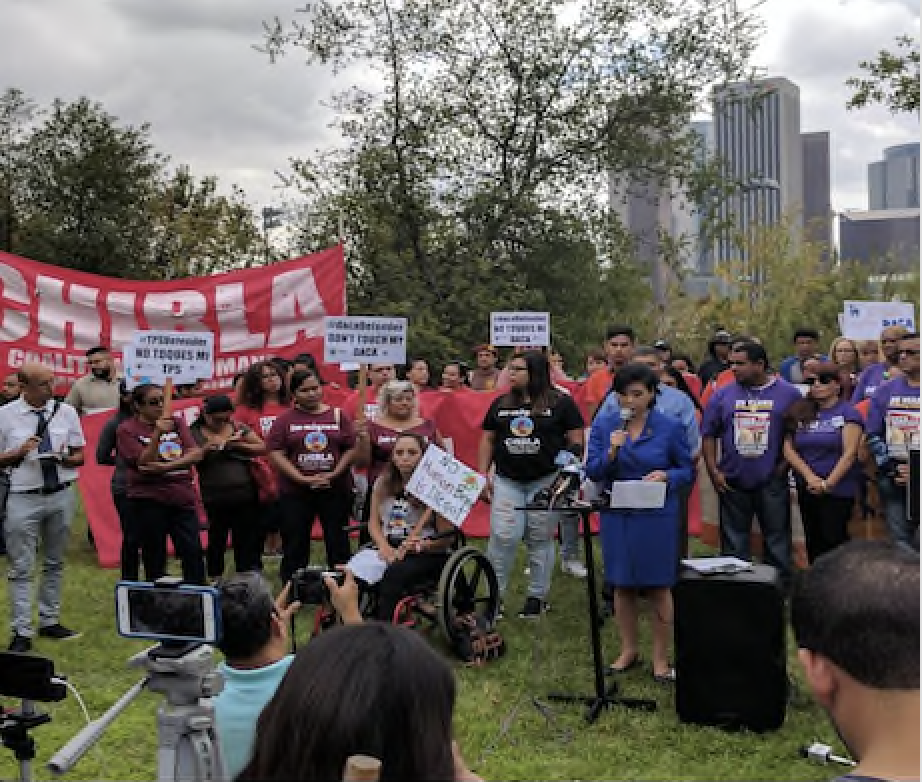 The nation is about to convulse as President Trump presses forward with his anti-immigration campaign promises. Undocumented LGBT immigrants face particularly high risks since most of the countries from which they fled have brutal attitudes, harsh penalties, even death, for being LGBT or HIV-positive and the asylum process is too complicated and culturally incompetent to complete.
In a campaign rally speech in Phoenix, Ariz. on Tuesday, Trump threatened to shut down the federal government if he does not get federal funding to build the border wall along the U.S. southern border, even though he pledged repeatedly that Mexico would pay for it.
This comes as Congress returns from its summer recess and faces a new budget debate, raising the debt ceiling, a long-promised tax reform bill and Trump's push to kill Obamacare. "If we have to close down that government," President Trump said as if he was still a campaigning outsider, "we are going to build that wall."
Meanwhile, the City of Los Angeles is fighting back against Trump's threats to sanctuary cities. In the beginning of August, the Department of Justice sent threatening letters to the cities of San Bernardino and Stockton in California, as well as Albuquerque, New Mexico and Baltimore, warning them that federal funding will be withheld if they refuse to give federal immigration officials access to detention facilities, according to The Hill newspaper. Additionally, those cities must alert Homeland Security 48 hours before releasing an immigrant from custody.
"[A] commitment to reducing crime stemming from illegal immigration" is now a prerequisite to receive funding through the DOJ's Public Safety Partnership Program, the letters said, thus compromising those cities' ability to fight violent crime through federal training and technical assistance.
"By protecting criminals from immigration enforcement, cities and states with so-called 'sanctuary' policies make all of us less safe," Attorney General Jeff Sessions said in a statement.
The DOJ has not yet targeted Los Angeles, which Mayor Eric Garcetti has proudly proclaimed is a sanctuary city. Nonetheless, on Tuesday, City Atty. Mike Feuer joined a lawsuit filed earlier by San Francisco in U.S. District Court asking the judge to strike down those DOJ rules. California Attorney General Xavier Becerra previously announced that the state is joining the lawsuit, as well.
Feuer argues that the DOJ rules "violate the separation of powers laid out in the country's Constitution, which give Congress, not the executive branch, control of government purse strings," according to the LA Times. "The Trump administration is overreaching, and we're going to fight it," Feuer told reporters at a City Hall news conference. "We're going to fight because the administration would put Los Angeles to the untenable choice of risking a key public safety grant or making the LAPD an arm of federal immigration policy."
LAPD Chief Charlie Beck has publicly committed to continuing a policy started by former chief Bill Bratton to not cooperate with Immigration and Customs Enforcement (ICE) or do their jobs for them. The LAPD policy is to promote community policing which encourages all people—regardless of their immigration status—to report crimes as victims or witnesses.
LA County Sheriff Jim McDonnell asserted a similar policy. "Enforcement of immigration laws is the responsibility of the federal government," McDonnell said in a statement. "The men and women of the Sheriff's Department are focused on keeping our local communities safe, and will not detain or arrest any individual solely on suspicion of illegal presence in the United States."
Several LGBT community organizations met with Sheriff's Department officials on August 22 to discuss the department's immigration policies and a pro-immigration bill passing through the state legislature now, SB 54, known as the California Values Act.
"Many LGBT immigrants have found a safe haven in California after experiencing persecution and physical abuse in their own countries," Dave Garcia, LA LGBT Center's Director of Policy and Community Building, said in a statement before the community forum. "For that reason, we stand not only with our LGBT brothers and sisters, but with all immigrants who have come here to escape poverty, discrimination, and violence in their homelands."
Also on the political horizon is a confrontation over Deferred Action for Childhood Arrivals (DACA). Last June—before the explosion of white supremacy in Charlottesville and Trump's controversial response—officials from 10 Republican states sent a letter to Sessions to end the DACA program by Sept. 5 or risk a federal lawsuit.
"We respectfully request that the Secretary of Homeland Security phase out the DACA program," Texas Attorney General Ken Paxton wrote.
"I think we have to prepare for the worst and get ready to fight mass deportation," Democratic Rep. Luis Gutierrez of Illinois said in a statement before being arrested during a Save DACA demonstration in Washington DC on August 15, the 5th anniversary of the DACA immigration program.
"DACA has been one of the most beneficial immigration programs in decades, saving over 800,000 young immigrants from deportation. A significant number of these young DACA recipients are LGBT leaders in their communities and national vocal advocates," Jorge-Mario Cabrera, the out Director of Communications for the Coalition for Humane Immigrant Rights (CHIRLA), told the Los Angeles Blade before demonstrations in LA. "The contributions of these young people are numerous and President Trump must stand up against those bullying immigrants and keep DACA until Congress enacts a permanent solution for these young people and their families."
Migrants dumped at Calif. church after charted jet flight from Texas
Immigrants were carrying documentation purported to be from the State of Florida according to the Attorney General's office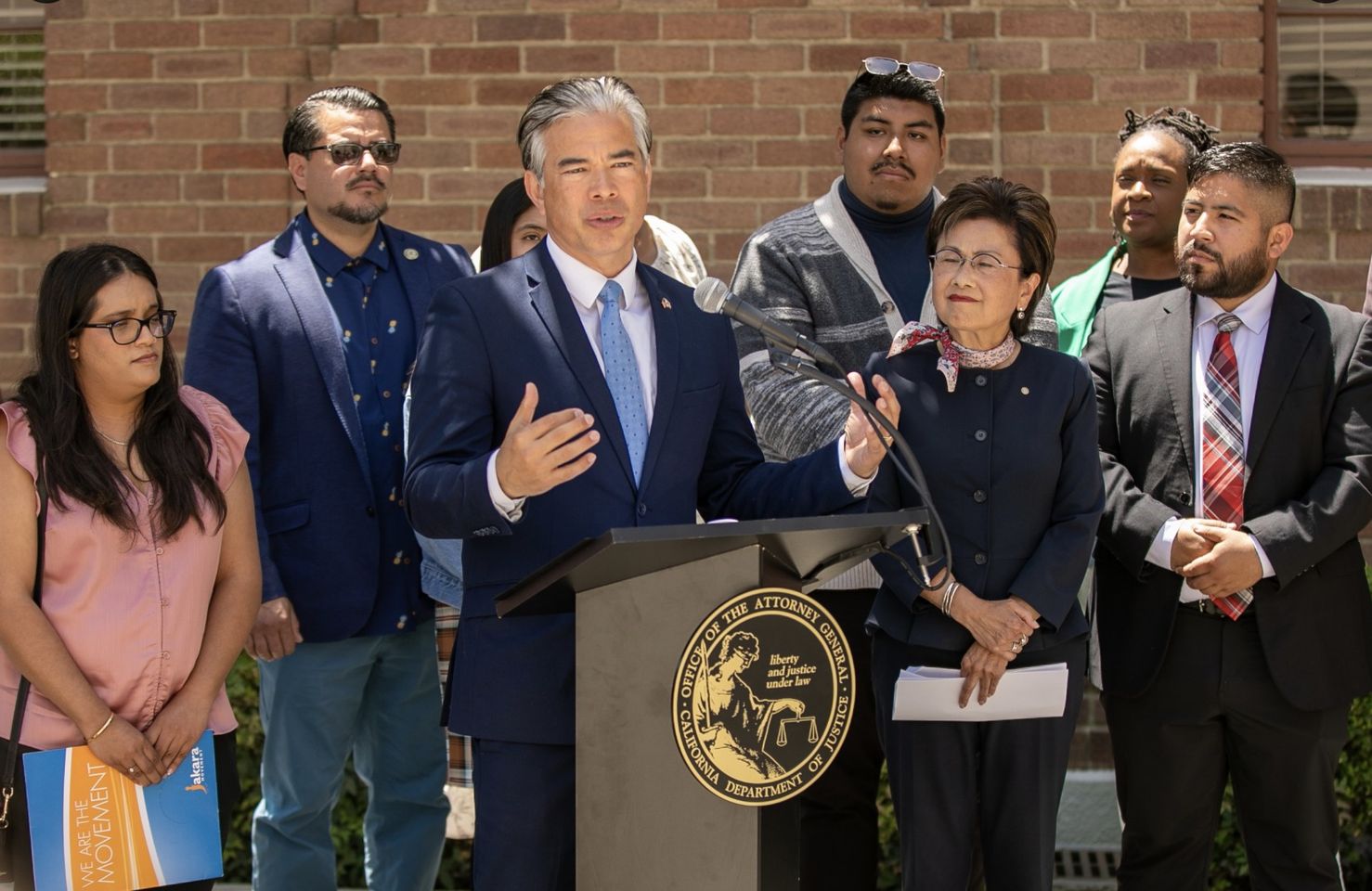 SACRAMENTO — California Attorney General Rob Bonta and Governor Gavin Newsom expressed outrage after a group of 16 migrants were transported by a private chartered jet from Texas via New Mexico and were left at the doorstep of the offices of the Sacramento Catholic Diocese on Friday.
"Today Attorney General Rob Bonta and I met with over a dozen migrants in Sacramento, Governor Newsom said in a news release. "These individuals were transported from Texas to New Mexico before being flown by private chartered jet to Sacramento and dumped on the doorstep of a local church without any advance warning."
"We are working closely with the Mayor's office, along with local and nonprofit partners to ensure the people who have arrived are treated with respect and dignity, and get to their intended destination as they pursue their immigration cases. My Administration is also working with the California Department of Justice to investigate the circumstances around who paid for the group's travel and whether the individuals orchestrating this trip misled anyone with false promises or have violated any criminal laws, including kidnapping," the Governor said.
The Attorney General said in a separate statement:
"Today I met with over a dozen migrants who were brought to Sacramento by private plane, with no prior arrangement or care in place," said Bonta. "We are investigating the circumstances by which these individuals were brought to California. We are also evaluating potential criminal or civil action against those who transported or arranged for the transport of these vulnerable immigrants. While this is still under investigation, we can confirm these individuals were in possession of documentation purporting to be from the government of the State of Florida.
"While we continue to collect evidence, I want to say this very clearly: State-sanctioned kidnapping is not a public policy choice, it is immoral and disgusting. We are a nation built by immigrants and we must condemn the cruelty and hateful rhetoric of those, whether they are state leaders or private parties, who refuse to recognize humanity and who turn their backs on extending dignity and care to fellow human beings. California and the Sacramento community will welcome these individuals with open arms and provide them with the respect, compassion, and care they will need after such a harrowing experience," Bonta added.
Bishop Jaime Soto of the Diocese of Sacramento noted: "Within each of the 16 migrants transported to Sacramento on Friday we recognize the humble presence of Jesus, and we hear His call to stand by them. The urgency to respond was heard by Catholics and people of good will. We are thankful to our partner organizations who took up the holy work of hospitality, dedicating their time and resources to ensure that every migrant did not feel alone and abandoned."
According to Diocese officials, the migrants arrived with everything they own stuffed in their backpacks. Migrant rights advocates say that the sixteen Venezuelan and Colombian nationals were lied to and intentionally deceived.
Eddie Carmona, campaign director at PICO California, a faith-based community organizing group that has been assisting the migrants told the Associated Press that the migrants had already been processed by U.S. immigration officials and given court dates for their asylum cases when "individuals representing a private contractor" approached them outside a migrant center in El Paso, Texas, Carmona said. They offered to help the migrants get jobs and get them to their final destination, he said.
"They were lied to and intentionally deceived," Carmona said, adding that the migrants had no idea where they were after being dropped off in Sacramento.
Late Sunday the Los Angeles Times reported the documents appear to show that the flights were arranged through the Florida Division of Emergency Management and that it was part of the state's migrant transportation program, according to a spokesperson with the attorney general's office who did not want to be identified.