What do Mike Pence and Shirley Q Liquor have in common? Right-wing radio
Pence using hate radio to reach white Hurricane Harvey victims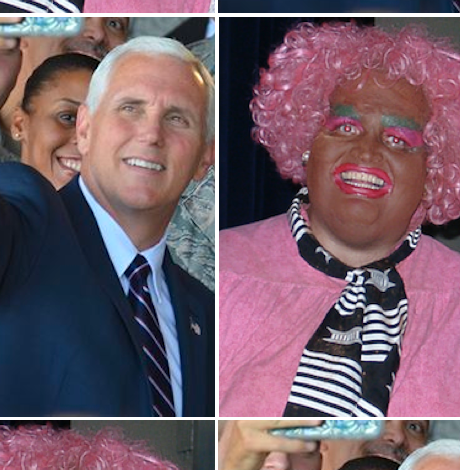 Two things seem certain on Tuesday morning: Hurricane Harvey is not letting up and President Trump's threat to shut down the government if Congress doesn't allocate money for his border wall with Mexico is careening towards fulfillment. During his news conference with the Finnish president at the White House on Monday, Trump promised Texas disaster funding would not be impacted by a shutdown—ignoring the fact that salaries for first responders and the military, and benefit funding for Medicaid and Medicare recipients would all be dramatically effected.
The LGBT community is trying to help victims of Hurricane Harvey, with a new fund set up by the LGBT Montrose Center in Houston, Lou Chibbaro Jr reports for the Washington Blade.  The Resurrection Metropolitan Community Church was flooded on Monday.
Meanwhile, Vice President Mike Pence went on several radio shows Monday to discuss the federal governments efforts. Interestingly, Pence seemed to limit his interviews to right-wing radio, based on transcripts posted on the White House.
"I think it is important that all of your listens (sic) know that this is still a very dangerous storm.  Particularly people in the affected areas, in Texas and Louisiana, need to approach this with great caution.  Listen to local emergency management officials.  Heed their warnings and their direction," Pence told Rush Limbaugh.  "And people within the sound of my voice who are in the affected areas or have families should know that they can go to DisasterAssistance.gov and they can already begin — we have some 22,000 that have already registered for disaster assistance, and there's a broad range of financial support that is available to support housing, to support businesses that are affected by storms of this magnitude.  And we think there might be as many as a half-a-million people ultimately eligible, given the enormity of this storm."
Limbaugh's audience is not exactly racially diverse so those within the sound of Pence's voice are presumably straight, white and politically conservative. Additionally, as Media Matters points out, Limbaugh has a history of using natural disasters as conspiratorial political weapons against Democrats.
"During Hurricane Matthew in October 2016, Limbaugh stated that 'it's in the interest of the left to have destructive hurricanes because then they can blame it on climate change' and that the National Hurricane Center is 'playing games' to convince people of climate change," Media Matters reports. He alsoaccused Katrina victims of "waving guns at helicopters," "shooting cops," and "raping people on the street."
As if to underscore Pence's particular penchant for right-wing-skewed outreach, the vice president also went on Michael Berry's KTRH show to deliver essentially the same talking points.
"Berry has been known for making sexist, homophobic, anti-Muslim, and anti-African-American comments on his radio show," says Media Matters. "Berry has posted several racist videos to his show's YouTube channel that criticize African-Americans and has referred to African-Americans as 'jungle animals,' 'pack animals,' and used blackface comedian 'Shirley Q. Liquor' on his show to tell jokes based on racial and religious stereotypes."
After 14-year-old Tyjuan Poindexter was the "unintended and blameless victim of a September 2015 drive-by shooting," the Chicago Tribune reported, Berry chortled: "He won't have to live with that name anymore."
"At least they're not indiscriminately firing at black people," Berry added. "At least they're saying, 'Are those the black people, because we want to make sure we get the right ones?' even if they didn't."
"Here's a guy who plays bingo with his audience about the murders in Chicago," Angelo Carusone, president of progressive watchdog Media Matters, told TheWrap. "The idea that the vice president would dignify that kind of program with his office should be alarming."
Berry has regularly booked gay white "comedian" Chuck Knipp on his show. Knipp used to be nationally infamous for his blackface character "Shirley Q. Liquor," who called herself "Mammy Welfare Queen." In 2007, pressure from the Black press and members of the LGBT community—shocked that some gays would find blackface funny—shut down Knipps' appearances in Los Angeles.  That started a cascading backlash that continues in some quarters around the country.
"It's the same blackface stuff you would have seen 100 years ago that has disappeared from our society for a long time and he resurrected it," Carusone said. "Berry even put up a billboard promoting his radio program with Shirley B. Liquor on it. That's how much that character was a part of the show."
The White House's selection of radio programs to which Pence has granted interviews is a stark indication of who the administration is trying to reach and prioritize for help—and they don't appear to be people of color.
Rep. Jennifer Wexton, ardent LGBTQ ally, will not seek re-election
In fact, on the day she took office, the congresswoman became only the second member to fly a transgender Pride flag outside her office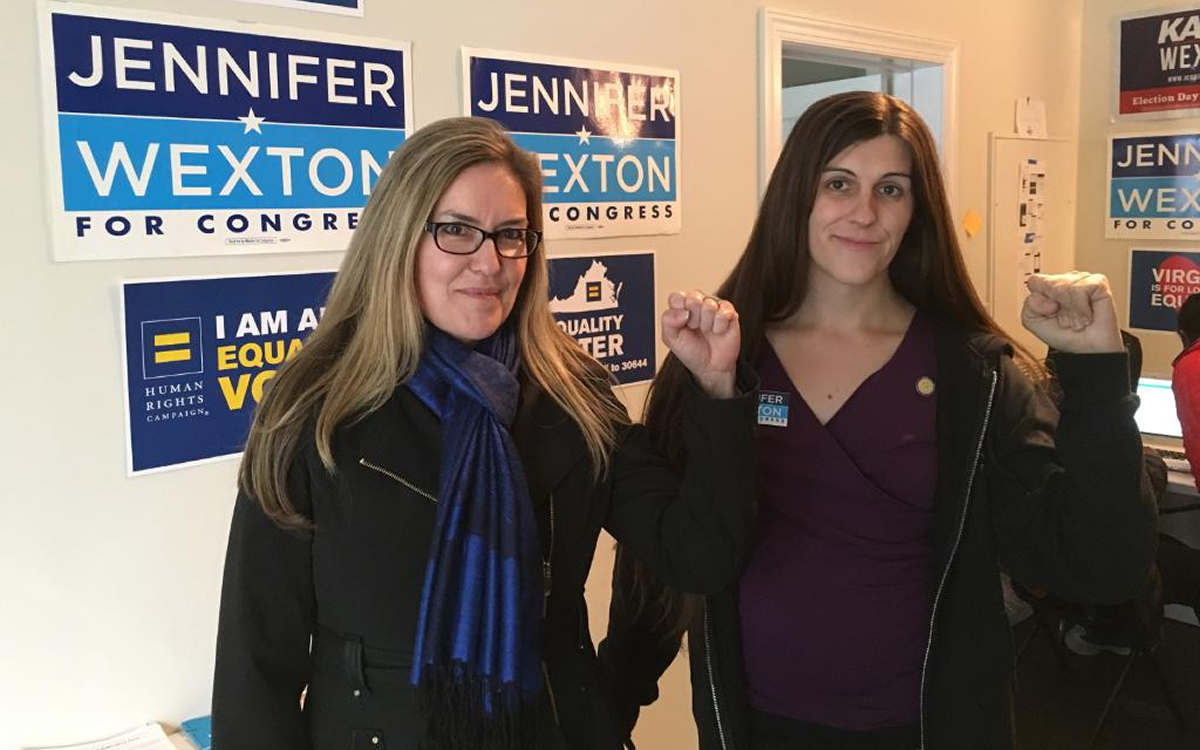 LEESBURG, Va. – U.S. Rep. Jennifer Wexton (D-Va.) announced on Monday she will not seek reelection after receiving a diagnosis of progressive supranuclear palsy, a neurological disorder that the congresswoman described in a statement as "Parkinson's on steroids."
"I'm heartbroken to have to give up something I have loved after so many years of serving my community," she said. "But taking into consideration the prognosis for my health over the coming years, I have made the decision not to seek reelection once my term is complete and instead spend my valued time with Andrew, our boys, and my friends and loved ones."
A member of the Congressional Equality Caucus and co-chair of its Transgender Equality Task Force, Wexton has been a staunch ally of the LGBTQ community since her first election to Congress in 2018 and during previous five-year tenure in the Virginia State Senate.
"On my lowest days, she's quite literally been a shoulder to cry on, and on my best days, she was the second person I told about my engagement last year," Virginia Del. Danica Roem (D-13) told the Washington Blade on Monday.
The congresswoman is "a role model, mentor and genuine public servant whose friendship and advocacy means the world to me," said Roem, who is the first openly trans representative to serve in any state legislature and will be the first in Virginia's State Senate if she is elected to the newly drawn 30th district seat next year.
"I spent so many years closeted in part because of the fear and loathing perpetuated by elected officials toward LGBTQ people in Northern Virginia broadly and greater Prince William [County] specifically that made for a hostile, unwelcoming environment," she said.
"To go from that to having such outspoken, fearless representation from my member of Congress in Rep. Jennifer Wexton hasn't so much been a breath of fresh air as much as a completely new biosphere," Roem said.
She added, "I'm so grateful to her for everything she's done and the example of inclusivity she's set for her constituents."
Roem pointed the Blade to an article in the Washington Post entitled, "How Jennifer Wexton became the 'patron saint of the transgender community,'" which details the ways in which LGBTQ rights "with an emphasis on the transgender community" had become Wexton's "signature issue" just "six months into her first term."
In fact, on the day she took office, the congresswoman became only the second member to fly a transgender Pride flag outside her office.
Equality Virginia, the state's largest LGBTQ advocacy group, also noted Wexton's advocacy for the community in a post Monday on X: "Thank you @RepWexton for being a tireless advocate for LGBTQ+ people in the General Assembly and in Congress."
"You've made our commonwealth a better place," the group wrote, adding, "we're sending our love and strength to you, your family and your entire team."
"In 2018, this state senator I called my legislative role model and looked up to so much as a first-year delegate, came over for dinner crepes to share her wisdom, humor and guidance," Roem said on X. "Five years later, Rep. @JenniferWexton is still a mentor, friend and champion for NOVA."
The Washington Post reported Wexton's planned departure means her seat representing Virginia's 10th Congressional District could be vulnerable in next year's elections, as it was held by Republicans for 40 years prior to the congresswoman's defeat of GOP incumbent Barbara Comstock in 2018.