Evangelical Christians celebrate archaic lifestyle
More than 150 religious leaders sign "Christian manifesto" longing for righteous 1950s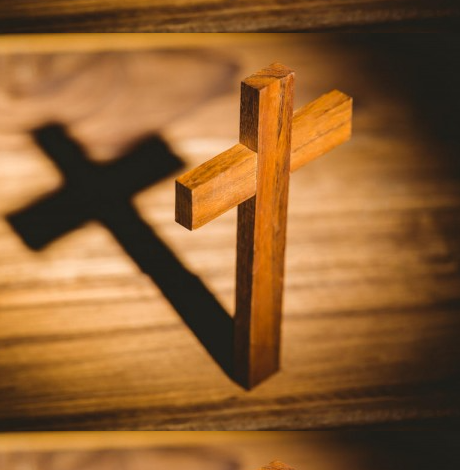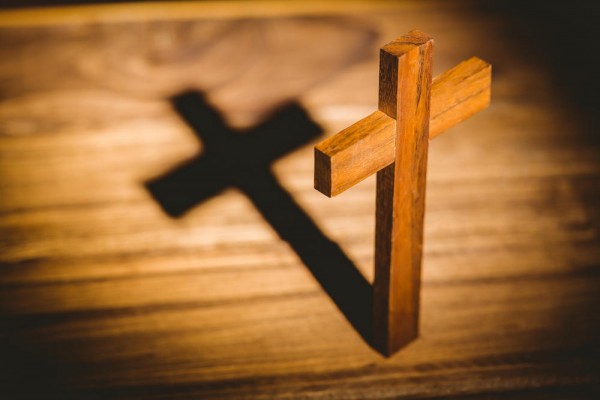 If so many of the religious leaders who signed this "Christian manifesto" on human sexuality weren't members of Donald Trump and Mike Pence's inner religious circle, this list of 14 pro-and-con statements produced by The Council on Biblical Manhood and Womanhood on Tuesday would seem like a fake prop in a remake of "Inherit the Wind." The Scopes Trial is over and until this year at least, most Americans thought that evolution and progressive human values won.
The latest affirmation of anti-LGBT bigotry, so soon after the orgasm of white supremacy in Charlottesville, is part of the Southern Baptist Convention's Ethics and Religious Liberty Commission's annual conference in Nashville.
The Nashville Statement, however, signed by 150conservative Christian leaders—only 15 of whom are identifiably female—claims that they are on a counter-cultural mission to reclaim what God intends for humanity.
"As Western culture has become increasingly post-Christian, it has embarked upon a massive revision of what it means to be a human being. By and large the spirit of our age no longer discerns or delights in the beauty of God's design for human life," the Preamble says. "It is common to think that human identity as make and female is not part of God's beautiful plan, but is, rather, an expression of an individual's autonomous preferences. The pathway to full and lasting joy through God's good design for his creatures is thus replaced by the path of shortsighted alternatives that, sooner or later, ruin human life and dishonor God."
Interestingly, though longing for the good old days of heterosexual male superiority, these evangelicals did not capitalize "him" for God—as they once did, ie "Him" or "He." They apparently didn't notice they diminished God in their own righteous but organized rant.  They also fail to register that religion is a choice while orientation and identity may not be.
No surprise, they want marriage between one man and one woman and "DENY that adopting a homosexual or transgender self-conception is consistent with God's holy purposes in creation and redemption."
"Our true identity, as male and female persons, is given by God. It is not only foolish, but hopeless, to try to make ourselves what God did not create us to be," the statement reads.
Two of the lead signers are James Dobson, founder of the Colorado Springs-based Focus on the Family, and Tony Perkins, president of the Family Research Council. Dobson and four other signers are members of Trump's evangelical advisory board. Perkins joined evangelical brother Vice President Mike Pence in pushing the personnel ban on transgender military service, just as North Korea issues more dire warnings.
USA Today reported: "In a series of tweets, Pastor Brandan Robertson of MissionGathering Christian Church in San Diego, an LGBT activist who helped organize a protest at the Ethics and Religious Liberty Commission conference, called the statement an affront to God's creative design. "When your theology breeds death, your theology is not of God," he tweeted.
Christian author Jen Hatmaker tweeted: "If the fruit of doctrine regularly & consistently creates shame, self-harm, suicide, & broken hearts, families, & churches, we shld listen."
Nashville Mayor Megan Barry was just annoyed, tweeting that the statement was "poorly named."
Here is the Nashville Statement:
Senator Wiener's No Tax Exemption for Insurrection Act, passes Senate
Senate Bill SB 834 strips state tax-exempt status from organizations that engage in or incite insurrection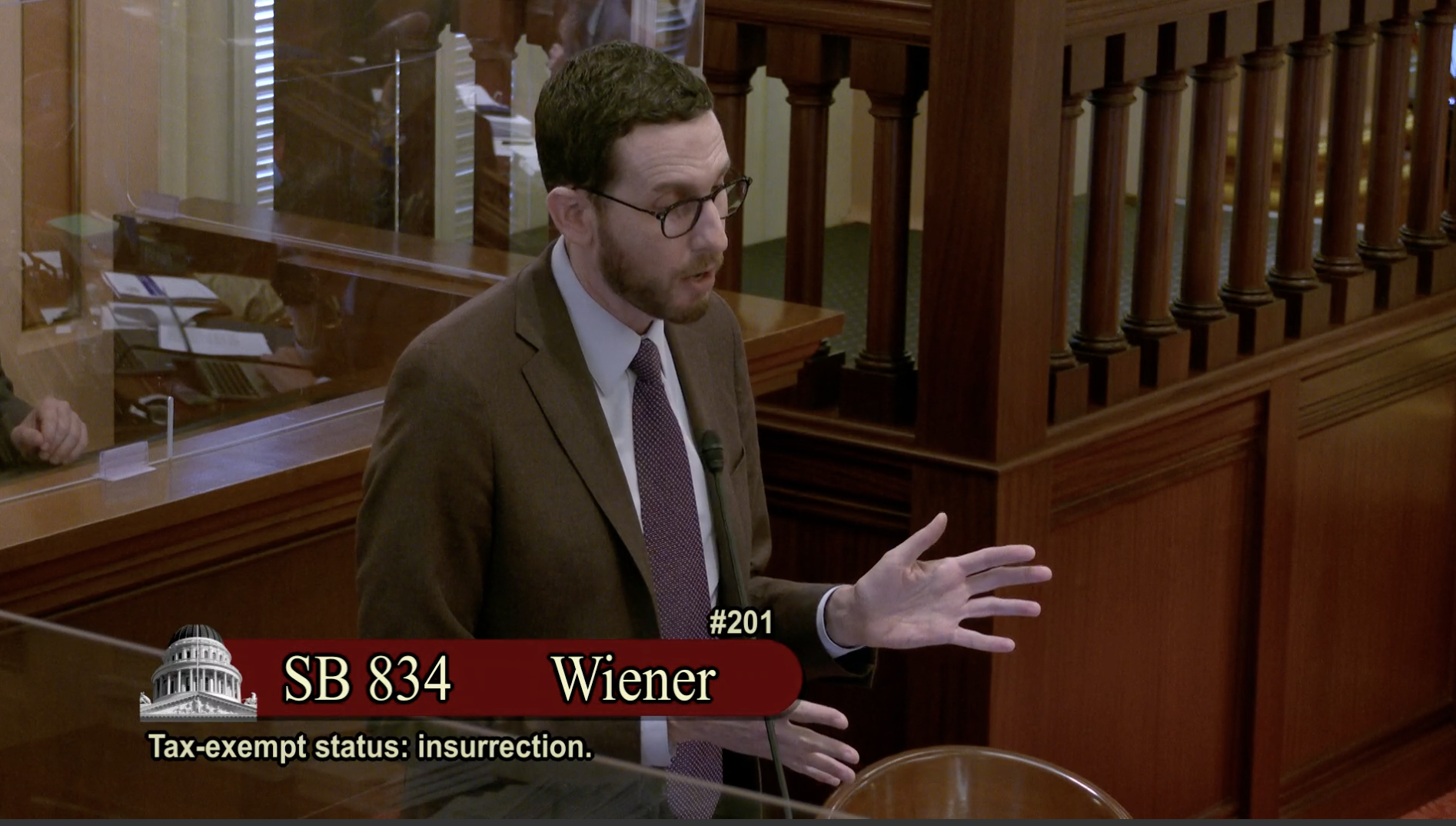 SACRAMENTO – Senator Scott Wiener (D-San Francisco)'s Senate Bill 834, the No Tax Exemption for Insurrection Act, passed the Senate by a vote of 28-0 Monday. It will now head to the Assembly for policy committee hearings.
SB 834 is a first-in-the-nation bill that will revoke the California tax-exempt status of nonprofit organizations that participate in or incite efforts to overthrow the United States government or any state government. Nonprofit organizations have used the "Big Lie" – the fraudulent notion that the 2020 election was stolen – to fundraise for and funnel money to extremist and anti-democratic initiatives like the January 6 insurrection.
Tax-exempt status is a privilege, not a right, and organizations that engage in or incite insurrection or conspiracy to commit insurrection – both of which are illegal – should not be given this special status to help them fundraise. Moreover, non-California nonprofits should not be able to register to raise money in California if they are engaging in or inciting insurrection.
"On January 6, 2021, the peaceful transfer of power in our democracy was threatened," said Wiener. "And for the first time since the Civil War, people died as a result. We cannot and will not let organizations that aid and abet insurrection – that break the law by trying to overthrow the U.S. government – operate with tax-exempt status. The people of California should not be subsidizing insurrection."
The January 6, 2021 insurrection took place, when pro-Trump extremists – in response to the false narrative that the Democrats "stole" the 2020 election and incited by then-President Donald Trump – breached the United States Capitol. Five people were killed as a result of this insurrection, and hundreds were injured.
Vice President Pence and Speaker Pelosi were specific targets of this violent attack on the nation's democracy. Many nonprofits that supported the insurrection and continue to perpetuate lies about the 2020 election in hopes of overturning the results still operate with tax-exempt status, both at the federal and state level.
SB 834 clarifies the Franchise Tax Board's authority to revoke the California tax-exempt status of a nonprofit organization if the California Attorney General determines that the nonprofit has actively engaged in, or incited: treason, misprision of treason, insurrection, seditious conspiracy, advocating overthrow of the government or the government of any State, or advocating mutiny by members of the military or naval forces of the United States (1.)
Under SB 834, if the Attorney General finds that a nonprofit organization has incited, or actively engaged in actions that are directed to or likely to imminently violate one or more of these crimes, they will notify the FTB, which then will have the ability to revoke the nonprofit's tax-exempt status.
For out-of-state nonprofits that engage in or incite insurrection, they will be prohibited from registering to raise money in California.
The United States Supreme Court has ruled that the purpose of charitable organizations claiming tax-exempt status "may not be illegal or contrary to public policy." Trying to overturn elections and violently attacking our legislators fits the bill. SB 834 will ensure that these organizations no longer claim this financial advantage.
Tax-exempt nonprofits are not required to pay corporate income taxes and may be exempt from other taxes as well. Additionally, donations to many nonprofits are deductible from income taxes, and private foundations and donor-advised funds can only donate to tax-exempt nonprofits. Private foundations and donor-advised funds represent a major funding source for many nonprofits.
Authoritarian and anti-democratic organizations have increasingly used the "Big Lie" to fundraise, and this narrative has driven millions of dollars in tax-exempt donations. And many new organizations have cropped up in the past year, hoping to ride the coattails of the insurrection and cash in.
These include California nonprofits and nonprofits registered in other states that fundraise in California. These organizations, which are fundamentally undermining our democracy and cheering for the destruction of free and fair elections in America, should not be allowed to operate with advantages like tax-exempt status.
For example, the leader of the "Oath Keepers," a national militia movement, was charged with seditious conspiracy. While the Oath Keepers does not have California tax-exempt status, it has an "educational foundation" with federal exempt status and tax-exempt branches in several states. In the words of one expert, "It can only be presumed that [funds contributed to the Oath Keepers], which [donors were] able to deduct from their federal taxes, went to transporting and lodging members of the group slated to participate in the ensuing riots." (2.) These organizations should not be allowed, under any circumstances, to use tax write-offs to help fund illegal activities.
There is precedent for making this distinction in California's tax code. Under federal and California law, for instance, if a nonprofit organization supports terrorism, its tax-exempt status is suspended. The nonprofit organizations that support insurrection should receive the same treatment.
Citations:
1. USC §§ 2381-2385, 2387
2. "Dollars against Democracy: Domestic Terrorist Financing in the Aftermath of Insurrection," Virtual Hearing before the Subcommittee on National Security, International Development and Monetary Policy of the Committee on Financial Services, U.S. House of Representatives, Feb 25, 2021.
Senators Josh Becker (D-Peninsula), Dave Min (D-Irvine), Josh Newman (D-Fullerton), Anthony Portantino (D-La Cañada Flintridge), Tom Umberg (D-Orange County), and Bob Hertzberg (D-Van Nuys) are co-authors of this bill. Assemblymembers Buffy Wicks (D-Oakland), Phil Ting (D-San Francisco), Cristina Garcia (D-Bell Gardens) and Marc Berman (D-Menlo Park) are also co-authors of SB 836. Assemblymember Kevin Mullin (D-San Mateo) is principal co-author.
Assembly passes bill protects patients & providers from anti-choice states
AB 1666 protects patients and providers in California from civil liability judgments for providing reproductive health care to patients

SACRAMENTO — In a two-thirds vote Monday, the Assembly passed AB 1666, sponsored by Assemblymember Rebecca Bauer-Kahan (D – Orinda) which creates a legal shield up for California patients and providers from extremist anti-abortion laws from anti-choice states.
The language of the measure reads: "This bill would declare another state's law authorizing a civil action against a person or entity that receives or seeks, performs or induces, or aids or abets the performance of an abortion, or who attempts or intends to engage in those actions, to be contrary to the public policy of this state. The bill would prohibit the application of that law to a case or controversy heard in state court, and would prohibit the enforcement or satisfaction of a civil judgment received under that law."
We're out! #AB1666 just passed the Assembly floor with a 2/3rds vote. This bill puts a legal shield up for CA patients and providers from extremist anti-abortion laws from anti-choice states. #ABORTIONISHEALTHCARE @PPActionCA @acog @AAUW @eqca

— Asm Rebecca Bauer-Kahan (@BauerKahan) May 23, 2022
Planned Parenthood Affiliates of California Legislative Director Molly Robson told the Blade in an emailed statement Monday;
"AB 1666 will allow California providers to continue to provide essential and timely health care, like abortion, with decreased risks of potential liability when helping people forced to seek care here in California rather than in their home state due to hostile, extreme, and dangerous restrictions or outright bans. These precautions and protections are necessary given the increased hostility and frequency of abortion bans in other states seeking to target patients and providers. Taking this action now is crucial as we prepare for the U.S. Supreme Court to overturn Roe v Wade and unleash a flood of hostile bans in more than half the states."
Planned Parenthood Affiliates of California also noted that AB 1666 protects patients and providers in California from civil liability judgments for providing reproductive health care to patients when the claims are based on laws in other states that are hostile to abortion rights and are contrary to the public policy of California.
AB 1666 builds on a recommendation put forth by the California Future of Abortion Council recommendations released in a December report, in which Planned Parenthood Affiliates of California is a member of its "Steering Committee."
A spokesperson for Equality California, Jorge Reyes Salinas, told the Blade Monday afternoon;
"LGBTQ+ people are directly impacted by laws that undermine abortion care. The LGBTQ+ community overall often lacks access to inclusive and affirming health care, and in particular transgender men and nonbinary people who become pregnant face significant challenges when seeking reproductive care.  In addition, many of the clinics that provide abortions also provide hormones and reduced-cost reproductive care for transgender and nonbinary people, efforts to undermine these clinics directly harm the LGBTQ+ community.
AB 1666 is a critical safeguard against the wave of proposals that will harm the health and well-being of vulnerable populations across the country. To the extent that California can provide a refuge for people seeking critical care, we have a duty to do so."
Right-wing extremist provocateur threatens to 'hunt' LGBT supporters
He has a history of right-wing extremist short videos including a harassment campaign against an Arizona wig shop that serves cancer patients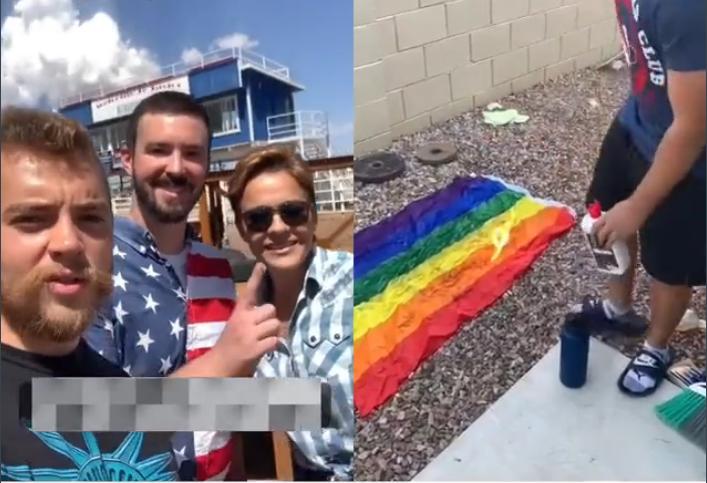 PHOENIX – A twenty-four year old right-wing extremist based in the metropolitan Phoenix, Arizona area, Ethan Schmidt, posted a short video of himself accompanied by Kyle Clifton who describes himself as "authoritarian Christian nationalist," driving in an undisclosed area announcing that he and Clifton will be "hunting 'LGBT supporters" and people in area Target retail stores.
The video captured by Twitter account Patriot Takes, which describes itself as a group of dedicated researchers monitoring and exposing right-wing extremism and other threats to democracy, first posted the video clip Saturday.
Ethan Schmidt, a right wing provocateur who has made videos with Kari Lake, Wendy Rogers, and Paul Gosar, warned Target he will "hunt LGBT supporters" in their stores and across Phoenix in June, stating they "are not safe" and they "can't hide." pic.twitter.com/O3ReHVN3qY

— PatriotTakes 🇺🇸 (@patriottakes) May 21, 2022
Schmidt has a history of making right-wing extremist short videos including a harassment campaign against an Arizona wig shop that serves cancer patients.
Sunny's Hair and Wigs, specialize in making wigs for women who have lost hair while getting treated for cancer and the store had implemented coronavirus pandemic protections including strict mask guidelines to ensure safety of their clients who are particularly vulnerable to infection.
Lisa Memberr, the owner of the shop had explained to local media outlets: "My customer base is very diverse," and she added, "Not only do I have Caucasians, I have Afro-Americans, I have Asians, I have Latin Americans."
Schmidt, who has ban banned by nearly all social media platforms including Twitter for spreading false and misleading COVID-19 pandemic information had been visiting numerous retail stores in the Phoenix area including Sunny's Hair and Wigs targeting those businesses that still require customers to wear mask. He invariably creates videos of his encounters which he uploads to right-wing social media and web sites that he hasn't been banned from.
In addition to his anti-mask campaign he has made videos with extremist conservative lawmakers including one with Arizona U.S. Republican Representative Paul Gosar telling antivaxxers "to stay the course."
Rep. Paul Gosar with Ethan Schmidt telling antivaxxers "to stay the course."

This is the new Republican Party. pic.twitter.com/Z0ogrq8nO4

— PatriotTakes 🇺🇸 (@patriottakes) May 21, 2022
He also filmed a short with Arizona State Senator Wendy Rogers who has established herself firmly as an anti-vax, anti-LGBTQ, right wing extremist.
Arizona State Senator Wendy Rogers made a video promoting Ethan Schmidt, who is now stating he will "hunt LGBT supporters" at Target and across Phoenix. pic.twitter.com/1CBmJGHYvN

— PatriotTakes 🇺🇸 (@patriottakes) May 21, 2022
Clifton is a leader of the America First Union, an openly white nationalist, antisemitic, "conservative youth" organization. He also promotes former President Donald Trump's big lie about the 2020 Presidential election being stolen by Democrats and President Joe Biden. Clifton also participated in the Arizona audit of the 2020 vote in Maricopa County, which state Sen. Rogers, had raised the visibility of her own political profile by insisting that Arizona's vote was stolen.
A semi-copy of the"American Populist Union" has been organizing under the name America First Union. The local chapter is led by the openly antisemitic Kyle Clifton of Peoria, AZ who describes himself as an "authoritarian Christian nationalist."https://t.co/OlyhxhK9kh

— AZ Right Wing Watch (@az_rww) October 8, 2021
Kyle Clifton is also obsessed with The Anti-Defamation League (see image above). He recently thought he went and filmed a rant in front of the Phoenix ADL headquarters, not realizing it has been long abandoned. pic.twitter.com/BjOxsme8fQ

— AZ Right Wing Watch (@az_rww) October 8, 2021
Last Fall Schmidt posed with Trump endorsed Republican candidate for Arizona Governor Kari Lake as he burned a LGBTQ+ Pride flag.
Kari Lake posed for an "Antimaskers Club" video with bigot Ethan Schmidt who burns rainbow flags.

This is who Trump endorsed. pic.twitter.com/mnTFqdjaAZ

— Resist Programming 🛰 (@RzstProgramming) September 28, 2021