AIDS Guru Louise Hay Dies at 90 
Hay was a controversial visionary whose 'Hay Rides' offered unconditional love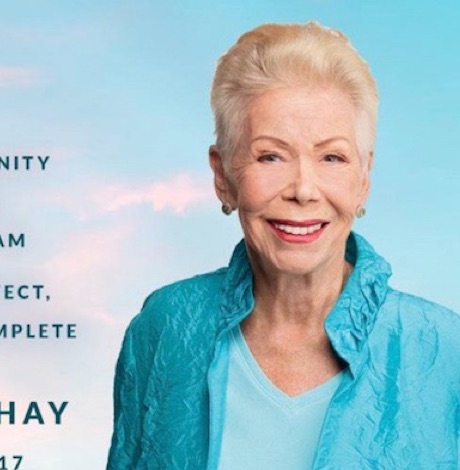 Louise Hay, an advocate for unconditional love and forgiveness during the height of the AIDS crisis, died peacefully Wednesday morning of natural causes.  She was 90.
"Meeting Louise changed the direction of my life," Reid Tracy, President and CEO of Hay House, Inc., said in a statement posted on her website. "Her passion for serving others translated into everything she did. Simply by working alongside her, an analytical accountant like me transformed into someone who became aware of the power of affirmations and self-love. Being able to learn from her has been one of my life's greatest blessings."
Hay was one of several women who emerged as spiritual gurus alongside Marianne Williamson, Rev. Sandy Scott, and Ma Jaya, to name the most prominent.
"Louise Hay and her Hay Ride gave spiritual support and acceptance to so many in the early days of the AIDS epidemic," says gay former Entertainment Tonight executive producer Brad Bessey. "She was so important to our movement—preaching love over fear and healing, hope and heart over hopelessness."
Fiesta Hall in West Hollywood's Plummer Park would fill up on Wednesday night in the late 1980s with up to 700 people seeking hope, comfort, friendship, forgiveness, love and often a cure for the incurable AIDS from the metaphysical counselor who said she had cured herself of cancer. The celebration of life known as the Hay Ride, was often the only time a person with AIDS might be touched, hugged or massaged with care, not rough disdain.
People with AIDS came to the gathering in all conditions—hobbling on canes with one leg stiffened by hard purple KS lesions or somehow walking with portable IV drips, or barely ambulatory with arms wrapped around the shoulders of friends who served as human crutches to allow the weakened one some sense of dignity and self-propulsion. Friends, healthcare workers, family, activists, volunteers—anyone with a heart desperate to do something, if only give love—would park their outrage at the door and pack the auditorium to listen to each other, whether pleas for roommates, money for rent, announcements about memorials, personal AIDS updates, hopes, fears and gratitude for finding a place to really be themselves. Many were still in the closet or AIDS had outted them, accompanied by family rejection. It was in arenas like this, as well as at the bedsides of the dying or on the streets protesting government inaction that the concept of "family of choice" took hold.
Hay would offer spiritual guidance, affirmations and unconditional love. She also lead visualizations with hundreds of mostly strangers making room to lying next to a sick, healthy or healing body to do intimate private internal work. By the end, whether full forgiveness had been achieved or not, there were no strangers, only friends with no known name yet. The atmosphere in the auditorium was infused with honest emotion—sadness at the loss of loved ones, grief at one's own imminent passing, and love and joy enough to move mountains.
"Love is the most powerful stimulant to the immune system. What we're doing here is practicing love, unconditional love," Hay would say.
But Hay's message of self-healing—love, self-love, laughter healing the immune system—had a dark side, too.  Doing the inner work was a prerequisite to healing, and thus a personal responsibility. Hay sometimes told a person with AIDS they were responsible for their own illness, leading some to contemplate suicide because they weren't healing fast enough or at all, with the ravages of AIDS.
"As a physician, I think that love and acceptance and forgiveness may well be an important component of healing, but AIDS is a viral disease caused by a virus and not by a lack of love," Dr. Michael Gottlieb, co-author with Dr. Joel Weisman of the first CDC article on what would become known as HIV/AIDS, told the Los Angeles Times in 1988.  
But for many, including grief expert David Kessler, who co-founded Project Angel Food with Marianne Williamson, Hay was a co-author and friend.
"I first met Louise in the early 80's during the AIDS crisis. In those fearful days when so many were taking a step back, she took a step forward," Kessler said on his Facebook page. "I had the privilege of co-authoring You Can Heal Your Heart with Louise. Many thought the woman who wrote so much of healing would be afraid to look at death and grief. But that was not Louise. Years ago, when we first talked about my work on grief, I asked her about her own death. She replied, 'I've lived my life fully. I just want to make sure that when the time comes, I live my dying fully.'"
"Beyond being courageous, extraordinary and talented, Louise Hay was unwavering in her commitment in loving people and them knowing their own values," says Rodney Scott, who now works with TV counselor Iyanla Vanzant. "Louise was brilliant in creating a safe, nonjudgmental space for people to live extraordinary lives. Today I hold Louise and her family and friends all around the world in my thoughts and prayers."
House passes resolution demanding Brittney Griner's immediate release
Detained WNBA star's trial to begin on July 1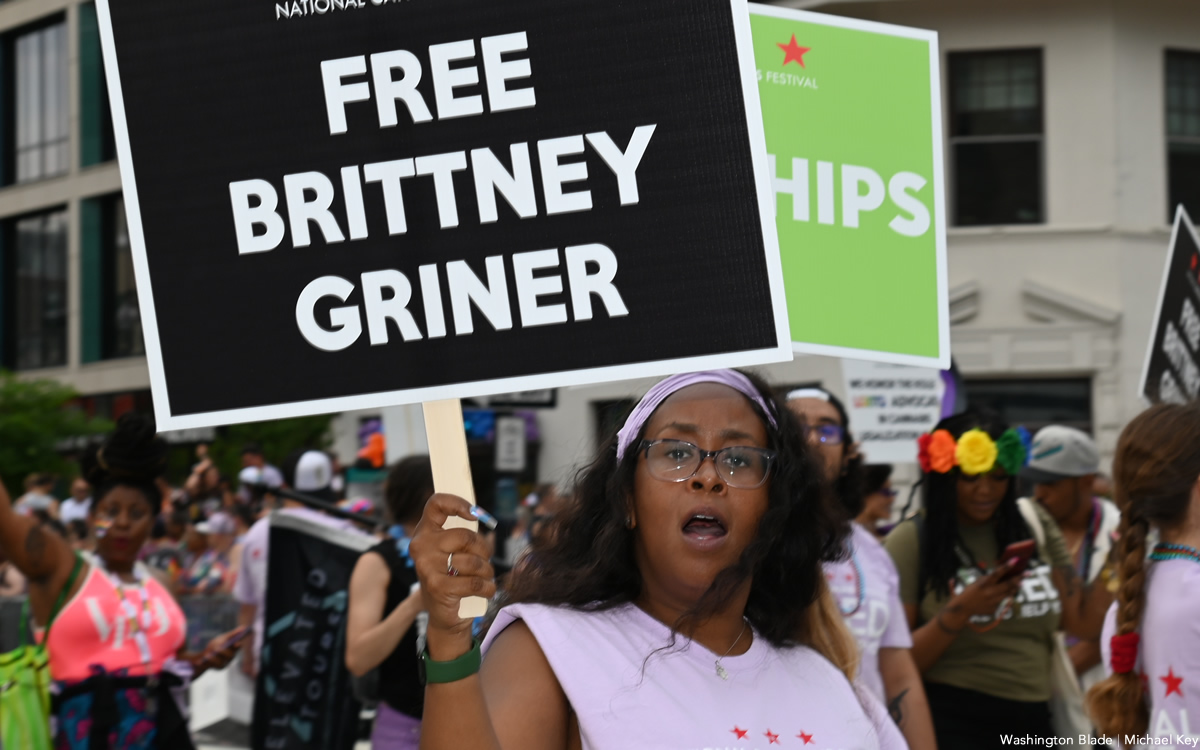 WASHINGTON — In a resolution passed on June 24 by the U.S. House of Representatives, lawmakers called on Russia to immediately release detained WNBA star Brittney Griner. 
Griner was first arrested in Russia in the days leading up to its invasion in Ukraine. Authorities have charged her with drug trafficking after claiming that she attempted to pass through Moscow's Sheremetyevo Airport while in possession of cannabis oil.
The House's resolution, introduced in May by U.S. Reps. Greg Stanton (D-Ariz.), Sheila Jackson Lee (D-Tex.) and Colin Allred (D-Texas), made multiple demands of Russia, including that the country "immediately release Brittney Griner," provide her with consular access and humane treatment and that the U.S. "raise the case of Brittney Griner and to press for her release" in all its dealings with the Russian government.
"This legislation insists on our embassy personnel having access to Ms. Griner and restates our commitment to freeing her now," Lee said in a statement after introducing the resolution. "We continue to pray for her family and we will continue to work together as three members of Congress, along with others, to spread the message that she is held wrongfully and must be freed now."
The resolution also expressed support for both Griner's family and for "all prisoners unjustly imprisoned in the Russian Federation."
Allred, a member of the House Foreign Affairs Committee, took to Twitter following the passage of the resolution.
"I'm proud the House has spoken in passing our resolution and calling for Brittney Griner's swift release," Allred wrote. "Every day an American is held abroad is a lifetime, and I will keep working with @POTUS to do all we can to bring home every American detained abroad."
Griner's WNBA team, the Phoenix Mercury, welcomed the House's passage of the resolution this past weekend.
"[Rep.] Stanton and many others are continuing to work with the White House, State Department and Brittney's family to secure her safe return home," the team wrote on Twitter.
The resolution comes after reporting revealed missteps on the part of the U.S. government in handling communication related to Griner's detention.
According to past reporting, the U.S. Embassy in Moscow failed to connect Griner with outside phone calls permitted by the Russian government when Griner's wife, Cherelle Griner, attempted to call her. Cherelle Griner reportedly called 11 times on June 18 on the couple's fourth anniversary but was unable to reach her wife due to what the State Department claimed to be a "logistical error."
While the resolution is being heralded by its supporters, it contains no provisions intended to enforce the House's demands for the release and humane treatment of Griner and others held by Russia. With less than one percent of criminal defendants in Russia being acquitted, it is unclear whether the resolution will do anything to persuade the country's courts to permit Griner's release.
Griner appeared in Russian court on Monday for a preliminary hearing prior to her trial that has now been scheduled to begin on July 1. It was also confirmed by Griner's attorney on Monday that her detention had been extended for six months pending her trial.
If convicted, she could face up to 10 years in prison.
"We must keep Brittney's case on the forefront and make clear to the White House that her release should be one of the highest priorities for our government," Cherelle Griner said in May.
Sparks, Nevada drag queen story hour disrupted by armed Proud Boy
A Proud Boy approached the library while carrying a gun, causing everyone, including children, to run into the library for safety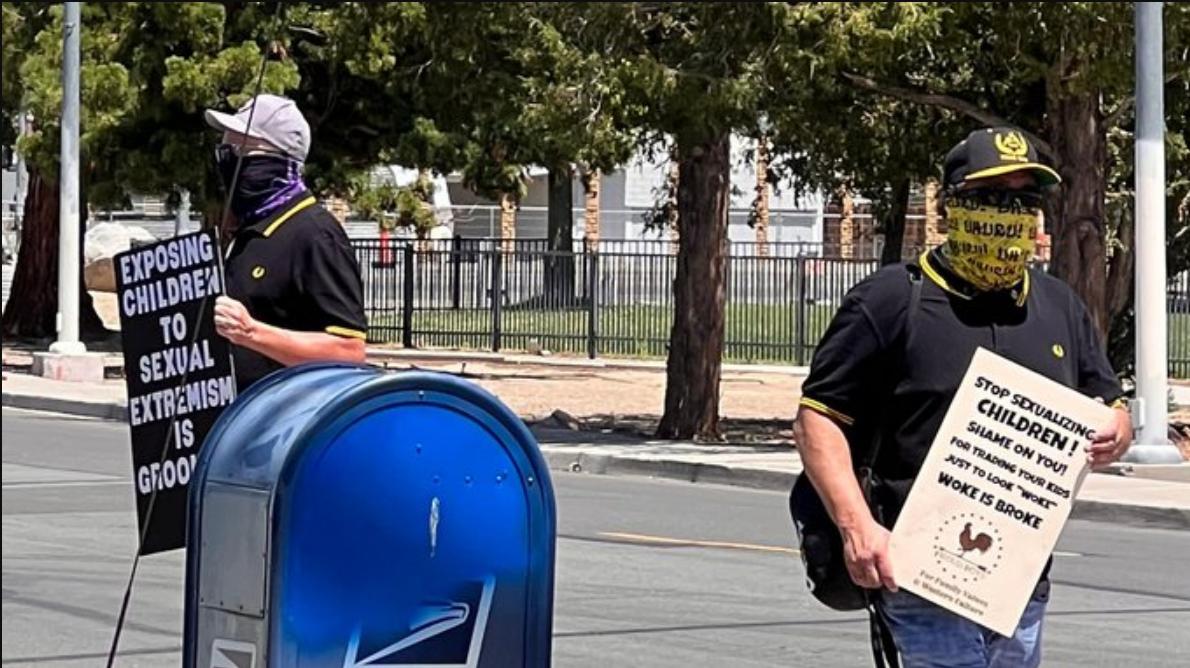 SPARKS, Nv. – An armed man later identified as part of a group of Proud Boys disrupted a drag queen story hour at the Sparks Library Sunday afternoon Reno media outlet KRNV (NBC News 4 and Fox 11) reported.
According to KRNV's account during the event, a group of Proud Boys protested against LGBTQ+ rights outside of the Sparks Library.
The KRNV crew covering the reading event said when the protest came to an end, a man wearing Proud Boys clothing approached the library while carrying a gun, causing everyone, including children, to run into the library for safety.
The Sparks Police Department monitored the protest from a distance, but left soon after. There were no police present when the man approached the building.
Nevada is an open-carry state and according to the Nevada State Police unless a sign is posted or the person is accused of brandishing a weapon, technically for appearances sake, no law was broken or regulation violated Sunday.
Felony arrest in vandalism of Pride Merch at Knoxville Target store
Jonathan Burns was arrested after he was identified by investigators as the suspect in spray-painting a section of LGBTQ+ Pride merchandise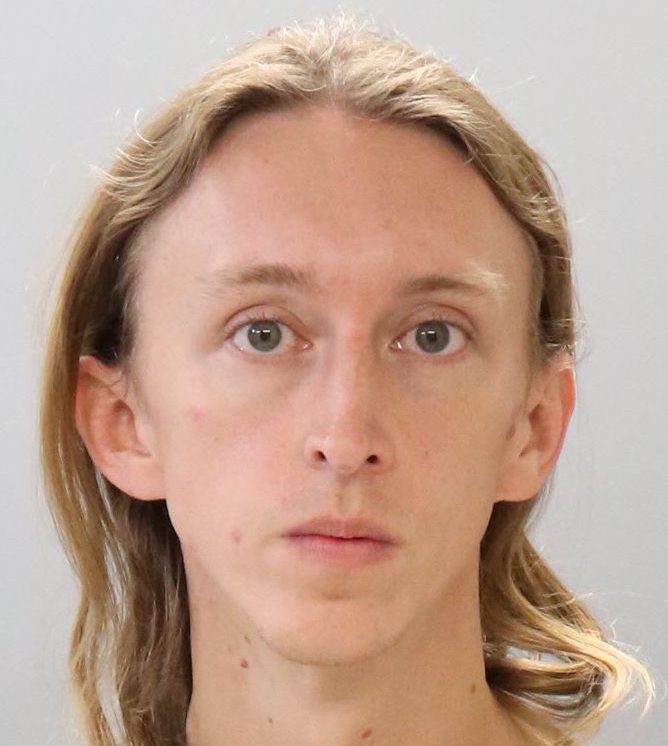 KNOXVILLE – A thirty-one-year-old West Knox resident was arrested last week by the Knoxville Police Department, with the help of the Knox County Sheriff's Office, and charged with felony vandalism at a local Target store.
Jonathan Burns was arrested after he was identified by investigators as the suspect in spray-painting a section of LGBTQ+ Pride clothing & merchandise.
Knoxville NBC News affiliate WBIR-TV, Channel 10 reported:
On June 13 at 2:49 p.m., Burns entered the Target on Parkside Drive and spray-painted an entire section of merchandise placed out for Pride Month, KPD said.
Burns damaged $3,884 worth of clothing, according to KPD. They also said he used red spray paint to destroy the entire section of items as well as a sign in the section, and it was the only section that was vandalized. The sign cost an additional $16 in damages.
An employee had approached Burns and asked him to leave, according to a KPD report.
When Burns left the Target, he dropped the spray paint can on the ground. Fingerprints on the can confirmed Burns' identity. Evidence of him purchasing the spray paint and a bucket hat from local retail prior to the incident was secured. Video from Target and the retailer where the paint and hat were purchased depicted Burns wearing the same clothing, the report said.
With @knoxsheriff's help, Jonathan Burns, 31, was arrested on a felony vandalism charge last night at his West Knox home after he was identified by investigators as the suspect from this incident. He is accused of spray-painting a section of LGBTQ+ Pride clothing & merchandise. https://t.co/tjc507iSaQ pic.twitter.com/jZaBvGKCU4

— Knoxville Police TN (@Knoxville_PD) June 23, 2022