LA and Paris Officially Win Olympic Approval 
The Olympic committee unanimously voted for the two optimistic cities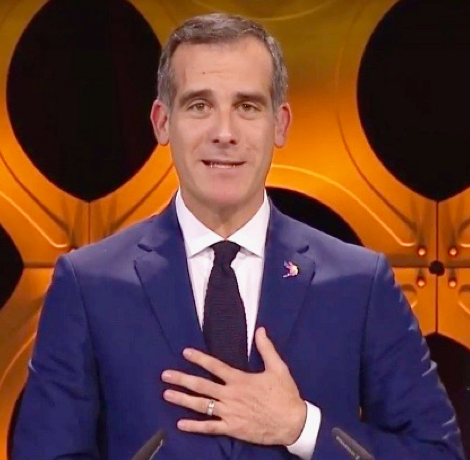 A near-euphoric spirit of youthful optimism leapt through the YouTube screen as the International Olympic Committee live streamed it's official decision Wednesday to award the Olympic Summer Games to Paris is 2024 and Los Angeles in 2028.  The unanimous show of hands by IOC members at their meeting in Lima, Peru suggested the professional presentations and the welcomed diplomacy LA offered sister-city Paris also meant the IOC was rejuvenated after its recent selections of cities that subsequently suffered financial disasters.
Getting to Lima to some extraordinary twists and turns, none of which seemed evident as the LA delegation took to the stage in sneakers. "Now, I know what you're thinking: these LA guys seem pretty laid back," LA bid team leader Casey Wasserman told the amused audience. "My grandfather told me the key to success was two simple things: Always be honest, and always stay true to who you are. Well, what you see onstage here today reflects who we are, and the unique brand of California-cool that we will bring to the 2028 Games."
LA Mayor Eric Garcetti beamed as he signed what some consider a controversial contract. According to the LA Times, the "host city contract" with the IOC promises that "the city government will serve as a financial backstop, paying off any debts should the estimated $5.3-billion sporting event run over budget." Approved by the LA City Council, the LA 2028 plan already calls for cost-savings by using existing venues such as LA Live, the USC Coliseum, the UCLA campus, the Staples Center, the Rose Bowl, and Long Beach and South Bay sports parks. The city also expects substantial revenue through tickets, sponsorships and other sales sources.
The city also has 11 years to build dedicated "games lanes" on the county's freeways to make getting to venues faster and easier. In 1984, LA Mayor Tom Bradley beseeched the city's citizens to stay off the streets, to be welcoming and courteous to the Olympic visitors. And the city complied. That looks miraculous today.
Both Garcetti and Paris Mayor Anne Hidalgo, who seemed like giddy brother and sister throughout the process, emphasized the future—from climate change to the Olympic values of respect and inclusivity, the "humanistic values that unite our two sister cities," said Hidalgo, thanking her "dear Eric" for the support.
The Paris Olympic bid team talked about how Olympic values include refugees and "transform the lives of our citizens." Sports has a unique mission: "the more we share, the more we have;" and in the Olympics and Paralympics, "sports has a place for every person….Paris 2024 is made for sharing."
And, without being explicitly political, there was a nod to the odd relationship between the US under President Trump and French President Emmanuel Macron, who spoke to the IOC via video, unlike Trump. The Paris team said the new partnership between the two cities would lead to greater trust. "You can't imagine what it means to us."
The LA Olympic delegation featured Olympians Janet Evans and Allyson Felix, both of whom shared personal stories of how the Olympics impacted their lives as children. Evans said she was a 12-year old fan watching the 1984 Olympics in Los Angeles—"that's when I decided I wanted to be an Olympian."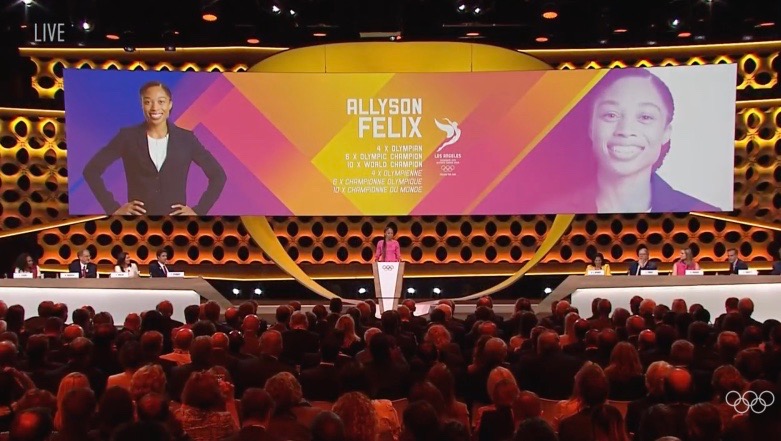 Felix referenced racism and today's strife, telling the UN they should look to Olympic athletes to find diplomats. "If we can get along with fiercest competitors, we can get along with anybody," she said. The Olympic games are about "friendship and fair play, not nationality color or creed."
Watching Garcetti from 4,180 miles away did not diminish the power of his enthusiasm. He wasn't just a passionate cheerleader for Los Angeles, he embodied the spirit, culture, inclusivity and profound belief that the future will bring progress. "And isn't that the point of sport and in life? To improve; to get better?" he asked.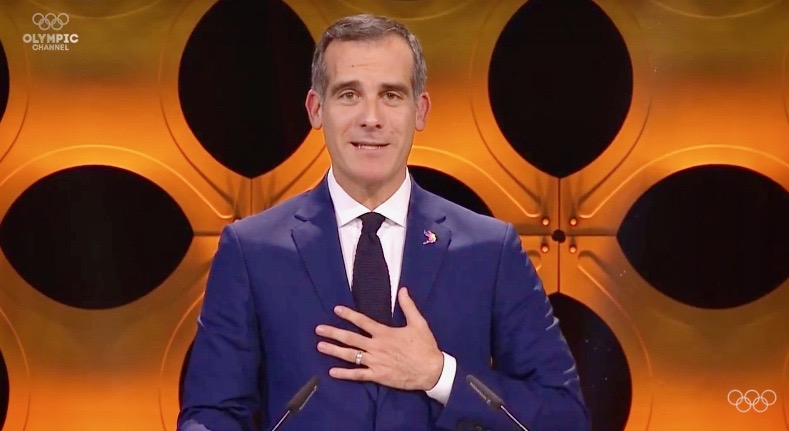 "Today, in an unsteady time, we know that the Olympics in Los Angeles in 2028 represent continuity with our city and this movement's enduring values," Garcetti said. "Los Angeles reflects the face of America's future and the heart of American values of inclusiveness, generosity and unity. Bringing the Olympics back home to LA gives us the chance to imagine what our city will look like a decade from now."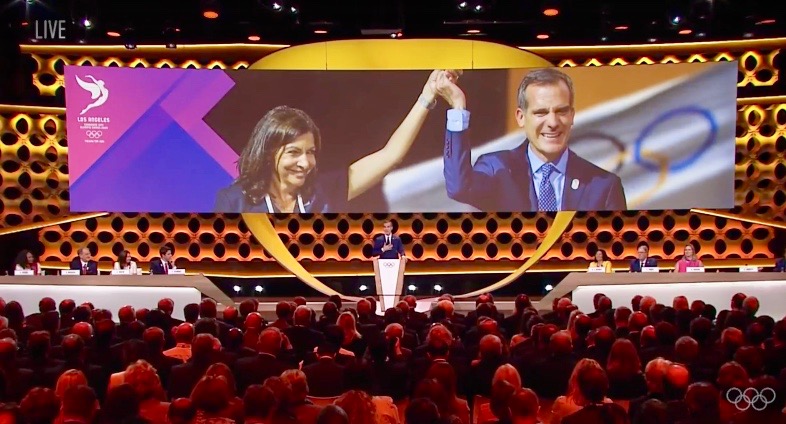 Here's the transcript of Garcetti's remarks:
"Thank you, Allyson.
Before I continue, sincere congratulations on your accomplishments over the course of your incredible career.
You are a perfect role model on and off the field of play, and it has been an honor working with you on our bid.
President Bach, honored IOC members, ladies and gentlemen and Olympic family friends around the world.
Good afternoon, bonjour y buenas tardes.
We're here today not just to celebrate two great winning cities, but to also offer our respect and gratitude to each other and to the Olympic and Paralympic Movements.
Let me start by congratulating my friend Mayor Hidalgo and the entire Paris 2024 team.
We look forward to working closely with you these next seven years. Bonne chance, mes amis!
Two short years ago, who among us could have imagined the scenario before us today?
Very few, if any; I know that we certainly didn't.
But from the outset of our bid, we've held fast to the notion that LA's primary objective was to do what was best for the Olympic Movement.
To be honest, we did not imagine that would include changing our bid from 24 to 28.
But, our willingness – and our ability to do so is, I hope, a reflection of our commitment to you.
I am also aware that as good as our bid is, we are here today due to the tireless efforts of Larry Probst and Scott Blackmun.
On behalf of my city, I say thank you Larry and Scott – job well done.
Much has been written and said in this campaign about the fast-changing nature of the world, and the Movement's ability to change and adapt with it.
The 24 and 28 decision should put aside any concerns about the IOCs willingness to not only recognize change, but to embrace it.
The mark of greatness isn't recognizing the need for change, the mark of greatness is acting upon it.
The people of Los Angeles don't perceive the 2028 Games as eleven years in the future – we know that our Games start today.
As we've said many times, "Follow the Sun" has never just been a reference to our beautiful weather.
"Follow the Sun" is the embodiment of the spirit and culture of our city, because only by following the sun can we reach tomorrow, and only by reaching tomorrow can we improve upon today.
And isn't that the point of sport and in life?
To improve; to get better?
We know the power of the Olympics in LA.  When the IOC chose LA in 1932, many people couldn't find our city on a map.
Yet we delivered and those Games were spectacular and transformed our city's future.
When you came to us in 1984, we again answered the call with a second spectacular Games that literally transformed the Olympic Movement's future.
Today, in an unsteady time, we know that the Olympics in Los Angeles in 2028 represent continuity with our city and this movement's enduring values.
Los Angeles reflects the face of America's future and the heart of American values of inclusiveness, generosity and unity.
Bringing the Olympics back home to LA gives us the chance to imagine what our city will look like a decade from now.
I won't be the mayor in 2028, but LA will be home.
My 5 year-old daughter Maya will be 16.
I will see her and my city grow up, with new rail lines and a reborn airport and the Olympics will help spur our bold vision to build a city of opportunity, no matter what neighborhood you live in.
LA is a city where the Games are not a barrier to making progress; we know that they are an accelerating force to re-envisioning a better city and a better world in the days ahead as we welcome you back to the City of Angels.
Thank you, and now one last look at LA as a Candidate City.
Trans women banned from track & field, intersex athletes restricted
World Athletics's new edict will take effect on Transgender Day of Visibility, March 31 crushing Olympic hopes for NCAA champion CeCé Telfer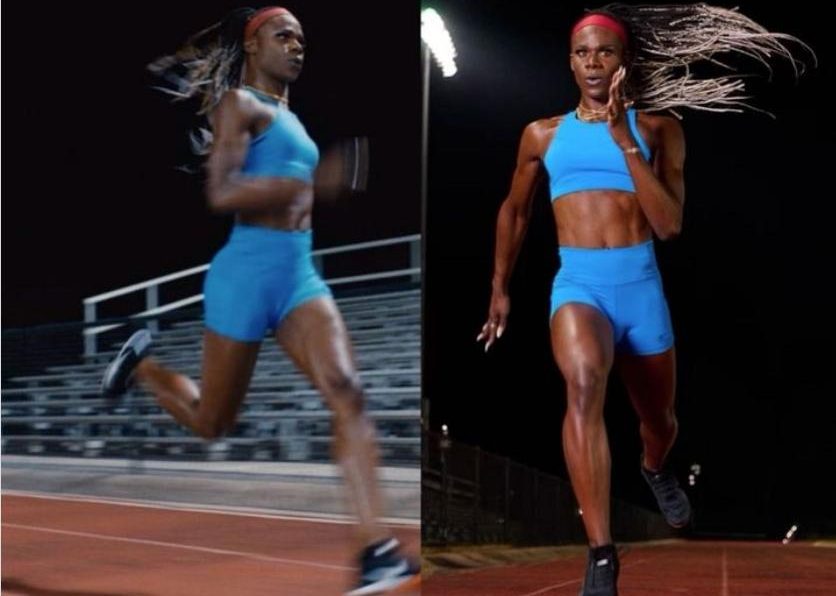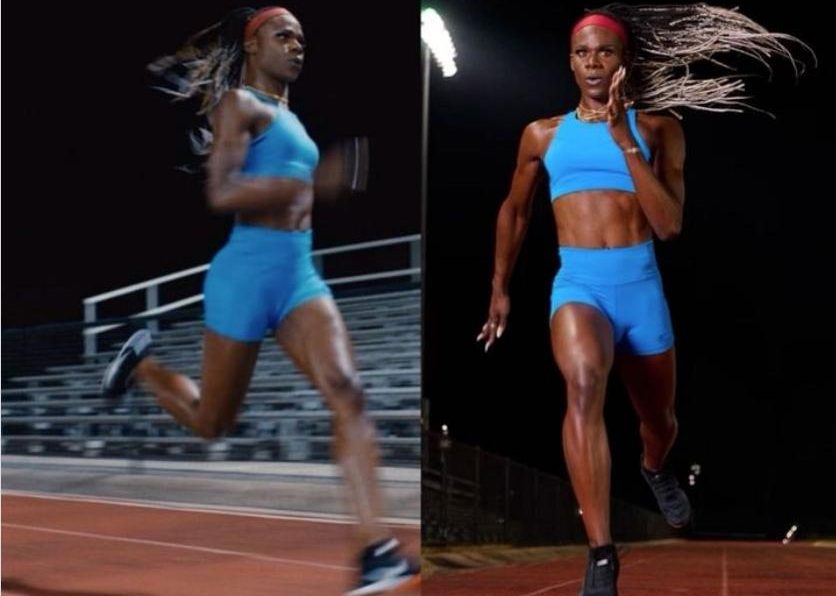 MONACO – The organization that makes the rules for track and field meets around the world declared Thursday it will bar transgender women who have experienced male puberty from competing, a move that was anticipated following a similar trans ban issued last year by the governing body for world swimming.
As the Associated Press noted, at this moment there are zero trans women competing at the elite level of track and field. But the edict, which World Athletics announced will take effect on the Transgender Day of Visibility, March 31, is crushing news for one hopeful.
In May 2019, CeCé Telfer won the 400m hurdles at the Division II championships and became the first out trans woman to win an NCAA title. She's been training ever since for her shot at the Olympics, despite being ruled ineligible for Beijing at the trials in 2021. The Jamaican-American had set a goal of qualifying for Paris in 2024. But the World Athletics ban ends that dream.
Telfer tweeted Thursday, "It feels as though the world stopped moving."
It feels as though the world stopped moving…

— CeCe Telfer (@CeceTelfer) March 23, 2023
Another ruling by the group will likely mean no shot at the Olympics for another Black woman athlete, two-time gold medalist Caster Semenya. The South African track icon is not transgender, but because of her higher than typical testosterone levels, she has been barred from competing in her signature event, the 800m. World Athletics took that from her around the same time Telfer made history, in May 2019.
The group issued an eligibility ruling that prohibits female athletes like Semenya who have Differences in Sexual Development (DSD) from competing in women's events, from the 400m to one mile (1600m), unless they reduce their testosterone levels. So, Semenya chose to run in longer events than she did previously. She finished 13th in her qualifying heat at 5,000 meters at world championships last year as she worked to adapt to longer distances, in preparation for Paris.
"I'm in the adaptation phase, and my body is starting to fit with it. I'm just enjoying myself at the moment, and things will fall into place at the right time," the South African runner told the AP.
That time may now never come. On Thursday, World Athletics announced athletes who have DSD will have to undergo hormone-suppressing treatment and maintain a testosterone level of below 2.5nmol/L for 24 months, in order to be eligible to compete in any event in the female category.
Semenya vowed following the 2019 ruling that she would never again take any testosterone suppressing medication, terming the rules discriminatory and unfair.
This new rule could impact not only Semenya but also as many as a dozen other elite runners, World Athletics President Sebastian Coe said. Among them, Olympic 200-meter silver medalist Christine Mboma of Namibia, who won a silver medal in Tokyo two years ago but didn't compete last year because of an injury. Mboma has not publicly stated whether she would be willing to undergo hormone therapy.
Like Semenya, Olympic 800-meter silver medalist Francine Niyonsaba of Burundi has said she will not undergo hormone suppression.
Even though Niyonsaba, Mboma and Semenya are not transgender like Telfer and former Connecticut high school track athletes Andraya Yearwood and Terry Miller — who have been targeted in federal court by opponents of inclusion — there is one thing all these women have in common: They are all women of color, and all targeted for being too fast because of their natural gifts.