Latin America trans rights movement seeks advances, setbacks
Central and South America is a patchwork of progress and setback on LGBTQ issues
Editor's note: Michael K. Lavers will be on assignment in Latin America from Sept. 19-Oct. 4. He will be traveling to Honduras, El Salvador, Panama, Colombia and Chile.
BOGOTÁ, Colombia — Torrential downpours were flooding roads and causing massive traffic jams in the Chapinero area of the Colombian capital shortly after 6:30 p.m. on March 7 when a handful of people were gathered inside the small office of Fundación Grupo de Acción y Apoyo a Personas Trans, a trans advocacy group known by the acronym GAAT.
They were talking about ways to identify trans people as the downpours continued to flood the streets around the building. Transsexuals and cross-dressers are among the words to which they referred, but GAAT Executive Director Laura Weinstein pointed out their meaning can prove complex.
"One of the problems that we have is how to precisely identify (ourselves)," she told the group, which included trans men and women who live in different Bogotá neighborhoods.
How to identify oneself is among the myriad problems trans advocates in Colombia and across Latin America face.
Situation for trans Salvadorans 'very delicate'
Activists across the region with whom the Washington Blade has spoken since the beginning of the year say violence based on gender identity remains a serious issue.
Three trans women were killed in San Luis Talpa, El Salvador, in February. Stacy Velásquez of Organización Trans Reinas de la Noche, a Guatemala City-based group that advocates on behalf of trans sex workers, in that same month highlighted to the Blade the case of a trans woman who fled to Guatemala after a gang member tried to slit her throat.
Diana Sacayán, a prominent trans rights advocate in Argentina, was stabbed to death in her Buenos Aires apartment in October 2015. Francela Méndez, a former board member of Colectivo Alejandría, a trans Salvadoran advocacy group, was killed a few months earlier while she was visiting a friend at her home in Sonsonate, El Salvador.
A trans sex worker in Cuba was reportedly stoned to death by a group of six teenagers in the province of Pinar del Río in April 2015. The videotaped torture and murder of Dandara dos Santos in the Brazilian city of Fortaleza in February sparked widespread outrage and highlighted the brutal violence based on gender identity that remains commonplace in the country.
Statistics from the Brazilian Secretariat of Human Rights indicate more than half of the 300 reported LGBT murder victims in the country in 2012 were trans, with roughly 52 percent of them people of color. A report the Inter-American Commission on Human Rights released in 2014 indicates the average life expectancy of trans people in the Western Hemisphere is between 30-35 years.
"The situation of our trans community is very delicate," Odaly's Araujo, a trans woman who lives in the Salvadoran capital of San Salvador, told the Blade earlier this month. "We are being killed by the violence that exists in our country."
Génesis Rafael, general coordinator of Colectivo Hombres XX, a trans advocacy group in Mexico City, noted to the Blade that three trans people were killed last October in the Mexican capital.
"Trans women are more visible," said Rafael. "Having changed one's name is no guarantee for getting a job, a place to live and even riding the subway or going to the bathroom."
Advocates in Honduras, El Salvador and other countries with whom the Blade has spoken said they have been harassed and even receive death threats. They also said discrimination based on gender identity in employment, education, health care and other sectors remains commonplace.
"There is a double morality," Agata Brooks, a transsexual woman in the Dominican Republic who was born in the Bahamas," told the Blade late last month in an email. "Many are only looking for trans people in secret in order to satisfy their sexual desires, but they are the first to point you out in public."
Araujo told the Blade there is a lack of educational opportunities in El Salvador for trans women, noting they "must dress as a man" if they want to go to high school or attend university. Tatiana Piñeros, a trans woman who ran Bogotá's social welfare agency under former Mayor Gustavo Petro's administration, said discrimination based on gender identity forces trans people to drop out of school.
"They are not prepared for life," she said.
Lack of education, employment forces trans women into sex work
Piñeros and others with whom the Blade spoke said many trans women become sex workers because they lack formal education and employment opportunities.
"They are less accepted socially, suffer more rejection," said María Fernanda Martínez of Caribe Afirmativo, a Colombian LGBT advocacy group, on March 14 as she and the Blade walked through the old city of Cartagena in which trans sex workers typically work. "We see that it is not normal in Colombia to find a trans woman working in a formal job."
Martínez told the Blade that many trans sex workers in Cartagena are attacked and killed, noting one could no longer work after she underwent back surgery. She also said local police officers either don't investigate attacks against sex workers or use anti-LGBT slurs against them.
A trans activist in San Pedro Sula, Honduras, with whom the Blade spoke in February said police officers — along with gangs — frequently target trans sex workers for extortion and violence. The activist, who asked the Blade not to publish their name because they have been the target of two assassination attempts over the last two years, said those who publicly criticize the police or gangs are threatened and often go into hiding.
"Police officers, soldiers are the ones who violate our rights," said the activist.
Elected officials raise trans community's profile
Advocates have celebrated a number of legislative and political advances in the region in spite of persistent violence and discrimination based on gender identity.
Argentina, Colombia, Uruguay and Mexico City are among the jurisdictions in which trans people can legally change their name and gender without undergoing sex-reassignment surgery. Chilean lawmakers continue to consider a bill that would allow trans adults to legally change their name and gender without surgery and without going before a judge.
El Salvador's criminal code includes enhanced penalties for hate crimes based on gender identity, but advocates with whom the Blade has spoken say authorities are reluctant to apply them. The Honduran constitution bans anti-LGBT discrimination, but activists insist these protections have had little impact.
Mexico City's nondiscrimination law includes gender identity. The Mexican capital also allows trans people to legally change their gender without a court order.
Luisa Revilla in 2014 became the first openly trans person elected to public office in Peru after she won a seat on the local council in La Esperanza. Tamara Adrián and Diane Rodríguez were elected to the Venezuelan National Assembly and the Ecuadorian Congress in 2015 and earlier this year respectively.
Kendra Stefani Jordany in March became the first openly trans person to ever win a primary election in Honduras. She was among the list of 20 candidates for the Central American Parliament who advanced to the country's November general election, but she will not appear on the ballot because the party of which she is a member reorganized itself.
Rihanna Ferrera is running for a seat in the Honduran Congress. She would make history as the first openly trans person elected in the Central American country if she wins in November.
Colombian President Juan Manuel Santos and Rodrigo "Timochenko" Londoño, commander of the Revolutionary Armed Forces of Colombia, last November signed a peace agreement that specifically acknowledges the LGBT victims of a war that lasted more than 50 years.
"The big challenge is how do we implement the agreements," Weinstein told the Blade during an interview at her Bogotá office. "LGBT people are here."
Bolivia is among the 18 countries that allow trans people to serve in their respective armed forces.
Cuba provides free sex-reassignment surgeries through its national health care system. Leodan Suárez, a trans woman from the province of Pinar del Río, and other advocates who work independently of Mariela Castro, daughter of Cuban President Raúl Castro who spearheads LGBT-specific issues as the director of the country's National Center for Sexual Education, point out only a few dozen surgeries have been performed since the policy took effect in 2008.
"(The Cuban government) is the first one to discriminate against us," Suárez told the Blade earlier this month, referring to similar comments she said she made to an Argentine journalist. "It doesn't give us the chance to work to better ourselves."
Marcela Romero, regional coordinator of the Latin American and Caribbean Network of Trans People, which works throughout the region, told the Blade earlier this month during a telephone interview from Buenos Aires there have been "setbacks in regards to human rights" in Argentina and other countries in "which the LGBT community has gained very strong visibility and (trans-friendly) laws." Romero added the Roman Catholic Church, gangs, conservative lawmakers and governments and other groups continue to influence people's transphobic attitudes that she says contribute to violence and discrimination.
"It is very complicated," she said. "Latin America has not yet had a streak of freedom and rights."
Pakistani cinema and television highlights LGBTQ+, intersex issues
Government sought to ban 'Joyland'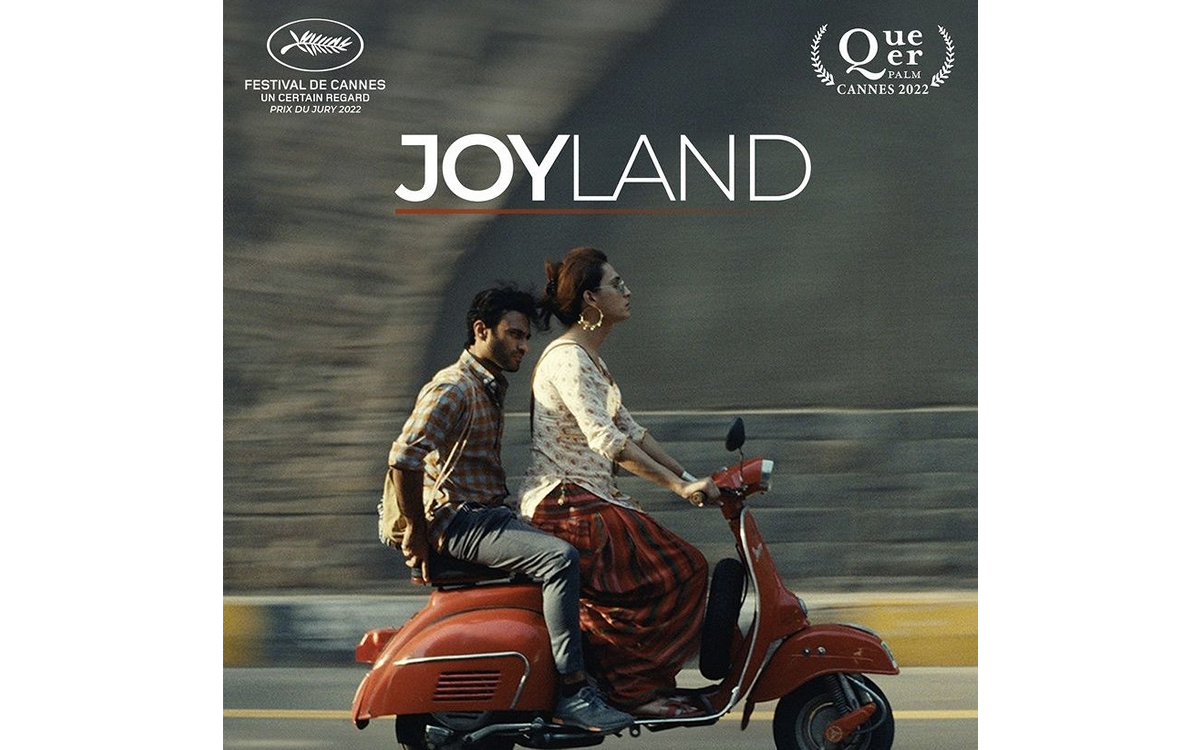 LAHORE, Pakistan — There are several Pakistani movies and television shows that depict the lives of LGBTQ+ and intersex people in society.
Though some media outlets have become more inclusive, the representation of queer people on screen is still too rare. Pakistan has seen a rise in the production of LGBTQ+ and intersex movies and television shows that include dramas, documentaries and web series. Some of them are made in Pakistan, while others are produced abroad. Many of them have been released in Pakistan. The government banned some of them, but others have not only amused audiences but won international awards.
Here is a list of some of them.
'Joyland'
"Joyland" is a Pakistani film that made waves at the Cannes Film Festival.
The film follows the story of a Transgender woman named Biba, who is trying to make a living as a dancer in Lahore. She faces many challenges in her life, including discrimination and violence from those who do not accept her gender identity. She nevertheless persists, despite these difficulties, and ultimately finds love and acceptance from unexpected sources. This heartwarming film highlights the struggles and triumphs of the trans community in Pakistan and is sure to resonate with viewers around the world. "Joyland" is a powerful and timely film that highlights the struggles of Trans people in Pakistan. It is also a celebration of hope and friendship, and an uplifting story about chasing your dreams against all odds.
In a conservative Pakistani family, the youngest son Haider (Ali Junejo) is expected to produce a baby boy with his wife. However, he joins an erotic dance theater and falls for the troupe's director, a Trans woman. This film tells the story of the sexual revolution in Pakistan and their struggle against traditional gender roles and expectations.
"Joyland" is the first Pakistani film on the LGBTQ+ topic that premiered at Cannes Film Festival and received an overwhelming response. It won the prestigious Cannes "Queer Palm" award during its world premiere. The government had tried to ban the film, but it opened in the country last month.
In the conservative, Muslim-dominated country of Pakistan, homosexuality is a taboo topic. However, there is a thriving LGBTQ+ and intersex community in Pakistan that is forced to live in secrecy. The documentary "Poshida: Hidden LGBT Pakistan" shines a light on this hidden community.
It follows the lives of several LGBTQ+ and intersex Pakistanis, who bravely share their stories. The documentary was released in 2015 in Pakistan and in the U.K. by director Faizan Fiaz. It was the first kind of movie on the "LGBTQ" topic. The film was screened at film festivals in Barcelona, Spain, and in the U.S. The word "poshida" means "hidden" in Urdu. The film is particularly timely given the current global discussion around LGBTQ+ and intersex rights. It examines the legacy of colonialism, class structures and the impact of the U.S. government's gay rights advocacy in Pakistan. 
The documentary is about a serial killer from Lahore who kills Trans people, women and gay men for entertainment purposes. Human rights abuses of Trans men and women are also explored in the documentary.
'Churails'
Pakistani cinema has come a long way in recent years, tackling several taboo subjects and exploring new genres and stories. One of the most groundbreaking Pakistani films of recent years is "Churails."
The film is the first Pakistani queer web series that revolves around four women. It is the first time that a lesbian relationship in any Pakistani film or web series is portrayed.
This film features a Trans woman Baby Doll (Zara Khan), lesbian lovers Babli (Sameena Nazir) and Pinky (Bakhtawar Mazhar) and a gay husband. Four women who were students — one was a wedding planner, the third one was convicted of a crime and the fourth woman was a socialite set up a secret detective agency in Karachi. The aim was to launch a detective service for those women who were cheated by their husbands.
A web series set in Karachi challenges the status quo and subverts the conventional narrative. The critically acclaimed web series has opened up a debate about Pakistan's patriarchal society. The show doesn't shy away from tough questions: Veils, deception and secrets. "Churails" is the story of four self-made women who come together to break certain stereotypes and challenge societal hypocrisy.
"Churails" is the first Pakistani drama web series which was released in 2020 by ZEE5, an Indian on-demand video platform. The web series is directed and produced by Asim Abbasi. The film was not allowed to screen in Pakistani cinema or channels. The movie was only available on ZEE5. however, at the time of releasing the film the state bank of Pakistan ordered all the banks to block Pakistani consumers to purchase subscriptions to ZEE5.
"Churails" won the "OTT Platform Show of the Year" at the British Asian Media Awards in February 2021. "Churails" is a feminist film in every sense of the word.