Pelosi shouted down at DREAMers news conference 
DREAMers going after Democrats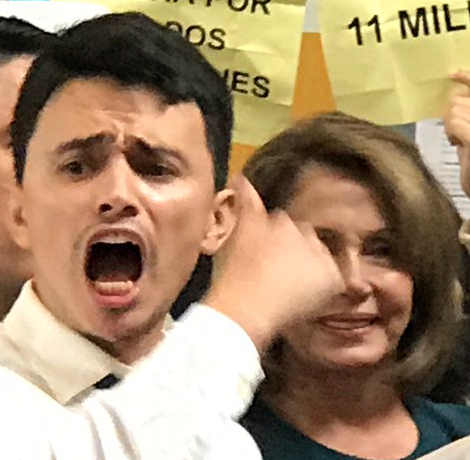 Democratic House Leader Nancy Pelosi presumably expected to share with her hometown press the hint of progress she and Senate Minority leader Chuck Schumer had made with President Donald Trump last week  to protect thousands of undocumented young immigrants known as DREAMers from possible deportation by not scrapping the Deferred Action for Childhood Arrivals (DACA)
Pelosi's advisory said she was joining Reps. Barbara Lee and Jared Huffman in San Francisco, as well as Bay Area DREAMers and Immigration Rights advocates to call for the immediate passage of the DREAM Act.  However, soon after her press conference began, a troops of protesters who identified themselves as undocumented youth and their supporters crashed the room and started shouting Pelosi down.
The protesters chanted "We undocumented youth demand a clean bill … We undocumented youth demand that you do not sell out our community and our values …We undocumented youth will not be a bargaining chip for Trump," according to coverage by Doug Sovern of KCBS News.
Some protesters carried signs saying: "Democrats are Deporters"—suggesting this is just the beginning of more protests against Democrats to come.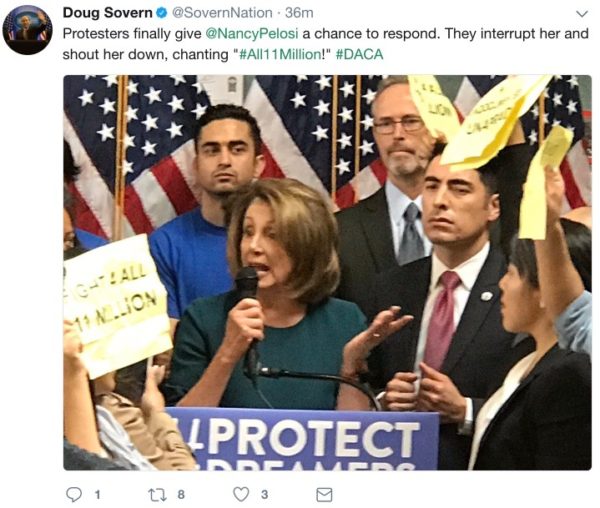 Pelosi was visibly shaken and tried unsuccessfully to calm the demonstrators down so she could give them the answers they were asking for.
"You've had your say, and it's beautiful music to our ears," Sovern reports Pelosi as saying. "But when they interrupt again, she says 'Just stop it now!'"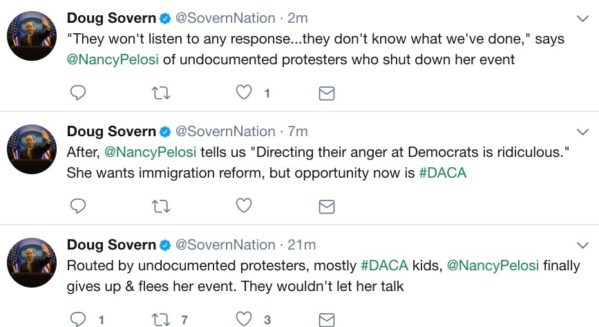 But Pelosi eventually gave up and left.
Some commentators, such as Jonathan Capehart on MSNBC, while sympathetic, wondered what good the demonstrators might have accomplished since the DREAMers need Pelosi and the Democrats to negotiate on their behalf.
GOP Trans City Councilwoman says she's uniquely positioned
"If we aren't a part of our government, we cannot be a voice of freedom- of reason if & when issues regarding our LGBTQ [identities] come up"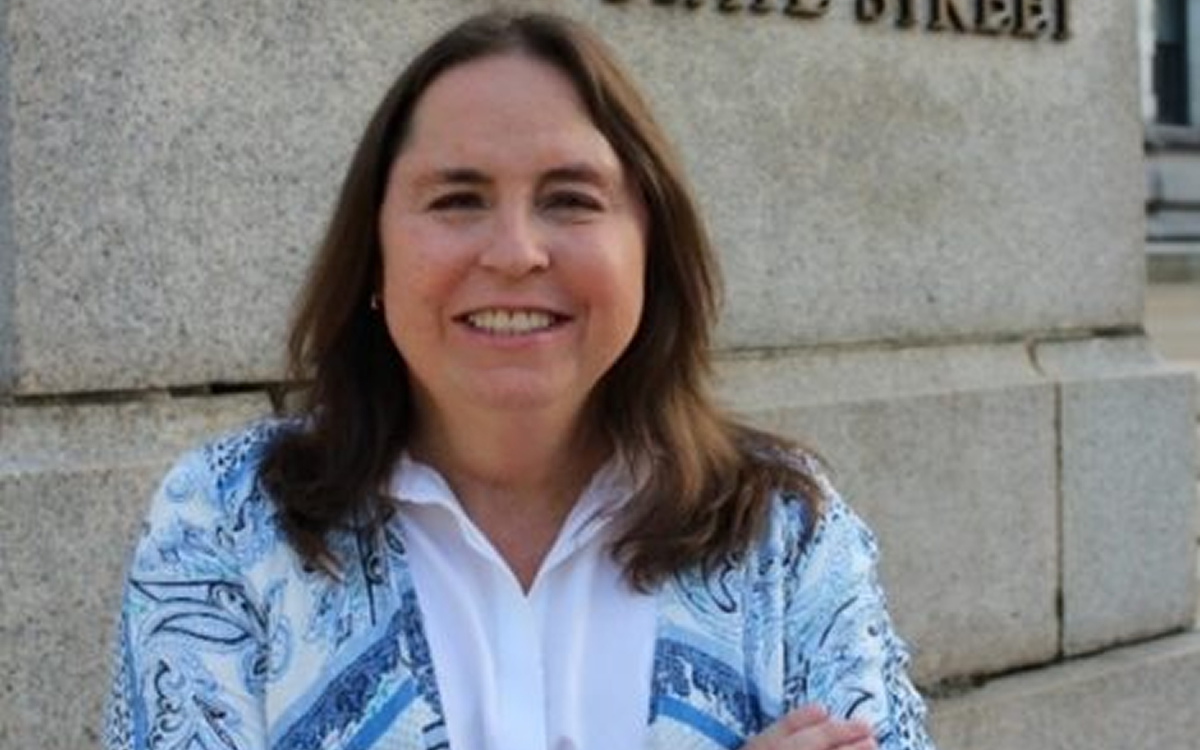 Note: Other portions of Jennifer Williams' interview with The Washington Blade were featured in a previous article alongside interviews with four other LGBTQ officeholders
TRENTON, N.J. – Jennifer Williams, who recently became the first LGBTQ person on the Trenton City Councilmember and the first openly transgender person elected in New Jersey, connected with the Washington Blade last week to discuss topics including how she reconciles her gender identity with her membership in the Republican Party.
While Williams is grateful for her broad base of support, including from progressive Democrats, it perhaps did not come as a surprise considering her record as a longtime LGBTQ advocate and public servant who chaired the municipal Republican Party in Trenton and served on the city's Zoning Board of Adjustment for 14 years.
Plus, Williams said in emailed responses to questions from the Blade that her views on LGBTQ matters are closer to those held by Democrats than by Republicans.
"If I have to put my views on LGBTQ policy issues in one mainstream bucket, I would clearly be more aligned with national and New Jersey Democrats on our rights, equalities and freedoms than the Republican National Committee's platform and what some GOP leaders espouse," Williams said.
"That important difference between the two major parties is why it is integral that I stay and fight against anti-LGBTQ bigotry and discrimination," she added.
Williams sees her position as an elected official who is both trans and a Republican as an opportunity to effectuate positive change from within her own party.
"Other LGBTQ folks may not understand why I try to advocate on the right and in the Republican Party," she said. "But all I know is that until I am no longer the first LGBTQ or transgender person [whom] many Republican leaders meet, we will always have to worry about legislative actions or executive orders against us."
Williams said she is in a unique position, and one that is imbued with a big responsibility:
"If I can be effective in helping some bad Republicans rethink their opinions of who we are," she said. "Maybe we can get some of them to 'tap the brakes' on anti-LGBTQ legislation coming down the pike."
"I have a 'particular set of skills,'" Williams added, "And I feel called to use them to help protect our community."
The Republican Party was founded in the mid-19th century by abolitionists who sought to fight for individual freedoms, liberties, self-determination and happiness, Williams noted, even if some GOP leaders do not demonstrate those values where it concerns LGBTQ people.
LGBTQ Americans "really do need to be in the corridors of power and at the table where decisions are made," Williams said. "Coming from the same home state as Marsha P. Johnson, who did so much for us so long ago, I know how important my being a [member of the] City Council can be."
Of course, Williams said, she is not alone. LGBTQ officeholders across the country are putting into practice the idea that representation is crucially important in the fight for equal rights no matter who they are or where they have been elected, she said.
"If we aren't a part of our government, we cannot be a voice of freedom and of reason if and when issues regarding our LGBTQ [identities] come up," Williams said.
Despite the proliferation of state and local anti-LGBTQ bills, particularly proposals targeting the trans community, Williams sees reason to be hopeful.
"What is exciting is that we have gone from [Virginia state Del.] Danica Roem being the first transgender person to be elected to a state legislature just over five years ago to where now, she is running for [Virginia] Senate and there are at least eight other transgender legislators," Williams said.
The visibility of LGBTQ officeholders tends to encourage other members of the community to run for public office, she said.
"That is wonderful, and I think is what we need to duplicate and triplicate wherever we can," Williams said, adding that the LGBTQ Victory Fund "is working very hard at this."