Kimmel, Jarrett, Emanuel and Lorri Jean spotlight decency at LA LGBT Center gala
LGBT-straight coalition exemplifies humanity in Trump era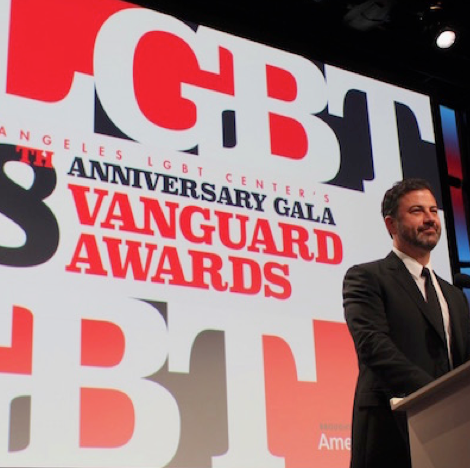 Something happened at the Los Angeles LGBT Center's 48th Anniversary Gala Vanguard Awards Saturday night, Sept. 23. It was as if the sold out suit-and-gown crowd at the Beverly Hilton Hotel took a knee in solidarity with each other and the growing effort to resist Reality TV star President Donald Trump's pursuit of hostile divisiveness. In addition to saluting honorees Valerie Jarrett, former Senior Advisor to President Barack Obama, and Hollywood super agent Ari Emanuel, TV host and comedian Jimmy Kimmel and Center CEO Lorri Jean underscored how pushing back against Trump is an imperative fight to preserve American democracy and simple human decency.
The gala skirted that shimmering elite frat party feel for a simple elegance more befitting the budding development of a new coalition for compassion, three decades after AIDS forced the fight for humanity into the public discourse. Now it's the latest Republican attempts to repeal the Affordable Care Act with a plan that could eliminate Medicaid and protections for pre-existing conditions, a cause Kimmel has heroically taken on. (See the Center's Action Alert here. )
Trump's Huntsville, Alabama rally Friday night was also a jaw-dropping hot topic, with the president telling NFL owners to fire any player who takes a knee and "disrespects" the Flag during the national anthem. "You're fired!" he said, reprising his "Apprentice" role to much applause. Trump later said his comments had nothing to do with race, even though the protest started one year ago, Aug. 26, 2016, precisely because of institutionalized racism and the fatal shootings of unarmed black men by white police officers who are rarely held accountable.
"I am not going to stand up to show pride in a flag for a country that oppresses black people and people of color," then-San Francisco 49ers quarterback Colin Kaepernick told NFL Media.  "To me, this is bigger than football and it would be selfish on my part to look the other way. There are bodies in the street and people getting paid leave and getting away with murder."
Trump's remarks sparked an intense backlash throughout the country. "It's exhausting to have a president who gets angrier at outspoken black athletes than at Nazis," writes The Nation's sports editor Dave Zirin. "These athletes are doing a lot more than sitting or kneeling or raising a fist during the anthem. They are offering up an alternative model for unity, justice, and even manhood. They are showing that what makes an adult is whom you can help, not whom you can cuss, and certainly not whom you can destroy for shameless and divisive political gain."
Center CEO Lorri Jean echoed that theme in her keynote address. "Tonight's gathering is," said Jean, "a reflection of the times. To put it in Tweet language, our country is now led by a lying sociopath. This has prompted an uprising by an unprecedented coalition of people who are concerned about the fate of our nation. People of every kind and every party who care deeply about building America's well-being and fostering the human potential available to all of us, regardless of factors that should never be used to divide us, like sexual orientation and gender identity, race, immigration status."
The Center has called Trump's decision to end the Deferred Action for Childhood Arrivals (DACA) program "un-American." It's no joke. While Trump talks to "Chuck and Nancy"—Senate Minority Leader Chuck Schumer and House Minority Leader Nancy Pelosi—about support for the DREAM Act, the Washington Blade's Michael K. Lavers reports that DREAMers are already being deported. Andrea Ayala, the executive director of Espacios de Mujeres Lesbianas por la Diversidad (ESMULES) in El Salvador confirms to Lavers that a legally married gay couple with a child from Bedford, Virginia, both DACA recipients, were deported to El Salvador. One of the men was brought to the U.S. when he was 6-months-old.
Jean, who usually stokes the Center gala crowd with righteous outrage, changed direction Saturday night. "Of course, it never hurts to get fired up so long as our anger is properly directed," she said. "But getting fired up isn't all we need. We need to be together at gatherings like this. We need to be reminded that we are part of a large majority and that despite what it may seem, this Administration and its policies are actually supported by the fewest Americans since political polling began. We need to enjoy and be grateful for and find strength in each other because we are among those still working hard to build a more inclusive, kinder, better future regardless of who may temporarily stand in our way."
Three fundamental truths are at the heart of this coalition: 1) "We are a humane people," Jean said. "That elemental character doesn't change simply because a new Administration is focused on policies that are the antithesis of humanity and caring;" 2) "We are a moral people….We know that discrimination and hatred and selfishness are wrong. Love and equity and generosity of spirit are right… We must set and demand a different, more uplifting example," especially from elected officials; 3) "We are a determined people. All of the LGBT people in the room, all of the women and people of color in the room, all of the Jews and Muslims and immigrants in the room, we are part of one or more communities that have suffered grave injustices throughout history and continuing to today. Yet, we have persevered. And increasingly we have prevailed."
But change only happens when people make it happen, Jean said. "We must use our humanity, our morality and our determination not only to resist, but to continue actively building the well-being of our community and our nation." And, she said, "for the next 3½ years it is our duty, our obligation, to do much more than simply hunker down and weather the storm. We must BE the storm!"
"Obviously this has been a very interesting week," Kimmel said to much laughter after receiving a thunderous standing ovation.
"It seems very fitting that we are here tonight because you are committed to improving the health and safety and welfare of these teenagers at the LA LGBT Center," Kimmel said after a video featuring an LGBT homeless African American youth. "Obviously they are relying on you for help because we don't necessarily get it from out government."
The gala raised more than $1 million for those Center services, says Chief Marketing Officer Jim Key, who is leaving in late October for another top marketing job after 17 years of service to the Center.
Kimmel became an accidental activist last May after a heart defect was found in his newborn son. His emotional remarks on his show, ABC's Jimmy Kimmel Live, went viral. He cried, explaining the need for coverage for pre-existing conditions, as his son Billy now has. No parent should be faced with the heartbreak of not being able to afford help for their child, he said. Even Republicans trying to repeal Obamacare conceded that they had to pass the "Jimmy Kimmel test," said GOP repeal bill co-author Sen. Bill Cassidy of Louisiana. After details of the bill were revealed, Kimmel said Cassidy "lied to my face."
By Monday, the Graham-Cassidy repeal bill seemed dead, with Sens. Ron Paul, John McCain and Susan Collins pledging to vote no if the bill makes it to the Senate floor. "We are in your debt," Kimmel tweeted to Collins.
Kimmel told a Center video crew that he actually "crashed" the gala because "I care more about other people than other people care about other people. You know, I care deeply so I go out and I do things, whether I'm invited or not." He cares about the Center because of LGBT youth, who "need a little extra help."
MSNBC host Lawrence O'Donnell told the crowd of Kimmel put his job at risk. "Jimmy Kimmel has done something he did not have to do," O'Donnell said. "Traditionally, in Jimmy's sector of show business, it's considered very risky. I am sure there were—and maybe still are— millions of Trump voters who watch him. He gave those voters a difficult decision to make this week with their affections. He took that risk. And that is a brave act."
Jarrett, recipient of the Rand Schrader Distinguished Achievement Award, was introduced by her close friend and television producing powerhouse, Shronda Rhimes. "I like to think that Valerie came with hope to the White House and she left us with change," she said.
In an exclusive interview with the Los Angeles Blade, Jarrett talked about the blow being experienced by so many, especially millennials who had come to take all the Obama progress for granted. "Well, this is the challenge. You can never take equal rights for granted. You have to constantly reinforce their importance. And we can never afford to become complacent. It is a real blow, particularly to young people who grew up with President Obama fighting on their behalf," Jarrett says. "But part of the lesson here is that we all have a responsibility, a collective and an individual responsibility, to fight for what is just and what is right."
Jarrett had a chance to reunite briefly with Jeremy Bernard, a former member of ANGLE and Obama's appointee as the first gay Social Secretary at the White House.
Jarrett took the stage with a breezy lightness that belies her powerful accomplishments.
"I accept this award on behalf of so many people in the Obama administration who fought and who pushed and who put their shoulder on that arc of the moral universe—with your help—towards justice," she said. "And we know we're not done. We know we're in challenging times. I'm so happy to have Jimmy Kimmel here. Drop the mic for you!"
Jarrett also gave props to Lawrence O'Donnell, who has been weathering criticism for a temper tantrum. Her nod seemed to push the clouds away, in recognition for his tough job. "Lawrence goes on TV every night—the media is being attacked and it's not easy to stand up," she said. "Until you decide you know what, I'm standing up for what I believe in. And that's what all of you are doing. And when you think about the young people, our future—the fact that you are touching those lives and helping them grow, to love themselves and to love each other means that love truly does trump hate."
Vanguard Award recipient Ariel Emanuel, Co-CEO of WME | IMG, introduced by artist Mark Bradford (who ArtNet calls "our Jackson Pollock" ), shared how his family inculcated his values.
"My Mom's the one who taught me—and my brothers—that there's no excuses when it comes to working hard and doing the right thing. She's the one who taught me that thinking differently is a virtue, not a problem. Those values led my Mom to march for civil rights," he said, and his pediatrician father to get Chicago to deal with the lead paint poisoning kids.
"My parents taught me that when you look out at the world and you see something wrong… even if you think it doesn't affect you, it does affect you. And you can—and you should—do something about it," he said, a lesson that "took a while to sink in" as he struggled with dyslexia and ADHD.
When Emanuel was a teenager, his cousin Gary moved in with the family, not an unusual in their open house. Eventually, he realized his beloved cousin was gay. They lost touch when Gary moved to Boston.
"Then in the late 1980s, Gary got sick. Soon there were hospital visits. A lot of whispering and a lot of pills. Before long it was clear that he wasn't going to make it," said Emanuel to a hushed ballroom.
The last time they were in public together was at Bill Clinton's 1993 Inauguration. "Gary dressed in a floor length golden-brown fur coat. He threw himself into everything at that inauguration—enjoying the shows and the dinners. But it was hard for him to summon the energy. It was coming
close to the end.
"When Gary was in hospice, I spent many nights there to say goodbye. You know, the cruelty of AIDS in those days wasn't just the suffering and the few therapies. It was the silence. The feeling that you just couldn't talk civilly and maturely about the disease, because it was a source of shame—an embarrassment. It was either yelling—demanding attention for AIDS—or whispers and winks.
"Thankfully we're a long way from those days now," Emanuel said. "Not just in terms of preventing AIDS, but with advances in treatments and ending the stigma around HIV. There is still more to do, but in most places in this country, gay people no longer have to hide. And for a lot of that progress, we have organizations like this Center to thank."
But, laws can only do so much. True equality means unconditional love. It means inclusion instead of isolation. It means potential instead of powerlessness. Gary needed to be able to look out and see a culture that looked like him, like young people do today."
Emanuel blasted Trump and Vice President Mike Pence, "hacks" who are trying "to take us back to the past—to roll back the progress we've made as a country" such as re-imposing the transgender military ban.
"So no matter how much things have changed, my Mom's advice still matters a lot: If you see something wrong, even if it doesn't affect you directly, your voice matters—and your actions matter even more. You've got to act to do the right thing. Be an example for others to do the same. That's what I try to do in my own life," he said.
"OK, so people don't come to my office for unconditional love," Emanuel said to much laughter. "But the work that we do in the entertainment industry gives us a unique responsibility" and ability to share stories.
"I appreciate the chance you've given me tonight to share my story of Gary with all of you—to share the story of our relationship, of his struggle, and to reflect on the social progress he would be so excited and proud to see. I want to use this award to honor his memory," Emanuel said. "And with that in mind,
I leave you with a promise. A promise to use my role to tell true stories of this community and of every community…A promise to speak up where I see injustice…And to never wait to do the right thing."
In the chatter after the awards ceremony, Jarrett told the LA Blade that her heterosexual sister-in-law had died of AIDS so Emanuel sharing Gary's story was a shared experience among the straights, as well as among the hundreds of LGBT folks in the room.
"For so many of us, our commitment to fighting AIDS comes from the heart," Jarrett shared in a July 24, 2012 blog for the Huffington Post. "Every day, I carry with me the pain of watching the excruciating death of my sister-in-law, Julie, eighteen years ago. Julie went for months without being properly diagnosed because it simply never occurred to her doctor to check for HIV. By the time she was diagnosed, it was too late. Julie left behind a devastated husband and a five-year-old daughter, Tracy."
It is on the nest woven from these shared heartfelt stories that a new coalition for compassion rests and from which a new phoenix on the wings of decency and humanity will fly.
Rubio bashes LA Dodgers over honoring drag group, Dodgers fold
LA LGBT Center Removes Itself from the Dodgers' 'Pride Night,' To our Sisters of Perpetual Indulgence, we say: Thank you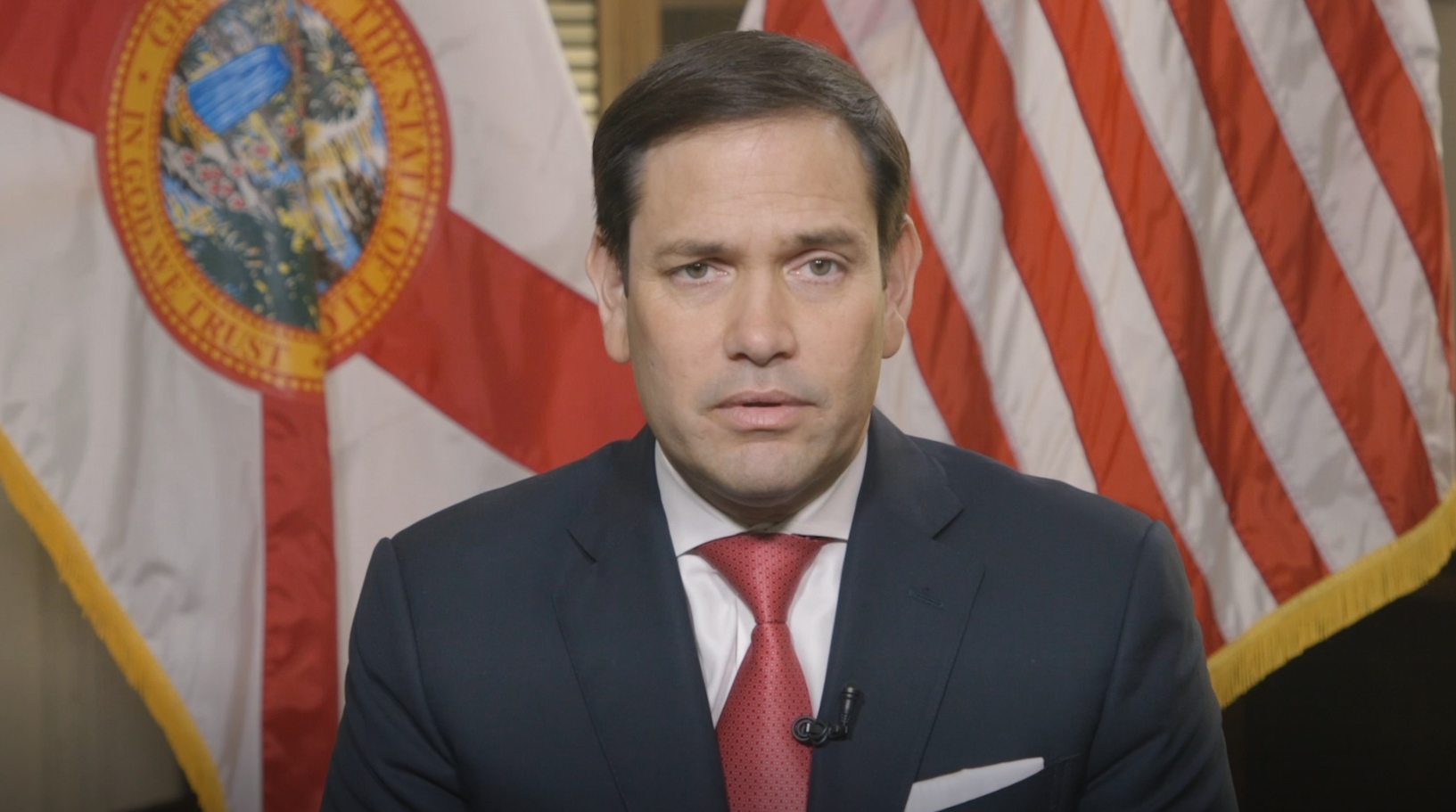 WASHINGTON – Florida Republican U.S. Senator Marco Rubio issued a statement Monday that condemned the Los Angeles Dodgers Major League Baseball franchise for a scheduled "Community Hero Award" to be given to the LA Chapter of The Sisters of Perpetual Indulgence drag group during Pride month in June.
The Florida Republican alleges that honoring the group "mock(s) the faith with the motto with "Go forth and sin some more!" Rubio sent a letter to Major League Baseball (MLB) Commissioner Rob Manfred stating that he is questioning whether the League is "inclusive and welcoming" to Christians.
Rubio cited the following:
"The 'sisters' are men who dress in lewd imitation of Roman Catholic nuns. The group's motto, 'go and sin some more,' is a perversion of Jesus's command to 'go, and sin no more.' The group's 'Easter' ceremony features children's programming followed by a drag show where adult performers dress in blasphemous imitation of Jesus and Mary. The group hosts pub crawls mocking the Stations of the Cross and even the Eucharist, the sacrament that unites more than one billion Catholics around the world."
"Do you believe that the Los Angeles Dodgers are being 'inclusive and welcoming to everyone' by giving an award to a group of gay and transgender drag performers that intentionally mocks and degrades Christians—and not only Christians, but nuns, who devote their lives to serving others?"
The New York City-based anti-LGBTQ+ Catholic League, headed by Bill Donohue who has a years-long lengthy record of anti-LGBTQ+ animus tweeted:
The Los Angeles Dodgers have besmirched their legacy of combating bigotry by partnering with LA Pride in awarding this year's Community Hero Award to an obscene anti-Catholic group, the Sisters of Perpetual Indulgence.https://t.co/LoR3TtwRAJ pic.twitter.com/n0VQ3NFXAT

— Catholic League (@CatholicLeague) May 16, 2023
In his letter to the MLB Commissioner, the Senator writes:
"On June 16, 2023, the Los Angeles Dodgers will host "LGBTQ+ Pride Night" at Dodgers Park. As part of the pre-game ceremony, the Dodgers will give its "Community Hero Award" to the Los Angeles chapter of the Sisters of Perpetual Indulgence, a self-described "order of queer and trans nuns" that has mocked and degraded Christians, and especially Catholics, since its founding on Easter Sunday in 1979.
The "sisters" are men who dress in lewd imitation of Roman Catholic nuns. The group's motto, "go and sin some more," is a perversion of Jesus's command to "go, and sin no more." The group's "Easter" ceremony features children's programming followed by a drag show where adult performers dress in blasphemous imitation of Jesus and Mary. The group hosts pub crawls mocking the Stations of the Cross and even the Eucharist, the sacrament that unites more than one billion Catholics around the world."
The Blade has reached out to the Dodgers for comment but as of time of publication the team hasn't responded. However in a tweet issued by the Dodgers Wednesday, on the globally recognized International Day Against Homophobia, Biphobia, and Transphobia, (IDAHOBIT), the baseball franchise backed away from honoring the drag group.
Tony Hoang, the Executive Director of Equality California, issued a statement on the Dodgers backtracking and caving-in to anti-LGBTQ+ groups and Rubio:
"At a moment in time when drag performers are under attack across the country — including in stage legislatures and in some cases needing armed escorts to protect them from far-right extremists — the Dodgers' actions are disappointing and let down thousands of LGBTQ+ fans that have supported them throughout the years.
"As longtime community leaders, The Sisters of Perpetual Indulgence have raised millions of dollars for causes including HIV/AIDS healthcare, affordable housing, violence prevention, and drug abuse prevention in addition to offering grants to direct-service organizations and small businesses that support underrepresented communities.
"The anti-LGBTQ+ extremists who advocated for the removal of the Sisters from Pride Night are the very same people who are trying to erase the rights of trans kids and their families, criminalize drag performance and roll back equality for LGBTQ+ people across the country — we cannot and will not let them win.
"We call on the Dodgers to reinstate The Sisters as an honoree for Pride Night and works towards strengthening their commitment to unity."
Out California State Senator Scott Wiener wrote on Twitter:
Really sad to see the Dodgers cave to pressure & kick drag queens out of a Pride celebration. The Sisters of Perpetual Indulgence do amazing, life-saving work in the community.

We expect more from our sports teams — even the Dodgers. https://t.co/TFsesI2C7F

— Senator Scott Wiener (@Scott_Wiener) May 17, 2023
Los Angeles County Supervisor Lindsey Horvath tweeted:
If they're not invited, I'm not going. Celebrating Pride is about inclusion. Do better. https://t.co/Pc3ZRgZf0Y

— Lindsey P. Horvath (@LindseyPHorvath) May 17, 2023
Assemblymember Rick Chavez Zbur (D-51) added his disappointment over the Dodgers decision on Twitter:
LGBTQ+ lives, families, love, & existence have long been characterized as offensive & controversial, but we do not give in to those calls. I urge the Dodgers to reverse this decision & ensure our home team reflects the true Los Angeles values of inclusion & acceptance. (2/2)

— Assemblymember Rick Chavez Zbur (@AsmRickZbur) May 17, 2023
"I feel angry and disappointed that the @dodgers have caved into the rising hate and anti-lgbtq rhetoric happening across our Country but driven by an extremist minority in power. Having Pride night while at the same time removing @sfsisters @ladragnuns from the evening is a blatant slap in the face to our community at a time when we need true allies and not performative ones. Los Angeles County has the largest LGBTQ+ community in California and likely the nation and we deserve better. I call on Dodgers to do the right thing. Step up, apologize and reverse course," City of West Hollywood Mayor Sepi Shyne told the Blade.
The California Legislative LGBTQ Caucus released the following statement in response to the Los Angeles Dodgers decision to rescind an invitation to honor the Sisters of Perpetual Indulgence with its Community Hero Award: pic.twitter.com/RSSq3ceQr2

— California Legislative LGBTQ Caucus (@calgbt) May 19, 2023
The City of West Hollywood issued a statement:
"As the City of West Hollywood gets ready to kick-off WeHo Pride on Harvey Milk Day, we're excitedly looking forward to the Los Angeles Sisters of Perpetual Indulgence participating in the WeHo Pride Parade during WeHo Pride Weekend on the first weekend of June.
Pride is deeply rooted in West Hollywood's history and culture. The City of West Hollywood has advocated for nearly four decades to support LGBTQ people. In our community's ongoing fight for equality, the Los Angeles Sisters of Perpetual Indulgence have marched in unity at every step.
To those who draw lines that divide groups within our LGBTQ community, the City of West Hollywood emphatically says: this is not acceptable. We call on the Los Angeles Dodgers to reconsider its decision not to honor the Los Angeles Sisters of Perpetual Indulgence as part of its Pride Night. Inclusion and acceptance are at the heart of Pride. Pride is for everyone.
We applaud the Sisters for their passionate dedication to the LGBTQ community, for tireless AIDS and HIV activism, for unequivocally crusading for the rights of all people, and for the love, laughter, and flair they inspire.
The City of West Hollywood looks forward to celebrating WeHo Pride with the Los Angeles Sisters of Perpetual Indulgence and with everyone who celebrates under the diverse and beautiful rainbow of Pride."
In response to the Dodgers Foundation rescinding their invitation to recognize the Sisters of Perpetual Indulgence at next month's Pride Night, Los Angeles LGBT Center CEO Joe Hollendoner issued the following statement:
"We are deeply disappointed that the Dodgers, an organizational partner that has made significant strides towards dismantling anti-LGBTQ+ bias in sports and long-standing supporter of our mission, has decided to revoke their invitation to honor the Sisters of Perpetual Indulgence at their upcoming Pride Night.
Buckling to pressure from out-of-state, right-wing fundamentalists, the Dodgers caved to a religious minority that is perpetuating a false narrative about LGBTQ+ people. They have been fed lies about the Sisters of Perpetual Indulgence, and have therefore contributed to the ongoing, anti-LGBTQ smear campaign happening in this country. In a year where over 400 pieces of anti-LGBTQ+ legislation are on the books—many of them targeting freedom of speech, expression, and the bodily autonomy of our community—the fight for LGBTQ+ rights is as critical as ever, and unfortunately the Dodgers chose to bow to the religious right rather than stand with our LGBTQ community.
We at the Center know that the religious right—a minority aligned with white supremacy and attacks on reproductive justice—does not speak for all people of faith, including the many people of faith within the LGBTQ+ community. We know that the Sisters of Perpetual Indulgence have reclaimed religious imagery, garb, and symbolism to advocate for LGBTQ+ equality; through their protests, they have exposed the hypocrisy of the churches that demonized gay people during the AIDS Crisis; challenged faith institutions to stand with queer and trans people; and raised valuable resources for our community as we were turned away from services elsewhere.
We call on the Dodgers to reconsider their decision, honor the Sisters, and bring the true spirit of Pride back to Dodgers Stadium. If the decision is not reversed, we strongly encourage the Dodgers to cancel Pride Night. Any organization that turns its back on LGBTQ+ people at this damning and dangerous inflection point in our nation's history should not be hoisting a rainbow flag or hosting a 'Pride Night.' We want the Dodgers ally ship to be consistent with our experience partnering with them over the past many years. The people of Los Angeles County have consistently and overwhelmingly shown up for LGBTQ+ equality. If one of our most beloved institutions—the Dodgers—refuses to stand by us at this moment, we are terrified of what will come next. Los Angeles is a leader—not a follower. We call on the Dodgers to set an example.
To our Sisters of Perpetual Indulgence, we say: Thank you. You will always have a place to be honored at the Los Angeles LGBT Center."