Roy Moore at anti-LGBT summit: 'We got to go back to God'
Alabama Chief Judge who defied SCOTUS on gay marriage eyes the Senate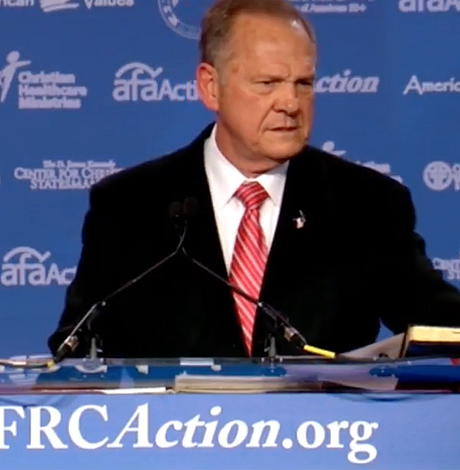 U.S. Senate candidate Roy Moore made clear his belief Friday in the supremacy of God's law over man's law — or at least God's law as he sees it.
In remarks before the anti-LGBT Values Voter Summit in D.C., the Alabama Republican bemoaned the current state of the country and said it must "go back to the basis of our morality, which is in God, not man."
"We return the knowledge of God to our land, and God will heal the land," Moore said. "Someone asked me this afternoon, how do we do this? And I say it's simple: Recognize God, acknowledge God again. This is not complicated."
Citing mass shootings in Las Vegas, Orlando and Virginia Tech, Moore said "our foundation been shaken to the core because we have forgotten the source of our morality."
"They ask me, "Well, what's all talk about God? Don't you know God's not acceptable in this system, political arena?'" Moore said. "Well, let me tell you, when you forget God, you can forget politics. When you forget God, you forget — just like it says — your heritage, your rights, your freedom. For me, it's a question of freedom or slavery."
At a time when many on the religious right are calling for exemptions from civil rights law to discriminate against LGBT people in the name of religious freedom, Moore is taking the view those views should supplant codified law altogether. (Meanwhile, Moore has stoked fears about the implementation of Sharia law in the United States, although he can't quite say where that's taking place.)
As chief justice of the Alabama Supreme Court, Moore urged his state to ignore the U.S. Supreme Court ruling in favor of same-sex marriage nationwide. For resisting the decision, the Alabama judiciary suspended Moore from the bench. (It wasn't the first time. Moore was also suspended in 2003 for refusing to remove a monument dedicated to the Ten Commandants from the grounds of the court.)
Moore's demeanor was consistent with the Southern good ol' boy persona that carried him to victory in the primary against incumbent Sen. Luther Strange (R-Ala..). The candidate blended his remarks with citations of "A Tale of Two Cities" and a version of "My Country, 'Tis of Thee" with different lyrics.
At one point, Moore made a bizarre joke about two cows having a conversation in a field about a disease causing them to forget their identities, and one saying he was a rabbit and running off. For Moore, the rabbit represented America forgetting its values.
"We might laugh, but that is exactly what we in America are doing," Moore said. "We're like rabbits, we run instead of taking a stand."
Moore, who wasn't endorsed by Trump, said the president's election last year marked a time when you could "feel a burden lifted from your soul" about the direction of the country, but the change that was expected didn't happen.
"We're seeing not much being accomplished," Moore said. "Some things that are good are happening, but we're seeing a stagnancy in Washington, D.C. Many of people are frustrated, and I think that frustration is going to have an effect come the 2018 elections."
Taking a departure from Trump, Moore called for repeal of Obamacare, but without replacing it, and using the U.S. military to address illegal immigration and "then we build the wall when we got the money."
Although Moore complained about the right to abortion, he never explicitly mentioned same-sex marriage during his speech. In a possible reference to his defiance of the same-sex marriage ruling, Moore said, "I probably don't deserve the praise I was given earlier about taking a stand because to me, it's easy, you do what's right.
Moore is facing a run-off on Dec. 12 in Alabama to win the open U.S. Senate seat against Democratic nominee, Doug Jones, whom the Human Rights Campaign has endorsed. A Cygnal poll published on Thursday found Moore enjoys an eight-point lead in the race.
Marjorie Taylor Greene tweets homophobic attack on Sen. Wiener
"Greene is a toxic person & embodies why the MAGA movement is dangerous, a threat to our democracy & to the personal safety of LGBTQ people"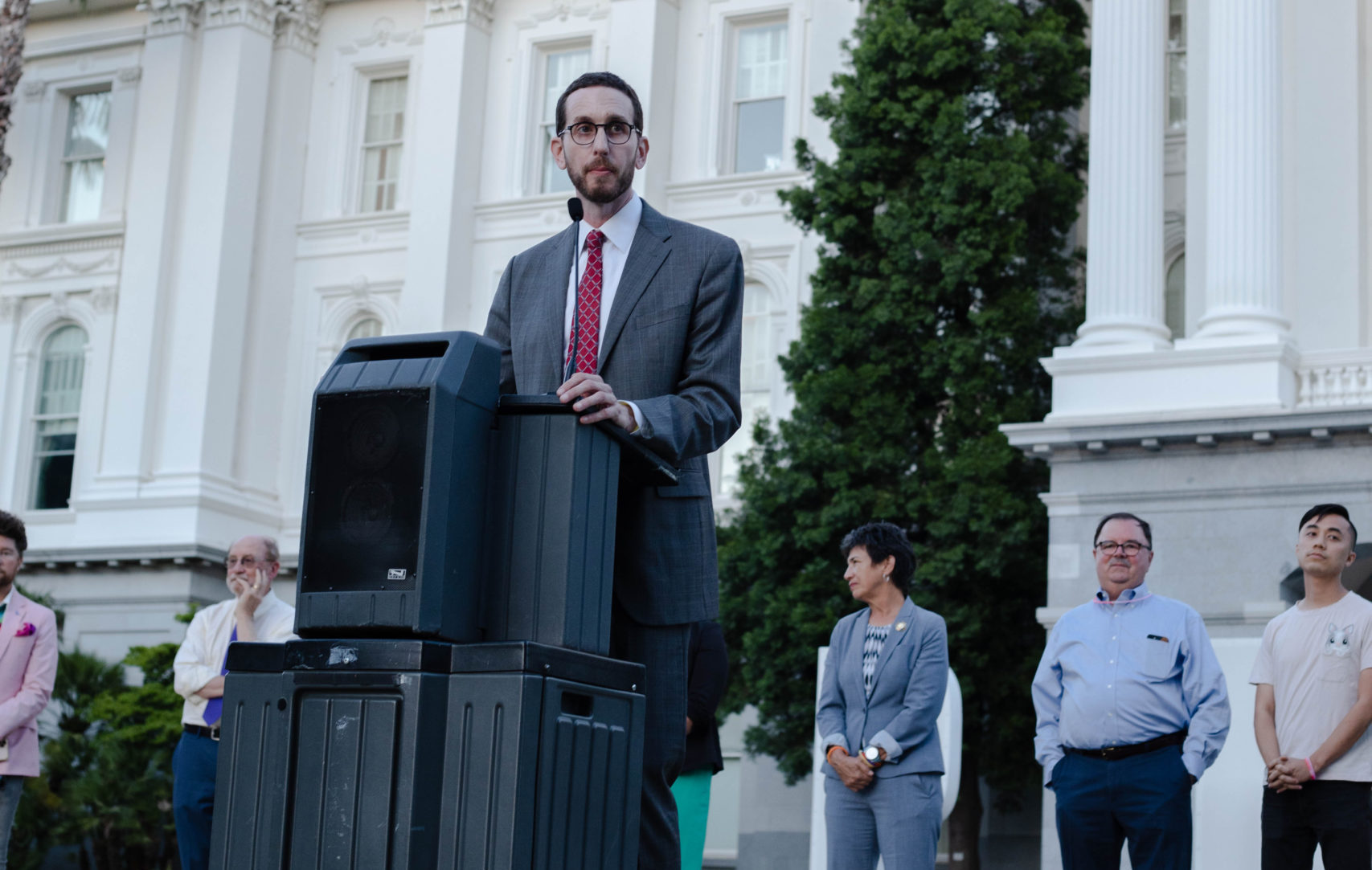 LOS ANGELES – Far-right Republican U.S. Rep. Marjorie Taylor Greene attacked Calif. State Sen. Scott Wiener, (D-San Francisco) on Tuesday after Wiener made a point of calling out use of the word "groomer," as the abusive reaction and fallout from right-wing sources regarding the mass-shooting at Club Q in Colorado Springs, continues to ratchet up against the LGBTQ+ community.
"The word "groomer" is categorically an anti-LGBTQ hate word. It's super homophobic/transphobic. It plays into the slander that LGBTQ people are pedophiles. It's no different than calling someone a fagg*t. If you call someone groomer, you're inciting violence against LGBTQ people," Wiener stated in his tweet.
Quoting Wiener's tweet the far-right MAGA Georgia congresswoman called the Senator a "communist" questioning Wiener's loyalty and service to both the State of California and the U.S. she then went on to accuse Wiener of being a "groomer" implying that the Senator was a predator of minors for sexual purposes:
"Pass my Protect Children's Innocence Act to stop communist groomers like this from using state government power to take children away from their parents to allow a for-profit medical industry to chop off these confused children's genitals before they are even old enough to vote."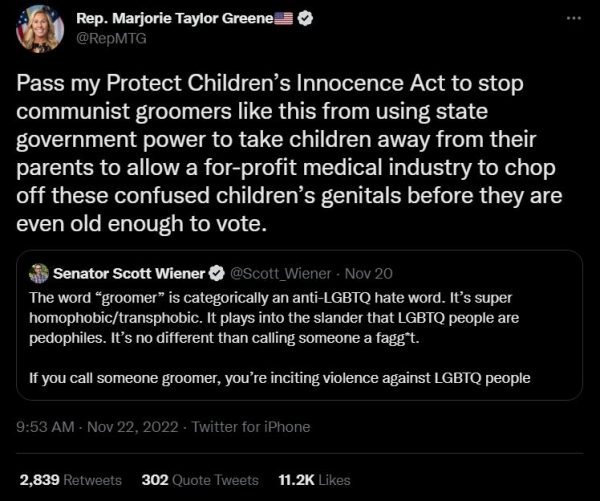 In an emailed statement, Senator Wiener responded to the homophobic attack by the Georgia Republican:
"The same day Elon Musk reinstated QAnon extremist Marjorie Taylor Greene, she launched a vile homophobic attack on me because of my vocal advocacy in response to the Club Q slaughter. When Greene has attacked me in the past, threats against me have typically increased. She is a toxic person and embodies why the MAGA movement is so dangerous. Green is a threat to our democracy and to the personal safety of LGBTQ people."
The term 'groomer' is considered highly offensive as it broadly brushstroke paints LGBTQ+ people as child molesters.
The definition according to the Urban online dictionary:
1 (the crime definition): An adult that builds a sense of trust with a minor to exploit and/or abuse them, typically (but not always) in a sexual manner. This is a crime, and it also causes harm to the minor.
2 (in US politics): What republican politicians and supporters refer to LGBTQIA+ people and their allies as, to manipulate their audience to pass anti-LGBTQIA+ legislation. This is targeting and harming LGBTQIA+ people and the people using the word in this manner typically are (or have connections with those who are) actual groomers.
National Public Radio, (NPR) reported this past May the Movement Advancement Project's executive director, Ineke Mushovic, pointed out:
"What the far right often does is they engage people's reptilian brains, the fight-or-flight instinct," says Mushovic. "And so it behooves far-right conservatives to put people in a state of fear, because then they're reactive. They don't support change."
The "grooming" narrative, Mushovic added, "taps into this primal sense of fear and this kind of parental protective instinct. But we know it's a completely false narrative."
The "grooming" narrative has been actively promoted by conservative activist Christopher Rufo, and Daily Wire pundit and transphobe Matt Walsh who have both attacked gender affirming care in their assaults on the LGBTQ+ community.
It took three days after the mass shooting at Club Q for the Daily Wire's Matt Walsh to blame the victims for the massacre. pic.twitter.com/08kitTdpMt

— Ari Drennen (@AriDrennen) November 22, 2022
Green's H.R.8731 – Protect Children's Innocence Act, was introduced this past August 19 and has forty-nine Republican members listed as co-sponsors. The language as introduced stated targets primarily Trans youth healthcare and targets colleges and universities from "offering instruction in gender affirming care:"
This bill places restrictions on the provision of gender affirming care. Gender affirming care includes performing surgery, administering medication, or performing other procedures for the purpose of changing the body of an individual to correspond to a sex that differs from the individual's biological sex.
Specifically, the bill makes it a felony to perform any gender affirming care on a minor and it permits a minor on whom such care is performed to bring a civil action against each individual who provided the care.
Additionally, the bill prohibits the use of federal funds for gender affirming care or for health insurance that covers such care. Such care may not be provided in a federal health care facility or by a federal employee. The bill also prohibits qualified health plans from including coverage for gender affirming care. Further, plans that include coverage for such care are not eligible for federal subsidies. […]