Bannon expected to thrill anemic California Republican Party 
As if the wildfires weren't destructive enough, now comes Tiki Torch-bearer Steve Bannon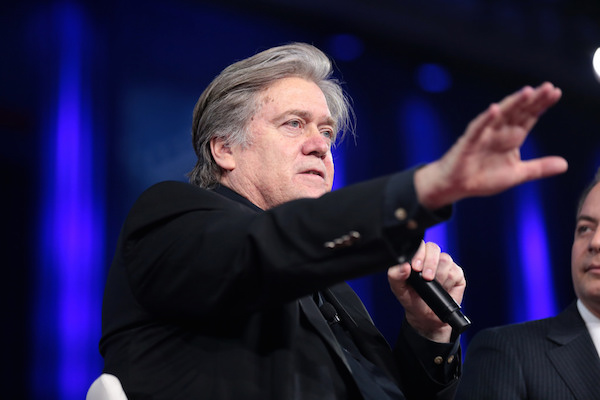 It's hard not to slip briefly into believing that the Religious Right fantasy of the "end times" may not be a myth at all, given the recent devastation and death caused by the Mexico earthquake, the Atlantic hurricanes Irma, Jose, and Maria—the latter leaving Puerto Rico and the US Virgin Islands total disaster areas—and the wind-fueled Northern California wildfires that have killed at least 31 people, with hundreds missing, and a loss of entire neighborhoods, scores of vineyards and more than $1 billion of California's $21 billion cannabis economy.   Oh, and then there's the gathering nuclear storm threatening from North Korea.
And now California must brace for political tornado Steve Bannon, the fired former White House Chief Strategist for President Trump and Breitbart News honcho who bested his old boss in the recent Alabama Primary by helping religious extremist former justice Roy Moore win over the Trump-endorsed establishment candidate in the race to fill the Senate seat vacated by Jeff Beauregard Sessions, now Trump's Attorney General. As if flagging the turmoil to come, the California Republican Party chose Friday the 13th to announce that Bannon will keynote the opening dinner of the 2017 Fall Convention, Friday, October 20, in Anaheim.
"Steve Bannon is not shy about taking on the establishment on behalf of hard working Americans," California Republican Party Chairman Jim Brulte said in a press release. "He is a leading voice in the effort to drain the swamp in Washington DC, a change desperately needed since it has limited our progress. Of course, California has its own swamp in Sacramento that also needs draining."
Bannon claims he is still agitating for Trump's agenda of disruption, positing Moore as more Trumpian than Trump's candidate. But it is not clear if his success with Moore is transferable to a big blue state like California. Alabama is so Trump-red, voters excused or applauded the fact that Moore was twice kicked off the judicial bench for actions in which he placed "God's law" over the civil law he was sworn to uphold. Additionally, the Washington Post just outed Moore as a liar.
Moore, the Post reported, "once said publicly that he did not take a "regular salary" from the small charity he founded to promote Christian values because he did not want to be a financial burden.  But privately, Moore had arranged to receive a salary of $180,000 a year for part-time work at the Foundation for Moral Law, internal charity documents show. He collected more than $1 million as president from 2007 to 2012, compensation that far surpassed what the group disclosed in its public tax filings most of those years." Moore still holds a 2012 promissory note for back pay eventually worth $540,000.
California Republicans have a similar candidate in Rep. Duncan D. Hunter, who represents the 50th District of Inland San Diego County.  Hunter—who helped spearhead the effort to evict trans service members from the military— is under FBI investigation into whether improperly he used campaign funds for personal and family expenses.
"Hunter, who succeeded his father in 2008, is at risk of a stunning fall — of losing the safest of Republican seats because of silly self-inflicted mistakes. It would be possible to feel sorry for him — if he'd ever shown genuine contrition. Now it's too late for that," the San Diego Union Tribune editorialized last July.
Establishment Republicans have quietly indicated they will cut Hunter loose if he is indicted. Election prognosticators at the Cook Report moved his competitive re-election bid from "Solid Republican" to "Likely Republican." Hunter's Democratic opponent is a highly regarded former Navy Seal, Josh Butner.
And then there's Rep. Dana Rohrabacher who represents the 48th District of Coastal Orange County. The Cook Report moved Rohrabacher into the Toss Up column in reaction to the surfing conservative's excited encounter with Julian Assange, and support for internet conspiracy theorist Chuck Johnson and the whole Trump-loving pro-Russian gang. His strongest likely Democratic opponent so far is Hans Keirstead, "a stem cell and cancer researcher who founded a biotech company that was sold for $126 million," per the Cook Report. "This is one of Democrats' best takeover opportunities in California."
The Cook Report rates other vulnerable Republicans in competitive races as: Toss Up: Steve Knight in the 25th District (Palmdale), Darrell Issa in the 49th District (Vista); Lean Republican: Jeff Denham,10th District (Turlock), Ed Royce, 39th District (Fullerton), and Mimi Walters, 45th District (Irvine); Likely Republican: David Valadao, 21st District (Hanford).
Recently, the Democratic Congressional Campaign Committee added Republican Rep. Devin Nunes (Tulare) to their list of targets to win back the House because of his erratic pro-Trump conspiratorial behavior, even after recusing himself as chair of the House Select Intelligence Committee investigating Russian interference in the 2016 election.
"House Republicans started the 2018 cycle in a defensive crouch as part of the President's party in his first midterm. But what has transpired since is much more disturbing and damaging. Through self-inflicted wounds, chaos, ethical issues and a trail of betrayals and broken promises to voters, House Republicans and President Trump have made their long 2018 slog even more difficult," said Democratic Congressional Campaign Committee spokeswoman Meredith Kelly said in a statement.  
That's grist for the barren GOP mill. "We're eager to hear from Mr. Bannon and look forward to having him join us at our upcoming convention," Brulte said.
Brulte needs to do something to boost membership: Republican registration is down to 26 percent, the GOP holds no statewide offices and less than a third of the seats in both chambers of the California Legislature.
Other far right conservatives are also trekking to Anaheim to offer inspiration to a state party that only a few years ago welcomed the Log Cabin Republicans as charter members and then-Speaker John Boehner flew in for a fundraiser for openly gay congressional candidate Carl DeMaio. Now the CAGOP is hosting House Majority Leader Kevin McCarthy, intensely anti-LGBT US Sen. Tom Cotton, Judge Jeanine Pirro, Stephen Moore, and Grover Norquist, who once supported Log Cabin.
"I'm thrilled that these speakers are joining us to provide a vision for Republicans moving forward," said Brulte. 
LA City Council bans Styrofoam, plastic bags, & have "Zero Waste"
"There is no place in the City of Los Angeles for harmful environmental products like Styrofoam, & today we are making that a reality"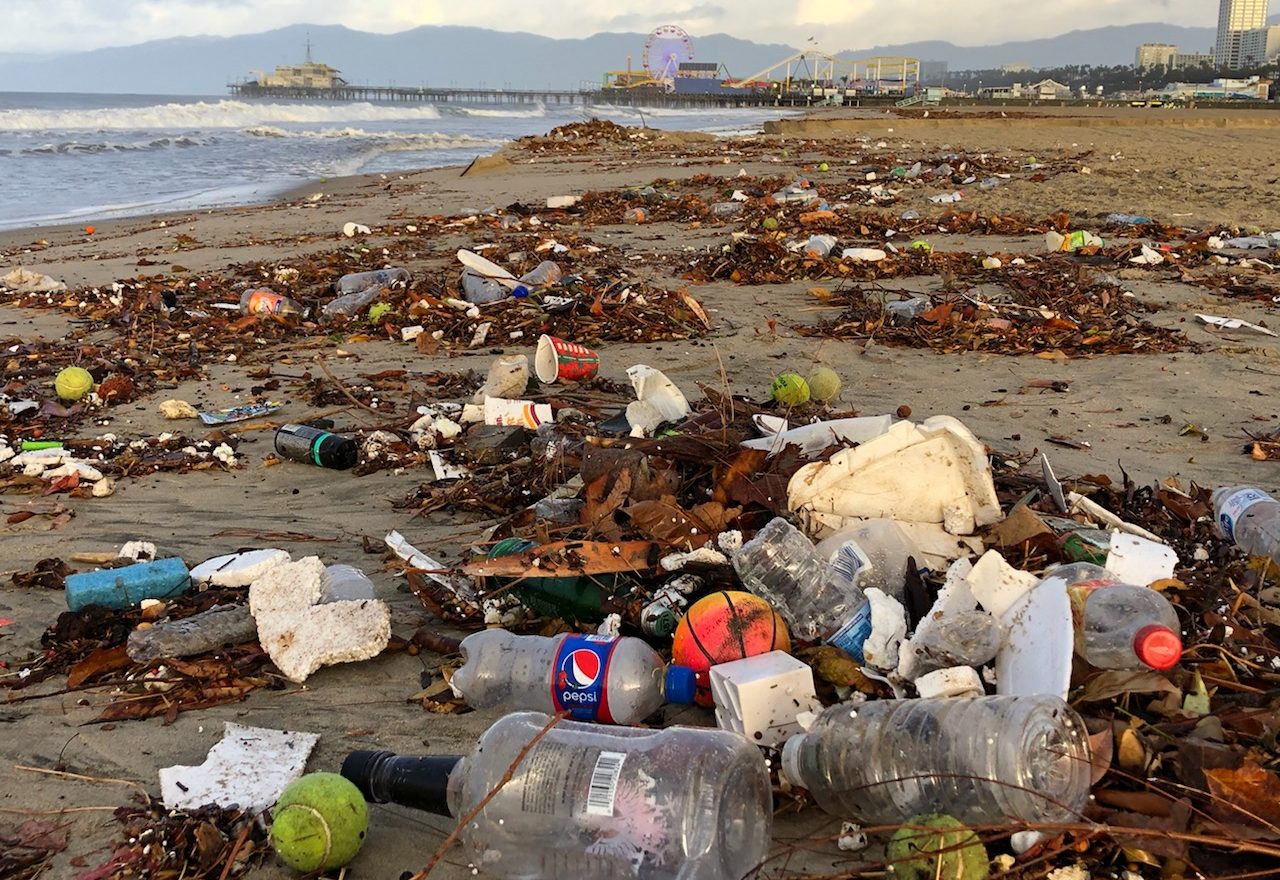 LOS ANGELES – In a unanimous vote, the Los Angeles City Council today approved an ordinance that will prohibit the distribution and sale of Expanded Polystyrene (EPS) products, commonly referred to under the trade name Styrofoam, in the City of Los Angeles.
"I am pleased that we were able to advance yet another transformative environmental policy with unanimous support of the City Council," said Councilmember Mitch O'Farrell, the chair of the Energy, Climate Change, Environmental Justice, and River committee. "Angelenos want to be good stewards of the environment, and this legislation is reflective of that value – as well as the urgency with which it must be implemented. There is no place in the City of Los Angeles for harmful environmental products like Styrofoam, and with today's decisive action we are making that imperative a reality. I hope that future Councils, along with other jurisdictions across the country and the world, follow our lead on environmental justice and the elimination of products that degrade public health."
"Our world is drowning in plastic. To the point where, in any given week, each of us ingests enough plastic from our food and water to make a credit card," said Council President Paul Krekorian.  "The petrochemical industry is lying to the people of the United States by trying to convince them that somehow it's OK to use these products because they're recyclable. They're not. Almost no plastic ever gets recycled and styrofoam definitely does not.  The steps that we're taking today are an important part of changing industries, changing consumer behavior and educating the public about the harm that this is causing them,"  Krekorian said.
"EPS foam, also known as Styrofoam, is toxic from production to usage to landfill. The Styrene and Benzene in EPS are both known carcinogens and can also negatively affect workers inside EPS factories. The manufacturing process can contaminate neighborhoods outside EPS factories. The toxins can leach into hot drinks and food as people use cups and food containers. And then EPS ends up as little white bits marring our world-class beaches," said Councilmember Paul Koretz, the author of the original legislation. "Even worse, the manufacturing process releases significant amounts of hydrofluorocarbons, which are massively potent greenhouse gasses. It's way past time for Styrofoam to go away forever."
The Council also approved an additional ordinance that adds to the Los Angeles Municipal Code a section promoting the use of reusable bags and regulating the use of plastic and paper single-use carryout bags at apparel stores, farmers' markets, food or beverage facilities, hardware stores, and open air markets. In addition, the Council approved instructions to LA Sanitation and Environment (LASAN) requiring reports back to the Council, by April 2025, regarding compliance with these new policies. The Council also instructed LASAN to prepare outreach programs to educate stakeholders on both ordinances.
Additionally, the Council requested that all proprietary departments, along with their respective boards, adopt and implement the ordinance requiring "zero waste" at City facilities and events, along with a direction to LASAN to prepare an outreach program and further instruction to all departments to report back on progress with this ordinance, which was passed earlier this year.
"LA Sanitation and Environment (LASAN) has a unique responsibility when it comes to protecting public health and the environment," said Alex Helou, LASAN Assistant Director. "We do that through the hard work of collecting, recycling and composting materials, but also through the much less visible work of educating residents on what can and can't be recycled. Items like expanded polystyrene, plastic bags and single-use foodware accessories do not belong in the blue bin."
"For more than 30 years, Heal the Bay has conducted thousands of cleanups, removing millions of pieces of plastic off of our beaches and out of our waterways. It is clear that cleanups will never solve the issue of plastic pollution. To truly protect public health, we need aggressive and responsible solutions like today's unanimous vote by the Los Angeles City Council to ban polystyrene addressing upstream sources and slowing the production and sale of plastic products, said Tracy Quinn, President and CEO of Heal the Bay. "We commend Councilmembers Koretz, Krekorian, and O'Farrell for their leadership on this issue and look forward to helping put these laws into effect in the new year."