Trump at anti-LGBT summit: 'The times are changing back again'
Enabling anti-LGBT discrimination at 2017 Values Voter Summit to chants of "USA! USA! USA!"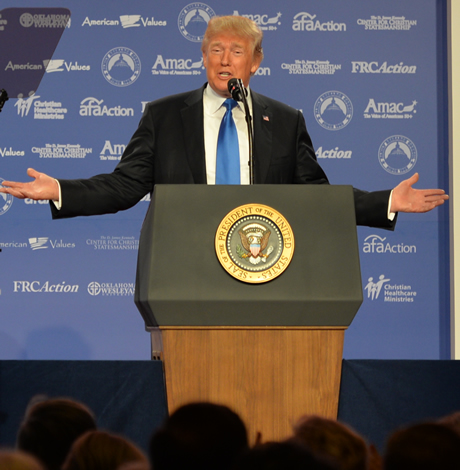 President Trump took the opportunity Friday of speaking at an anti-LGBT summit to express pleasure in his administration's actions reversing the legacy of the Obama years, citing among other things recent "religious freedom" guidance seen to enable anti-LGBT discrimination.
Entering the stage at the 2017 Values Voter Summit to chants of "USA! USA! USA!" Trump sought to connect with an audience of social conservatives, who were largely responsible for his win in the 2016 presidential election.
"The American Founders invoked our Creator four times in the Declaration of Independence — four times," Trump said. "How times have changed. But you know what, now they're changing back again. Just remember that."
Those words weren't in direct reference to LGBT issues, but could apply to any number of actions in the Trump administration reversing LGBT achievements under Obama. Among them are his ban on transgender people in the military, undoing action in Obama years allowing them to serve, or his Justice Department advocating against LGBT non-discrimination protections after the previous administration enforced civil rights laws to protect LGBT people.
Trump's speech covered a range of actions made in his administration, including the appointment of U.S. Associate Justice Neil Gorsuch to the Supreme Court, ending the birth control mandate under Obamacare and military advances against the Islamic State of Iraq & Syria.
But Trump also maintained his commitment to "religious freedom," citing his executive order on the issue in May that resulted subsequent guidance from U.S. Attorney General Jeff Sessions.
"Just last week, based on this executive action, the Department of Justice issued a new guidance to all federal agencies to ensure that no religious group is ever targeted under my administration," Trump said. "It won't happen."
The guidance is seen to green light discrimination against LGBT people in the name of religious freedom. For example, a Social Security administrator charged with processing benefits applications could see an application for same-sex spousal benefits and refuse to process that application for religious reasons.
Religious freedom was major point in Trump's address, which was delivered to many evangelical Christians. As evidence of America's commitment to faith, Trump cited the inclusion of the words "one nation under God" in the pledge of allegiance.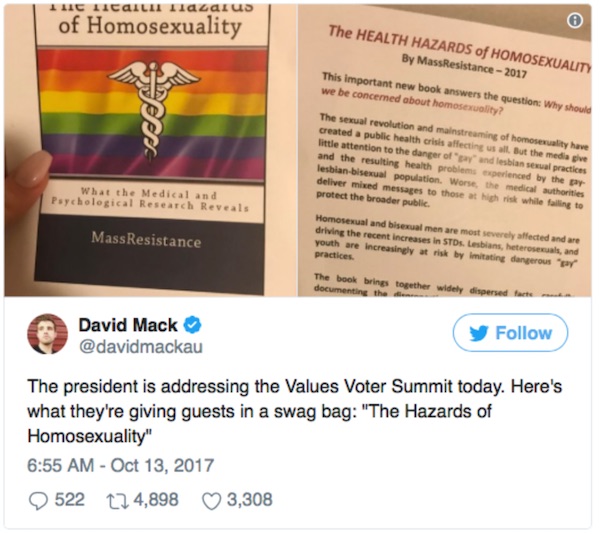 "I pledged that, in a Trump administration, our nation's religious heritage would be cherished, protected, and defended like you have never seen before," Trump said. "That's what's happening. That's what's happening. You see it every day. You're reading it."
Trump also issued a call for unity at the event, recalling recent tragedies affecting the nation, such as the mass shooting at Las Vegas, the wildfire claiming lives in California and devastation caused by hurricanes along the Gulf Coast, in Puerto Rico and the U.S. Virgin Islands. (Trump has faced criticism for inadequate response to Puerto Rico, which is still 84 percent without electrical power.)
"When America is unified, no force on Earth can break us apart," Trump said. "We love our families. We love our neighbors. We love our country. Everyone here today is brought together by the same shared and timeless values. We cherish the sacred dignity of every human life."
Trump's speech marked the first time a sitting U.S. president spoke at the Values Voter Summit, which is hosted by the anti-LGBT Family Research Council. But Trump has delivered remarks before at the annual event. Last year, Trump addressed the anti-LGBT confab when he was the Republican presidential nominee.
At one point, Trump made a strange joke asking Tony Perkins, president of the Family Research Council, for permission to skip next year's event. Looking to Perkins on stage, Trump later said, "He's saying — they're saying no."
The exchange intended as amusing aside, but demonstrates the coziness between anti-LGBT groups like the Family Research Council and the White House since the start of the Trump administration.
In the end, Trump offered a triumphant view of America overcoming the many challenges it faces, but emphasized the centralized of faith in achieving that goal before an audience that known to use religious freedom as an excuse to discriminate against LGBT people.
"We will defeat every evil, overcome every threat, and meet every single challenge," Trump said. "We will defend our faith and protect our traditions. We will find the best in each other and in ourselves. We will pass on the blessings of liberty, and the glories of God, to our children. Our values will endure, our nation will thrive, our citizens will flourish, and our freedom will triumph."
ACLU asks investigation of Texas school districts anti-trans policies
Frisco ISD's new bathroom policy & Keller ISD's ban on books referencing gender violate federal rules prohibiting sex-based discrimination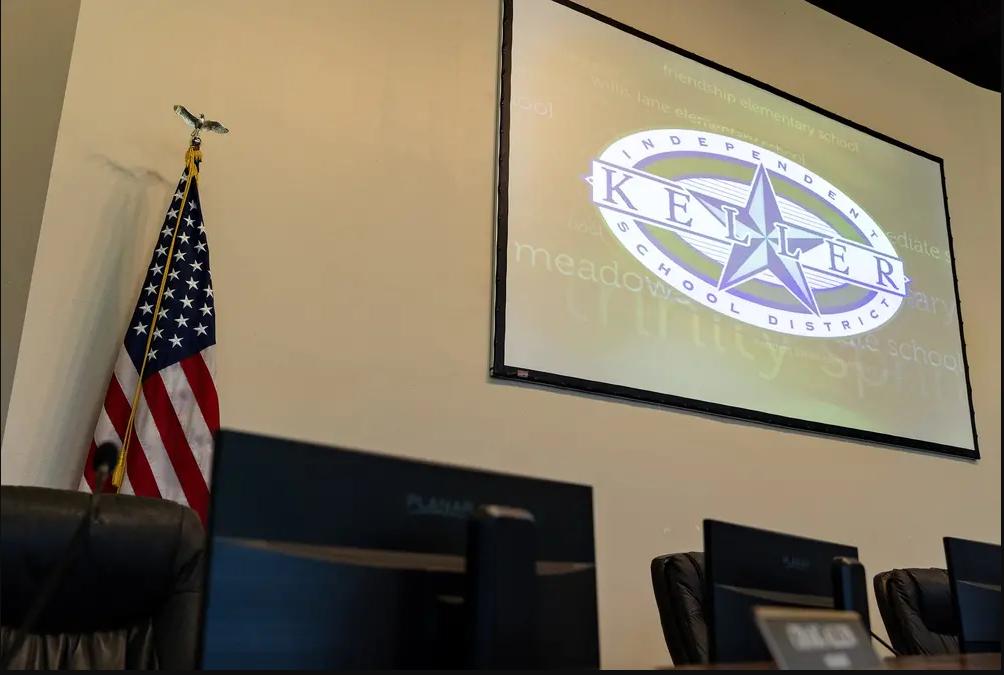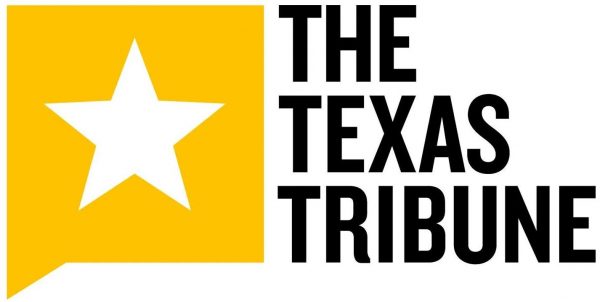 By Brian Lopez | DALLAS – The American Civil Liberties Union of Texas is calling for civil rights investigations into two North Texas school districts over recently implemented anti-transgender policies.
The ACLU, which filed the complaints last week, wants the Department of Education's Office for Civil Rights to investigate the Frisco Independent School District for passing a policy on Nov. 14 requiring students to use bathrooms that align with their gender assigned at birth. The district said it would make accommodations for students who ask to use a private restroom.
The ACLU said Frisco's policy would allow the district to "challenge or second-guess students' official birth certificates."
"It is deeply invasive and unlawful for school administrators to interrogate students' private medical information in this way," the ACLU said in a letter to the Department of Education. "School districts have no right to question students' sexual characteristics such as genitalia, hormones, internal anatomy, or chromosomes."
The ACLU also wants an investigation into the Keller Independent School District, which earlier this month passed a ban on all books that depict or reference transgender and nonbinary people.
"The policy attempts to erase the existence of transgender and non-binary individuals," the ACLU's letter said.
Keller ISD's anti-transgender policy came about six months after three conservative school board members were elected onto the seven-member board. The new members, all of whom received large donations from a Christian political action committee, campaigned on issues like banning books about LGBTQ experiences from school libraries and banning critical race theory, a college-level field of study that explores the idea that racism is embedded in institutions and legal systems.
Public education advocates and Texas teachers have largely said the discipline is not part of the curriculum in Texas public schools but it has become a shorthand for conservative groups to criticize how history and current events are taught with regard to race.
The ACLU claims that Frisco and Keller's policies violate Title IX of the Education Amendments of 1972, which prohibits sex-based discrimination in any school that receives federal funding.
Frisco and Keller are the latest North Texas school districts to have civil rights complaints lodged against them. Earlier this year, the NAACP Legal Defense and Educational Fund filed a similar civil rights complaint against the Carroll Independent School District, based in Southlake, for failing to protect students from discrimination based on their race, sex or gender identity.
Southlake, located between Dallas and Fort Worth, came into the spotlight three years ago after a viral video of white high school students chanting a racist slur prompted community members to share stories of harassment, NBC News reported.
Neither Keller ISD nor Frisco ISD immediately responded to a request for comment.
**********************
Brian Lopez is the Public Education Reporter for The Texas Tribune. He joined the Tribune in August 2021 after a covering local government at the Fort Worth Star-Telegram for a little over a year. The Star-Telegram was his first gig after graduating from the University of Texas at Arlington in May 2020 where he worked for the student-run newspaper The Shorthorn. When not on the job, he's either watching or playing soccer.
The preceding article was previously published by The Texas Tribune and is republished by permission.
**********************
The Texas Tribune is a nonprofit, nonpartisan media organization that informs Texans — and engages with them — about public policy, politics, government and statewide issues.
Quality journalism doesn't come free
Perhaps it goes without saying — but producing quality journalism isn't cheap. At a time when newsroom resources and revenue across the country are declining, The Texas Tribune remains committed to sustaining our mission: creating a more engaged and informed Texas with every story we cover, every event we convene and every newsletter we send. As a nonprofit newsroom, we rely on members to help keep our stories free and our events open to the public. Do you value our journalism? Show us with your support.