Queery:  Miguel Marquez
Always reporting from the eye of the storm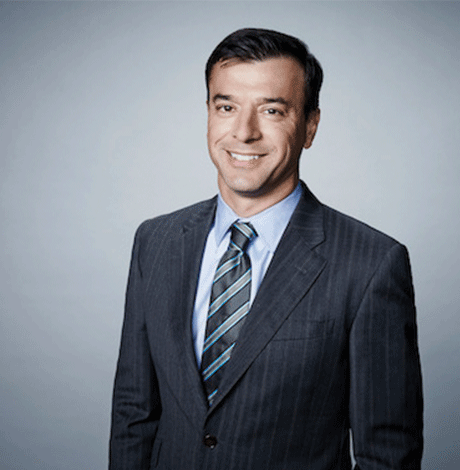 When Miguel Marquez was fresh out of a master's program in international affairs at Columbia University, we arranged to meet at my tiny little East Village studio apartment in Manhattan to talk about the 'real world' of a working journalist.
I gave him perhaps the worst career advice anyone could have offered.
At that moment, I was totally spent, barely eeking out an existence while launching an unfunded newspaper venture that eventually succeeded.
"It's the most difficult and competitive, nastiest business you could get into. Finance would be easier," I remember telling him, nicely. "Don't bother."
"I want to be a TV journalist," he said in his made for TV voice.
"There's always "New York 1," I said dismissively.
I hope he will forgive me if I rolled my eyes — I was wrong. I may have even known it at the time. I saw that he was determined, whip-smart and startlingly handsome.  Miguel stood a chance.
Since then Miguel, who has never spent a professional moment in the closet, has soared.
He began as a desk assistant at CBS News in New York and quickly found himself reporting from the streets of the city for WNBC in New York. He was recruited by KSAZ in Phoenix as a general assignment reporter before being spotted by CNN.
For a time he anchored Headline News from Atlanta before being transferred to Los Angeles to cover the second Michael Jackson trial. ABC News came knocking and it wasn't long before Miguel started to find his footing as an international reporter, covering flash points around the world.
His reputation as a fearless journalist was sealed when, while reporting live from Bahrain during riots there, officials beat and attempted to arrest him while the world watched.  He has been THE reporter at the center of many of recent history's most critical struggles;  he reported from Tripoli and Benghazi in Libya, the frontlines of Afghanistan and Iraq. CNN took note and brought him back into the fold.
He quickly became one of CNN's leading on the scene reporters for breaking news.  His reporting from riots that erupted in Baltimore after Freddie Gray died while in police custody and throughout the ensuing federal investigation, earned CNN international recognition. He covered the 2016 presidential election for CNN, focusing in part on the tensions within the Democratic party and on Trump's supporters in key parts of the country.
He has popped up around the globe: when Malaysia Airlines Flight 370 disappeared, Miguel covered the story, traveling to Perth; he covered the triumphant story of Jose Alvarenga, a Marshall Islander who spent six months lost at sea; he was CNN's man in Rome for the election of Pope Francis, the first South American born Pope, and also covered his jubilant arrival in Rio.
Closer to home he has been just as prolific: he covered the emergence of Colorado's marijuana industry; he toured a border tunnel near San Diego; covered the trial of Jodi Arias; reported on the murderous rampage of ex-LAPD officer Christopher Dorner; he broke the story of the rape of five Spanish tourist in Acapulco; and he even took on Scientology, reporting on the controversial book "Going Clear."
And that barely touches his resume.
But it was his heartfelt reporting from smoldering Sonoma County that caught our eye.  The thoroughness and obvious affinity for the families of missing people, people rummaging through the rubble of their lives after record setting fires engulfed dozens of communities, was astonishing.
He told the Los Angeles Blade that one of the most painful moments he experienced while reporting the fires in Northern California was chatting with winemaker Pierre Birebent and watching him struggle emotionally as he looked at his life's work in ashes.
"Seeing this beautiful part of the world in such distress is surreal and terrifying.  Watching people struggle through it and survive is humbling and inspirational. I'm always amazed at how people lose everything in an instant but are determined to rebuild.  Human resiliency gives me hope," he added.
Los Angeles' LGBT community can be proud he again calls L.A. home, but he's barely had time to even touch the ground.
"I got to LA 11pm on a Friday in August and was gone at 4 the next morning for the Eclipse in Oregon, then got tear gassed at Trump protests in Phoenix. Was then off to Texas: San Antonio, La Grange, Houston and Beaumont for Harvey.  Then came Irma and was in Miami, Belle Glade, Punta Gorda and Fort Lauderdale.  Mexico's earthquake was next.  Returned to LA with a terrible sinus infection then got back on the work horse to cover the Northern California fires from Santa Rosa, Sonoma, Calistoga and Healdsburg.   LA, not quite feeling like home yet."
Finding an apartment is still on his list of things to do.
Can I apologize for discouraging your career by helping you find an apartment? LOL.
How long have you been out and who was the hardest person to tell?
26 years. My best friend's family.
Who's your LGBT hero?
Equally enamored with James Baldwin and Oscar Wilde.
What's Los Angeles' best nightspot, past or present?
Akbar.
Describe your dream wedding.
Loads of friends, champagne, cake and music.
What non-LGBT issue are you most passionate about?
Equality.
What historical outcome would you change?
Slavery.
What's been the most memorable pop culture moment of your lifetime?
Michael Jackson's second trial.
On what do you insist?
Punctuality
What was your last Facebook post or Tweet?
FB, about the NorCal fires. Twitter, Brexit.
If your life were a book, what would the title be?
Chaos Wrangler
If science discovered a way to change sexual orientation, what would you do?
Encourage others not to use it.
What do you believe in beyond the physical world?
Hope.
What's your advice for LGBT movement leaders?
Develop and implement a rural strategy.
What would you walk across hot coals for?
Family and friends.
What LGBT stereotype annoys you most?
That being gay means one comes with a specific set of beliefs.
What's your favorite LGBT movie?
Love is the Devil: Study for a Portrait of Francis Bacon.
What's the most overrated social custom?
Small talk.
What trophy or prize do you most covet?
Pulitzer.
What do you wish you'd known at 18?
How easy, and simultaneously complicated, life is.
Why Los Angeles?
Gravity. It just keeps pulling me back.  I LOVE Cali.
Turning pain into positive & using art as therapy – Carl Hopgood
He knew he wanted to embark on a path toward a "bold, exciting life" among other "creative people" while "doing amazing things and living"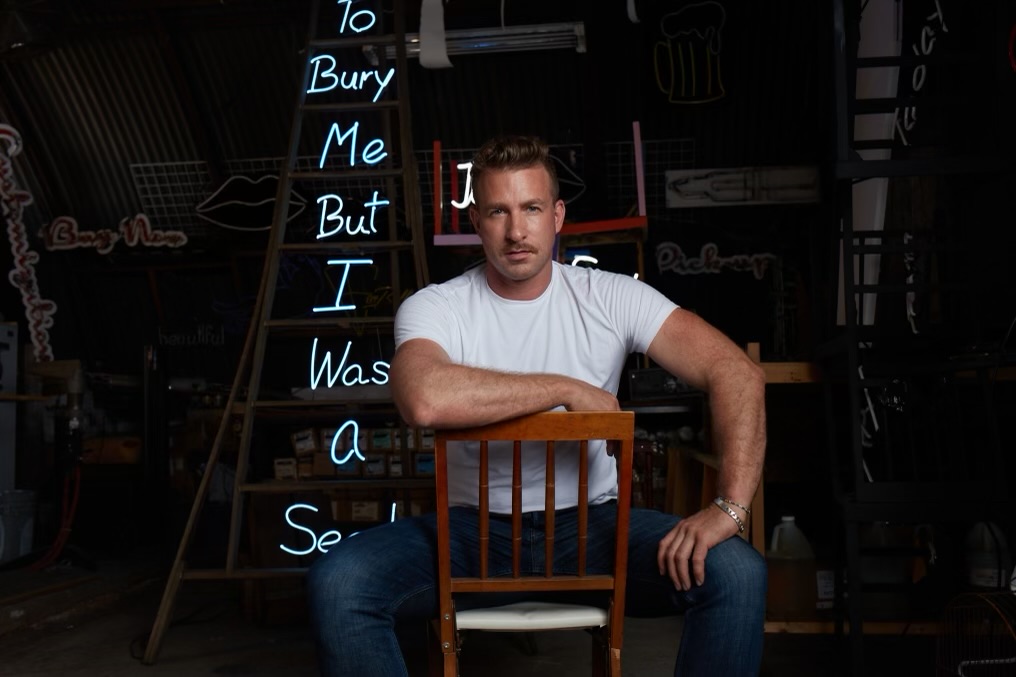 LOS ANGELES – Like many people born with an inclination toward creative expression, Carl Hopgood has known from a very young age that he wanted to be an artist.
Growing up on a small farm in rural Wales, the Cardiff-born Hopgood spent his childhood surrounded by animals and nature, letting his imagination run wild and creating worlds he envisioned with baskets, fruit boxes, flowers, stones, tabloid clippings, and other items that struck his fancy. Then, at 7, he was invited to spend an afternoon with his best friend, whose cousin was visiting; that cousin happened to be Richard Burton, and he happened to be accompanied by his even more famous wife, Elizabeth Taylor.
Hopgood was not just star-struck, he was inspired.
"My world was never the same after that day," he tells the Blade. "They told stories about Hollywood, London, glamorous parties, movies, photography… and Andy Warhol! Andy Warhol was my first artist crush. He was also born on a farm, so I felt an immediate connection."
After that experience, he knew he wanted to embark on a path toward a "bold, exciting life" among other "creative people" while "doing amazing things and living."

Four decades and one continental transplant later, it can safely be said that Hopgood has accomplished his goal.
A successfully established LA-based artist, he's created a unique body of work that includes pieces in Neon, Sculpture, Film / Video Installation, and canvas painting; his collectors include Morgan Freeman, Eugiono Lopez, The Vinik Family Foundation, The Groucho Club and Rupert Everett; and recent exhibitions of his work – like his neon art installations 'Looking For Love In All The Wrong Places', 'My Heart Is Open', and 'You Changed My Life' at the Maddox Gallery in West Hollywood, and 'Chair Therapy' at United Talent Agency's UTA Artspace LA – have garnered a flurry of enthusiasm and increasing national attention.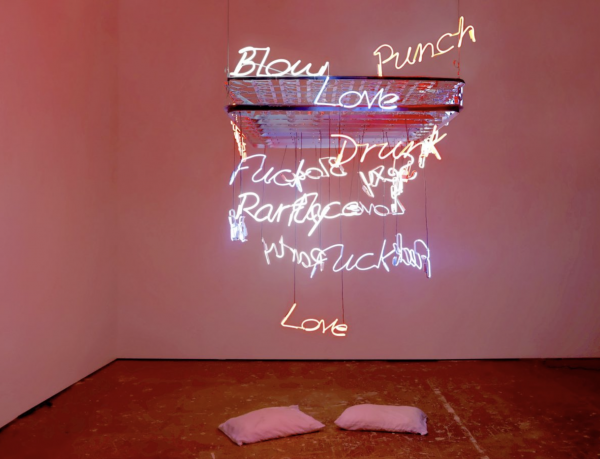 The latter installation created a particular stir with its inclusion of a controversial neon sculpture called "Just Say Gay", Hopgood's response to the draconian anti-LGBTQ legislation championed by Florida Governor Ron DeSantis; that work was acquired by prominent collector Beth Rudin DeWoody and will be on display from December 2023 at her Bunker Art Space in West Palm Beach, Florida.
When talking with the Blade, Hopgood is keen to focus the discussion on a new goal – the completion of a documentary about the creation of "Chair Therapy" – but he's certainly willing to start the conversation by talking about the sense of queer defiance behind "Just Say Gay" and many of his other works, because the two subjects go hand in hand.
"Being a gay man of Welsh and Greek heritage," he proudly proclaims, "the fight against bullying, repression, injustice and discrimination became central themes of my artistic expression."
As he explains, that fight is rooted in a traumatic childhood experience. "I was bullied by classmates," he remembers. "They would chase after me, push me to the ground and kick me in the groin. I managed to escape and found sanctuary under a stack of chairs in the school assembly hall. The school therapist helped me cope by using a technique called Empty Chair Therapy, where you would talk to an empty chair about your feelings.
"I decided turn this pain into something positive and use art as my therapy."

Much later, the young Hopgood would be inspired by the confrontational aesthetic of Damien Hirst – after reading a scathing criticism of one of his works in the paper – and follow in the controversial artist's footsteps to Goldsmiths College in London, eventually becoming part of a movement with fellow graduates like Steve McQueen, Jason Martin, Ceal Floyer, Angela De La Cruz and Alessandro Raho.
"It was an incredible moment to be a young artist in 1990s London."
Nevertheless, after 20 years in the London art scene, he decided it was time for a change.
"I had just watched a documentary featuring David Hockney," he explains. "The freedom and possibility of David's work was clearly inspired by Southern California with its beautiful palette and open, sunny skies. It was a stark contrast to the gloomy weather of the UK, and the anxiety and depression that accumulated over the years. I had heard about the growing LA art scene –LACMA, MOCA and The Broad were beginning to attract an international audience – and I decided that moving to Los Angeles would be good for both my mental health and creativity."
The choice was a fortuitous one for him – "It was the perfect time to go," he says, "and I was ready to work in new mediums and expand my repertoire." Then, like the rest of us, he had to put all his plans indefinitely up in the air.
"In early 2020, when the pandemic hit," he tells us, "I would see all the bars and restaurants shuttered in West Hollywood. It was like a ghost town. Looking through the store front windows, all I could see were chairs stacked on top of each other – and that image took me straight back to my unhappy childhood."
He decided to use it for inspiration and began work on the first sculpture in the "Chair Therapy" series ("My Heart is Open") – which as he describes, addresses "toxic masculinity, oppression and queer identity, themes I've always championed."
Those themes are doubtless also at least partly behind his desire to see the planned documentary – titled "Fragile World" – reach fruition. Filmed during the pandemic, it profiles Hopgood by charting his personal artistic journey, but centers on the development of "Chair Therapy", in which he combined found and vintage wooden chairs with neon lights shaped into positive words to provide hope, love and support for a community who were hardest hit by Covid and the shutdowns it necessitated.
"Seeing those stacked chairs and tables, in those empty establishments, I knew some would be forced to close for good. I felt so helpless, but I knew there was something I could do."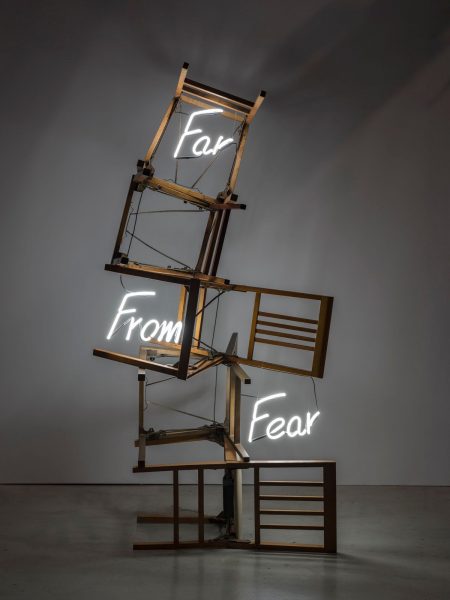 Now, with his own hard-hit community – alongside many others – facing aggressive legislative oppression from the extremist right, he's determined to see the film finished, so that the same empowering message of optimism embodied in his work can be spread to a larger audience as a reminder not to let the bullies break their spirit. To that end, the documentary's director and producer, LA-based British filmmaker Kate Rees Davies, has set up an Indiegogo campaign to raise the funding necessary to finish the project.
Another motivation, perhaps even more personal, might be found in Hopgood's revelation of a hidden influence in another work from the "Empty Chairs" series: "Twelve Steps", which explores the massive financial success of a California citrus industry made possible by the hard work of a segregated Mexican immigrant labor force. "I was also inspired in that piece by a line from Greek poet Dinos Christianopoulos," he says, "who was sidelined by the Greek literary community in the 1970s because he was gay. It's a small but powerful couplet which was included in the collection 'The Body and the Wormwood' that reads, 'What didn't you do to bury me, but you forgot that I was a seed.'"
For Hopgood, perhaps, the documentary also represents a seed, one that he himself has planted in hope of spreading its positive power into the world – and he's counting on the support of his patrons through Indiegogo for the water, light and nourishment it requires to grow.