October 23, 2017 at 11:59 am PDT | by Rebekah Sager
VIDEO: Melissa Carbone wants to scare you to death
Los Angeles' "lesbian goddess of horror" says she's impervious to the wiles of Halloween.
"My fascination with horror is that I love to be scared," says Melissa Carbone, CEO of Ten Thirty One Productions, a large-scale horror-event business known for realistic attractions designed for optimal fear. "I grew up loving Halloween and horror movies and as an adult I'm pretty unscareable. Everyone keeps trying and no one has done it. I think I've de-sensitized myself to it."
While hundreds of thousands of wickedly tricked out, mostly straight monsters descend on the gay city during West Hollywood's sprawling Halloween Carnival, treating the town to an enormous haul of cash, over in Griffith Park, the "Los Angeles Haunted Hayride" offers something a bit more horrifying.
Carbone cashed in on the holiday by terrorizing hordes of horror fans with Hollywood-style spectacular effects at her vast, darkened movie lot concept full of zombies, booby traps, bloody clowns, demons and orphan ghosts.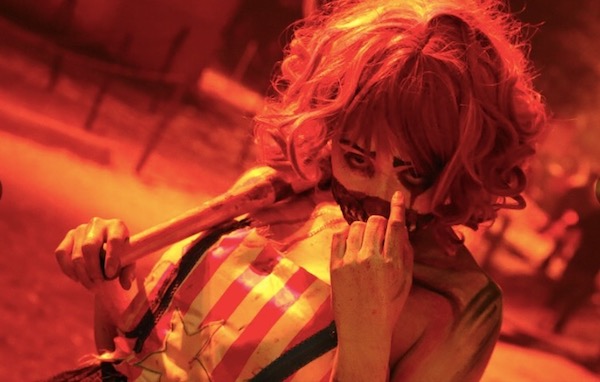 And just as the wild festivities in WeHo fill the coffers of that city, Carbone too has literally made millions.
She just may have saved Halloween by cashing in, terrorizing hordes of horror fans with Hollywood-style spectacular effects at her vast, darkened movie lot concept full of zombies, booby traps, bloody clowns, demons and orphan ghosts.
In 2009, the now 40-year-old Carbone, created the popular annual horror attraction, the "Los Angeles Haunted Hayride," located on over 30 acres in Griffith Park.
An interactive and totally lifelike world, the Hayride employs hundreds of actors, makeup artists, set and production designers to create a world not for the faint of heart.
Carbone describes the Hayride as a totally immersive experience.
"From the second your car gets to the parking lot, to the second you get in your car to leave you should never be plucked out of this experience in a cerebral way. We want to keep you submerged into the horror attraction – from the fog coming out of the trees to the orange glow that we're known for that you can see from the street. The narrative goes through all the zones. With life size churches burnt down, ghosts of war, smoldering embers of orphans that have been killed in fire and are still on fire. It's not a spectator sport. All that should be in your head is what is coming around the next corner to annihilate you," she says.
The Halloween industry has historically been male dominated. In any other industry, you easily think of a leader. Beverage or car you can think of industry leaders, but when you think of Halloween events, nothing comes to mind. Carbone says that meant a land grab for her.
"This is a dark horse industry that's long been ignored because it's thought of as a lifestyle. I think of it as a business. From a woman in a guy's world I was looked at by men as a threat. I've had to be really tough, not get my feelings hurt too easily and be ten times better than other attractions out there just to be equal," she says.
Carbone along with her wife at the time, Alyson Richards, raised half a million dollars from friends and family initially, along with their first sponsor, Mini Cooper to create the Hayride.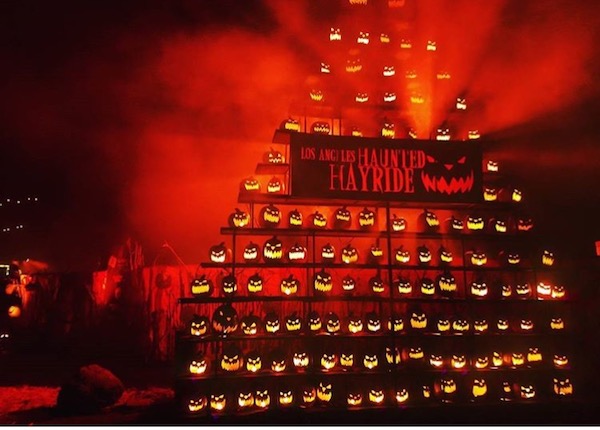 Prior to creating the Hayride, Carbone worked at Clear Channel Entertainment, honing her craft by working on such giant events as the Rose Bowl and Wango Tango. She was the company's youngest General Sales Manager.
She is one of the few female business owners in the horror entertainment industry, with a team that is almost entirely female, and after several successful years running the Hayride, Carbone says ABC's "Shark Tank" producers approached her to compete on the show.  She waited until 2013, and Season 5, to take her event to the next level and expand, and she realized that being on the show was a means to an end – with a potential huge payday.
"I thought it was a great marketing tool to be in front of millions of people – if we didn't get a deal it was still a huge win. If we did get a deal, it would have to be for an amount we could live with.  I honestly didn't think I'd get it. It was the largest anyone had asked for by far [$2 million dollars], I expected to walk out empty handed. But they took the deal and I was sincerely shocked," she says.
Carbone used the seed money to expand her Great Horror Campout to six new markets, and was able to replicate the L.A. Haunted Hayride in New York City. To date, more than 500,000 guests have attended Carbone's attractions.
But leaving Clear Channel and taking the leap of faith to launch her own events took a toll on Carbone's personal and professional life, and what led her to write her recently released book, "Ready Fire Aim: How I turned a Hobby into an Empire."
"The fear of failing with this probably cost me my marriage. My wife and I at the time, we'd been together ten years, got divorced and I'm sure it was because I left Clear Channel and jumped into the abyss of uncertainty with the Hayride. Stress was crippling and it took its toll on lots of relationships. I've had a lot of uppercuts to the chin," she says.
Carbone says her new book is about taking a shot and not thinking yourself into inaction. Not waiting for the right time and everything being perfect, because "timing is never perfect," she says.
"When I was at Clear Channel I was taking a hundred shots before anyone else's guns were out of the holsters. Half of them could miss, but that means the other half hit. That's the point. It's okay to miss as long as you take those misses, examine the data, and use it to get back up and fire again, because that's how you don't miss.
"So many people have ideas. It doesn't make you special to have an idea. My proposition is to activate. The bridge between the wealthy and the non-wealthy is activation. Once you fail and get back up, it's not scary anymore. The only time failure is failure is when you don't get back up," Carbone says.
According to CNN Money, Americans will spend about $8.4 billion dollars on Halloween, the National Retail Federation's annual survey predicts. "Fear is America's favorite drug," Carbone says. "But at the same time fear is also the thing that will keep us, in a real world way, when it's not escapism, from our dreams, our biggest hopes and our best life," she adds.
Carbone's horror events are meant to terrify, but it seems the only thing that scares her is the idea that she doesn't give all her endeavors her best shot.