DOJ seeks time to argue for anti-gay baker in Supreme Court case
DOJ is seeking a time slot of 10 minutes before the Supreme Court to argue for an anti-gay baker who wants to deny wedding cakes to same-sex couples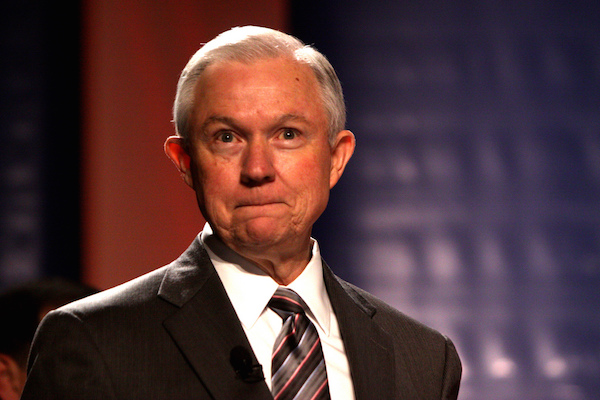 The U.S. Justice Department under U.S. Attorney General Jeff Sessions is seeking a time slot of 10 minutes before the U.S. Supreme Court to argue on behalf of a Colorado baker who wishes to refuse the sale of make wedding cakes for same-sex couples.
U.S. Solicitor General Noel Francisco filed the two-page request Wednesday before the Supreme Court in the case of Masterpiece Cakeshop v. Colorado Civil Rights Commission.
The request says the Justice Department "has a substantial interest" in the case because the U.S. government has an interest in "the preservation of federal constitutional rights of free expression."
Jack Phillips, the Colorado baker, bases the argument that he can defy Colorado's non-discrimination law and refuse wedding cakes to same-sex couples based on the First Amendment right to freedom of expression.
The request also argues the U.S. government has an interest in the case because the scope of Colorado non-discrimination law, which bars anti-gay discrimination in public accommodations, is similar to Title II of the Civil Rights Act of 1964.
"The United States is thus well positioned to address the reconciliation of content-neutral public accommodations laws with federal constitutional freedoms of speech and expression," the request says. "Participation by the United States in oral argument would therefore materially assist the Court in its consideration of this case."
As noted in the request, the Justice Department has already filed a friend-of-the-court brief in the case arguing that baking a wedding cake is inherently an act of expression protected under the First Amendment. Therefore, the ability of a baker to deny a wedding cake to same-sex couples for religious reasons should trump any state non-discrimination law.
The case came about after Phillips refused to make a wedding cake for Charlie Craig and David Mullins, a Colorado same-sex couple, in 2012 for their wedding in Massachusetts. An administrative judge ruled in favor of the same-sex couple — a decision the Colorado Court of Appeals upheld in 2015.
Although the Colorado Supreme Court had declined to review these decisions and let them stand, the U.S. Supreme Court granted a writ of certiorari, or agreed to take up the case, in June.
Oral arguments are set for Dec. 5.
LA County Public Health confirms community transmission of Monkeypox 
Public Health is offering the JYNNEOS vaccine in a targeted manner to reach individuals at higher risk of monkeypox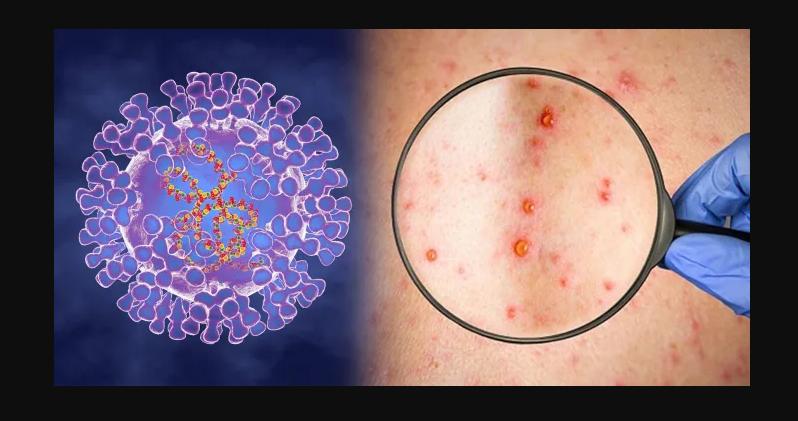 LOS ANGELES – Los Angeles County Department of Public Health has confirmed local transmission of monkeypox in LA County, as some of the more recent of the 22 cases of monkeypox in LA County thus far have no history of international or out-of-state travel. There have been no hospitalizations or deaths.
Anyone can get and spread monkeypox, but some of the recent cases identified have been among gay, bisexual, and other men who have sex with men who attended large events where the exposure to monkeypox may have occurred. Public Health is working with event organizers to notify attendees of potential exposure.
While supplies of monkeypox vaccine are limited, Public Health is offering the JYNNEOS vaccine in a targeted manner to reach individuals at higher risk of monkeypox. This includes people who are known close contacts to someone diagnosed with monkeypox and individuals who attended an event where they may have had skin-to-skin contact with someone who later tested positive for monkeypox virus. The vaccine is being used in these cases to reduce the risk of developing monkeypox.
As vaccine supply increases, Public Health will focus on making the monkeypox vaccine available for other high-risk groups in efforts to prevent widespread community transmission.
Monkeypox does not spread easily between people. The spread of monkeypox from person to person can occur through contact with body fluids, monkeypox sores, items that have been contaminated with fluids or sores (like clothing or linens), or through prolonged exposure to respiratory droplets. Because of this, transmission may also occur during sex through skin-to-skin and other intimate contact.
LA County encourages persons who experience symptoms consistent with monkeypox (such as characteristic rashes or lesions), persons who traveled to countries where monkeypox cases have been reported or persons who have had close contact, including sexual contact, with someone who has a similar rash or received a diagnosis of suspected or confirmed monkeypox, to contact their health care provider for a risk assessment. Those who do not have a regular provider should call 2-1-1 for assistance.
Activists gather & prepare for post-Roe America
"For a country about personal rights, we're doing an awful lot right now to limit women's ability to do what they want with their body"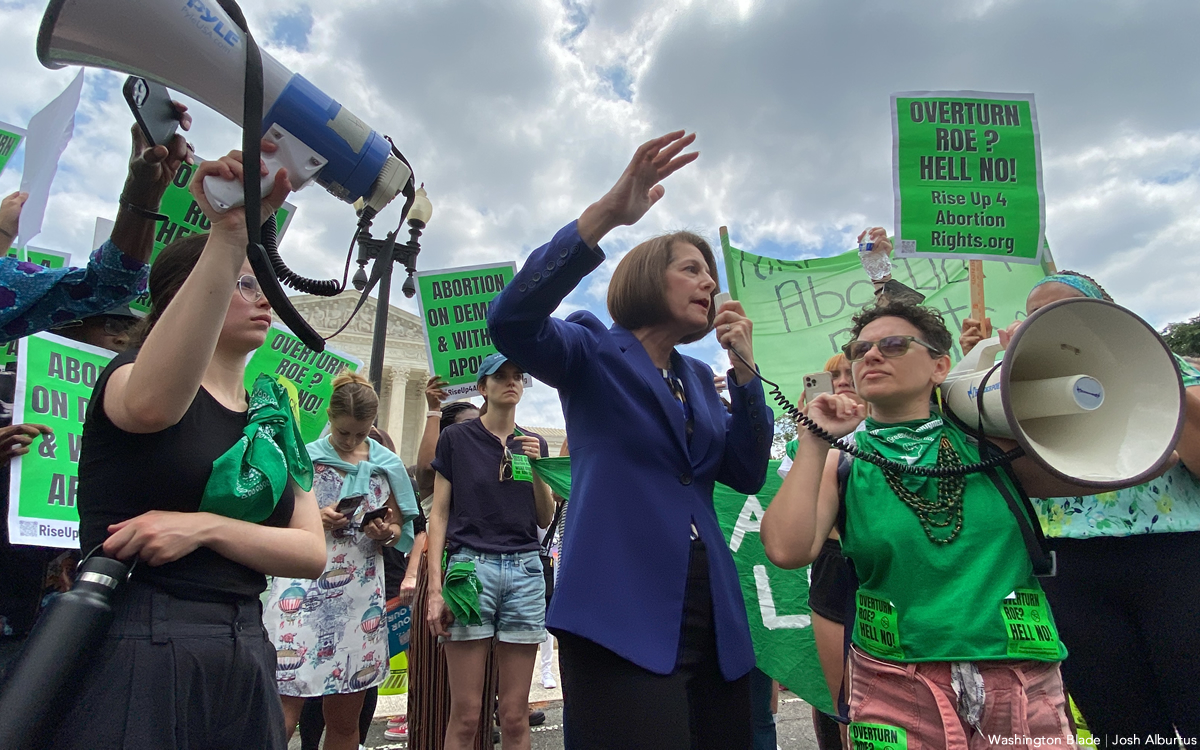 WASHINGTON – Just moments after the U.S. Supreme Court delivered its decision on Friday overturning its landmark ruling in Roe v. Wade that had legalized abortion nationwide for 49 years, hundreds gathered outside the Court to both protest and celebrate the ruling.
In its decision in Dobbs v. Jackson Women's Health Organization, the court found that access to abortion was not a right guaranteed under the language of the Constitution. The ruling effectively reversed the Court's 1973 decision that mandated states to allow the procedure in most instances throughout the first two trimesters of pregnancy.
Immediately following the decision, a group of those welcoming the decision quickly gathered in front of the Court.
Anna Lulis, a member of Students for Life of America, welcomed the decision as long overdue.
"I think it is a huge victory for human rights," Lulis said. "For far too long, since 1973, human rights have been infringed upon at an egregious level."
Beside Lulis, Olivia Cowin, a member of Survivors LA, shared a similar reason for gathering outside the Court.
"This is a celebratory day to show our support of the unborn and of women and support both simultaneously," Cowin said.
But not all that were gathered immediately after the unveiling of the decision were encouraged by the decision's implications.
Across the way from the Court's west side, Virginia resident Alysia Dempsey feared what the verdict in Dobbs could mean for women's rights – including those of her four daughters.
"I believe in women's rights, and I think that our country needs to be able to start listening to each of our stories and to have empathy for them in so many different aspects," Dempsey said. "I feel like we're sort of going back in time with regard to so many rights."
Hailing from Arizona, a state under Republican legislative leadership where Planned Parenthood has already halted all abortion services pending legal clarity from the state, Hannah Waldrip cast doubt on the sincerity of anti-abortion rationale.
"For a country about personal rights and personal freedom, we're doing an awful lot right now to limit women's or people with uterus' ability to do what they want with their body," Waldrip said.
Stark divisions between the groups arose as ideological lines could be seen physically emerging between the crowds.
And as the day progressed, those protesting the ruling quickly began to outnumber its supporters.
Among the protesters, the color green – a symbol for abortion rights activists borne out of similar movements in Argentina and elsewhere in Latin America – could be seen lining the street on scarves, shirts, stickers, and elsewhere.
As the crowd continued to grow and green began to eclipse the heat-simmering pavement beneath the protesters, several speakers emerged amidst the epicenter of the crowd.
One of those speakers was Elizabeth Paige White, a civil rights lawyer working under nationally renowned attorney Ben Crump.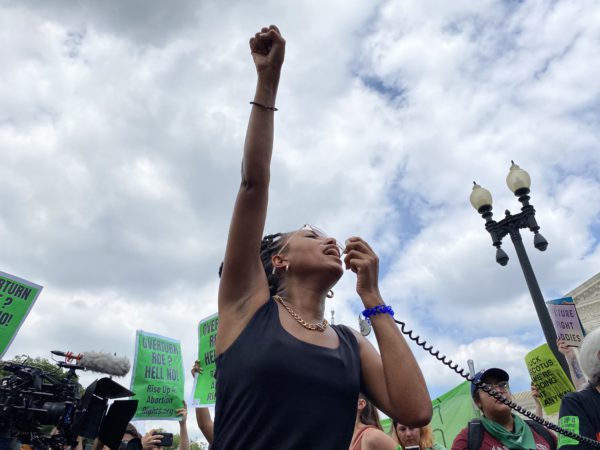 In connecting Friday's decision to the United States' history of patriarchal structure, White called into focus the disproportionate effect the repeal of nationwide abortion access is widely expected to have on minorities and communities of color with less resources to travel to abortion-friendly states.
"As Black, Brown, and all these women out here know, we've been fighting for our rights since the inception of this country," White said. "We have been fighting to have rights over our own bodies since the inception of this country."
With the repeal of Roe, decisions on whether to legalize or outlaw abortion will now be left to each individual state. As of Friday's ruling, 13 states are now set to make almost all abortions illegal, having passed "trigger bans" designed to take effect in the immediate aftermath of Roe's demise or within the next month.
However, many abortion rights supporters, activists and lawmakers still fear that the curtailing of reproductive rights won't end with the Court's decision.
Sen. Catherine Cortez-Masto (D-Nev.) addressed the crowd with a message of urgency and revelation.
"At the end of the day, let me just say, here's what's next," Cortez-Masto said. "I've got some of my Republican colleagues based on this decision who are already drafting legislation to restrict abortion in this country. If they win this election, they will pass that legislation and it will preempt all of the state laws we have protecting women in this country when it comes to our right to choose."
Even beyond nationwide restrictions on abortion, some fear even more privacy restrictions are now under fire.
Such privacy rights have been established in other past Supreme Court rulings based on the same Due Process and Equal Protection clauses of the 14th Amendment that justices used to interpret nationwide abortion rights nearly half a century ago. These cases have included those that established access in all states to contraception, same-sex marriage, interracial marriage, and the right to same-sex relations in the privacy of one's home.
Among the crowd gathered on Friday, such was a sobering outlook for many.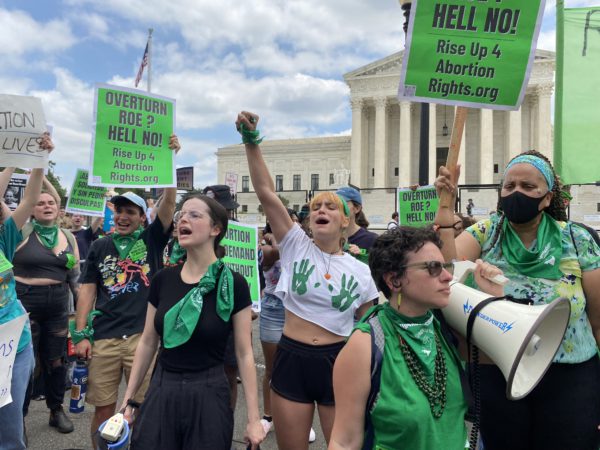 "Gay marriage, interracial marriage, gay sex are going to fall like fucking dominoes if we let them," one speaker outside the Court said.
Anger and fear could be felt permeating those in the crowd. Activists, however, were determined to turn their compatriots' fears into action and change.
"We must get out in the streets," the speaker said. "We need millions of people all around the country because this affects every single living, breathing person in this country whether they realize it yet or not."
Among protesters' trepidation regarding the future of women's rights and privacy rights in America, many clung to a message of hope as speakers and activists pledged to continue fighting.
"They have worked to keep us down, they worked to keep us enslaved, they worked to keep us out of the polls, they worked to keep us out of political offices, they've worked to keep us in the home," White said. "But we know, as we fought for centuries, that this will not stand."
Newsom & others move to protect abortion rights after SCOTUS ruling
The decision of allowing access now falls to individual states. 13 states have passed 'trigger laws' that criminalize & outlaw abortion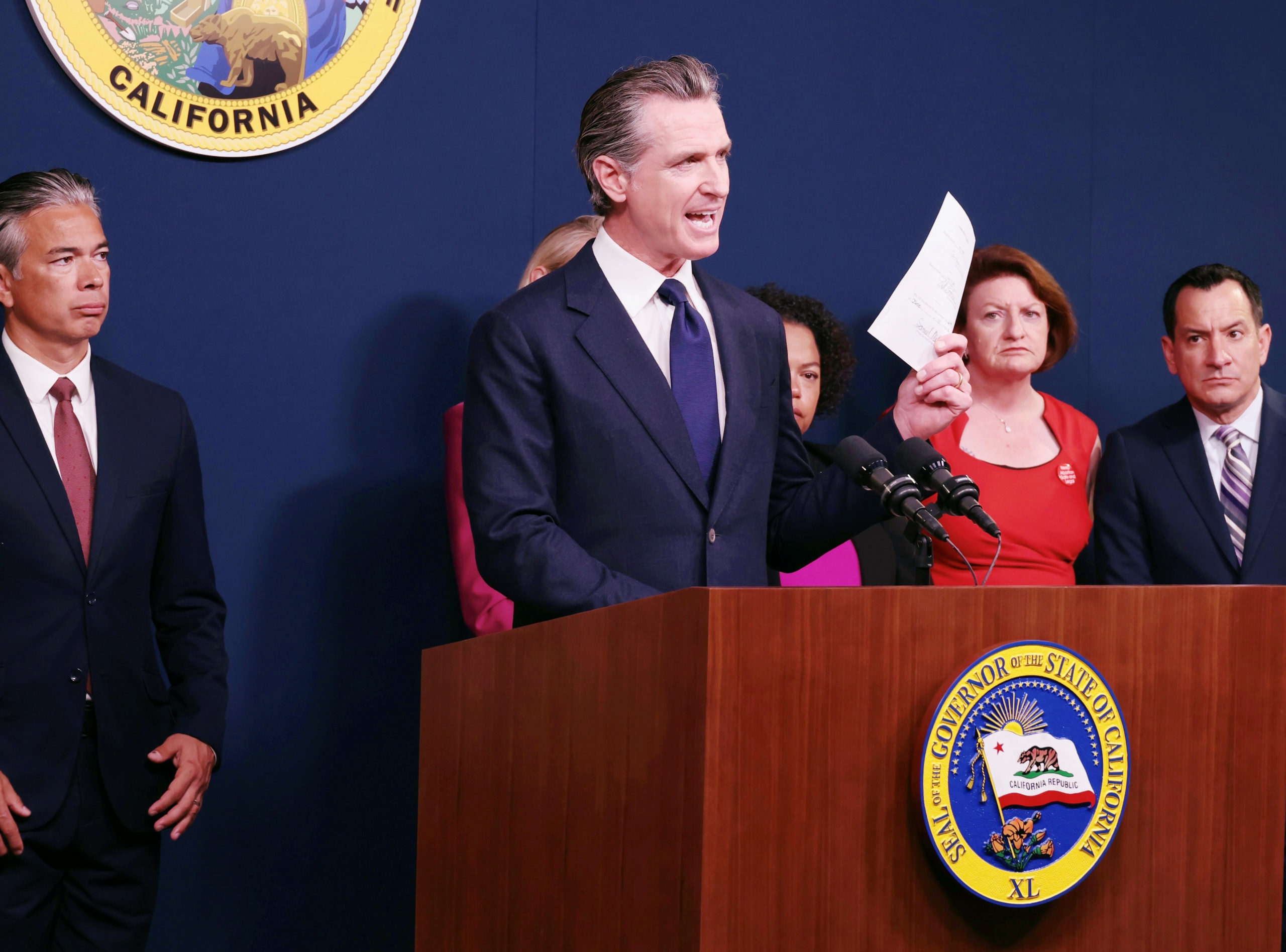 SACRAMENTO – Hours after the U.S. Supreme Court's decision to overturn Roe v. Wade, Governor Gavin Newsom announced that he others will take action on legislation to protect patients and providers in California against abortion bans in other states.
Also in response to the decision this morning, Newsom and the governors of Oregon, Kate Brown and Washington State, Jay Inslee launched a new Multi-State Commitment to defend access to reproductive health care and protect patients and providers.
California, Washington, Oregon Commitment to Reproductive Freedom: West Coast Offense:
Governor Newsom has proposed a $125 million Reproductive Health Package to expand access for women and help prepare for the influx of women seeking reproductive health care from other states. In addition, the California Legislature has introduced a constitutional amendment to enshrine the right to abortion in the state constitution.
Governor Newsom recently signed legislation eliminating copays for abortion care services and has signed into law a legislative package to further strengthen access and protect patients and providers.
With its ruling Friday the high court leaves the decision of whether to allow abortion access now falls to individual states. 13 states have already passed so-called 'trigger laws' which will criminalize and outlaw the procedure.
The following shows the state, the penalty and when the trigger law takes effect:
Newsom today signed legislation to help protect patients and providers in California against radical attempts by other states to extend their anti-abortion laws into California.
"With today's Supreme Court decision to endanger the health and safety of millions of women across the country, California must do everything it can to protect the fundamental rights of all women – in California and beyond," said Governor Newsom. "We know that states like Missouri are already targeting women seeking abortions in states like California where abortion remains legal. This legislation seeks to protect women and care providers from civil liability imposed by other states, and sends a clear message that California will continue to be a safe haven for all women seeking reproductive health care services in our state."
The Governor signed AB 1666 by Assemblymember Rebecca Bauer-Kahan (D-Orinda), which seeks to protect those in California from civil liability for providing, aiding, or receiving abortion care in the state.
The measure comes as lawmakers in Missouri advance a proposal to allow private citizens to sue Missouri residents who have an abortion out of state, as well as their providers and anyone who assists them in seeking an abortion. Texas has enacted a six-week ban on abortion with a private right of action enabling individuals to sue abortion providers and others.
U.S. Senator Marco Rubio has introduced a federal bill to exclude employers from receiving tax breaks if they provide abortion access to their employees.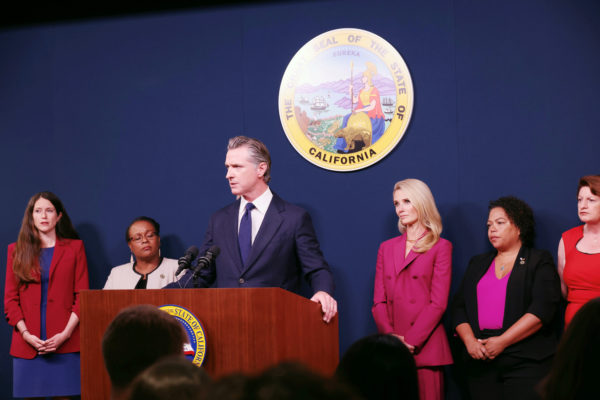 "This is a dark moment for our country," said California Attorney General Rob Bonta. "This court's decision is outrageous, unprecedented, and dangerous. It blasts our nation back into the dark ages. Millions are now facing a stark reality when it comes to their right to choose. People all across the nation — their bodies, futures, and families — will be hurt by this decision. But, in California, we refuse to turn back the clock and let politicians exert control over a person's body. Despite the decision, abortion remains fully protected here in California. We'll keep fighting to strengthen and expand access to safe and legal abortion. As Attorney General, I will use the full force of the law and the full authority of my office to protect reproductive healthcare for every person who seeks it in California. Abortion remains a legally protected right in our state and, in California, we won't backslide."
"Extremist laws – now deemed constitutional – will pursue our incredible providers for the care they provide, will penalize vulnerable people desperately seeking abortions in a last effort to control their own lives," said Assemblymember Bauer-Kahan. " In California we won't let this happen. I am incredibly grateful to the governor for signing AB 1666, which will immediately protect anyone in California from civil penalties for abortion. We will continue to fight and be a sanctuary for abortion care."
In a press release, the Los Angeles County Department of Public Health relayed that Abortion remains safe and legal in California and Los Angeles.
"We know from decades of research that the impact of criminalizing abortion falls hardest on people who already struggle to access health care, including abortion. This includes low income women, women of color, immigrants, youth, and LGBTQI+ people, many of whom will now potentially face the prospect of forced childbirth. All people, both residents of LA and those residing elsewhere, must have access to safe, legal, high quality abortion services," Public Health said.
"Los Angeles County's Safe Haven Abortion Project is underway. It seeks to improve access to abortion and to the full spectrum of reproductive health services for Los Angeles residents and for people who travel here from states where abortion is no longer an option. Access to the full spectrum of sexual and reproductive health care, including abortion, is fundamental to the health of individuals, families, and communities."
"Make sure your friends and families know: In California and here in LA County, abortion remains safe and legal," the statement concluded.
For more information about abortion as a public health issue, see http://publichealth.lacounty.gov/owh/Abortion.htm.