Kamala Harris emerges as LGBT favorite for 2020 — there's just one thing
Kamala Harris' record contains one item that may surprise many of her LGBT supporters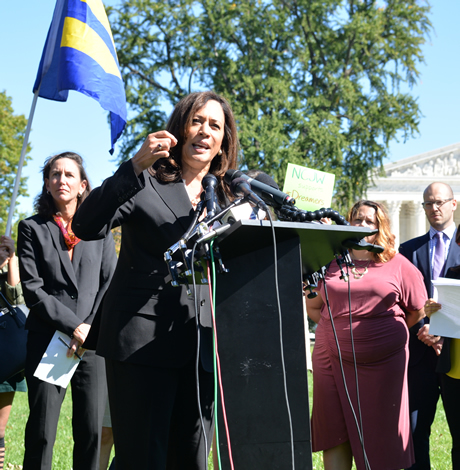 Sen. Kamala Harris (D-Calif.) was likely chosen as a featured speaker at Saturday's Human Rights Campaign National Dinner because she's quickly becoming a favorite in the LGBT community among potential 2020 Democratic presidential contenders.
To recognize her popularity among LGBT people, just find the animated picture of Harris making the rounds on Facebook at the Senate dais brushing her hair back, clasping her hands and blinking her eyes wearily as she's cut off during a Senate Intelligence Committee hearing. Also check out the widely shared video of her exchange with U.S. Attorney General Jeff Sessions about his Russian connections, which left the Trump official muttering he felt "nervous" under questioning from the U.S. Senate's only black female senator.
But a look at her LGBT record reveals one wrinkle on transgender rights that may surprise her followers and that has disappointed some trans people.
To be sure, Harris has a staunchly pro-LGBT record. As California attorney general, she declined to defend California's ban on same-sex marriage Proposition 8 in court. When the U.S. Supreme Court restored marriage equality to California, she officiated at the wedding of Kris Perry and Sandy Stier, the first same-sex wedding after the ruling, and instructed clerks to marry same-sex couples seeking a license with "no exceptions."
Also as attorney general, Harris in 2015 refused to certify a "Kill the Gays" ballot initiative proposed in California that would have (unconstitutionally) instituted the death penalty for homosexual acts. Despite a legal challenge, a federal judge agreed to relieve her of duty to prepare a title and summary for the measure before it advanced to the signature-gathering stage.
Harris also co-sponsored a bill in the California Legislature with former Assembly member Susan Bonilla to eliminate the "gay panic" defense in cases of murder or violent crime against LGBT people. Gov. Jerry Brown signed the legislation in 2014, making California, along with Illinois, one of two states in the country to ban the plea.
Upon beginning her term as a U.S. senator this year, Harris continued to advocate for LGBT rights. A co-sponsor of the Equality Act, Harris also demanded answers from the Trump administration on the decision to omit questions in the U.S. Census allowing responders to identify their sexual orientation or gender identity. The Trump administration never provided a direct response.
Harris has signed friend-of-the-court briefs arguing transgender people should be allowed to use the public restroom consistent with their gender identity. As California attorney general, she filed briefs in favor of Obama administration guidance supporting transgender students and against North Carolina's notoriously anti-LGBT House Bill 2. As a U.S. senator, she signed a brief before the U.S. Supreme Court in favor of transgender student Gavin Grimm's case.
Rick Zbur, executive director of Equality California, said Harris' record on LGBT rights in her capacities as attorney general and a U.S. senator are nothing short of "impeccable."
"We've known her since she was the DA in San Francisco, and then of course, when she as attorney general was more engaged than any attorney general has been with us in the LGBTQ community," Zbur said. "[She] really engaged with us and has a really strong commitment and understanding of our issues."
On transgender issues in particular, Zbur noted Harris as attorney general appointed last year a transgender woman of color, Mariana Marroquin, to the California Racial & Identity Profiling Advisory Board.
Harris will likely tout her record on LGBT rights during her remarks at the 21st annual Human Rights Campaign National Dinner.
But one part of her record she might avoid is her role as California attorney general in 2015 in arguing on behalf of the state to withhold gender reassignment surgery from two transgender inmates who were prescribed the procedure while serving out their sentences. Advocates have made the case that transgender inmates are entitled to receive the taxpayer-funded procedure because denying them medical treatment amounts to cruel and unusual punishment — a clear violation of the Eighth Amendment of the U.S. Constitution.
One case involved Shiloh Quine, who's serving a term of life for first-degree murder, kidnapping and robbery. The other case involved Michelle-Lael Norsworthy, who was serving time in prison in Mule Creek State Prison in Ione, Calif., for second-degree murder. Both were prescribed gender reassignment surgery, but the California Department of Corrections & Rehabilitation refused to provide the procedure.
The process of the Norsworthy case was quite public as it proceeded through litigation. Although U.S. District Judge Jon Tigar ordered California to grant Norsworthy gender reassignment surgery, Harris in her capacity as attorney general appealed the decision to the U.S. Ninth Circuit Court of Appeals and fought to reverse the decision.
One 29-page brief in the case, signed by Harris, urges a stay on the court order for Norsworthy because the hormone treatment the inmate receives is sufficient — at least for the time being.
"The core of Ms. Norsworthy's complaint is that Defendants have not provided the particular treatment she wants sex-reassignment surgery and unspecified 'additional treatment,'" Harris writes. "But the Constitution 'does not guarantee to a prisoner the treatment of his choice.' The Eighth Amendment requires that an inmate be afforded 'reasonable measures to meet a substantial risk of serious harm to her,' not that she be given the specific care she demands. The 'essential test is one of medical necessity and not one simply of desirability.'"
Ultimately, both the Norsworthy and Quine cases resulted in settlements. Norsworthy reached an agreement with the state in which she obtained parole. As a result, she was able to obtain surgery through Medi-Cal, a state health care system in California. In the Quine case, the state agreed to grant her gender reassignment surgery as well as clothing and items consistent with her gender identity. The California Department of Corrections & Rehabilitation also agreed to review and revise its policies writ large for transgender inmates and medical treatment, including gender reassignment surgery.
But Harris' actions in the Norsworthy case have inspired consternation in the transgender community and on Twitter, including from Chelsea Manning, who fought to receive gender reassignment surgery though litigation during her time in prison after the Army initially denied it to her. (A Washington Blade article on Harris' brief against the court order is among the paper's top 10 trafficked stories this year — the only story not from 2017 to hold that distinction.)
Zbur said criticism of Harris' role in the litigation, however, is "really misplaced" because as attorney general she was compelled to represent the position of her client, which in this case was the California Department of Corrections & Rehabilitation.
"As a lawyer for the government, she was constrained in what she could publicly say and do and her client was making decisions, but with us she really working hard to understand the issue, providing information, and I think she was a big part of the resolution, which resulted in the really significant policy changes that were implemented by the Department of Corrections when she was attorney general," Zbur said.
But the argument Harris was compelled to fight the court order granting gender reassignment surgery to an inmate because that was her responsibility as attorney general raises the question on how she got out of similar duties in an effort to uphold LGBT rights. If Harris could get out of defending Proposition 8 or certifying the "Kill the Gays" initiative, why couldn't she also opt out of litigation seeking to bar transition-related care to a transgender inmate?
Zbur said the difference between the transgender inmate litigation and the other two situations was that in the former, Harris had a specific client, namely, the California Department of Corrections & Rehabilitation.
"When you have a client, you basically have ethical duties to represent the client's interest," Zbur said. "You take direction from the client. And so, she did really have constraints in terms of what she could do, but I think the bottom line is that during that period of time, she was working hand-in-hand with us on a process that resulted in changing the policies at the Department of Corrections, and that's a really significant thing."
At the time Harris engaged in the litigation in 2015, Jon Davidson, legal director for Lambda Legal, said the attorney general's actions were her own choice.
"Even where the decision is made to defend an unconstitutional practice, there's nothing that dictates the tactics of that defense, particularly once a court has found there are likely ongoing constitutional violations," Davidson said. "The choice to appeal a preliminary court order and to seek to delay its implementation is just that — a choice. It's also a very unfortunate one, given that what is at stake here is potentially life-saving treatment that is widely recognized as medically necessary for some people suffering from gender dysphoria."
It seems the cases weren't on Harris' radar, even though her name is on each of the legal briefs, until much later in the process of litigation.
Nathan Barankin, who's chief of staff for Harris and served as her deputy attorney general, said around 1,100 attorneys are working on cases like these and Harris wasn't personally aware or involved in the litigation until a later time.
"She did learn about our office's involvement in this case by reading about it in the newspaper," Barankin said. "Her reaction to the way the case was being litigated was to work very closely with all of the parties involved to reach what we consider a successful conclusion, which was a permanent change in state prison policy on the treatment of transgender inmates."
Two years later after the settlements were reached, Lambda Legal struck a different tone on Harris' handling of the lawsuit.
Peter Renn, a senior attorney in the Western Regional Office of Lambda Legal who works on transgender cases, said the situation changed in the lawsuits as Harris became more involved in the litigation.
"The California AG's office shifted its handling of these cases significantly after now-Sen. Harris took over," Renn said. "Initially there was language in briefing for the state that glaringly misunderstood the medical necessity of transition-related medical care and was patently offensive. But then, there was a dramatic change, which seems to have gone along with important policy shifts."
Supporters of Harris point to the settlements that were reached in the cases as evidence that her role was productive for transgender rights. After all, those agreements created precedent in the state and new policy ensuring transgender people in California prisons can receive gender reassignment surgery.
But not everyone agrees with that assessment.
Amanda Goad, a California attorney who works on transgender issues and identifies as queer, said in a personal capacity calling the settlements in the Quine case an LGBT rights achievement for Harris "does not make sense."
"Her client CDCR could have updated its policies and made gender-confirming surgery available to incarcerated folks long before it did so under the pressure of a trial court loss in the Quine case," Goad said. "Harris has done other things that do seem to me to belong under the banner of LGBTQ champion. … Settling a lawsuit that the state was losing — and never should have defended in the first place — just doesn't fit the bill."
In her capacity as staff attorney for the American Civil Liberties Union of Southern California, Goad said the policy changes the California Department of Corrections & Rehabilitation promised aren't being implemented.
"Recent data shows that of the many prisoners who have applied to undergo gender-confirming surgery under the new policy, zero trans women beyond Shiloh Quine herself have actually undergone surgery. (Two men have undergone top surgery.)," Goad said. "Dozens have been denied, and I get letters every week from women extremely upset about their inability to access surgical care."
Goad also complained about the state continuing to fight transgender prisoners' access to clothing consistent with their gender identity as well as harassment, sexual assaults and violence endured by transgender women in prison.
That mistreatment, Goad said, is something Harris could address through encouraging enforcement of the Prison Rape Elimination Act and other actions.
"She has a great platform from which to speak out about the broader issues of violence, discrimination, and harassment endured by transgender women of color both inside and outside prison and propose constructive approaches for addressing those problems and their structural causes," Goad said.
Major transgender rights advocates said the inclusion in Harris' LGBT record of seeking to deny gender reassignment surgery to transgender inmates was unfortunate — but also urged LGBT people to look at the bigger picture.
Jillian Weiss, executive director of the Transgender Legal Defense & Education Fund, said Harris' defense of the state in the litigation contrasts with her otherwise pro-LGBT record.
"Sen. Harris has a positive record as a champion of gay and lesbian rights, and that is commendable," Weiss said. "It is unfortunate that her record also includes having argued that gender confirmation surgery was not a medical necessity for a transgender woman despite a psychological assessment to the contrary. While some public sentiment leans against providing necessary medical services for transgender people who are incarcerated, our Constitution recognizes that denying such vital health care is cruel and unusual punishment. It is our hope that Sen. Harris will learn more about transgender medicine and its importance to trans people."
(Harris isn't the only potential 2020 Democratic presidential candidate with an unfriendly record on gender reassignment surgery for transgender inmates. In a 2012 radio interview, then-U.S. Senate candidate Elizabeth Warren said when asked about granting the procedure to an inmate in Massachusetts, "I have to say, I don't think it's a good use of taxpayer dollars." Warren has never corrected that position even as litigation seeking the procedure for the inmate, Michelle Kosilek, proceeded through the courts. Ultimately, the First Circuit ruled against Kosilek, setting binding precedent in that jurisdiction.)
Mara Keisling, executive director of the National Center for Transgender Equality, took an even more lenient approach to Harris' action on the lawsuit and said her organization would work with her on issues of transition-related care for transgender prisoners.
"Sen. Harris has long been a friend of LGBT people and our causes," Keisling said. "Notwithstanding her one-time defense of an indefensible and unconstitutional state prison position on trans healthcare, she is now a senator and is very likely to continue being a vote and voice for trans people in the U.S. Senate. She has shown this recently in support of Gavin Grimm and trans service members. I am certain when I first meet her, we will discuss her position in the prison case, and she will continue to grow and continue to support us better and better."
Quantity, cruelty of anti-LGBTQ state bills raise alarm bells
"We really need to support local LGBTQ organizations- lift them up as much as possible," particularly those in conservative & rural states"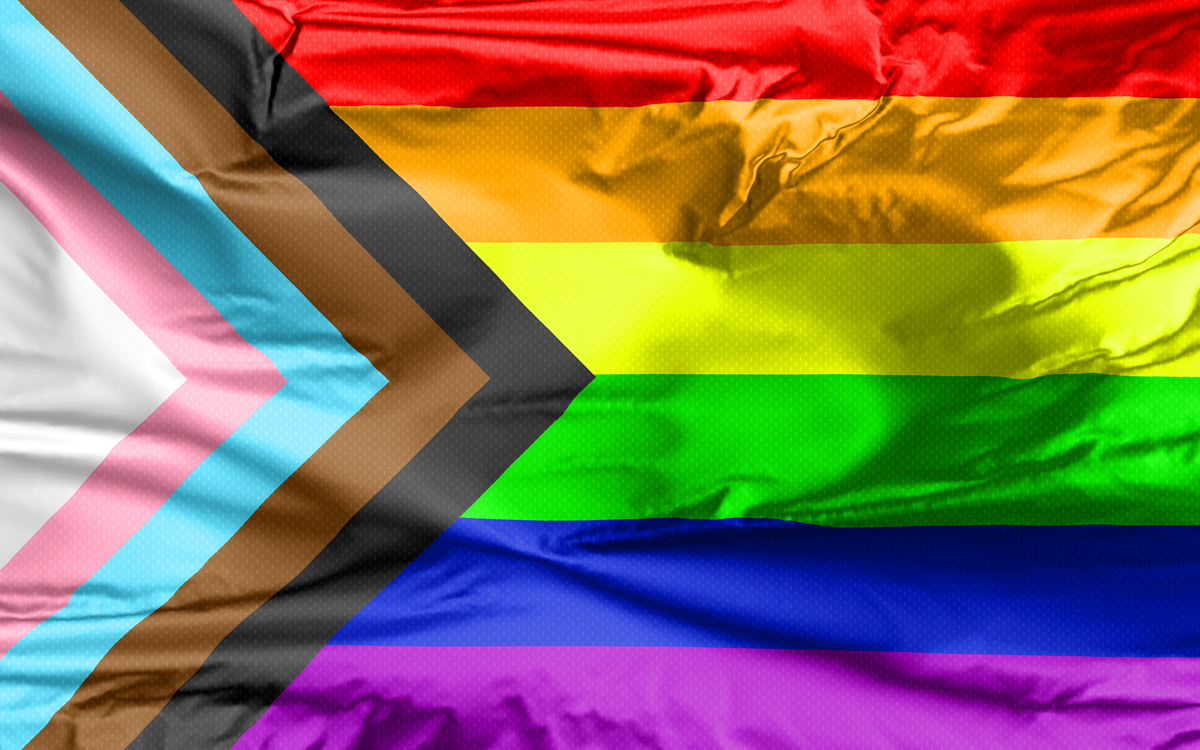 WASHINGTON – When the Washington Blade connected with activist and legislative researcher Erin Reed on Tuesday to discuss the new anti-LGBTQ bills that have been introduced in statehouses across the country, it was just as the news of an especially hateful proposal came across her desk.
Senators in West Virginia had teed up an anti-trans law that would criminalize "displays" that "shall include, but not be limited to, any transvestite and/or transgender exposure, performances, or display to any minor."
The move recalled anti-LGBTQ laws from the 1960s that criminalized the very existence of transgender and gender non-conforming persons as well as drag performers, while providing pretexts for police raids of LGBTQ establishments like the Stonewall Inn, Reed said.
For example, she said, many states once enforced dress codes that required people to wear at least three articles of clothing consistent with their sex assigned at birth.
Likewise, the West Virginia bill raises alarming questions about whether transgender parents and teachers in the state might be prosecuted, with a potential five-year prison sentence, said Reed, who is herself a transgender parent.
Additionally, the proposed legislation is "unconstitutionally vague," written so broadly that it would presumably become illegal to screen the film "Mrs. Doubtfire" or perform certain Shakespearen plays for an audience of minors if the measure were to pass, Reed said.
Less than three weeks into 2023, state legislatures have introduced nearly as many anti-LGBTQ bills as were introduced in the entirety of last year – and qualitatively, many of these new bills are more hateful than anything we have seen in decades, Reed said.
"I see an increase in both the number and in the cruelty towards transgender people," she said.
There are "new pieces of proposed legislation that go further than bills in 2021 and 2022," such as by "banning gender affirming care through age 26 in Oklahoma," and others that "target the drag community in ways that haven't happened in 30 to 40 years."
Fear and hate mongering over all-ages drag performances has been ratcheted up in the right-wing ecosystem, fueled by conservative media figures like Matt Walsh and Tucker Carlson, as well as social media accounts like Libs of TikTok and extremist militias, Reed said.
According to the ACLU, "As drag reality competitions and drag brunches become increasingly popular, backlash in the form of armed protests and intimidation of drag performers has followed."
Consequently, Reed said, this year for the first time anti-LGBTQ legislation has included measures targeting drag performances – with, so far, a dozen new bills. And the concern is not just that many of these proposed laws are draconian, like Nebraska's bill that would prohibit patrons younger than 21 from attending a drag show.
"Whenever I see those [laws] being proposed, I also see militant organizations storming in" to LGBTQ bars, schools, hospitals, and venues that host drag queen story hours, Reed said. "I see people trying to break into drag events and successfully doing so," disrupting them with violence and intimidation, she said.
"What I read into [the impetus behind these laws] is these legislators want to change the uniform of the people doing the storming," from militias comprised of far-right citizens to "people wearing badges."
Making matters worse, Reed said, there are "lots of cases where drag events have asked for local protection and not received any protection whatsoever."
Last month, organizers of a drag queen story hour-style event in Columbus, Ohio, had to cancel after they said police failed to work with them to protect participants from demonstrators affiliated with far-right groups like the violent neo-fascist Proud Boys. (Police dispute the organizers' account of events.)
The ACLU notes that, "Amidst this wave of anti-drag legislation and violence, drag performers and host venues across the country are moving to higher security or cancel performances altogether."
Looking at the slate of new statewide legislative proposals, many are a continuation of similar anti-trans themes that have emerged in recent years, but "we're seeing scary attempts to escalate things," Reed said.
For instance, bills that restrict or prohibit guideline-directed healthcare for transgender and gender non-conforming youth were introduced and passed in several states in 2021 and 2022, but new measures proposed this year would target adults as old as 26.
"It makes me wonder what their ultimate goal is," Reed said. "To ban transitions entirely?"
Every mainstream medical organization with relevant clinical expertise recommends age-directed gender affirming care according to clinical practice guidelines that are supported by a bevy of research and updated regularly to ensure best practices.
Still, right-wing figures have demagogued the issue and characterized responsible medical care as "experimentation" and child abuse.
Reed noted there are some "new wrinkles" in anti-trans healthcare bans that have been proposed this year.
For instance, she said, Indiana proposed folding gender affirming care into practices that would be outlawed under a conversion therapy ban – thereby conflating supportive and medically necessary healthcare with an abusive, ineffective practice that has been rejected by mainstream science and medicine.
Across the board, Reed noted, there is an increasing reliance on executive authority. This was previewed toward the end of last year, she said, pointing to Florida Gov. Ron DeSantis's weaponization of the state medical board and Texas Gov. Greg Abbott's weaponization of the Department of Family and Protective Services to, respectively, ban gender affirming care and prosecute parents for child abuse for facilitating their trans children's access to gender affirming care.
'The fight is on the state level right now'
Amid the onslaught of anti-LGBTQ legislation, Reed emphasized the need for coordinated action by the U.S. Congress, the Biden-Harris White House, progressive and pro-equality legal actors, and state legislatures, as well as local and national LGBTQ groups.
She noted that pro-equality interests have focused significant time, attention, and money urging Congress to pass the Equality Act, which is commendable and necessary, while the courts can provide (and, often, have provided) a path toward effectuating pro-equality policy.
At the same time, Reed said, for the foreseeable future federal legislators are unlikely to find a path forward for any major bills impacting LGBTQ people, while relying on the judiciary – particularly with the U.S. Supreme Court as it is currently construed – is far from a safe bet.
By contrast, "at the state level, we've seen the GOP focus time and attention and money and efforts on changing state laws," she said, adding, "it's important that we do the same."
Likewise, Reed said, "I also think we really need to support our local LGBT organizations and help lift them up as much as possible," particularly those located in more conservative and rural states, which largely do not earn commensurate resources and support.
"In places like North Dakota and Oklahoma, South Dakota, and West Virginia, we need to help the people who live there," Reed said, but also in blue states where significant progress toward LGBTQ equality has been made but there is still room for improvement. "Don't neglect your own backyard."
For instance, she said, the gay and trans panic defense is still legal in some progressive states.
"One of the biggest problems for people in some of these states criminalizing [healthcare for trans people] is they don't have resources to travel out of state," Reed said, noting that POLITICO has reported on the plights of people who have been forced to flee states with anti-trans laws.
And while "We have to take care of those people," Reed said, people should not be in a position where they must flee their home states. "We need federal action and federal protections," she said.
Thankfully, there is some movement on pro-LGBTQ state bills. Reed said she has seen more this year compared to last year, which is "a bit promising." She highlighted bills such as the proposal to protect gender affirming care in Maryland, access to bathrooms for trans youth in Minnesota, the ability to change information on birth certificates in West Virginia, and adoption by trans parents in Montana.