Anthony Rapp bludgeons Kevin Spacey and "House of Cards" folds
And just before that Kathy Griffin torches Hollywood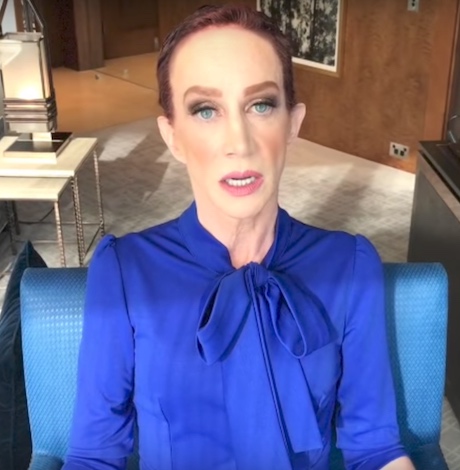 "The whole time I was working there, I didn't know Andy Cohen wanted to be me." – Kathy Griffin on her long and, apparently, unhappy tenure at Bravo. Watch what happens, indeed!
Just as we went to press, a story broke which we've already re-written – twice. Anthony Rapp, original cast member of "Rent" and currently starring on "Star Trek: Discovery", accused Kevin Spacey of making sexual advances on him when he was 14!In 1986, Rapp was on Broadway in "Precious Sons" and Spacey was in "Long Day's Journey Into Night." After a party at Spacey's home, the two were alone. Kevin laid Anthony on the bed and then, as Rapp says, "He lays down on top of me. He was trying to seduce me. I don't know if I would have used that language. But I was aware that he was trying to get with me sexually." Anthony got himself out of there fast, while Spacey stood in the doorway saying, "Are you sure you wanna go?"
He didn't tell anyone about this until he was in "Six Degrees of Separation" on Broadway between 1990-92. I can corroborate the timeline because when I met Anthony in 1991, he told me about this incident. He even tried to go public in a 2001 Q&A with "The Advocate" – although Spacey's name was redacted from the story. So why speak up now? "Not simply to air a grievance, but to try to shine another light on the decades of behavior that have been allowed to continue because many people, including myself, being silent. I'm feeling really awake to the moment that we're living in, and I'm hopeful that this can make a difference." But can one voice make a difference?
Within moments of Rapp going public, Spacey made his own statement – too lengthy for the confines of this column – but you can read it in its entirety on BillyMasters.com. He apologized to Anthony without admitting any guilt. He also admitted that he is indeed gay. While it doesn't excuse his past behavior, it's a start. Just goes to show, the power of one voice. Bravo, Anthony.
By morning, Netflix had killed Spacey's bread and butter.  "House of Cards" folded.
You all know Kathy Griffin was dumped from CNN's New Year's Eve with Anderson Cooper and replaced by Andy Cohen. Well, TMZ ran into Cohen at LAX, congratulated him on the gig, and asked if he's talked to Kathy about it. Andy innocently said, "Who?" The "reporter" (and I used that term loosely) then clarified, "Kathy Griffin. Kathy Griffin." Andy simply said, "I don't know her." The cameraman was most certainly flummoxed – well, he would have been if he knew what "flummoxed" meant. Obviously Andy knows Kathy – in fact, she's the one who introduced us! I suspect Cohen was simply playing dumb. Unlike most "showbiz friendships", Andy and Anderson are actually best friends. So, who did you expect him to side with?
Kathy wasted no time in clapping back (as the kids say). She Tweeted: "Even when it's on tape, there are doubters? He is NOT kidding w paps. Was my boss for 10 years. Treated me like a dog. Deeply misogynistic." But Kathy wasn't finished. After her Tweet, Harvey Levin of TMZ called – likely to see if she wanted to make a comment on the clip. Instead, she posted a 17-minute video which is surely the definition of viral. Kathy also exposes Levin's close ties with Trump, calling him "the gay version of Kellyanne Conway!" She reveals that Trump and Levin speak several times a week. She also claimed that all of TMZ's stories about women are ones that make them look bad or where they physically look bad. As opposed to all those positive stories about men!
As to Andy Cohen, she says he was a "miserable boss for all those years". She also states how loathsome Bravo is to women – both the women behind the scenes and the women on the shows. Easy to say now that she doesn't have a show on the network – which is the double-edged sword everyone is tiptoeing around. She says, "I didn't know that when they ended 'The D-List' and I desperately wanted to do a talk show, Andy Cohen would be the first television executive in the history of television to give himself a talk show that seems to get picked up every season." Griffin claims that the two times she was on "Watch What Happens Live", "Andy Cohen privately asked me in an office…if I wanted to do blow." She predicted Andy would say he was just kidding. And, she was right – Cohen Tweeted, "I am completely stunned by this story. It is 100% false and totally made up."
Kathy also says that because of the Trump investigation, she's been on the no-fly list, the Interpol list, and that she's been "detained alone at every single airport I've gone to." Kathy wraps it up by saying, "So when I go to Singapore, if I don't return, I just want you guys to know that's why."
At long last, we have an "Ask Billy" question worthy of this column. Justin in San Francisco writes, "What do you know about Shawn Mendes? He's so fucking hot. He sure seems gay to me, but I figure you'd know for sure."
The sexy singer, who is now 19 and therefore fair game, addressed these rumors last year in a series of Snapchats after numerous posts about his "gay vibe". "First of all, I'm not gay. Second of all, it shouldn't make a difference if I was or if I wasn't. The focus should be on the music and not my sexuality." That's a lovely sentiment, but the many photo spreads focusing on Shawn's fantastic physique and face belie the sentiment. And then there are those questionable selfies which have fallen into our clutches. They also don't focus on vocals – although they may inspire other oral activities, if you catch my drift. Are they really him? Decide for yourself on BillyMasters.com.
When Shawn's too old for Spacey, it's definitely time to end yet another column. Since we ran long, I barely have time to remind you to check out www.BillyMasters.com – the best bargain on the web. If you have a question – preferably one that leads to nudity – send it off to BillyMasters.com and I promise to get back to you before Kathy announces her (mandatory) residency at the Singapore Hilton! So, until next time, remember, one man's filth is another man's bible.
Julia Scotti, the movie, is just Funny That Way
Life is funny that way—not working out quite the way we thought it would. And that is ultimately the point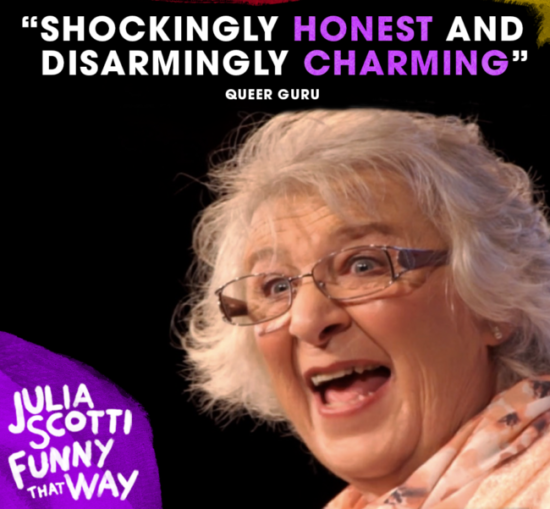 WHITING, NJ. – "You are a piece of work, Julia!" Simon Cowell blurted during her landmark America's Got Talent debut. Julia Scotti had just completed her audition for the show that ended not only with a standing ovation, but with the revelation that she had once upon a time been a stand-up comedian named Rick. As that news crossed the faces of the four judges, their collective jaws dropped. "I mean like you come out as the nice little granny school teacher all sweet and then you go into your routine and like WHOA. Talk about surprises – they are never ending with you, are they?" Cowell finished.
With Julia Scotti, the surprises never end.
Her latest surprise for the public is a gem of a film, Julia Scotti: Funny That Way. It is a documentary of her journey from the days of Rick, the up and coming comic who performed on bills with Chris Rock and Jerry Seinfeld to Julia, who is wowing millions.
Of her transition, Julia has remarked. "It is NEVER an easy process whether you're a public figure or not. You are essentially killing your old self and ending your old life. And with that comes the history you've built with friends and family. Some are very accepting, but most are not. That is why the suicide attempt rate for Trans folk is still at 41%."
Funny That Way does not spare us the heart-breaking fallout from the virtual "death' of Rick Scotti.  Filmmaker Susan Sandler weaves Julia's story, the losses and damage, to her rebirth, healing and the reuniting with her kids after a 15-year estrangement.
Julia and Susan sat down with us on the podcast Rated LGBT Radio to talk about the film. "This is a story and like all stories, there is a beginning and a middle and an end. In the end, I want the audience to know there is HOPE. It is bumpy at times, joyous at times. It is not just isolated to my life. You can have that in your life when you walk through that door of your own truth and come out the other side and when you look back on all you went through, you go 'what the hell was I so afraid of?' Look how happy I am." Julia explains.
Susan had never directed a documentary before, but as one of Hollywood's master story tellers, and a Golden Globe nominee, she was unfazed. "The impetus behind this film was falling in love with Julia, her, then and now. If you are working from a really rich, complex, compelling character –which is Julia—that is the GIFT. All of my nerve endings, my story telling, told me this was dynamic documentary, and that's the form in which I wanted to tell it."
Susan took five years to research, document and interact with Julia's past. She went through old footage of Rick Scotti's stage acts and restored many of them so they could be used in the film. She brought on composer Matt Hutchinson for a beautiful score, and animator Sam Roth for whimsical cartoons that tie the story together.
Before the filming started, Julia had just re-connected with her son Dan, and daughter Emma.  A decade and a half ago, when Julia announced to her then spouse that she was in fact a woman transitioning, her then-wife retaliated by taking their kids away.  Dan and Emma spent their whole adolescence not knowing Julia at all. The story of that pain is told in Funny That Way.  Susan wanted to show the relationships real-time in the film as they came to reconnect with Julia. "We were just at the beginning stages of reconciling," recounts Julia. "I did not want them feeling like I was just reconnecting with them because I wanted them in this film. I did not want to distance them even more."
Dan and Emma were onboard, however.  Also on board, albeit only by phone, was Kate. Kate was  Julia's last wife, described as Julia's "love of her life". Kate supported Julia emotionally and spiritually through out the entire transition process.  One of the most poignant moments in the film was Julia hearing Kate describe the end of their relationship.  Kate's support was significant, but once Julia became fully Julia, it was evident to both that their relationship had changed and they had to let it go.
Susan captured many live moments of Julia's evolving life. She caught the very first time that son Dan ever called Julia "his mother" and the effect was pronounced. Also caught in the film was a moment when Julia and Dan are watching Rick's old stand up routines. One such performance takes Julia by surprise—it was a routine that she had not remembered ever doing. It was a set where then Rick expressed his revulsion to transgender women in no uncertain terms. Julia sat shocked.
"My sensibilities have been 'woked', I think that is the term for it." She told me about that experience. "Thinking back, I was going through issues and aware that something was not right internally. It frightened me to no end. Looking at that clip, I am totally ashamed of what I did. It embarrassed me."
"I knew it was me. I knew I was there. But I don't feel a connection with that person. That is the truth."
The film does not dwell long on the past shames and regrets. It arcs to the present where an adult daughter gets to see her parent's comedy routine for the very first time.
Some of the greatest joy in the film is witnessing the growing relationship between Julia and son Dan. Dan is sweet and compassionate, and they both have a deep love of comedy. Through their discussions and collaboration on things funny, we witness something decidedly not funny, the deep re-kindling love they have for each other.
The film will make you laugh, and cry, and laugh again. New clips of Julia's now famous turn on America's Got Talent shows her more personal reflective moments over a life changing triumph.
The only regret director Sandler has about the film is how it will be brought to the public. "I am happy to be brining the film now for the people who have an appetite for it. For the truth, the humor, the complete emotional honesty. But I mourn. I mourn the moments not being able to sit with you in a theater. And experiencing the film with you. It was supposed to be seen by audiences, and then give them the opportunity to go down the street and see Julia live at a club." But, life is funny that way—not working out quite the way we thought it would. And that is ultimately the point.
Editor's Note: The film was originally slated for theatrical release which was delayed then put off by the coronavirus pandemic.
Julia Scotti: Funny That Way is available now on digital platforms! That means you can rent or buy it online, at places like iTunes, Apple TV, Amazon, Google Play and more.
Here's the full list of where you can find it.
DIGITAL
iTunes
Amazon
Google Play
Xbox
VUDU
FandangoNow
Vimeo On Demand
CABLE / SATELLITE
iN Demand Movies
Verizon
AT&T
Vubiquity
DirecTV
Dish
Telus
Greyson Chance: A Butterfly's Journey from Holy to Hell and Back
A decade ago there was a boy made famous by a pop song and a viral video. Today, there is an artistic, powerful singer song writer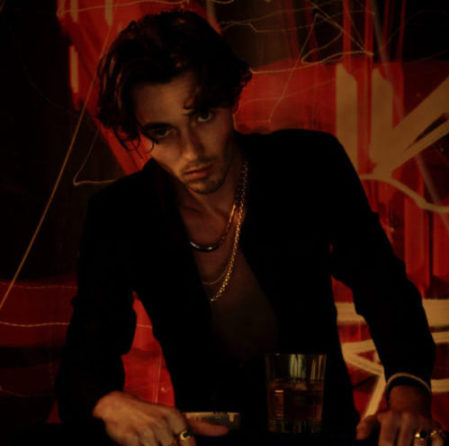 HOLLYWOOD – Many want to saddle singer Greyson Chance with the label "comeback" or having a "return from retirement." It is an understandable mistake as the "fame to disaster" narrative IS there. The real story is about one of the most exciting new artists of today. One that speaks to not only the LGBTQ youth of today, but of their entire generation.
Over a decade ago, there was a boy. The boy was very gifted at the piano, and at singing. He entered a talent contest and belted out a well known pop song by one of the trendiest artists of the day. Of course, there was a video. Social media was itself an infant, and as such, started launching like videos into the stratosphere. His video was one of the first to be seen gazillion of millions of times. Then there was the Ellen show, then the record contracts and a music video where he was Ariana Grande's love interest.
Life would never be the same again. It would not be the same as Greyson Chance would be forever entwined with Lady Gaga and Paparazzi. It would not be the same as when his voice changed and it all came crashing down. "The second that the momentum stopped, you know, I truly was just sort of thrown to the curb when I was 15. I, all in the same day, got dropped by my record label, my management, my publicist, and my agent. It was the ultimate for me, as a child musician." Greyson told me.
The real story however, is of a fantastic singer/songwriter who hit the industry in a big way with a debut album of his own work in 2019. He emerged then as a honed artist who had already been educated on the workings of the industry, and as a professional who knew how to walk in with his own vision and make it happen.
"It is a machine and, when I when I came on the scene originally, I had this huge viral video and with that, a lot of money coming around, and big players kind of involved in the industry," he says.  He made music their way.  He did the songs they wrote, and played the part of the person they wanted him to be.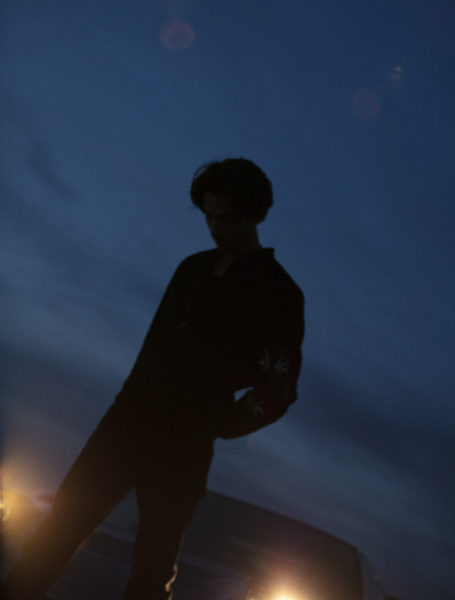 He learned how to be the kind of artist he did not want to be. The young artist went back to Oklahoma and enveloped himself in the cocoon of normalcy. He incubated there, fell in love, and had his heart broken by someone he thought he was going to hold onto forever. At that point, he emerged from the cocoon, with a full self-written album in hand, a musical butterfly spreading his wings.
"I'm 23 years old right now. And I started off with my first record deal when I was 12 years old. There was so much of my adolescence, in my childhood in music, where I wasn't given the chance to not only make music that I really wanted to do, but also to be writing. I was being forced to do records, I didn't have a huge artistic involvement in anything I was doing. So when I came back into music, I really wanted to finally show the world that I was a songwriter, that I had a unique voice. That I had some unique things to say. I really emphasize authenticity. These are stories that are coming from the heart. These are things that are coming from my own life. It's not even really a choice that I have anymore. It is honest, from a place that's true and genuine," Greyson states.
Greyson represented not only with a new thematic "voice", but an actual new physical voice as well. "It was interesting, what I went through, they always tell you that when your voice changes, it's going to be sort of a tough go and that is such an understatement. It was so hard for me for a few years to really kind of find comfortability in my physical voice again. I mean, I really struggled through my voice change. But ultimately, I learned as a kid when I was on the road that in a way, when you're a touring musician, you're sort of like an athlete. My muscle is, is my voice." Greyson's new voice is far superior to his belting-out-broadway boy voice. He has a harmonic high register, and a sultry deep one. It copies no one else's, this voice is uniquely his own.
In 2019, Greyson came out with his launch album "Portraits". The stories of the album gave vision to the various personas he saw of himself as he navigated an ill fated romance. One week, he was looking at engagement rings, the next week, out of the blue, "the man of his dreams" left him without explanation. Greyson works each personal portrait into the prism of a beautiful, musically shiny diamond. "Portraits for me was truly my reinvention piece. And what I mean by that is, at the time before I put out that album, you know, I couldn't even get a meeting in LA with anybody. You know, no one wanted to touch me, no one wanted to be involved in in my project and involved in my music. So I told myself, You know what, I'm going to write a record, and I'm going to write a full album. I'm going to give this one last shot, and see, see what happens. And, fortunately, it went over very, very well."
In 2019 he filled 109 venues performing the songs from Portraits. He publicly came out as gay in response to a fan during a conversation about living authentically. He has also been transparent about his personal challenges, including his on-going battle with anorexia. "It was truly very, very difficult to diagnose it. I had come off of this really bad breakup that I wrote my album Portraits about, and I was developing habits of not eating and not taking care of myself. I blamed it on the sadness I was feeling at the time. Then, as things became a little more normal, and I became a bit more stable, I noticed that I still had had this issue and things that were going on. For me, I had to work through a lot of therapy, to get a grasp on it. I brought it public because it was so stigmatized, and still is. I like to think that I have my life together. But here's the deep issue that I struggle with, and I go through. I'm on a road to recovery, it's never ending when you are battling with an eating disorder, but I'm doing very, very well right now. I'm staying on top of it. Through my disclosure, there was such an amazing and beautiful dialogue that keeps happening, people reaching out to me and sort of sharing their own struggles and battles with it as well. I'm working on trying to be the best version of myself that I can be."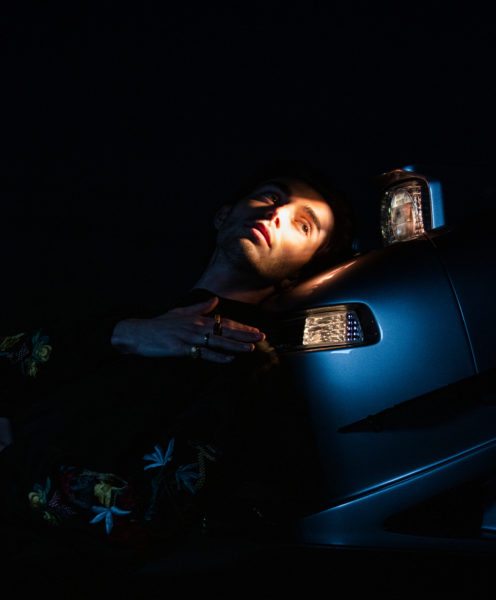 After a forced lockdown during the pandemic of 2020, Greyson is ready to move into the next phase of his butterfly trajectory. He has released two singles off his next EP, Trophies, and he is in love again. The songs on the EP will be in a thematic composition. The two first released create a spiritual arc from the heavenly rich ballad-like Holy Feeling to the high-pop danceable hedonistic Hell Boy.
He says of the new material, "My boyfriend and I just celebrated our one year anniversary yesterday. Trophies, is really expressing the fear of now losing love, and sort of that fear that was created in the old relationships that I've had. It is the desire for my fans and queer people around the world to know what truly being in love is. We're constantly told as, as queer people that, our relationships are always going to be rocky, they're never going to be sort of American Dream type relationships. Because we're different, these relationships are going to be different, because we're inherently different. That is just absolutely BS. Regardless of how you identify who you love, you can totally have all of this stereotypical white picket fence, you know, dog in the backyard green grass type of thing. It is so within your wheelhouse. It's not out of reach. This record is emotionally going through all those those things, and talking about them in the music."
A decade ago there was a boy made famous by a pop song and a viral video. Today, there is an artistic, powerful singer song writer who sings the authenticity of his generation. The rush you feel is the wind from rainbow colored butterfly wings taking flight, and the knowledge that the most famous Greyson Chance is the one yet to come.
Gaga announces special 'Born This Way' reissue for iconic album's 10th
The announcement comes with the drop of a new recording of 'Judas' by Big Freedia, one of 6 reimagined covers included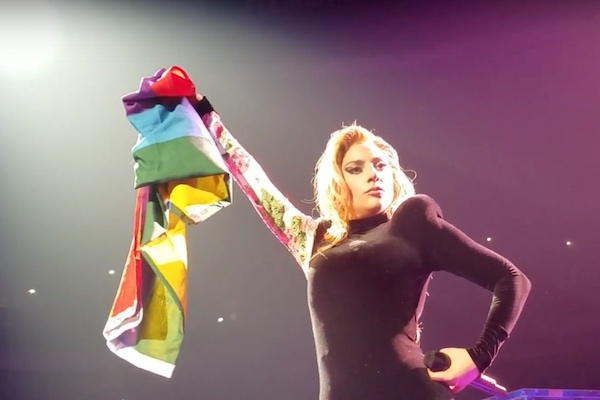 NEW YORK – It's been a decade since Lady Gaga gave her Little Monsters a gift for the ages with the album "Born This Way" – hard to believe, but it's true – and we've all been grateful ever since.
It turns out Gaga is grateful to her fans, too, and to show it, the legendary diva has announced the release of a new special edition "Born This Way: The Tenth Anniversary" album, to be released via Interscope on June 18.
The new release will feature new packaging and include all of the 14 iconic songs from the original 2011 release of the "Born This Way" album, alongside six "reimagined" versions of songs from the album. Each of these new cuts have been created by artists who represent and advocate for the LGBTQIA+ community, whose identities will be revealed over the next few weeks.
Fortunately, we don't have to wait for all of them. In celebration of Gaga's announcement, the first reimagined track dropped today – "Judas," by Bounce music icon Big Freedia. It's now available on all music platforms, and you can watch the video below.
Of the recording, Big Fredia says: "'Judas' was my favorite song when it came out originally, so I really wanted to cover it. I am beyond excited that it's the first to drop from this project. To me, 'Judas' is a love song about when someone does you dirty. I've sure had my experience with that. Who can't relate?"
Besides "Judas," the other tracks to be covered on "Born This Way: Reimagined" are "Marry the Night," "Highway Unicorn (Road to Love)," "Yoü and I," "The Edge of Glory," and the tantalizingly titled "Born This Way (The Country Road Version)."
The new anniversary edition comes on the heels of Lady Gaga celebrating the 10-year anniversary of the original album and its legacy last week in West Hollywood, where a proclamation was issued naming May 23 as "Born This Way Day" and the beloved icon received the keys to the city.
"Through her music and activism, Lady Gaga has become a cultural icon for our generation," said WeHo Mayor Lindsey P. Horvath, who announced the new holiday and presented the Lady with the key. "The anthem 'Born This Way' has become an out-and-proud declarative stance for countless LGBTQ people. The Born This Way Foundation [co-founded by Gaga and her mother, Cynthia Germanotta] fosters honest conversations about mental health with young people and seeks to eradicate the stigma around mental health struggles."
In addition to the special album edition, Lady Gaga has launched a special "Born This Way" merchandise collection, with the brand new designs now available at shop.ladygaga.com.
As for the album, it's available for pre-order right now. What are you waiting for?