Court halts Trump trans military ban, in part
The decision in the first of four lawsuits upholds trans protections as a protected class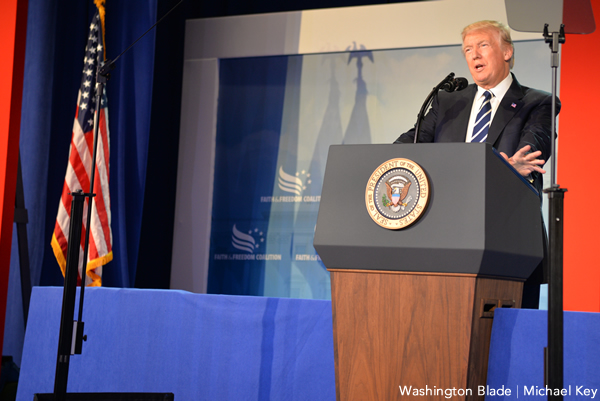 US District Court Judge Colleen Kollar-Kotelly put a hold on President Trump's tweet-ordered ban on transgender military service, ruling in favor of the National Center for Lesbian Rights (NCLR) and GLBTQ Legal Advocates & Defenders (GLAD), who filed Doe v. Trump on August 9 seeking an immediate injunction on behalf of five transgender service members.
In her decision, Kollar-Kotelly said she believes that the Plaintiffs will win in proving that Trump's Directive is unconstitutional. She says trans servicemembers should be considered a targeted class under "an intermediate level of heightened scrutiny," as well as protected under gender. The Court therefore ruled that active duty trans servicemembers can continue to serve but the halt to the accessions policy pertaining to recruitment and promotion that Sec. of Defense Mattis put in place will also remain in effect until the constitutionality of the Directive is determined.
"The effect of the Court's Order is to revert to the status quo with regard to accession and retention that existed before the issuance of the Presidential Memorandum—that is, the retention and accession policies established in the June 30, 2016 Directive-type Memorandum as modified by Secretary of Defense James Mattis on June 30, 2017. In all other respects, the Presidential Memorandum is not enjoined," the judge wrote in her 76-page decision.
The judge also tackled the long-established argument that Courts traditionally give deference to the military. Yes, she writes, but "the Court is not powerless to assess whether the constitutional rights of America's service members have been violated." She also needled the Justice Department, which is expected to appeal. Under "an intermediate level of heightened scrutiny," the government must provide an "exceedingly persuasive justification" for the ban—and she didn't buy their arguments.
"[G]iven the deference owed to military personnel decisions, the Court has not based its conclusion solely on the speculative and overbroad nature of the President's reasons," the decision reads. "As far as the Court is aware at this preliminary stage, all of the reasons proffered by the President for excluding transgender individuals from the military in this case were not merely unsupported, but were actually contradicted by the studies, conclusions and judgment of the military itself.
"A bare invocation of 'national defense' simply cannot defeat every motion for preliminary injunction that touches on the military," the Court continues. "On the record before the Court, there is absolutely no support for the claim that the ongoing service of transgender people would have any negative effective on the military at all. In fact, there is considerable evidence that it is the discharge and banning of such individuals that would have such effects. The Court also notes that fifteen States have filed an amici brief indicating that they and their residents will be harmed by the Presidential Memorandum if it is not enjoined….Moreover, the injunction that will be issued will in no way prevent the government from conducting studies or gathering advice or recommendations on transgender service. The balance of equities and public interest accordingly weigh in favor of granting Plaintiffs' motion."
"This is a complete victory for our plaintiffs and all transgender service members, who are now once again able to serve on equal terms and without the threat of being discharged," said Shannon Minter, NCLR's Legal Director. "We are grateful to the court for recognizing the gravity of these issues and putting a stop to this dangerous policy, which has wreaked havoc in the lives of transgender service members and their families."
"This court saw straight through the smokescreen the government tried to create to hide the bias and prejudice behind Trump's change in military policy. This clear, powerful ruling confirms that there is no legitimate reason to exclude transgender people from military service," said Jennifer Levi, Director of GLAD's Transgender Rights Project. "Fighting discrimination isn't easy, and to all the transgender members of the armed forces or those looking to join, I want to say thank you for your courage, not only in fighting for our country, but in fighting for the constitutional values of equality and justice."
The Court did deny, however, an injunction against the ban on trans sex reassignment surgery. More news on that front is expected after a joint NCLR/GLAD news conference.
A Pentagon source says this was the expected outcome regarding the Retention and Accessions policy. The source also noted that this is just the first shoe to drop and is not the end of it.
Iowa Governor notes 'parental rights' at anti-LGBTQ+ town hall
Reynolds and Republican lawmakers pledged to pass legislation this session banning LGBTQ materials in schools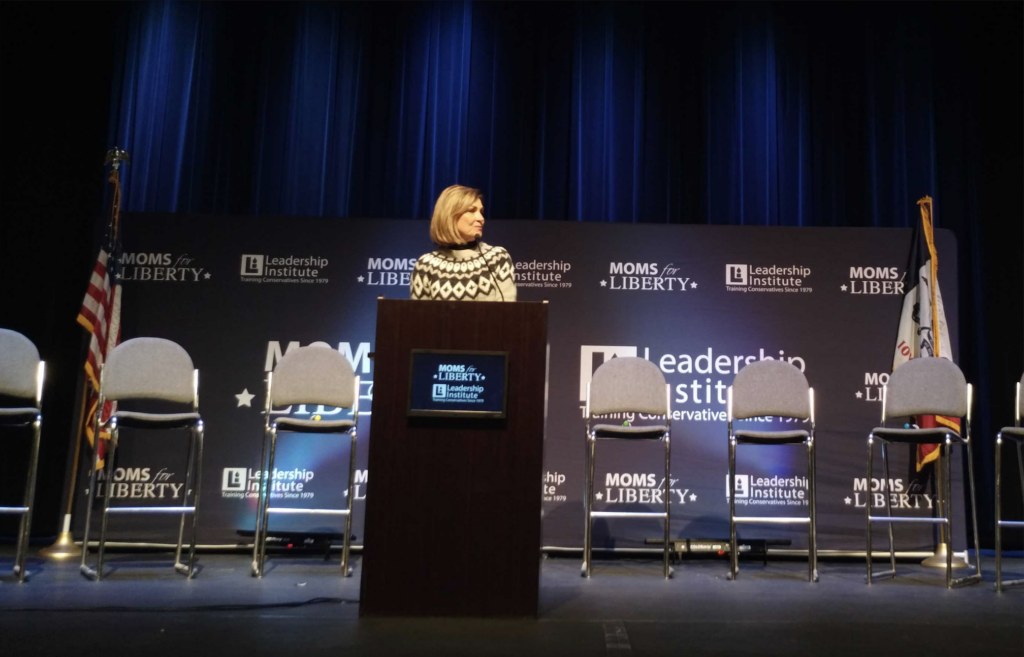 By Robin Opsahl | DES MOINES – Gov. Kim Reynolds and Republican legislators speaking at a "parental rights" event Thursday pledged to pass legislation this session banning LGBTQ materials in schools and policies allowing students to socially transition without their parents' consent.
"School choice" supporters gathered at Franklin Junior High School in Des Moines Thursday evening for the town hall event, hosted by the conservative nonprofit Moms for Liberty. Reynolds cheered the passage of her private school scholarship plan in the first weeks of the 2023 session, and promised they were not done with education legislation.
"The last few years have provided so many reasons to be in this fight in the arena for kids," Reynolds said. "And maybe for you it was how they were kept out of school wearing masks for no good reason. Maybe it was demonizing our country. Or an obsession with race in the classroom … I guess my message to you is, stay involved because parents and freedom still matter in Iowa."
Protesters tried to shout over Reynolds' speech, with one demonstrator holding up a transgender flag. Others in the room cheered and shouted "USA" as police officers removed protesters from the room.
Supporters celebrated approval of the Educational Savings Account (ESA) program, which gives students an account of $7,598 each year to use for private school tuition and associated costs. The national co-founder of Moms for Liberty, Tina Descovich, said she was excited to hear about Iowa successfully passing ESAs, but said that's just "one small little portion of issues that are facing public education."
For years, she said, politicians were not paying much attention to education. But in Iowa and other states across the country, Descovich said parents are putting the issue "front and center" in their state's policy agendas, and lawmakers in states like Iowa are listening to their requests to let families decide the best educational path for their children.
"I think I think parents want that now, you know, everything in society is more custom made, and so education should be a little bit more accessible and custom made," Descovich said.
Seven Republican legislators answered questions from attendees about Iowa's education system. Many questions were focused on class material and discussion around gender identity. Reynolds and parents brought up Linn-Mar Community School District as an example of what's wrong with modern schools.
The school district has a "gender support policy," which allows a student to meet with the school to discuss socially transitioning by using a different name, pronouns and facilities corresponding with their gender identity. The district allows children to choose who is involved in those meetings with the school, and lets the child decide whether to involve their parent or guardian.
Lawmaker calls gender-affirming policies a 'slippery slope'
Rep. Jeff Shipley, R-Fairfield, said school board members claimed the school could not reverse this policy because it would violate state and federal civil rights protections given based on gender identity.
House lawmakers approved legislation Tuesday banning school districts from letting a student use a different name or pronouns than what they were given at birth without written parental consent. House File 190 was also introduced Thursday to remove gender identity as a protected category from the state's civil rights act.
"Mental illness should not be accommodated as a civil right," Shipley said Thursday.
When a teacher asked the legislators at the forum about studies that showed the use of a transgender child's preferred name and pronouns lowers suicide rates, Shipley said there were conflicting reports how to help transgender children with mental health problems. But he said policies like Linn-Mar Community School District's are a "slippery slope."
Using a child's preferred name and pronouns without their parents' knowledge could lead to them undergoing hormone replacement therapy or having gender-affirming surgeries without their parents consent, he said. How to best support transgender people is a conversation the Legislature will be discussing a lot going forward he said.
"I know other states have done things to prohibit these therapies," he said, referencing conversation therapy. "So I think this is a conversation we're going to have to have as a state to really decide what is the best standards of practice of therapy, what do kids need to alleviate the dysphoria and form actual identities that can be healthy and happy for the rest of their lives."
Lawmakers address concerns about lack of choice access for special-needs students
Multiple parents also brought up concerns about how the ESA program will impact their special needs children. Legislators said they hoped to see expanded private school options for children with special needs, and were in discussions about potential future legislation to encourage more private institutions to special education students and offer more specialized educational programs.
Rep. Steven Holt, R-Denison, said he believes some private schools have not accepted special-education students because they didn't have the resources. "And this bill was going to give them a lot more resources," he said. "And so I'm hopeful that that alone is going to allow them to take a lot more special needs children."
The conservative legislators assured the crowd that they would continue to provide parents more options for their children's schooling going forward. Rep. Eddie Andrews, R-Johnston, said Iowa's decision to desegregate schools 86 years before the U.S. Supreme Court's ruling on Brown v. Board of Education shows the state has always been committed to school choice.
"And that is all we are asking, and yes, demanding, that we have the ability to educate our children in the best way at the best school that is appropriate for my child's success. To prepare my boy, my girl, your child, for success," Andrews said. "And that's all school choice."
Moms For Liberty: Giving Parents A Voice Town Hall – IOWA
***************************************************************************************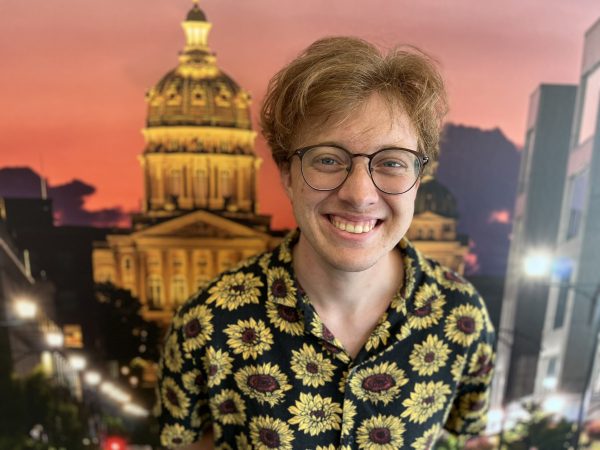 Robin Opsahl is an Iowa Capital Dispatch reporter covering the state Legislature and politics. Robin has experience covering government, elections and more at media organizations including Roll Call, the Sacramento Bee and the Wausau Daily Herald, in addition to working on multimedia projects, newsletters and visualizations.
They were a political reporter for the Des Moines Register covering the Iowa caucuses leading up to the 2020 presidential election, assisting with the Register's Iowa Poll, and reporting on Iowa's 4th District elections.
***************************************************************************************
The preceding article was previously published by the Iowa Capital Dispatch and is republished with permission.