November 3, 2017 at 5:43 pm PDT | by Karen Ocamb
Kevin Spacey skewered and filleted by everyone but Broadway until Monday
Like sands through the hourglass, a steady stream of sexual harassment and assault allegations pours through America's daily news feed, each grain a drum beat on the consciousness of society. Hundreds of women and scores men who have felt victimized by the pervasive arrogant power of sexual dynamics have found their voice, spoken out and dropped the mic on Hollywood moguls and stars, heretofore thought untouchable, prompting public outrage and costly consequences.
And while most of the attention has been focused on the cascading revelations about heterosexuals like Harvey Weinstein, gay heavyweights like Kevin Spacey have not escaped their own karma and the judgment of the suddenly moral marketplace.
Spacey's fall from Hollywood grace has been almost as dramatic as Weinstein, though not as many accusers have come forward, as of yet. Buzzfeed just added three more accusers on Friday. But the allegation leveled against the 58 year old by actor Anthony Rapp about an incident in 1986 when Rapp was 14 and both were starring on Broadway encouraged others to come forward, as well—including a former House of Cards crew member, filmmaker Tony Montana and actor Rob Cavazos.
Though Netflix initially said it would end the popular Washington political drama after its sixth season, stories about how "toxic" Spacey had made the work environment prompted Netflix to shut down production on Oct. 31. CNN reported that one accuser may seek criminal charges as a result of sexual assault. The International Academy of Television Arts and Sciences, meanwhile, revoked its Emmy Founders Award, his publicistStaci Wolfe and his agency Creative Artists Agency (CAA)  kicked him to the curb after releasing a statement Wednesday saying Spacey "is taking the time necessary to seek evaluation and treatment" and "no other information is available at this time."
The famous Old Vic theatre in London, where Kevin Spacey was artistic director from 2004-2015, released an official statement saying they were "deeply dismayed" to hear about the allegations against Spacey. "We want our employees to feel confident, valued and proud to be part of The Old Vic family," the statement said. "Any behaviour we become aware of which contravenes these goals will not be tolerated."
However, The Guardian reported on Thursday that "a number of people who have worked at the theatre in London have contacted the Guardian claiming it was well known that Spacey groped and behaved in an inappropriate way with young men at the time." A former employee told the Guardian: "We were all involved in keeping it quiet. I witnessed him groping men many times in all sorts of different situations."
Scotland Yard is now investigating Spacey for sexual assault in 2008 after an actor told UK police that when he was 23 year old, he woke up to find the star performing oral sex on him without his consent.
The outcry has been so swift and sustained that it is curious that Broadway—where he says he feels so at home —is still mum, though odd echoes of his June 2017 Tony Awards hosting gig remain.
But Broadway may roar out its reaction on Monday, Nov. 6. The Los Angeles Blade has learned. A highly placed source tells the Los Angeles Blade that "a special meeting involving people who govern the Tonys will happen on Monday to discuss Spacey," the source said. "At the very least" a statement can be expected "from the board of governors of The Broadway League and/or the American Theater Wing in New York."
However, a spokesperson for the Tony awards, disputes the Los Angeles Blade's source, saying no meeting is planned. "There is no such meeting taking place on Monday.  Mr. Spacey is not a member of any Tony Award committees — nor is he a member of the Broadway League. He's actually not even a Tony voter,"she says.
Ironically, Spacey's hosting gig at the Tony's last June, which received mediocre reviews, may be the swan song he never wanted. Dressing as Norma Desmond—the faded screen star dying for her close up from "Sunset Boulevard,"—Spacey teased the audience with "I'm coming out — wait, no, no, no. no" before launching into "As If We Never Said Goodbye."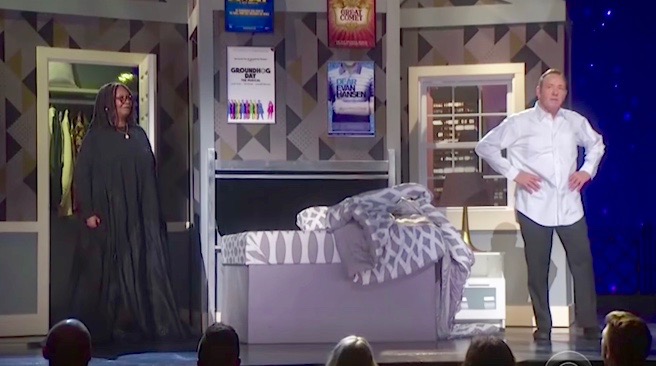 Or perhaps Spacey will remember that moment from this show when he exchanges quips with Whoopi Goldberg about the closet and then asked: "Will this nightmare ever end?"
– Troy Masters contributed to this story.