Meet Gaurav Nanda, rising star of WeHo's home furnishing design community
Bend Goods reimagines mid-century modern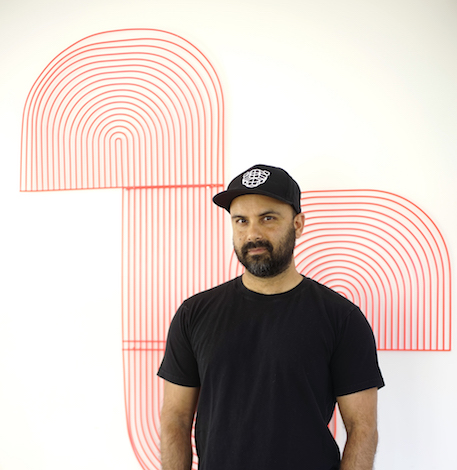 Furniture designer Gaurav Nanda has made a very successful business out of turning a classic on its ear.
Inspired by the mid-Century modern design aesthetic he saw on vacations with his family to Palm Springs, and Italian-born American artist, sound art sculptor, and modern furniture designer, Harry Bertoia (and the chair he made famous), Nanda took a leap of faith 7 years ago, quitting his well-paying job with General Motors and launching a furniture line called Bend Goods, based in Los Angeles.
Nanda, 45 (yes, he's still single), works out of one of two houses he owns in West Hollywood. He initially launched his furniture collection with five pieces – two dining chairs, two lounge chairs and one drum table, but the collection has grown to dozens of offerings — from chairs to stools, to sofas and beds, to sculptures and plant stands.
"At the time nobody was doing what we were doing," Nanda told the Los Angeles Blade.
Although originally inspired by the Bertoia Chair, Nanda's chairs have more angles and less wire than the original. Sculptural, with elegant geometry, the new take on the old design has more approachable lines and a softer feel.
"I set out to find a way to reinvent the wire chair concept that was different and edgier, with a lot more intricate detailing that make our designs immensely more comfortable," Nanda says.
He adds that he placed the wires of the seat closer together to build more comfort and beat out his competition. "The first thing we hear people say when they sit in our chairs is 'It's so comfy!'"
A talent for industrial design and entrepreneurship obviously runs in the family. Nanda's sister, Gauri Nanda, is the creator of Clocky — the alarm clock that jumps and rolls until you get out of bed.
Nanda left his job at GM and moved to L.A. in 2008. In 2010, he poured his savings and investment money from family into Bend Goods.
The line started in retail brick and mortar stores such as A+R Store and Weego Home, but, since the retail market has changed and people are shopping online more and more, Nanda branched out to trade shows in Paris and NYC, and pushing product online via social media, with Instagram as the biggest effort.
"We're constantly creating new products, and working on being creative and unique with our imagery and video content. We need to stay creative and offer intriguing content," Nanda says.
He says his inspiration comes from everywhere and it continues to change.
"It might start with a shape of an interesting coffee cup or old Amish barn. I sketch out some rough concept drawings of what the furniture might look like.  I play around with scale and shape, and once I have some solid ideas we build them in 3-D," Nanda explains.
"Working at GM was an amazing learning experience, but I'm not really not a car guy, so it wasn't the right environment," Nanda adds. "It was very corporate. I'd always been interested in furniture," he says.
He says he's also been inspired by architect John Lauthner, Buckminster Fuller, who created the geodesic dome, filmmaker Wes Anderson, and his fairytale aesthetic, and even his mother's handmade macramé plant-holders.
"In a way the patterns used in my work can be traced to my Indian heritage, as an homage of sorts to my thriving culture."
Nanda's parents were born in Bombay and New Delhi. He says being an Indian family, they were "confused" when he came out to them in his late 30s. They've given up on him marrying a nice girl, and even moved from Michigan to Los Angeles 2 years ago.
Despite his parent's understanding, he says the furniture design world isn't overflowing with gay people or people of color.
"I feel at times that I'm part of this community, and at times I feel like I'm not. Maybe that's everyone. There's a sense of community in the furniture world, and we meet at trade shows and we share stories, and sometimes I feel like I'm being excluded from some things, but maybe that's just me," Nanda says.
Nanda's goals for Bend Goods are lofty. He says he's hoping to design pieces that become classics rather than remain trends.
"Disposable furniture may have its place in some situations, but I am not a fan due to its negative impact on the environment and wasteful nature. We like to make products that you can pass on to your children – from generation to generation," he says.
Bend is looking to build a showroom or studio space where the staff of eight can experiment with different materials and processes.
"We hope to offer one-of-a kind pieces but also increase our product line for the commercial market by creating pieces in various price levels so that more people can have access to Bend," Nanda says.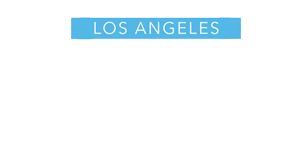 Queer to Stay grants announced, four LA businesses are recipients
"The Los Angeles Blade is honored to be one of these four grant recipients and we thank Showtime & HRC," said Troy Masters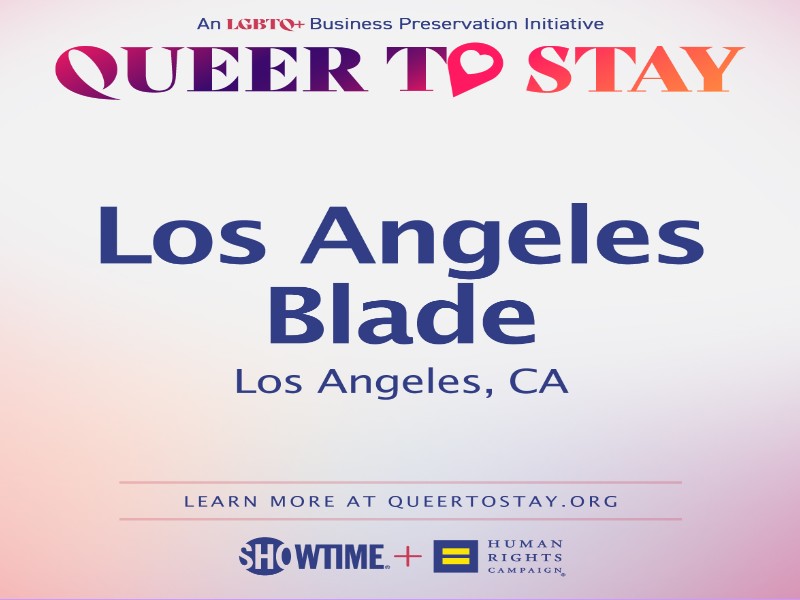 LOS ANGELES – The Human Rights Campaign (HRC), the nation's largest lesbian, gay, bisexual, transgender and queer (LGBTQ+) civil rights organization, and SHOWTIME announced Tuesday that four Los Angeles businesses, Detroit Vesey's, Los Angeles Blade, Salon Benders and Urbody, as recipients of "Queer to Stay: An LGBTQ+ Business Preservation Initiative" to support and uplift small businesses that focus on LGBTQ+ people of color, women and the transgender community who continue to be impacted by economic setbacks from the COVID-19 pandemic.
"This year, on top of economic setbacks from COVID, we've seen a disturbing rise in anti-LGBTQ+ rhetoric and attacks, including harm to some LGBTQ+ small businesses. That's why it is critical to uphold affirming, welcoming spaces and services for our LGBTQ+ communities," said Kelley Robinson, HRC President. "This initiative celebrates and supports our community by putting funds directly into the hands of multiply marginalized LGBTQ+ owned, and serving, small businesses around the country. We're excited to partner with SHOWTIME once again to ensure that LGBTQ+ patrons, employees and business owners continue to occupy spaces freely and without exception as their authentic selves."
The four Los Angeles businesses that will receive Queer to Stay grants are the following:
Detroit Vesey's – Erin Detroit Vesey is the owner and chef of Detroit Vesey's, a cafe designed with the intention of being a place for folks in LGBTQ+ and cycling communities." Erin wanted to create a "daytime space" for LGBTQ+ people that did not focus on nightlife, and was inspired by the community that they witnessed during AIDS Lifecycle, a "bike ride from San Francisco to LA that raises funds to fight HIV/AIDS and the stigma, where everyone is welcome to participate and work towards a common goal."
Los Angeles Blade – Troy Masters founded the Los Angeles Blade after realizing that LA was "a city that – despite its importance – had no LGBT newspaper." Masters had over two decades of LGBTQ+ journalism experience after founding Gay City News in New York during the height of the HIV/AIDS epidemic. Since its founding, the Los Angeles Blade has become one of the most well-respected sources for LGBTQ+ news.
Salon Benders – Jessie Santiago, co-owner and founder of Salon Benders, founded the salon to be a trauma-informed space for LGBTQ+ people after she had experienced working in a number of "toxic work environments that encouraged unhealthy habits" and took a toll on her physical and mental health. With encouragement from her partner and now co-owner of Salon Benders, Santiago created a salon "where people can come as they are and leave a better version of themselves."
Urbody – Mere Abrams and Anna Graham co-founded Urbody to be a high-quality, gender affirming underwear and activewear brand that will display "positive, humanized representations of gender diversity." Abrams and Graham wanted to create a "safe and affirming" shopping experience for all people that includes options for people across the gender spectrum, and they plan to use some of their grant money to continue designing pieces that accomplish that goal.
"The Los Angeles Blade is honored to be one of these four grant recipients and we thank Showtime & HRC," said the Blade's publisher Troy Masters.
During the height of the COVID-19 pandemic in 2020, the inaugural "Queer to Stay" initiative awarded funds to 10 LGBTQ+ businesses across the country. Since then, it's been reported that LGBTQ+ businesses were less likely to receive COVID relief funds. At the same time, some LGBTQ+ small businesses have been the target of outrageous, extremist anti-LGBTQ+ rhetoric and attacks. With many LGBTQ+ businesses continuing to struggle in the economic aftermath of the global pandemic, HRC and SHOWTIME scaled up the initiative to include 25 businesses this year – five more than in 2021 – with a funding pool of $250,000. Watch a video about Queer to Stay here.
The additional awardees of "Queer to Stay: An LGBTQ+ Business Preservation Initiative" include:
Dorothy Downstairs (Chicago, IL), Three Palms Bar & Grill (New Orleans, LA), Stag PDX (Portland, OR), Bake Me Happy (Columbus, OH), Queer Therapy Network (Houston, TX), Celebrate Therapy (Provo, UT), M-Care (Witchita, KS), Queer Kid Stuff (Portland, ME), Harana Market (Woodstock, NY), Urbody (Los Angeles, CA), Peachy Births (Kansas City, MO), PTSFeminist (Atlanta, GA), As You Are (Washington, DC), Santé Bar (Portland, OR), Coffee Mafia (Auburn, AL), Goldspot Brewing Company (Denver, CO), Queer Chocolatier (Muncie, IN), Mountainsong Expeditions (Worcester, VT), Womencrafts (Provincetown, MA), Queer Dance Project (Lakewood, CO), Euphoria (Denver, CO), and Franny Lou's Porch (Philadelphia, PA).
"I am so proud of SHOWTIME for extending its QUEER TO STAY campaign! Supporting LGBTQ+ businesses combined with all the LGBTQ+ representation in SHOWTIME programming, QUEER TO STAY has made a major impact all over the country," said actor Jamie Clayton, star of THE L WORD®: GENERATION Q. "I'm honored to star on a show that depicts a vital LGBTQ+ small business on television. Playing Tess, who manages the inclusive, queer space, Dana's Bar, on THE L WORD: GENERATION Q is such an exciting and vital thrill!"
HRC Foundation has published a research brief outlining the health and economic risks faced by the LGBTQ+ community during the COVID-19 pandemic. Key findings show that many LGBTQ+ people may lack the resources to effectively combat COVID-19; lack access to paid sick leave or live without health coverage; and are more likely to work in an industry that has been most affected by the pandemic, putting them in greater economic jeopardy or increasing their exposure to the virus. HRC Foundation research has also shown that LGBTQ+ people are more likely to be unemployed and to have lost work hours compared to the general population, with transgender people and people of color most at risk.
Season three of THE L WORD: GENERATION Q, the returning series based on the groundbreaking drama series THE L WORD®, is currently airing Friday nights on SHOWTIME. Packed with jaw-dropping surprises and guest stars, this season continues to follow the cast of characters as they struggle with secrets, old scars and new flames on their search for "The One."